Sunrise sits at 6,400 ft. elevation, making it the highest point accessible by car in Mount Rainier National Park. Second only to Paradise as the most visited area of the park. There is a good reason people come here. It provides stunning views of Mount Rainier, hiking trails for all abilities, a huge meadow full of wildflowers, and a perfect place to watch (you guessed it) the sunrise!  Whether you spend the day or camp in this northeast corner of Mount Rainier National Park, you will leave full of wonder and beauty.
Mount Rainier has four main entrance stations from which to enter this large National Park. Sunrise is accessed from the northeast White River Entrance Station. Get directions for all the entrances to Mount Rainier National Park here.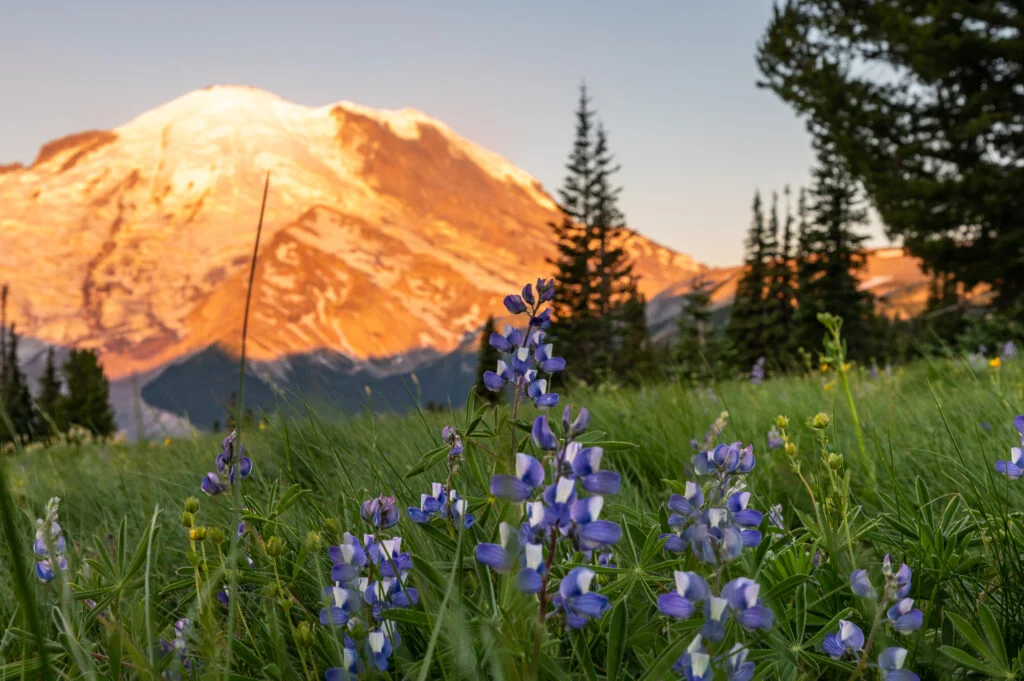 Due to its high elevation, Sunrise gives visitors a limited window of time to enjoy its beauty. Typically you can access it from late June through the first part of October. The Sunrise Lodge and Visitor Center is only open from July to early September.
Try to come as early in the day as possible to avoid the crowds. Even on a weekday, the parking lot can fill up around noon.  The weekends are especially busy, so get an early start to avoid long lines at the park entrance and to ensure a parking spot.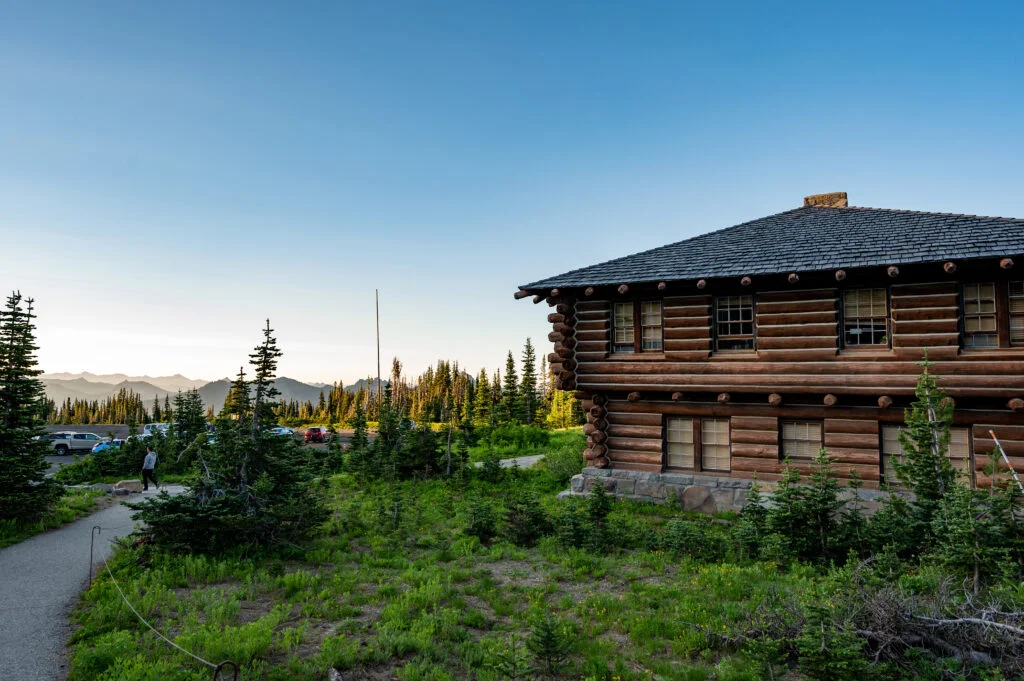 Hiking
There are so many hiking options that leaving from Sunrise. Here are a few favorite day hikes I recommend.
Frozen Lake Loop – 3.0 mi (Great place to spot mountain goats.)

Fremont Lookout – 5.6 mi (Old fire lookout with spectacular views.)
Shadow Lake Loop – 3.0  (An easy hike starting on the south side of the parking lot — opposite the Sunrise Lodge.)
Dege Peak – 4.0 mi (Hike to over 7,000 feet with 360-degree views!)
Sunrise Nature Trail Loop – 1.5 mi (Short hike that's easy enough for younger kids too.)
A few easy overnight backpacking options:
Note that these backpacking options require a wilderness permit.  The good news is you can now reserve your spot and get your wilderness permit at Recreation.gov. This makes planning a lot easier!
Sunrise Camp near Shadow Lake (This is an easy overnight option for beginners and kids. It's only 1.3 miles from the Sunrise Visitor Center. No potable water, but you can filter water from Shadow Lake or pack it in. It has vault toilets.)
Berkley Park (It's only a 4.5-mile hike to Berkley Park, you'll need to get a permit to camp here, there are bear poles for hanging your packs and a creek to filter water from (no potable water). There is also a primitive outdoor toilet.  Make sure to take time to hike up to Grand Park from here and admire its beauty and perhaps spot a bear or two.
Watch the Sunrise
I know it seems a little cliche to watch the sunrise at Sunrise, but there's a reason they name these areas what they do. Here you'll see the morning light as it first touches the top of Mount Rainier. It's like a spotlight shining down and illuminating its snowcapped peak.  You can also watch from Sunrise Point just a short drive below Sunrise and enjoy the deeper colors that develop over the Cascade range.  If you're feeling ambitious, consider hiking to
Dege Peak
for sunrise and enjoying the unobstructed 360-degree views.  Plus, you'll get to stare at Mount Rainier for the entire hike back!
Look for Wildflowers
Walk the trails along Yakima Park (meadows in front of the lodge and visitor center). You don't have to walk very far to enjoy the variety of wildflowers that grow here. Take a right and follow the wide path near the main restrooms, and in only about 5-minutes of walking, you'll soon have the meadow on both sides with sweeping views of Yakima Park and the Sunrise Day Lodge.
Look for Wildlife 
It used to be fairly common to see cinnamon-colored black bears roaming the meadows at Yakima Park. I haven't seen one in years, but if you hike up to the ridge either via Sourdough Ridge, Dege Peak, or Frozen Lake, you're almost guaranteed to see some mountain goats and possibly a marmot or two.  Listen for their chatter as they tell other marmots of your approach.
Visit the Sunrise Day Lodge
Make sure to go inside the Sunrise Day Lodge and look at gifts and souvenirs. You can also purchase something to eat and chat with a Park Ranger.  If the Sunrise Visitor Center is open, you can learn more about Mount Rainier and the Sunrise area. The Sunrise Lodge is only open from July to early September. 
Enjoy Having a Picnic With a View
The Sunrise Picnic Area is a gorgeous place to enjoy a meal with your family. My family once celebrated my niece's birthday here, and it was such a fun way to create memories together.  The picnic area at Sunrise also sports incredible views of Mount Rainier.  There are lots of picnic tables to choose from! Head past the Sunrise Day Lodge and make a right in front of the restrooms, then follow the wide path as it curves left, soon you'll see a small trail on the right that leads to the picnic area.  Follow the labyrinth of small trails for more picnic options to choose from.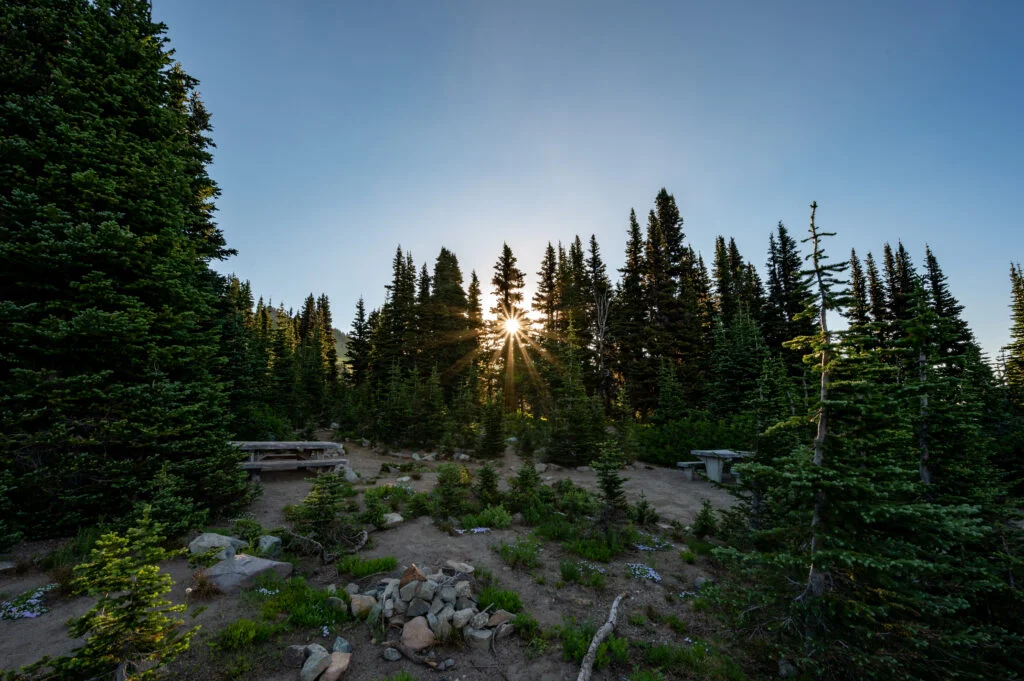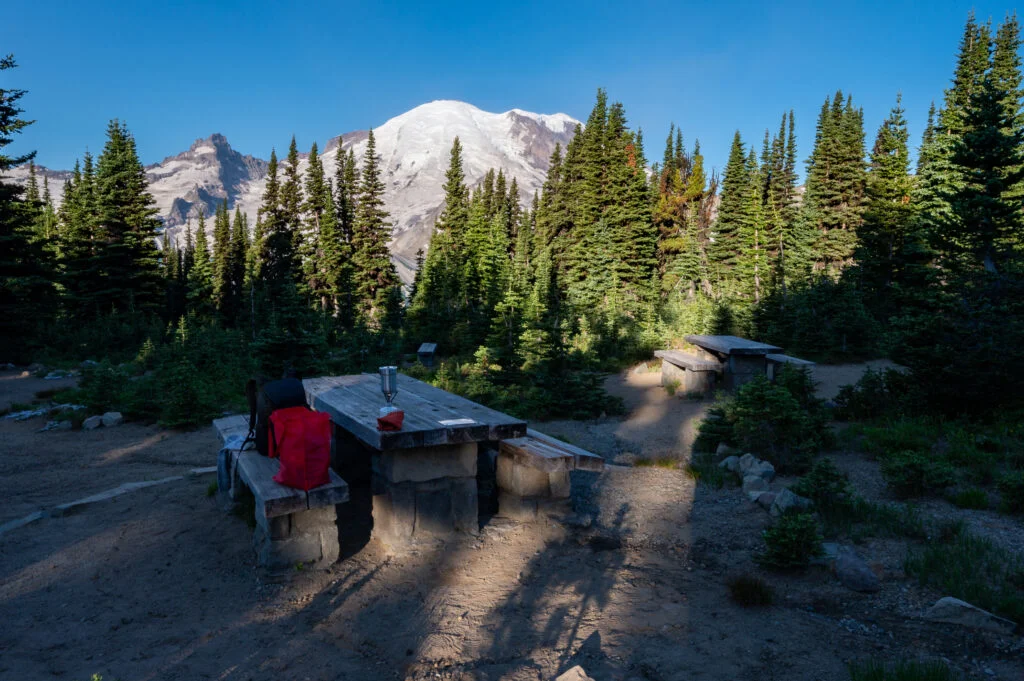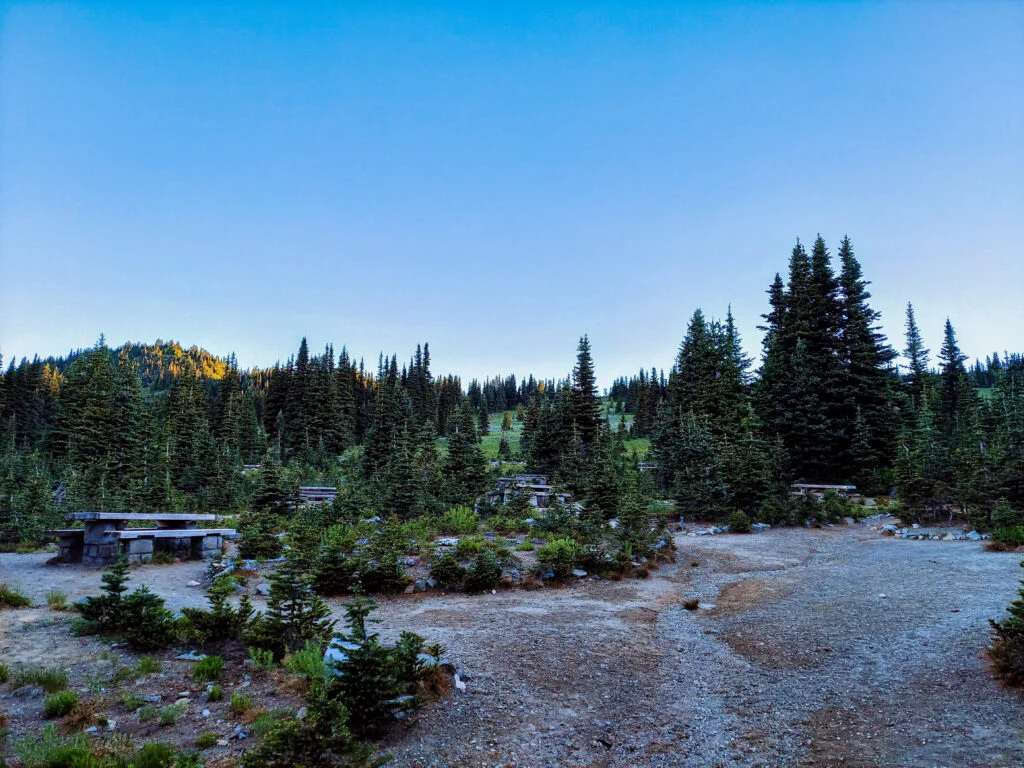 Visiting Sunrise at Mount Rainier is a perfect way to spend a day, but I highly recommend you spend a night or two camping here for the full experience. The White River Campground, only a 25-minute drive away, is the closest campground to Sunrise.  It makes a great base for exploring the northeast corner of Mount Rainier National Park. 
You can even hike to Sunrise from White River Campground. This takes about 3 hours roundtrip to do, or if you're traveling in a group, you could always have someone drop hikers off at Sunrise and then hike back down to White River.  This is a fun idea if you're camping with a family.
Naches Peak Loop Trail (Gorgeous loop hike that takes you past alpine lakes, meadows, and forests.)
Tipsoo Lake Loop

(Easy, mostly flat 0.5 mile loop around Tipsoo Lake, good for reflection photos and views of Mount Rainier.)

Emmons Moraine Glacier. (See my article on camping at White River Campground for more information on this hike.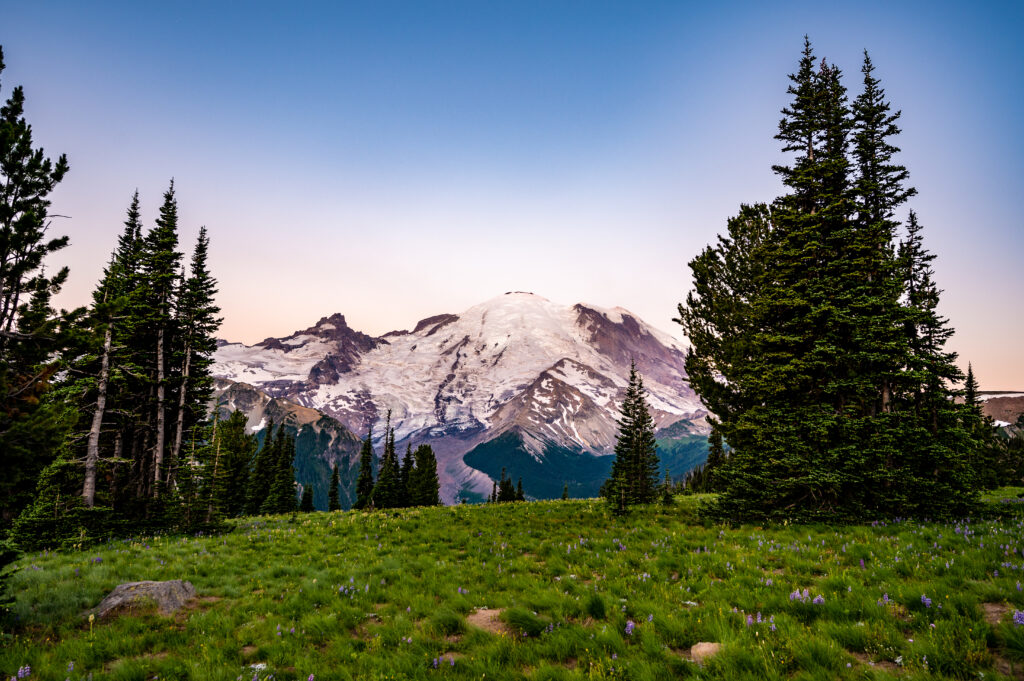 Perhaps you're unable to make the trip up to Mount Rainier right now, or maybe you want to take a peek to see whether or not the mountain is out.  Whatever the case may be, Mount Rainier National Park has several webcams set up in the different areas of the park that allow you to see what's happening on the mountain. 
I personally love looking up at Camp Muir and Camp Schurman and seeing the tents for those making the trek to the summit.  It's such an adventure they are embarking on and one I've secretly thought about doing.  Perhaps, you have to. Well, these webcams can give you a sneak peek into the mountaineering experience.
Mount Rainier is such a beautiful place. It holds a special place in our hearts who live near it, and I believe everyone who visits will leave feeling a connection with its beauty and grandeur.
So much mountain to explore, so little time!