I love camping! Over the years, my camping supplies have grown to include various camping accessories depending on the camping style I am doing. If I'm camping off my motorcycle, I pack a much lighter load than if I am camping out of my car or planning a large family camping trip. I don't like to waste space in my car with things I won't use, so I adjust what I pack depending on my camping needs.
The below list is some of my go-to camping accessories. Whatever camping gear you bring should enhance your experience and make it more enjoyable. After all, we want to look forward to camping and spending time outdoors. Camping can be such a rewarding experience if done right. This list of camping accessories will help you have a successful trip!
This one is a no-brainer. Most of us don't want to sleep under the stars with nothing to protect us from the bugs and morning dew. Unless you've got a camp trailer or are sleeping in the back of your car,  you'll want a tent.  These are my top three suggestions based on ease of use, easy packing, and if you're camping with a family.
I love how easy this tent is to set up. You can read my review and watch a video on how to put it up and stow it away. In about 1-minute, your tent is set up, and you're ready to throw in your sleeping bags and begin enjoying camp.
I've used the REI Passage 2 tent for over ten years, and it's still in great condition! Before getting the pop-up tent was my favorite tent to use. I bought it for a backpacking trip and loved how easy it was to set up that I continued to use it for car camping trips. It is also perfect for camping off my motorcycle. It appears that it may have been discontinued as it was unavailable as of this writing.  So the REI Trail Hut 2 appears to be the next closest equivalent to the Passage 2.
For family camping trips, consider getting the Coleman Cabin Tent. It is designed with integrated tent poles so that it takes only a minute to set the tent up, then another minute to stake it down, and you're ready to go! It comes in a 4-person, 6-person, and 10-person design.
I have a large family tent for when I take my nieces and nephews camping, and I often hear groans from the older kids and adults when they have to set it up.  So upgrading to an easy set-up tent for groups might be something I do in the future.
Camping doesn't have to be "roughing it." Although I don't need to bring my house when I camp, and my camping doesn't reach the level of "glamping," I still enjoy a few creature comforts. Some of these camping accessories are optional. I'll admit that, but they certainly make camping a lot more relaxing and extend the amount of time you're willing to "rough it."
Cots are really nice as they keep you up off the ground, which keeps you a little warmer, and it's easier for getting up in the morning. When shopping for a camping cot, it's important to look for the weight capacity of the cot and how easy it is to fold and stow away. I also bring extra blankets to place as a layer of padding underneath the sleeping bag.  With an extra blanket underneath you, you don't feel the cot's support bars, and you have a little more insulation.
Coleman Self-Inflating Camping Pad
I own a couple of these, which I purchased for backpacking, but now I use them for car camping and motorcycle camping. They are small and easy to pack. Plus, they're durable. I often give these to my nieces and nephews while the adults use camping cots or air mattresses.  They're easy to set up and provide enough padding, so you don't feel any loose rocks digging into your back. You'll often find these at your local department store. Grab a couple when they have their camping sale.
I think a mummy bag is one of the best styles of sleeping bags for keeping you warm at night.  My Dad bought me one when I was around 18, and I still use the same mummy bag whenever I go camping out of my car.  I have a lighter weight backpacking version when weight is a concern.  My husband loves being able to cinch the top of the bag around his head and burrow in to stay warm.  They also make them in kid sizes.
I have a best friend whose main complaint is getting cold at night. She doesn't, however, like the mummy-style sleeping bags.  So if you fall into that category, consider getting one of the traditional styles.  
Try to get a sleeping bag that fits your body, with a little extra room for turning on your side but not too much extra space, or you have large pockets of cold air. I also bring extra blankets just in case the kiddos or anyone else gets cold in the night.
The 
Coleman Camping Chair with Built-in 4 Can Cooler
is a nice option as it has a drink holder and a side pocket you can stick your phone or notebook and so on in while you're sitting around camp.  The
ALPS Mountaineering King Kong Chair
 is rated for up to 800 lbs. It's always good to pay attention to the weight rating on any camping accessory you purchase. 
Also, when you go camping, the nicest camping chair is invetibly the one everyone will want to sit in.  We tend to bring a few nice ones for the adults and simple, cheap ones for the kiddos.
A hammock may not be a camping accessory you think you need. However, we set one up during last year's group camping trip, and it was a favorite spot at the campground. After a day of hiking, you'd soon find someone sleeping in it.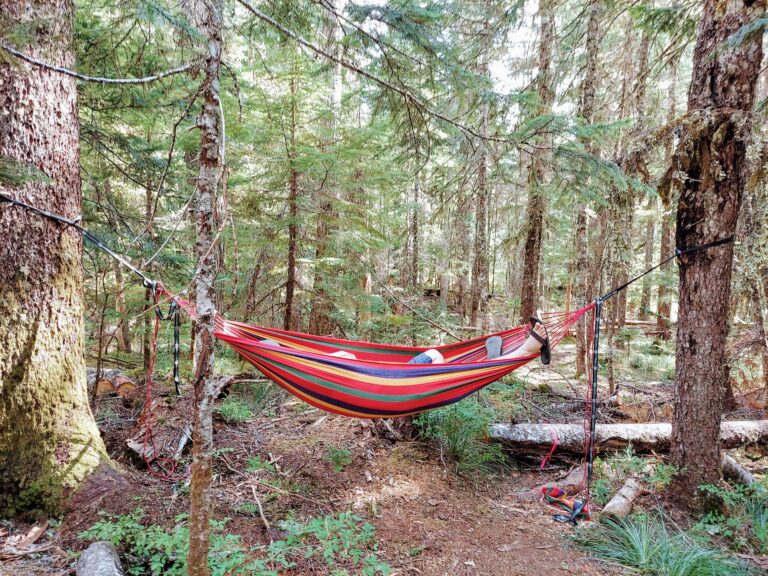 You don't need to purchase a camping-specific hammock. If you already have a hammock you use at home (see ours in the photo below), you can bring it instead. You can use it with these handy hammock straps that make it incredibly easy to hang a hammock. You can also purchase a portable hammock that comes with its own stand. These work well when you don't have any suitable trees to hang a hammock from. They are also easier for younger kids to get in and out.
Perhaps this is the ultimate luxury camping accessory.  It is something I keep thinking I'll buy, but I haven't yet.  This year might be the year I do.  It seems to be the one thing that everyone misses most when they're camping. A shower helps us feel a little more human when we're camping. Some of the teenagers in our camping group mention how they'd like a shower, so you might be surprised at the kids wanting to use it versus forcing them to.  
The Ozark 2-room shower is a very versatile camping accessory as it can be used as a changing room as well as a shower. It also includes a solar shower, which is a nice plus. Some people even bring a porta-potty and stick it on one side when nature calls in the night. I suggest shopping around online to find it at the best price.
Here are a few camping accessories I always bring for our camp kitchen. I need efficient ways to cook breakfast and an easy way to brew coffee in the morning. Typically we cook over the fire for dinner, and lunch is something simple like sandwiches or food we can take when we're on the go.
Often we'll bring two coolers when it's a large family trip. One for the drinks and one for the meat, dairy, and other food. When people are getting in, and out of the drinks cooler off and on throughout the day, it doesn't cool down the food.
I love having two burners to cook on when camping.  I use one of the burners to boil water for my morning coffee. That leaves the other burning free for a skillet to cook eggs in.
This is handy when you need a little extra table space. I also like to use it for road trips as it packs up so nicely for easy carrying. 
This is a new addition to my camping accessories. However, I look forward to trying it out this season both when we're at the beach and also when we're camping in the woods.  Canopies are great for providing instant shade and protecting your food area from bird droppings, tree needles, morning dew, etc. If you have a Costco near you, I recommend checking there to see their options, as that is where I found mine.
LED lighting is where it's at these days.  We used a propane lantern in our earlier camping days, but now we opt for the easier (and brighter) LED lantern. 
I also like to bring these hanging LED lightbulbs that I use when I'm SUV camping, as you can clip them to your tent ceiling for easy hands-free lighting. You can also give them to the kids to use inside the tent.
Additionally, we always bring a headlamp or two when we camp.  These are so nice to have at night when you're cleaning up around camp, walking back and forth to the restroom, or reading in your tent at night.  It's nice to have a hands-free light, plus they have a red light option for stargazing.
As much as I'd like camping to be an electronic-free zone, that's not going to happen, especially when kids are involved.  You can, however, restrict electronics to certain times.  Also, most people use their cell phones to document their camping memories, so having a few camping accessories to keep their portable cameras charged isn't a bad thing.
Jackery Portable Power Station
We love our Jackery and use it for road trips and camping. You can use the Jackery to charge a portable DVD player and create a fun family movie night in the tent. I also use it to power my electric coffee grinder. Priorities, am I right?
A smaller charging bank is useful if you don't think you need a larger power source like the jackery. We bring these whenever we're traveling, and I charge my phone and DSLR with one. 
These are fun for kids to talk to each other and can be used to communicate with large groups when hiking. You can have the group leader keep one, and then the person in the rear of the group has the other.  Then if someone needs to stop, you can radio the leader to wait. 
Misc. Camping Accessories
It's always good to have an emergency kit no matter where you go.  When we go camping, the most often used items are the following:
Bandaids

Tylenol/headache medicine

Moleskin (I love this stuff!)
Neosporin (my go-to for cuts and burns)
You can purchase one with
about every survival tool
or pick one that has the main items you'd use when camping (minor scrapes, sprain kit, antiseptic ointment, headaches, etc.).
My husband never likes to go anywhere without his leatherman multitool. He has one he keeps at home and one he keeps in the car, and he always wants it when we go camping. They are useful camping accessories when it comes to cutting and opening things. I still prefer my
Swiss Army knife
, but to each their own.
Last year, I purchased the Thermacell rechargeable mosquito repeller and was pleasantly surprised to discover it actually works! We sat around the campfire and didn't even think about mosquitos, that is until the second night when it ran out of its repellant, and we started noticing them.  
At first, we said, "that's strange we didn't have issues with  mosquitos last night." Then, it dawned on me that we'd been using the Thermacell, and I realized what had happened.  When I returned home, I made sure to buy some for our next camping trip.
This list is not a comprehensive list of all my camping accessories, but it has many of my favorite go-to items when camping.  Camping should be fun, and I think it can be enjoyable for just about anyone with a few of the right items.
Do you have a favorite camping accessory that isn't listed? I'd love to hear some of your recommendations too!
Other Articles You Might Enjoy
Note: Travelffeine is reader-supported. This post contains affiliate links. When you purchase using one of these affiliate links, we get paid a small commission at no extra cost to you. And as always, all opinions are our own. Thank you!
Happy Camping!