If you're looking for a hike that is suitable for all ages, has alpine lakes and fantastic views of Mt Rainier, then look no further!  This hike has it all, and it's a loop, so you never have to see the same view twice. Naches Peak Trail is perfect for families. I hiked this with a group of 10 people, ages ranging from 6 to 56 years old. The hike takes around 2-3 hours, depending on your pace and how many breaks you take. The Naches Peak Trail will reward your efforts with beautiful views and fun memories!
Enter Mt Rainier National Park along Highway 410. Coming from the west side, it will take about 1 hour from Enumclaw to reach the Naches Peak Trail. At the junction for Highway 410 and 123 make sure to stay left and follow signs to Chinook Pass. It is about a 5-minute drive past the junction to the first parking area at Tipsoo Lake. You will see a sign for Tipsoo Lake and then the parking lot on your left.
There are multiple parking areas you can use to access the Naches Peak Trail. Since it is a loop, you will return to whichever parking area you started from.
The largest parking area is at Tipsoo Lake. There are restroom and picnic facilities at this parking lot. However, if the parking lot is full, don't worry, continue down the road and you will pass another parking area on the left. And if that is full continue driving just a little further down the way to a parking area on the right and on both sides of the road near the Mt Rainier National Park sign that also doubles as a bridge for the Naches Peak Trail.
Naches Peak Trailhead: Starting Your Hike
We started our hike by Tipsoo Lake. We parked in the Tipsoo Lake parking lot and found the trailhead at the far right corner of the parking lot (when facing away from the road). I recommend hiking this loop in a clockwise direction as this gives you beautiful views of Mt Rainier facing you, rather than at your back.
The trail has a gradual ascent that continues steadily up before once again leveling out. There are shaded areas along the way to stop and take breaks.  Soon you will reach a flat area and see the parking area along the road I mentioned in the "Getting to the Trailhead" section. 
Walk across the Mt Rainier National Park sign that doubles as a bridge. If you're ambitious, you could have someone run down to the road and take a picture of you standing above the sign.  However, we had a large group, so we just kept on moving!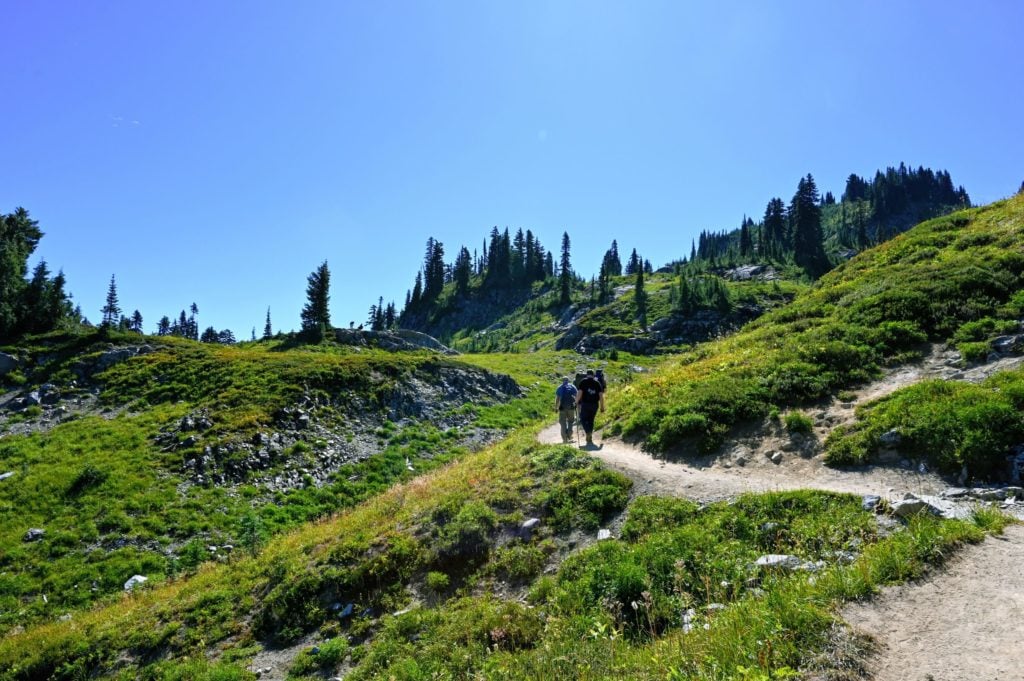 Shortly after crossing the highway you have views of the mountains and trees that stretch out for miles.  It warmed my heart to hear the "oohs and ahhs" that came from the mouths of my 6-year-old nephew and 8-year-old niece. They said, "Oh, wow, this is beautiful!" And they were right.
Watching young children delight in the beauty of nature makes me smile.  I feel that nature is therapeutic, and we can all use time away from the fast pace of life (and from our electronics).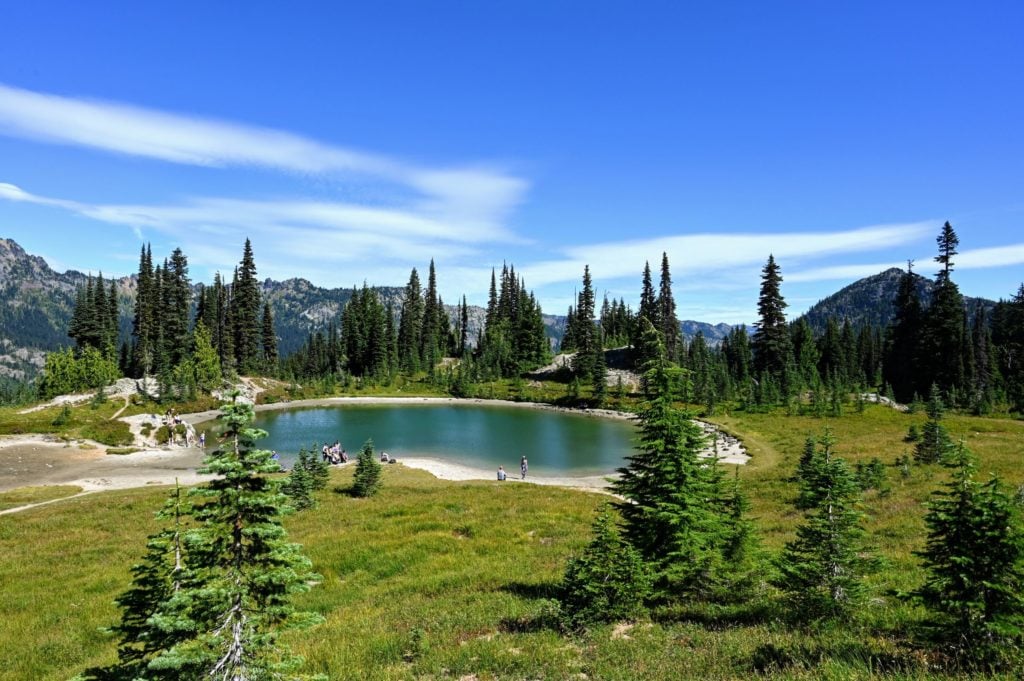 The hike continues uphill, at a gradual grade, and soon you are rewarded with a flat area to take a refreshing break alongside this alpine lake.
After resting, continue climbing past rolling hills, rocky mountainsides and if you're lucky, colorful wildflowers (July thru August is best for this).
The trail reaches another viewing area of the mountains spread out in front of you. Feel free to take another break here if you want before following the path as it curves to the right. Continue the gradual climb up for about another 5-10 minutes before reaching the below viewpoint of Dewey Lake.
Lunch Break Near Dewey Lake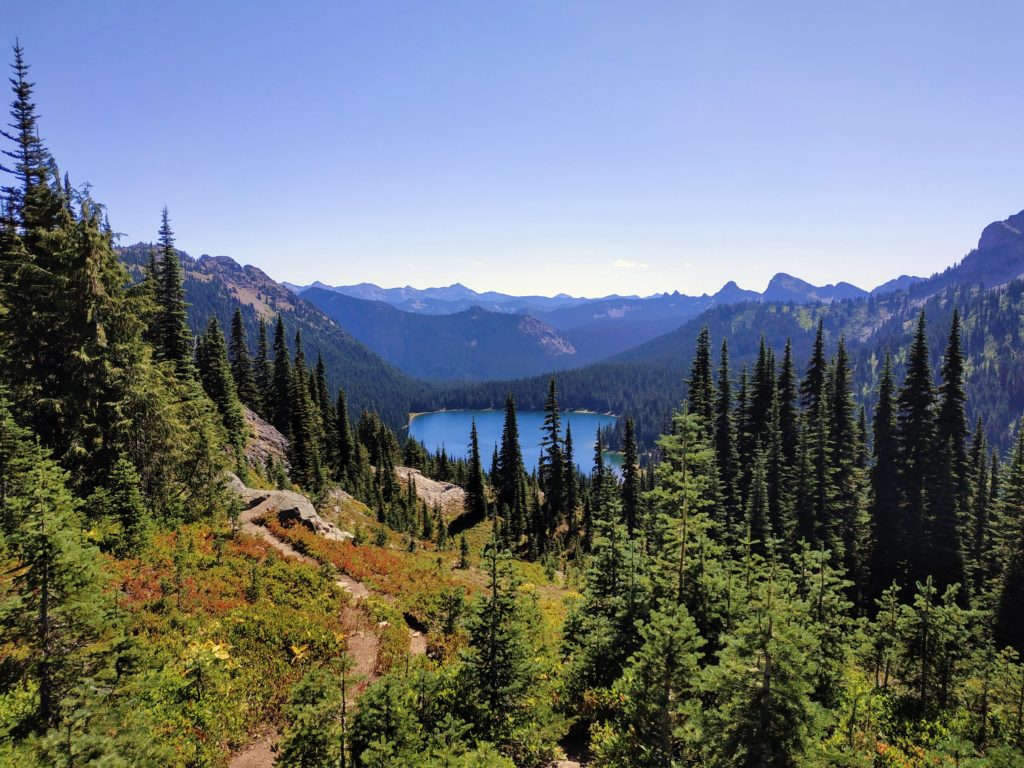 This is about the halfway point in your hike, and it makes an excellent place for a lunch break! There is a small trail that leads to some rocks on the left side (when facing the lake) that make perfect benches to sit on. Our group enjoyed our lunch stop here. And everyone was re-energized for the rest of the hike.
After you finish your break, continue down the trail, and you will come to a fork in the path. This is part of the Pacific Crest Trail that takes you down to Dewey Lake. If you're not in a hurry and don't mind adding another 2 miles to your hike, then take a left and hike down to this beautiful lake. Otherwise, continue straight to stay on the Naches Peak Trail.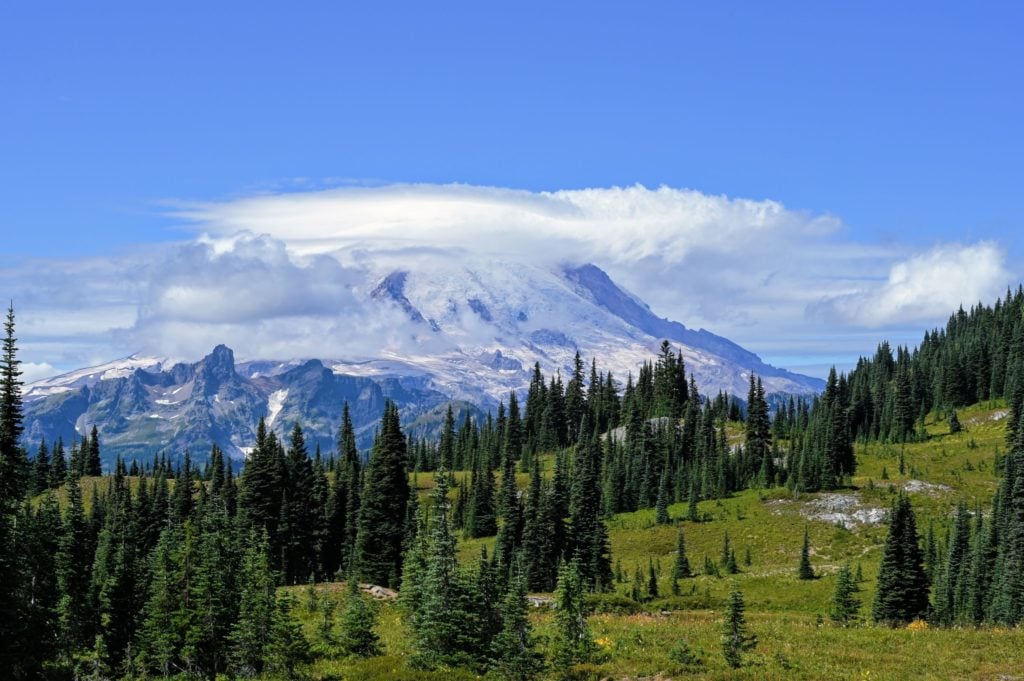 Soon you will see why I recommended hiking this clockwise. If you're lucky, you'll have a clear day with unobstructed views of Mt Rainier. We had some clouds around the top during our hike, but it was still such a beautiful view!
This part of the trail is mostly flat with a slight downhill slope. The Naches Peak Trail will continue its gradual descent as you return to Tipsoo Lake. There are lots of rocks and roots on the trail so watch your step. Poles are not required, but are helpful, especially if you have any problems with mobility or balance.
You eventually make your way down to Highway 410 again, where you will need to cross the road to re-connect with the trail and return to your parking area. You have now come full circle on the Naches Peak Trail! And in case you missed it when you started your hike, make sure to look up, that's Naches Peak your viewing!
You need to purchase a Northwest Forest Pass to park at the trailhead. This pass is different than your National Parks pass or the State Parks Discovery Pass. You can buy a day pass or an annual pass, depending on your needs.
Part of this trail is along the Pacific Crest Trail, and part of this is in the Mount Rainier National Park. That means dogs are allowed on the trail, only in the portion of the PCT, but not within Mount Rainier National Park. So it is best to leave Fido at home for this hike. 
Pack plenty of water, snacks and perhaps even a picnic lunch, depending on your group. 
Naches Peak Trail is a very popular trail, so practice proper trail etiquette and be prepared to yield the path to faster hikers when it makes sense.
Set the hiking pace to the slowest person in your group.  Make sure everyone has fun and can go at a comfortable pace. 
Mount Rainier is one of my favorite places to camp and hike here in the Seattle area. It is like a second home to me.  If you want to extend this hike and make it a weekend excursion, then consider staying at White River Campground, this area of Mount Rainier is truly remarkable!
Happy Hiking!