Hiking The Narrows at Zion National Park is an experience you'll never forget! The same could be said about hiking Angels Landing, but that's for other heart-pounding reasons. The Narrows is the poster child for the saying, "it's not the destination, it's the journey." 
It isn't just another trail to a beautiful vista or natural monument. It's more about wandering up a river than reaching any particular destination. That's part of its beauty. That and you're hiking up the Virgin River the entire time! It's guaranteed to be something you and your family talk about for years to come.
The Narrows Bottom Up Day Hike
This article is about hiking The Narrows from the Temple of Sinawava (also referred to as the bottom-up hike).  You can do a longer 16-mile-through hike, but it requires a permit.  The day hike in this post does not require a wilderness permit.
Shuttle System
Zion National Park operates on the shuttle system for most of the year. Starting in March, you are not permitted to drive your vehicle along the Zion Canyon Scenic Drive. Instead, you take a shuttle on a first-come, first-served basis. 
For a while, you needed to reserve your time slot. Currently, Zion eliminated the need to purchase and reserve a shuttle ticket in advance. It is free but get there early. Check the park's shuttle schedule for current hours of operation. Try to get to the park as early as possible to avoid the crowds.
You also want to pay attention to the last shuttle, so you don't miss it. If you miss the last shuttle of the day, you'll have to walk back to your car. Depending on where you are in the park, that could be a long walk. So don't miss it!
Parking
There is parking at the Visitor Center, but it fills up quickly! Usually, by 10 a.m., it is full. That is another reason for getting to Zion early and catching the first shuttle. If you can't find parking at the Visitor Center, you can look for paid parking in the town of Springdale. The Springdale Shuttle takes visitors to the Zion National Park Visitor Center, and you can then catch a Zion National Park shuttle from there.

Getting to the Trailhead
To hike The Narrows, you want to take Zion's shuttle to the last stop and get off at the Temple of Sinawava stop.  There is a restroom here, and the trail begins along the Zion Riverside Walk paved trail.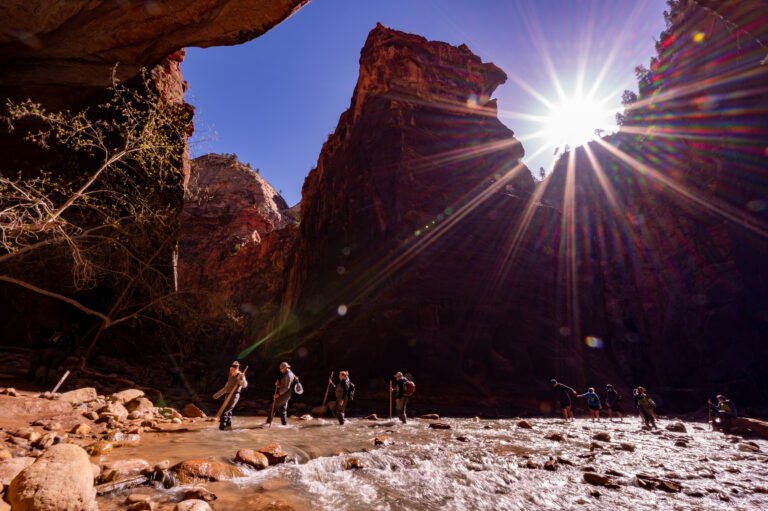 Trail Length: 5.0-10.0 miles (roundtrip)
It depends on how far you decide to hike. The area referred to as "Wall Street" is about a 5.0-mile round trip hike. Hiking to Big Spring is 10 miles round trip. You can, of course, only hike in 1-2 miles and turn around. It's up to you!
Approx. Hiking Time: 4-8 hours
Again, it will depend on how far you want to hike up the river and how many photo stops and snack breaks you take.
Elevation Gain: No significant elevation gain.
You're walking up a canyon river bed with only slight increases in elevation. The first mile of the hike is along the paved Riverside Walk. The rest of the time, you are hiking up a rocky riverbed.
Trail Difficulty Rating: Moderate to Strenuous
The unique location of this hike makes it more difficult. You hike through a river, upstream, over slippery rocks, around boulders, and sometimes in waist-deep water. Depending on water levels, the current pulls at you more strongly too. All these factors combined make this a more challenging hike. That said, I saw families doing this. Just take your time and help each other out.
Features: A unique hike up the Virgin River through the narrowest part of Zion Canyon. Gorgeous red canyon walls, waterfalls, and beautiful displays of light as the sun reflects off the canyon walls.
Restroom Facilities: The only restrooms are at the Temple of Sinawava shuttle stop. There are no other restrooms along the hike, and all solid waste must be packed out.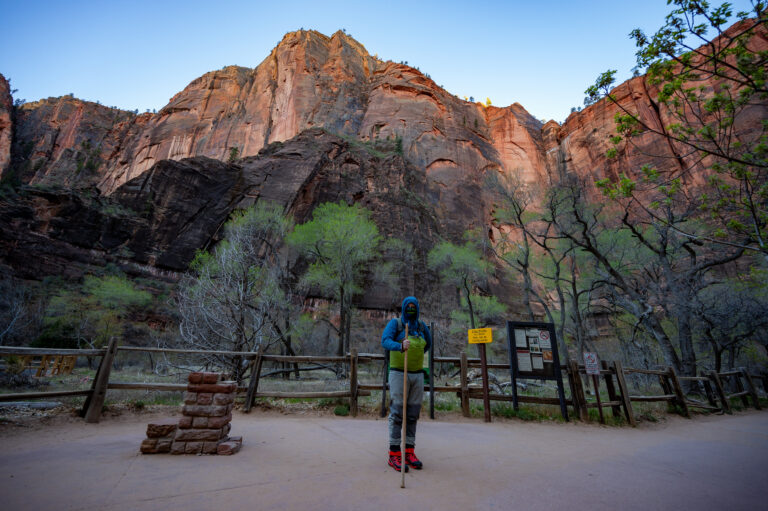 Water.  Do not take this hike or any hike without water. The river water is unsafe to drink, and although it typically is cooler in the canyon, it still gets hot in the summer. Make sure to bring plenty of water for everyone in your group.
Trekking Poles.  A hiking pole or two helps navigate the slippery riverbed. It is also helpful for checking water depths.
Sunscreen.  You may be surprised by how much sunlight filters down to you and reflects off the water.
Snacks/Lunch. I highly recommend you pack a lunch, but make sure to bring snacks and drinks at a minimum.  It may depend on what time of day you start your hike whether or not you want to bring lunch. We had a morning shuttle time and hiked this early, eating lunch deep inside the canyon. We also had snacks, and we were thankful for all of it. You work up an appetite hiking up a river!
Waterproof Gear. This isn't a requirement, but I highly recommend it if you're hiking in the spring or winter. Cameras or electronic gear you want to bring will be best kept in a waterproof backpack. A waterproof bag is also good for sandwiches and snacks.
Close-toed shoes: Rent waterproof shoes at one of the outfitters outside Zion (see a list below under Tips) or wear tennis shoes or hiking boots. You are bound to stub your toe on a rock below the surface. Flipflops are a big no-no.
Layers. Wear layers of clothing. It might be cold in the morning but hot by the afternoon. Additionally, the narrower sections of the slot canyon are shaded and cool. So although it can be over 100 degrees out in the sun, it is significantly colder in the river in the shade.
You will get wet. I know, surprise, surprise.  You can rent waterproof gear or hike in your clothes and shoes, but again, you will get wet.  It was spring when we hiked this, and it was in the upper 30s in the morning. We thought the money spent on our waterproof pants and shoes was one of the best decisions we ever made as we took that first step into the river.
You may also want to rent a waterproof backpack or bring your own. Renting a large waterproof bag to carry our gear and food was money well spent! I had expensive camera gear, which I did not want to get wet were I to take a tumble in the river.
There is an inherent risk involved whenever you're in a river or a slot canyon. Zion closes The Narrows hike if the levels are too high or if the National Weather Service issues a flash flood warning. Check with Zion National Park for the weather forecast and water levels ahead of time.
Stop at the Visitor Center on the day of your hike or the day before and ask about the most up-to-date conditions and get tips on what to do if you're in a thunderstorm or potential flash flood. This isn't Disneyland, this is nature, and it's often unpredictable. Zion park rangers will do their best to mitigate the dangers, but there is always an inherent risk, and they can't always accurately predict these things.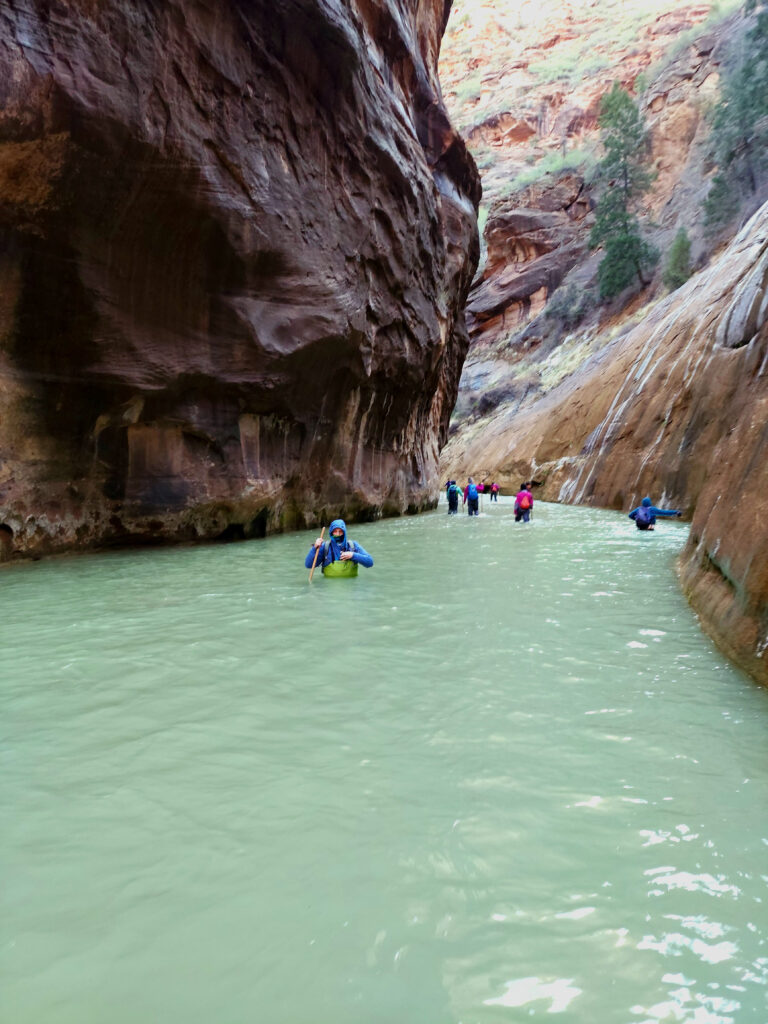 My Experience Hiking The Narrows in Spring
6:30 a.m. In Line at Zion Outfitters
We were waiting in line to rent waterproof gear at Zion Outfitters. There were around ten people ahead of us in line. We're nervous we'll miss our shuttle window, but an employee said not to worry. They'll still let us on the shuttle even if we're a little late. We rented the Bib Package and waterproof shoes, and a waterproof backpack.  Money well spent!
8:30 a.m. Starting our hike along Zion's Riverside Walk
We begin our hike along the Riverside Walk. It's freezing out, and we are layered up underneath our waterproof bibs and wearing jackets over the bibs.  The wind was blowing, and it was in the upper 30s when we started. I am nervous about getting in the water. It's a 1-mile walk along the paved Riverside Walk before we reach the end of the trail and the beginning of the river portion in The Narrows.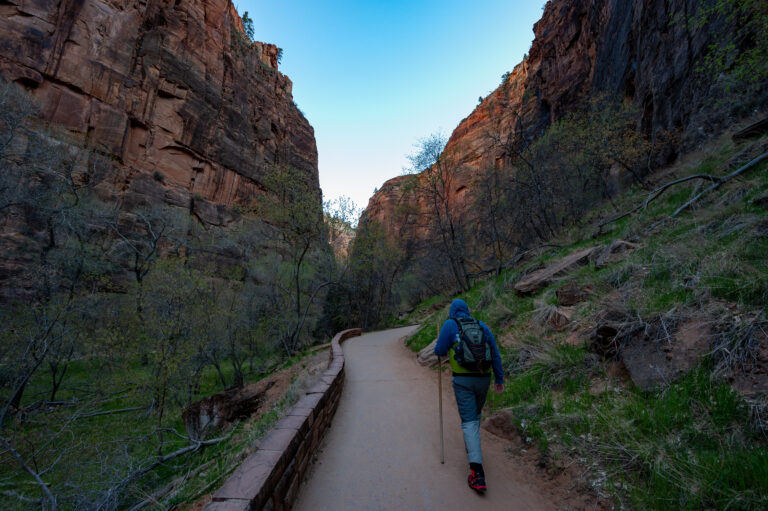 9:00 a.m. Entering The Virgin River
We reach the end of the Riverside Walk Trail and climb down to the river to begin our hike up The Narrows at Zion National Park.  It's exciting as we take the first step into the river. I hesitantly put one foot in, then the other, and wait to see if water leaks in.  It doesn't! It only feels a little cool on the outside of my feet and isn't freezing as I expected. I couldn't be happier with my waterproof gear!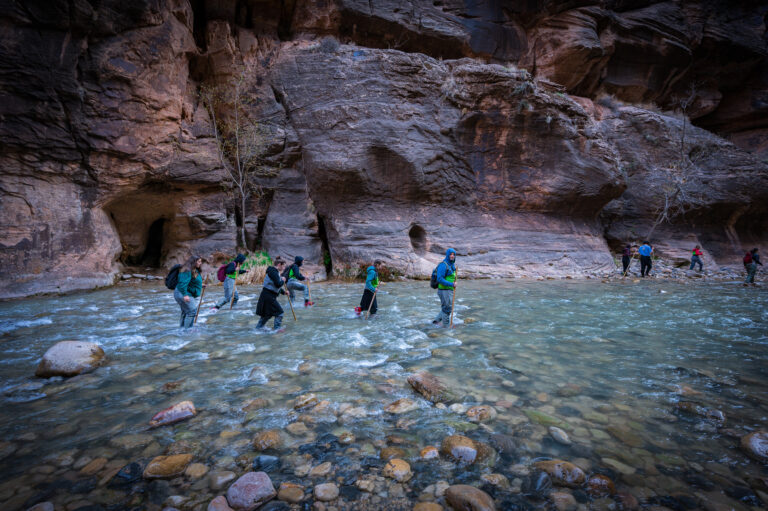 Never Alone in The Narrows
One thing is true about the hike up The Narrows–you are never alone.  Even with our early morning start, there are at least 30 other hikers, and the number continues to grow to 100's by the afternoon.  Early morning is your best bet if you want to get photos with the least number of people. 
This is a community hike; we're in this together, laughing and sharing in this utterly unique hiking experience. There were so many photo stops along the way! Look in both directions to capture how the sunlight filters into Zion Canyon. The colors change throughout your walk with the amount of light shining in.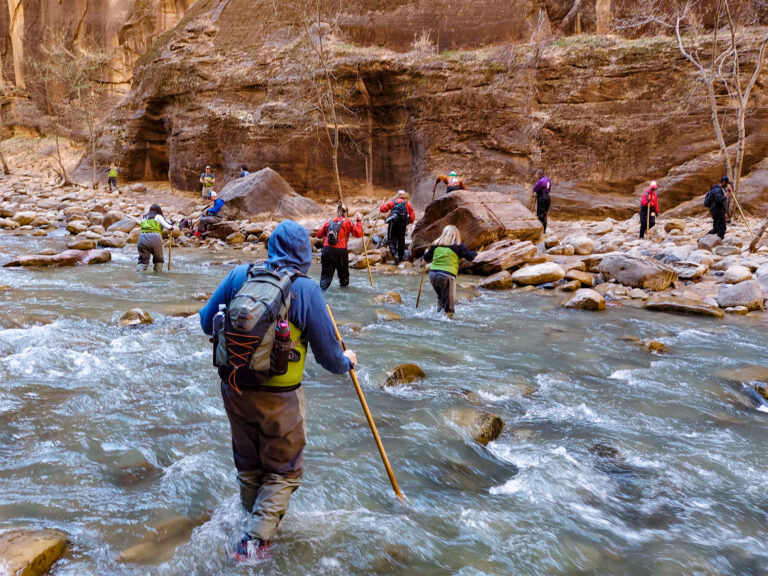 There are a few different places along The Narrows where you can get out of the water and find a small patch of dry land to take a snack break or a lunch break.  If you start before lunchtime, I highly recommend packing a lunch. It is nice to take a break and enjoy the surroundings. It's also easier to stop for a snack when you're not actively walking up a river.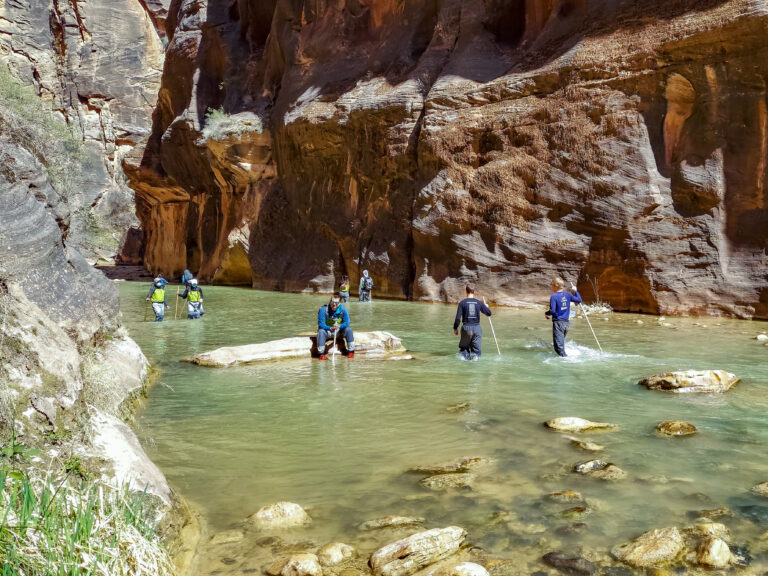 Look Up
Make sure to look up while hiking The Narrows. Zion Canyon towers above and looks so beautiful against the blue sky. Plus, you may find a ray of sunlight seeping down to the river, and you can basque in its glow as I saw other hikers doing. It gets a little chilly in the shaded parts of the canyon, so the sunlight is a welcome sight.
2:30 p.m. Back on Dry Land
We're back where we started on the Riverside Walk. The trail is much more crowded now, with hundreds of people sitting around the end of the trail relaxing in the sun or playing in the river.  It is now in the 80s, and I can't wait to be out of my gear and back into shorts! The hike back was faster, which always seems to be the case. You know where you're headed on the walk back, and you've already taken most of the photos you want.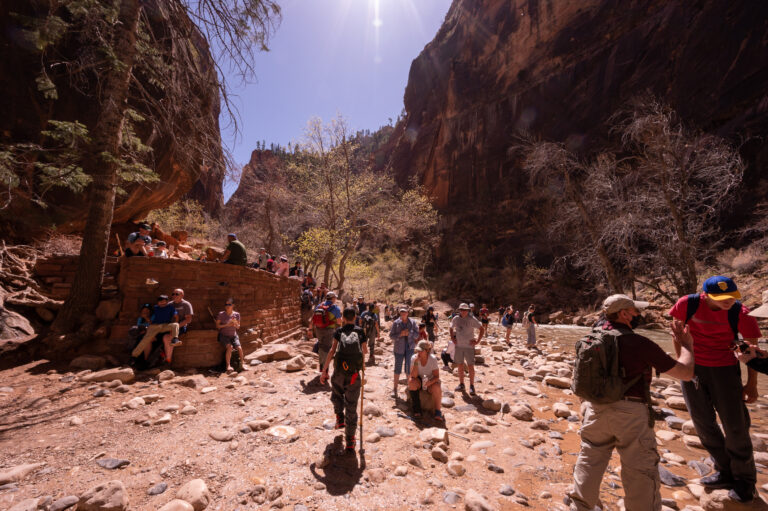 Overall Thoughts About Hiking Up The Narrows
Who would have thought it could be so fun to spend the day hiking up a river? Not me. However, The Narrows was such a fun way to spend the day. It was beautiful to see the natural designs in the stone where the water carved it out and to gaze up at the canyon walls towering thousands of feet above. I think it is something you must experience for yourself to appreciate what the hype is all about.
We visited in early spring, and water levels were still relatively low. A few deep spots went up to our waists, so I can only imagine what the current and levels are like a little later in the spring. Always check with the visitor center for the current conditions and prepare accordingly.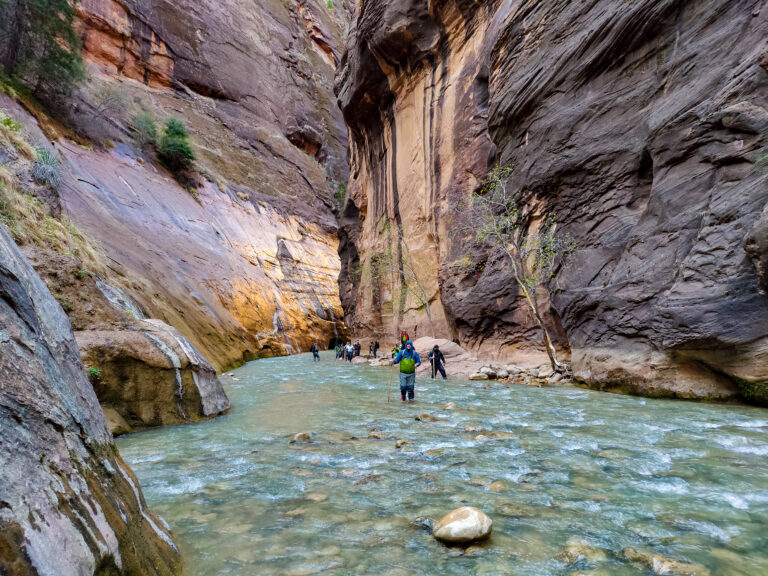 Tips for Hiking The Narrows at Zion
Reserve Your Gear Head of Time
If possible, reserve your waterproof gear ahead of time. We did not have a reservation, but we got in line before Zion Outfitters opened, and we were fitted and checked out in around 30-minutes. It helped that they are right outside the main entrance to Zion National Park.
Go Early
Get to Zion National Park early to beat the heat and crowds and get parking so you won't feel rushed for time or worry about missing the last shuttle out.
Planning Your Day
Don't plan any other strenuous hikes for the day or any other hikes for that matter. If you're anything like me, your feet will be sore after hiking over rocks for hours. I suggest grabbing some pizza and enjoying a leisurely day after your hike up The Narrows.
Where to Eat
The best tip I can give you is to drive to La Verkin and eat at River Rock Roasting Company.  They have incredible pizza with a view, plus the best cinnamon rolls you'll ever eat.  They also sell their freshly roasted coffee beans to take with you. It's your one-stop-shop for breakfast, lunch, and dinner! 
Additional Articles You May Enjoy