If you are looking for a campground close to Seattle, look no further than Kalaloch Campground.  This campground is sure to become your family's favorite getaway destination.  Long weekend? Summer vacation?  Head to Kalaloch Campground. It is the perfect Northwest getaway.  
You've got miles of sandy beaches, piles of driftwood for building forts, tide pools for exploring the sea life, whale watching (depending on the time of year) and so much more!  And who doesn't love waking up to the sound of the ocean? Keep reading as I share my favorite things to do when camping at Kalaloch Campground and why I keep returning year after year.
1) Explore the Tide Pools
This is one of my favorite things to do, even now as an adult.  I didn't grow up near the ocean, so when I moved to Seattle at age 18, I had my first experience exploring tide pools.  The ocean fascinates me.  It is a beautiful "world" that we have barely explored. I know kids and adults alike will get excited seeing the sea anemones, colorful starfish, and barnacles in the many tide pools found at Kalaloch. You'll see tiny crabs crawling out from under rocks, and you might even see the occasional sea otter foraging for food by the tide pools!
2) Make Sandcastles on the Beach
Okay, what's a trip to the beach without time spent building sandcastles? I happen to believe that no trip to the beach is a success unless your suitcase comes home with a little sand in it.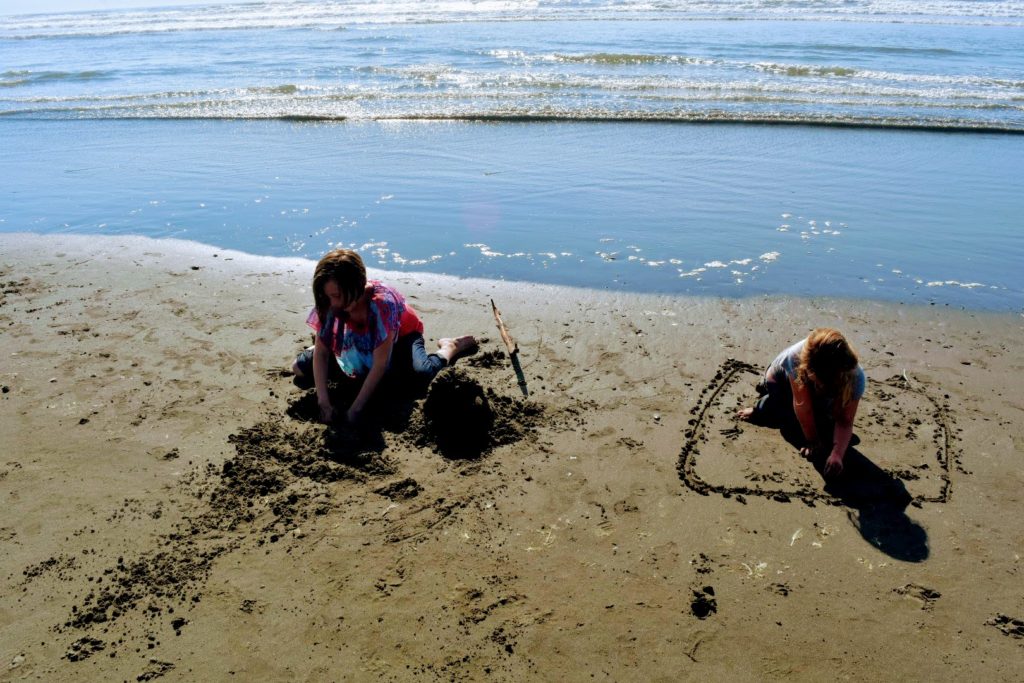 3) Visit the Tree of Life at Kalaloch Campground
The Tree of Life is one of the unique treasures found at Kalaloch Campground. It is a beautiful tree suspended above the ground with its roots growing down below.  I'm not sure how long it can continue to hang on against the eroding soil around it, but while it is here, you definitely need to check it out!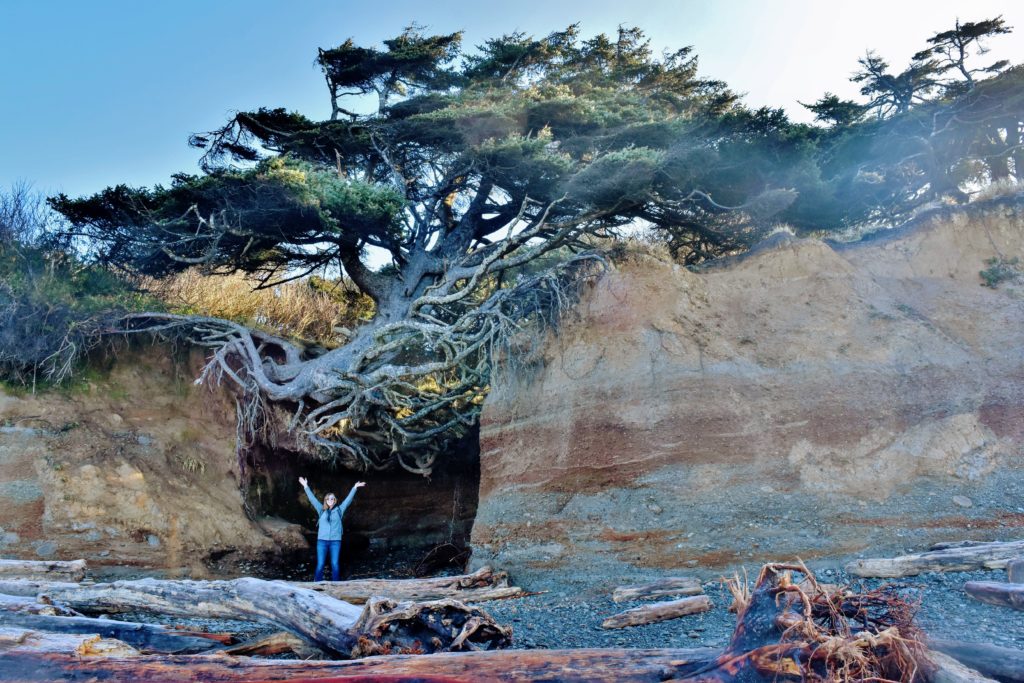 4) Watch the Sunset on the Beach
Sunsets on the beach are beautiful at Kalaloch Campground. You have a vast sandy beach that reflects the light of the setting sun and casts orange and red light across the crashing waves.  I love watching the sunset over the ocean.  Whether I am here or in Maui, I'm a sucker for a good sunset!
Oh, and in case you're wondering, sunrises on the beach at Kalaloch are also spectacular! Cotton candy pinks mixed with baby blues reflected off the sand while the sunlight shimmers on the water. You feel the ocean breeze blowing in your face, and the glow of the sun warms you.  Yep, sunrises here are pretty great too!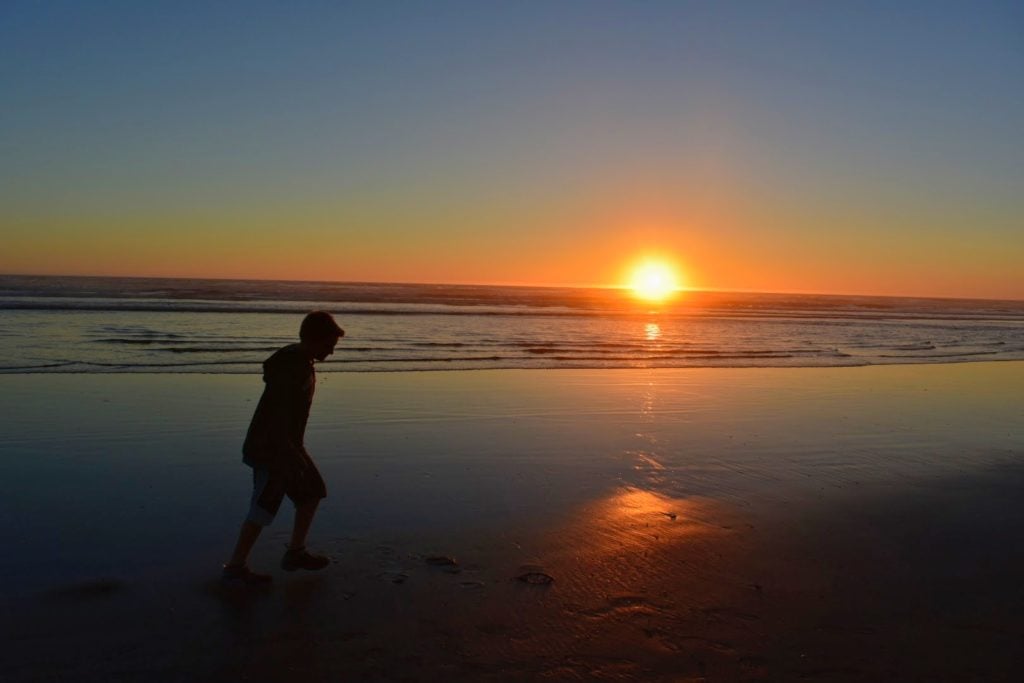 5) Hiking at Kalaloch Campground
The Kalaloch Creek Nature Trail connects to Kalaloch Campground. It is a short walk thru the beautiful wooded area surrounding the campground. The hike is less than a mile and is accessed from the campground's Loop A.  Follow signs and be very careful when crossing Highway 101.
The rangers also offer guided hikes depending on the time of year you go.  So definitely check in with them to see what is happening while you're there.  I think it is fun for adults and kids alike to go on a guided walk with a ranger who knows the area. You learn fun facts and interesting information about the local habitat.
6) Fly Kites on the Beach
Plan ahead and pack your kite!  Now sing along with me: "let's go fly a kite, up to the highest heights…"  Okay, if you haven't seen the original Mary Poppins, stop reading now, watch it and then come back and finish reading this post.  Flying kites is such a fun family activity, and the beach in front of Kalaloch Campground is perfect for this at low tide. You will have a huge sandy beach to fly your kites to your heart's content!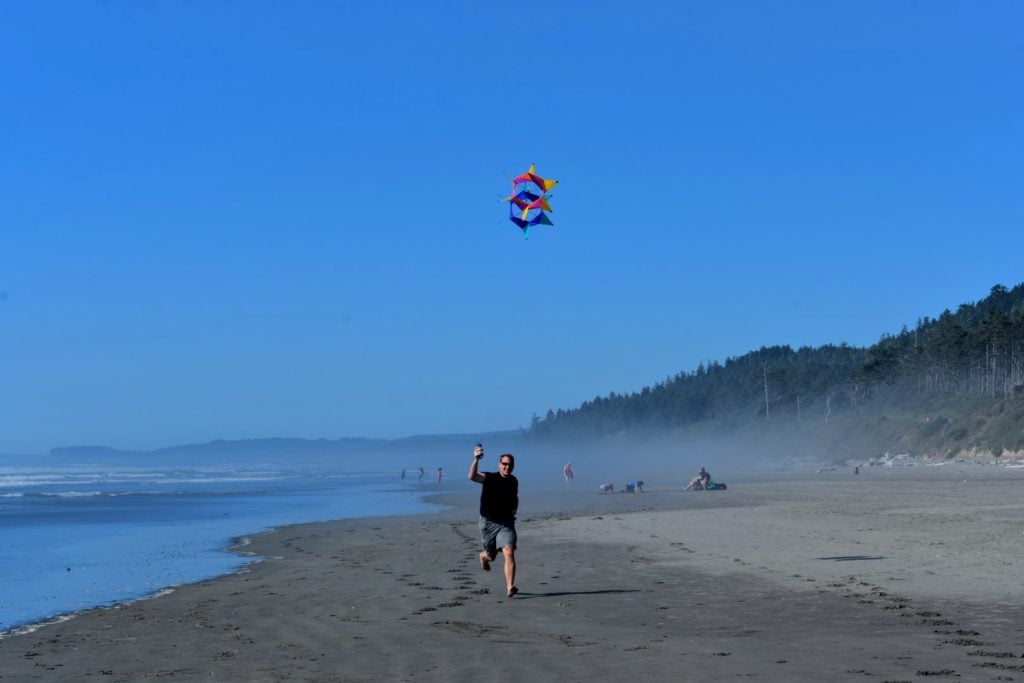 One benefit of taking a family vacation away from the city is viewing the stars at night. Away from light pollution, you begin to see the vast sea of stars above you.  Grab a blanket and some hot cocoa and find an open spot to admire these twinkling lights. We have made trips to Kalaloch just for this purpose. 
My husband loves stargazing, so we bring a small telescope, along with our cameras and tripods and practice our astrophotography. You can stargaze at the Kalaloch Campground day-use parking lot, or if it's low tide, then the beach makes a great place to bring your thermos of cocoa and blankets.  Just don't forget your flashlights!
8) Build a Fort on the Beach from Driftwood
There is so much driftwood on the beaches surrounding Kalaloch campground, and with some teamwork and ingenuity, perhaps you will build yourself a fort that is discussed inside family circles for years to come! Come on, think big!
9) Watch Whales Migrating
Depending on the time of year you can watch grey whales migrating from the beach in front of Kalaloch Campground.  It is so much fun to watch them breach and see water shoot up from their blowholes.  Bring some binoculars so you can enjoy them close up. Typically the months of May, October, and November are the best months to watch grey whales at Kalaloch. However, believe it or not, we got to see them once during a camping trip at the end of August!  So you never know!
10) Build a Bonfire on the Beach
Who doesn't love a good bonfire on the beach? This is the only time you can use driftwood for your fires.  You are not allowed to bring driftwood off the beach to use for your campfire, but you can use it on the beach. So bring your marshmallows and supplies for s'mores and enjoy a bonfire on the beach. Check with the rangers at Kalaloch Campground earlier in the day to make sure there are no fire restrictions during your stay.
And of course, practice safety and make sure to extinguish your fire before leaving.  Be careful to cover all the hot coals with sand so that no one accidentally steps on them, during their nightly stroll on the beach.
11) Wake up to Sunlight Streaming thru the Trees
This is one of the joys of camping. Waking up to the sounds of birds, the smell of fresh air and sunlight streaming in thru the trees.  It says, "it's going to be a great day!" Everyone starts stirring around; you grab a cup of coffee as you get the fire going for breakfast; it is a magical time in the stillness of the morning.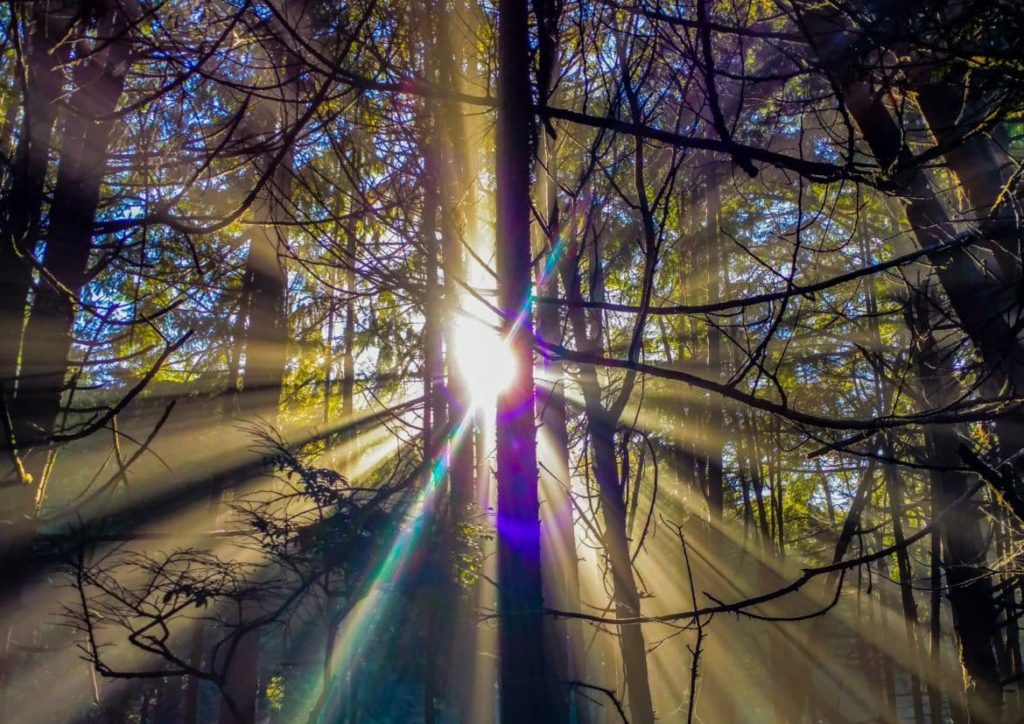 12) Biking Around Kalaloch Campground
If you have the room to bring bikes, this is something fun that kids will enjoy.  Biking around Kalaloch campground.  It is something I see no matter where I go camping.  Kids off on their own adventure just cycling around the campgrounds with the carefree hearts that camping brings. They have huge smiles on their faces, and they are usually laughing and talking with each other.  I have even witnessed young kids who are just learning to ride their bikes for the first time.  It is fun for both them and their parents.
13) Hanging out at the Campsite
One of the things kids love to do is hang out at their campsite and explore the area surrounding it. Climbing trees, playing hide-and-seek and of course playing in the tents. I love watching their happy faces as they enjoy being outdoors. It makes the work involved in planning a camping trip all worth it!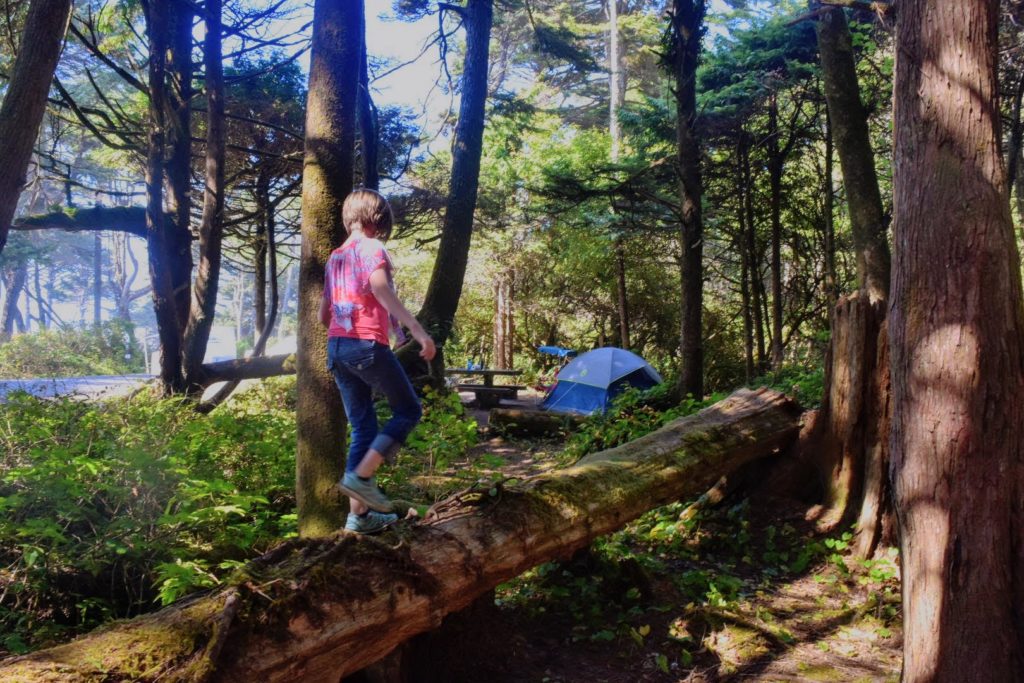 Important Information for Camping at Kalaloch Campground
Make reservations in advance! This is a favorite campground for people who live in the Seattle area, and it fills up quick during the summer months. So plan ahead and reserve your campsite months in advance, if possible.  I booked our campsite in May, for an August visit.  The reservation period is from May to September, and you can reserve your spot online during this time frame. During the off-season, they don't accept reservations. During this time, campsites are assigned on a first-come-first-served basis.
You can purchase firewood at Kalaloch Lodge which is about a 1/2 mile from Kalaloch Campground. They also have a small store where you can buy snacks, drinks, and miscellaneous supplies you may have forgotten to pack.
Always check the tide charts posted at the campground when making plans for your daily activities.  You never want to get caught on the beach during high tide.  Besides the strong currents, there are lots of large trees and driftwood that could easily knock a person out if you were to be hit by one.  So know when low tide and high tide are and stay safe!
Getting to Kalaloch Campground
Kalaloch Campground is located off Highway 101 about  34 miles from the town of Forks, Washington. It is around 3-4 hours drive time from Seattle. Depending on where you're coming from you will either head north thru Bremerton and over to Highway 101 or south thru Olympia, cutting over to Highway 101.  I find driving south past Olympia and then cutting over to Highway 101 around Montesano is the quickest way for me.
Kalaloch Lodge Address is: 157151 US-101, Forks, WA 98331 (Kalaloch campground is about a half-mile north from the lodge.)
No matter what you decide to do when visiting Kalaloch Campground, there is a lot to occupy your time and so many fun ways to create wonderful memories with your family. If you need more ideas for things to do near Kalaloch Campground check out these awesome beaches near Kalaloch.
Happy Camping!