Peneda-Geres National Park is Portugal's only National Park, and it is well worth visiting! Go for a hike, breathe in the fresh air, admire one or more of the many waterfalls within the park, and maybe even see a goat or two along the way! In as little as 1.5 hours, you can drive from Porto to Peneda-Geres National Park and escape the hustle and bustle of the city for a break in nature.
This article is all about how to take a one-day self-driving road trip from Porto to Peneda-Gerês National Park. I share the itinerary I used and some tips and information for planning your trip, setting expectations, and what to do if you have more time. 
Planning Your Day Trip to Peneda-Geres National Park
First, accept that you cannot see it all.  
With only one day to drive from Porto to Peneda-Geres National Park and make the return back to Porto, you will need to decide what's important for you to see. Research the hikes, waterfalls, and stops you're most interested in, and pick one or two. Then, enjoy the drive.
Plan for extra time between stops.
As with most national parks, whether in the U.S. or abroad, the roads inside the park are typically narrower and have much slower speed limits than outside the park. Although the distance between stops may not be very far, you need to plan for it to take longer than you expect, especially if it is busier during your visit.
Points of Interest Inside Peneda-Geres National Park
We thoroughly enjoyed our day trip, and I know you will too if you decide to follow it. However, I also want to provide some additional options for things to see and do to help you tailor your trip according to your interests. 
Waterfalls
There are so many waterfalls inside this park, so here are just a few to consider seeing.
Cela Cavalos
Cascata do Arado
Lagoa do Poco Negro
Poco Azul
Fecha das Barjas (Tahiti waterfalls)
Portela do Homem 
Hiking
With over 300 trails in Peneda-Geres National Park, there are too many to list. However, I will list a few links to get you started in your research. 
If you'd like to research more trail options or if you have one or two nights to spend inside the park and want a longer hike, this list from All Trails is a good starting point.
Camping
You have a lot of great options for camping around Peneda-Geres National Park. Many of these include cabins and hot showers.
Picturesque Towns to Explore
There are so many unique towns surrounding Peneda-Geres National Park. Here are a few to consider exploring in combination with your day. These would also be great options for spending a night or two close to the park.
Ermida
Lindoso
Soajo
Sistelo
Rio Caldo
Below, I discuss the route we took, our hikes, and the viewpoints we stopped at during our day trip from Porto to Peneda-Geres. You are welcome to follow the route we took using the below map or create a unique itinerary using some of the above-listed points of interest.
We spent five nights in Porto during our two-week road trip in Portugal. We took two days to take day trips outside Porto. One was a day trip to see the Douro Valley, and the other was a day trip to Peneda-Gerês National Park. You can read more about additional day trip options and planning a road trip in Portugal in this article.
We left Porto early in the morning while it was dark out and most of the city was still asleep. I enjoy seeing a city early in the morning. You catch the bakery getting their deliveries, you see the early morning commuter waiting at the bus stop, and you notice things you wouldn't when the lights are on, and everyone is hustling and bustling around. Plus, it's much easier to drive in the city with almost no traffic!
We drove to Braga for our first stop along this day trip from Porto. I wanted to see Bom Jesus do Monte during my visit to Portugal, and since it was on the way to Peneda-Geres National Park, we decided to make a quick stop there first. It was well worth the time!
Side Trip to Braga's Bom Jesus do Monte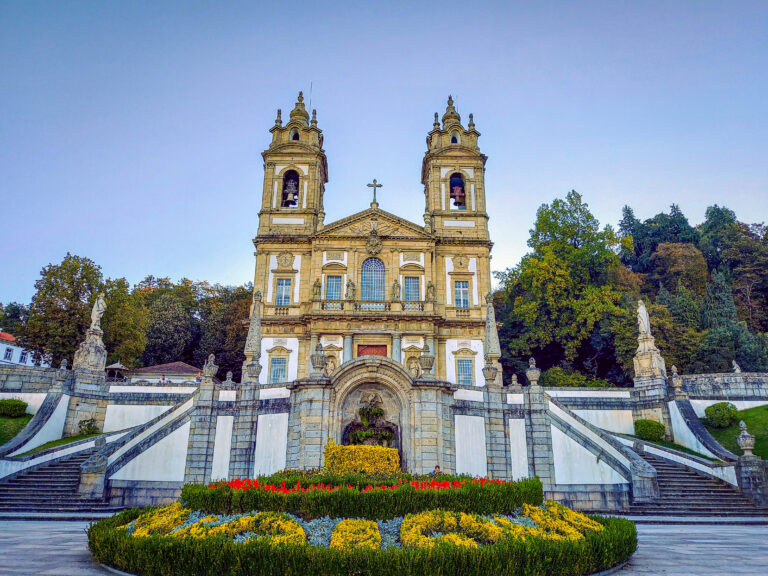 Braga's Bom Jesus do Monte is a beautiful sight to see early in the morning. There were hardly any other visitors except the ambitious morning runners using its many stairs for their morning workout. The church is open to look inside, and the manicured flowerbeds and landscape surrounding the church are also quite stunning. It is beautiful and worth the quick stop even if you don't have time to explore the city of Braga.

We worked up quite an appetite after watching the joggers climb the stairs at Bom Jesus do Monte, so we went into Braga to grab a quick breakfast before continuing to Peneda-Gerês National Park. 
Covide, Portugal: Our Entrypoint to Peneda-Gerês National Park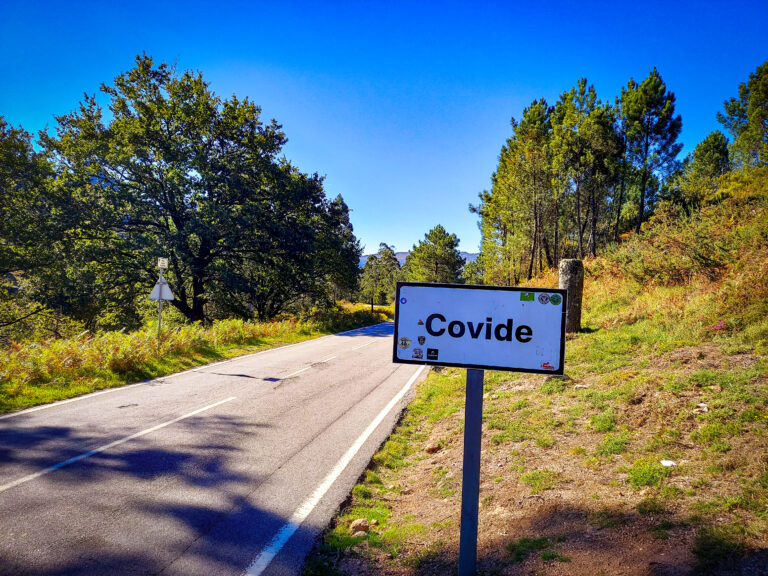 Our route took us through the town of Covide, we found this ironically amusing, and I took this photo as we left the city limits shortly before you entered the Peneda-Gerês National Park park boundary. 
A little further up the road, we came across a goat herder. Little did we know, but we would reencounter his goats just a bit further into our drive inside the national park. I love goats! They are some of the funniest creatures! I joke with my husband that someday we will have a farm, raise goats, and make goat cheese. It's unlikely to happen but fun to consider. I do love goat cheese…
Covide is also the starting point for the very popular Calcedónia Trail in Peneda-Geres National Park. 
Entering Peneda-Gerês National Park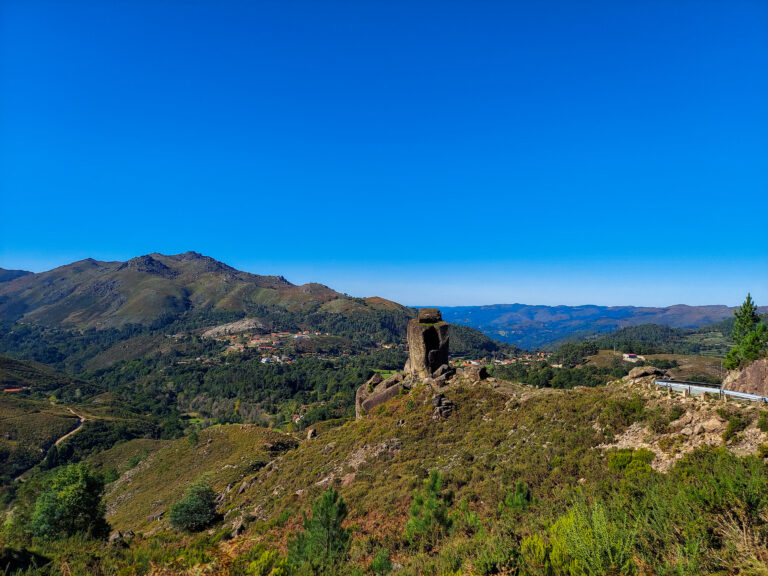 Soon after entering Peneda-Gerês National Park, the road begins to climb upward and narrows into a narrow road with possibly enough space for two small cars to pass. Thankfully, we did not see any vehicles along this section.
It is a beautiful drive as the road climbs above the town of Covide below, and we begin to see expansive views of large rocky formations, trees, shrubs, and even lakes below. I breathe in the fresh air and smile. It is nice to be in nature. I love the city, but I also love and need these breaks in nature to replenish my spirit.
It felt as though we had the entire Peneda-Gerês National Park to ourselves! Well, besides the Cachena cows we saw hiding in the grass with their long horns peering out at us. The Cachena cows were initially bred not only for their milk and meat but also as draft animals. Today, they are sold primarily for their meat and the milk is used for making delicious cheese.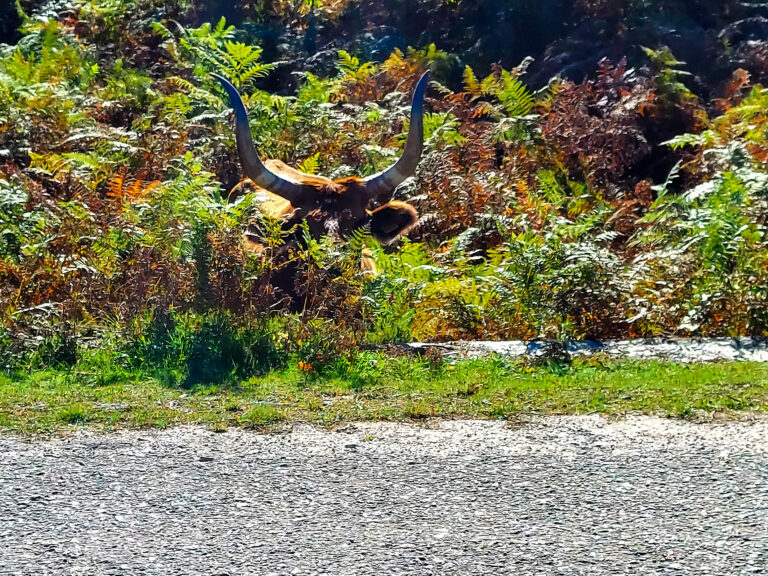 The Ancient Roman Road near Campo do Geres
Miradouro Voltas de São Bento
There are many miradouras (viewpoints) within Peneda-Geres National Park.  These are great opportunities to get out, take in some fresh air and stretch your legs while enjoying the view.  The first one we stopped at was Miradouro Voltas de São Bento. You'll enjoy views of the Cávado River below as well as rocky outcroppings scattered around. 
Just a short drive up the road from the São Bento Viewpoint, you come to Mirante Velho Viewpoint or Mirante Velho Miradouro in Portuguese. This one gives you a slightly higher view of the Cávado River and the surrounding area. It also had some neat rock formations that reminded me of rocks I saw in Joshua Tree National Park. There is also a picnic area here, and when we visited, they were replacing the picnic tables and restoring the area around this viewpoint.
Gerês is an excellent place to stop and eat if you didn't bring a picnic lunch. It is the last stop for food along this route. Gerês is also where the thermal spa is if you need a therapeutic soak. The road climbs steadily after leaving the town with sharp hairpin corners and poor visibility on such a narrow road. It reminded me of the Road to Hana in Maui, Hawaii.  I commented that it would give the Road to Hana a run for its money with the sharp curves and s-turns.
Next Stop: Miradouro Novo da Pedra Bela
Miradouro Novo da Pedra Bela or the New Beautiful Stone viewpoint has a beautiful vantage point high above the valley below. There is also a lovely picnic area here, so if you packed a lunch, this would make a great place to get that out and enjoy this beautiful viewpoint. There was plenty of parking when we visited. We stopped at a small pullout about a 1-minute walk from the picnic area only to realize that we could have driven to the end and parked.  
Once you walk past the picnic area, you'll see a sign for the viewpoint and, to the right, a small path leading up some rocky stairs. Follow this path as it leads you up and throw a somewhat narrow gap between two rocks before popping out on an open viewing platform made of stone. The stone slab is also a nice picnic area if it isn't too crowded.
We took a quick snack break before returning to our car and driving to the Arado waterfalls trailhead.
First Hike: Cascata do Arado
It's about a 10-minute drive to Cascata do Arado (Arado waterfalls) from the New Beautiful Stone viewpoint. You first come to the parking area for the Rocas viewpoint. You can park here and walk down the dirt road to the trailhead for Cascata do Arado, or you can do what we did and continue driving after the pavement turns into a dirt road. 
The dirt road was in pretty good condition when we visited, with just a few potholes here and there to drive around. Our car made it without any issues, and we saw many other cars driving down the road. There are quite a few pullouts for parking along the dirt road and parking across from the trailhead. If you decide to park in the parking area for the Rocas Viewpoint, it probably adds 15-minutes each way to your walking time.
The hike to the Arado waterfalls is short and easy. There is an initial climb up a series of rocky stairs before the path turns to loose rocks and dirt, and within 10-minutes of walking, you reach the viewing area for the waterfalls.  Hikers wanting to see the falls from below hiked up the riverbed instead of taking the trail to the upper overlook. We were here in late fall, so the water level was pretty low. I don't know whether it is possible at other times of the year, so take the necessary precautions and be safe!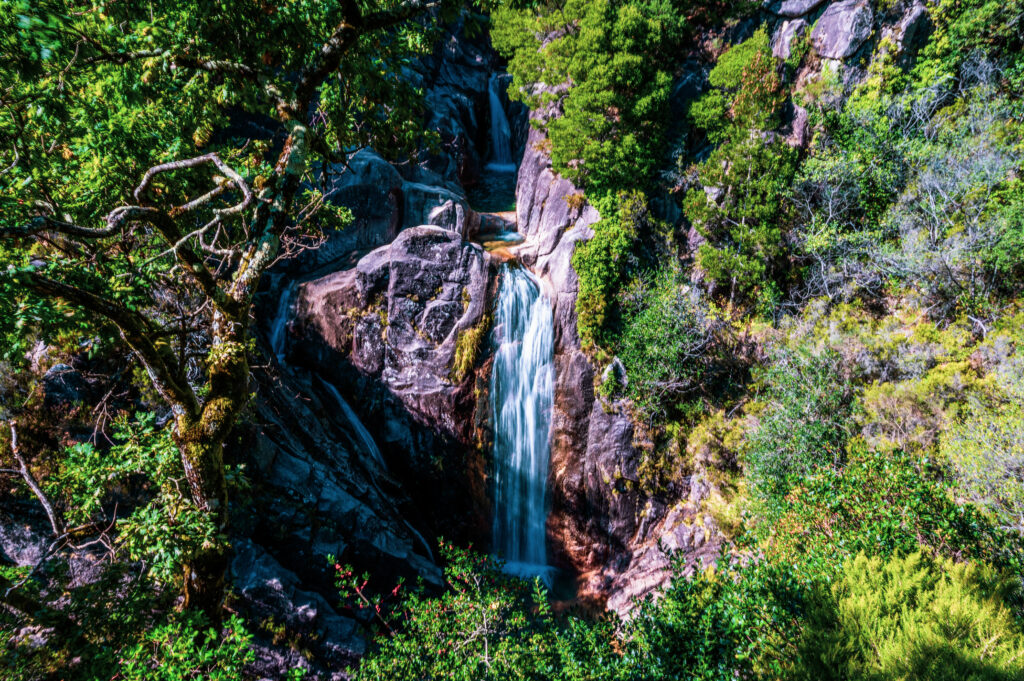 Hiking to Rocas Viewpoint
After hiking to Cascata do Arado, we walked back to our car and returned to the parking area for the Rocas viewpoint. Miradouro das Rocas is a short hike, but I enjoyed climbing this rocky formation. I had fun ducking and climbing as the trail engineers did their best to create a path around the rock.
At the top, you have 360-degree views of Peneda-Geres National Park from over 2,600 feet in elevation. It was a lovely way to end our visit here. I did not properly plan our day trip and forgot to pack a lunch, so the snack bar we ate earlier was wearing off, and we were ready to head back to Porto and get some dinner. Had I packed a lunch, we would have done one of the other hikes in this same area as there were multiple hiking trails all centered around this one parking area.  
We took a slightly different route back to Porto, passing through Rio Caldo and the Geres Water Park. You can rent boats here, swim, and sunbathe. It makes a good base point for families wanting to spend a night or two in the area. 
Drive slowly! This road does not allow for fast driving, so although the mileage may not seem much for a day trip, remember you're driving on narrow roads, plus making multiple stops for photos and possibly a picnic.
We visited in October, and it was still sunny and warm. We wore shorts, t-shirts, and tennis shoes and brought light jackets for the morning, but they were not needed by afternoon. 
Make sure to fuel up in Braga or a town outside the park. Bring extra water, snacks, sandwiches, and food for the afternoon. A hat, sunglasses, and sunscreen are good ideas too.
What Would I Do With a Second Day?
Spend a night in one of the villages, such as Sistelo, Soajo, or Ermida.
Walk along the old Roman Road walking trail.
Explore a little of the Spanish side of the park.
Visit the Cela Cavalos and Poço Negro waterfalls.
With only one day, though, you have to accept that you can't see it all. It's like a sampler plate, you take a small bite, and then you know what you like so you can return and explore more of that area. 
Additional Articles You May Enjoy
Tips for Planning a Two Week Road Trip in Portugal
5 Tips for Renting a Car & Driving in Portugal
Douro Valley Day Trip: A Self-Driving Tour Porto to Pinhão
Quinta do Bomfim: The Perfect Douro Valley Winery Tour
Happy Exploring!