The day has arrived, you must leave the tropical paradise that is Maui.  Chances are after checking out of your condo or resort you may have some downtime before your flight leaves from Kahului airport. I created this list of things to do in Kahului before your flight to help you make the most of your final hours in Maui.
How to use this map: Click on the tiny star next to "Things to Do in Kahului" to add this to your own Google maps. You can also click on the little icon to the left of "Things to Do in Kahului," and you'll see a drop-down list of each location in this post. You can click on the icons to pull up more information and to get driving directions.
7 Fun Things to Do near Kahului Airport
---
1) Iao Valley State Monument
This first one is technically not in Kahului, but it's so close I had to include it. The paved loop trail to the Iao Needle Monument is only a little over a 1/2 mile in length. This makes it an easy hike to do before you need to catch your flight.  The paved trail has interpretive signs along the path describing the history of the Hawaiians who settled in the Iao Valley. You will walk thru lush vegetation as you make your way to a scenic viewpoint of the Iao Needle.  It's a great way to see another side of what the unique island of Maui has to offer. There is a $5 parking fee that you will need to pay with a credit or debit card. I'd plan to spend about an hour here.
2) Golf at Waiehu Public Golf Course
The Waiehu golf course, in Wailuku, is about 20 minutes from Kahului Airport. It has incredible views, and the employees have always been so helpful and friendly! I'll tell you something; I don't typically golf when I'm at home. Occasionally I'll go to a 3 par course with friends for fun, but if my feet touch the green more than once a year that's a hot streak for me!  However, I have gone to this golf course on my last two visits to Maui.  We rent a golf cart, and that is just a ton of fun, plus it cools you off as you drive from hole to hole.
The real treat though is the beautiful views over the ocean and the gorgeous tree-lined fairway. Plus, my friends and I don't get too serious about golf, it's more about having fun together. This course is pretty laid back, and we've never had problems with anyone being rude or impatient with us.  Although it's never been too busy when I've been there, it is always a good idea to call ahead and reserve a tee time in advance.
3) Grab Something to Eat
So by now perhaps you've worked up an appetite for golfing or hiking. Why not grab some lunch or dinner and enjoy having someone else cook for you one last time before you return home to the "real world." Da Kitchen is a great place to eat some Hawaiian cuisine.  It can be busy, so come prepared to wait.  Or if you prefer a little more variety, check out the food trucks by Costco.  There is a big gravel parking lot, and they have picnic tables set up in the shade for seating.  And in case you have already spent all your money, never fear, grab a foot-long hotdog with soda for only $1.50 at Costco.
4) Ululani's Hawaiian Shave Ice
You've eaten your lunch, why not treat yourself to dessert!  Ululani's Hawaiian Shave Ice on Dairy Road is one of the best spots in Kahului for Hawaiian shave ice. It's a favorite thing of mine to do in Kahului before heading to the airport. There are only a couple of picnic tables outside the shave ice "hut" so you might need to stand around in the shade or eat these in the car.  However, after the first bite, you'll tell yourself it is worth it.
5) Souvenir Shopping
In case you didn't make time for souvenir shopping, these are some great options for buying souvenirs to take back home.  I would recommend you save most of your souvenir shopping for Kahului as it has some fantastic choices.  If you happen to be here on a Saturday, make sure to check out the Maui Exposition & Swap Meet.  It meets every Saturday from 7:00 am. to 1:00 p.m. There is an entry fee of $0.50.
Another great option is Costco. If you have a Costco membership, this is a great place to stock up on boxes of chocolate-covered macadamia nuts, assorted seasoned macadamia nuts, Hawaiian coffee, Hawaiian shirts, Maui Gold pineapples, and more. You can also stock up with a variety of souvenirs from the local Target or Wal-Mart.
6) Beach Time
Squeeze in a little more beach time and hang out at Kanaha Beach Park. It is less than 10 minutes from Kahului airport. You can watch airplanes coming and going as well as the kite surfers enjoying the waves.  It is a great spot to hang out before catching your flight back home.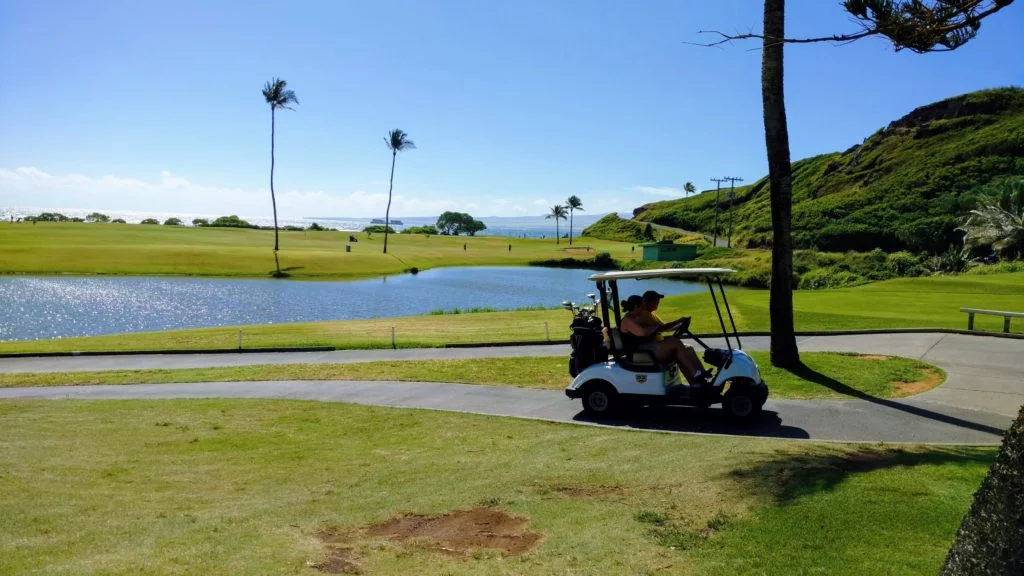 7) Escape the Heat
Perhaps you have had enough sun for the day, or you have a much later flight and more hours than you know what to do with.  Why not watch one of the latest movies released at the Regal Cinemas. Regal Cinemas Maui Mall Megaplex 12 (yeah that's a mouthful) is just a 10-minute drive from Kahului Airport. And it is conveniently located in the Maui Mall so that you can do some last-minute shopping too.
Plus, you can try the cold treat of guri guri. The Tasaka Guri Guri Shop is the only place I know that makes it. It is also located in the Maui Mall.  Guri guri is a mix between sherbert and ice cream, well sort of, you need to try it for yourself to see. I know, perhaps you've already had some Hawaiian shave ice earlier in the day, hey, you're still on vacation, and you can't get this anywhere else, so give it a try!
Final Thoughts on Things to do in Kahului:
As you can see, there are a lot of great options for things to do near Kahului airport before your flight.  So don't worry if you have extra time to spare.  Make the most of your vacation to Maui by creating some final memories before going home.  And if you're still at home planning your trip to Maui, why not check out the Ultimate Maui Itinerary to help you plan your trip to this incredible island.
Mahalo! And Aloha!