Krakow, Poland, is an incredible place to visit, and I loved my time there!  One of the things I love about travel is arriving at a completely new destination, unsure of what to expect, and then leaving with a new fondness for that place in which only days before had been unknown to me.  
Krakow was like that for me.  There are so many memorable things to do in Krakow you cannot possibly see them all with only two or three days. This article provides an overview of Krakow's highlights to help you create an itinerary for your adventure there.
Brief History of Krakow, Poland
Krakow dates back to the 11th century (possibly even earlier) and was once the capital of Poland. It was where the kings of Poland ruled from high above the city at Wawel Castle. 
Explore the ancient fortifications dating back to the 15th century, the castle built in the 13th century, and the largest medieval square in Europe! Krakow is teeming with history and beauty. You do not want to miss visiting this extraordinary city!
Memorable Things to Do in Krakow
#1 Old Town (Stare Miasto)
Wander around Old Town (Stare Miasto in Polish) and admire the gorgeous architecture and cobblestone streets. Old Town is a great place to shop for souvenirs, get a bite to eat or even better, try some gelato (I recommend Lodziarnia Donizetti)! It is also the location for many of Krakow's main attractions.
#2 Rynek Glowny (Main Market Square)
Rynek Glowny is the heartbeat of Krakow. It is a beautiful place to explore, and to spend an evening admiring the architecture and taking in the hustle and bustle of the square. Watch a street musician perform, take a horse and carriage ride along the Royal Road or just sit back and people watch. 
Rynek Glowny is probably the most iconic space in Krakow and home to several of Krakow's top sights. You'll find Saint Mary's Basilica, the Cloth Hall, Rynek Underground, and more located here.
#3 Saint Mary's Basilica
This beautiful Gothic cathedral rises on the edge of Rynek Glowny (Main Market Square).  It is easily recognizable by its twin spires and red brick facade. You can tour the inside of the basilica and see the stunning wooden altar (at the time of this writing it is undergoing renovations). 
You can also tour one or both of the towers. Choose from the Bugle Call Tower, the tallest of the two towers, or the Bell Tower and see the historic cathedral bells. Every hour in the square, you can hear the bells ring and a trumpeter playing St. Mary's Bugle Call from the Bugle Tower. 
Both towers offer you beautiful views of the square below and are my recommendation for the best bird's eye view of the square. So grab your camera and a pair of comfy walking shoes (no elevator) and get ready to climb to the top.
#4 Cloth Hall (Sukiennice)
Krakow's Cloth Hall was once the hub of international trade in Poland. It is the centerpiece of Rynek Glowny and now houses shops and an art museum. It is here you'll find the Visitor's Center and useful information for tours.
You can also tour the Rynek Underground museum located beneath the Cloth Hall.  The Rynek Underground offers you a glimpse of what medieval Krakow was like — and it's all below the historic Cloth Hall!
#5 Planty Park
Take a break in the shade of one of the many trees in Planty Park, and people watch from a park bench while enjoying this green space. Planty Park resides in the area that was once the moat from the medieval walls that encircled the city.  
The moat was filled with soil to create Planty Park, which now encompasses Old Town (Stare Miasto) in an over 2-mile loop. If you're looking for an excellent place for a morning run, this is it! 
#6 Wawel Castle
Wawel Castle sits high atop Wawel Hill, and the castle complex includes a variety of attractions from which to choose.  You'll pay to see only the tours you're interested in, such as the treasury, cathedral, royal apartments, etc.  
You can also stroll the castle grounds and admire the gardens and architecture for free if you don't have any interest in the tours. 
There is a scenic viewpoint to one side of the castle complex that provides terrific views of the Vistula river and city.  From here you can walk below and see a fire breathing dragon!
#7 Smok Wawelski
Don't miss the fire-breathing dragon located alongside the Vistula river just below the Wawel castle grounds. You can even walk through the dragon's den to reach this fire-breathing statue (the den is not stroller friendly or wheelchair accessible).  Kids will especially love seeing the dragon breathe fire and will enjoy crawling through the cave, plus it's free!
#8 Attend a Chopin Concert
Fredrick Chopin is one of Poland's most celebrated composers and pianists. I love Chopin's music, and since my trip to Poland wouldn't include Warsaw (planning that for next time), Fredrick's birthplace, I knew I wanted to attend a Chopin concert while in Krakow. 
I booked my tickets at the Chopin Concert Hall.  It is a small intimate setting and a beautiful way to spend an evening. I highly recommend it!
#9 Wieliczka Salt Mines
The Wieliczka Salt Mines are a UNESCO World Heritage Site. These mines are incredible to behold. You will see chandeliers, statues, beautiful wall carvings, and more–all made from salt! 
I don't know where else you'll have a better opportunity to learn about the history and importance of salt as well as to observe some of it's more unusual uses. 
Read Tips on Visiting the Wieliczka Salt Mines to learn how to plan your visit and make your own memories walking on floors made of salt.
#10 Krakow Barbican
Explore this medieval fortress of Krakow located just outside the historical Saint Florian's Gate.  The Krakow Barbican was built around 1499 and is an impressive example of human engineering. It was an impenetrable defense for the city and had underground passageways that led to the city gates. This fortified gateway helps display the diverse history of Krakow and the many facets of this stunning cultural city.
#11 St. Florian's Gate
This Gothic tower was the main entryway to the city of Krakow. It was one of the multiple gates along the city's defensive walls. Where these walls and moat once stood is now home to Planty Park. The tower is about 110 feet tall and is a beautiful piece of architecture and history. I recommend you make time to explore this historic area of Krakow.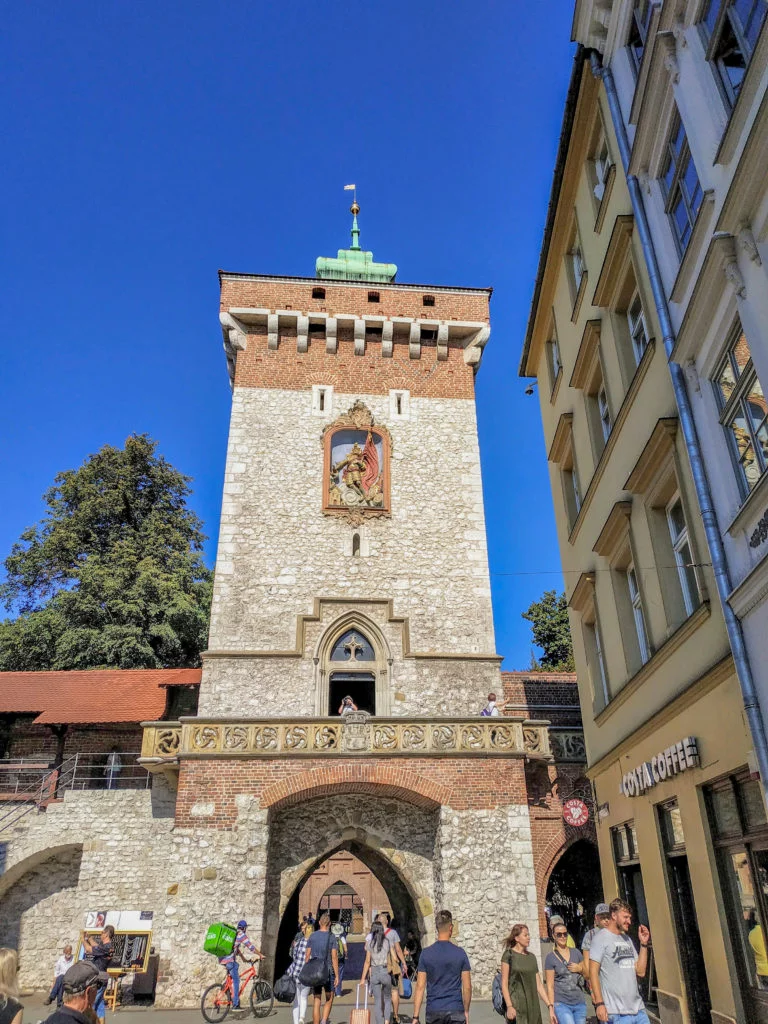 #12 Oskar Schindler's Enamel Factory
The factory currently houses two museums, the Museum of Contemporary Art and Schindler's Factory Museum.  The Factory Museum gives an in-depth look at the effects of WWII on  Krakow and the atrocities the Nazis committed against the Polish Jews.
#13 Kazimierz Jewish Neighborhood
This Jewish neighborhood once had over 3 million Jews who lived here. However, due to the extermination of the Jews during WWII, only about ten percent of them survived. 
Plan to visit the Old Synagogue and the Galicia Jewish Museum to learn more about the lives of the Jewish community in Krakow before WWII.  Also, make sure to visit the Ghetto Heroes Square and the monument dedicated to their memory.  
In addition to the historical sites of the Kazimierz neighborhood, it is also a great place to shop.  Explore its distinctive architecture and eclectic shops to find unique souvenirs to take back home.
#14 Eat Polish Food
Don't miss trying authentic Polish food while in Krakow!  I recommend trying Polish Sour Bread Soup (Zurek). I ate this at Bar Smak and loved it! 
Another popular street food is a Krakow bagel (Obwarzanki Krakowski). These make good on the go snacks to fuel your busy day of sightseeing.  
Zapiekana is another delicious street food to try. They are like open-face sandwiches, long baguettes cut in half traditionally topped with mushrooms, cheese, and your choice of sauces. 
These are just some of my recommendations, be adventurous, and try something new!
#15 Church of Saint Peter and Paul
Saint Peter and Paul's Church is in Old Town. This historic baroque cathedral was built during the 16th century. Outside the church, sculptures of the 12 apostles line the gated entrance. 
Once inside the church, you can purchase an audio guide that tells you more about the church history and also the crypt beneath the church, which is open to tour as well.
Directly next to the Church of Saint Peter and Paul, is the 11th-century church of Saint Andrew. St. Andrew's church is one of Krakow's oldest.  Take time to step inside this ancient cathedral and admire its architecture before moving on.
#16 Auschwitz-Birkenau Concentration Camps
Last, but certainly not least, is something I feel should not be missed during a visit to Krakow.  The Auschwitz-Birkenau concentration camps are not in Krakow, but rather near the city of Oswiecim. However, you can easily take a bus from Krakow to Auschwitz.  
The journey takes 1-1.5 hours—plan for your visit to the camps to take an entire day. Depending on which tour option you choose, it may take more or less time, however, given the solemnity of these memorial sites, it is good to give yourself time for some restful reflections rather than pack a bunch of sightseeing in afterward. 
Make sure to book your tour well in advance of your trip to Krakow as the tours do book up. You can take a self-guided tour, but only during certain hours of the day.  I chose the 6-hour study tour and I highly recommend it! The guided tours offer insightful commentary and information I feel one might miss by going on their own, but each person will have their reasons for choosing which type of tour they take.
Suggested Itinerary for 3 days in Krakow
Day One: Visit Auschwitz, have dinner in Krakow and enjoy Rynek Glowny (Main Square) at night. Consider attending a Chopin Concert.
Day Two: Visit the Wieliczka Salt Mines in the morning, get some lunch and then see Saint Mary's Basilica, visit the Cloth Hall, and then head to the Kazimierz neighborhood and have dinner there. Explore the area and do some souvenir shopping, then head to Schindler's Factory Museum (it's open until 8 pm most nights).
Day Three: Explore Old Town, tour Saint Paul's Cathedral, Wawel Castle, see the dragon, and then take a relaxing stroll through Planty Park before heading to see Saint Florian's Gate and the Krakow Barbican. You'll still have time for shopping in the Main Square if desired.
Recommended Places to Eat
Moa Burger
Address: Mikołajska 3, 31-027 Kraków, Poland
Moa Burger has delicious and unique burger choices.  I tried a burger with beets and pineapple on it, it was delicious, and I don't even like beets!
Bar Smak
Address: Karmelicka 10, 33-332 Kraków, Poland
This is the place I tried the traditional Polish sour bread soup, and I loved it!  Stop here if you want to try some authentic Polish food.
India Masala
Address: Mały Rynek 2, 31-041 Kraków, Poland
Delicious Indian food a short walk from Rynek Glowny in the heart of Stare Miasto.
Milkbar Tomasza
Address: Świętego Tomasza 24, 33-332 Kraków, Poland
This is another option when looking to try some traditional Polish food. They are a popular spot for breakfast and also serve delicious pierogis.
Cafe Camelot 
Address:  Świętego Tomasza 17, 33-332 Kraków, Poland
If you're looking for a place to get some delicious coffee and dessert, look no further than Cafe Camelot. This Cafe is close to St. Mary's Basilica.
Żarówka Cafe
Address: Floriańska 20, 31-021 Kraków, Poland
Żarówka Cafe is around the corner from Cafe Camelot and has a lovely outdoor seating area.  Enjoy coffee, a sandwich, and dessert while giving your feet a rest.
Tips for Getting Around Krakow
I was pleasantly surprised to discover how cheap it was to use Uber in Krakow. I tend to use public transportation for its cost-effectiveness and convenience. However, in Krakow, Uber was often more convenient (at least from where I was staying) and very affordable. 
Plus, since I was traveling with a friend, we split the cost, which made it that much more cost-efficient.  Obviously, as a solo traveler, you'd need to determine what makes the most sense for your budget, but always consider the time it will take you to get to/from a destination when weighing the cost vs. benefit of a service like Uber.
I also used the bus. Bus 304 is a good one for visiting the Wieliczka Salt Mines.
I stayed in Old Town during my visit to Krakow. I loved being around the corner from the Main Square, Planty Park, and the various sights located in Old Town.  It was a little further from the main bus routes or the bus station, but otherwise very conveniently situated to Krakow's main attractions.  
Old Town can get quite noisy at night though, so be aware of that, the Airbnb that we stayed at was above an area with restaurants below and needless to say people were out enjoying themselves until two or three a.m. If you're not a light sleeper like myself, then perhaps this won't be an issue for you.  All in all, though, I'd stay there again for the convenience of being in Old Town.
In addition to Old Town, you may also want to consider staying in Kazimierz, it's close to Schindler's Enamel factory, and has a more eclectic feel than Old Town. It is also in a touristy area, though, so expect it to be busier.  If you want to stay somewhere outside the main tourist area, but still in close walking distance to Old Town, then consider staying in Kleparz. Kleparz is just a short walk outside of Old Town, so you're out of the touristy area, but close enough, you can easily walk there.
If you haven't yet put Krakow on your list of places to visit, do it now. Once you visit, you'll wonder what took you so long to go, and you'll begin making plans to explore more of this unique country.
Have Fun Exploring!