I first learned about the Wieliczka Salt Mines reading the book 501 Must-Visit Destinations. Upon viewing the photograph of the salt chandeliers in the book, I knew I needed to see them for myself. After touring the Wieliczka Salt Mines, I feel I gained a new appreciation for salt and miners in general. 
Imagine a tour that combines history, salt, sculptures, miners, and royalty, all from a dark labyrinth beneath the earth. Well, that's what you get on a tour through the Wieliczka Salt Mines. This guide will help you plan your trip to the mines so you can see the salt carved chandeliers, walk on floors made of salt, and even taste the salt for yourself.
Brief History of Wieliczka Salt Mines
The Wieliczka Salt Mines are over 900 years old and still in operation today. Their history spans kingdoms and world wars and various periods of technological advancement. They are an impressive example of ingenuity and creativity. There are nine levels to the mine, and they descend to a depth of 327 meters (over 1,000 feet). Your tour will allow you to see only 2% of the mine.  After you complete your visit, you will realize the significance of that and the vastness of the Wieliczka Salt Mine.  Thankfully you are always with a guide. Otherwise, it is easy to see how one could get lost amidst the labyrinths of salt carved tunnels.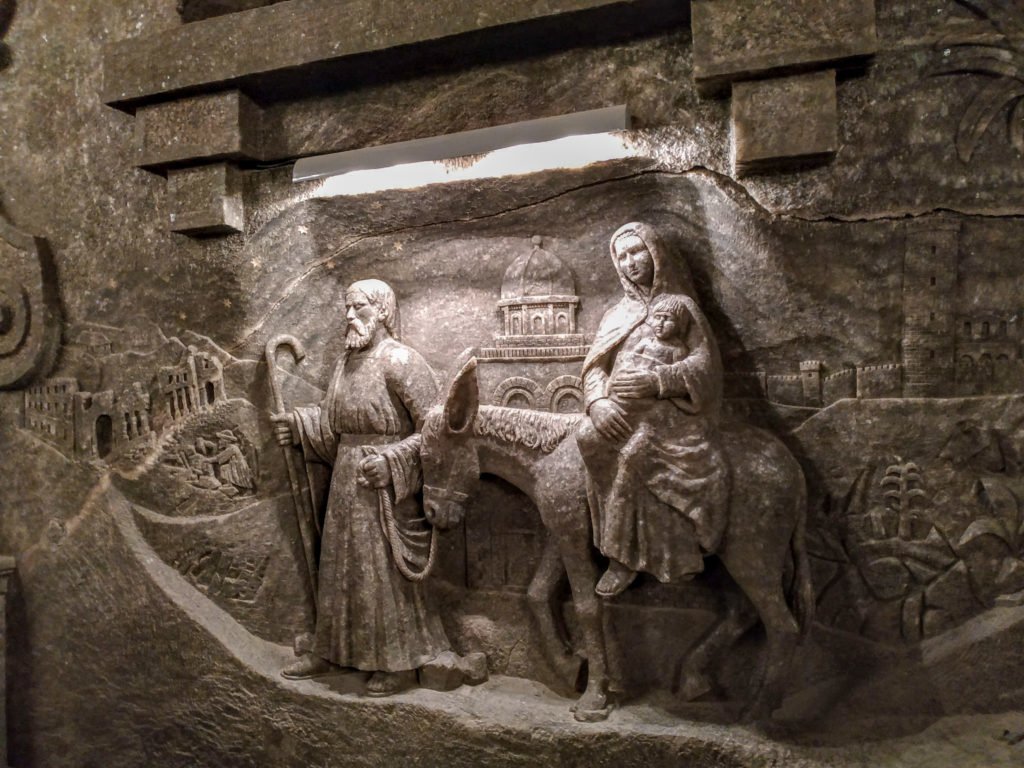 First off, let me say, if you struggle from claustrophobia or a fear of dark places, you may want to reconsider visiting the mines.
Although there are plenty of open spaces within the mine, you will need to travel down (and back up) in a somewhat cramped elevator and, in my case –an extremely crowded elevator. Then you'll descend a lot of stairs to go even deeper into the mine before your guide will take you along paved pathways and into the various chamber areas.
You'll have your choice of two tours in the mine.  The Miner's Tour and the Tourist Route.  Both of these tours are approximately 3 hours in length.
The Miner's Tour
As the name suggests, it focuses more on the mining aspect of the Wieliczka Salt Mine. You receive working suits and miner's gear before you're taken on a mining adventure! You'll get to "mine" for salt and learn firsthand about the life of a salt miner. This tour is not suited for those with disabilities, and children need to be ten years old and older and accompanied by an adult. Reservations are recommended for this route and can be made online.
The Tourist Route
This is the route I chose during my visit. The tour gives you an overview of the history of mining and the technological advancements over the years. There are various displays along the way to illustrate what mining would have looked like during the early years.  You'll also tour beautiful chapels carved by miners throughout the mine's history.  You'll see saline lakes and admire the raw black salt used to carve the many sculptures, artwork, and chandeliers.
Our guide was very knowledgeable and had a great sense of humor.  The pace of the tour is steady, but not too rushed.  If you want more time taking photos, then move to the back of the tour group so you can take your pictures and then catch back up. 
St. Kinga's Chapel
The highlight of the tourist route is a visit to St. Kinga's Chapel. St. Kinga's is the largest underground chapel in the world (there are 20 total chapels within the mine). You'll descend stairs into this enormous space 350 feet underground. Everywhere you look, you see salt.  You walk on floors made of salt and admire sculptures and chandeliers carved from rock salt.  It's stunning!
Please note that this tour requires you to descend 800 stairs.  Children are allowed on the tourist route. If you have disabilities, please contact the mine ahead of time so they can create a specialized tour, as only certain portions are wheelchair accessible. Reservations are not required for the tourist route.
Luggage Storage
Plan to store your bags in the provided luggage lockers.  Small purses (35cm x 20cm x 20cm or smaller) are allowed, but no large day bags—plan to pack your camera gear and jacket and leave the rest in your locker.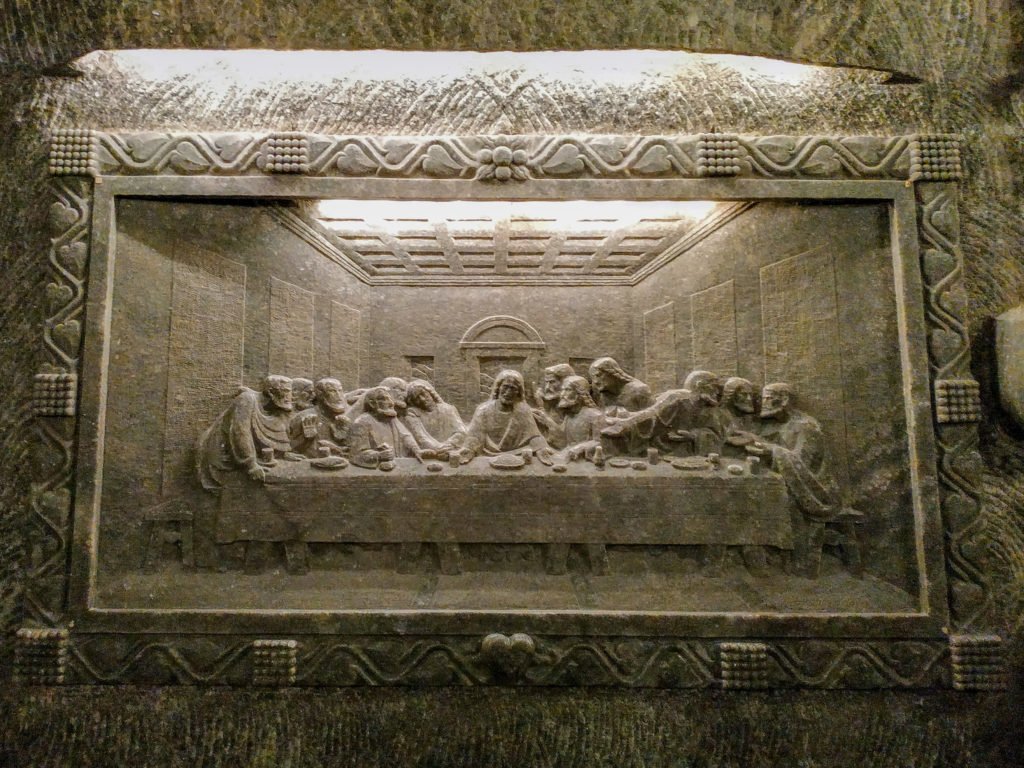 Tips on Touring Wieliczka Mine
Photographs
Due to the dim nature of the mine, you may find it challenging to take photographs. Try to steady yourself as best you can. A monopod or walking stick will help immensely (if you have one). The main thing is that you don't rush taking your shots; otherwise, you will end up with blurry photographs. It is important to aim for in-focus shots, and then you can always edit later for brightness.
Eating
There is a cafeteria inside the mine with a variety of dishes, desserts, and beverages to choose from should you get hungry.  Plus, how often can you say you ate lunch at over 400 feet underground?
How Much Time You Need
Each tour takes around 3 hours, plus any extra time you may spend eating in the cafeteria, or looking at souvenirs. So I recommend you plan for about 4 hours for your visit to the Wieliczka Mines. Additionally, you'll want to factor in at least 1-hour round trip travel time getting to/from the mine.  
What to Wear
Depending on which tour you choose, you will walk between 1-2 miles during your visit, so make sure to wear comfortable walking shoes. Additionally, the mines are around 57-60 degrees Fahrenheit, so you may also want to pack a light jacket.
Restrooms
There are two restrooms within the mine that your tour will take you past.  Your tour guide will give everyone a chance for a break about midway through the tour, and then you'll have an opportunity again toward the end of the tour.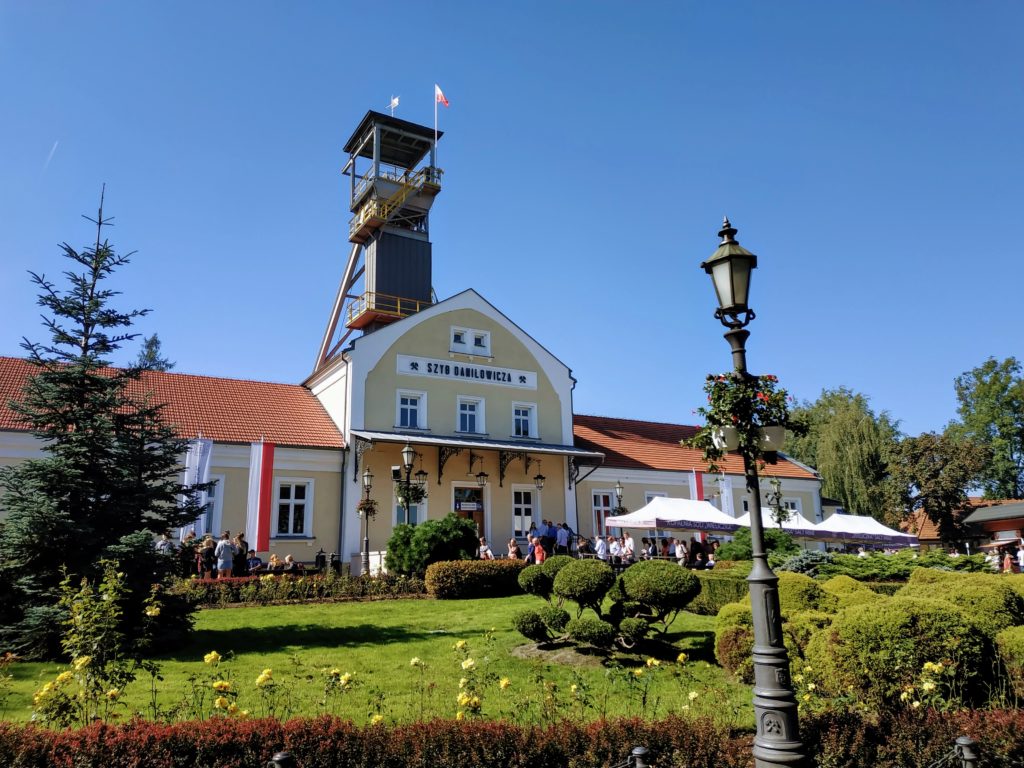 Getting to Wieliczka Salt Mine
Most people visiting the Wieliczka Salt Mine come from Krakow's city center. Wieliczka is on the outskirts of Krakow and takes 30-40 minutes by bus from Krakow's touristy areas. You can take bus #304 to get there, and it lets you out just a short walk from the main entrance. The same bus route will return you to Krakow's city center.
Another alternative to the bus is using Uber.  My friend and I did this going to the mine and then took bus #304 when returning to our Airbnb. Uber is surprisingly affordable in Krakow, especially if you can split the cost with a traveling companion.
Hours of Operation
A tour of the Wieliczka Salt Mines is certainly something you'll never forget.  It is an excursion the whole family will enjoy as long as you are prepared for it in advance.  As mentioned before, the mine is dimly lit, and for those suffering from claustrophobia, you may not find it to be an enjoyable experience. 
Visiting the Wieliczka Salt Mine is an adventure you are unlikely to experience anywhere else and I highly recommend it for any visit to Krakow.
For more articles that might interest you check out Ways to Save Money on Food While Traveling and Trip Planning 101.
Happy Spelunking!