One of the dishes I tried during my visit to Japan was coffee jelly.  Let's face it. They had me at "coffee." I loved it!  It has a jello-like texture and tastes like coffee; it is simple and refreshing.  A perfect dessert for a warm summer's day! I decided to make this dessert at home and share the recipe with you.  I hope you like it too!
Kohii Zerii: Japanese Coffee Jelly
You might be surprised to know that Japan is one of the world's top importers of coffee. Coffee was introduced to the Japanese by the Dutch around the year 1700, and for the past 50 years, coffee roasters and cafes have made a massive surge in popularity. There are so many excellent choices for coffee in Japan!  
Kohii Zerii, or Japanese coffee jelly, is one of their unique coffee creations. It's a delicious and refreshing coffee dessert, and it is so easy to make! All you need is coffee, water, sugar and agar-agar powder (or gelatin). Top your coffee jelly with whipped cream or milk and voila! You have a delicious coffee-flavored dessert!
This is not your mama's Jello recipe! This is jello for coffee-loving adults!  *Feed to your kids at your discretion.  You can, of course, always make a batch of decaf, if you're feeling generous. Either way, get ready to enjoy your coffee in a whole new way!
Agar-agar Powder or Gelatin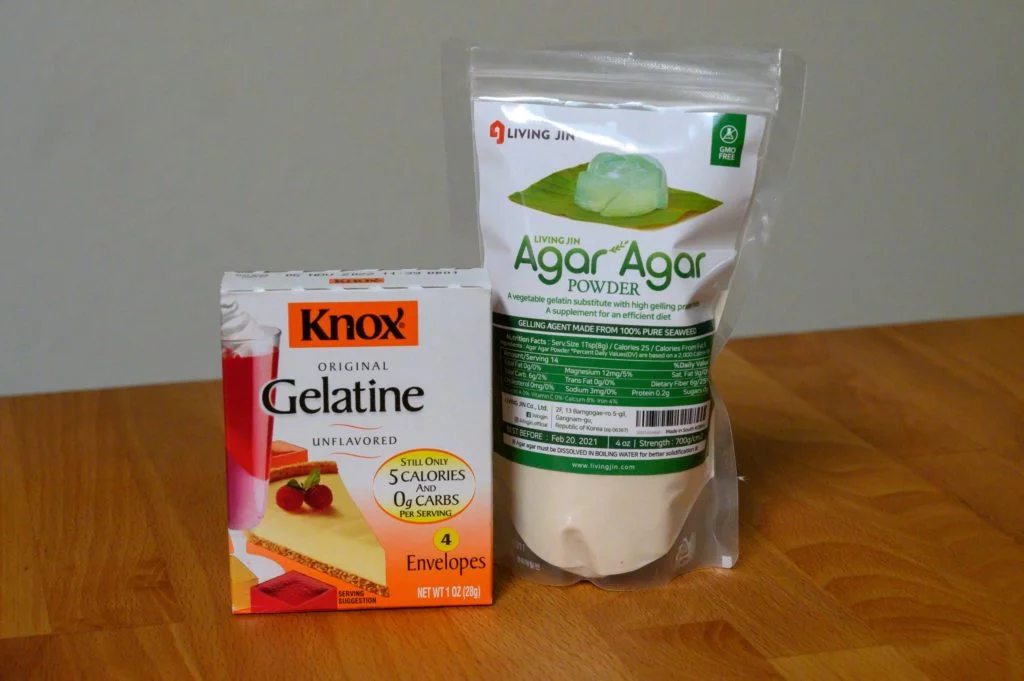 I made several batches of coffee jelly to make it the way I remembered from Japan.  I found that although the uses for gelatin and agar-agar powder are similar, they do thicken recipes a little differently.
Agar-agar powder is the traditional choice for Japanese coffee jelly. It is made from seaweed and is vegan friendly. Whereas, gelatin, is made from collagen in animal bones.  Both of these powders are used as thickening agents. 
My attempts using agar-agar powder produced a much firmer coffee jelly than those made with gelatin. The agar-agar jelly was stiff, and when I held it, it did not move or bend at all. Whereas, the coffee jelly I made with gelatin produced a more jiggly, jello-like texture.
If you want to serve this cut up into small cubes in a glass of milk or cream, then the firmer agar-agar texture might be to your liking. You can also use the coffee jelly-like boba in an iced coffee.
However, I found, when eating it as a dessert, scooped into a bowl and topped with whipped topping, that I preferred the softer texture the gelatin produced.  I read that the brand of agar powder can affect its firmness, and since the coffee jelly I ate in Japan was softer, it must be the difference in the brand.
Brewed Coffee or Instant Coffee
In addition to choosing which thickening agent to use, you can also choose to make this with instant coffee or brewed coffee.
If you choose to use brewed coffee, make sure to brew strong coffee.  You can choose a flavored coffee if you'd like. I made a batch with Don Francisco's Hawaiian Hazelnut, adding extra coffee to make it stronger. I enjoyed the hazelnut flavor that came through in my coffee jelly.  A French roast or other dark roasts would also make a good choice.
When I tried this recipe with instant coffee, I experimented with both Folgers instant coffee and Medaglia D'Oro espresso instant coffee. The Folgers instant coffee had a robust, distinct flavor, whereas the Medaglia D'Oro instant espresso had a smoother taste. 
I wanted to increase the amount of instant coffee in the recipe when I used Medaglia D'Oro. However, not with the Folgers, it was too strong and bitter when adding extra coffee crystals to the recipe.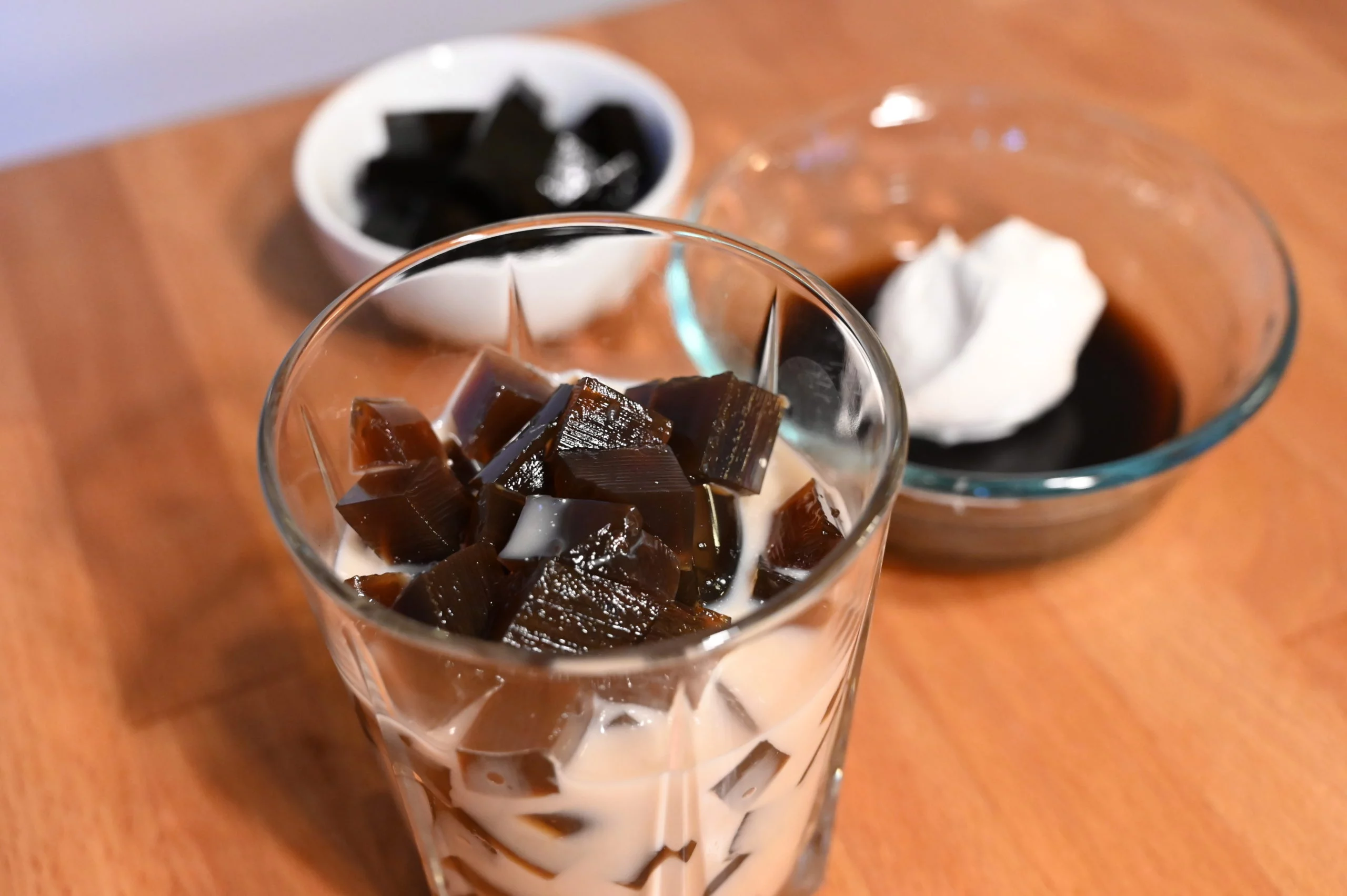 Ways to Enjoy Your Coffee Jelly
No matter how you choose to make your coffee jelly, make sure to top with milk or whipped topping. You can also drizzle with sweetened condensed milk.  If I make a firmer batch, I enjoy pouring half-and-half over a glass of cubed coffee jelly and let it sit for a while.  This allows the coffee jelly to flavor the half-and-half-yum!  
You can also cut it into tiny cubes and pour your favorite coffee creamer over the cubes for a refreshing twist on an iced coffee.
When making a softer, more jiggly coffee jelly, I love to scoop it into a bowl and top with whipped topping and cinnamon. That is my favorite way to eat it!  You should try both and see what you like the best too. 
Japanese coffee jelly is so easy to make and to serve, bring this to your next potluck or picnic and introduce your friends and family to their new favorite dessert!
For another great coffee recipe, try my Vietnamese Iced Coffee recipe.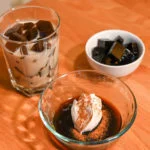 Print Recipe
Kohii Zerii: Japanese Coffee Jelly
A delicious and refreshing coffee dessert.
Ingredients
2

tsp

agar-agar powder or 2 (.25 ounce) packages unflavored gelatin

1/4

cup

water (room temperature)

2

cups

strong brewed coffee

(can substitute for 2 cups water and 1 tbsp instant coffee)

1/4

cup

sugar

(Adjust to personal preference: 2 tbsp to 1/4 cup)
Optional Toppings
whipped topping

sweetened condensed milk

cinnamon or cocoa powder
Instructions
Brew a pot of strong coffee (skip this step if using instant coffee)

Mix the agar-agar powder (or gelatin) in a glass with 1/4 cup room temperature water and stir to dissolve. Then set aside. (Don't worry if it forms a congealed lump)

Add 2 cups brewed coffee and 1/4 cup sugar to a medium saucepan. Stir to dissolve, then add agar-agar and water mixture to the saucepan and whisk to dissolve. Cook over medium-high heat until it's just barely starting to boil.

(If using instant coffee, add 2 cups water to the saucepan, then stir in instant coffee, sugar, and agar/gelatin mixture, continue stirring until all are dissolved and heat to a low boil.)

Then remove the pan from heat and pour into a heatproof container. (8x8 pan or 2 qt casserole dish works good)

Let cool until room temp, then cover with plastic wrap and refrigerate overnight (or until set, approx. 6 hours).

After the jelly is set, cut in small 1-inch squares and place them in a glass with milk. Or scoop into bowls and top with whipped topping.
Notes
You can also cut the coffee jelly into smaller cubes and use like boba in iced coffee or place in jello molds and top with whipped cream for a fancier look. Try it drizzled with sweetened condensed milk for a truly decadent dessert. Cinnamon and cocoa powder make delicious toppings too!