We got up early to get some breakfast before catching our train from Tokyo to Nikko.  And although our "there's always something open in Tokyo" concept may have worked the night before when we were getting ramen at 10:00 at night, we discovered, that not even Starbucks was open at 8:00 in the morning in Tokyo!  Coming from Seattle we were not expecting that!
Thankfully I pack a backup breakfast option, my own personal French press and also some instant oatmeal packets.  These are great when you don't have time to go out or if you just want to save some money.
So we returned to our hotel to eat in our room.
Then we were off to Nikko. We discovered that our trip coincided with their annual Spring Festival or the Shunki Reitaisai. So we were excited to be able to join in the festivities. The festival celebrates the funeral procession for one of their great leaders Tokugawa leyasu and is a memorial to how his remains were transported to Nikko in the early 1600's.
We chose to walk from the train station all the way up to the top of the town where the procession would start.  There was the option to take the bus, however, the lines were very long for that.  The walk turned out to be a scenic one and with the crowds only took about 30 minutes.
It was wonderful timing for us to be able to experience this celebration and local custom firsthand.  They even had English translations during the procession to explain what was happening and what each of the men in the procession represented.
We stopped to eat some dango on our way back down to the train station.  These yummy treats are sort of like mochi, they boil them and then grill them. You can see in the picture he is grilling one over charcoal.  You can choose from different sauces and styles.  I highly recommend them!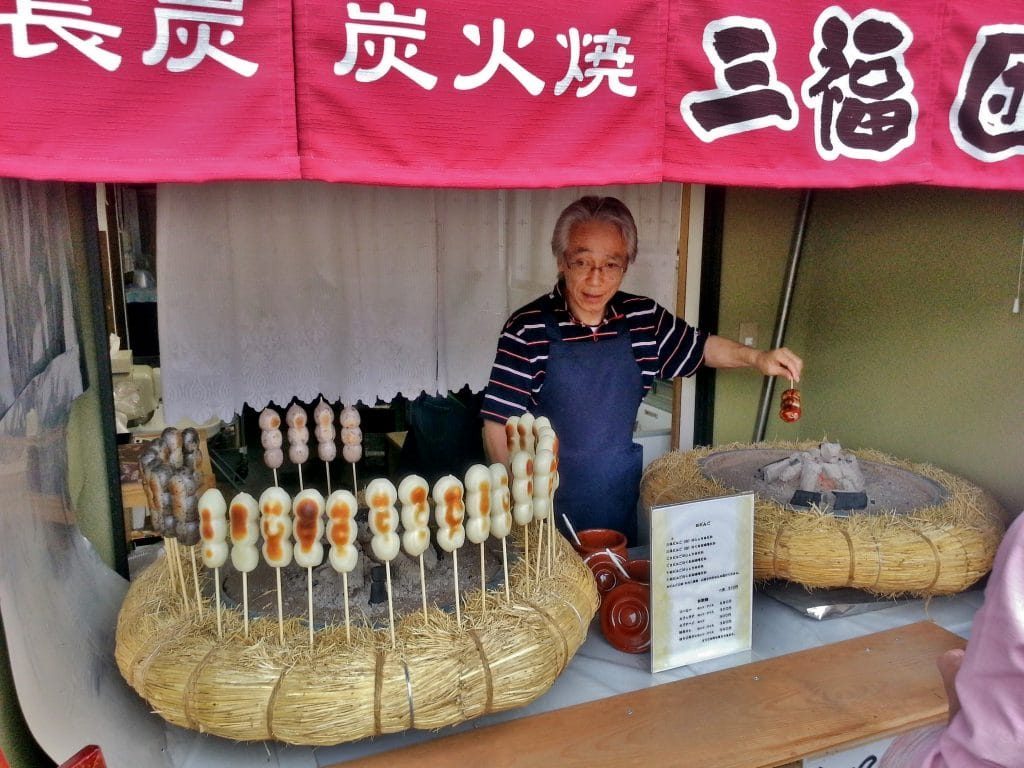 We also passed by a restaurant with these displayed in its window outside.  You will find this to be very typical of restaurants in Japan to have rubber replicas of the food so you can see what each thing will look like before deciding whether to go in or not.
Nikko is a very beautiful and charming town with little shops and places to eat. It is only a two and a half hour train ride from Tokyo, making it a wonderful day trip option.  I highly recommend it on any trip to Japan!
Getting to Nikko from Tokyo:
We chose to purchase a 14 day Japan Rail Pass prior to our trip and we absolutely loved having this.  It saved us so much money and was so easy and convenient to use.  You can just hop on and hop off trains as needed.  For more information about the pass and how to use it to visit Nikko check out the website Japan Rail Pass website.