This post is the beginning of a series of articles that I will write tailored towards the beginner traveler.  I have friends and family who are new to trip planning. Many have never planned a trip that involved booking a flight or planning an international trip.  In the beginning, this may seem scary and a little overwhelming. But rest assured, it is not as hard as it might seem.
Here are the 5 questions to ask yourself as you begin your trip planning.
Why are you going?
Where do you want to go?
When do you want to go?
How long will you be gone?
What do you want to see?
Why are you going?
Ok, so you should never need a "why" to travel.  You travel because in the words of Hans Christian Andersen: "To Travel is to Live."
For many people, they are traveling to fulfill a dream, to take their family to Disney World or to celebrate a milestone.  Traveling creates those lifelong memories, the moments we look fondly back on, the ones that inspire us to do more and also give us the satisfaction of a dream fulfilled.  So take the time to figure out what you want to get out of it so that you can make the most of your adventure.
Where do you want to go?
With any trip, you must first decide where you want to go.  If you've got a bucket list, I'd say choose based on where you want to go most first. Or if you're restricted to a specific time of the year, I'd choose based on which destination has the best weather or best deals during that time.  Or you could toss a bunch of places written down into a hat, and randomly pick one out and go with that! Most people don't choose this option, but it doesn't mean you can't!
I am currently planning a two month trip through Europe where I will be traveling to different countries. I will plan each one as a trip in and of itself.  So for my "where" in this example, I will choose France.
When do you want to go?
My friend Moe and I decided to leave in September.  That was when we went on our very first trip together as teenagers, and so it is fitting for us to leave again at the same time.  Plus, it works out best for our schedules and our budget. Leaving in September will be a little cheaper, and as we move into the shoulder season, our costs should go down significantly from what it would be to travel during the summer or peak season.
You will need to decide "when" based on your own needs.  Traveling in the shoulder season or off season can be much more cost effective, but you may need to contend with colder or rainier weather and certain attractions not being open.  If you are okay with that, then I recommend you look at that as an option for deciding your "when."
For example, I traveled to Italy in February, and there were a lot fewer crowds, and yet once you get down to Rome and further South, I didn't even need a coat most days to go out, just a sweater or light jacket.
How long will you be gone?
This is often decided based on your work schedule and how much vacation time you have to take.  Just know that whatever amount of time you have, you can always plan another trip. So soak in everything you can on this one, but don't despair if you don't have the amount of time you would wish to spend.  You can't see it all in one visit.
What do you want to see?
Okay, so we've got the when, where, how long and now onto the fun part, what to see, and do!
This is where you'll want to start your must-see list.  For example, I'm planning a trip to France, and I know that my must-see list includes: Paris, Normandy, Loire Valley & Lyon.  I know that in Paris I want to see the Eiffel Tower, Notre Dame, The Louvre and so on.
There's a good chance you already have a bucket list of places you want to see for your intended destination.  However, if you don't, the next step will help create your list of must-sees.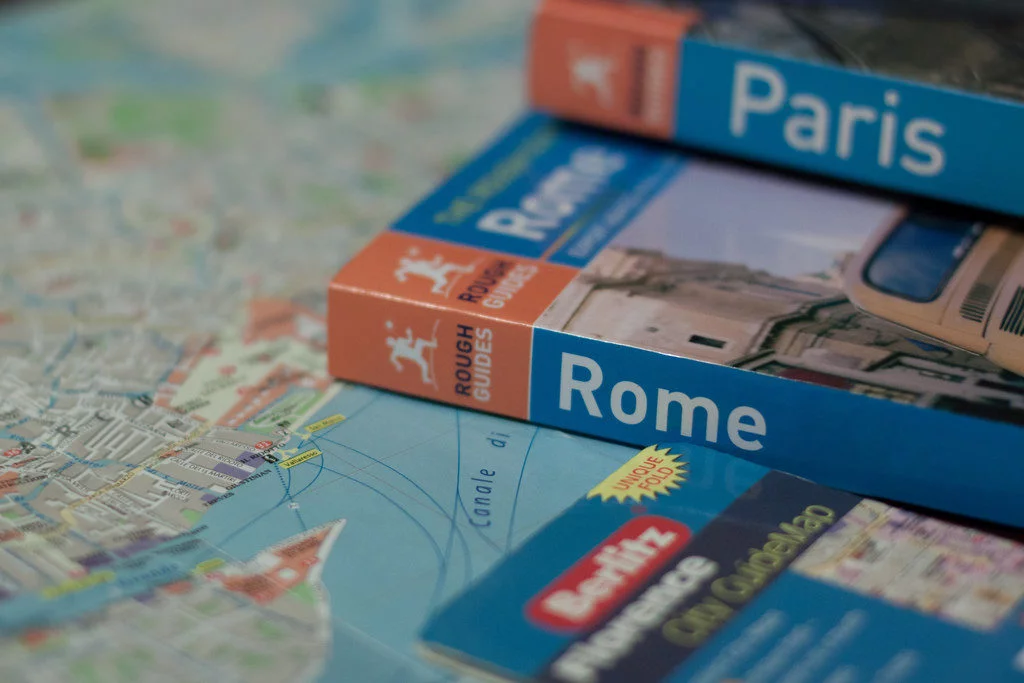 Research your destination.
Do a search online and also pick out some books thru your library (and yes books are still useful), our library system has a vast assortment of Ebooks as well as printed.  I like to use both internet resources as well as printed books.
I will generally start by doing an online search of "France Itinerary."  Then I will begin combing through the results to see what inspires me and sounds like a place I'd like to visit.
You want places that make you smile just thinking about them. Those should be on your must-see list.
So for my trip, I know the following:
Why: To fulfill a bucket list dream and celebrate a lifelong friendship
Where: France
When: October
How long: 10 days
What to see: Paris, Normandy, Loire Valley & Lyon
It is just as easy as deciding where you want to go, when and for how long, then you make your list of what to see and you edit to fit your trip length.

Trip Editing
If you've only got three days in France, then plan on staying in Paris and maybe a day trip just outside the city.  But you're not going to have time to travel to the Loire Valley or Normandy and give Paris any reasonable amount of time in only three days.  This would be true of any major metropolitan area.
The same principle applies whether it's one week, two weeks, or two months.  You will always need to edit and make some hard decisions on what is important to you for this trip and what you will need to wait to see until your next trip.
This makes it especially troublesome when you only have one vacation per year, or you're only able to do one major trip every five years and so on.  So I understand the need to make the most of every trip.  I also know that trying to cram in too much can leave you exhausted and frustrated.
This is an adventure, a dream come true, and it should be enjoyed and always remembered fondly.  So accept the limitations of each trip and then make the most of the time you have.
For more on how to choose where to travel next check out Choosing Your Travel Destination.  Or if you already know where you want to go next, check out the post: Booking Your Flight. Feel free to ask any questions in the comments below or send me an email. I'd love to hear from you!
Happy planning!