Visiting the historic D-Day sites is an unforgettable way to spend the day.  It is one of those bucket list trips that leave you better for having made them. June 6, 1944, is one of the most historic dates in world history. The victory achieved on D-Day changed the course of the world.  
The freedoms I have today are in large part due to the battles fought on the shores of Normandy. If you have an opportunity to travel to France, take some time to visit the D-Day sites in Normandy. You'll never forget it.
In this post, I share my one-day self-guided itinerary to some of the D-Day sites in Normandy, France.  You'll get a chance to learn about my experience and also see how easy it is to plan your own trip to this historic region. Although I would have preferred a minimum of 2 days for my visit, even with only one day to see the D-Day sites, you can cover a lot of ground and still have an unforgettable trip.
Overview of Our One-Day Itinerary to D-Day Sites in Normandy
Where We Started Our Road Trip
We took a direct train from Paris to Caen, where we'd booked our hotel and rental car.  In addition to spending one day seeing the D-Day sites, we also spent one day driving to Mont-Saint-Michel. For our one-day D-Day itinerary, we drove from our hotel in Caen to our first stop, the Airborne Museum in Sainte-Mere-Eglise. Then we worked our way back in the direction of Caen for the remainder of the itinerary.
Tip: You could easily make this trip in reverse, and depending on what time of year you go, you may want to.  We discovered during our visit here in October, that places open later and close earlier in the fall and winter.  
So in the case of our route, we arrived at the Airborne Museum, thinking it opened at 9:00 a.m. (according to Google) only to discover it did not open until 10:00. Thus, we could have started at the Normandy American Cemetery, which opened at 9:00 and closed at 5:00 and then saved the Airborne Museum for last, which closed at 6:00 p.m.  Live and learn!
Benefits of a Self-Guided Road Trip to See D-Day Sites
By driving yourself to the D-Day sites, you have more flexibility and choices in which places you see and how long you spend there. Driving in France was easy for me since they drive on the same side of the road as we do in the U.S. As long as you can drive a car with a manual transmission, it is pretty much the same as driving in the States. The road signs may look a little different, but all in all, it's a very similar experience.
However, if you're not comfortable with driving on your own in France, there are a lot of tour companies that will drive you around to the historic D-Day sites. You can take 12-hour day trips from Paris, or local tours starting at Caen and Bayeux. So decide on whichever option works best for you and your itinerary.
A Little Background About This Trip
My visit to Normandy, France, was a part of a 2 1/2 month backpacking trip I took with my friend through Europe.  As I planned our route and the "must-see" stops along the way, I knew that visiting Normandy, France, and the historic D-Day sites was a must for me.  Our visit to Normandy was during the final three weeks of our trip through Europe.  
Before arriving in Normandy, we toured the house where Anne Frank hid in the attic before being captured by the Nazis. We visited Berlin and walked over what was once Hitler's underground bunker and wandered through the Memorial to the Murdered Jews.  Then we traveled to Krakow, Poland, where we took a day trip to the Auschwitz-Birkenau concentration camps. Finally, we went to Normandy, France, and visited some of the historic D-Day sites.  
It was a journey through World War II history, starting with the atrocities that forced people into hiding and ultimately led to the death of millions of people. Our travels brought us full circle to Normandy, and the history surrounding D-Day, the battles leading up to it, and the battles fought afterward. 
Although the history surrounding D-Day was one of tragedy, it was also one of triumph and hope. I saw the bleakness of death at Auschwitz, which only made my visit to the D-Day sites all the more impactful. The price was high, the sacrifice great, but freedom demands we risk everything or end up with nothing. I am so grateful for those who gave their lives so I could live in freedom.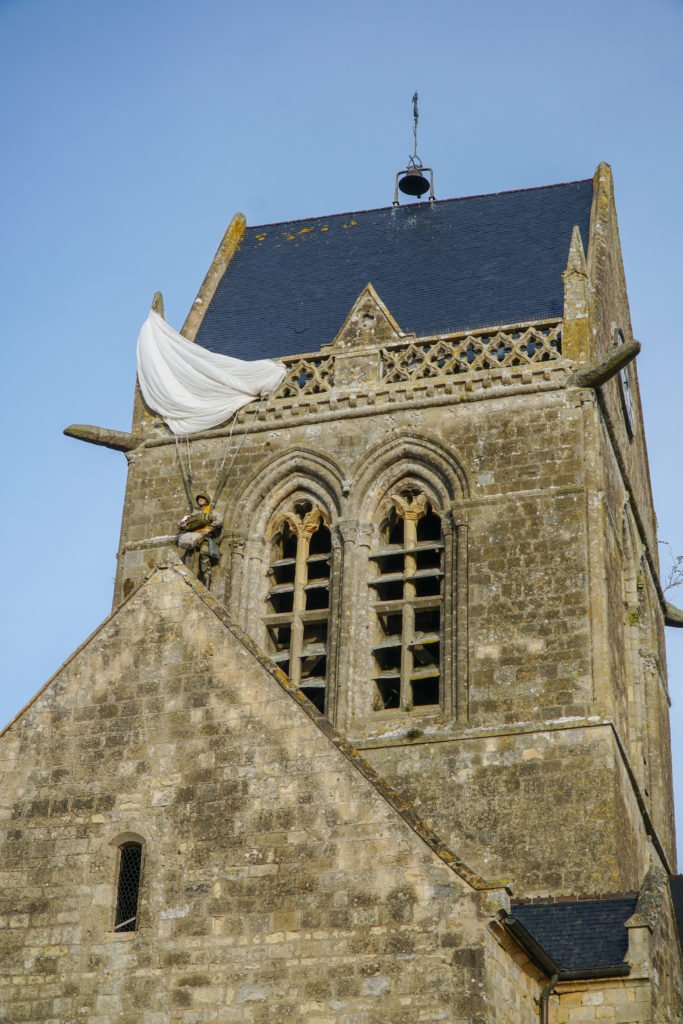 Site 1: Church of Sainte-Mere-Eglise
We started our day of sightseeing in the town of Sainte-Mère-Église. We arrived a little after 9 a.m. and found that the Airborne Museum didn't open until 10 a.m. So we wandered over to the Church of Sainte-Mère-Église, where a mannequin of a paratrooper's body hangs from the church steeple.
John M. Steele
We learned more about the paratrooper represented on the church steeple during our visit to the Airborne Museum. His name was John Steele, and he was a paratrooper with the 82nd Airborne Division. During the drop into Sainte-Mère-Église, one of the houses caught fire, which unfortunately illuminated the night sky, and thus the paratroopers dropping in. 
John Steele was hit in the foot on his way down and lost control of his parachute. His parachute caught on the church steeple. He hung there for around 2 hours, pretending to be dead before German soldiers came up and brought his body down. They took him as a prisoner, but three days later, he escaped and returned to his division. He survived WWII and returned home after the war was over. 
There is so much more to John Steele's story and to the paratroopers that dropped that night. For any of you who have watched "The Longest Day," you might remember seeing the scene of the paratroopers dropping in.
The real story is full of heroism, as one of his fellow troopers on the ground gave his life to save John's.  The chaos was compounded by the house fire, which lit up the sky and made them glowing targets.
Go inside the church and take a look around. There is a beautiful stained glass window created in memory of the paratroopers that lost their lives here. There is also another one portraying the angel Michael surrounded by the symbols of the various Allied forces who fought to free Sainte-Mère-Église.
Time Spent Here: (~ 30 minutes)
Location: Church of Sainte-Mère-Église, Rue Koenig, 50480 Sainte-Mère-Église, France
Commute Time to Next Site: ~ 1-minute walk across the parking lot.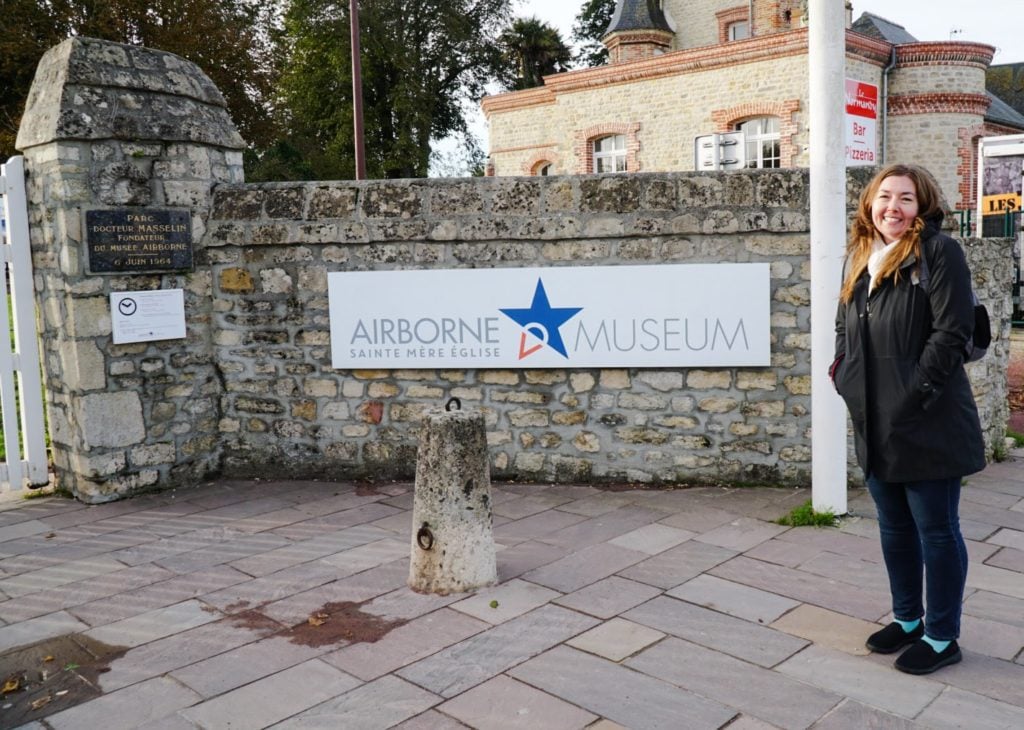 Site 2: The Airborne Museum at Sainte-Mere-Eglise
The Airborne Museum is a thoughtfully designed museum made up of multiple buildings as well as an outdoor area. At the ticket desk, you receive a tablet to carry with you as you make your way through the different areas.  The tablet provides additional information about the exhibits and includes interactive features, which if you have kids, they will especially enjoy this feature. For the most part, you won't need the tablet. However, it guides you in a particular order throughout the museum complex.
The first building we entered after purchasing our tickets was the building designed like the inside of a big parachute.  Inside there are numerous displays of paratrooper's gear, mementos, and stories of some of those involved in the liberation of Sainte-Mère-Église. The museum does a beautiful job portraying the details of what these paratroopers must have gone through to prepare for their mission.
In the next building is a large display of an airplane, and on one side is a mannequin of President Eisenhower and a printed copy of his D-Day order.  Many of these guys were barely out of high school. They didn't have much training, and yet they were going into one of the biggest and most important battles in US history. They would be some of the first boots on the ground for the US military in Normandy, France.
"You are about to embark upon the Great Crusade, toward which we have striven these many months. The eyes of the world are upon you. The hope and prayers of liberty-loving people everywhere march with you." ~ General Dwight D. Eisenhower
In another room, audio speakers play the sounds of battle along with a display of an aerial view of Sainte-Mère-Église. I also learned during my visit here, that the paratroopers had to carry packs that weighed anywhere from 90 lbs to 180 lbs!  Can you imagine jumping from a plane with a pack the size of a human strapped to your back?
The Soldier's Stories Helped to Connect on a Personal Level
It was incredible to hear their stories and to take a glimpse into what those men went through. It was heroic yes, but also scary. Real courage isn't without fear. It's acknowledging the fear and moving forward in spite of it. Courage understands what's at stake.
We watched a touching film that showed the images of Holocaust survivors and also the piles of dead bodies. Tears sprang to my eyes as it put in perspective what was being fought for.  All of our future freedoms were at stake if Hitler, and the other countries fighting against democracy, had not been stopped.
I highly recommend making the Airborne Museum a part of your itinerary when visiting D-Day sites in Normandy. They took excellent care to make it a moving and thoughtful museum and memorial to 82nd and 101st Airborne Divisions.
Time Spent Here: (~ 1.5 hours)
Location: Airborne Museum, 14 Rue Eisenhower, 50480 Sainte-Mère-Église, France
Commute Time to Next Site: ~ 30-minute drive
Site 3: La Cambe German War Cemetery
Our next stop is the La Cambe German war cemetery. It is a simple and somber graveyard, and it is also the largest war cemetery in Normandy. There are over 21,000 bodies buried here as compared with the less than 10,000 buried at the American cemetery in Colleville-Sur-Mer.
As you walk through the entrance to the cemetery, you notice straight in front of you, a mound of raised earth (also known as a tumulus). Sitting on top is a giant dark stone cross with a man and a woman on either side. I assume this represents the mother and father of the dead. I recommend you walk to the top and get a bird's eye view of the enormous size of this cemetery.  
Most of the graves are marked with simple bronze-colored stones set in the ground. There are also rows of dark stone crosses spaced here and there across the cemetery. As I pass by the markers, I notice that most of the soldiers buried here were only 18 or 19 years old.  According to the cemetery, most of the soldiers buried here died between June 6, 1944, and August 20, 1944.
The German soldiers buried here were teenagers sent off to war by the command of their country. A surviving German soldier said that some of the soldiers enlisted in WWII were only 16 years old, forced to go to war, scared to death, wanting to run, but told they'd be shot if they did.  They had families who loved them and mourned their loss. War is ugly no matter which side you're on.
A Comparison of Two Cemeteries
My visit to the German war cemetery at La Cambe provided a thoughtful comparison with my visit to the Normandy American Cemetery at Colleville-Sur-Mer. I left the La Cambe cemetery feeling sorrow at the tragic loss as a result of this war.  Although there is still certainly a sense of loss at the American cemetery, I left it feeling a sense of pride and gratefulness. It was a cemetery that celebrated and thanked those buried within, rather than only mourning their loss.
Time Spent Here: (~ 30 minutes)
Location: La Cambe German war cemetery, Les Noires Terres, 14230 La Cambe, France
Commute Time to Next Site: ~ 20-minute drive
Next, we drive to the parking area for Pointe Du Hoc. Near the parking area is a memorial to the Army Rangers who gave their lives during the bloody battle fought here.  It is a moving tribute to their courage and sacrifice. It tells the story of the Ranger's persistence to scale the cliffs soaking wet in the middle of a storm while being gunned down by Germans from above.
What courage and commitment it took for them to continue scaling the almost 100-foot cliffs! Their fellow soldiers were dying one after another, and yet they continued to climb until at last some of them reached the top and claimed Pointe du Hoc as an Allied stronghold.
This, of course, is the short version.  The entire story of what occurred at Pointe Du Hoc on June 6, 1944, is an incredible tale of heroism. It is almost unbelievable, like something out of a Hollywood movie, and yet it's true. These men defied unbelievable odds. 
Lunar Landscape
From the memorial near the parking lot, you continue down a trail leading to the very cliffs these Rangers climbed on that dark and stormy night. You walk past large craters from aerial bombings and get a chance to step inside the bunkers the Germans built to house their 155mm arterial guns. These guns could target ships up to 12 miles offshore! You can understand why it was so crucial for Allied forces to overtake these strongholds to win the fight on D-Day.
The walk to the stone memorial overlooking the water is memorable in itself. It gives you a scope of the type of battle fought here.  Kids will enjoy exploring the craters and empty bunkers. The walk from the parking lot takes about 10 minutes.  Make sure to wear sturdy walking shoes and give yourself enough time to explore the grounds before heading on to your next stop.
Time Spent Here: (~ 1 hour)
Location: Pointe du Hoc, 14450 Cricqueville-en-Bessin, France
Commute Time to Next Site: ~ 15-minute drive
Site 5: National Guard Association Monument at Omaha Beach
The National Guard monument located along Omaha Beach is an inspiring monument dedicated to the soldiers of the National Guard who fought not only in World War I but also in World War II.  That was one of the things written on the monument that stuck out to me. It mentioned how the sons of the National Guardsmen would fight for freedom in WWII just as their fathers had fought for freedom during WWI. What a powerful legacy.
Take time to read the words and quotes engraved on each side of the monument. Close to the monument is another memorial of a National Guardsmen carrying his fellow soldier out of battle. This memorial is in tribute to the National Guardsmen of the 29th Division's 116th Infantry Regimental Combat Team. 
They were some of the first to land on the area that is now referred to as "bloody Omaha." They came with brothers, and boyhood friends, never to return home to their families or to live out their lives.  They were so young and so courageous. The soldiers who fought in WWII are true superheroes. 
Walk along the beach while you're here and look up at the cliffs. Imagine what it was like for the soldiers who landed on these shores, wet, cold and disoriented, being gunned down in the water before they even had a chance to fight. No matter what, they wouldn't be stopped.  They knew what they had to do, no matter the cost!
Time Spent Here: (~ 15 minutes)
Location: National Guard Monument (Secteur Charlie), 12 Boulevard de Cauvigny, 14710 Vierville-sur-Mer, France
Commute Time to Next Site: ~ 5-minute drive

Site 6: Omaha Beach Memorial
We drove along the waterfront for another 5 minutes before reaching the parking area for the Omaha Beach Memorial.  The wind was blowing and the cold air bit into our skin. The skies were blue and clouds dotted the horizon. It made me think of the weather conditions the soldiers dealt with during the early morning hours on June 6, 1944. 
I tried to imagine a much darker and stormier scene.  The first wave of soldiers arriving soaking wet, many drowned before they ever made it to shore. Gunfire raining down from German soldiers perched on the cliffs and the beach. This was war, ugly and chaotic with freedom on the line.  
I live in the light of victory, but on D-Day, victory was still being fought for. It was a scene of tragedy, and decades later, many survivors would continue to have a hard time talking about it. I'll never truly understand the full cost, but I'll do my best to live gratefully.
Next to the parking lot, there is a large stone marker, which is a memorial to the Allied forces landing here on Omaha Beach on June 6, 1944.  On one side of the stone memorial is the inscription: —No mission too difficult —No sacrifice too great. Duty First. Forced Omaha Beach at dawn 6 June. The other is etched with the images of soldiers and reads: Erected in memory of those —The 116th RCT 29th Infantry Division AUS landed here June 6, 1944.
Les Braves
Just behind it is a beautiful metal sculpture rising out of the sand just off the shore. The sculpture created by French sculptor Anilore Banon is titled "Les Braves." According to Banon, the sculpture consists of the following three elements:
The Wings of Hope – So that the spirit which carried these men on June 6, 1944, continues to inspire us, reminding us that together it is always possible to change the future. 
Rise Freedom! – So that the example of those who rose against barbarity, helps us remain standing strong against all forms of inhumanity. 
Wings of Fraternity – So that this surge of brotherhood always reminds us of our responsibility towards others as well as ourselves. On June 6th, 1944, these men were more than soldiers, they were our brothers.
The people of Normandy are still very grateful to the American and Allied forces for freeing them from the Germans.
If you have extra time and want to stop, there is the Omaha Beach Museum about a 5-minute walk from the Omaha Beach Memorial.
Time Spent Here: (~ 1 hour)
Location: Omaha Beach Memorial, Avenue de la Libération, 14710 Saint-Laurent-sur-Mer, France
Commute Time to Next Site: ~ 15 minute drive
We ate lunch at the D-Day restaurant across from the Omaha Beach Memorial parking lot. It was a choice of convenience. However, it was warm and cozy inside the restaurant. My lunch consisted of some toast topped with ham and cheese. It was a warm break from the chilly weather outside.
I recommend packing snacks and water in your car, and possibly a picnic lunch if you're able to. I didn't see too many dining choices along this route.  However, that may be due in part to the time of year when we visited. In the summer, you might find more options available.
Location: D-Day House, 1 Rue Désiré Lemière, 14710 Saint-Laurent-sur-Mer, France
Site 7: Normandy American Cemetery & Memorial
Next, we drove to the Normandy American Cemetery and Memorial in Colleville-sur-Mer. Due to the delay at the Airborne Museum, we only had about an hour to spend at the cemetery before it closed at 5:00. So we quickly parked and headed down the long path.  We bypassed the visitor's center, knowing what little time we had and instead continued to follow the path towards the ocean, along the infinity pool, and then curving around to the cemetery.
The rows and rows of white crosses stretched out almost endlessly in front of us.  People were milling about through the rows of crosses, searching perhaps for the grave of a loved one.  As you walk throughout the Normandy American cemetery, you feel almost as though you are in a park and not a cemetery. The setting is so lush and green. It is very peaceful.
Sculptures & Artistic Tributes to the Fallen
Make sure to stop in the cemetery's chapel.  It is the rotund building at the center of the cemetery. Step inside the small chapel and admire the beauty and thoughtfulness put into the gorgeous mosaic on the chapel's ceiling. American painter Leon Kroll created this beautiful portrait symbolizing American on one side, sending out her son to battle and France on the other side, taking our fallen soldier in her arms.  It is such a beautiful image. 
After you finish your walk around the cemetery, make your way to the large reflection pool where you'll see a tall bronze statue rising above from the far end.  This beautiful sculpture created by Donald Harcourt De Lueis titled "Spirit of American Youth Rising from the Waves." It bears an inscription at the bottom that reads "Mine eyes have seen the glory of the coming of the Lord." On the walls close to it, you'll find huge maps displaying all of the various forces along the shore and their routes.  It is awe-inspiring!
If you have time, walk along the shores of Omaha Beach below the cemetery. Make sure to stop in at the visitor's center for more helpful information regarding those buried here and to view the beautiful infinity pool.  They have volunteers on staff who can also help you locate any loved ones who are buried here.  
Normandy American Cemetery in Colleville-sur-Mer is a beautiful park-like setting, very peaceful.  A wonderful resting place and memorial to these soldiers.
Time Spent Here: (~ 1 hour)
Location: Normandy American Cemetery, 14710 Colleville-sur-Mer, France
Commute Time to Next Site: This was the final stop, and it was about a 45-minute drive back to Caen.
Tips & Recommendations for a Self-Guided Tour of D-Day Sites
Planning Tips
Always check the hours for each museum directly on the museum's website. Google is not always up to date on its listing for hours and operations.
Pack snacks and drinks in the car to keep your energy up in between stops.
Make sure you can drive a manual transmission before renting a car in Europe.
Organize your day, so you have the most time at the sites you want to see. Then if you can't make it to all the stops on the list, you will at least have seen the ones most important to you first.
Wear layers and sturdy walking shoes.
How Much Time To Spend Here
There is so much to see that you could spend days or possibly weeks here, depending on your interests.  However, with only one day, you'll need to pick the top sights you want to see and save the rest for your next trip. One site I would have liked to have fit into our day was Utah Beach. I guess I'll save that for my next trip!
Getting Here:
You can take a direct train from Paris' Saint-Lazare station to Caen. This takes approximately 2 hours, 15 minutes. You can also take a train from Caen to Bayeux if you prefer to stay there.  In Bayeux, bus #70 takes you to many of the D-Day sites if you prefer not to drive.  You can also, of course, book a tour of the sites. Caen also has an airport so if you're coming from somewhere other than Paris, you might check to see if they have flights that go through it.
Recommended Apps to Download Before Your Trip
Google Maps: This invaluable tool will help you get to each destination along your journey. If you plan to do a self-guided driving itinerary, then you will want to install Google Maps on your phone ahead of time and also download it for offline use.
Normandy D-Day 1944 (by Spot on Locations Ltd): This Normandy D-Day app provides the names and locations for all the various D-Day sites in Normandy. It gives historical details associated with each area and includes over 500 photos and 100 locations. If you like learning more about the history, then consider downloading this app before your trip and looking through the areas you'll visit and read up on the history associated with each.
Rick Steves Audio Europe: Consider downloading this app before any trip you take to Europe.  If you enjoy self-guided tours, then you will appreciate this app. Just put your earbuds in, and Rick Steves will guide you on your walking tour to whichever destination you've chosen on the app. 
 So say you choose France, you will then see a list of all the audio guides the app has for France.  Look for the one titled "Normandy: D-Day Sites" and listen to this before your trip to D-Day to get an idea about what there is to see and learn more about the history of the region. The app has not only audio walking guides, but also interviews with local experts on a variety of subjects relating to each location.
Closing Thoughts on D-Day
Visiting the D-Day sites in Normandy was like walking through the history books. It is one thing to read about this incredible date in history, but it is something else to see the area firsthand. To see the graves of the thousands of soldiers who lost their lives here, and to read about their individual stories is an incredible and moving way to spend the day.  
Visiting sites like D-Day or even Auschwitz remind me of the beauty of the human spirit. Yes, there is an ugly side to humanity. However, there is also resilience and a determination to overcome even the worst odds for the good of mankind.
I hope you plan a trip to visit Normandy, France, and the historic D-Day sites. However, if you can't do that right now, why not visit a local Veteran's Cemetery or museum near you, dedicated to those who gave so we could have freedom.  Say thank you the next time you see a veteran, and let's use our freedom to show compassion and grace to everyone we meet.
Thank You to All Who Served and Continue to Serve