I recently returned from another trip to Kalaloch Lodge, and I realized that although I've written about camping at Kalaloch, I have yet to write about staying at the Kalaloch Lodge. My hubby and I love coming to Kalaloch each year. It's our ocean getaway close to home. In the summer, we enjoy camping at Kalaloch Beach Campground, but in the winter, we prefer a little warmer (and dryer) resting place.  Thus, we stay at one of the Kalaloch cabins. 
Fall asleep to the sounds of the ocean, go for a sunset walk on the beach, and enjoy ocean views while you eat breakfast in the Kalaloch Lodge Creekside restaurant.  It's an excellent place for an annual getaway less than 4 hours from Seattle.  In this article I share everything you need to know to get here, how to plan your trip, what to pack, and things to do during your stay.
Getting to Kalaloch Lodge
Kalaloch Lodge is a part of the Olympic National Park.  It is set on a stunning stretch of coastline surrounded by old-growth forests and is only a 3.5-hour drive from Seattle. That is if you take I-5 south, like I do, down past Olympia and then cut over to Hwy 101 by either Montesano or Aberdeen. If you take the route that goes north to Port Angeles and take US-101 from there, it takes around 4.5 hours.  Visit the Kalaloch Lodge maps and directions page for more info on traveling here via car and also ferry options. 
I recommend using Google Maps and downloading an offline map of Washington state before your trip as there is no cell signal for a good portion of this drive. Your drive time will depend on your starting point and time of day.  So far, Google Maps has been a reliable source for choosing the fastest travel time to Kalaloch Lodge.
Make sure to pack some snacks, coloring books, or 
Mad Libs
to do with the kiddos and, of course, your favorite road trip music.  I also like to download some audiobooks to help pass the time.  You'll be there before you know it, and once you breathe in that ocean air and hear the roar of the surf, you'll know it was worth it!  I know that's how it works with me.
Kalaloch Lodge Accomodations
Main Kalaloch Lodge:
You can stay in the main Kalaloch Lodge, and these rooms provide a more traditional hotel setting. You can choose from one or two queen bed layouts, and you'll also have a choice of an ocean view room or non-view room. 
Additionally, you can stay in their Kalaloch Suite, which is the only room in the entire complex that has a TV. The Kalaloch Suite has a king-sized bed, sofa, dining table for four, and panoramic views of the ocean. It also has a soaking tub with a separate shower, whereas the other lodging options only offer a shower. It is also one of the more expensive room options at Kalaloch Lodge. 
The guestrooms are on the second floor above the main lodge area. Although the Kalaloch Lodge is not as big as some lodges, it does include a gift shop with fireside seating, the Creekside restaurant, and even a small game nook where you can borrow board games and puzzles to enjoy during your stay.
Seacrest House
The Seacrest House is a condo-style unit set on the far end of the property away from the main Kalaloch Lodge. It provides a blend of standard hotel room options (carpeted floor, seating areas, but no kitchen) with the rustic feel of a cabin.  The Seacrest House is situated behind the bluff cabins, but, second-floor units still have views of the ocean.  
Each unit comes with a private balcony facing the ocean, perfect for enjoying a cup of coffee while listening to the ocean's roar. The units at the Seacrest House also include fireplaces, and you are given a fresh bundle of wood each day during your stay. The wood-paneled walls and wood furniture provide rooms with a more rustic cabin feel than a standard hotel room. There are a variety of room options with the largest accommodating up to 6 people.
Kalaloch Cabins
The Kalaloch Cabins are what my hubby and I choose to stay in during our winter visits here.  We love the cozy cabins with wood fireplaces and listening to the sounds of the ocean as we fall asleep. We also enjoy having a kitchenette to prepare meals from the comfort of our cabin.  This is a great way to save money too. 
Although the Kalaloch Lodge's Creekside Restaurant makes some delicious food and has beautiful views, it is also on the expensive side.  I'd say it averages around $20/person after tip and tax.  So having the option to make a meal in our cabin, is a big plus for us!
Bluff Cabins
The most expensive of the lodging options at Kalaloch Lodge is the Bluff Cabins.  These cabins are oceanfront cabins set on the bluff overlooking the beach. They offer all the same amenities of the other cabins (wood stove or fireplace and kitchen), but with an ocean view. The largest of the bluff cabins can sleep up to 7 people! They are also the most expensive option at Kalaloch Lodge.
Kalaloch Cabins
These cabins are in the second room behind the bluff cabins.  You can still hear the ocean from your cabin, but you'll need to walk a little bit further to see it.  This has never been an issue for us, and these are the cabins we choose to stay in.  All of the Kalaloch cabins have kitchenettes and wood stoves.  A fresh bundle of wood is provided every day. They also include walking sticks inside each cabin for your personal use.  
Cabin Kitchenettes
The kitchens in the cabins are stocked with pots, skillet, strainer, cutting knives, silverware, can opener/bottle opener, plates, bowls, water glasses and coffee mugs, a toaster, coffee maker (with coffee and filters), a microwave, cooktop stove, and a small refrigerator.  You have all the basics to make yourself some spaghetti, soup, or heat something in the microwave.  
They do not include wine glasses or paper towels. The bathroom also did not include any hand soap, but there was dish soap in the kitchen and a sponge for washing your dishes. Also, a select few of the cabins offer a small oven, but no baking sheets or pans, so you'd need to bring those as well if you planned to use the oven.
*All lodging options at Kalaloch Lodge include private bathrooms with a shower. Soap, shampoo, and conditioner are also provided. Rates range from $120 to $350 per night and vary based on the season.
ADA Options
Kalaloch Lodge does offer a couple of ADA accessible cabins.  To learn more about these options, check out Kalaloch Lodge's website.
Useful Tips for Your Stay
Making Reservations
You can make your reservations online or call and make reservations over the phone at (866) 662-9928. I recommend you sign up for the Kalaloch Lodge email newsletter so you'll get notified of their sales throughout the year. Kalaloch Lodge also offers discounts for early bookings (7 days or more in advance), AAA members, members of the military, and seniors (62 years and older).   
It's important to note that Kalaloch Lodge is a very popular destination during the warmer months.  It is popular year-round, but it is generally easy enough to get a winter reservation with a week's notice. 
However, in the summer and fall, you may need to book months out to get a reservation and also during whale–watching season. This is also true for the campground.  I make my campground reservations 2-3 months ahead of time when planning a camping trip here in the summer.
If, for some reason, you are unable to secure a reservation, then consider staying at the nearby Lake Quinault Lodge or perhaps a motel in Forks.  The best way though is to plan ahead so you can make sure you get a spot at your desired location.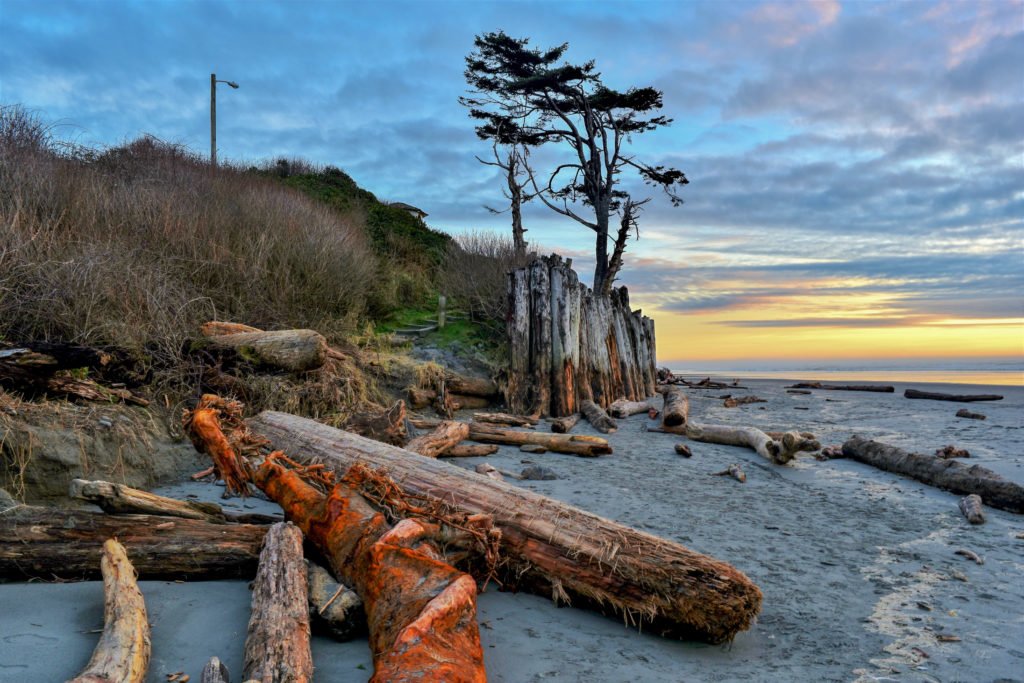 What to Pack
If you're staying in the Kalaloch cabins here some additional items I recommend packing:
Hand soap (for the bathroom — the kitchen has dish soap)
Paper Towels (none are provided)
Wine Glasses (if you plan to bring your own bubbly, just know the cabins only provide small water glasses)
Food (some ideas: oatmeal packets, pancake mix, eggs, toast or bagels, peanut butter and jelly sandwich fixings, pasta (spaghetti) and sauce, microwave popcorn, cooking oil, salads, etc.) Pack whatever easy favorites you can make in a limited kitchen or cook in the microwave.
Flashlight
Rain coats, sweatshirts and layers for cold to warm weather.  You may start the day out all bundled up, but later find yourself only needing a light jacket. 
Bug Spray
Coffee (they provide you with a small bag, but you may want to bring your preferred brand or extra if you like to drink it multiple times a day)
Tea and Cocoa
Re-usable water bottles for taking on the go
Zip-lock bags for sandwiches and other items.
Saran wrap (always handy)
Slippers (the floors in the cabins get really cold)
Books, games, puzzles, coloring supplies
Kites
Sandcastle building supplies (buckets and shovels)
Gloves & Hats
Sunscreen
*Main Lodge or Seacrest House
If you're staying in the main lodge or Seacrest House, you won't have a kitchen, but you will have a coffee maker and a mini-fridge.  You can use the coffee maker to heat water for oatmeal and ramen, as well as tea and cocoa.  You can bring stuff for sandwiches and keep items like jam, meats, cheeses, and mayo in your mini-fridge or pack bottled smoothies and drinks to store in the fridge.  This is an excellent way to cut down on costs for eating out.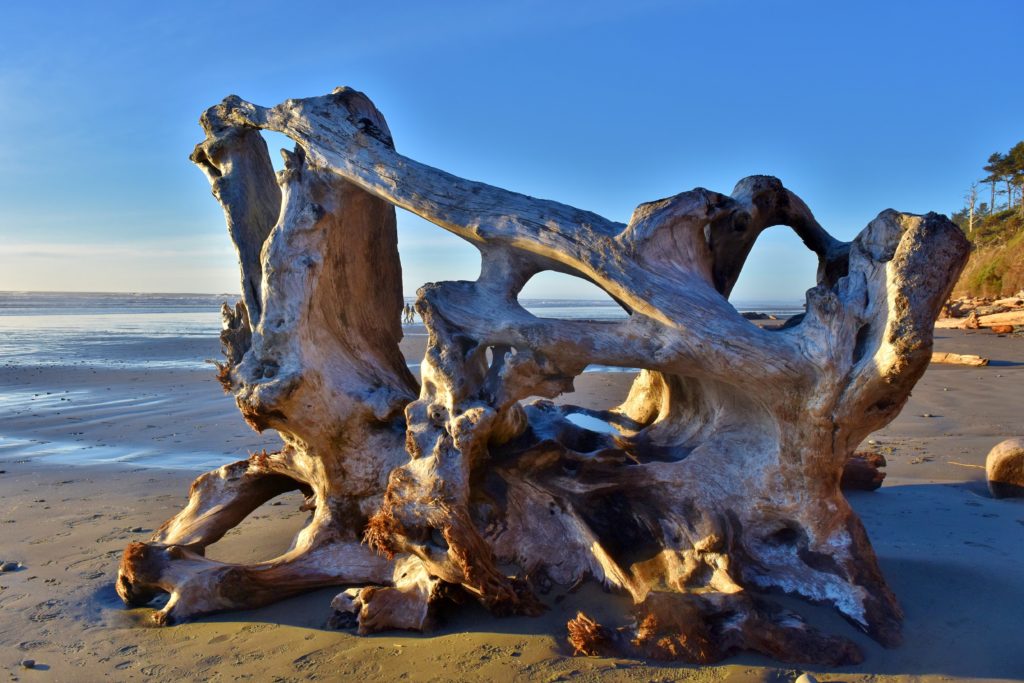 There is no Wi-Fi or cell service at Kalaloch. There are no phones or TVs in the rooms (except as I mentioned earlier, the Kalaloch Suite which has a TV). I recommend downloading a map of Washington state on your Google Maps app before your trip, to be on the safe side.
High winds in the area can occasionally knock the power out, so come prepared with a flashlight and small LED camping lantern. Plus, it never hurts to pack some pb&j fixings. I have yet to experience a power outage during one of my stays at Kalaloch Lodge, but it's always good to be prepared!
Always check the tide charts each day so that you'll know when hide tide is.  When you check in at the Kalaloch Lodge they will give you a printed copy of the daily tides.  They also post the tide charts at the main lodge.
There is a convenience store next to the Kalaloch Lodge, which sells a variety of food and beverage options, plus souvenirs.  They also have a small espresso stand where you can order your coffee to go.
If you want additional food and dining options, the town of Forks is about a 30-40 minute drive from Kalaloch Lodge.  There are a variety of mom-and-pop restaurant choices, as well as a Subway where you can order some sandwiches to take on a picnic. Forks also has a grocery store if you need supplies for your cabin. You can also rent a charcoal grill for $15 per day from Kalaloch Lodge.
Gather around the communal fire pit (ask at the front desk in the lodge for firewood) and roast marshmallows
Go beachcombing
Have a bonfire on the beach
Sit near the gazebo and enjoy a nice book or watch the sunset from one of the Adirondack chairs
Go see the Big Cedar Tree (about a 4-mile drive north past Kalaloch Lodge)
Relax, pull up a chair, read a book, just enjoy being near the ocean.
Play tetherball, cornhole toss or horseshoes (there's a small play area off to the side of the parking lot before the cabins)
Walk the short Spruce Burl Trail at Beach 1 and marvel at these strange and beautiful burl covered trees.
Drive over to Lake Quinault and explore some of the many trails around the lake.
Put together a puzzle or borrow a game from the community game closet in the main lodge.
Visit the Tree of Life (Tree Root Cave) (See it while you can, it seems to be sinking lower each year!) It's located just below the Kalaloch Campground.
Explore one of many beaches close by. These are some of my favorite ocean beaches near Kalaloch. Don't miss a stop at Ruby Beach, probably my favorite out of all the beaches – but each has its own unique charm. 
Fly a kite
Build a sandcastle
Soak in a sunrise or sunset (or better yet — both!)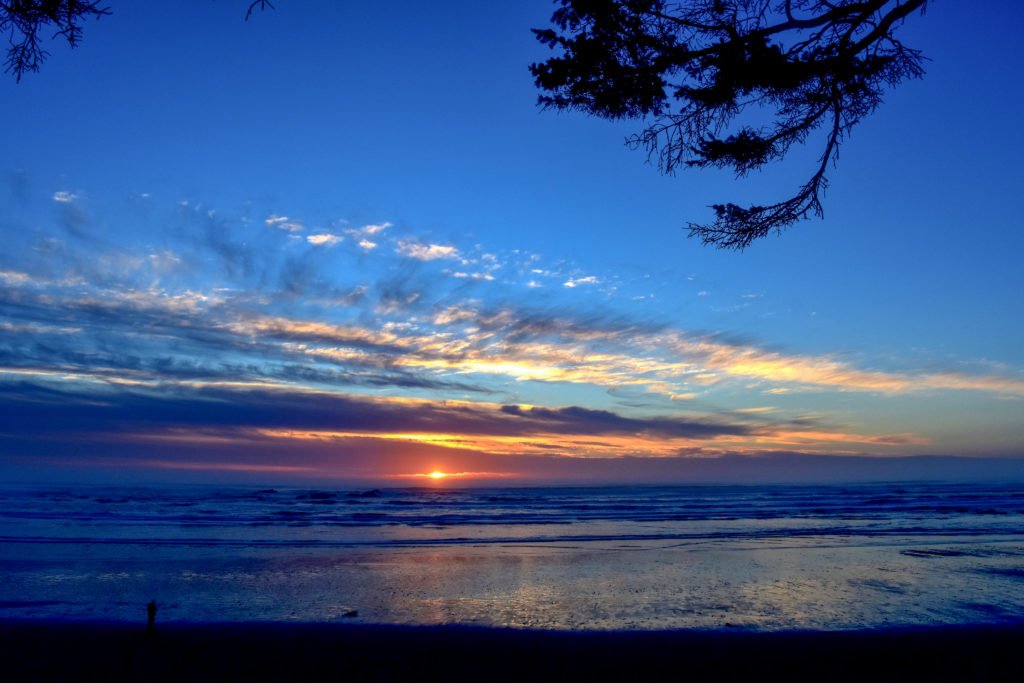 What Time of Year to Visit
Any time of the year is a good time to visit Kalaloch Lodge.  However, I love visiting in the winter when prices are lower, and it's easier to find available dates.  Plus, it's so cozy in the cabins with the wood fireplace and the sound of the ocean outside.  Even if it's rainy, it's still beautiful, and you can stay inside your cozy cabin playing games and reading books or put on your rain gear and enjoy the beauty outside. 
You can also look at the weather forecast each week and then book when you see a couple of days of sunshine.  I've been going every winter for at least five years and have yet to be completely rained out. 
In the summer, it is gorgeous and warm, and you can build sandcastles and dip your toes in the water's edge.  Prices will be higher, but you can also stay at the Kalaloch campground (make sure to reserve in advance) if you prefer.  However, it is nice to have a bed to sleep in and the conveniences of a kitchen to cook in and, of course, a hot shower every morning!
If you stay in a cabin, you can save money by bringing groceries and limiting the number of meals you eat at the lodge.  However, if money is no object, the lodge restaurant does have some excellent food and a welcoming staff.  
Best Time for Whale Watching:
According to Kalaloch Lodge, the best times to spot whales are in April & May as well as October & November.  However, I've seen whales when camping here at the end of August, and I've read other trip reviews which reported to have seen them even in July!  So you never know!
Who Should Stay at Kalaloch Lodge/Final Thoughts
Kalaloch Lodge isn't for everyone. If you're someone who prefers a luxury resort or amenities like Wi-Fi, cable TV, and room service, then Kalaloch Lodge is not the place for you.  However, if you're looking for a place to get away from it all and enjoy the beauty and solitude of nature–then Kalaloch Lodge is perfect for you! 
The area around Kalaloch Lodge is a stunning stretch of coastline set in the Olympic National Park. When you visit here, you will discover why so many like myself come back year after year.  The area's old-growth forests and unique coastline with beach logs, rock formations, and tidal pools are all a part of what draws visitors back each year. 
I've seen whales, sea otters, eagles, salmon, starfish, and sea anemones during my visits to Kalaloch.  Each year my visit is a little different due to the storms of that year and the change in tides.  I leave with new memories and look forward to the next year when I return.
Happy Memory Making!