Cape Disappointment State Park is at the southwestern tip of Washington State, where the Columbia River meets the Pacific Ocean. It is a stunning stretch of coastline that, contrary to its name, does not disappoint.
I don't know why it took me so long to explore this beautiful stretch of coast in my home state, but now that I've been there, I'm looking forward to a return trip.  In this article, I share some of the top things to do at Cape Disappointment State Park, plus tips for what to see along with info on camping and accommodations in the park in case you want to extend your visit.
Why is it Called Cape Disappointment
Cape Disappointment isn't the only name given to this area. The Chinook Tribe called the region Kah'eese, and Spanish explorer Bruno de Heceta referred to the Columbia River as San Roque.  However, when British trader John Meares came to the area searching for the Columbia River, he mistakenly believed it was only a bay. So, he was "disappointed." Therefore he named the area Cape Disappointment, and that name stuck. 
Ironically, we now know he did find the mouth of the Columbia River.  So, had he realized this, it might have been named Cape Discovery instead.  Perhaps there's a life lesson here.  Sometimes, we think a dream or goal attained will look a certain way; our success will be obvious. When it doesn't look the way we believe it should, we often give up, when in fact, we are at the precipice of a great discovery. If only we'd give it a second look and not give up so quickly. 
Maybe, or maybe I'm looking too deeply into John Meares' disappointment. It's interesting to see things through the lens of hindsight if only Meares could see what we see today.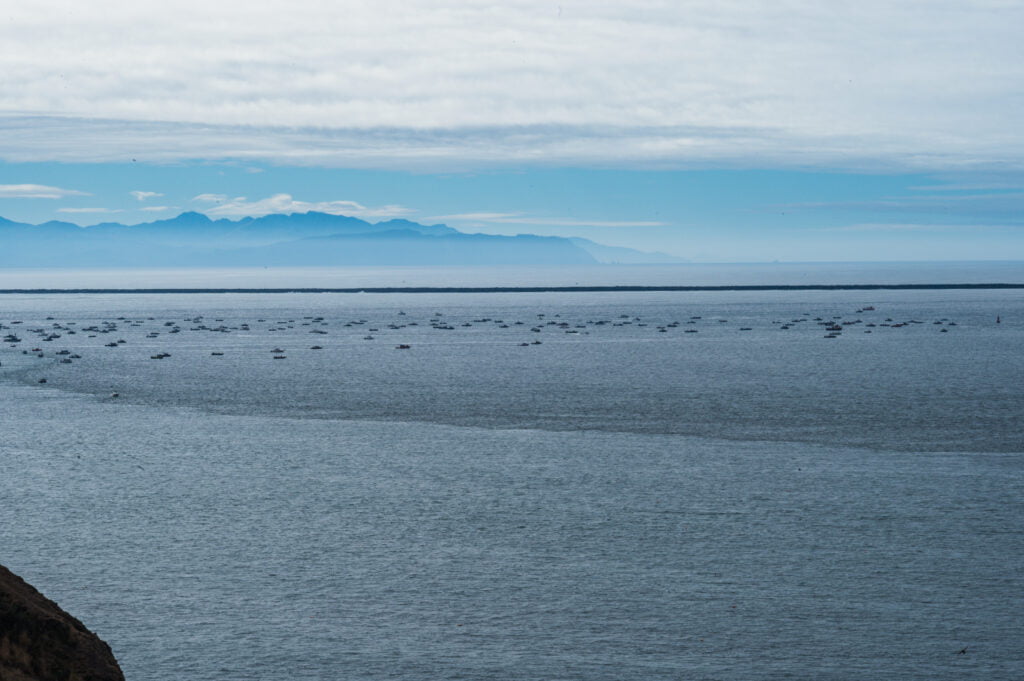 Columbia River Meets the Pacific Ocean
Although John Meares named Cape Disappointment due to his erroneous assessment that he did not find the Columbia River, this stretch of coast has undoubtedly led to many sailors' disappointment.
This is one of the most hazardous stretches of coastline in the world. Where the Columbia River meets the Pacific Ocean, it creates a "bar." This is a huge sandbar that changes due to the waves, strong currents, and ocean tides.
Hundreds of shipwrecks have occurred here, and even today, a Columbia River Bar Pilot is required to guide large ships through this treacherous bar crossing. It is interesting to see in person the distinct line created where these two massive bodies of water collide. 
Read this in-depth article to learn more about how the jetties were created and the two lighthouses in the area.  This region is full of fascinating history!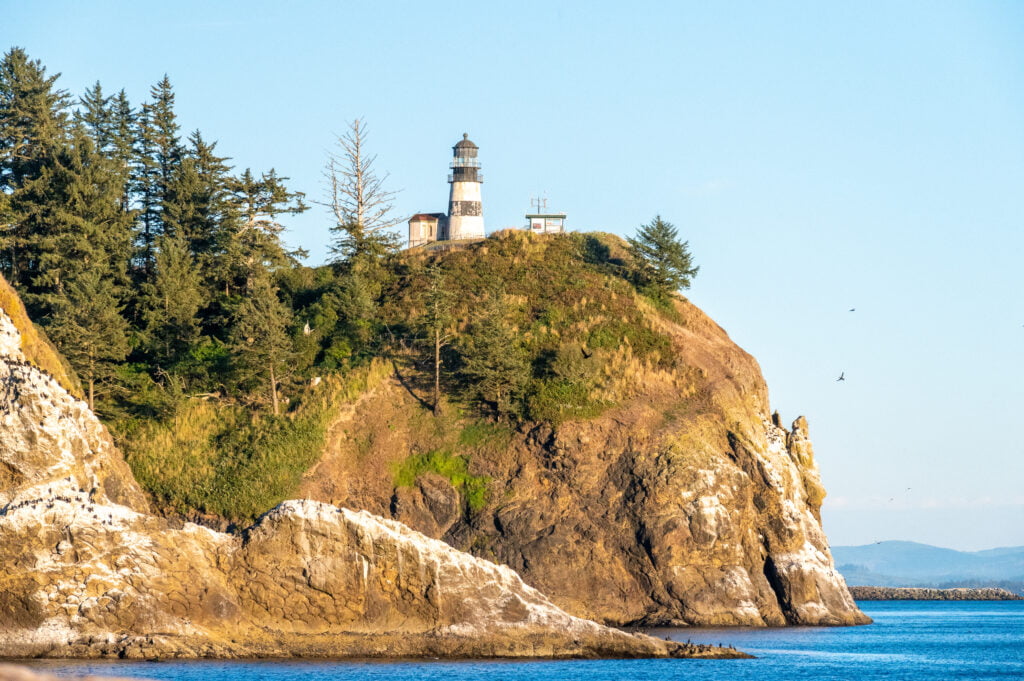 Top 7 Things to Do at Cape Disappointment

Cape Disappointment State Park is over 2,000 acres in size. You will certainly have no shortage of things to do during your visit here. Below I list what I think are the top 7 things to do here. You can see a lot in one day, but with two nights, you'll enjoy a more relaxed visit with time to soak it all in.
Beaches are always at the top of my list of to-dos.  I love the water! These three beaches at Cape Disappointment State Park are my top choices for your first visit here. They are great for flying kites, building sandcastles, looking through driftwood, seeing the lighthouse, and watching the surf.
Benson Beach
From the main entrance to the campground area, at the three-way stop, take a left onto North Jetty Road and drive past Waikiki Beach to find the parking area for Benson Beach near the end of the road. There is also a trail to the beach near the campground amphitheater in Loop A. 
This two-mile stretch of beach is vehicle-free.  I know that might sound strange for me to mention that, but actually, most of the Long Beach peninsula is open to vehicles.  So it's nice to know you and your family can explore Benson Beach without worrying about a car driving up behind you.
Waikiki Beach
I know you probably thought Waikiki Beach was only in Hawaii. Me too!  It turns out Washington State also has a Waikiki Beach. If you've ever seen the photographs of the enormous waves crashing below the Cape Disappointment lighthouse, this is the beach where those photographs were taken.  The winter storms that hit this part of the coastline are pretty epic.  You most likely won't catch any wave action like that during the summer but visit October through March, and you'll have a good chance of seeing this firsthand.
If you camp in the D Loop area, it's a short walk to Waikiki Beach. You can also drive to the parking area via North Jetty Rd. There is a lot of parking space, some with views facing the Cape Disappointment Lighthouse. Watch the sunset here while enjoying a warm cup of clam chowder.  That's what I did! I also saw kids and families building forts out of driftwood on the beach. It looked like a great way to spend a couple of hours creating memories, and there certainly is no shortage of driftwood here!
Beard's Hollow
You may have seen Beard's Hollow viewpoint on your drive to the main entrance of Cape Disappointment State Park. Drive south about a half-mile past the viewpoint to a turnoff and parking lot for the Beard's Hollow trailhead. Take the paved path straight ahead of the parking lot to access Beard's Hollow and the beach.  The path to the right leading over the wooden bridge is for the Discovery Trail. Beard's Hollow beach allows vehicles, so please be aware as you're dipping your toes in the surf and sand.
Isn't this the perfect kite for the beach?
Cape Disappointment State Park is 1 of around 50 Washington State Parks that allow metal detecting.  You'll need to complete this form and bring your metal detector. Cape Disappointment has about 240 acres of beach area designated for metal detection.
Whether on foot or by bicycle, Cape Disappointment has a lot of great trails. 
The following trails are accessible from the Cape Disappointment campground.
Mackenzie Head


0.5 mile (roundtrip) This short trail leads you to an old WWII battery and information boards describing its historical significance. It also has a nice view of the forest and ocean. Head toward the main A Loop campground area, and you'll find a small parking area on the left about 0.5 miles along Fort Canby Rd. 

Coastal Forest Loop Trail
The entrance to this loop trail is near Cafe D. You can take a shorter 0.5-mile loop or the longer 1.5-mile loop. If you take the longer loop trail, there is a 0.1-mile trail with a view of Baker Bay. This trail is typically wet and muddy, so come prepared.
North Head Trail
This 3.0 mile (roundtrip) hike starts opposite the road from the Mackenzie Head trail and ends at the North Head Lighthouse trail area.
These hikes require driving to the trailhead parking areas:
Bell's View 
This paved 0.5 mile (roundtrip) trail takes you to beautiful views of the coast as well as passing by more WWII outposts. Learn about the history and the incredible winds that hit this coastline in this short, informative hike. 
Beard's Hollow
The trail to Beard's Hollow is a nicely paved trail within Cape Disappointment State Park, suitable for bikes and wheelchairs.  I am not sure of the actual mileage of this trail. It was a 10-minute leisurely pace to the beach along this mostly flat trail, and I'd guess maybe 0.3 miles each way.
Discovery  Trail
Starting from the North Head Lighthouse Parking area, this 7.3 mile (one-way) trail takes you to the town of Long Beach, with lots of beautiful views along the way. (You can also start this trail from the Beard's Hollow Parking area, shortening the hike to 6.3 miles. However, I think this trail is best on a bike — see #6.)
In addition to seeing WWII sites along the trails, you can also visit Fort Canby and explore what's left of this historical site. You can also tour the Lewis & Clark Interpretive Center and learn about two of our most famous explorers–Lewis and Clark! 
The Lewis & Clark Interpretive Center is worth a stop, even if you aren't sure about the historical exhibits.  Why? Because of the views!  The path in front of the interpretive center is one of the best spots in Cape Disappointment State Park to see where the Columbia River meets the Pacific Ocean.  It also offers a much closer view of the Cape Disappointment Lighthouse. 
I think we stood along the viewpoint area in front of the Lewis and Clark center for at least 30 minutes, just seeing what we could see.  We watched double-crested cormorants as they searched for food, diving from the cliffs to the water and back again. Then we counted the 100's of boats just past the line in the water created by the convergence of the Columbia River and the Pacific Ocean. 
If that weren't enough, though, the Interpretive Center is full of fascinating history and facts about lighthouses and early explorers.  The upper floor is free and worth taking a look around, and it has huge windows with views of the lighthouse and ocean.  
Additionally, you can pay $5 to see the entire exhibit, which starts on the basement level. There is a wonderful video about Lewis & Clark's incredible 4,000+ mile journey to come to their stopping point at Cape Disappointment.  I heard a small boy exclaim to his parent as he watched the video, "That's here, that's where we are!"  I saw history made real to him as he watched the video about Lewis & Clark's journey.  That's what it's all about!
Lewis & Clark Interpretive Center
244 Robert Gray Drive Ilwaco, WA
Ilwaco, WA 98624-8624
Phone: (360) 642-3029
Cape Disappointment State Park has two lighthouses within its borders.  This stretch of coastline was so dangerous they built not one but two lighthouses! I love looking at lighthouses. Their architecture and beautiful locations never disappoint (see what I did there). 
During my visit, I learned that lighthouses were the original GPS. They not only emit light to keep ships from running ashore, but each one is uniquely painted, and they each emit a specific light pattern.  Sailors use these two distinguishing features to help them know where along the ocean they were. Pretty cool, right!
Cape Disappointment Lighthouse 
This is the lighthouse you see in the photos taken from Waikiki Beach.  It gets the huge waves crashing at its base during the winter. You can no longer access the lighthouse, but you can see it from both Waikiki Beach and in front of the Lewis & Clark Interpretive Center.
North Head Lighthouse 
Constructed in 1898 after continued shipwrecks along this rocky coast demonstrated the need for a second lighthouse.  The North Head Lighthouse is still used to aid in navigation today. It was currently closed for tours during my visit, but I'm optimistic it will reopen to the public again soon. The paved trail to the lighthouse is a beautiful walk, and you pass by the guesthouse for the Lighthouse Keeper.  You can stay here by reserving it online through the WA State Parks website.  Now wouldn't that be a unique experience!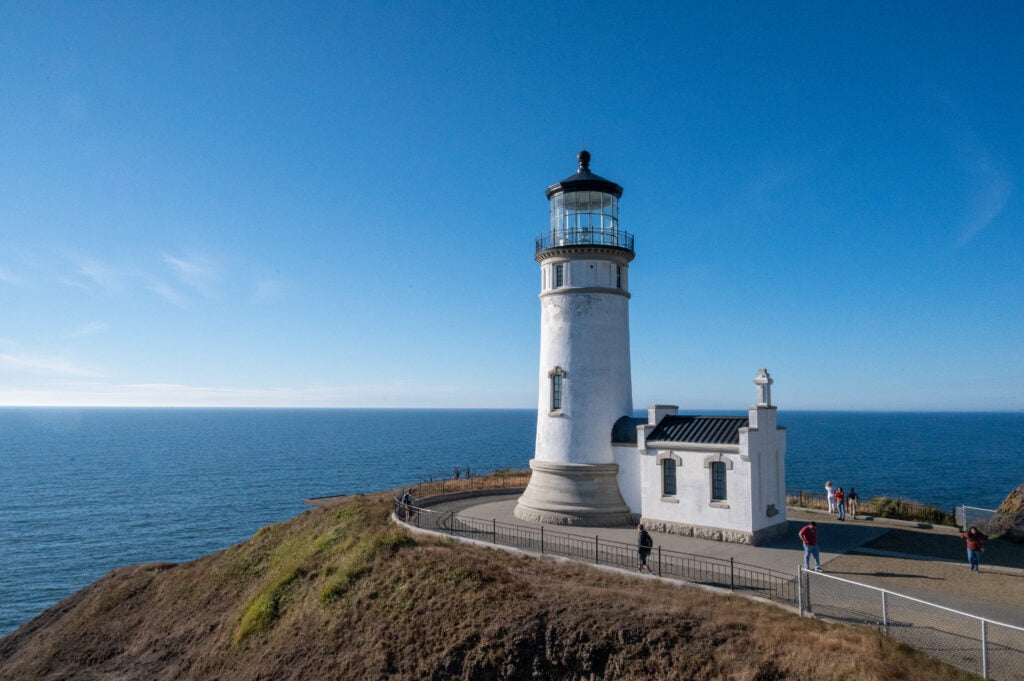 There are plenty of paved roads within the main campground areas for families to enjoy biking in a low-traffic area.  However, for a real adventure, consider cycling the Discovery Trail.  
The Discovery Trail is a mostly paved 8.5 mile (one-way) trail that stretches from Cape Disappointment State Park to the town of Long Beach!  There are viewpoints along the route, historical markers, and even art sculptures to enjoy.  It is a beautiful trail, and even if you don't feel like making the entire 16-mile round trip consider cycling at least a portion of the trail.  Here is a trail map that gives you an overview of the Discovery Trail route.
Start the trail from the North Head Lighthouse parking area and ride toward Long Beach as far as you feel like, or if you have someone to drop you off, you could do a one-way shuttle. You could start in Long Beach and then cycle south back to Cape Disappointment State Park. No matter what you choose, you'll enjoy this beautiful trail!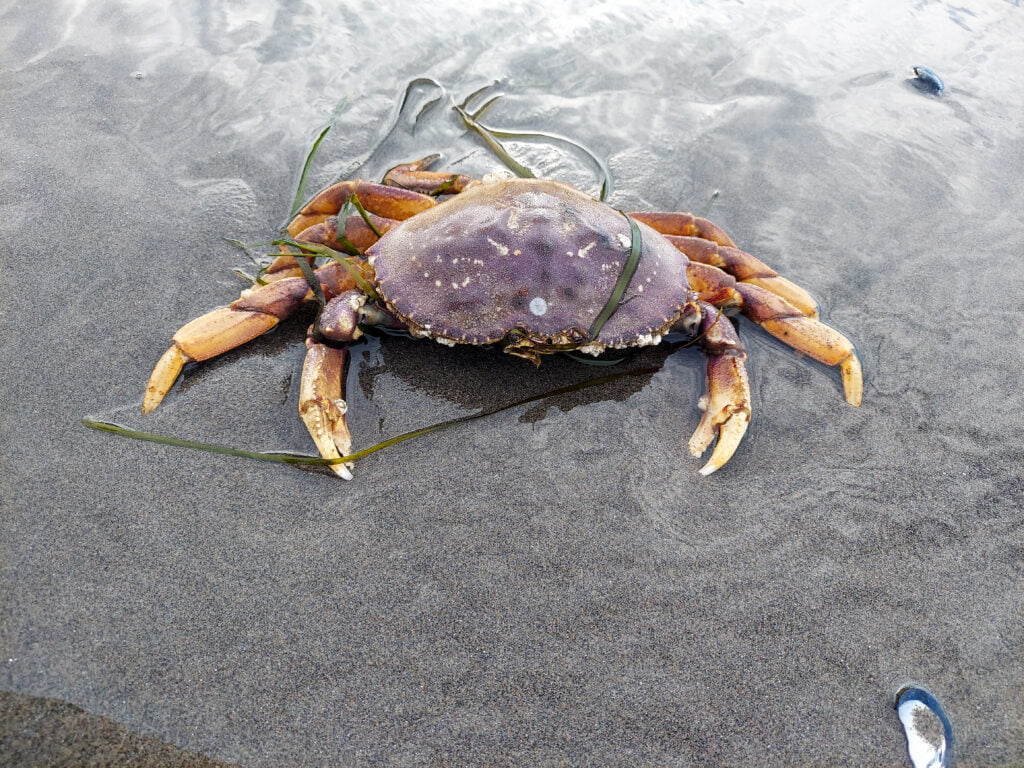 You can go fishing and boating at Cape Disappointment State Park.  Although, if it were me, I think I'd try my hand at crabbing.  There were so many Dungeness crabs washed onshore here it made me hungry! 
Fishing from the shore is allowed, but you can also bring a boat if you have your own. The Baker Bay Boat Launch is next to Cafe "D," just across from the park's main entrance. 
Make sure to have all the appropriate licensing required for boating and fishing. Plus, you'll want to check with the Washington Department of Fish & Wildlife to see what is currently open and allowed.  Some years the biotoxin levels close fishing here.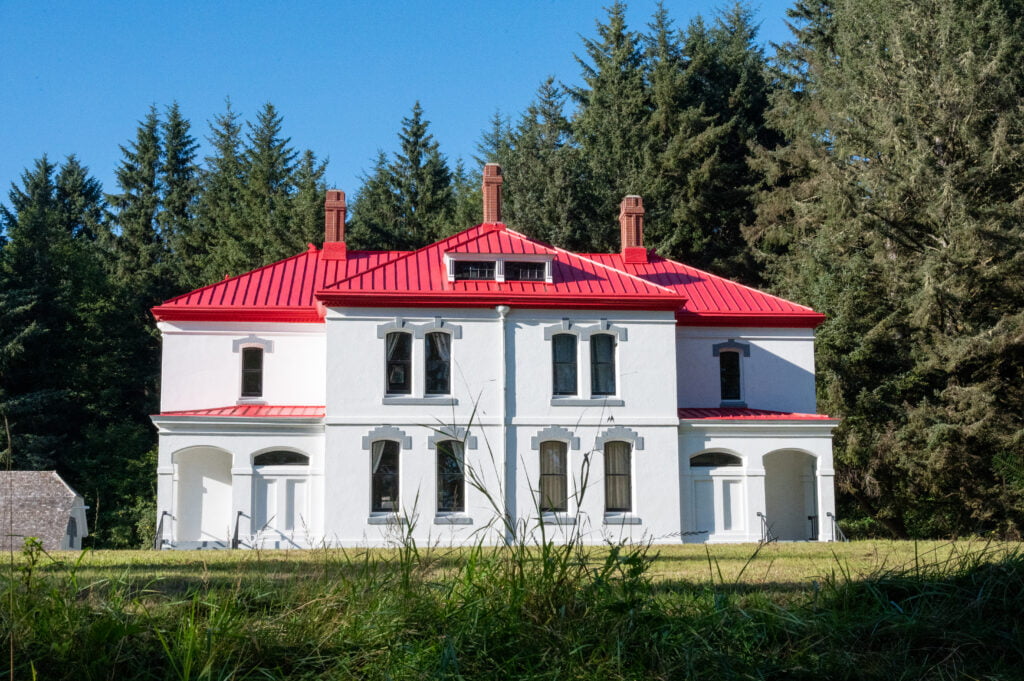 Accommodations at Cape Disappointment
Camping
The best tent campsites are sites 1-180 toward the rear of the park.  There are a few tent sites in the D Loop near the main entrance, but these have less privacy and more road noise.  We ended up staying in one of these and could hear the loud ship horns and road traffic throughout the night.  There are also a lot of RV campsites, including those with full hookups.
Rentals
In addition to campsites, Cape Disappointment State Park also has cabins, yurts, and two vacation houses for rent. 
Getting to Cape Disappointment State Park
Cape Disappointment is a little over a 3-hour drive from Seattle, Washington, and a 2-hour drive from Portland, Oregon.
You'll either take Hwy 101-S from the Seattle area or Hwy 101-N if coming from the south/Oregon.
For some reason, Google directions take you to the general area of Cape Disappointment State Park rather than to the entrance of the park.  So, the easiest way to get to the campground entrance and park's pay station for Cape Disappointment State Park is to navigate to Cafe "D," located directly across from the park's main entrance.
Cafe "D" Address: 243 Robert Gray Dr, Ilwaco, WA 98624
Besides being a waypoint to the entrance of the park, Cafe "D" also offers Wi-Fi, miscellaneous camping supplies you may have forgotten, as well as ice cream cones and coffee.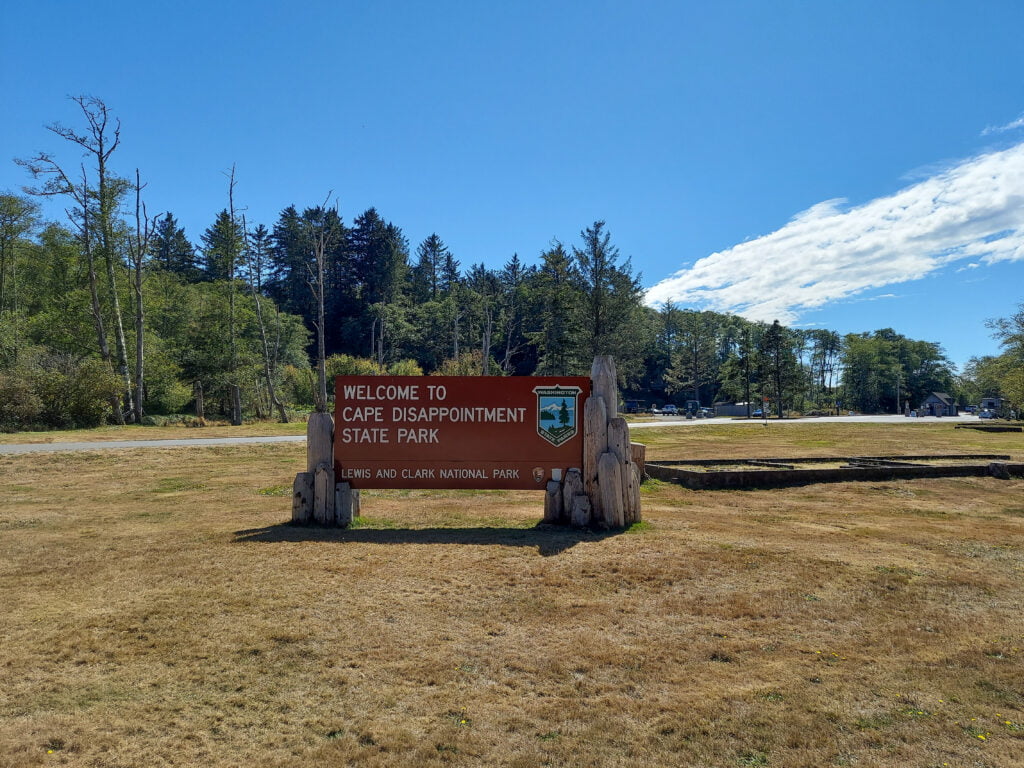 The following had paved trails and parking areas suitable for walkers and wheelchairs.
The North Head Lighthouse trail
Lewis & Clark Interpretive Center and viewing area that looks at Cape Disappointment Lighthouse
Bell's View
Beard's Hollow (the paved trail ends at the beach)
Beard's Hollow Viewpoint (parking area with an overlook)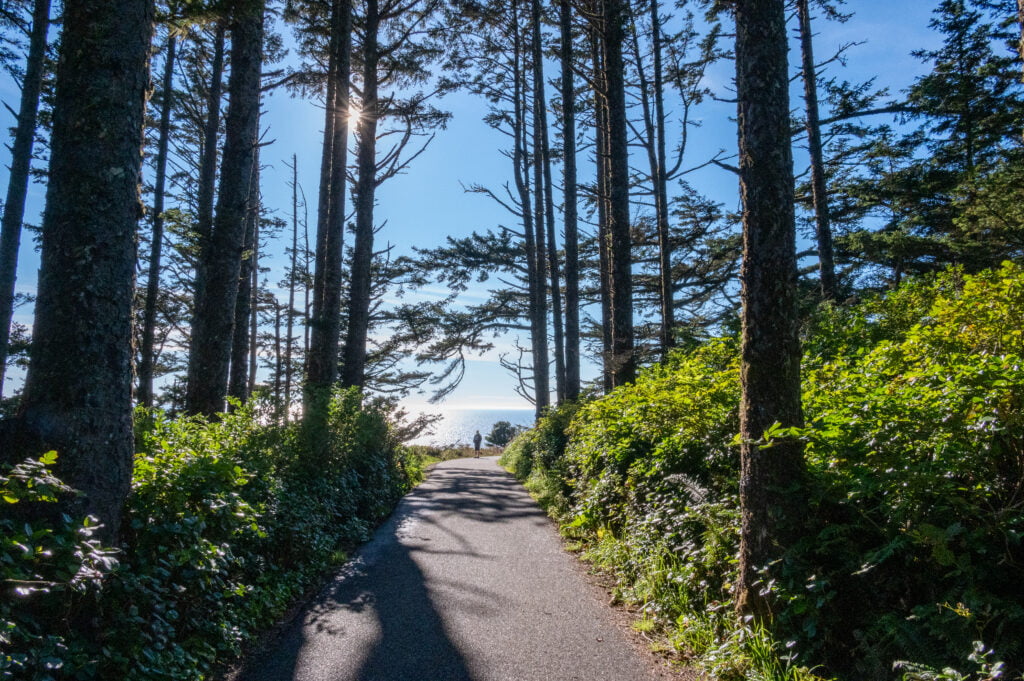 Restaurants to Try Near Cape Disappointment
The Chowder Stop (Makes great chowder and can easily pack it to go too.)
The Chowder Stop
203 Bolstad W, Long Beach, WA 98631
42nd Street Cafe and Bistro (Amazing breakfasts here, plus they serve beignets!)
42nd Street Cafe
4201 Pacific Way, Seaview, WA 98644
The DEPOT Restaurant (If you eat out only once, make it The DEPOT Restaurant. Reservations required, but they can often squeeze you in same day if you call ahead.)
The DEPOT Restaurant
1208 38th Pl, Seaview, WA 98644
Roots Drive-Thru Coffee (This is small coffee shop is in Ilwaco just outside the park boundary. It's a quick drive in the morning to get your coffee fix!)
Roots Coffee
111 First Ave N, Ilwaco, WA 98624
Weather at Cape Disappointment
The weather at Cape Disappointment could be the best reason to call it such a name. It is the stormiest stretch of coastline, with hurricane-force winds during the winter and unrelenting rain. If you plan to tent camp here, I highly recommend you look ahead to the weather forecast before deciding to come. 
I do not enjoy tent camping in the rain.  Rain and wind at Cape Disappointment can make tent camping miserable or, should I say, "disappointing." You may decide a cabin or hotel in town would be better if your forecast appears to be stormy and grey.
I used my new Coleman 4-Person Pop-Up Tent, and it did fine with the light rain we received early in the morning, however anything more, and we'd have had wet gear, I think. So plan to spray your tent ahead of time with waterproofing spray and pack some waterproof jackets for exploring.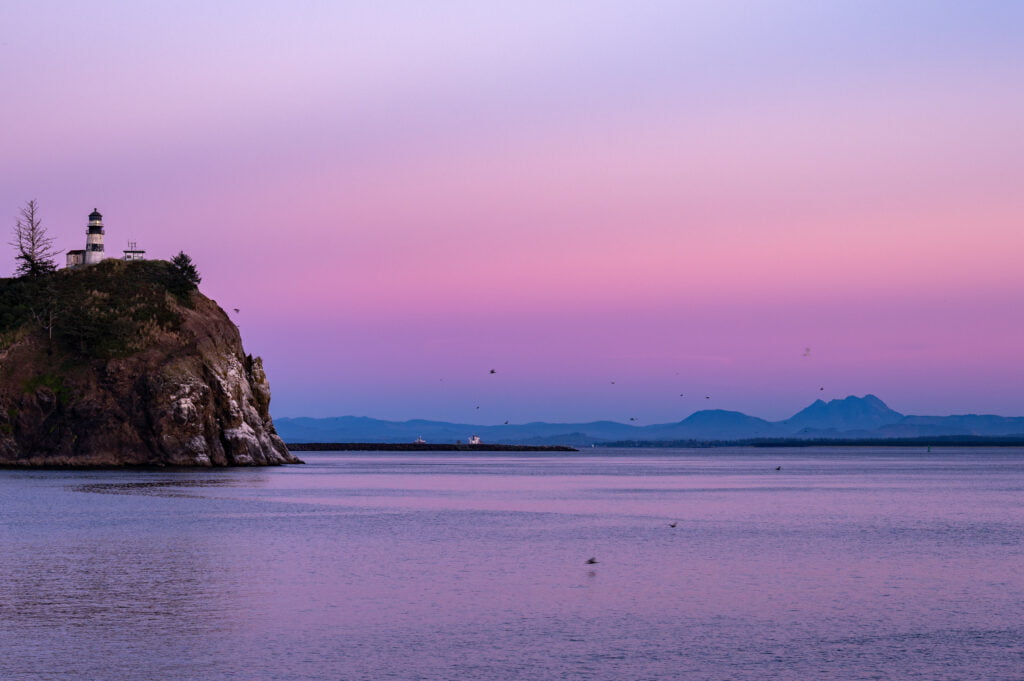 I loved visiting Cape Disappointment State Park! There is so much to do along the Long Beach Peninsula outside the park too. Washington State has some of the most beautiful coastline. I enjoy every opportunity I get to explore it.  I hope you will get a chance to visit here soon. Let me know if you have any questions regarding this area or if there's a favorite activity here that I missed. 
Here are a few articles that might interest you:
Note: Travelffeine is reader-supported. This post contains affiliate links. When you make a purchase using one of these affiliate links, we get paid a small commission at no extra cost to you. And as always, all opinions are our own. Thank you!
Happy Exploring!