My husband and I recently returned from an off-road motorcycle adventure. It was our first multi-day moto trip where we camped off our motorcycles. We were riding sections 4, 5, and 6 of the Washington Backcountry Discovery Route (WABDR). This beautiful off-road route stretches from the Oregon/Washington border and up to the Washington/Canadian border. 
The WABDR is a mixture of challenging fire service roads as well as the easier and more maintained gravel forest service roads.  The Washington Backcountry Discovery Route is full of adventure with spectacular scenery all along the way. In this post, I share how I planned the trip as well as what gear I packed for moto camping. First, let me give you a little background on my motorcycle experience.
My Motorcycle Riding Experience Thus Far
I grew up learning to ride motorcycles on a Honda 50.  All of my siblings did, and to this day, all of their kids learn on the same Honda 50.  It is a fun legacy, and this Honda 50 is a beast! It rarely ever needs any work and keeps going and going — take that Energizer!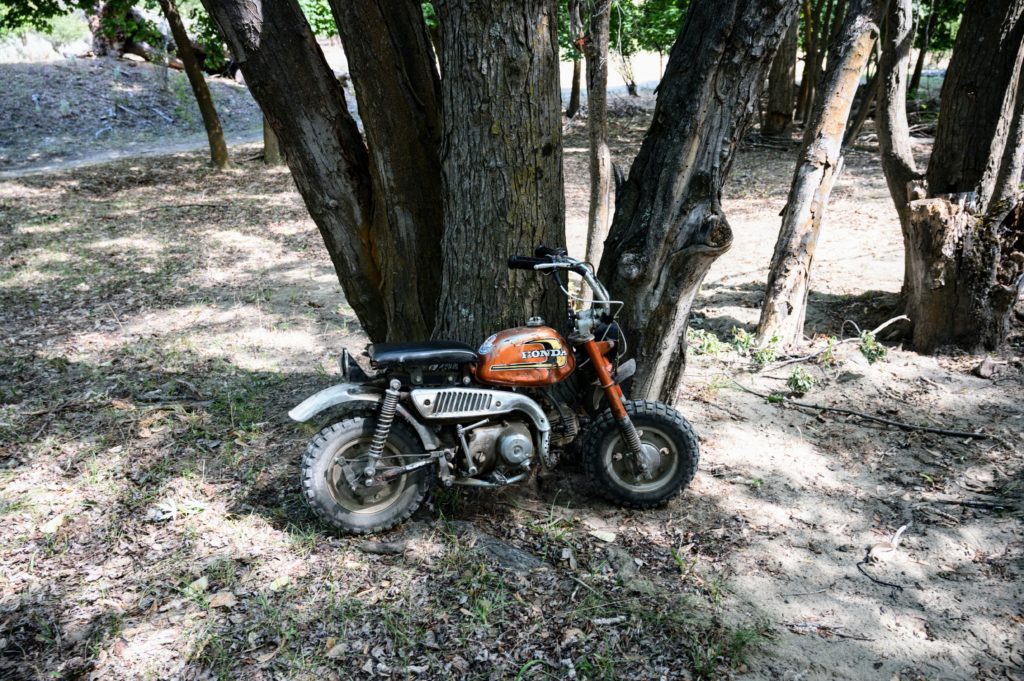 I eventually outgrew the Honda 50 (although let's be honest, all of us adult kids still like to ride it once in a while, just to say we can). I transitioned into riding a Honda 250 and a Yamaha 400–all lightweight off-road motorcycles, always intending to get my motorcycle license eventually.
One day while in Seattle at a motorcycle store (can't remember why), my husband and I learned from the owner, that WA state had a new motorcycle endorsement program. They provided the motorcycles and put you through a course to get your license, and all it takes is one weekend.
When we left, my husband said: "let's do it!"  And so we did. It is a great program that teaches a lot of excellent road safety techniques. By the end, you take the motorcycle driving test, and pass (hopefully) and then head to the DMV, get a new mugshot, and you are officially a motorcyclist
Beginning Our Off Road Adventure Riding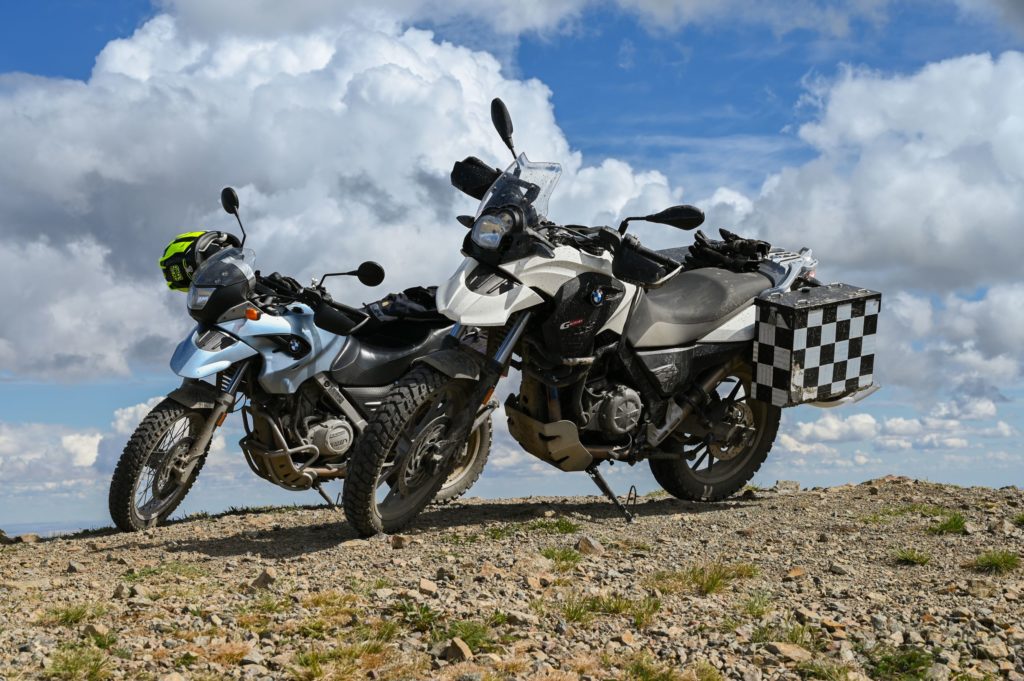 That was over five years ago.  We purchased motorcycles right after getting our licenses and have been getting road experience ever since.  We bought a BMW F650GS and a BMW G650GS, both dual-sport motorcycles. This means you can ride on and off-road. We did some off-roading with my brother when he'd visit, but it was mainly just dirt or gravel roads, nothing too technical.
We learned about the Washington Backcountry Discovery Route in 2015 and decided we'd ride the last half of the route when my brother came over for his annual summer vacation. Wildfires had a different plan, and due to the forest fires burning all over Washington state, we had to cancel our trip plans.
Fast forward four years, and we have the best fire season we've had in a long time!  A former UW classmate of mine posted his pictures of completing the WABDR in his 4×4 Toyota, and I told him how I'd planned to do the route.  He said, "you should do it this year." And I thought, "yeah, he's right!" There is no guarantee we'll get another year with so few fires, why not seize the moment and do it!  
So I contacted my brother, told him my idea to do the last three sections of the Washington Backcountry Discovery Route in September, and he said to let him know the dates, and he'd put in for his vacation.  Next, I convinced my husband that this was a great idea, and soon we had our dates picked out.
Planning our Off Road Motorcycle Adventure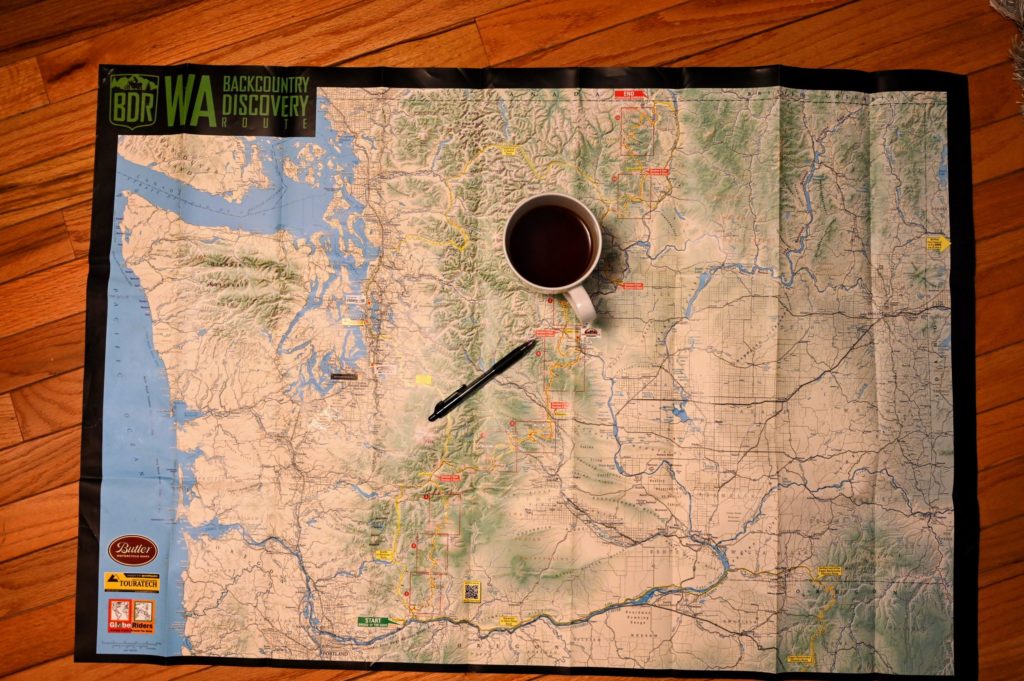 Now, it is essential to note that this decision was made right in the middle of our crazy hectic summer. Which meant I was busy planning camping trips, and get-togethers with friends and family and did not give our ride my usual planning attention.
So this trip felt a bit more spontaneous than my trips usually are. I skimmed a few websites on the subject of riding the WABDR, and we bought the official WABDR printed map. I downloaded the GPS tracks and a free GPS app for my phone. From my minimal research, I determined that we should only need one day of riding per section. So I reserved some campsites for our ride and continued making plans with our group.
We live in the Seattle area, and my brother lives in North Central Washington. So we decided to meet in Leavenworth the night before we began our ride. Also, my brother and his wife would be riding in their Toyota 4Runner for sections 4 and 5, so he agreed to pack extra water for our group and to carry any gear that might lighten the load in our panniers. That was wonderful! When you're riding an adventure bike off-road, reducing the weight in your panniers is always helpful.
Easy, Lightweight Food Options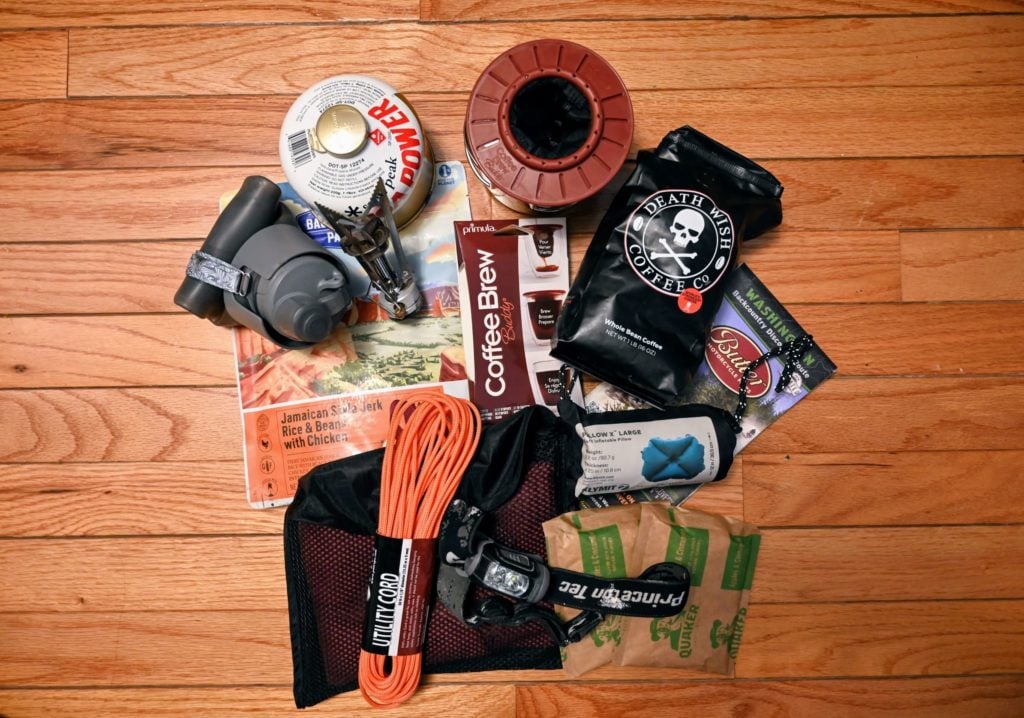 I packed our backpacking propane burner and some dehydrated meals that you can prepare right in their pouches. And I also packed oatmeal packets and coffee for breakfast. To make each meal, all I needed to do was to boil water on our tiny propane stove.
I used a new style of lightweight coffee filters to make coffee on this trip as they took up less space than my usual french press options. I like them, but I need to practice more to get the right strength.  The first cup was a little too weak. My husband then decided to triple that amount in his cup and oh my goodness! Way too, acidic! So I will perfect it, but overall I am pleased with my purchase.
So in addition to a lightweight propane burner and dehydrated food, I also packed jerky and snack bars.  I planned for these to be both our lunch and our snacks. And that was it for food.  
Breakfast: oatmeal and coffee. Lunch: jerky and snack bars. Dinner: Dehydrated meals. Remember, you want to keep your motorcycle as light as possible when off-roading.
Packing Essentials: Camping Gear & Supplies
I packed the same gear I used for backpacking and used it for this off-road motorcycle camping adventure. I think these two "hobbies" really compliment each other. You need lightweight gear for backpacking, and you need the same type of equipment for moto camping. The backpacking gear was small and lightweight and fit great inside our panniers. In addition to backpacking gear, I also packed motorcycle emergency supplies and of course, our riding gear.
Lightweight, fast-drying towel
Moisture-wicking clothing
Smartwool or riding socks of choice
Flip Flops or Tennis Shoes (when you're at camp or in town, it's nice to have a break from your riding boots)
Hat (for when you're off the bike — to hide helmet head or to keep warm)
Sunglasses
Balaclava (great for cold morning rides)
Thin fleece pullover (great for layering in the morning and at night)
Waterproof riding gear
Jacket
Pants
Gloves
Riding Boots
Backpacking tent (lightweight, easy to set up)
Pillow (or use clothing) (we had inflatable pillows from backpacking)
Backpacking sleeping bag (you want something smaller than your standard car camping bag)
Sleeping Mat (it's incredible what even an inch of padding can do for a rocky surface)
Ziplock bags for toiletries (at higher altitudes these may leak)
Packing Cubes — These are a great way to organize gear in the panniers and be able to grab out what you need quickly.
Toiletries (shampoo, soap, face wipes)
Travel-size brush/comb
Coffee and filter
Dehydrated Meals
Instant Oatmeal
Jerky
Snack bars (quick snack stuff when you're on the go)
Water (refillable and collapsible water bottles are great)
Eating utensils/plates/bowls
Collapsible cups (I love these, and they can double as bowls too)
Propane stove and propane (use a small pocket rocket one)
Cash (for emergencies)
Paper Maps (GPS is great when it works, can cause real problems when it doesn't)
Bungees (for tying down the gear to the back of your bike or panniers)
Zip ties (always useful)
Multi-purpose tool
Spare Fuses
Engine Oil
Spare Tire/Tube or patch kit of some kind
Duct Tape
Fast Acting JB Weld
Loctite Threadlocker Blue
Tylenol/Ibuprofen
Allergy Medicine
Bug Spray
Hand Sanitizer
Chapstick
Raincover for your packs and sleeping bags
Small handsaw
Toolset for motorcycle
Waterproof Matches
Toilet Paper
First Aid Kit
Headlamp/flashlight
WD-40
Phone/GPS/Comms Charger (powerpack)
Charging cables
Communication Devices (we use the Sena SMH10 and loved the ability to communicate direction, needs of the group and sightseeing all along the ride)
Camera (bring proper padding and rain protection)
Passport (if needed)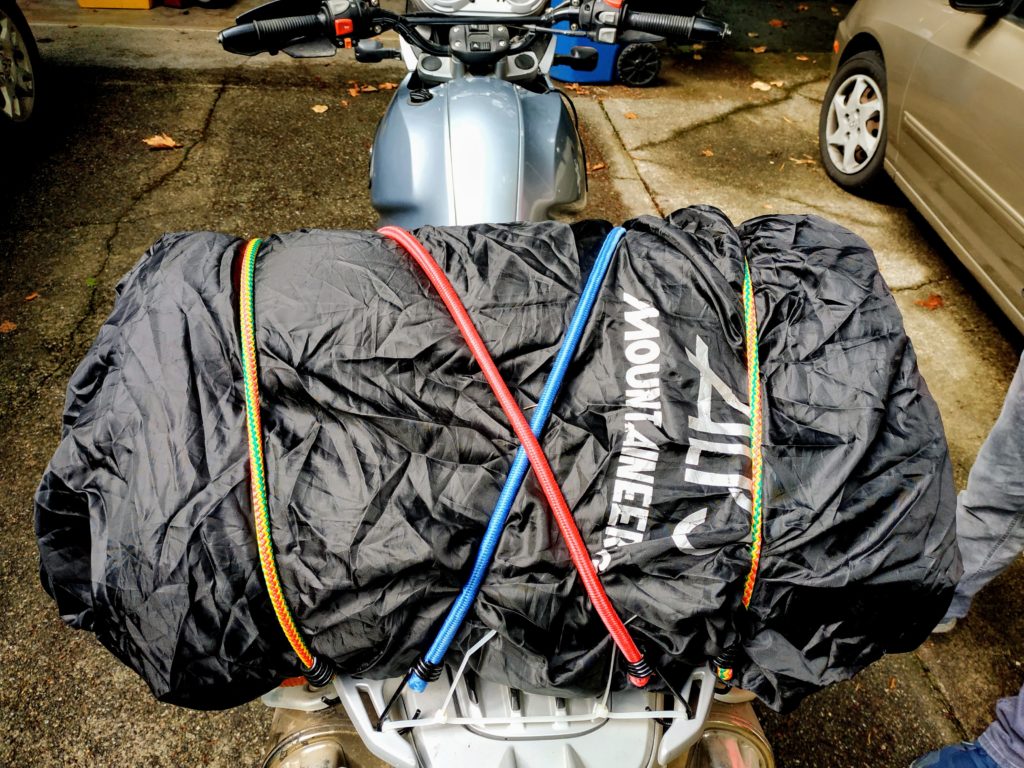 Practice packing up your motorcycle at least a day in advance, so you know how everything fits.  Make sure the weight in your panniers is evenly distributed so that it doesn't throw the balance of your bike off.
Also, when packing the day before, I reduced the weight even further by taking a second look at what I was packing. I discovered more items I could leave behind.  This tends to be the case. You can usually do without that extra shirt or shorts or "just-in-case" gadget. 
Pack the miniature version of whatever you can — miniature brush or comb, travel size shampoo, small flashlight and so on. Moisture-wicking clothing is great because you can wear it for multiple days and easily wash it the night before a ride and hang to dry to wear the next day. 
Also, you will eventually pass through towns during your off-road adventure whether you're on the Washington Backcountry Discovery Route or some other adventure touring ride. So typically, you can purchase additional items, if you find you need them later. 
I try to ask myself if I need the item in question. And if for some reason I discovered I did need it later on the ride, could I purchase it then?  If the answer is at first "no" I don't need it and "yes" I could buy it later, then leave it at home. Chances are you won't miss whatever it was.
Final Tips for Planning Your Off Road Adventure and What to Expect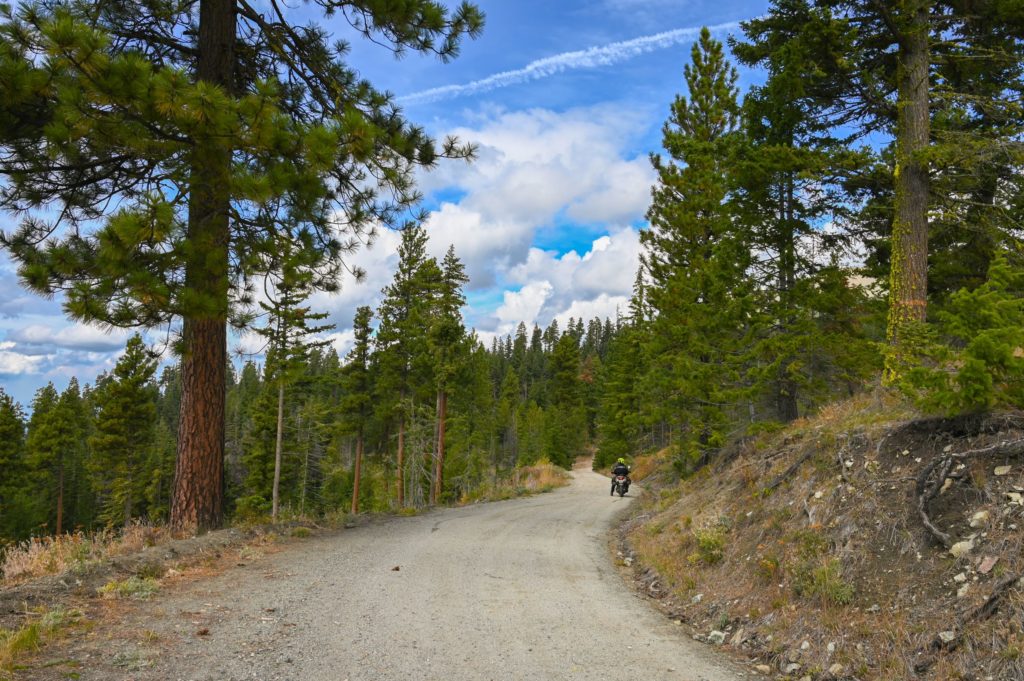 If you are a beginner, like I was, you're going to be really sore.  I highly recommend you start exercising ahead of time. Build up your shoulder muscles and your quads.  I would say these were the two sorest areas for me after a full day of off-road riding. 
You should stand most of the time while riding off-road. If you haven't built up your stamina yet, you will most likely be alternating between standing and sitting. This equates to doing squats.  By the end of the first full day of riding my quads were on fire, and it hurt to sit and stand up.  
Give yourself extra time.  Yes, we could have done each section in one day, however, when you're just a beginner at off-road adventure riding, it's better to give yourself more time than you think. Plan to have downtime at your campsite. Rest, relax, discuss the day's ride, and go over tomorrow's trip. This will make your off-road adventure far more enjoyable.
I made the mistake of not giving us enough time, and I will not make that mistake again.  I made too many assumptions about the trail and our abilities. These assumptions proved incorrect, and it made for some very stressful riding conditions.  So learn from my mistakes and add rest time to your schedule. 
It's also good to have extra time for any emergencies or detours that might come up. When you are riding off-road things get a bit more unpredictable.  And help is a lot further away.
Drink plenty of water while riding and keep your energy levels up.  And have fun!! You can read Misadventures on the WABDR for more information about the route and our ride.
Happy Adventuring!