Have you ever thought it might be nice to pull up to your campsite and not need to put up a tent? Perhaps you have visions of crawling into the back of your car and curling up in a cozy bed, all ready for you without any extra work.  Well, that's exactly what I decided I wanted on my recent road trip where I tried camping in my SUV.  This is not to be confused with the typical type of car camping where you pack everything in your car and stay in a tent.  That is the type of camping I normally do, but I thought I would see how I liked actually sleeping in my car.  
Below I share the five things I found to be extremely useful when camping in my SUV.  They were essential items I am so glad I purchased before I left for my trip and will continue to use in the future.  If you plan to try car camping or SUV camping, I highly recommend you consider getting these five things first!
5 Things You Need for Your First Car Camping Trip
These are the main essentials I found to be helpful when camping in a car or SUV.  In the video above, I discuss some of these items and the pros and cons of my setup.  At the bottom of the article, I'll also list a few "nice to have" options to consider getting in addition to these five essential items.
1) Privacy & Shading When Car Camping
Since you're car camping and sleeping in your car, you will want to cover your windows with something to give you both privacy and shade from the sun and block lights from cars and other campers that might pass by your vehicle.  
I purchased a roll of Reflectix from my local hardware store, and it was a lifesaver!  I cut out shapes to fit all of my windows, except the front windshield and the front side windows.  
Covering the rear door windows and back windows of the vehicle with Reflectix made a HUGE difference!  It made my vehicle dark at night, and it also helped create some shade for my car during the day.  
This was incredibly helpful since I was camping in the desert!  I started in Joshua Tree National Park and then went to Death Valley National Park and then on to Utah's national parks.  So, having some extra shade was really nice!
In addition to the Reflectix, I had these windshield pop-out shades for the front windows.  I also used a sheet strung across the backs of the two front seats to give me more privacy since the two front side windows did not have any Reflectix.  
For future trips, I'd cut out Reflectix for those as well.  I forgot those when making my window cut-outs and ended up using the sheet, as you can see in the photo below, for an additional layer of privacy.  The sheet was easy to put up and take down.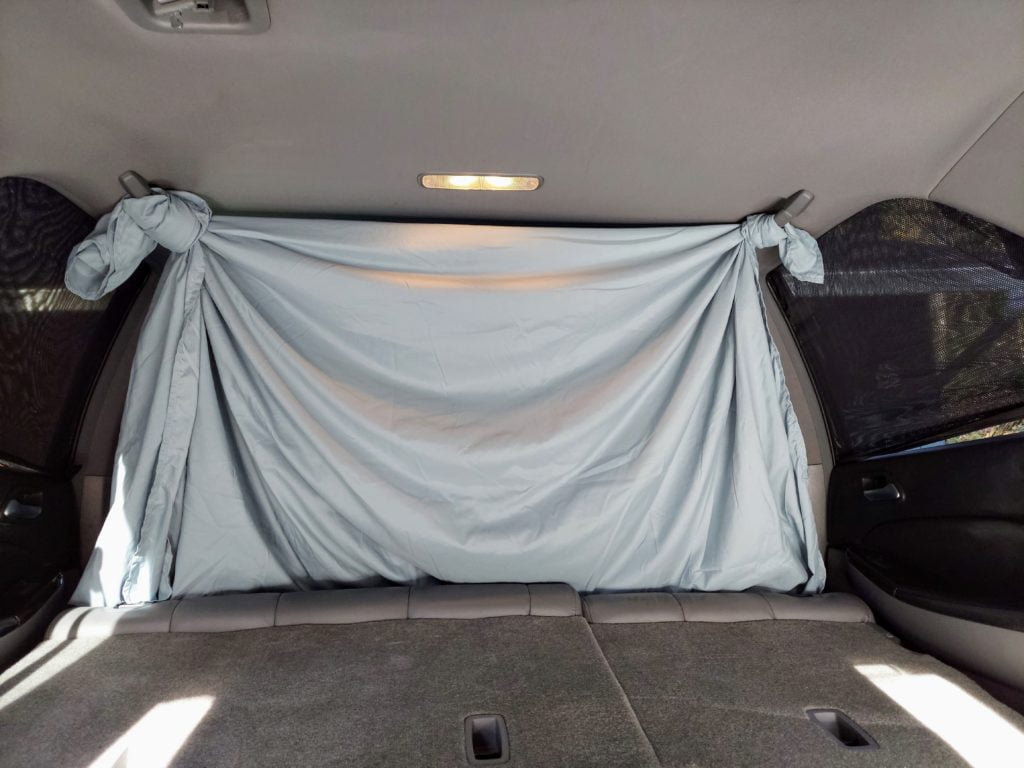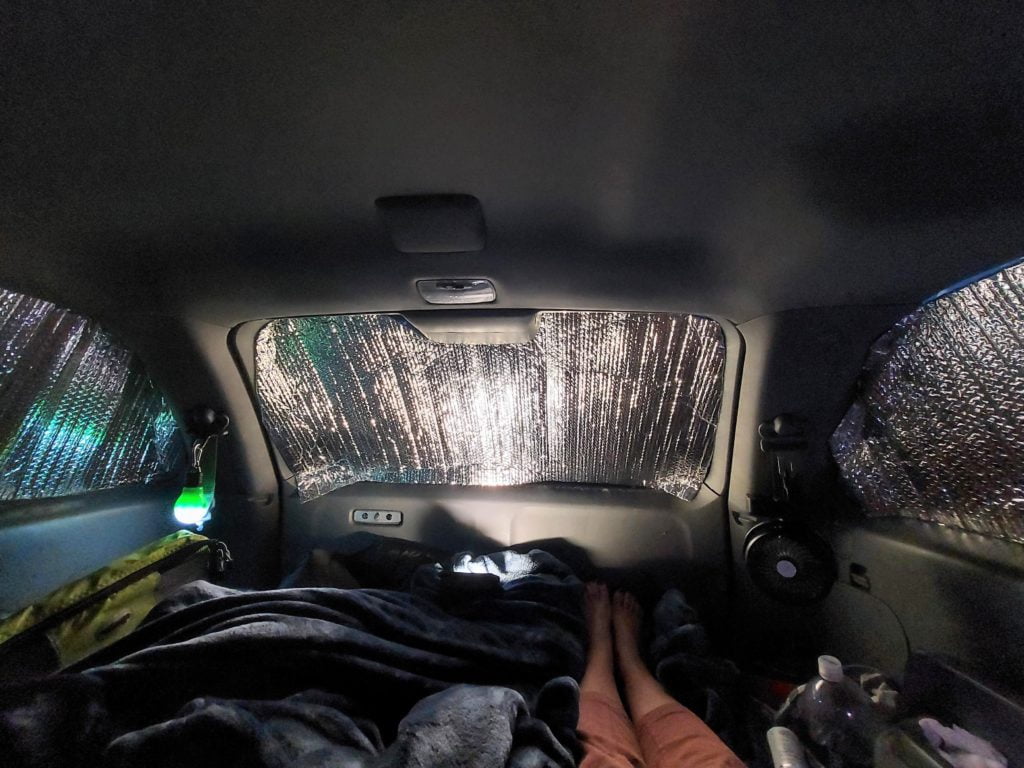 I purchased these LED light bulbs from my local hardware store, and I loved them! You can also purchase similar ones on Amazon if you can't find them locally.  They have little clips that make them easy to hang in different areas, plus even if you decide to sleep in a tent, they work well for clipping to the ceiling of a tent.  They have a high setting and a low setting when you want it a little dimmer.
I also purchased these Duracell LED lights that have a built-in stand so you can set it down on the ground or set it on the floor of your SUV when you're getting ready for bed or just sitting in the car reading at night.  If you face it toward the Reflectix, it really brightens up the vehicle!  
I made sure to shut off my dome light to my car during my trip as I didn't want to take any chances that I'd accidentally leave a door open. Also, when using the SUV tent attachment (read more below in #5), the rear hatch is left open, and thus the light on the hatch door stays on unless you shut off all dome and ceiling lights. So if your dome lights are turned on, your battery will most likely be dead by morning.
This is a must when camping in your car! I felt like it was even more necessary than when I went tent camping. Each day, I'd need to move stuff from the rear passenger seats to my car's front seats to lay down the rear seats and get ready for bed.  Then the next day, it would get moved back.  Needless to say, things got moved around a lot.  When it was just me, I could still lose track of things, but I pretty much knew where I kept everything.  However, when my husband later joined me on the trip, the organization became an even greater issue.  
Totes
Having totes to keep your food, electronics, and other miscellaneous supplies organized in will really help!  Label totes for one thing, such as a tote labeled "food" or a tote labeled "electronics" and so on.  That way, if you're traveling with someone else, everyone will know where specific items go, and then when you need them, you'll know where to find them.
Zip Lock Bags
I love zip lock bags.  I always bring these when I travel, whether it's a trip abroad or a road trip close to home. There always seems to be a need for these.  When camping in your car, you might use these to contain food items like sugar or trail mix, or PB & J sandwiches. You can also use them to keep extra batteries, USB cables, headphones, etc.
Cube Organizers
These cube organizers for traveling are also great when camping in your car or SUV. I used them for clothing items as well as keeping certain electronics together.  For example, in one of mine, I put all my GoPro gear, chargers, gimbal, batteries, etc.  Then I always know where my GoPro accessories are.  "Oh, it's in the green organizer."  This sounds simple, but it really saves you a lot of time looking for things.
Shoe Bags
The last thing that sort of falls under organization is shoe bags. I use these when I travel to keep my shoes from getting my clean clothes dirty.  However, they are also useful for carrying extra shoes, like flip-flops (don't forget to pack those for your trip around camp), and I also sometimes use them to store socks in.  So it makes socks easier to find rather than rummaging through a duffel bag.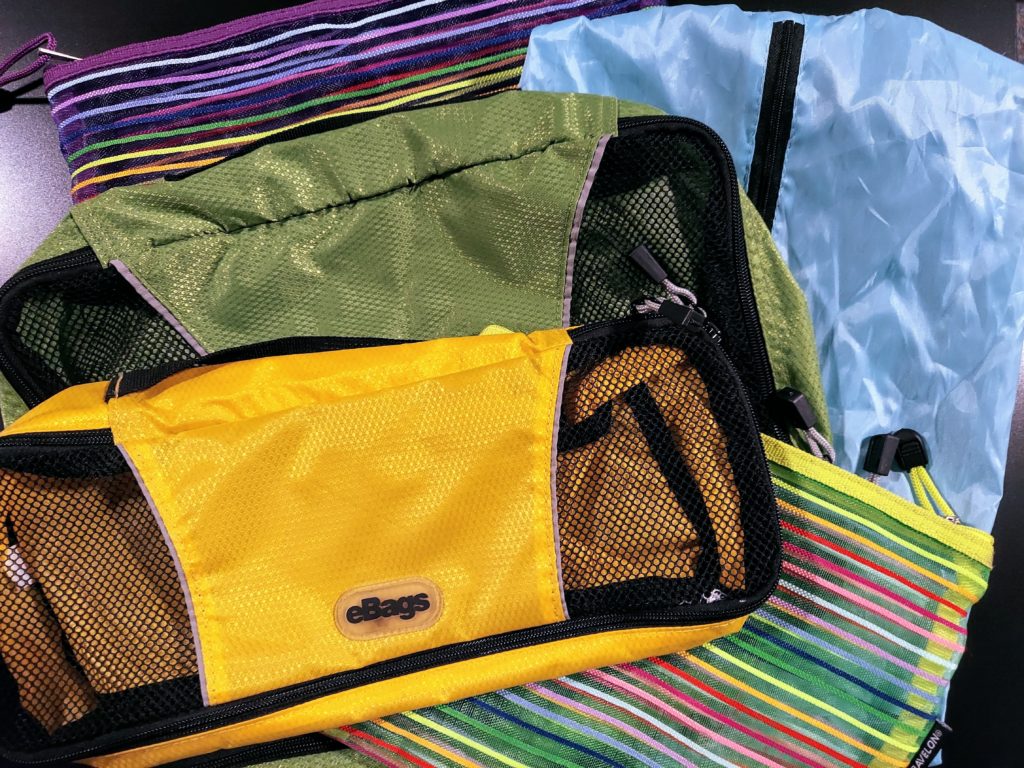 4) Portable Power for Car Camping
You're essentially living in your car when you're car camping or SUV camping.  This means you'll need some way to charge your camera batteries, cell phone, laptop, and any other miscellaneous electronics you travel with.  I purchased the Jackery Portable Power Station Explorer 300 before my trip, and I loved it!  
I was able to charge my Nikon batteries, GoPro batteries, cell phone, laptop, drone batteries, and even power my little coffee grinder when I needed some freshly ground coffee beans.  
You can charge the Jackery in the car when you are driving, or if you're like me, you'll probably want the occasional stay at a motel to take a real shower and feel a little more "human."  Let's face it, camping in your car is still camping.  
Many of the campgrounds in the National Parks do not have showers, so eventually, you'll need something.  So when considering your charging needs, you can plan to use a small generator like the Jackery and then use stays at a motel or KOA for extra charging as needed.
If you plan to bring a portable shower and stay off-grid for longer periods of time where you won't be driving (or staying at a motel) to charge your Jackery, then you might also consider purchasing one of their solar panels, which will charge your Jackery without needing to run your vehicle. 
One thing you'll notice if you crawl into the back of your car or SUV and close all the doors is how quickly things can get stuffy, and you'll most likely find yourself wanting some airflow, especially if it is warm out. 
Fans
I used this rechargeable fan which, believe it or not, was really nice to have in the desert heat.  Even the small amount of air blowing on you at night when it's hot will really help! Plus, it also has a built-in LED light. I liked that I didn't need batteries for it either. I never had to recharge it on my trip, so it lasted a pretty fair amount of time between charges.
Bug screen covers
I purchased two different types of these, and I'll admit, neither was perfect.  Getting ones that fit your vehicle just right can be a challenge.  The first set I purchased has larger holes which are nice as it allows more air in.  However, I also have to believe they could potentially allow some bugs in too. The second set was a thin, tight mesh material with perhaps too little ventilation as it didn't seem to let much airflow in.  
That being said, if it is really hot, you're going to want some airflow; these allow you to keep your windows rolled down about halfway to allow airflow but keep the bugs out. You can see them in the photo above on the windows on either side of the sheet I had strung across the rear seats.
SUV Tent for Car Camping
The last item that I tried on this trip was an SUV tent attachment.  This turns your SUV into a tent.  It gives really nice airflow and also provides easy rear entry and access to your sleeping area.  This was nice because in my MDX, once I close the rear hatch, I can't open it. I have to crawl out the side door when I want to get out again.  So with the SUV tent, you can unzip it like you would a tent and climb out the back.  As I mentioned before, if you use this, make sure to shut off your dome lights since the rear hatch is open when the SUV is attached.
Napier sells this SUV Family tent which attaches to the back of your vehicle and can also be used as a traditional tent on its own.  It's a bit pricey, but it would allow for a couple to sleep in the back of their vehicle while the kids or other companions slept in the tent portion.  It also has the added benefit of being used as a sitting area during the day to read or take a break from the sun.  So although pricey, depending on your needs, you may want to consider it.
I used the Napier Sports Cove SUV tent, and it worked very well and was easy to set up. I'd say it takes about 5-minutes to attach to the vehicle and probably about the same to take it down.  I also demonstrate how it attaches to the vehicle and how easy it is to get in and out of the car in my video.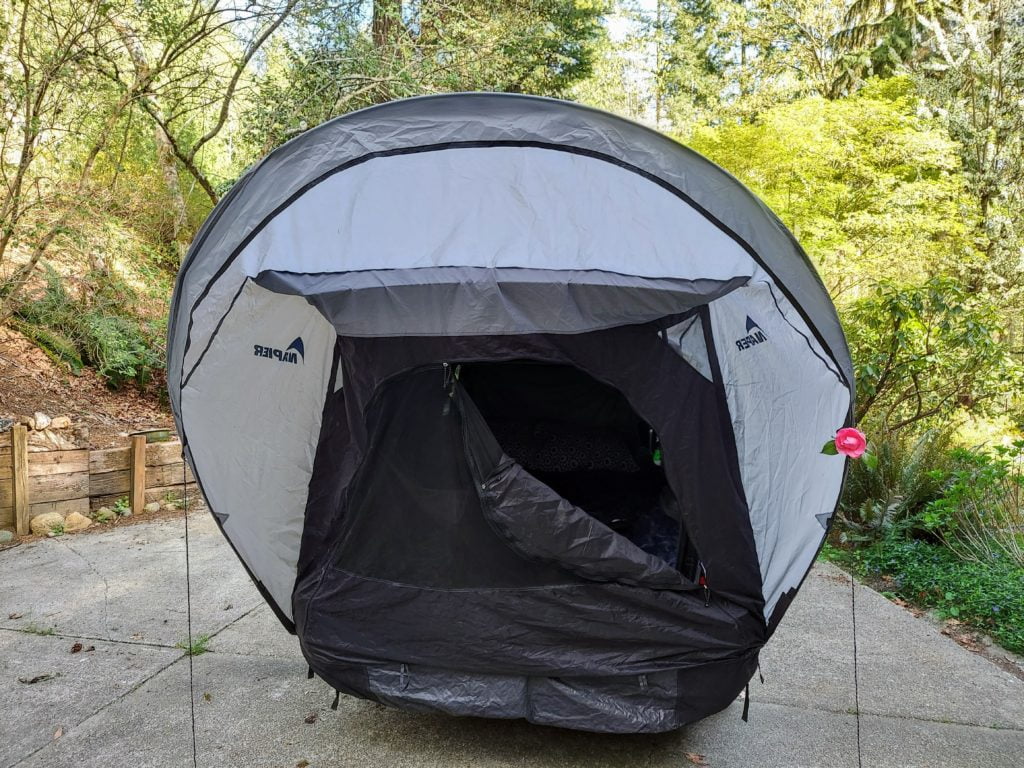 Car Camping Wishlist Items: "Nice to Have"
After taking my first maiden voyage of camping in my SUV, there are some changes I think I'll make for future trips.
One simple item I want to invest in is a mini-fridge.  I looked at these before I left but decided I wasn't ready to spend the money.  However, trying to keep fresh ice in the cooler while spending almost a month in the desert was a little bit of an inconvenience.  With a mini-fridge/electric cooler made for cars, I can charge it in the car or use my Jackery to run it.  This eliminates my need to purchase ice.
The other thing I plan to make before I take another SUV camping trip would be a platform for the bed.  I've seen lots of builds by people online (like this one), and I want to create something that would allow me to organize my belongings underneath my bed, thereby eliminating the need for me to move things around each day from the rear seats to the front seats to put my bed down.  With storage under the bed area, I could leave the bed in place during the entire trip.  That would be really nice!  
If I planned to spend more time camping on BLM land, where typically you have no bathrooms or privacy, then I would consider getting one of these instant shower shelters.  You can use them for showering, changing, and I've read some people place a porta-potty in them for a makeshift restroom.
So there you have it!  These are things I highly recommend when car camping or SUV camping. You may also want to consider adding some of the wishlist items before you take your first car camping trip.  
I know I don't go into all of the gear I used, but you can rest assured I had my coffee camping gear with me!  Plus, I used RISE oat milk and almond milk as both don't need to be refrigerated until after opening.  This is very convenient for storing!
If you are a seasoned car camper and want to share what you have found useful when camping in your car, please drop your insights in the comments below.  I'd love to hear from you!
Happy Camping!
*Disclaimer:
Travelffeine is a reader-supported blog. When you buy via links on this site, we may earn a small affiliate commission at no cost to you.