When I was in the first grade, all the kids would bring Valentine's Day cards to give each other. It was a simple gesture of friendship and something we looked forward to. As an adult, I feel that Valentine's Day has become a bit commercialized. However, there is no reason we can't use this day to show love to our family and friends in a meaningful way. 
With that in mind, I created this list of Valentine's Day gift ideas and things to do to help you create memories with those you love. You can purchase a gift, make a gift, or plan a memory-making adventure. Make it what you want and have fun with it!
This DIY candle-making kit is a Valentine's Day gift idea and thing to do all rolled up in one. Why not plan to make candles with your significant other or your kiddos. This fun Valentine's Day activity is sure to create meaningful moments with your loved ones.
2) Take an Online Cooking Class
Thanks to technology, you can now take a cooking class from the comfort of your home! Cozymeal offers online cooking courses with chefs that teach a variety of cuisines. You pick the class you want, and they provide you with your shopping list. Then during the class, you set up your tablet or other device, and the chef walks you through the recipes step by step. You can ask as many questions as you like and have a personal chef guide you. A cooking class is a fun solo activity or would also make a great Valentine's Day gift idea for couples.
A  picnic is such a fun way to create memories with those you love. This backpack picnic basket includes dishes and silverware for four and makes a great Valentine's Day gift idea for a couple or a family.
Don't worry if you live somewhere like the Pacific Northwest, where it rains; plan for an indoor picnic instead! Layout a blanket, set up some music or a photo backdrop, and pretend you're somewhere in Europe enjoying a picnic in the park on a sunny day. Whether you enjoy this outside or indoors, you're sure to make beautiful memories.
A fun DIY Valentine's Day gift idea is to create adventure coupons to hand out to friends and family. If you know someone who enjoys hiking, give them a coupon to go on a hike with you. This is a wonderful way to set up multiple memory-making opportunities throughout the year. 
Perhaps you know someone who wants to go kayaking, then give them a coupon for a kayaking date with you. These can also be used for one-on-one time with kids who will love feeling like they have their own special date planned.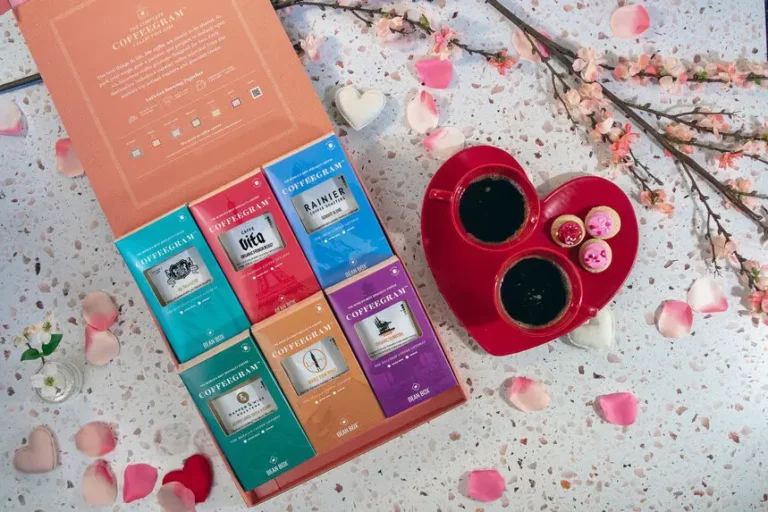 You can't go wrong with giving the gift of coffee, no matter what the occasion! At least, that's my opinion, but then I love coffee! Read Awesome Gift Ideas for Coffee Lovers to find Valentine's Day gift ideas for all things coffee. Here are 7 best coffees to buy no matter how your loved one brews their coffee.
Another great Valentine's Day gift idea for the coffee lover in your life is the coffeegram. A new offering from Bean Box that ships in time for Valentine's Day. Each coffeegram comes with six different coffees and treats to enjoy along with your coffee. The treats include:  shortbread ganache, chocolate handcrafted in Switzerland and Hawaii, cinnamon-dusted churro bars, and espresso-infused truffles.
6) A New Favorite Coffee Mug
What would the gift of coffee be without a new favorite coffee mug to go with it! I found this fun color-changing Super Mario mug that is too cute! Be aware that it is not dishwasher safe or microwave safe. Maybe you have a Gilmore Girls fan in your life who needs this Luke's Diner coffee mug. If you want something more functional and durable, then look no further than my favorite coffee mug, the Yeti Rambler. It comes in various colors, and it is the best mug I've found for keeping my coffee hot while the mug itself remains cool to the ouch. I love it!
This idea encaptures the heart of what I think Valentine's Day should be about. Although not a traditional Valentine's Day gift idea, it is perhaps more of a gift for others as well as an opportunity for you to connect and share special memories with a loved one. By doing acts of kindness for others, we often create the most memorable moments for ourselves, and I think it boosts our mood too. 
Some ideas for shared acts of kindness you can do with another loved one are:
Volunteer at your local food bank.
Buy a stranger's coffee when you're in line at your local coffee shop.
Deliver groceries to someone who needs them.
Drop off surprise flowers for someone who can't leave their house and needs cheering up.
Send a card to a grandparent or loved one far away.
8) A Chocolate Making Party
It seems you can't make a list of Valentine's Day gift ideas without including at least one chocolate gift idea. So this Valentine's Day gift idea is a gift and a thing to do combined in one. In addition to the included chocolate bar mold and cocoa bomb molds, you'll, of course, need to purchase the actual ingredients for making the chocolate. This is a fun idea for couples and families. Why not make some chocolate gifts to give away too!
This DIY Valentine's Day gift idea is a memorable one that can be enjoyed many times over the years. I make photo montages for my nieces and nephews' birthdays and milestone birthdays for my siblings, and everyone loves the little trip in the past. The kids always exclaim, "I remember that!" They get so excited seeing themselves in the photos and videos and remembering the fun we've shared as a family over the years. I find it a great way to remember our love for each other and the shared memories we have together.
Some free photo slideshow options are: Movavi Slideshow Maker, Filmora Wondershare, and Canva's slideshow tool. For more professional-style software, you can download Davinci Resolve for free. Still, since this is for more professional video editing, it comes with a much greater learning curve.
If you prefer something a little more low-tech, then consider purchasing this Adventure Album and scrapbook your adventures together as a fun way to connect and relive memories while planning for new ones.
A game night is a perfect way to spend Valentine's Day. Gather friends and family, or make it a game night for two. Either way, you'll laugh and play and grow closer by creating fun memories together. Scrabble is always a fun one, and you can even try to come up with Valentine's Day-themed words. Candyland is also a fun take on a Valentine's Day-inspired game. UNO is another fun game that is good for two or more people. I found this Super Mario version of UNO, and it is so cute!
Planning Valentine's Day Gift Ideas & Things to Do
Valentine's Day doesn't have to be a "holiday" only about romantic candlelit dinners and pressure to buy the "perfect" gift. Instead, let's make it about intentionally showing love to others, creating last memories and special moments with those we love. Make it fun, and make it unique to you and your loved one(s).
To Making Memories!
Note: Travelffeine is reader-supported. This post contains affiliate links. When you make a purchase using one of these affiliate links, we get paid a small commission at no extra cost to you. And as always, all opinions are our own. Thank you!