There are an overwhelming number of choices for Douro Valley winery tours, and when you only have one day to spend in the Douro Valley, it becomes even harder to decide which one to visit. We chose Quinta do Bomfim for our day trip from Porto to Pinhão, and we couldn't be happier with our choice!  
If you're considering a day trip from Porto to the Douro Valley and want to visit a family-owned vineyard, I highly recommend you consider Quinta do Bomfim. Our one day spent in the Douro Valley was a highlight during our two-week road trip in Portugal, and it was largely due to our visit to Quinta do Bomfim.
Why We Chose Quinta do Bomfim
We chose Quinta do Bomfim for a couple of reasons. One, it was in Pinhão, which we read was one of the prettiest towns along the Douro River, so we chose it for our day's destination. We also chose Quinta do Bomfim based on reviews and its choices for tours. It offers self-walking tours of the vineyard, port, and wine tasting tours and a picnic option on their terrace overlooking the Douro River.  It was easy to book online and communicate with them via email.
Tour Options:
Guided Winery Tour and Tasting (You get to choose which tasting selection you prefer, port only, or port and wine.)
Guided Tour Only (no tasting)
Picnic on the Terrace (includes a meal, wine, and port)
Vineyard Self-Guided Walking Tour (Includes a hat, map, and bottle of water.)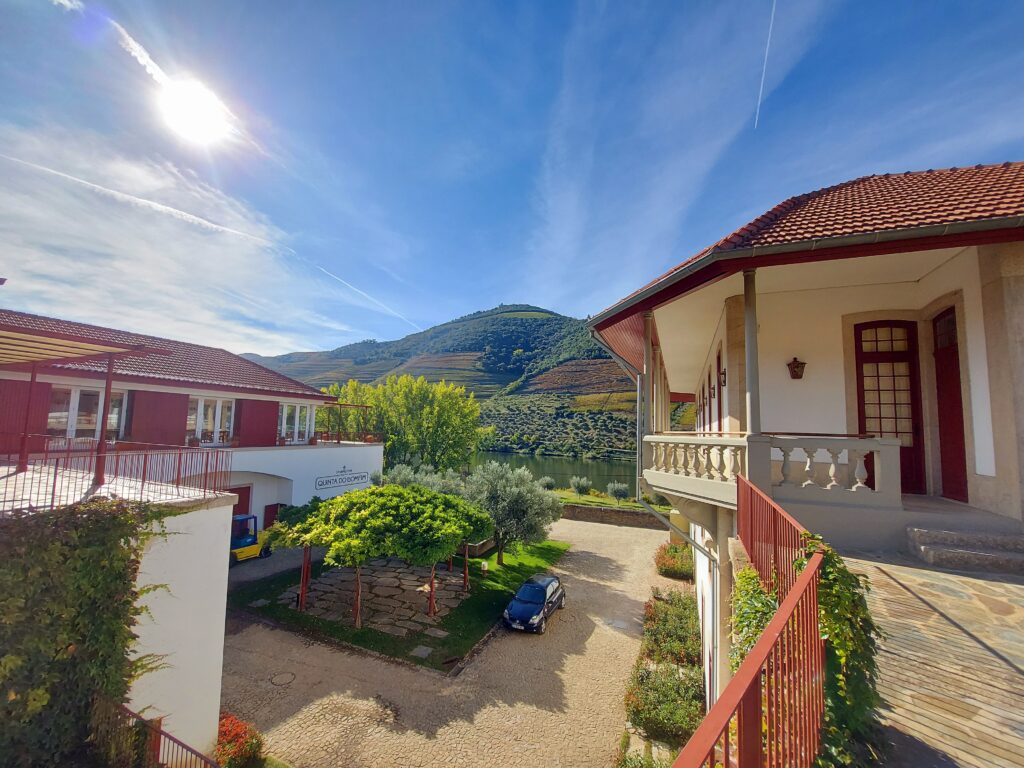 Our Quinta do Bomfim Tasting Tour
The tour starts in the main lobby. You check in at the front desk, where you make your final tasting selection and pay. Since we arrived 30-minutes early, we decided to walk through their vineyards. They gave us a map, and we followed the information signs, which are color-coded according to the length of time the trail route takes.
The main lobby also has a lot of information regarding the history of Quinta do Bomfim and the Symington Family wineries.  They own several, and you can tour many of their other wineries, too, should the opportunity arise. 
Our guide, Marta, met us in the main lobby and took us outside to begin the tour. Marta did a great job of giving a complete picture of all that goes into owning a vineyard and getting your ports and wines certified.  She also gave a good overview of the difficulties in growing grapes in this rocky terrain and the limitations of using modern equipment given the terraced landscape.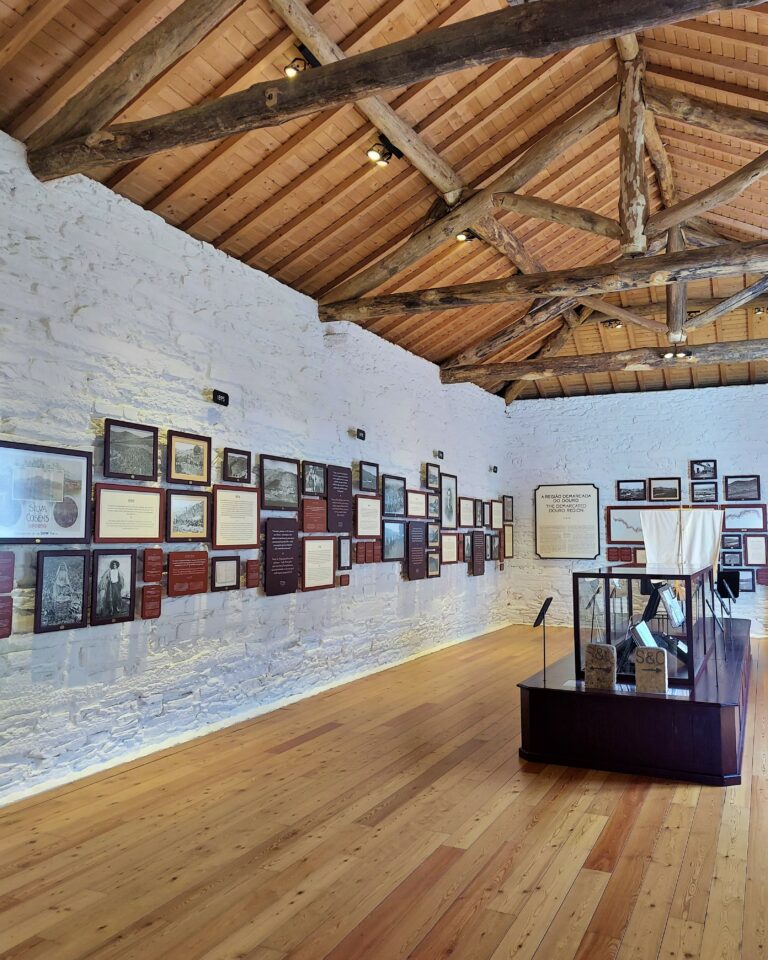 Storage & Processing
After a short overview of the vineyards, and the certifications involved in running a winery, Marta took us inside the building where they press and store the grapes to prepare them to become wine or port.  It was interesting to learn of the different processes for making both port and wine.  
Marta also told us how they still adhere to the old traditions of pressing the grapes with their feet.  Due to recent restrictions, they had to revert to using machines only, but they plan to pick up the tradition of stomping grapes once again when it is possible.  
The Tasting
After the tour of the wine-making facilities, Marta took us back to the dining area for our tasting. We were in the indoor section, and those who purchased the picnic option sat outside on the terrace overlooking the Douro River. I loved the design of the rooms on the Quinta do Bomfim estate. Many of them had beautiful wood beam ceilings and lots of natural light. It is a lovely space to sit in and soak in the surroundings. 
It's also worth noting that they provide the best quality wines and ports for their tastings. I read reviews on other wineries that sounded like some offered lower-quality ports for their tastings.
It was an informative tour, and a peek behind the scenes into a global industry. At the end of our tour, I had a greater appreciation for the work that goes into making a bottle of wine or port. It is a more in-depth process than I knew, and although I am not really a wine or port drinker, I appreciated the care this family-owned winery took to create a quality product. 
So, whether you consider yourself an oenophile or not, I think if you're someone who is curious and loves learning new things, you'll enjoy this tour.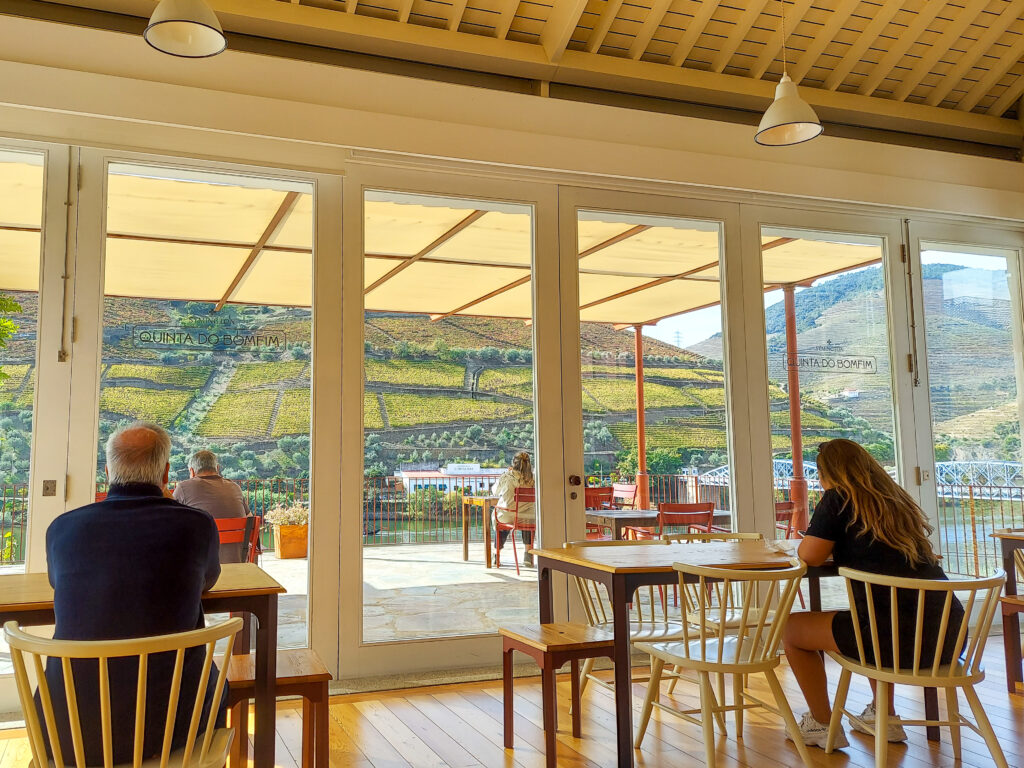 Self-Guided Vineyard Walking Tour
You can take a self-guided walking tour in addition to a tour of the winery or on its own if you prefer to skip the winery or tasting tours. Whatever you decide, spend at least 15-minutes walking one of the shorter paths in the vineyard at Quinta do Bomfim.  They did an excellent job creating a map of trail options in their vineyard. 
We loved our walk through the vineyard! It was great to go at our own pace, taking photos and soaking it all in. Along the way, they have signs that tell you more about the region's history.  These were informative, and I was impressed with the organization of their walking paths. I enjoyed learning about the history of the rugged landscape that is now so famous for its wines and ports.
The vineyard walk combined with the winery tour gave us a complete picture of life on a Douro Valley vineyard. Don't skip it!
Eating at Casa dos Ecos by Pedro Lemos
In addition to your reservations to tour, Quinta do Bomfim, make sure to book reservations for Casa dos Ecos by Pedro Lemos. This incredible restaurant with its Michelin-rated chef sits on a hill above the Quinta do Bomfim winery. You drive up to it via the winery's private road. 
Dining at Casa dos Ecos is equally as memorable as touring Quinta do Bomfim. You get an incredible view of the valley below and the Douro River. In addition to 5-star views, you will experience top-notch service and an outstanding meal.
We enjoyed a meal of oven-baked cheese for our starter and roasted kid and roasted beef rib along with seasonal vegetables cooked outside in a traditional wood stove. For dessert, the perfect ending to our meal was the delicate and fragrant orange cake made with oranges grown on the property.
This was the best meal we had during our two-week road trip in Portugal. We are still talking about it, and the wonderful day we spent in the Douro Valley. I highly recommend you make reservations to experience it yourself!

Tips for Visiting Quinta do Bomfim
As I mentioned, make sure to make reservations in advance. Contact them directly if you have any further questions not answered on their website.
Give yourself at least two hours to arrive at Quinta do Bomfim when driving from Porto. If you want time to stop and take photos on the way, then I suggest you leave 3-4 hours before your reservation. This gives you plenty of time to stop and enjoy the scenery along the way. 
Plan to wear or pack comfortable shoes for walking in the vineyard. Also, depending on the time of year, you want to pack extra water bottles for the drive and any hiking you may do. Snacks for the road are always a good idea, as well as sunglasses, hats, and sunscreen. It can get very hot in the Douro Valley during the summer months.  In the fall, when I visited, it was still relatively warm during the day but cool enough in the morning and evening to wear a light sweater or scarf.
Read about my experience driving to Pinhão for more help when planning your day trip from Porto to the Douro Valley.
Additional Articles For Planning a Trip to Portugal