Do you know someone who loves coffee?  Buying gifts for others  can be a challenge, especially when they seem to have "everything."  Here are some coffee gift ideas for the coffee lover in your life that they are sure to love!  There is something for every coffee lover on this list, including that hard to buy for individuals. From gear to grinds, you're sure to find the perfect gift!
I love getting new coffee gear.  Yet, I often struggle to justify the purchase for myself. So I appreciate it when someone buys me coffee gear for a gift.  Here are some of my coffee gear favorites and a couple that still on my wish list.
Electric Kettle
Purchasing an electric kettle was one of the best decisions I made. I bought it on a whim one day at my local department store, and I've never regretted it! That was about 15 years ago, and since then, I've had three different electric kettles.  
Things I love about electric kettles.
It's fast and easy, and you don't have to worry about remembering to shut off the stove. 
You can choose which temperature best suits your brewing needs. This is important if you want to get the maximum flavor from your coffee beans.  
I know this post is about coffee gifts, but an electric kettle is terrific if you are also a tea drinker!  Black tea is best brewed at higher temperatures, such as 180-212 degrees Fahrenheit, whereas green tea is best at160-180 degrees Fahrenheit. With a variable temp kettle, you can set the perfect temperature for your tea.
Another perk many electric kettles have is the "keep warm" feature. This allows you to set your desired temp and keep it warm at that temperature for an extended period. You no longer need to reheat your water when you want that second cup. Now, it's ready as soon as you lift the kettle.
Temperature Controlled Electric Kettles:
This glass tea kettle has five temperature settings with colored lighting to signify the different temperatures. It also has a "keep warm" feature that will keep the tea kettle at the selected temperature for up two hours. This is nice for someone like me that often wanders off and forgets that I was boiling water for tea. 
The Cuisinart CP-17 PerfecTemp kettle is one of the top-rated variable temperature electric kettles.  It has 6 different temperature settings as well as a 30-minute keep warm function.
Gooseneck Electric Kettles:
If your coffee lover enjoys brewing pour-over coffee, then a gooseneck kettle will make a perfect addition to their kitchen. The long gooseneck spout gives greater control when pouring over coffee grounds or loose leaf tea. 
The Bonavita 1.0L gooseneck kettle is one of the top-rated gooseneck kettles. Rather than provide pre-set temperature options, the Bonavita gooseneck kettle lets you manually set your exact desired temp. It also has a keep warm feature and a memory setting for your preferred temperature.
The COSORI electric gooseneck kettle is a beautiful little 0.8L kettle with a wide variety of temperature settings and a 100% stainless steel interior. It quickly heats water to the desired temp and can keep it there for up to 60 minutes.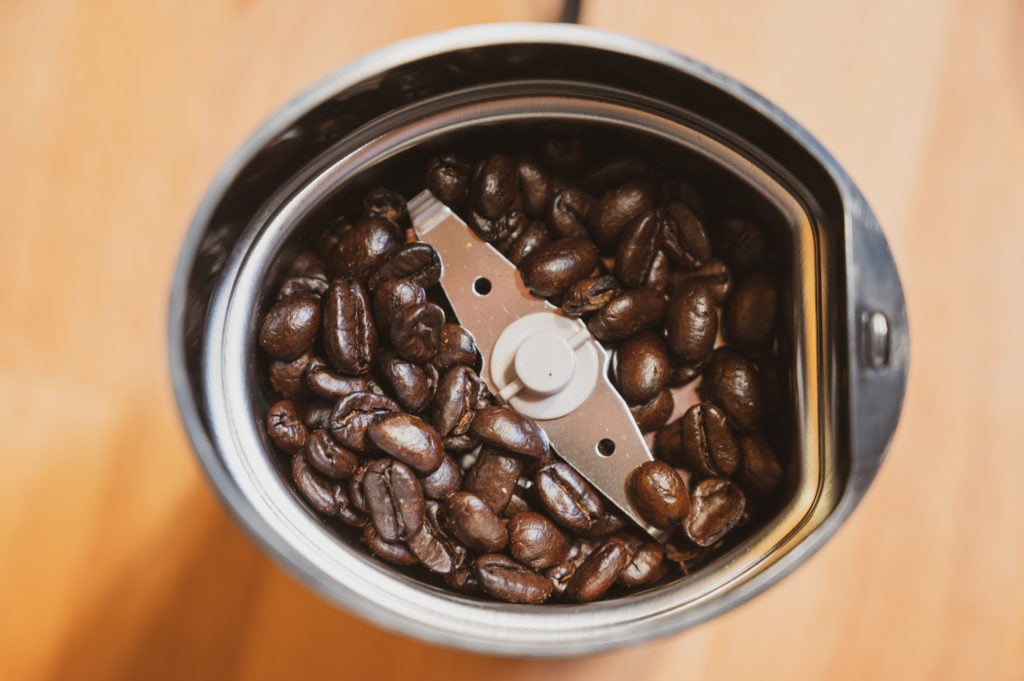 Coffee Grinder
A coffee grinder makes a great gift!  If your coffee lover doesn't already have one, then I highly recommend purchasing them a coffee grinder. The ability to buy whole coffee beans and grind in batches allows for maximum flavor and freshness.  
This Capresso burr coffee grinder is similar to the one I use, and I love how easy it is to adjust my coffee grind to suit my brewing needs.  Although more expensive than a typical grinder, it allows for greater control over the size of your coffee grind.  A burr grinder makes it easy to get the right coarseness, whether you're brewing for a drip maker or an espresso maker. 
The Krups Spice & Coffee Blade Grinder is a budget-friendly option. Although not as precise as a burr grinder, they also double as spice grinders (just clean well between uses). I started out using one a blade grinder and still use one for my spices.
Coffee Scale
There's a science behind the perfect cup of coffee, and for those looking to up their coffee brewing skills, this allows them to measure the ideal coffee to water ratio.  According to the 
National Coffee Association
 (yes, we're that serious about coffee), the "golden ratio" is around 1-2 tablespoons of coffee per 6 ounces of water. This works out to be somewhere between a 1:15 to 1:17 coffee to water ratio.
Although they make scales designed explicitly for weighing coffee and weighing your pour-over brews, you can also use a regular kitchen scale.  The main features that a person might want in a scale made for coffee brewing would be an option to disable the auto-off feature and also to weigh small amounts precisely.  
So, if your coffee lover is an avid pour-over brewer, then consider the features of a coffee specific scale. Otherwise, one of these kitchen scales will work just fine. Plus, they are great for anyone who also likes to bake!
The Ozeri ZK14-AB Pronto kitchen scale is an excellent budget-friendly choice. It is battery operated. It does not have a way to disable the auto-off feature.
The Jennings CJ-4000 compact digital scale runs off of either battery or an AC  adapter. It does allow you to disable the auto-off feature.
The Hario V60 coffee scale is specially made to weigh coffee and to weigh your pour-over coffee while you brew it. It also has a built-in timer for monitoring your brew and pour times.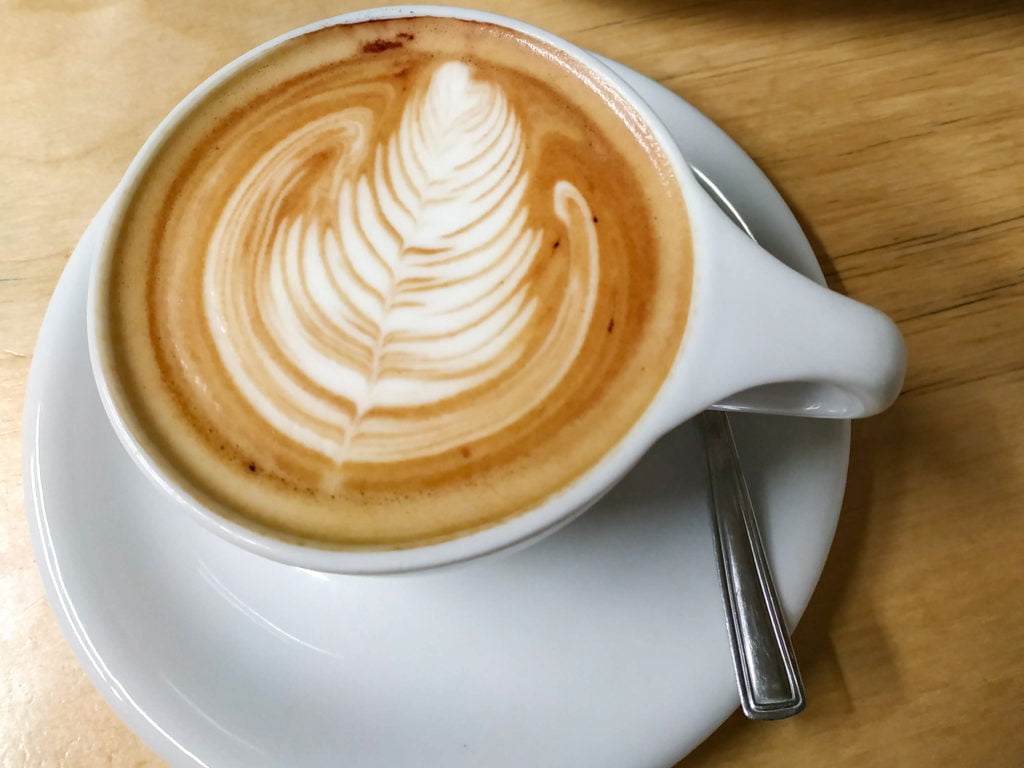 A Milk Frother
This is a luxury item.  Do you really need it?  Perhaps not, but it is nice when you're creating a latte at home to add that warm, foamy milk topping.  Perfection!
I have used a variety of frothers over the years.  You can choose from a simple wand frother or an all-in-one frother and warmer like this steamer or this frothing pitcher.  These types of frothers also offer cold milk frothing which is wonderful when making a sweet cream cold brew or an iced macchiato at home.
This list of coffee makers goes beyond your traditional drip coffee maker.  These are some coffee gift ideas for the coffee lover who likes to try new things.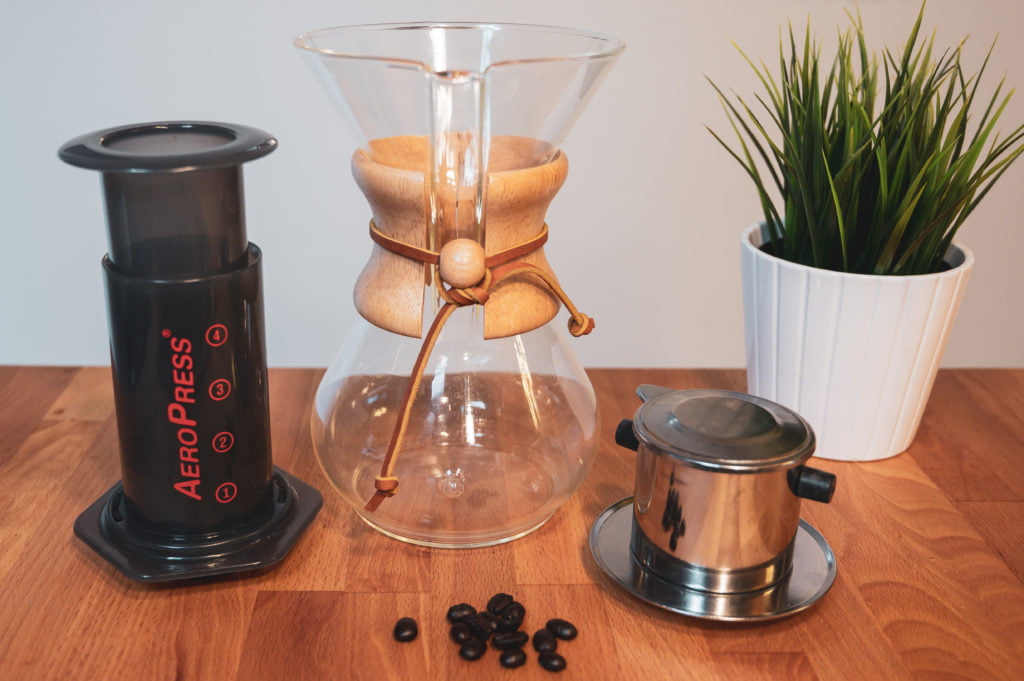 For the coffee lover who wants to explore coffee experiences from other cultures, this makes a great gift–and a great cup of coffee!  Check out my recipe for how to make Vietnamese Coffee Three Ways. You just might discover your favorite way to drink coffee!
This is one of my most recent coffee-related purchases.  Pour-over coffee makers brew a less acidic cup of coffee and extract more flavor from the coffee beans. I will say the name "Chemex" sounds very unappealing, but it makes a delicious cup of coffee! The 
Chemex coffee makers
 come in 6, 8, and 10-cup sizes.  You also need to purchase 
these filters
 to use with your Chemex.
The AeroPress coffee maker was something I received as a Christmas gift, and I love it! At first, I was skeptical, but I was pleasantly surprised at what a flavorful cup of coffee this simple coffee maker produced. 
Like the Chemex, the AeroPress also brews a less acidic cup of coffee than your traditional drip coffee maker. It works similarly to a French press, but without the bitterness and occasional sediment associated with a French press.
The Aeropress is excellent for travel. The one I received for a gift came with a carrying bag and 350 microfilters.  It is lightweight and compact, made in the USA and constructed of BPA-free plastic, thus no worries about it breaking during transport.
I saw that they also have this new travel design that comes with a mug, which also doubles as the carrying case for the AeroPress coffee maker. 
Cold Brew Coffee Maker
I love cold brew coffee!  I realize my low-acid coffee talk probably sounds like a theme at this point, but cold brew coffee also has a lower acidity than traditionally brewed coffee. Thus it's easier on the stomach.  Many people choose to drink cold brew for that very reason.
Now you do not need to purchase a cold brew maker to make cold brew coffee. 
You can of course also make it using a 
French press coffee maker
or even a good old canning jar. However, 
if you know someone who likes to drink cold brew daily, then they may appreciate owning a dedicated cold brew coffee maker. 
The Takeya cold brew coffee maker makes it easy to brew overnight and eliminates the need for straining your brew though paper filters or cheesecloth.
OXO's cold brew coffee maker is a slightly more "upscale" option and is also highly rated. This cold brew maker is easy to use, and the pieces stack together to make it compact for storage when not in use.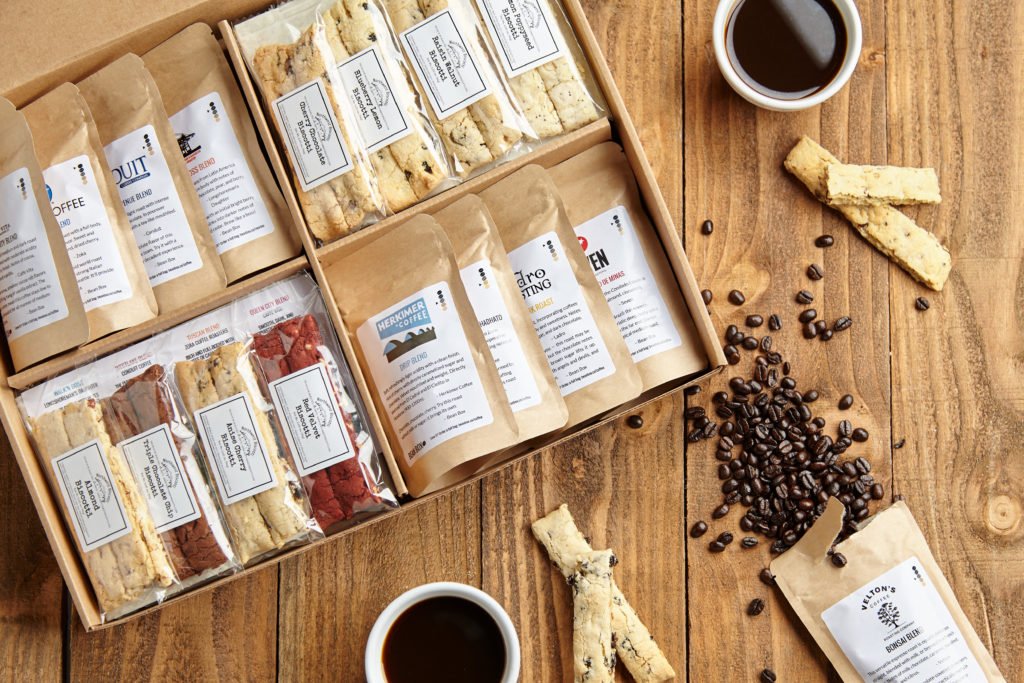 Let's face it every coffee lover has one thing that always makes a great gift–coffee! Here are some great coffees beyond what you can buy at your local grocery store.
I love supporting local and independent businesses, and Bean Box checks both of these off for me.  Plus, they sell excellent quality coffee. Win-win!  You can read more about Bean Box in my article about artisan coffee roasters.
Bean Box works with 35 Pacific Northwest roasters (and counting) to bring you a huge variety of coffee flavors.  If your coffee lover enjoys being surprised by their coffee or loves to try new things, Bean Box coffee is a perfect choice!
Here are some coffee gift ideas from Bean Box:
Trades of Hope is another fantastic company that supports artisan entrepreneurs and independent coffee growers.  Your gift of coffee makes a significant impact on the lives of the coffee growers and their families in Guatemala.
If your coffee lover is a little more of a traditionalist and doesn't necessarily want to sample unique flavors of coffee, then the Trades of Hope Natalia Blend Coffee is a great option.  It is a high-quality medium roast coffee, perfect for your morning cup of coffee.
Altruistic Joe is a veteran-owned small business selling delicious fresh roasted coffee.  They also give back 20% of all their sales to deserving charities, so you can feel good about every purchase you make knowing it not only supports a veteran but also other worthy causes. Plus, their coffee is delicious! I recommend getting their sampler pack or trying my favorite, the Big Iron Blend.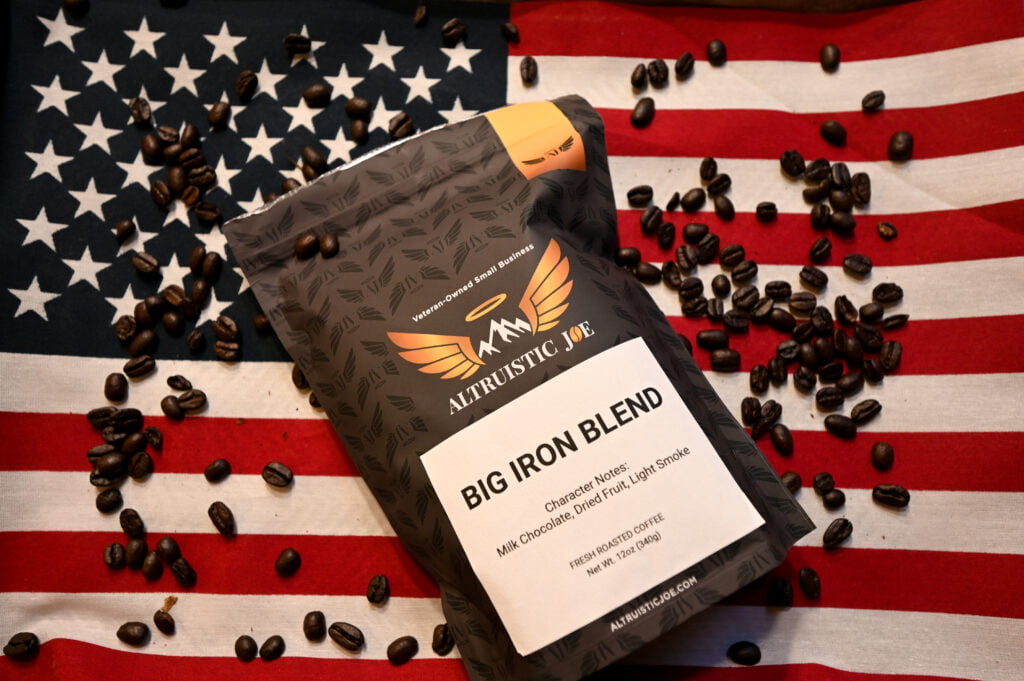 Why give a single bag of coffee when you can give a year of coffee!  This is another excellent gift for the adventurous coffee lover in your life.  
Bean Box offers a variety of monthly coffee subscriptions that you can personalize according to the type of roast your coffee lover prefers. Choose from the Bean Box Sampler, which allows your coffee lover to sample four different coffees each month.  You can also purchase the Coffee of the Month subscription, where they'll get one bag to sample each month.
While most coffee drinkers probably have more coffee mugs than they need at home, they may not have the perfect on-the-go mug. Travel mugs make great gifts as a good travel mug will keep your coffee hot (or cold) long after you've left the house.
Tervis is a Florida-based company that makes these almost indestructible travel mugs that are great for hot or cold beverages and are dishwasher safe!  Choose from a variety of designs like this too cute Mary Poppins design or for the Friends fan in your life check out this Central Perk design.  There is a vast selection from which to choose!
The Sea to Summit X-Mug is an excellent choice for hiking, motorcycle trips, and travel in general.  It collapses, so it takes up almost no space, and I've used mine for eating oatmeal or drinking coffee. It is a versatile mug.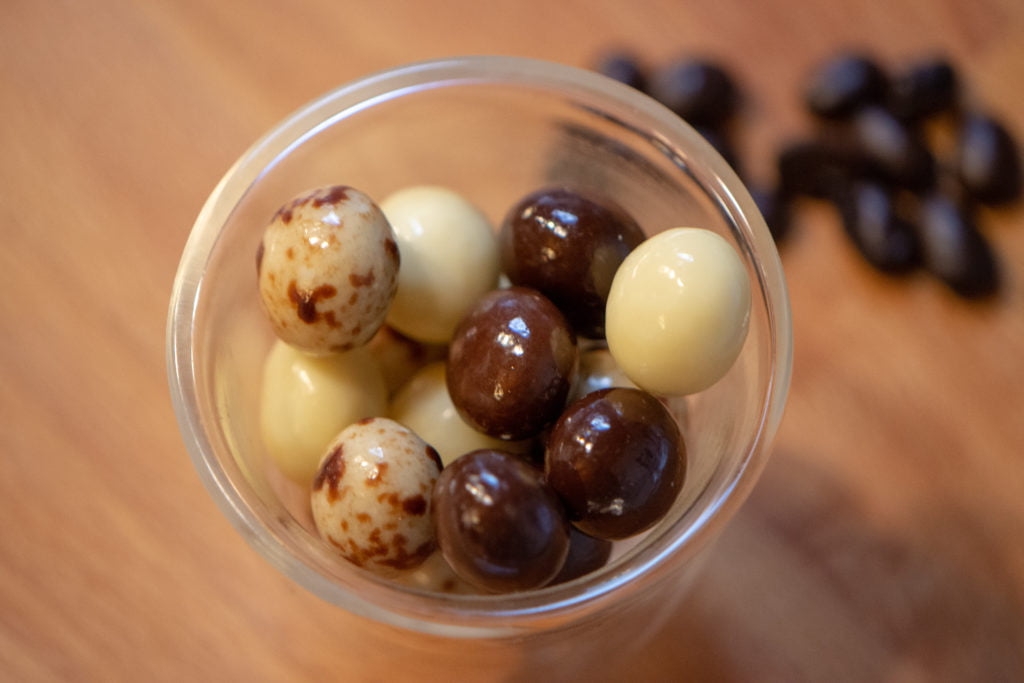 Coffee Gifts for the Sweet Tooth
Here are some great book choices all about coffee.  Whether your coffee lover is a coffee aficionado or just a beginner looking to try new recipes, these books will make great gifts.
Tips on Where to Buy Your Coffee Gifts
I give links to Amazon as most people have access to Amazon online.  However, I recommend you also look at your local department store to see what deals they have.  Another store you might consider is Bed Bath and Beyond.  
If you sign up for their mailing list, you'll receive a 20% off coupon each month to use toward fun purchases like coffee gear! I often find that their standard price combined with the coupon gives me the best deal anywhere, including when compared with Amazon.com.
Happy Caffeinating!
*Disclaimer:
Travelffeine is reader-supported. When you buy via links on this site, we may earn an affiliate commission at no cost to you.