With only 2 days in Bangkok, you can't see it all and you shouldn't even try. Bangkok is a very large city, okay, it's a huge city!  It is also hot and humid and crowded. So you will undoubtedly feel a little overwhelmed at first.  And due to jet lag combined with the heat, you may not have the stamina you normally would.  I know that was the case for me.  Usually, I like to conquer a new city, see all the sights and just go-go-go, however, Bangkok taught me a good lesson in slowing down.
I will share with you tips on where to stay, a great place to catch a Muay Thai boxing match, some coffee shops for those much-needed breaks, and some of the top sights to see in Bangkok. This 2 Day Bangkok itinerary covers the highlights and gives you a little flexibility. So without further adieu! (queue the drum roll)
Table of Contents
Day 1: Grand Palace, Wat Pho, Wat Arun
Day 2: Jim Thompson House, Parks, Muay Thai at Rajadamnern Stadium, Optional Weekend Excursions
Useful Info: Getting around Bangkok, Where to Stay,  Additional Tips for Visiting Bangkok
Day 1 of 2 days in Bangkok
As you can see on the map these top attractions are clustered together.  So for Day 1 of your 2 days in Bangkok, I organized the itinerary around these attractions to avoid backtracking on Day Two. These attractions included the Grand Palace Complex (includes Emerald Buddha), Wat Pho (Reclining Buddha) & Wat Arun.
The Grand Palace Complex
The Grand Palace is stunning.  The architecture and details will blow you away!  That being said, it is crowded and chaotic.  Get here at 8:30 a.m. when it opens. By afternoon the heat and the crowds will be unbearable.  The Temple of the Emerald Buddha (Wat Phra Kaew) is located within the Grand Palace complex and is the most popular attraction here.
You must take your shoes off before walking up the stairs to enter the temple.  And don't be surprised if it is wall to wall people.  I found this experience to be the least enjoyable. I think admiring the ornate buildings from the outside is what I enjoyed most.
What to wear: Make sure to wear long pants or a skirt that goes past the knees and also a shirt with sleeves or bring a scarf to cover up with.  If you forget these, they do have a place to rent them from.
Opening Hours: The Grand Palace is open daily 8:30 a.m.-3:30 p.m. rarely it closes for special events.  Tickets are 500 THB (Thai Baht currency). Visit The Grand Palace for more information.
Location: Na Phra Lan Road, Phranakorn (Rattanakosin) Follow the signs for the foreign visitor entrance and follow the crowds. I read about scams that tell you it's closed when it's not or try to steer you somewhere else, I did not personally have this happen, but just ignore anyone who tries to tell you this and make your way to the main entrance.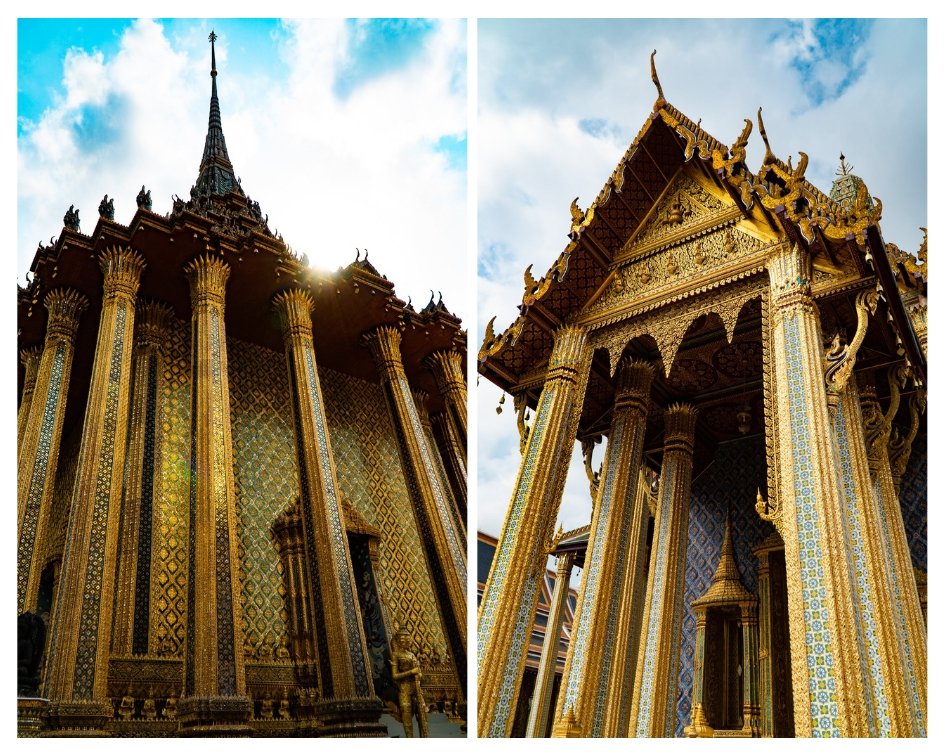 Lunch
Take a break for lunch or a light snack before moving on to Wat Pho.  AMA is a great Thai restaurant only a 5-minute walk from the Grand Palace and in the direction of your next stop at Wat Pho.
Address: 270 272 Maha Rat Rd, พระบรมมหาราชวัง Khet Phra Nakhon, Krung Thep Maha Nakhon 10200, Thailand.
One of the best things you can do in a crowded and hot place like Bangkok is to take time for your breaks.  They are a requirement if you don't want to burn out too quickly.
Wat Pho (The Reclining Buddha)
The Wat Pho complex is much less crowded than the Grand Palace.  That's not to say there aren't crowds, but that it is less crowded.  I found it to be more enjoyable to walk around.  The main attraction, the reclining Buddha is almost 50 feet high and over 150 feet long!  The bottoms of the feet are almost 10 feet high and over 14 feet long!  The mother of pearl used on the feet is really stunning to see in person.
What to wear: Make sure to wear long pants or skirt that goes past the knees and also a shirt with sleeves or bring a scarf to cover up with when you go into the temple of the Reclining Buddha or any other temple within Thailand.  I don't recall if they had a place to purchase scarves inside the Wat Pho complex, but I'm guessing they probably did, or close by since it is a requirement to cover your shoulders and legs.
Opening Hours: Wat Pho is open daily 8:00 a.m.- 6:30 p.m. Tickets are 200 THB.
Location: 2 Sanam Chai Rd, Khwaeng Phra Borom Maha Ratchawang, Khet Phra Nakhon, Krung Thep Maha Nakhon 10200, Thailand. Visit Wat Pho for more information.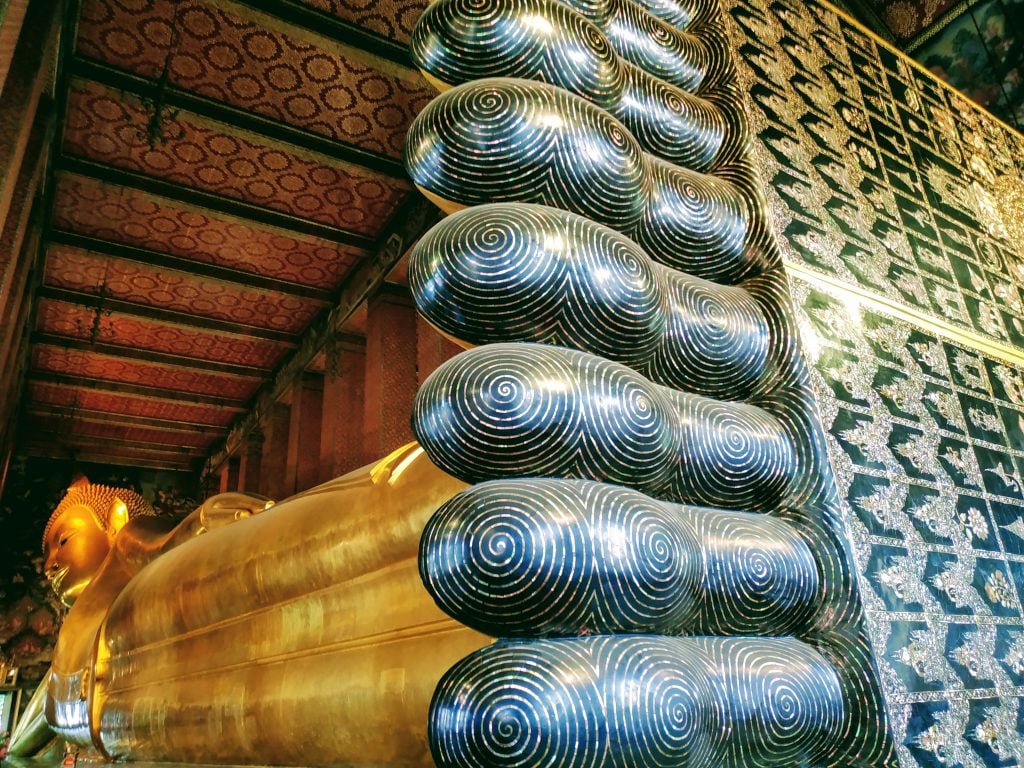 Side Note Regarding Massage School: At Wat Pho, there is also the Wat Pho Thai Traditional Massage School. I read about the school, which was established in the '50s and it sounded like a good place to get a traditional massage.  However, I have to be honest, I did not have a good experience here and would not recommend it.  I found it to be a crowded fast-food style of massage.
(*warning gross details, you may wish to avoid reading) Besides being placed side by side with other strangers getting their massages, it did not appear to be a sterile environment either.  I saw a man with a large sore on his arm, that was bleeding, he just wiped it with his hands, while he sat and waited for his massage.  And as far as I could see they didn't sterilize or wipe down the massage mats between clients.
Also, it was the most expensive massage I got while in Thailand.  So although others may have had good experiences here, I did not, and could never recommend it based on my own experience.  You are better off to find a smaller massage studio near your hotel that is highly rated and can provide a cleaner and more personalized Thai massage.  Read about my massage experience at Stand Alone Spa & Massage, I highly recommend it!
Wat Arun Ratchawararam (Temple of Dawn)
Getting to Wat Arun: After leaving Wat Pho if you make your way back to the street the AMA restaurant was located on, you will walk about a block down to the Tha Tien water taxi/ferry.  You walk thru a small hallway with little shops and vendors on each side and make your way to the ticket line where it is 4 THB per person to cross the river to Wat Arun.
Break Time: Now it is a good time for you to take another break before visiting Wat Arun. There is a cafe inside the Wat Arun complex, but I recommend that you instead pass the entrance gate to Wat Arun and walk about 5 minutes to the end of the street where you will find a couple of small cafes that make a great place to get a cold drink and have a break from the crowds.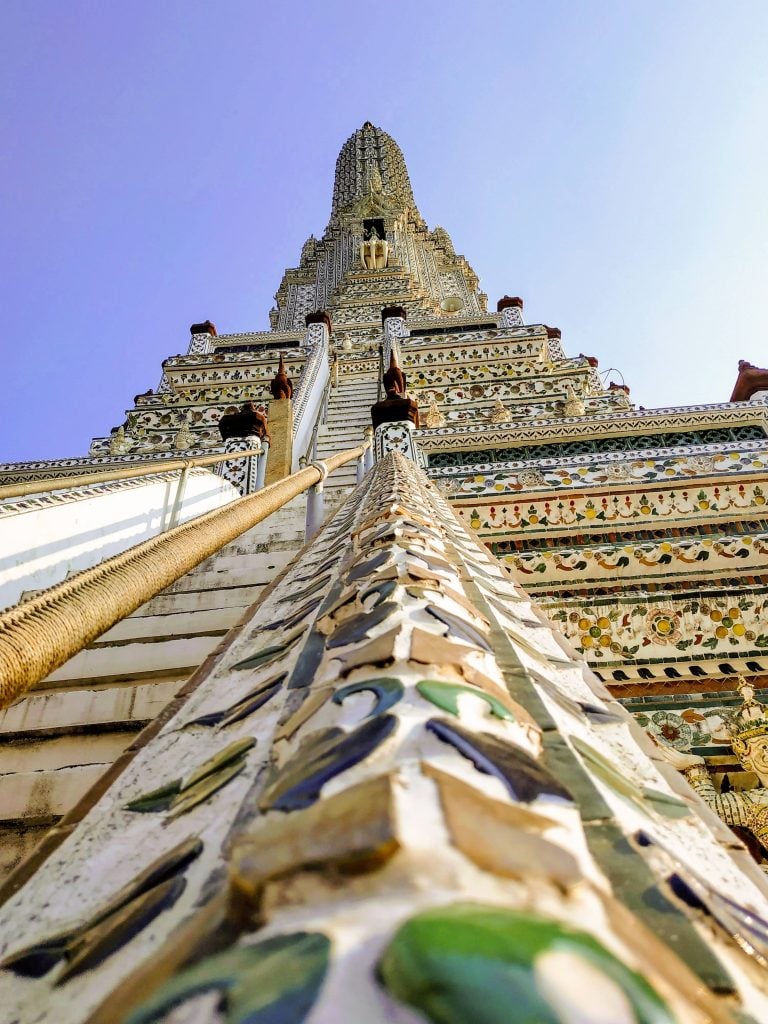 Wat Arun is an incredibly detailed temple! It is definitely worth seeing on any trip to Bangkok.  Visit it at sunrise or sunset to see it lit up by the sun.  The stairs to the top, are very steep!  It was closed for a ceremony when I visited, but I can say by walking up the portion that was open, if you have a fear of heights, it is best to stay at the bottom.  However if not, you will be provided with views of the river and of Bangkok below.
Location: 158 Thanon Wang Doem, Khwaeng Wat Arun, Khet Bangkok Yai, Krung Thep Maha Nakhon 10600, Thailand, for more information visit Wat Arun
What to wear: Make sure to wear long pants or a skirt that goes past the knees and also a shirt with sleeves or bring a scarf to cover up with.  If you forget these, they did have a place to purchase scarves to cover up with.
Opening Hours: Wat Arun is open daily 8:30 a.m.-5:30 p.m.  Tickets are 30 THB.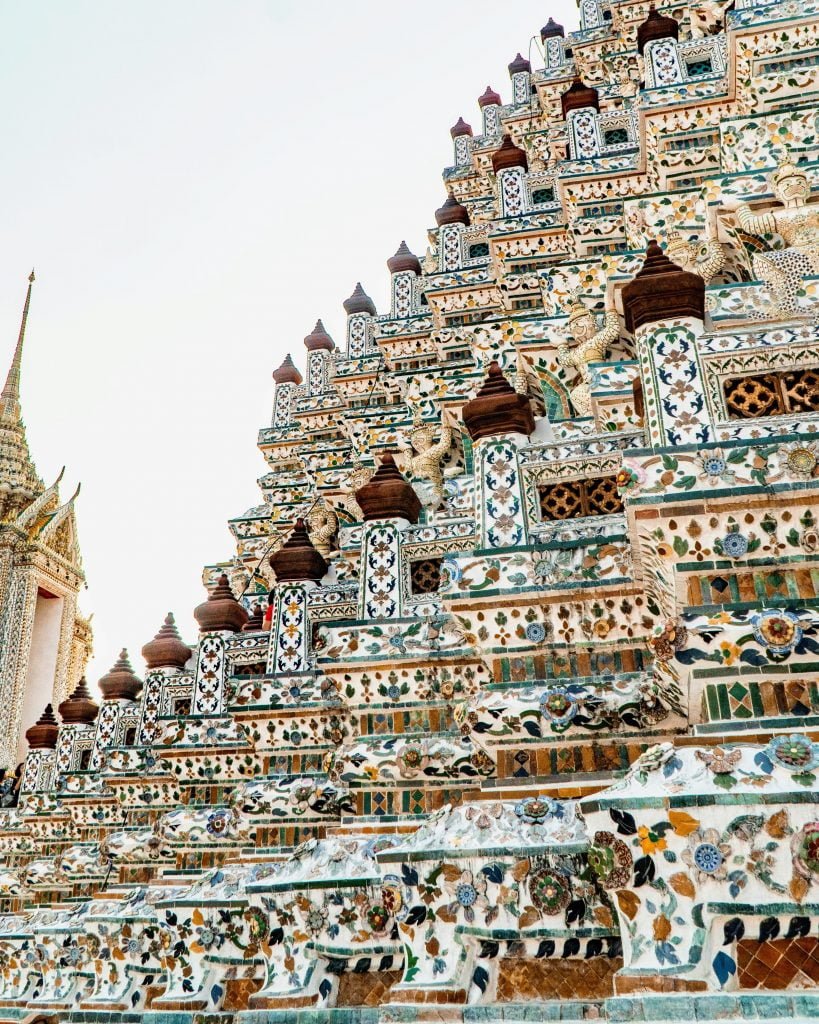 Dinner
It has been a full day of sightseeing, so depending on how you're feeling, you can either head back to your hotel to relax and get dinner or another option is to take the river taxi that loads directly in front of Wat Arun and ride it to the stop for Khao San Road. *Tip: Skip an expensive sunset river cruise and instead ride the water taxi to the end of the line during sunset hours.
I went because it was my first time here, and it was on the list of "must see's." However, having visited it, I can say, it's nothing special. It is very touristy, but if you really must eat a scorpion or see what it is all about, then, by all means, go check it out.  It makes for a nice ride down the river and once getting off the water taxi you will be rewarded by walking through streets filled with restaurants and plentiful dining options.
Location: Khaosan Rd, Khwaeng Talat Yot, Khet Phra Nakhon, Krung Thep Maha Nakhon 10200, Thailand
Day 2 of 2 days in Bangkok
Today you will want to take it a little slower. As I said earlier, with only 2 days in Bangkok, it isn't enough time to see every attraction.  Plus that will really burn you out and not allow you to appreciate Thailand's capital city. Instead, I recommend you take some time today for wandering and relaxing. Perhaps even get a massage! These sights allow time for all of that.
The Jim Thompson House
The Jim Thompson House is a museum to its former owner, Jim Thompson, an American businessman who moved to Thailand in the '40s and helped promote the Thai silk trade by creating the Thai Silk Company Ltd.
He was also a collector of Asian art and the Jim Thompson House displays his collection.  If you enjoy history with a dash of mystery (he mysteriously disappeared in the '60s) and a stroll thru some quiet gardens, then this might be the place for you.
Opening Hours: The Jim Thompson House is open daily 9:00 a.m.- 6:00 p.m. Tickets are 200 THB and include a 30-minute guided tour of the house (unaccompanied visits are not allowed). During the guided tour, you are expected to remove your shoes and no pictures allowed on the tour. You can, however, wander around grounds outside the house on your own.
Location: 6 Rama I Rd, Khwaeng Wang Mai, Khet Pathum Wan, Krung Thep Maha Nakhon 10330, Thailand. Visit Jim Thompson House for more info.
Lunch
You have the option of finding someplace close to the Jim Thompson House or if you'd like to check out one of Bangkok's many malls (and have an air-conditioned break), I recommend Terminal 21.
Terminal 21 is about a 30-minute ride on the BTS Sukhumvit Line. It is an airport-themed mall and the top floor is full of restaurant choices as well as a food court.  They also have a movie theater and unique shopping choices, with each level representing a different destination (Tokyo, London, San Francisco, and so on).
Location: 88 Soi Sukhumvit 19, Khwaeng Khlong Toei Nuea, Khet Watthana, Krung Thep Maha Nakhon 10110, Thailand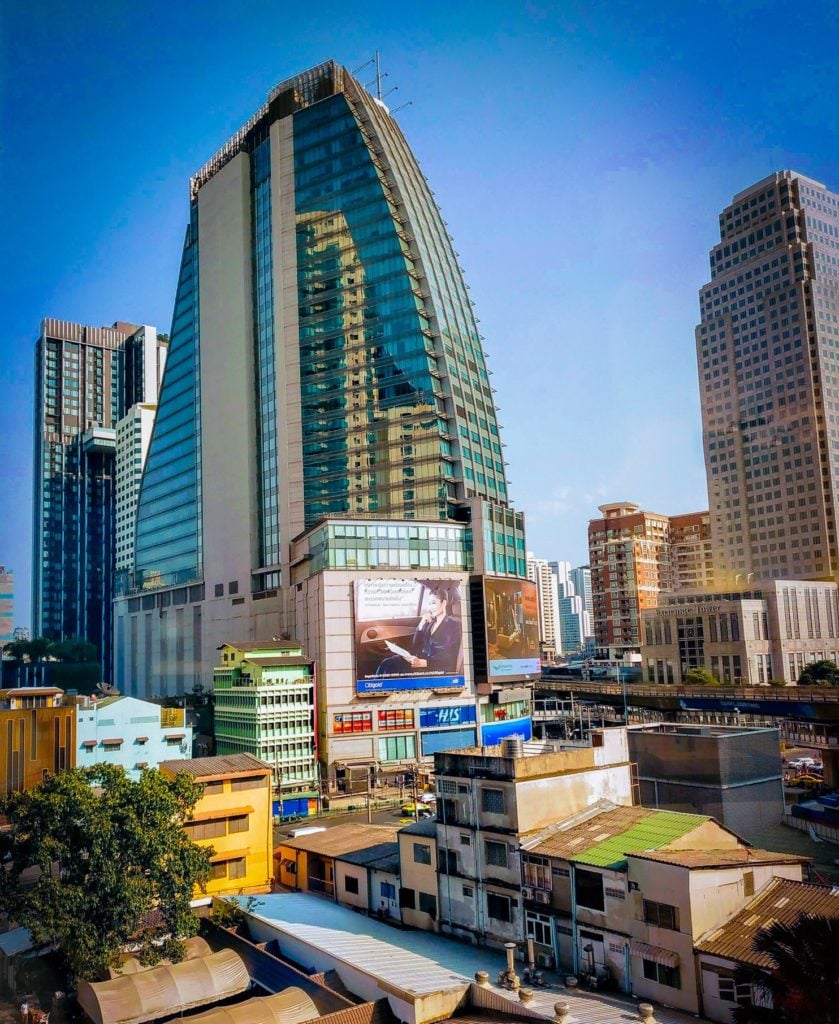 Visit a Park: Lumphini Park or Benchakiti Park
Lumphini Park is a huge park, with lots of shaded areas if you're needing a break from the sun.  There is also a lake and boat rental options.  There are large monitor lizards in certain areas of the park. Although they tend to mind their own business, I think it is good to note, in case you're not a fan of giant lizards.
Benchakiti Park is a small park with a great running/biking path, but it has fewer shade options than the larger Lumphini Park. You might also see the occasional lizard here. You can rent bicycles and ride around the path by the lake.  Both parks offer nice skyline views of the city.
Opening Hours:
Lumphini Park is open daily 4:30 a.m.- 9:00 p.m.
Benchakiti Park is open 5:00 a.m. – 9:00 p.m.
Location:
Lumphini Park: Thanon Rama IV, Khwaeng Lumphini, Khet Pathum Wan, Krung Thep Maha Nakhon 10330, Thailand
Benchakiti Park: Ratchadaphisek Rd, Khwaeng Khlong Toei, Khet Khlong Toei, Krung Thep Maha Nakhon 10110, Thailand
Dinner
After you have had sufficient time to stroll thru a city park or explore some city streets.  You can make your way back to your hotel to freshen up before heading out for dinner.
I recommend dining at The Family, it's a wonderful Thai restaurant located not far from our next stop, Rajadamnern Stadium.  This quaint little restaurant situated on the canal is brightly decorated and the staff is exceptionally helpful and courteous. The food is delicious and you can get it as spicy as you want, just let them know your preferences.
They also have vegetarian and vegan options, just let them know your needs and they will do their best to accommodate. The Kitty Cat Cafe shares a space next door so don't be surprised to see cats strolling thru the restaurant.  The food is exceptional, the portions huge and everything is reasonably priced. It was one of the best meals I ate while in Thailand!
Location: 1, 6 Prachathipatai Rd, Khwaeng Ban Phan Thom, Khet Phra Nakhon, Krung Thep Maha Nakhon 10200, Thailand
Watch a Muay Thai Boxing Match at Rajadamnern Stadium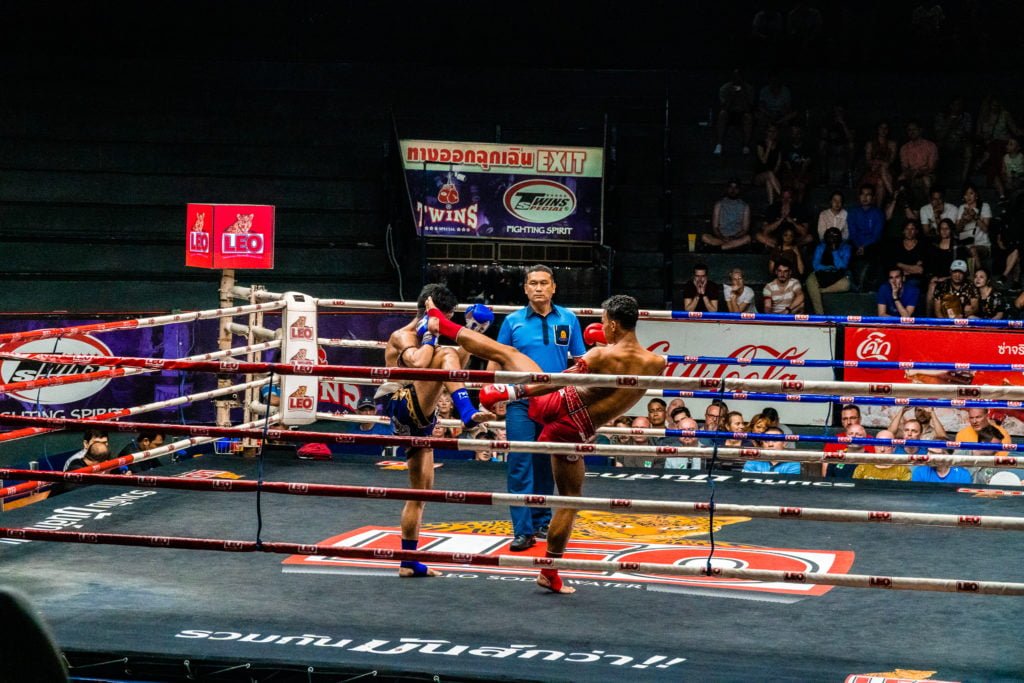 Muay Thai has a long history within Thailand's culture dating as far back as the 18th century. It is the national sport in Thailand and is a version of kickboxing that utilizes the fists, elbows, knees, and legs.  It is one of the top things to see and do in Thailand.  Rajadamnern Stadium is centrally located in Bangkok, which is why I recommend it here, vs the newer Lumpini Stadium.
I wasn't sure what to expect when attending a Muay Thai match. Will it be crowded? How violent would the matches be?
I discovered there are plenty of seats, so no need to purchase in advance, we just bought our tickets at the ticket office. They have ticket options ranging from 1,000 to 2,000 THB. Although they will most likely try to give you a deal for upgrading. And second, the fights are very structured, they have a specific format and rules that must be followed.  It isn't graphic and is more technical than violent.
They have different levels of fighters throughout the night.  Ranging from junior Muay Thai fighters to the ones in the professional class. It is fascinating to watch years of Muay Thai history being followed to this day.
Opening Hours: They are only open on Sundays, Mondays, Wednesdays, and Thursdays. Visit Rajadamnern Stadium to learn more and see specific fight times. Also, no outside food or drinks are allowed, but there are snack and drink options inside.
Location: Rajadamnern Stadium is about a 10-minute walk from The Family restaurant. You can also take a taxi or Grab if you prefer. Address: 1 Ratchadamnoen Nok Rd, Pom Prap, Khet Pom Prap Sattru Phai, Krung Thep Maha Nakhon 10200, Thailand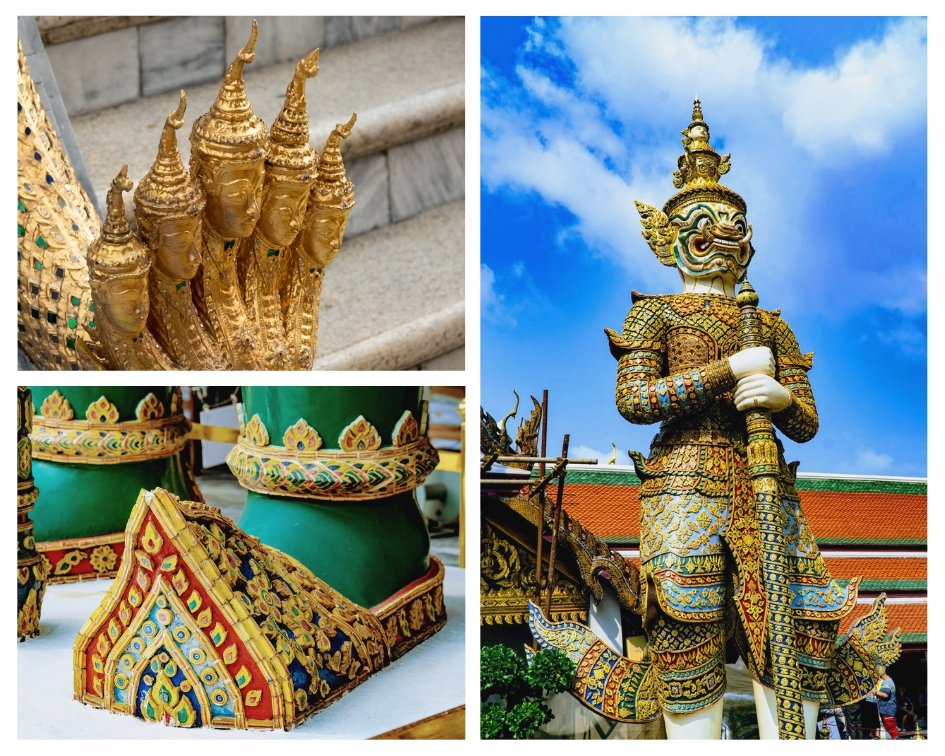 Additional Options for what to see in Bangkok
If you're in Bangkok over the weekend check out these additional things to do:
Visit Chatuchak Weekend Market for shopping and street food.
Visit Damnoen Saduak Floating Market or one of the other more traditional floating markets near Bangkok.
Useful Info
 Getting around Bangkok:
Taxis: At Suvarnabhumi airport, you take a number and then go to the appropriate taxi stand associated with that number.  It is a very easy system. When getting a taxi around town, you can just wave down any unoccupied taxi and they will pull over to pick you up.


*Please note that for taxis and Grab, depending on the route you choose, you may need to pay an extra fee for the toll roads. When leaving from Suvarnabhumi airport this fee is an additional 50 THB.  The fee varies depending on your route. 

Grab: I would highly recommend downloading the Grab app prior to arriving in Thailand so you will be ready to go as soon as you touch down in Thailand.  It is extremely affordable and very easy to use. Plus you use your credit card to pay thru the app, so it can really help if you haven't had a chance to get to an ATM.
BTS (Skytrain) & MRT (subway): These are two of the main public transportation modes with routes in central Bangkok.  I'd look at Google map to see if your hotel is located along one of their routes.  If it is then you might prefer this option to the taxi or Grab.
Tuk Tuks: These three-wheeled rides do not use a meter like a taxi or Grab.  Be prepared to haggle and if it doesn't feel right, walk away.
Final Thoughts on Transporation in Bangkok:
With only 2 days in Bangkok, I suggest maximizing your time by using the most efficient mode of transportation. Taxis and Grab are very affordable and easy to use. And if you are located along the BTS or MRT these are easy to use, however they can get very crowded. So choose the method that will best help you enjoy your time in Bangkok.

Where to Stay:
You have many great neighborhood options when staying in Bangkok.  Start by looking at the attractions that interest you and then choose a hotel within walking distance to those sights.  Or perhaps if you are a runner, you will want to choose a hotel near one of their parks. Depending on your travel plans after Bangkok, you may want to stay closer to the airport.  Think about your needs and then look for a hotel based on that.
We stayed in two different areas.  Our first 3 nights were in the Sukhumvit neighborhood at Hide Bangkok Hostel.  The hostel was affordable and clean.  However, it was about a 15-minute walk along some very busy roads to actually reach the BTS (sky train) and taxis were also harder to come by here.  If you do end up staying in the Sukhumvit neighborhood, make sure to check out this Eco-friendly coffeehouse for some delicious food and coffee!
Our last night in Bangkok we wanted to be closer to the airport, so we stayed at V20 Boutique Hotel in the Chatuchak neighborhood near the Chatuchak Weekend Market. We loved the neighborhood here!  It had produce stands, convenient stores, post office, fabulous coffee and massage all within 10 minutes or less.  Getting into town via taxi also was quicker and so was getting to the airport.
Technology:
You can purchase a SIM card for your stay in Thailand at the Bangkok airport upon arriving in Thailand.  There are two different kiosks (you will need cash), I used the AIS tourist SIM and it worked everywhere we went but did cost a little more than the True Move SIM that my husband used and it had a smaller data plan. The True Move SIM had more data and for the most part and worked everywhere we went, but there were a few spotty areas where my husband didn't have coverage when I did.
Final Tips for Bangkok:
Use sunscreen & wear a hat.
Carry water with you.  I recommend purchasing a refillable water bottle and bring it with you wherever you go.
Take lots of breaks from the heat and the crowds.  Even a small 30-minute break will do wonders!
The air quality in Bangkok is poor.  If you have respiratory issues, just make sure to plan ahead and bring any inhalers or asthma medicine you might need.
And remember, 2 days in Bangkok, is not enough, but give this city a chance, and I think it might just surprise you.  Wander it's streets, mingle with the locals, go off the beaten path to really begin to feel the heartbeat of this capital city.
Use bug spray, especially if you plan to be out after dark. While in Bangkok I was bitten by something that left huge welts on my leg and arm.  This was the only place I had this problem. I wasn't as vigilant with bug spray in Bangkok as I should have been.  I visited a pharmacy and purchased some cream to help with the itching.  The pharmacy staff was very helpful.
Cash is king in Thailand.  Most places do not accept credit cards, so you will need to withdraw cash at the ATMs.  Please note that ATMs charge approx $7 per withdrawal, so make it count!
And speaking of royalty, Thailand loves its monarchy. You will see statues and posters of their royalty everywhere. Be respectful.  I feel this goes without saying.  Whenever you travel to another country, do your best to respect their culture.
If you need some ideas for what to see in Thailand after you leave Bangkok, read What to See in Thailand For your First Trip. And if you want to read about where I traveled to after Bangkok check out Visiting Sukhothai.
Happy Travels!