Are you planning your first trip to Thailand?  It can be challenging to decide what to include on a single trip to Thailand. So I have created this 3-week itinerary to help you begin designing your dream trip. This itinerary covers some of the best places to see in Thailand and it can easily be shortened to a 2-week itinerary. You get to sample some of Thailand's top cities & most beautiful islands!
What to see in Thailand
Bangkok (3 nights)
Sukhothai (2 nights)
Chiang Mai (4 nights)
Koh Phi Phi (3 nights)
Koh Lanta (4 nights)
Phuket (3 nights)
Bangkok (1 night)
Total of 20 nights in Thailand
Optional 2-week itinerary: Bankok (2 nights), Chiang Mai (3 nights), Koh Phi Phi (3 nights), Koh Lanta (4 nights), Bangkok (1 night) then fly home. (This would require you take an evening flight from Phuket to Bangkok upon leaving Koh Lanta) You can play around with the dates to design a 2-week trip that works best for you.  One week in the cities, one week in the islands.
Bangkok (3 nights)
Bangkok is the capital of Thailand and is a huge city with lots of options for things to see. However, it can be a bit overwhelming at first. According to Google, there are over 8 million people who live in Bangkok.
It is very crowded, hot and humid. So my advice is to not pack too many things into your time here.  See only one or two big attractions in a single day and leave the rest of the time for breaks from the heat and relaxing walks around the city or in one of its many parks. Read 2 Days in Bankok: What to See to learn more about what there is to do.
Where to Stay:
You have many neighborhood options when staying in Bangkok.  I recommend that you plot out the main attractions you wish to see in Bangkok and then look for a hotel near those areas so you can potentially walk there or choose a place off their sky train route for easy access.
We stayed at Hide Bangkok Hostel in the Sukhumvit neighborhood, it is a 15-minute walk from the BTS (sky train).
Our last night in Bangkok we stayed at V20 Boutique Hotel in the Chatuchak neighborhood near the Chatuchak Weekend Market. We loved the neighborhood here!
Getting to your hotel in Bangkok:
Most international (and domestic) flights fly in and out of Bangkok's Suvarnabhumi Airport.
The two easiest options are either using the airport established taxi stands or using Grab (this is Thailand's version of Uber). Both are great choices and I would highly recommend downloading the Grab app prior to arriving in Thailand so you will be ready to go as soon as you touch down in Thailand.
It is extremely affordable and very easy to use. Plus you don't have to have cash when you use Grab so it can really help if you haven't had time to get cash or you're trying to save what cash you have.
Additionally, depending on where your hotel is located, you could also use the MRT (metro) or the BTS (sky train) to get to your hotel.
Sukhothai (2 nights)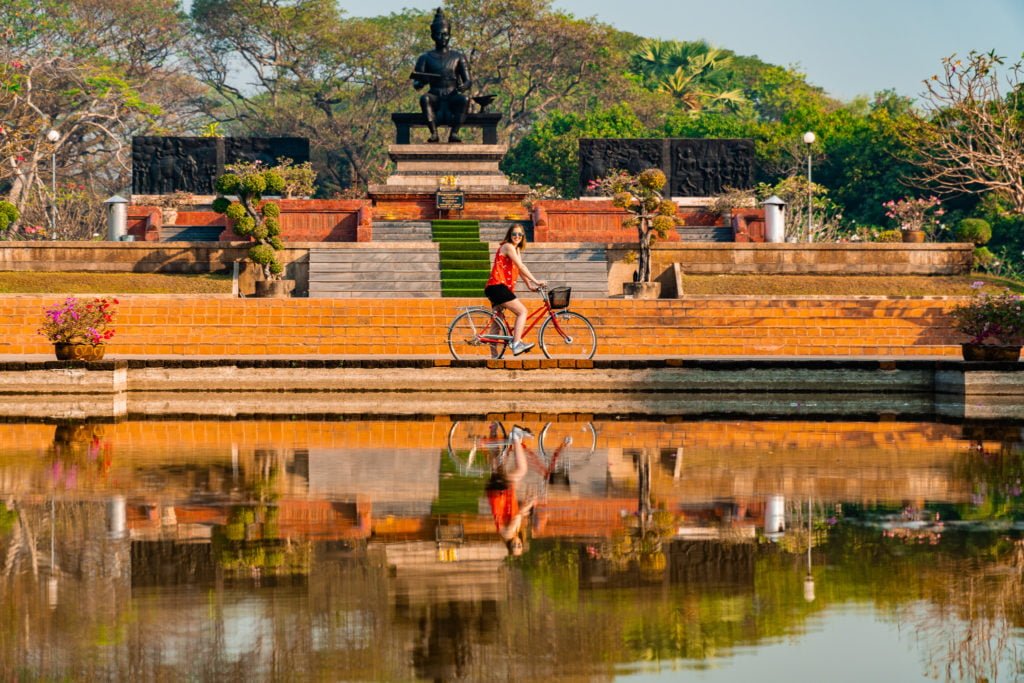 Sukhothai is an ancient city dating back to the 13th century and is popular for its wealth of ancient ruins. It has a wonderfully relaxed vibe and the slower pace was a much-needed break after visiting the bustling city of Bangkok.
With only 2 nights, it really only gives you 1 full day and I would highly recommend extending this another night if your travel itinerary allows it.  Read more about our time in Sukhothai Historical Park and what to do there in our post Visiting Sukhothai Historical Park.
Where to Stay:
We stayed in the historical district at Sukhothai Garden and we absolutely loved it!  It was clean, had air conditioning, great buffet breakfast, and free bikes to use for the duration of your stay.  No matter where you decide, I do think the historical district is the best choice as it will give you the most relaxed visit and maximize your time spent seeing the ancient ruins at Sukhothai Historical Park.
Getting here from Bangkok:
There are options to take the train from Bangkok to Phitsanulok station (5-8 hour ride) and then a 1-hour bus from there to Sukhothai.  However, we booked a 1.5 hr flight thru Bangkok Airways from Bangkok to Sukhothai.  We paid $63 USD per person and the time we saved was well worth it!
Chiang Mai (4 nights)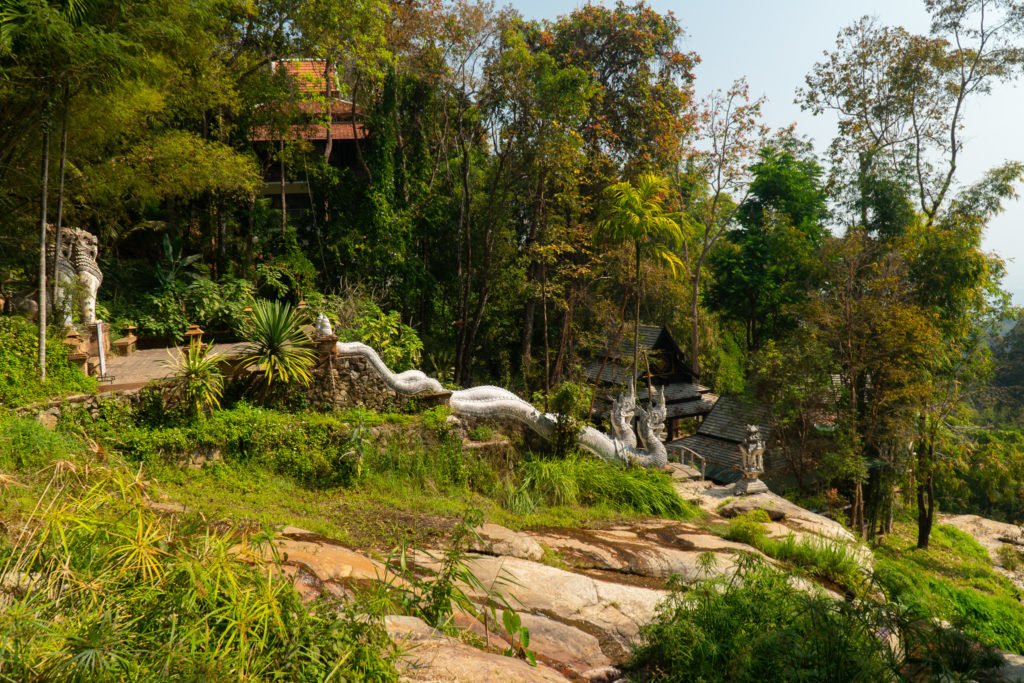 Chiang Mai is one of Thailand's most traveled to cities and it is easy to see why. Travel & Leisure placed it in the Top 10 Cities in Asia. It is a bustling city with an artsy-hipster vibe that is often associated with University cities like Chiang Mai.
There are amazing restaurants, friendly locals, outdoor recreation, historic temples, and plentiful shopping. It is no wonder so many expats make their way here to live.  Another bonus is that it tends to be cooler than Bangkok and slightly better air quality too. There are plentiful options for outdoor activities such as hiking the Monk's Trail.
Where to Stay:
We stayed at BED Nimman and we could not have been happier!  They have multi-lingual staff there to help you with whatever questions or needs you might have.  The breakfast had one of the most delicious buffets I've ever eaten at!  I would probably go back just for the breakfast.
It was also in a great location with lots of fabulous restaurants and shops nearby. It was easy to get around on foot, red taxi or Grab.  However, one important thing to note, BED Nimman is an adult only hotel, so it does not make a good option for families with children.
Getting Here:
The bus is your best option. We took a bus from Wintour Bus Station near our guesthouse in Sukhothai to Chiang Mai.  The journey took around 5 hours to get to the Chiang Mai bus station.  It was air-conditioned and they do make a few stops along the way to drop off and pick up other passengers.  There is one 20 minute stop where you can use the restroom and purchase food or drinks if you want to.
Wintour Bus Station: Mueang Kao, Mueang Sukhothai District, Sukhothai 64210, Thailand
Koh Phi Phi (3 nights)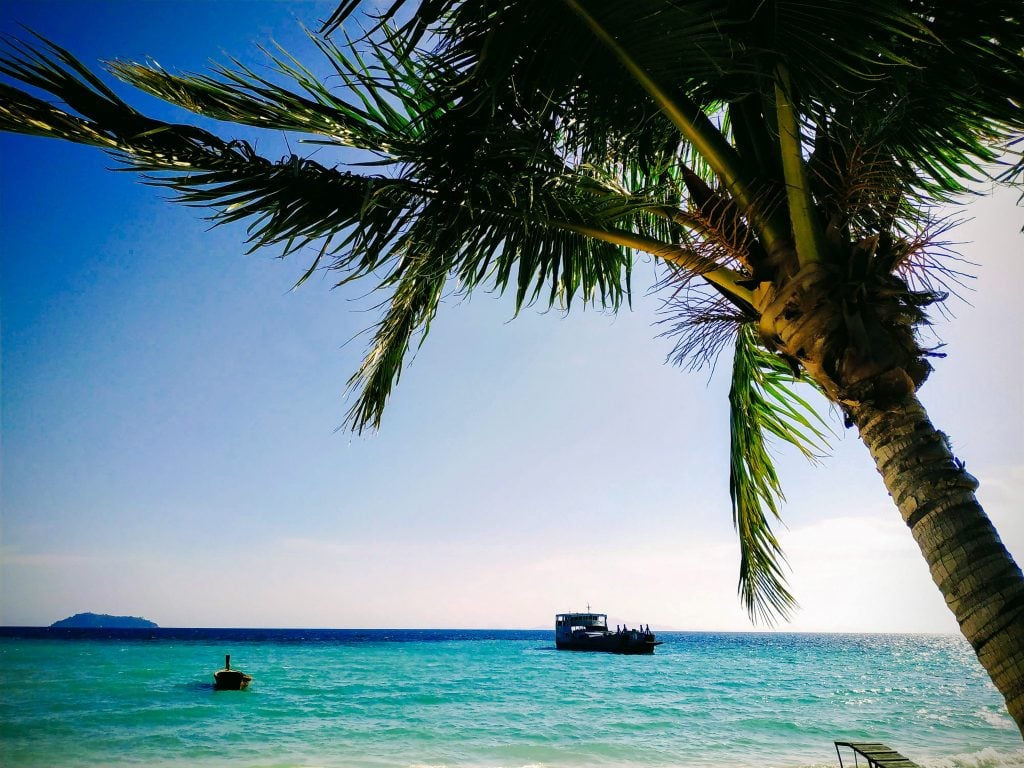 Koh Phi Phi has a reputation for being one of the more touristy islands with parties and nightlife that make those looking for a relaxing beach destination, want to look elsewhere.  However, due to our location at Laem Tong Beach, we did not experience that at all.  In the mornings we'd watch the sunrise and have the beach almost entirely to ourselves. It also had plenty of reefs for snorkeling and a dedicated area for swimmers.
Where to stay:
We stayed at the Holiday Inn Resort Phi Phi Island at Laem Tong Beach.  There are a few other resorts along this stretch of beach that are a little more affordable, such as the P.P. Erawan Palms Resort that will offer you the same great beach as the Holiday Inn, but at a slightly more affordable price. We chose the Laem Tong area of Koh Phi Phi as we were looking for somewhere a little quieter and more relaxing than the Tonsai beach area.
Getting Here:
We flew from Chiang Mai to Phuket and took a taxi from the airport to Rassada Pier in Phuket.  We booked our ferry tickets ahead of time with Andaman Wavemaster.  There are three daily ferries thru Andaman Wavemaster that will take you to Koh Phi Phi's Tonsai Pier. Only 2 of the 3 will also take you to Laem Tong Pier.
If you can't make one of the two ferries, you will need to hire a long-tail boat or make arrangements with your hotel to pick you up.  The ferry ride was around 3 hours from Phuket to Koh Phi Phi's Laem Tong Pier.
Koh Lanta (4 nights)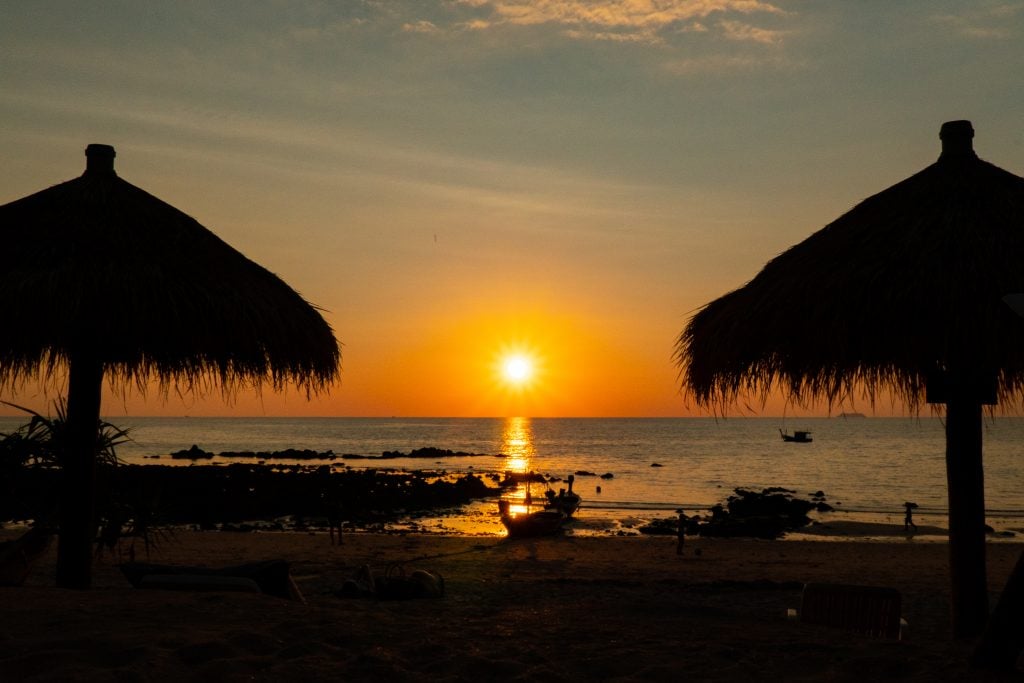 Koh Lanta is the island to go to if you want to just relax and enjoy the slow pace of island life. It was my favorite island.  We had great food and met some of the friendliest people we encountered our whole time in Thailand. Koh Lanta is the perfect island to spend relaxing, swimming, snorkeling or reading a book by the beach. If you need to just unwind and enjoy a beautiful island, this is your place!
Where to Stay:
We stayed at Lanta Casa Blanca and we loved it!  I would absolutely stay here again when we go back.  They have their own pool, restaurant, massage and scooter rentals all on site.  A wonderful breakfast buffet and also a great beachfront location for relaxing and enjoying the amazing Koh Lanta sunsets! (And don't tell but they're also just a short walk away from Secret Beach – a great place for swimming and snorkeling.)
Getting Here:
From Koh Phi Phi at Laem Tong Beach we hired a long-tail boat (booked thru our hotel) to Tonsai Pier where we then boarded a ferry (also booked thru our hotel) to Koh Lanta.  It is about a 90-minute ferry ride from Tonsai Pier to Koh Lanta. Make sure to notify your hotel in Koh Lanta when you're coming and they can provide a ride for you from the pier otherwise you can hire a tuk-tuk or taxi driver.
Phuket (3 nights)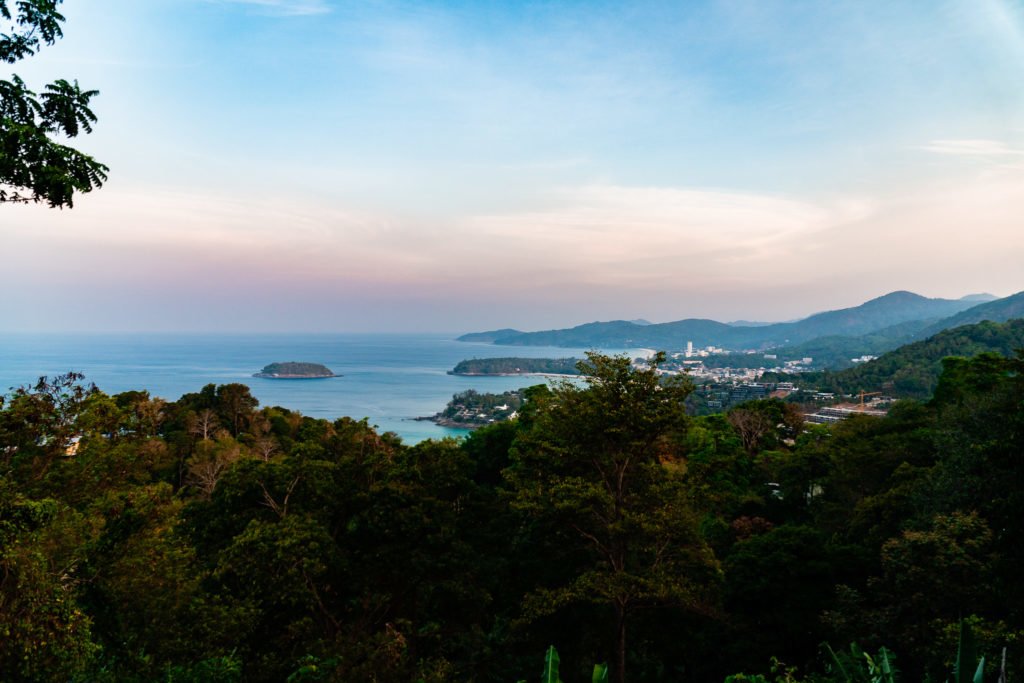 Phuket is the largest island in Thailand and to me, it feels more like a big city than an island destination. Honestly, I could have skipped Phuket, however, my husband wanted to check it out as he'd heard so much about it.  It is not our typical choice for an island.
When going to a beach destination, we prefer a smaller, more laid back area.  So even though we stayed off the quieter Kata Beach area of Phuket, it still isn't on our list of places we would return to in the future.  However, again, that's just our personal preference.
Where to Stay:
We chose to stay in the Kata Beach neighborhood.  It is far enough from Patong that you have a quieter stay, but close enough to go by taxi should you wish to.  Kata Beach itself is a great place to have a beach day.  Yes, it gets crowded, but they have lots of chairs with umbrellas for rent (only 200 baht for the day) and the beach is a beautiful white sandy beach, perfect for swimming!
There are also jet ski rentals and parasailing as well as smoothie shacks and food vendors so you never need to leave the beach until you're ready to! We stayed at Chanalai Flora Resort which was a 5-minute walk to Kata Beach.
Getting Here:
To return to Phuket our hotel booked us a high-speed ferry though Tigerline Ferry. It took 1 1/2 hours to get from Koh Lanta to Phuket's Rassada Pier. The ferry stops briefly at Tonsai Pier in Koh Phi Phi to drop off and pick up new passengers before heading directly to Phuket.  Once arriving at Phuket's Rassada Pier you will then need to hire a taxi or Grab to take you to your hotel.
Additional Tips for Traveling to Thailand:
Packing: Pack sunscreen and bug spray with the highest percentage of DEET you can find.  I also recommend you pack as light as possible as this makes it easiest for navigating their small planes, buses and especially for traveling between the islands where you might need to carry your luggage over your head when exiting a long-tail boat. We prefer backpacks for this reason.
Technology: You can purchase a SIM card for your stay in Thailand at the Bangkok airport upon arriving in Thailand.  There are two different kiosks (you will need cash), I used the AIS tourist SIM and it worked everywhere we went but did cost a little more than the True Move SIM that my husband used and it had a smaller data plan. The True Move SIM had more data and for the most part and worked everywhere we went, but there were a few spotty areas where my husband didn't have coverage when I did.
Thailand Trip Summary:
If I were to do this itinerary all over again, I would shorten my time in Bangkok from 4 nights to only 3 nights.  I would extend our time in Sukhothai to 3 nights instead of two and would only spend 1 night in Phuket before flying back to Bangkok and use those extra 2 nights to extend my stay in Koh Lanta or Koh Phi Phi.
These are my recommendations for what to see in Thailand on your first trip.  Make sure to take time to relax, time to wander and soak in the culture of this beautiful country. You may "see" less, but you will experience more. No matter how you choose to tailor your trip you will have an amazing time!  Thailand is a beautiful country and it is hard to pick a place you won't enjoy.  Please also check out 10 Best Things To Do in Thailand to give you more inspirations for your trip.
Happy Planning! And as always feel free to ask any questions you might have for your next trip!