If you're looking for a great coffee or an amazing Thai massage in Bangkok, look no further! Stand Alone Coffee Bar & Spa combines an amazing Thai massage spa with an incredible coffee house! If they were to add an Air BnB rental into the mix, I am not sure I'd ever leave!  They have a fabulous coffee bar and two doors down is the Stand Alone Spa & Massage. It is located in a residential neighborhood and is a relaxing and quiet space.
Stand Alone Coffee Bar:
The coffee bar has a full menu, so if you're hungry try a burger and fries or some pasta or whatever suits your fancy.  However, I would probably wait to eat until after your massage.
In addition to the gorgeous industrial-style interior, the coffee bar also has an outdoor space for lounging.  I tried the cold brew and it was bold and flavorful.  In addition to their menu and coffee choices, they also roast their own coffee beans which are available for purchase.  Check out their business page at Stand Alone Coffee Bar.
Location: Bangkok, Khwaeng Chom Phon, Khet Chatuchak, Krung Thep Maha Nakhon 10900, Thailand
Hours: 7:30 a.m. – 9:30 p.m.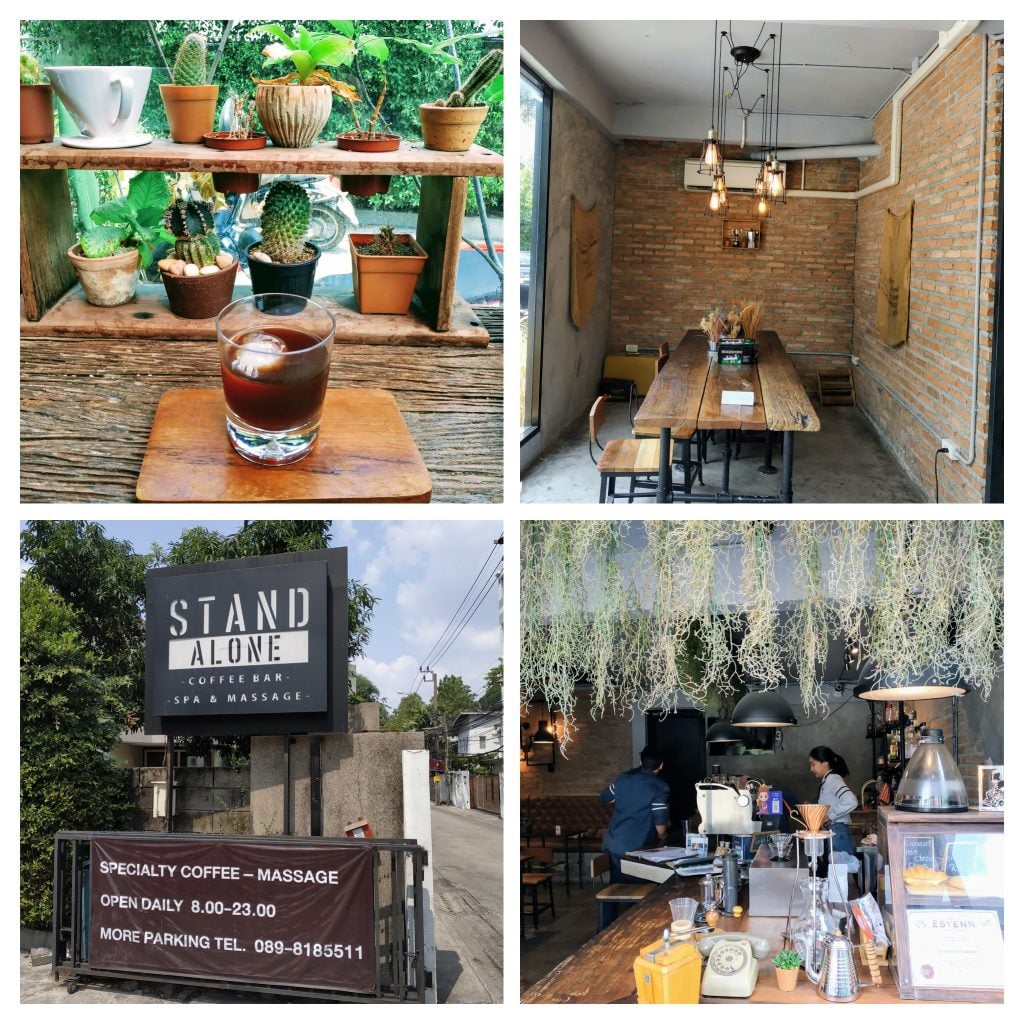 Stand Alone Spa & Massage:
As I mentioned above, the spa and massage are separate from the coffee bar, you exit the coffee bar and walk to the other end of the building and you will find the spa.  We did not have reservations, as we had just wandered over to try a coffee before walking to the spa next door.  However, they were able to get my husband and me in for a one hour traditional Thai and foot massage.
Previous Thai Massage Experiences:
Now let me backtrack a little to tell you, this was our last day in Thailand before heading back home. We already had a Thai massage at the Wat Pho Thai Massage School (would not recommend it, you can read a little about my experience at 2 Days in Bangkok).
Then we tried a traditional Thai massage again in Chiang Mai (this was much better than at the massage school, however, it still felt mechanical and just didn't "wow" me). My husband got another massage on the beach in Phuket, which he said was good.  But up to that point, I was just feeling a little "meh" with regards to Thai massages.
You see, I get deep tissue massages regularly at home and love them.  I have scoliosis and a lot of back pain, so they really help me manage my spinal health.  So when coming to Thailand I had been so excited at the prospect of getting 1-hour massages for less than $20!  Then I had a couple of massages and they just weren't as good as I had expected.  That was until I got my massage at Stand Alone Spa & Massage.
Massage Experience at Stand Alone Spa & Massage:
The woman who gave me my massage was strong and firm and did a wonderful job of balancing stretching and pressure to create a massage that felt both relaxing as well as therapeutic. Honestly, I was so sad that this was my last day in Bangkok, as I would have gone back for another one the next day!
And what is more incredible, it was the cheapest out of the four massages we had while in Thailand!  They have a special going where it is only 200 THB for a one hour Thai & foot massage. Please visit Stand Alone Spa & Massage for more information.
Location: วิภาวดี​รังสิต​20​ Soi Chom Phon, ​, Khet Chatuchak, Krung Thep Maha Nakhon 10900, Thailand
Hours: 10:00 a.m. – 9:30 p.m.
I highly recommend Stand Alone Coffee Bar & Stand Alone Spa & Massage.  If you are in Bangkok and need a respite from the hustle and bustle of the city don't miss this hidden gem. For a full trip itinerary to Thailand, check out What to See in Thailand For Your First Trip.