Mesa Arch is a pothole arch in Canyonlands National Park.  Although the hike out to the arch is relatively uninteresting, the arch and the view at the overlook make for a big payoff with minimal effort.  And if you decide to hike out to Mesa Arch to see the sunrise, you will be doubly rewarded!  Sunrise at Mesa Arch is an unforgettable experience worthy of the loss of sleep.
My Sunrise Experience at Mesa Arch
My hubby and I stayed at a motel in Moab, Utah. Moab is a common starting point for many of the area's attractions, such as Arches National Park, Canyonlands National Park, Dead Horse Point State Park, and many other hiking and recreational opportunities.  It's about a 45-minute drive from Moab to the Mesa Arch trailhead, and I wanted to be at Mesa Arch at least an hour before sunrise.
This meant getting up at 4 a.m.!  I'm fine with getting up at 6 a.m., I do that almost every day, but for some reason, any time before that just seems wrong.  However, I knew that photographing Mesa Arch at sunrise was a popular activity, and I would not be alone.  If I had any hope of getting a spot in front of the arch, I needed to sacrifice a little sleep to make it happen.  My hubby is a good sport and was willing to sacrifice his sleep as well.
As we made our way up the winding road to Canyonlands National Park, we had one vehicle in front of us, and soon I had another behind.  All I could think about was that I had to get there to get a spot!  I had read other articles that talked about spots filling up even 2 hours before, but I was not ready to get up at 3, so I hoped (and prayed) that 1 hour before would be enough.
We arrived in the dark at the parking lot for the trailhead, with one other car following close behind.  There were already a few cars in the lot, so I quickly grabbed my gear, put on my headlamp, and headed down the trail, walking as quickly as possible. 
The hike to Mesa Arch is only .50 miles (out and back), and so it takes around 15 minutes to hike to the arch.  We visited the day before, so I could walk the trail in the daylight and get a feel for the area before visiting in the dark.  I recommend you do this if you plan to photograph the sunrise.  Not necessary, but helpful.
About the Hike:
Length:

0.50 miles (loop option or out and back)

Time to hike to the arch:

~ 15-20 minutes

Trail:

First half of the trail is a wide dirt trail, then turns into more uneven terrain with some rock and stairs. Look for the cairns for help staying on the trail.

Difficulty:

Easy
This hike is good for all ages, but it is not wheelchair accessible. Most people (including kids) can hike this trail with relative ease. 
Important to Know: 
Mesa Arch is set on the edge of an overlook that drops down 1200′ into the canyon below.  Please keep your kids close by and be careful when getting close to the arch, as it is a long way down on the other side!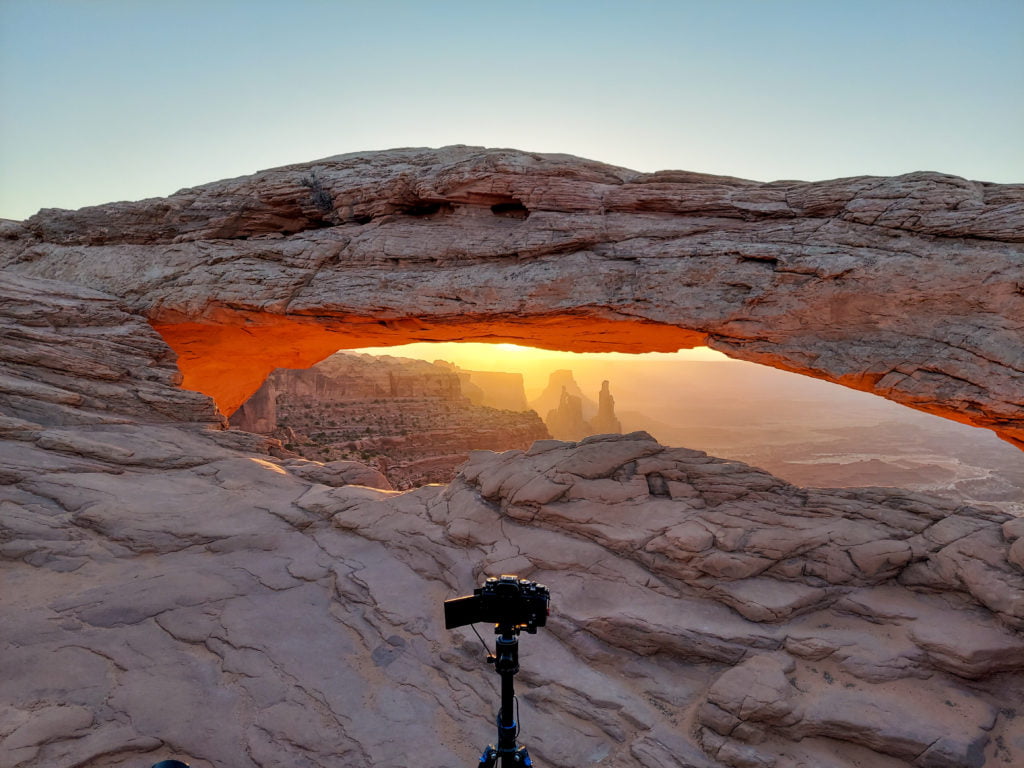 I reached Mesa Arch a little over an hour before sunrise.  There were only two other photographers there. I was so relieved!  Since they were first, I asked them where they were setting up, and then I chose a spot to the left of them.  However, before I really had time to set up my tripod, a fourth photographer arrived and placed her tripod right next to mine.  
PHOTOGRAPHY TIP
Set up your tripod as soon as you get there, get your legs placed as wide as you need them because once other photographers arrive you may not have the room to change this. Also, the ground in front of Mesa Arch is rocky and uneven, so you'll want to adjust your tripod legs to allow you the freedom to move your tripod height up and down as desired. All this needs to be done before you are crowded out by other photographers. 
This was the main mistake I made, and I was somewhat restricted with my shots because of it.  If this happens to you, you can always take your camera off the tripod and try some shots that way. If they don't turn out, you can delete them, but you'll most likely get some keepers. 
Also, after you get your shot from the front of Mesa Arch, try moving around and capturing it from various angles. You might be surprised at which photos turn out to be your favorites.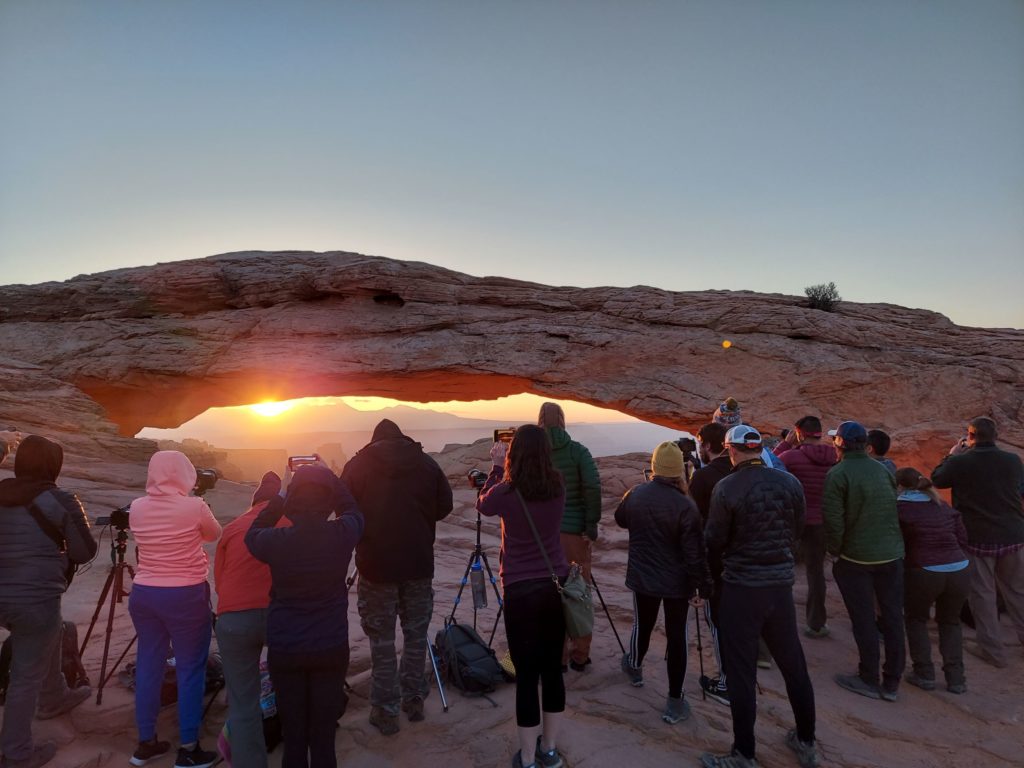 About 15-minutes after I arrived, there were around 10 photographers, with most of the prime spots filling up fast.  One latecomer had the tenacity to ask if he could squeeze in between the two photographers who had been at Mesa Arch when I arrived.  They graciously allowed him to, but I wouldn't expect this.  For most photographers, if they've made the effort (and sacrifice of sleep and coffee) to get there and get a spot, and you slept in, they're going to be pretty territorial and expect you to find your own place on the edges.
While we were waiting, the photographer next to me, who was from Indiana, told me about a scene a friend of his observed during his visit to Mesa Arch.  He said two guys actually took to fighting right in front of the arch because one of them wanted a spot in front. Let's not forget that there's a 1200 ft cliff on the other side, either! So, yeah, I guess things can get a bit ugly. Personally, I blame it on a lack of sleep and coffee.
With only 30-minutes to sunrise, all the main spots in front of Mesa Arch were filled shoulder to shoulder with photographers.   Then a row started forming behind me.  When the sun did finally start coming up, I'd be so busy taking photos I wouldn't realize I had people behind me leaning over me. I raised up only to bump into the person behind me.
Honestly, the crowd is part of the experience. Everyone had to get up early to get there before sunrise, which means we're all a tiny bit crazy, and we all love seeing beautiful displays of nature.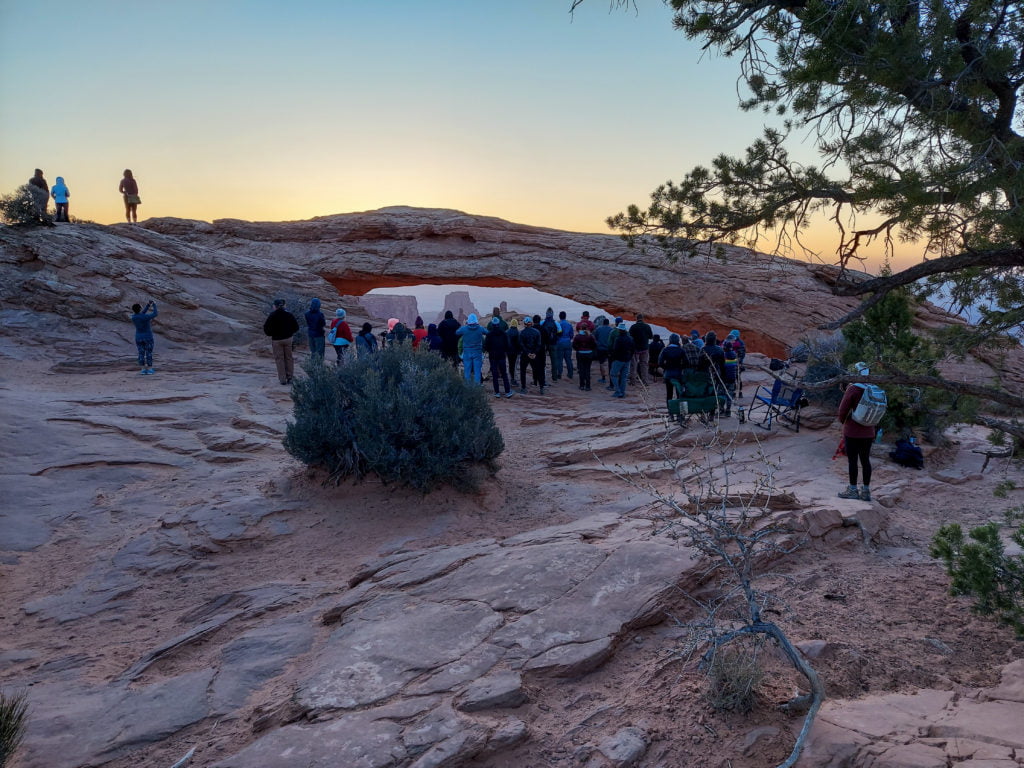 Go-Time: Sunrise at Mesa Arch
Things quiet down a little bit as the sun starts to peek over the La Sal Mountains. Everyone is waiting with anticipation as it finally breaks from behind the mountain range and casts its warm glow over the canyons below.  The sun reflects off Mesa Arch, first starting as a subtle glow and then intensifying into a beautiful bright orange arc of glowing rock.  The layers of shadows in the White Rim canyon below are a stunning backdrop to the glowing Mesa Arch.
The sound of shutters fills the air as if the paparazzi had just spotted some celebrity. Every photographer furiously tries to capture this beautiful sight.  People with cell phones peer over the photographers' shoulders to capture this moment, too; others walk along the fringes trying not to get in the view of the cameras. Some just came to see it. They stand back in awe, with no "device" in hand. They stand there capturing it with their eyes and mind.  It was such a beautiful experience!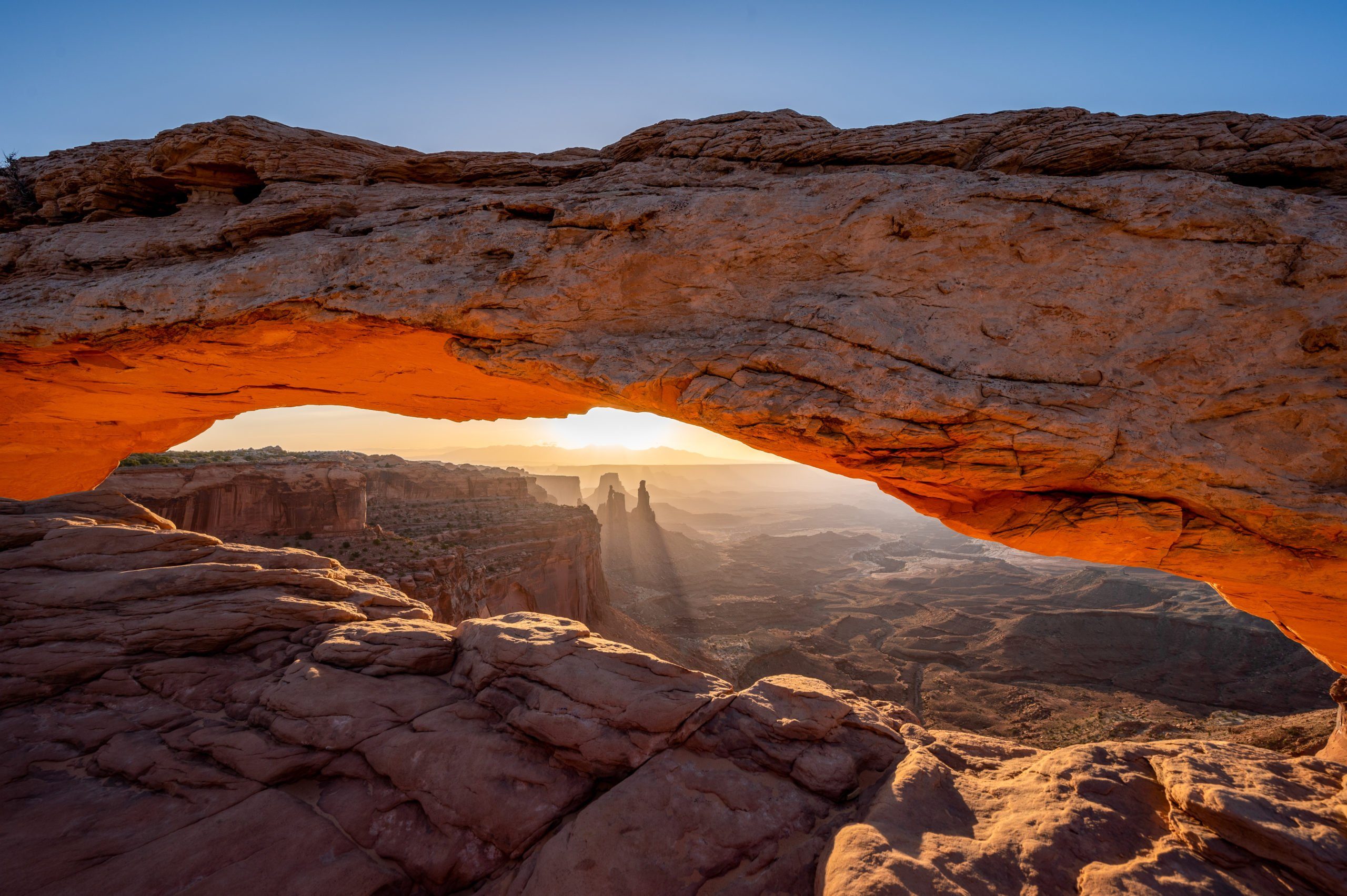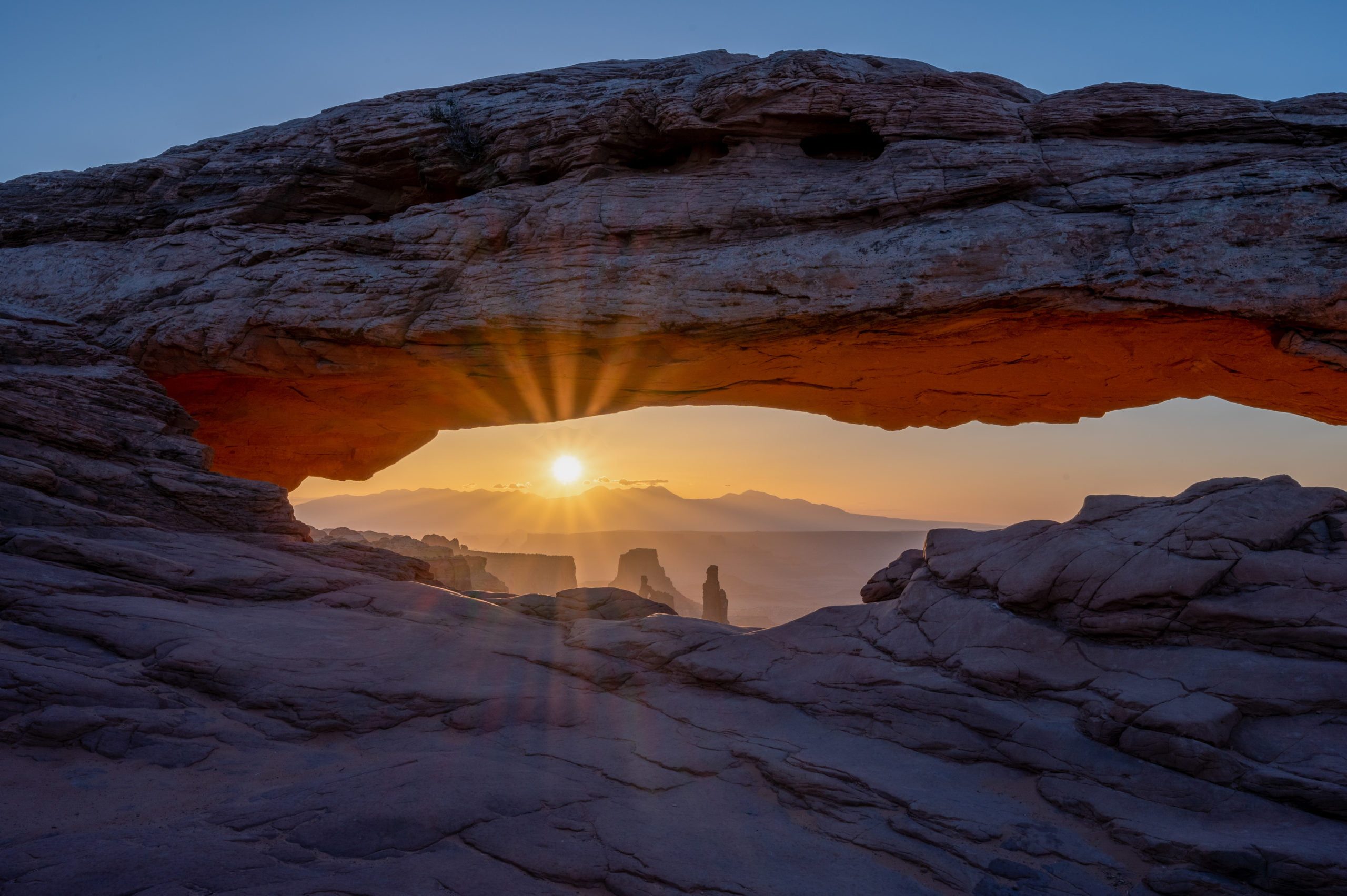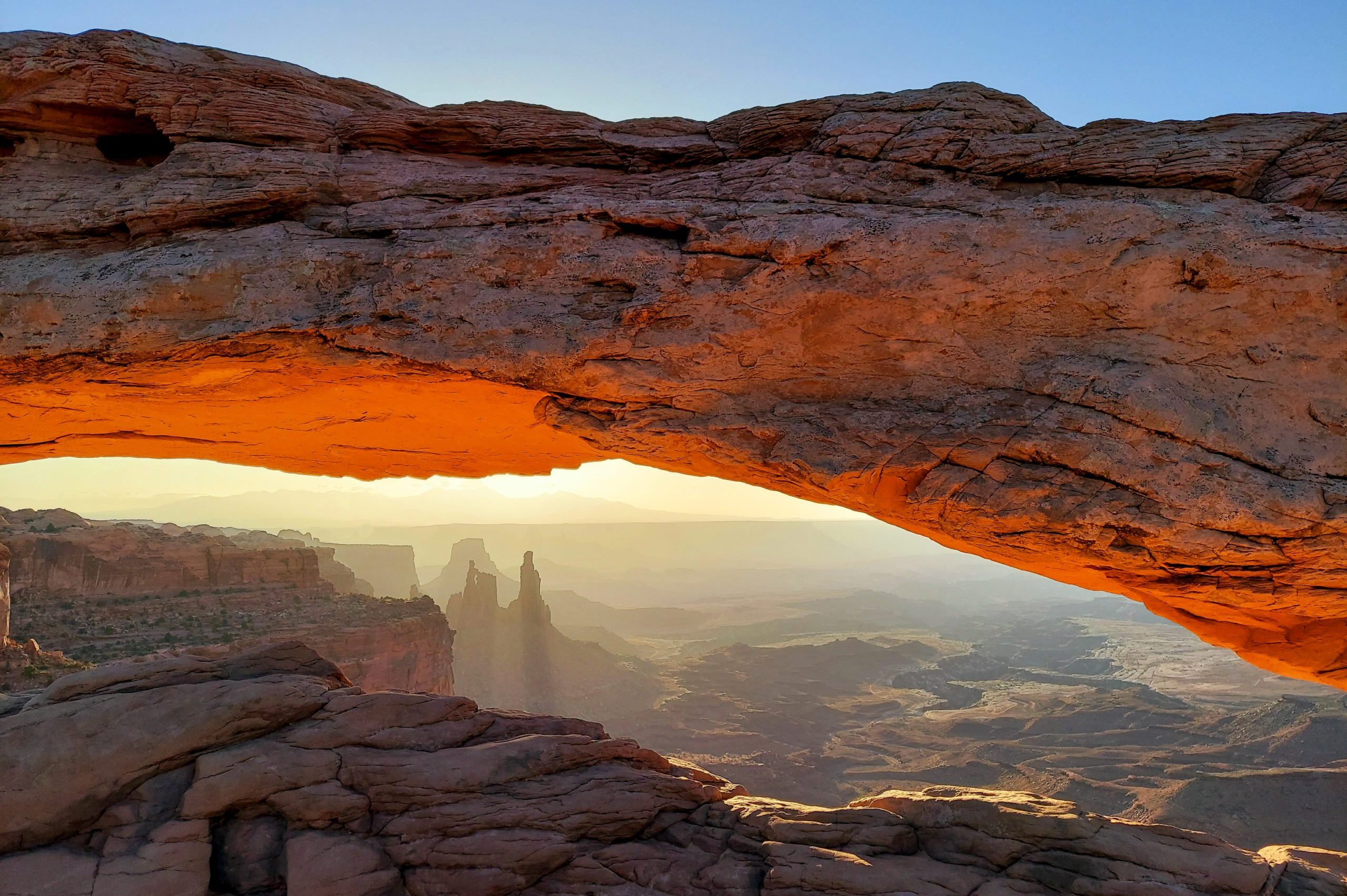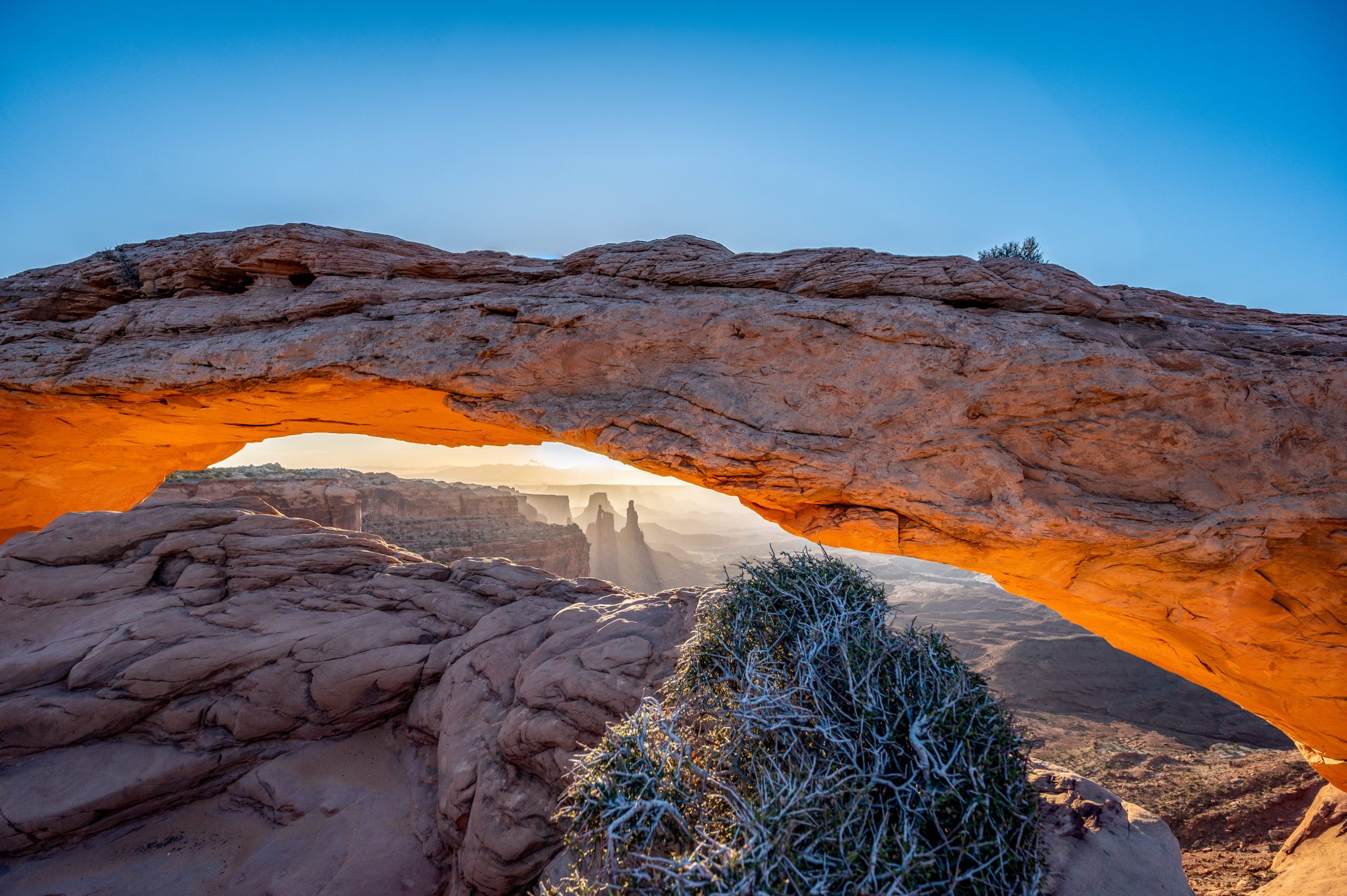 I look around, and almost every photographer I had just stood shoulder to shoulder with has vanished.  They packed up and headed off, most likely for coffee. However, I stay. I love golden hour, and the light and shadows in the canyon are too good to pass up. 
I came to photograph Mesa Arch at sunrise, but here's a little tip: the glow remains even after sunrise, and the lighting that bathes the canyon is incredible!  So, if you really, really can't make it for the actual sunrise, then get here as soon after as possible, and you'll enjoy a relatively un-crowded view and still get to see some gorgeous light.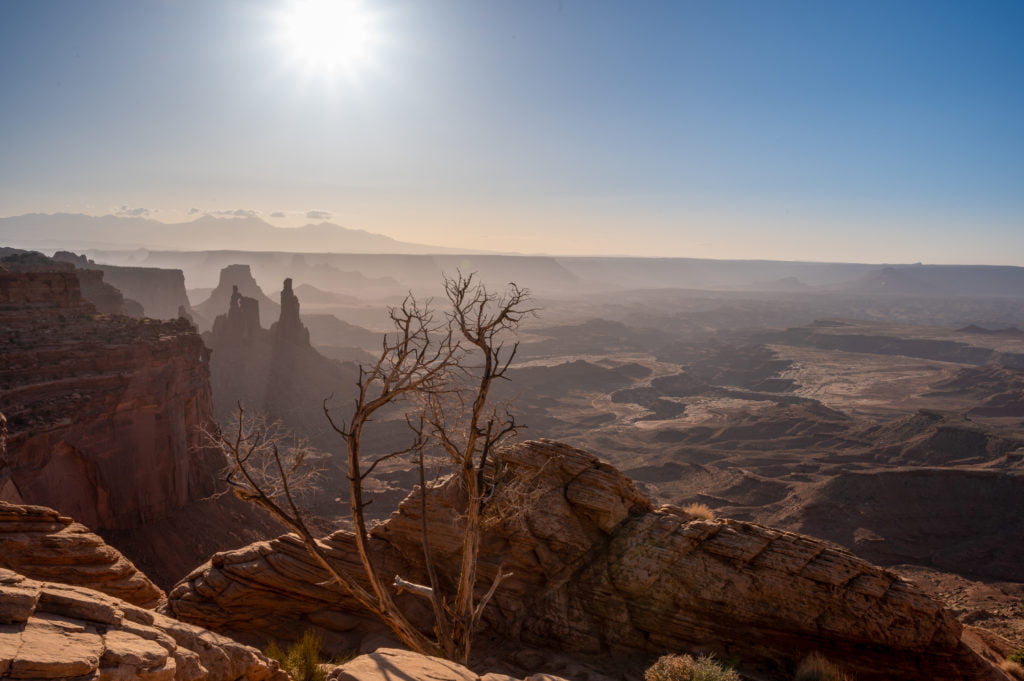 What to Bring When Visiting Mesa Arch for Sunrise:
Pack layers. Depending on what time of year it is, it might be fairly cold in the morning.  We were there in April, and I wore gloves, a warm hat, and a sweatshirt and jacket.  By the time we left, around 8:00 a.m. I no longer needed the gloves, hat, or jacket.
Water. Even though this is a short hike, it's still a good idea to bring a bottle of water and a snack.
Trekking Poles. If you have any issues with uneven ground, these are a good idea. Also, in a pinch, a trekking pole can be used as a monopod for your camera.
Headlamp. Very useful when arriving in the dark. A headlamp with a red light is also a nice plus if you plan to arrive to photograph at twilight or plan to do any night photography.
Photographers:
Camera

Lenses (A wide lens is needed as everyone stands relatively close to the arch. I shot with a 14-30mm lens.)

Extra Batteries

Tripod

Dust cleaner for your lens. It gets windy here and dusty. Learn from my mistake and dust off the front of your lens mid-shooting to keep it clear of dust particles on your images.

Shutter Release Cable (optional)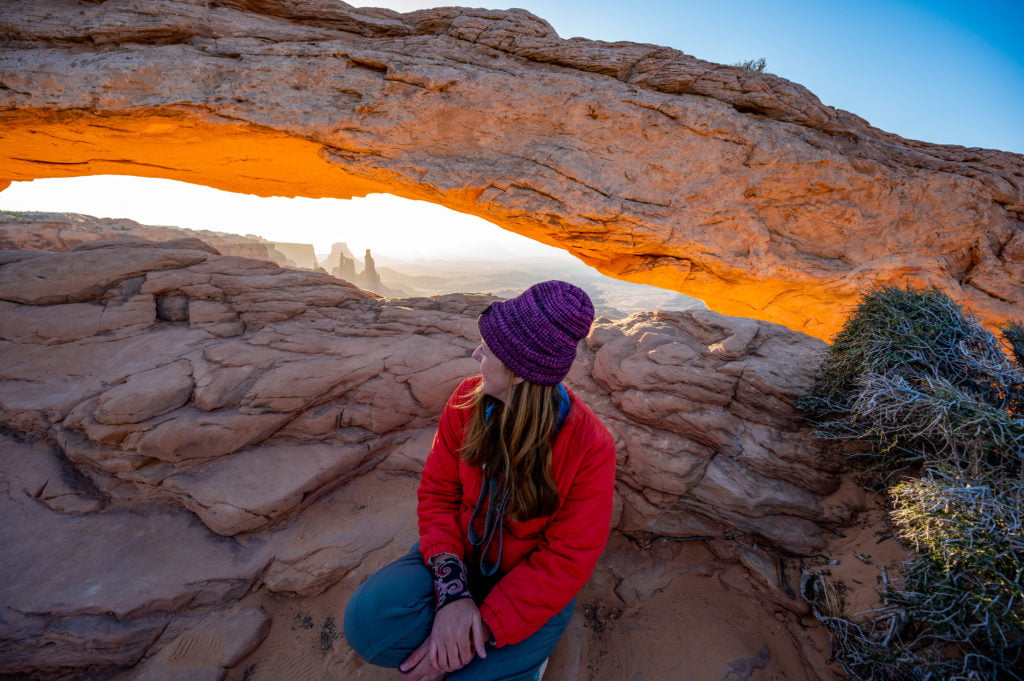 The Night Before Your Hike to Mesa Arch
Make sure to charge all your batteries the night before and put a fully charged battery in your camera before going to sleep.  Pack your bag with all your essentials and layout your warm clothes and things you'll want to bring.  If you're like me, your brain doesn't function at optimal levels that early in the morning.  So having it all ready to go the night before really helps!
Getting Your Coffee Fix On the Go
We brewed a quick cup of hot coffee in the hotel for the drive to Mesa Arch, which was the bare minimum to get me by.  I also pack a large bottle of cold brew in our cooler, which I drank after photographing the sunrise.  Having cold brew with me when I'm on a road trip is a must! 
Coffee Tip: Always keep a bottle of cold brew in your cooler.
Because I'm often getting up early, I don't always want to take the time to heat water (if I'm camping) and brew a cup of coffee. With cold brew, I can get my caffeine fix quickly before anyone else gets hurt. Really it's a safety measure for anyone traveling with me.  
I love using oat milk or almond milk when I travel as it doesn't need refrigerated until after opening.  I make quick cold brew lattes like this vanilla oat milk cold brew using bottled cold brews, it takes one minute to make, and I'm ready to go!
Getting to Mesa Arch in Canyonlands National Park
Mesa Arch is located in Canyonlands' Islands in the Sky section of the park, a 30-minute drive from Moab, Utah.
From Moab  
Take US-191 N for about 11 miles.  Then turn left onto UT-313 W. Continue on this road all the way into Canyonlands National Park and until you see signs for the Mesa Arch parking lot and trailhead (about 20 miles). 
Parking
The parking lot is not very big, so during the day, it fills up quickly.  However, I noticed that even during busy times, there seems to be a regular coming and going of vehicles because it is such a short hike.  If it is full and there don't seem to be any spots opening up, then continue driving toward the Grand View Point Overlook and stop at Mesa Arch on your way back.
Tip: There is a great overlook across the street from the visitor center and there are water filling stations at the visitor center as well. Make sure to stop here!
With Extra Time
The Islands in the Sky portion of Canyonlands National Park is really a beautiful place with gorgeous views from above.  It also has the Shafer Canyon Road, a 4×4 road you can drive into the canyon, but it's recommended you have a high clearance full off-road vehicle or motorcycle for this.  
With extra time in the area, make sure to also visit Arches National Park and Dead Horse State Park.  This is a beautiful area of Utah that you can easily spend a week (or more) exploring. However, even with only 2-4 days, you can see a good portion of these three parks.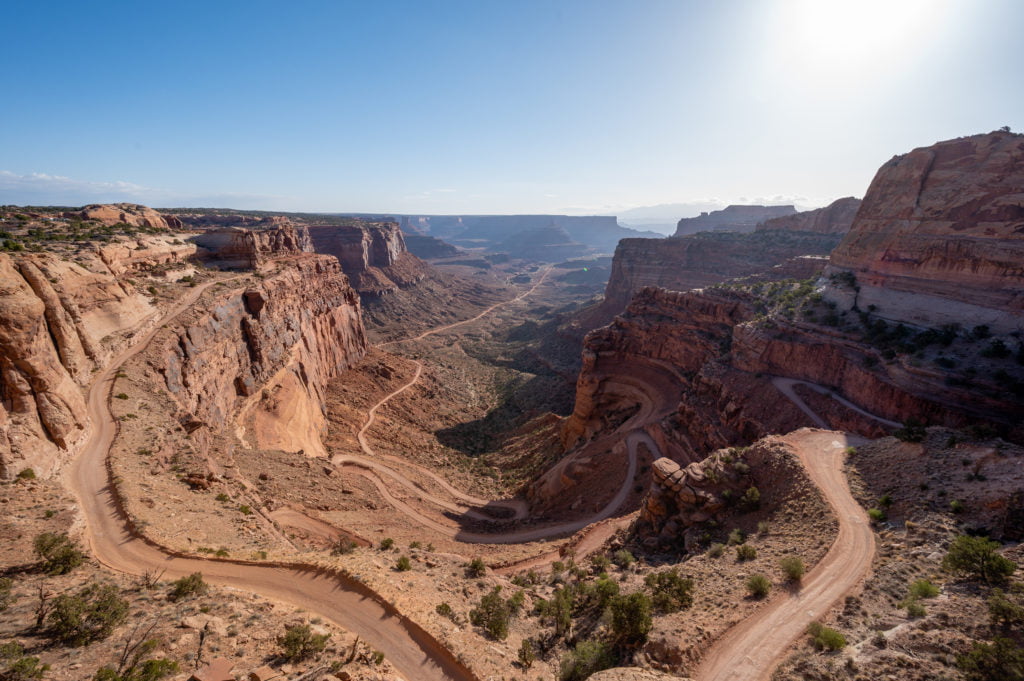 Final Thoughts Regarding Mesa Arch
I know getting up early is not fun for most of us, but Mesa Arch at sunrise really is an incredible experience.  For me, it wasn't just the gorgeous sunrise and observing the glow of the sun on the arch. It was the crowd of people experiencing it with me, the anticipation, and the hike in the dark.  I chatted with people from all over the country, Indiana, New York, Florida, and even a fellow Seattlite was two shoulders down from me.  It was a way to connect with fellow humans and with nature.  
It's also such an easy hike, and it provides gorgeous views that often are only found on hikes that take miles of uphill climbing to reach.  Again, if you can't make it there by sunrise, then I highly recommend you try coming as soon after sunrise as possible.  The lighting for the hour and even two hours after is beautiful!  
Even if you arrive at Canyonlands National Park later in the day and are unable to visit for sunrise, you'll still want to visit Mesa Arch. It is an interesting natural feature, and the overlook there offers spectacular views.
Have you visited Canyonlands National Park?  If so, I'd love to hear about your experience.  If not, I hope you'll add it to your travel bucket list.
Happy Exploring!