Below are five tips for driving in Portugal that I learned during my two-week road trip there. Renting a car in Portugal is not so different from renting a car in the U.S. However, there are a few things that are helpful to know before starting on your road trip in Portugal.
Things to Know Before Renting a Car in Portugal
First, let me go over a few useful things to know before you make your car rental reservation.
You need a

valid driver's license

to rent a car in Portugal.

Almost all rental cars in Portugal have manual transmissions. So make sure you know how to drive a stick shift before renting one.  Larger rental car companies will have a small selection of cars with automatic transmissions, but it will cost a lot more, and you need to reserve one well in advance if you hope to get one. In general, almost all cars in Europe use manual transmissions, and it's an excellent skill to learn!
Portugal has some of the highest rates of car accidents and allegedly some of the worst drivers in Europe. So, as a precaution, you want to get rental insurance. Typically this means getting CDW (collision damage waiver) insurance. You can pay for this directly with the car rental company, or you can check ahead of time with your credit card company to see if they already provide this and what you need to do to use their coverage. Whichever choice you make, it's good to understand what it covers and what it does not cover.
Most car rental companies in Portugal also charge a deposit to your credit card. You need to make sure that you have sufficient credit to cover this additional deposit. If you think this could be a problem for you, call and ask the company in advance for the rental deposit amount so you can make sure to have enough credit to cover it.
Tip: Reserve the smallest car that will accommodate your needs. Parking spaces are tight and roads are narrower so a smaller car is easier to maneuver when driving in Portugal.
5 Tips for Renting a Car and Driving In Portugal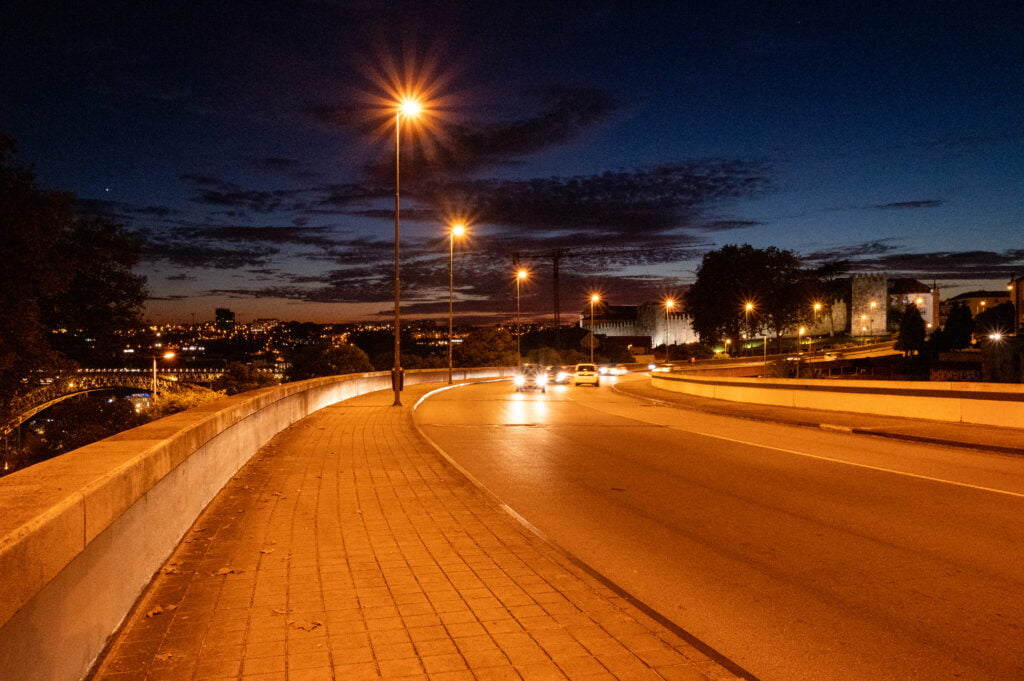 1) Renting a Car In Portugal
First off, you want to research a rental car company and determine where you want to pick it up. You can rent at the airport, which we did, and then drive it into the city, or you can take a taxi into the city, and rent a car there.
Our trip to Portugal had us flying into and out of Lisbon, so we rented our car from Lisbon's Humberto Delgado Airport.  In hindsight, I may have opted to get a rental in the city instead when we were ready to move on to our next destination.  It was stressful for my husband driving in a new country, in the dark, with a large five-lane roundabout and city traffic, to get to our first Airbnb in Lisbon.  
Before driving off, you need to walk around your rental car and mark any damage you see. At Avis, we were given the keys to our car on the ground level but then had to walk up one level to find our car.  We walked around the car and took photos of any damage we saw (the rental agent said the images would be our evidence should any dispute arise upon return), and we also wrote it down on the rental envelope they gave us. You do this on your own with no rental agent present.  
Before the trip, I read many reviews that said to be very thorough in your walk around and note everything. So we were a little paranoid when doing our inspection and probably worried more about small bumps and scratches than necessary. However, better safe than sorry, I guess. In the end, we didn't have any issues at check-in. The man who checked us in walked around the car once and then gave us our receipt.
Toll Roads: Deciding How to Pay
Make sure you understand your options regarding Portugal's toll roads and how you'll pay when driving there.
Option 1
Most rental companies give you the option of paying to "rent" a Via Verde device which allows you to use all Verde Lanes on any toll road without stopping.  You'll pay a fee to use this device in addition to any tolls you accumulate during your road trip in Portugal. We rented with Avis and paid $45 for the device, which we later discovered was for the rental of the device AND roadside assistance.  The rental for the device itself was around €16.
Option 2
You can choose not to rent a Via Verde device and instead go into a CTT (Portugal's post office) every 3-5 days to pay your accrued toll bill. You cannot use the Via Verde lanes with this option. The convenience of using any toll road and all Verde Express Lanes (no stopping) and not needing to find a CTT location every few days makes renting the electronic device worth it, in my opinion.
Option 3

 
I discovered this option after returning home to the U.S. However, if you plan to make repeated trips to Portugal, or you don't want to pay the extra fees to the rental car company, this option seems the simplest and cheapest option.  You can rent your own electronic toll device directly with Via Verde.  You pay only for the months you use it, and you can activate it for use on any subsequent trips to Portugal.  This is the option I will choose in the future.
My recommendation
I recommend Option 1 or Option 3 (however, as I mentioned, I have not yet tested option 3). You're on vacation. Do you really want to mess with finding a CTT/post office every few days? I don't think it's worth the time or money you'll spend finding one. 
With a Via Verde electronic device, you slow down to 60km as you pass through the designated toll lane.  All of the Via Verde passenger lanes we encountered were on the far left side of the toll checkpoint.  
I am still waiting to receive the toll charges from Avis. It's been almost a month since we returned, and we still have not been charged for this. I will update this post if I learn anything more or have a bad experience with this.

2) Research Portuguese Driving Laws
Read up on road signs, speed limits, and driving laws before your trip.  This will ease some of the stress of driving in a new country if you are somewhat familiar with the basics of their road rules.  
Driving in Portugal isn't that different from driving in the States, except for a few things I'll note below.  Another nice thing we discovered when driving in Portugal was how traffic-free the freeways are.  There is always some congestion surrounding large cities, but otherwise, we often felt like we had the highway to ourselves!
During my most recent visit, the freeway speeds were 75mph/120kph, although it appeared most traffic went around 140kph. Another critical thing to note is that Portugal highways have speed cameras scattered in different spots, typically near cities. If you use Google, it will make a "ding" noise and alert you about an upcoming traffic camera.
Many of their driving laws are the same as here in the U.S. Such as driving on the right side of the road, wearing your seat belt, only using hands-free mobile devices, and so on.  I'm not going to list all of them as you can research that on your own, but here are a few that stood out to me.
Dash cameras are illegal in Portugal, so leave them at home as they violate their privacy laws.

It's illegal to pass on the right.

It's illegal to cross a solid white line and don't even think about crossing a double one. If you need to make a turn there, don't do it; instead, go past it until you're able to turn around.
Also, this isn't a driving law, but something we noticed driving in Portugal. Almost all of their lines are white. In the U.S., we use yellow lines to distinguish a two-lane road with traffic going in both directions, and we use white lines for roads where the traffic is all going in the same direction.  In Portugal, almost all their lines are white, which means when you're in a city with one-way roads, it's hard to know if you're turning down a street with traffic coming at you or going in your direction, so pay attention to what other drivers are doing. 
Overall, we were able to get around without knowing what all their traffic signs meant. The speed limit signs and roundabout signs, parking signs, etc., were all easy enough to figure out. However, quite a few signs had me reaching for my phone more out of curiosity than anything else, but it is a good idea to review all the traffic signs before driving in Portugal. This article on their road signs includes an extensive list with photos of each street sign.
3) Driving in Portugal: Roundabouts
For any of you considering renting a car from the Lisbon airport, let me go over the one area that gave my husband a little trouble.  The roundabout.
Now, he's no stranger to roundabouts. In fact, he's driven in the Swindon's magic roundabout (watch the video to see how impressive this is), and of course, here in the States, we have a few small roundabouts scattered here and there.  Since we live on the West coast, they are still few and far between, but we still have them.  
Shortly after leaving the Lisbon airport, we came to a large roundabout with five lanes encompassing it.  Since we were new to the area and relying on Google Maps to navigate us, there was a slight delay in knowing which exit we would take. 
This, coupled with the fact that it was dark and the seemingly odd way cars were cutting across multiple lanes to exit, made for a very stressful first encounter to the Portuguese roundabout.  After we were on the highway, my husband said, "remind me to research the driving rules for roundabouts in Portugal."
After we checked into our Airbnb, he did his research and discovered that in Portugal, unless you are taking the first exit out of the roundabout, you are required to take one of the inner lanes, then cross through the other lanes of traffic to exit at a later exit.
It took a lot of practice on his part to learn how to use their roundabouts properly, but by the end of the trip, he maneuvered them like a pro, including the 5-lane roundabout at the airport.
To Fuel Up or Not to Fuel Up? That is the Question.
When you're at the car rental company, they will explain that you can pay them for a full tank of gas upon return of your rental, or you can fuel it up before returning.  
Our rental agent explained that they charge the same amount for fuel as you pay at the gas station. He also said that we didn't have to decide in advance but that if we wanted to return and pay them to fuel it up, it was best to return on empty. If the car still has half a tank when returning, it is better to fuel it up rather than pay for a full tank when it only needs a half tank.
Regular Fuel or Diesel
Make sure you know whether your car takes regular unleaded fuel (petrol) or diesel. You do not want to make the mistake of putting the wrong fuel in your engine. Your CDW will not cover that, and it will put a significant damper on your vacation. Typically, it will say what type of fuel the vehicle uses on the gas tank door or gas cap. 
Regular unleaded gas/petrol is referred to as "gasolina sem chumbo" or "gasolina sin plomo" and has an octane rating of 95 or 98.  We looked for the "95" on the fuel pump to ensure we used the recommended fuel type.  Diesel is called "gasoleo," and liquid propane gas (LPG) is called GPL or "gas liquido."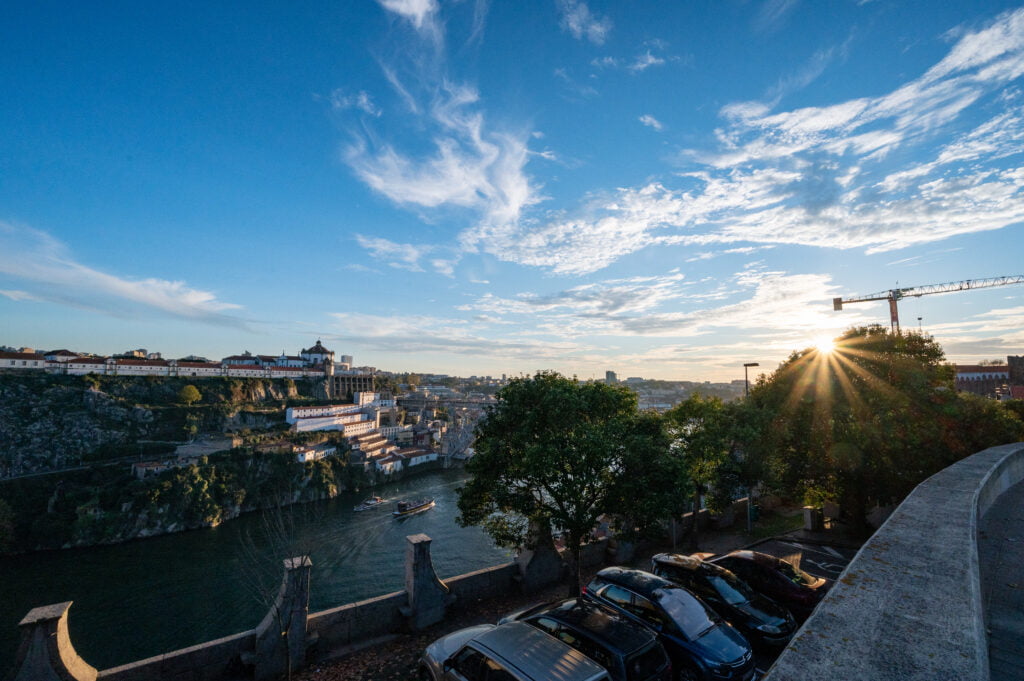 Make sure each of your accommodations has on-site parking before reserving a place to stay. Most reservations sites, such as Expedia.com or AirBnb.com, offer a sort feature that allows you to select only accommodations with parking.  Use this when researching where you'll stay.  
Tip: Uber is easy to use when you're staying in large metropolitan areas such as Porto and Lisbon. Dealing with traffic and trying to find a parking spot can make a vacation really stressful, so when staying in a city, consider leaving your car parked at your accommodations and instead walk, or take an Uber or a taxi.
I research well-located Airbnbs that allow me to walk to many of the main attractions, thus eliminating the need for a car. Sometimes, they may cost a little more, but in the end, they're worth it for the time and money I save on transiting to the sights and attractions.
Final Thoughts on Renting a Car in Portugal
Portugal has an excellent public transport system.  You can take trains from Lisbon to Porto and even Lisbon to the Algarve, but it is nice to have a car if you want to explore.  When you're visiting the Algarve region of Portugal, a vehicle is a must if you're going to drive to the different beaches along the coast.  
When you're in Porto or Lisbon, you can book day trips through tour groups, but then you're on their schedule, and you no longer have the flexibility of stopping when you want.  So, although you could spend two weeks without renting a car in Portugal, I think a rental car provides flexibility and allows for spontaneous side trips.
It is easy to navigate using Google Maps. I did bring a paper map with me but never needed to use it. Make sure to download Google offline maps for Portugal before leaving home. That way, even if you lose cell coverage, you can still navigate to your next destination.
And last, if you have a GSM phone that uses a SIM card, you can purchase a SIM card from the Vodafone store at the Humberto Delgado Airport.  They will help you install it and activate it so you can make sure it works before heading out.  This is so easy, and the card is good throughout Portugal.
Other Related Articles You Might Enjoy
Happy Travels!