If you're looking for an easy trail that offers a unique and spooky experience, then you need to hike the Snoqualmie Tunnel Trail.  The Snoqualmie Tunnel is 2.3 miles long (one way), and it is a part of the Iron Horse Trail, sometimes referred to as the John Wayne Pioneer Trail. 
Your journey is in almost total darkness the entire way, and this makes for a spooky adventure! As everyone walks into the dark tunnel, there are often whoops and hollers as people listen for an echo and begin experiencing walking in almost total darkness. 
There might be a few scary movie reenactments or tales of ghost stories, or better yet, others pretend they are walking into the Mines of Moria on an epic quest. The Snoqualmie Tunnel trail is suitable for all ages and can be done either on foot or a bicycle.
Interesting Facts About the Snoqualmie Tunnel
It's the longest tunnel open to non-motorized traffic in the U.S.
This same path was once used as a footpath by the Native Americans before it became a railway that ran from Seattle to Chicago.  Ironically, it is now, once again, a footpath.
The Snoqualmie Tunnel is a part of the John Wayne Trail that follows the old Milwaukee Railway line.  You could go from Seattle to Chicago in 45 hours!
Exploring the Snoqualmie Tunnel
One of the great things about the Snoqualmie Tunnel is that it is good on even the rainiest of days.  That's what first prompted me to hike this trail.  My brother was visiting, and we usually went hiking during his visits, but it happened to be one of the rainiest summers we'd had in a long time in the Seattle area.  
After researching some ideas for things to do in the rain, I found an article online that mentioned the Snoqualmie Tunnel.  Eureka! We packed our raincoats, headlamps, flashlights, water, and snacks and drove toward Snoqualmie Pass.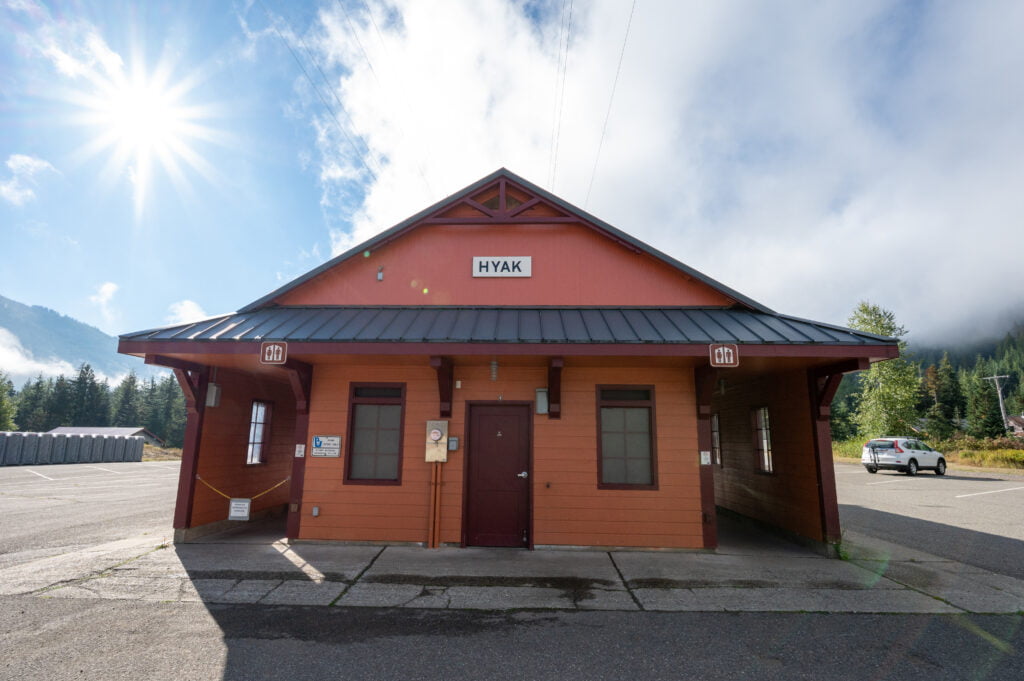 At the Trailhead Parking Area
There is a building with a "Hyak" sign in the parking lot with restrooms inside. There are also a couple of information boards regarding trails in the area and a parking fee dropbox in case you don't have a Discover Pass.
After grabbing our gear, we headed for the trail. The sign in the parking lot said it is 0.4 miles to the Snoqualmie Tunnel entrance. The wide gravel path is lined with blackberry bushes and trees, some of which were starting to show the fall colors.
Soon you arrive at the entrance to the Snoqualmie Tunnel.  The great tunnel doors tower above you as you look up and into the darkness. At this point, you want to make sure everyone has fully charged batteries in their flashlights and phones. Put on your headlamps and get out your flashlights as you step into the dark. Almost immediately, you will notice the coolness and dampness of the tunnel compared to the outside temperature. Enter if you dare.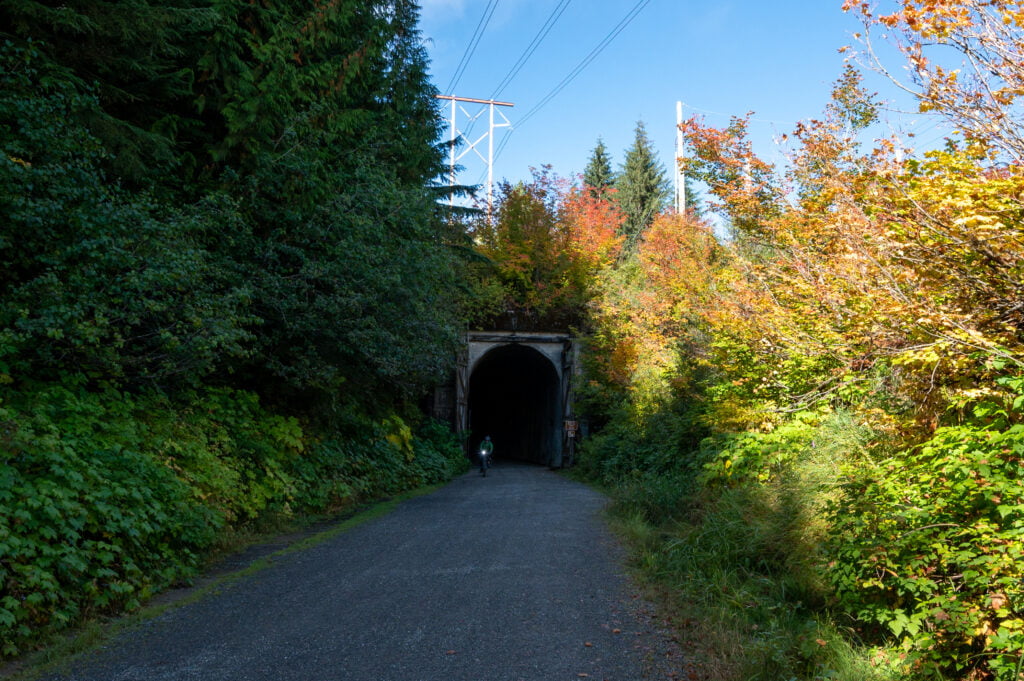 Walking Through the Snoqualmie Tunnel
After walking into the tunnel and getting further from the light at the entrance, we turned off our flashlights to fully experience what it's like to walk in total darkness.  It is an experience you won't forget! It is odd and feels a little disorienting.  Quickly we began having fun running in the dark and waving our lights around. We'd put them under our chins and make scary faces. We had so much fun hiding from each other and turning our lights off for this new experience of walking in the dark. 
I recommend you try this during your hike as it is a fun and strange experience.  However, I don't recommend it for long periods as other hikers and cyclists pass through the tunnel and need to see you.  You may even want to wear some reflective clothing or a backpack with reflectors to help cyclists coming through the tunnel see you in advance.
There are small alcoves and pipes, and the sound of dripping water is constantly heard.  Although the Snoqualmie Tunnel is only 2.3 miles one-way, it feels much further when you're walking in the dark with no views of the outside. There is a small bend halfway thru, and after that, you see a small light at the end of the tunnel.  It's okay, go toward the light!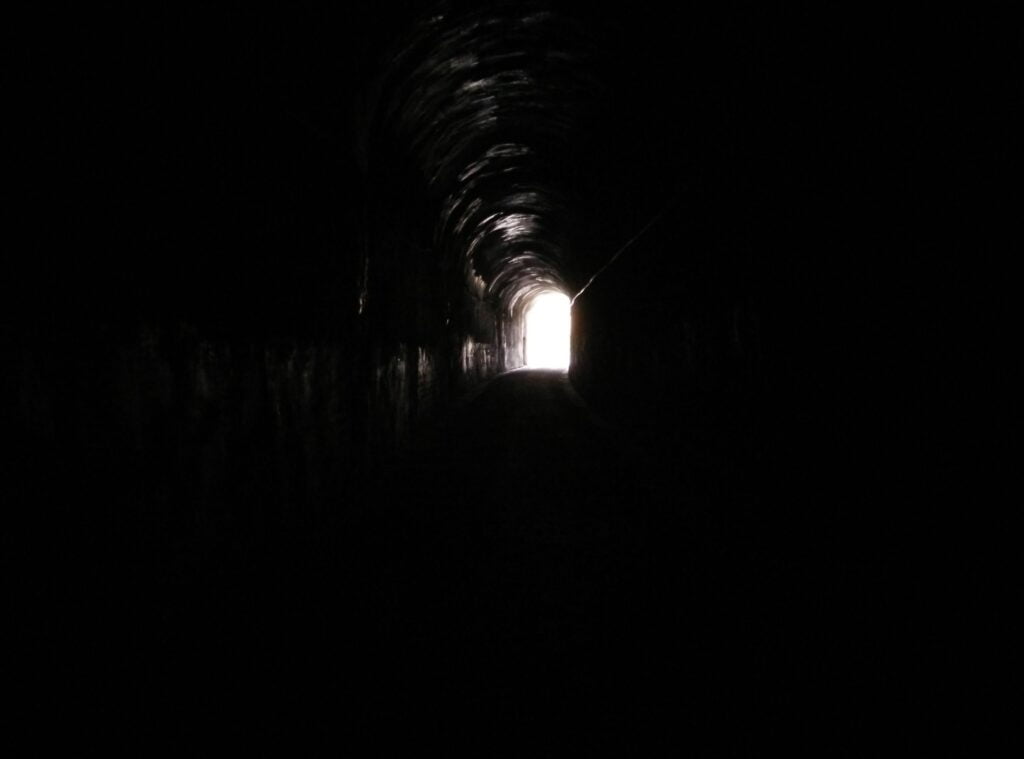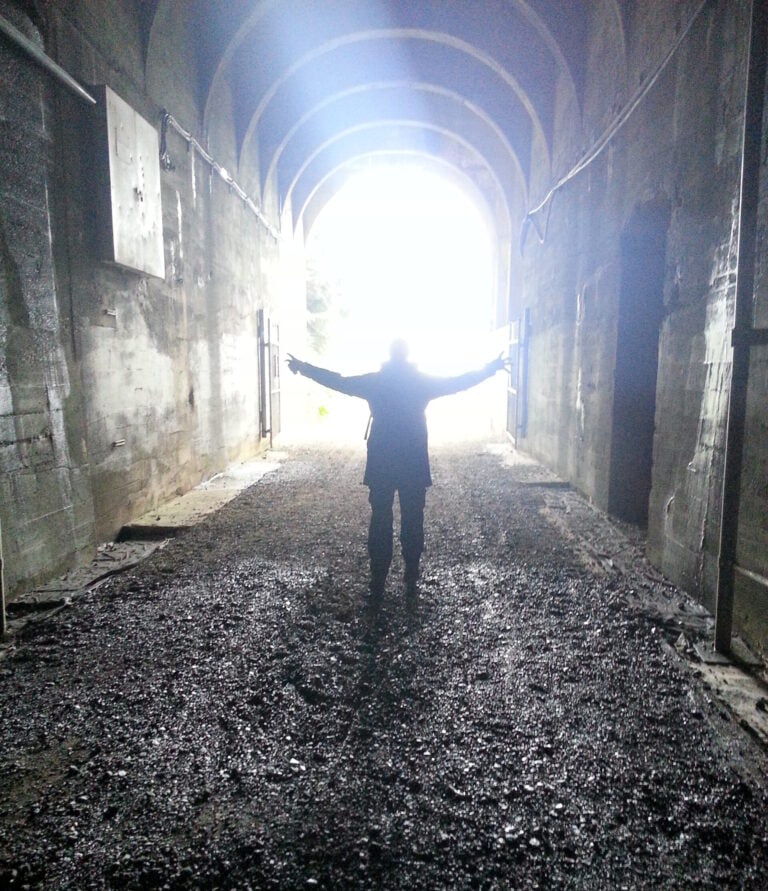 As you reach the end of the tunnel and come outside you'll see a picnic area with a tables a little further up the trail. This makes a good place to stop for a snack and talk about your experience with your group.  There is also a pit toilet here, but to be honest, I'd only use it if you absolutely have to. 
After enjoying a snack and a break, it's time to return to the darkness. The way back will seem even darker I think, but now you know what to expect.  Have fun and enjoy the experience!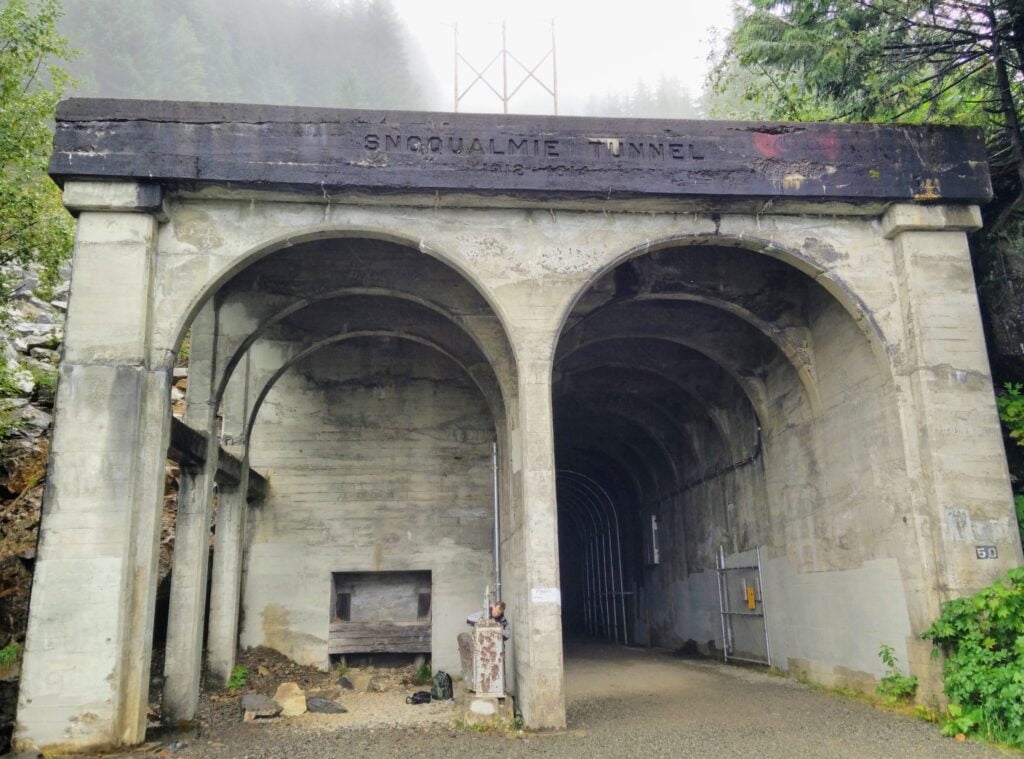 About the Snoqualmie Tunnel Trail
Trail Length: 5.4 miles (roundtrip from the parking area)
Trail Difficulty Rating: Easy (flat, gravel path)
Features: Walk or bike in darkness through a historic train tunnel that goes through the mountain. Listen to water dripping down, examine the tunnel walls and create your own adventure!
Entrance Fee: A Washington Discover Pass is required to park here or purchase a one-day parking pass for $10 in the main parking area for the trailhead.
Restrooms: There are restrooms at the trailhead parking area. There is also a pit toilet on the other side of the tunnel.
Open Hours: 8 a.m. to Dusk (May to November)
Different Names: The area is sometimes referred to by other names. Iron Horse State Park trail area, John Wayne Pioneer Trail, and the most recent name change to the Palouse to Cascades State Park Trail.
Who Is This Hike Good For?
It's a flat trail, so it is suitable for all ages and abilities. However, if you have anyone who is seriously afraid of the dark, it's best to leave them out on this hike. Except for the light from your flashlights, you are walking in darkness for over 2 miles. 
If you love spooky adventures and enjoy something a bit different, this will be one you enjoy!  This hike is not about the views, it's about the experience of walking in darkness through a mountain for over 2 miles.  It really is what you make it.
Headlamp
Flashlights (with spare batteries)
Jackets
Sweatshirt/layers
Gloves
Hat
Water
Snacks
Reflective gear
Discover Pass or cash for parking pass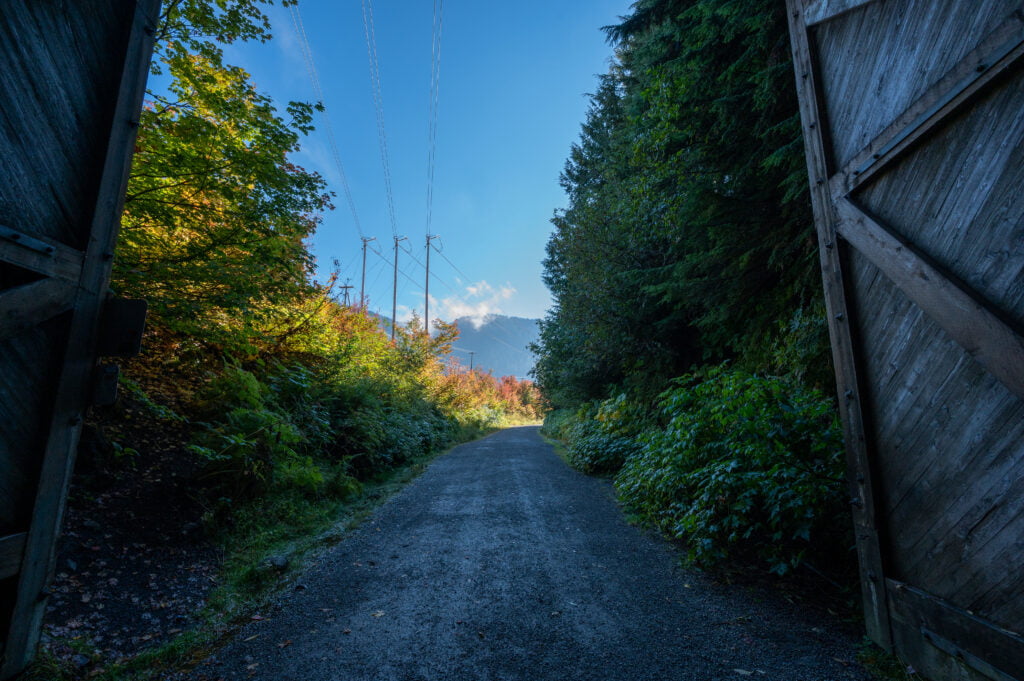 When is the Best Time to Go
Rain or Shine the Snoqualmie Tunnel makes a great adventure.  The trail is open May through October and closes for the winter. Due to the snow and ice the area receives, it is not safe during this season.
Since you are walking inside a tunnel in the dark, the weather outside won't matter all that much! I hiked this on a rainy day because it was raining, and I wanted to go for a hike without being in the rain.
I have friends that hiked this on a really hot day in the summer so they could go somewhere cool, and it is certainly cool inside the Snoqualmie Tunnel! It is chilly inside, and there is water dripping down, so no matter when you hike it, you'll want to bring a jacket, sweatshirt, or other layers and perhaps even gloves and hats depending on the time of year.  I've hiked this in early September, and I appreciated having gloves and a hooded jacket.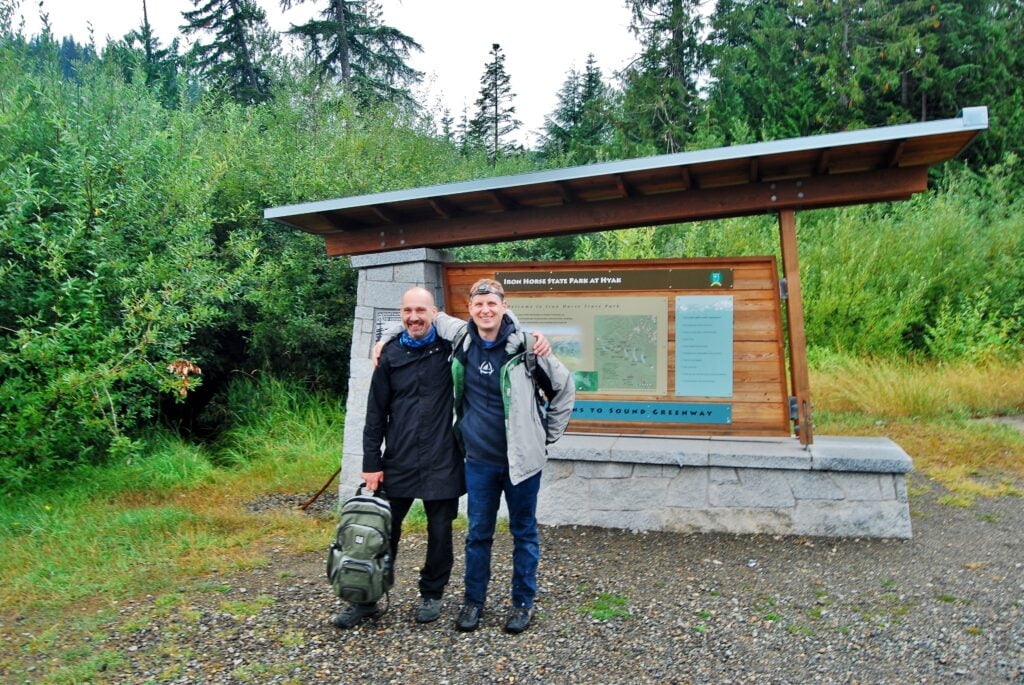 Getting to the Snoqualmie Tunnel Trailhead
From Seattle, take I-90 East toward Snoqualmie Pass. Take Exit 54 for WA-906 and Hyak. Make a right off the exit ramp, then take a left at the next stop sign onto WA-906. Drive about 0.4 miles before making a right onto NF-906.  Then take the first right into the parking area; you'll see signs for the State Park and Hyak.
Google Maps: Iron Horse State Park – Hyak Trailhead, Iron Horse Trail, Snoqualmie Pass, WA 98068
Final Thoughts & Tip for a Second Hike
Although this hike is not about the views, you will not soon forget this experience of walking through a mountain in the dark. After you finish your adventure, if you find you're still up for another hike, check out the scenic Gold Creek Pond Trail. It's an easy 1.2-mile loop that packs in stunning views! You'll find the trailhead on the other side of I-90 from the Snoqualmie Tunnel trail. Read my post, Gold Creek Pond: A Short Hike With Beautiful Views, for more information on getting there and what to expect.
Happy Adventures!
Travelffeine is reader-supported. If you purchase using links provided in this post, we may receive a small commission at no additional cost to you.