This 2-week road trip in Portugal outlines a route using three base locations from which to take day trips, thus minimizing the need to frequently change accommodations.  You need a rental car, and you will also want to make sure each of your accommodations has parking. Read 5 Tips for Renting a Car and Driving in Portugal to learn more tips for your road trip in Portugal. 
If you've never visited Portugal, it really should be at the top of your list. It is one of the sunniest destinations in Europe, and it has fantastic food, gorgeous scenery, and historic cities. There is something for everyone!
I planned this two-week road trip in Portugal with a minimal amount of accommodation changes. This trip was a vacation with my hubby, who prefers longer stays vs. 1-2 night stays before switching accommodations. It creates a more enjoyable experience when we're not checking in and out of AirBnbs or hotels every day or two.  
So with that in mind, I broke up our road trip in Portugal into three sections.  Using this method, I created three main bases from which we could then take day trips.
Three Base Locations in Portugal
Lisbon

Luz (the Algarve)

Porto
Using these cities as our base of operations, I created a list of activities, points of interest, and day trips we could take from each of these three locations. I listed all possible day trips I was interested in, knowing that we might not get to all of them. 
Additionally, I did not list out every possible attraction in each of the day trip locations. You need to research which options you're most interested in and plan your day trip around those.  You can see the main highlights in a full day or pick out a few favorites if you only want to spend a half day.
Below I list out the approximate one-way travel times from each city to the listed day trip options. Depending on what sites you want to see in each city will determine whether you'll want to spend a half-day or a full day at each. Some of the options are close enough to each other you can combine two or more for a full day trip experience.
Lisbon Day Trips
Batalha Monastery (2 hours from Lisbon)
Evora (1.5 hours from Lisbon)
Nazaré (2 hours from either Lisbon or Porto)
Óbidos (Castelo de Óbidos) (1.5 hours from Lisbon)
Sintra (1 hour from Lisbon)
Luz Day Trips
Lagos (15 minutes from Praia da Luz)
Benagil (35 minutes from Praia da Luz)
Carvoeiro (35 minutes from Praia da Luz)
Sagres (30 minutes from Praia da Luz)
Ria Formosa Nature Park (1 hour from Praia da Luz)
Porto Day Trips
Douro Valley (Pinhão) (2 hours from Porto)
Peneda-Geres National Park (2 hours from Porto)
Braga (1 hour from Porto)
Guemeres (1 hour from Porto) (30 min from Braga)
Coimbra (1.5 hours from Porto)
Aveiro/Costa Nova (1 hour from Porto)
Tip: Look for the large brown road signs with drawings on them, these are Portugal's tourist attraction signs.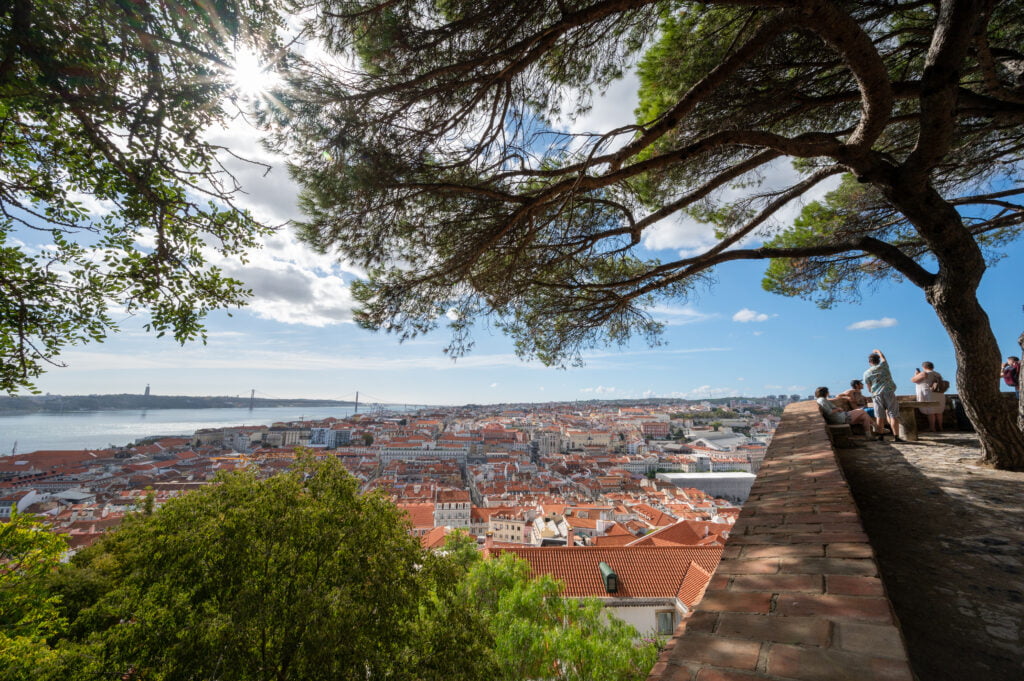 Our Road Trip in Portugal: Final Route & Experience
We had a connecting flight in London Heathrow before arriving at Lisbon's Humberto Delgado Airport. I planned ahead and made sure to have all the necessary entry documents and negative-test results.  
This is all uploaded before departure, but if you can, printing the documents out is helpful at check-in. 
Travel requirements are constantly changing, so make sure to look at the updated requirements before you travel. This includes requirements for traveling to a new destination and also for returning home.
Portugal is 8 hours ahead of Washington's Pacific Standard Time (PST). So I planned our initial arrival in Portugal to be a relaxing transition to the new time zone. We stayed in Lisbon three nights and enjoyed a leisurely pace of sleeping in, seeing the sights in Belém where our Airbnb was located, and then also spending a day exploring Lisbon on foot.
Belém
Jerónimos Monastery in Belém was one of the few places I visited on a previous trip to Lisbon that I knew I wanted to return to with my hubby.  He wanted the trip to include new experiences for both of us, but there were a couple of things I knew he had to see and do.  
One was visiting the Jerónimos Monastery, and the other was eating pastéis at Pasteis de Belém, then we walked to the Tower of Belém. The Tower of Belém was closed for renovations at the time of our visit, however sitting on the stairs in front and listening to the street musicians play while the waves rolled in made for wonderful travel memories.  Afterward, we visited the Museu Coleção Berardo, a modern art museum close to the Jerónimos Monastery.
Alfama
We took in the views at Castelo de São Jorge, walked around the Alfama neighborhood, and ate gelato pops at Popbar. When you visit this area, make sure to try their passionfruit (maracujá) bar, it is incredible! The woman explained that they make all their gelato and sorbet in-house, and the fruit bars are made of 80% real fruit!  No wonder it tasted like eating a fresh passionfruit–so good! 
Also, next door is Portugalidades, a store comprised of ceramics, artwork, and other handmade products, all sourced from artisans in Portugal.  If you want real made in Portugal gifts to bring home, this store is a great place to shop!
I visited Lisbon back in 2018 and took a day trip to Sintra on that trip.  If this is your first to Lisbon, Sintra makes a wonderful day trip option, although I'd only go if the weather is nice as it's mostly outdoor activities. 
Speaking of weather, we had beautiful weather our entire visit, and it wasn't until our last full day in Lisbon that we got some rain.  Thanks to my previous visit to Lisbon, I came prepared with ideas from an earlier article I wrote on How to Spend a Rainy Day in Lisbon.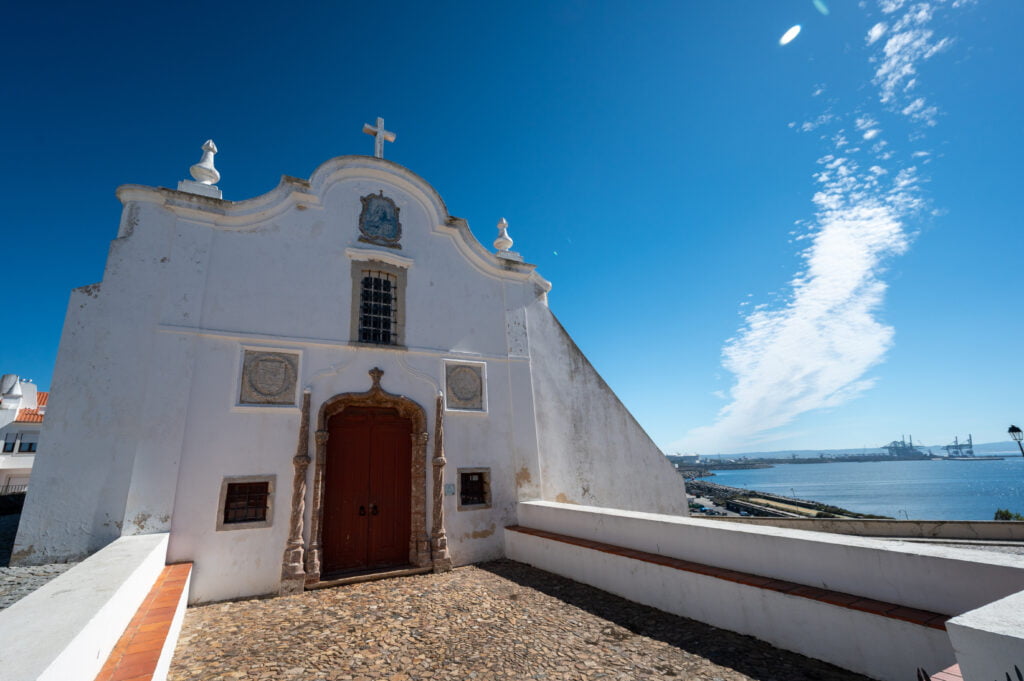 Driving from Lisbon to Luz (The Algarve Region)
We left Lisbon around 10:00 a.m. and headed for Luz in Portugal's Algarve region.  Along the way, we decided to jump off the freeway (E1) and take the slightly slower but more scenic route along highway A-26.  
Side Trip: Sines, Portugal
Around lunchtime, we stopped in the town of Sines and admired our first views of the Atlantic coastline.  Beautiful teal blue water sparkled in the sun.  
Sines is a beautiful old town! I would love to return here and spend a night or two strolling its streets and soaking in the ambiance of this laid-back fishing town. It is also the birthplace of Vasco da Gama. You'll find his statue near the Sines Castle overlooking the sea and the aptly named Vasco da Gama Beach.  The locals we met were so warm and welcoming.  
The architecture and colors of this town are appealing and picturesque. It felt like a real town as opposed to a tourist destination. It's worth a short stop on your way from Lisbon to the Algarve. 
If you're hungry, I recommend getting a bite at Restaurante Bar Ponto de Encontro. We stopped in here for lunch during our visit, and the owner could not have been friendlier. We sampled Portuguese goat cheese and ate fried choco (cuttlefish) while enjoying views of an ancient castle and a beautiful historic church.
With stomachs full, we left Sines and continued down the coast. We didn't make it far before pulling off at a roadside parking area to kick off our shoes and run down the beach.  We walked in the surf and watched surfers and sunbathers enjoying the warm glow of the afternoon sun.  
Now, with a proper amount of sand attached to our feet, we were once again ready to continue our journey to the town of Praia da Luz.  This is our base while visiting the Algarve region of Portugal.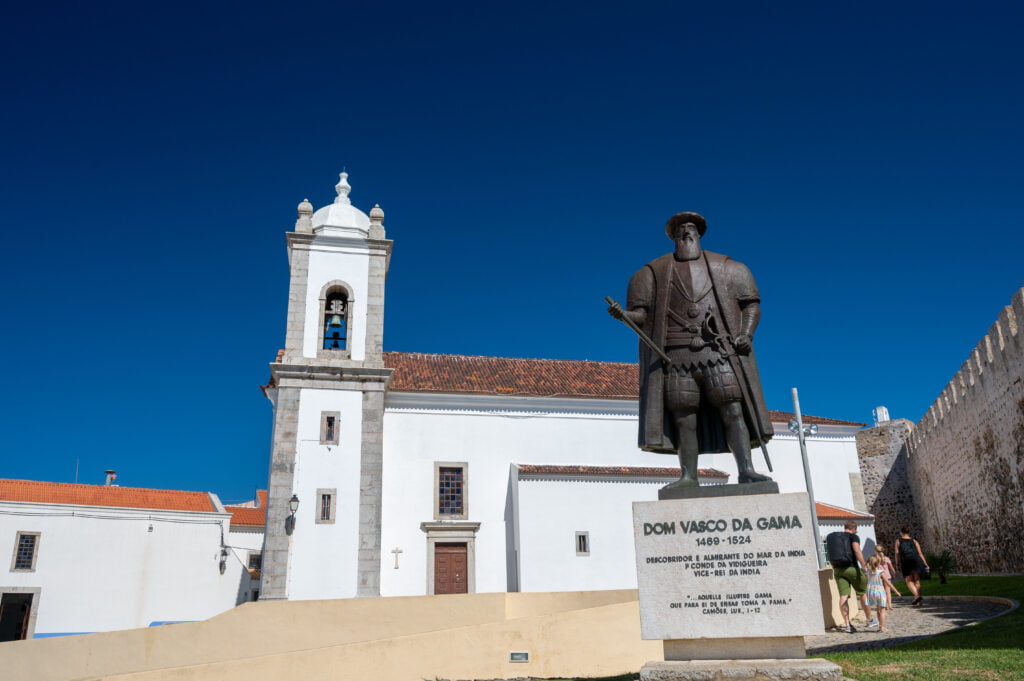 We arrived at our Airbnb around 5:30 p.m. We had a self-check-in which allowed us to take as much time as we wanted to arrive. I prefer this type of Airbnb as it is one less thing to worry about when traveling.  
Our Luz Airbnb was a charming two-story flat with a bedroom and bathroom on the first floor and the kitchen, living area, and balcony on the second floor.  
As soon as we saw the view from our "lanai" (that's what we like to call all of our vacation balconies in memory of our times in Maui), we fell in love with the place.  White buildings with red roofs and the Atlantic shimmering in the distance.  It is only a 5-minute walk from our apartment to the beach. What a beautiful base while exploring the Algarve!
TIP: Know your check-in times and plan your route based on this. If staying at an Airbnb consider choosing self-check-in locations for greater flexibility.
Algarve Day Trip: Sagres (The End of the World)
We visited Sagres the following morning and walked around the Sagres Fortress, admiring the views of the Atlantic below us. Sagres was considered "the end of the world" or the furthest point of exploration in ancient times.  Although we know better now, it is fun looking out across the ocean and seeing only water.
After leaving the Sagres Fortress, we drove 3 miles to Cape St Vincent, considered the southwesternmost point of Europe. The area around the Cabo de São Vicente Lighthouse includes a couple of small gift shops, restrooms, and a small cafe. 
Take in the views surrounding the lighthouse and imagine what it must be like on a stormy day with the waves crashing at the base of the lighthouse. It reminded me of our visit to Cape Disappointment and the pictures there of the massive waves that roll in during storm season.
Soon, we began to feel the full force of the sun and were ready to head someplace cool, so we drove back to Luz, where we had lunch, and then headed for the beach! It was a "refreshing" swim in the Atlantic. After you are completely submerged, it feels pretty good, plus you can lay out in the hot sun, and soon enough, you're toasty warm again. Now, this is a vacation!
The pattern of our days in Luz was to spend the mornings exploring other parts of the Algarve and then spend the evenings in Luz.  This filled my need to explore and my hubby's need for relaxation. When planning a trip with others, it's always good to create a mixture of activities to suit different travel styles.
Algarve Day Trip: Lagos & Praia do Camilo
We stopped in the town of Lagos, as I wanted to see what it was like. Many travelers to the Algarve choose to stay here, and I considered it before opting for our Airbnb in Luz. It is a much larger city with multiple beaches in the area.  Since we hadn't eaten breakfast, we headed to Coffee and Waves, a small cafe serving locally roasted coffee. It has a surfer vibe, and we enjoyed our delicious avocado toast and peanut butter toast with bananas.
After breakfast, we strolled through town until we ended up along the water.  It didn't take long to realize we were out again when the sun was its hottest.  Since our beach gear was back in the car, we made a beeline for the parking garage before heading to Praia do Camilo to get a little beach time and cool off a bit.
Praia do Camilo is a small beach that connects with another small beach through a tunnel.  You walk down a series of stairs (very common in the Algarve) to reach the first beach and then head left through the tunnel to access the adjoining beach.  We watched kayak tour groups as they explored the arches along the coastline and smiled as we watched the kids having fun digging in the sand.  Is it me, or does everyone seems happier at the beach?
If you want more to do in the area, drive a little further down the road to Ponta da Piedade to see more beautiful rock formations, caves, arches, and a small lighthouse. Ponta da Piedade is also a popular place to photograph the sunset. 
Algarve Day Trip: Benagil Caves & Carvoeiro
On our last full day in the Algarve, we rented stand-up paddleboards, and SUP'd to the Benagil Caves.  We had so much fun SUP'ing to the cave. We met a woman who once lived in West Seattle, and I think she was the first American we met on our road trip in Portugal. It's always fun to meet someone from your home area, and it reminds you how small the world really is. She gave us a few tips for things to see in Porto before she paddled back to Benagil beach.
After taking some photos and enjoying the beauty of the cave, we paddled back to Benagil beach to return our paddleboards.  The paddleboard rental is good for 90 minutes, which is plenty of time to see the cave and even explore a little of the area around it before returning. 
Before leaving Benagil, we walked to the far corner of the public parking area to find the trail that leads to a viewing area above the Benagil caves. The hike there was easy, and it provided beautiful views of the coastline and a unique bird's-eye view looking down into Benagil cave. 

"Praia" means "beach" in Portuguese, so whenever you see this on a map, you know there is a beach there.
Carvoeiro
Next, we drove to Carvoeiro to eat lunch and have more beach time. Carvoeiro is another town I considered staying at for our base while in the Algarve.  After visiting here, I want to spend a few days here on a future trip to the Algarve region.  
We ate tapas at Tapas da Vila, and everything we ate was delicious! You can't go wrong getting the oven-baked goat cheese with honey and the fried baby squid with garlic. So good! When I originally ordered them, I thought I'd get deep-fried, battered calamari rings like we find in the States. However, I got something far more delicious! I love finding new things I like while traveling. The owner and staff here were friendly and helpful; I highly recommend it!
After lunch, we walked across the street to Praia de Carvoeiro, where we joined other sunbathers and swimmers for more time in the sun.  After a couple of quick dips in the "refreshing" water and plenty of Vitamin D, we packed up our gear and headed to the nearest gelato stand.  I got the maracuja (passionfruit) because I'm hooked on passionfruit ever since trying it for the first time in Maui last year. I was so excited to discover that the Portuguese also love passionfruit, and soon I was buying maracuja sparkling water, gelato, sorbet pops, and well, anything I could find with "maracuja."
Our last day in the Algarve was our favorite, but alas, it was time to move on.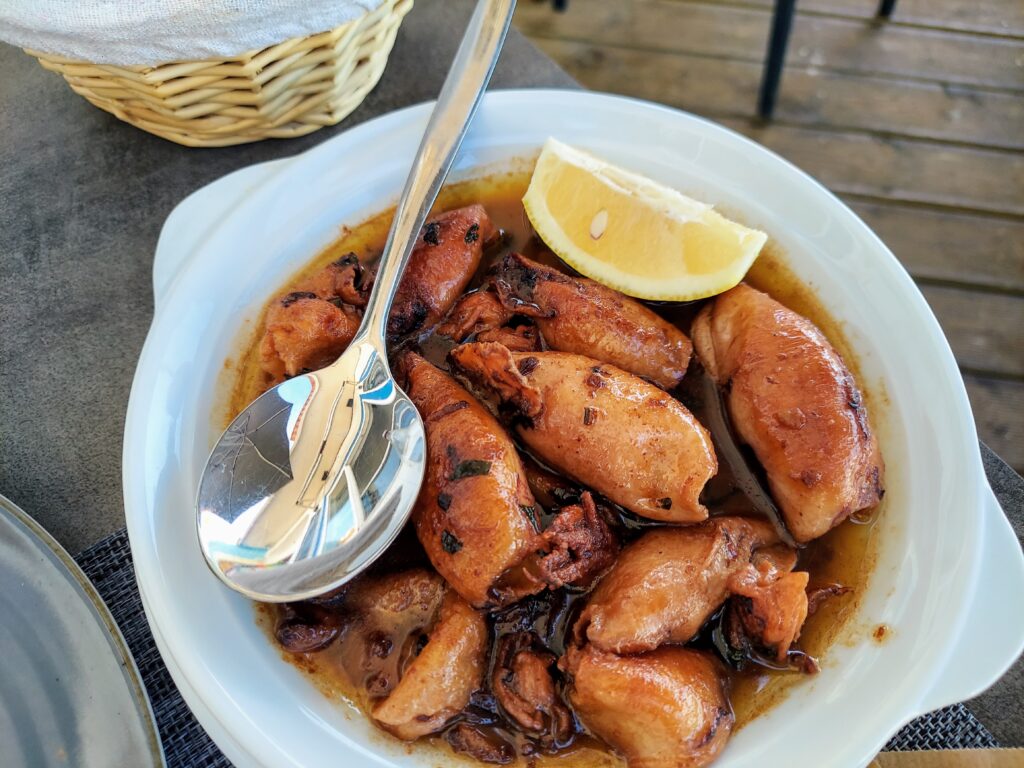 Driving from the Algarve Region to Porto
It takes about 5 hours to drive directly from Luz to Porto.  We had to meet our Airbnb host by 5 p.m., so we didn't have as much flexibility for our drive, but we left early enough to enjoy at least one stop.  Originally I planned for us to stop in Evora, but instead, we opted to stop in Nazaré on the way to Porto.  
A road trip in Portugal is not so different from a road trip in the States.  You have the flexibility to hop off the freeway and take the slow and scenic way if you prefer, but when you are on a time constraint, taking the highway in Portugal is a fantastic option! There is almost no traffic, and the speed limit is 120 kph/75mph. It can be a very efficient way to go while on a road trip in Portugal.
Side Trip: Nazaré, Portugal
There were no big waves in Nazaré during our visit, but we didn't expect any. It's too early in the season for the record-breaking waves, although it would have been so cool to see one!  One thing I didn't expect was for Nazaré to be so big and crowded. It was possibly the most stressed I'd seen my hubby during our whole road trip in Portugal. The streets were narrow, and there were pedestrians to watch out for everywhere in addition to bumper-to-bumper traffic!
We ended up driving toward the end of the Praia da Nazaré, where there was ample parking and, thankfully, a great sushi restaurant facing the beach where we could take a break from driving and eat before we both became hangry. If you stop in Nazaré, consider eating at Kabuki Sushi it was delicious!
Afterward, you can dip your toes in the sand and walk along the pier to Farol Nazaré Pontão Norte for a view of Nazaré, the venicular, and Forte de São Miguel Arcanjo. You get a neat perspective from this side view as you imagine the legendary waves that break against it during the winter months.
You can easily spend half a day to a full day exploring all the sites of Nazaré, but after our experience, I recommend you don't visit on a weekend if you can help it.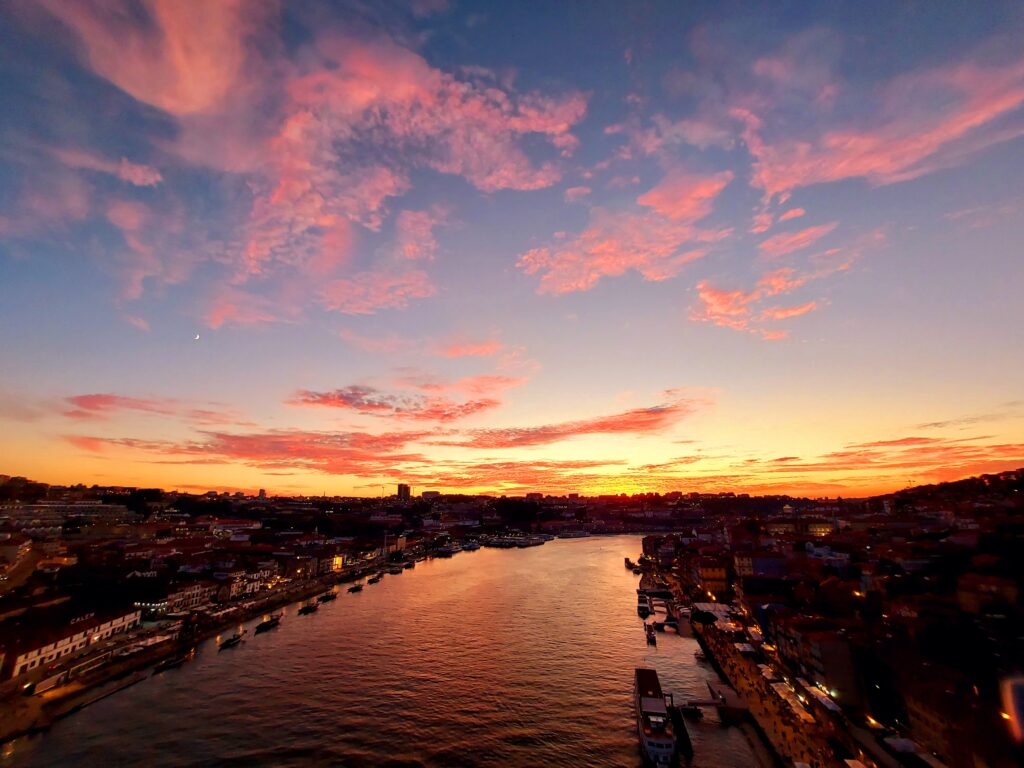 It was almost 6 p.m. by the time we checked in to our Porto AirBnb and after a long day spent in the car we were ready to explore on foot. So we walked to the Luis Bridge and joined hundreds of other pedestrians waiting expectantly for the sun to set. We heard Fado singers and sounds of music and laughter amid the hustle and bustle of the city.  I smiled as I listened to the heartbeat of this city.
Soon the sun began to dip below the horizon.  The gorgeous oranges turned to deep reds and purples reflecting off the Douro River below.  What a perfect way to spend our first night in Porto.
For two whole days, we walked around Porto and took in the sights and sounds of the city. We also took a short river cruise and tried our first bites of francesinha. Don't let its appearance fool you, this is one delicious sandwich! We spent the remaining time taking day trips and enjoying evenings in Porto.
Porto Day Trip: Peneda-Gerês National Park
We escaped the busy city and headed toward Portugal's only National Park, Peneda-Gerês National Park  (often referred to as Gerês). Peneda-Gerês National Park covers almost 270 sq miles and shares a border with a natural reserve in Spain.
Side Trip: Braga's Bom Jesus do Monte
We made one side trip on the way and stopped to see Braga's Bom Jesus do Monte. It was a beautiful sight to see early in the morning.  Morning runners were using the church staircase as their ultimate stair climbing machine.  Now that's a workout!  I think this church is worth a quick stop, even if you don't have time to explore the city of Braga.
Gerês
Shortly after entering Peneda-Gerês National Park, we had to stop our car to let a herd of goats pass on their way to graze.  They are so fun to watch!  About 15-minutes up the road from where we saw the goats, we also saw Portugal's long-horn cachena cows. They are free-range cows allowed to graze within the national park and produce excellent beef and milk.
The roads are narrow and winding in Peneda-Gerês National Park, and as mentioned, there are animals grazing alongside the road, so take it slow and enjoy the views. It felt like we had the park all to ourselves for most of the day!  Gerês really is a hidden gem in Portugal.
We hiked to the Arado waterfalls and also to the Miradouro das Rocas. Miradouro means viewpoint, so whenever you see that on a map, it means it's a viewing area, usually set high above with expansive views of the terrain below.  In this case, it is a rocky viewpoint you climb up to that provides sweeping 360º views of Peneda-Gerês National Park.
It was nice to spend a day in nature seeing more of Portugal's beauty.  I try to do at least one day hike whenever I'm traveling. It's great to see the natural beauty each area of the world offers, plus I find nature to be a great way to recharge.
Porto Day Trip: The Douro Valley
Another day trip we took from Porto was a road trip to the Douro Valley.  This day was one of my favorites during our road trip in Portugal.  It was so beautiful to see the terraced vineyards just beginning to show their fall colors.  The terraced landscape rose from the Douro River that wound its way through the valley.
The drive through the Douro Valley has many miradouros (viewpoints) along the way. Many of these include information boards describing the area's history and its beginnings.
We visited Quinta do Bomfim, a family-owned vineyard, and winery in Pinhão. We learned so much about what it took for the early farmers to carve out the terraced landscape and work the rocky land. There is so much more that goes into running a vineyard and making great port and wine than I ever realized!
We also ate an incredible meal at Casa dos Ecos by Pedro Lemos. The restaurant sits above the Quinta do Bomfim vineyard, and it was one of the best meals we had on our entire road trip in Portugal!
Driving from Porto to Lisbon
Two days of day trips and two full days spent in Porto, and now it is time to return to Lisbon for our final visit before flying home. Our road trip in Portugal has come full circle.  Since we can't check into our Airbnb before 5:00 p.m. and it only takes 3 hours to go from Porto to Lisbon, we decided to take another side trip.
Side Trip: Aveiro and Costa Nova
The beachside town of Costa Nova is too cute to pass up! I loved this little town with its colorfully painted houses that face the beach.  Palm trees line the promenade with a walking and cycling path that goes for miles along the waterfront. These houses, which are now primarily used as holiday getaways, were once fishing huts and storage shacks for the fisherman who lived here.  
Just a short drive away is the town of Aveiro, where you can walk through their salt mine and learn how seawater is collected and salt harvested here each year.  I found it to be an interesting side trip.  The town is also home to the University of Aveiro, and we saw college students out walking about getting lunch and going to class. I want to come back to this town and explore it more on a future trip.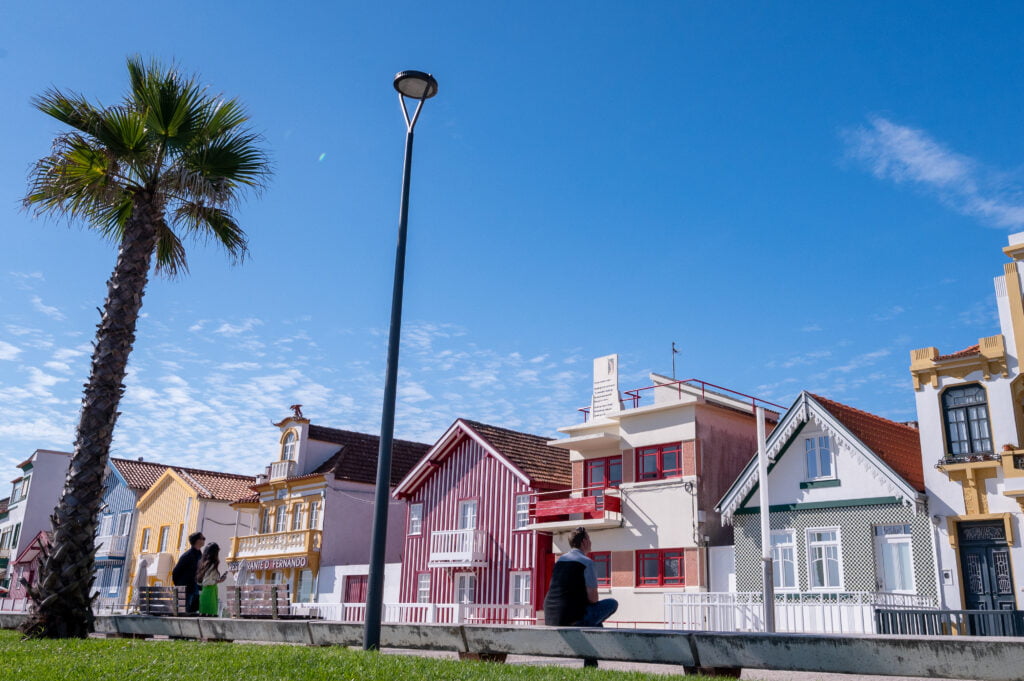 We're back in Lisbon, where we'll spend our remaining days at an Airbnb in the Graça district of Lisbon. We returned our rental car early since we plan on staying in Lisbon for the remainder of our time. We felt even better about this decision after the taxi ride to our Airbnb. The streets in the Graca area are narrow and crowded, and it would have been a stressful drive had we chosen to keep our rental car.
We love the rooftop balcony at our Graça Airbnb, and we spend the evening watching the sunset, enjoying good food and good company as we listen to the city and take it all in.
Graça is one of Lisbon's oldest suburbs, and it sits high on a hill with many incredible viewpoints for admiring Lisbon below. The following day, we visit the Miradouro da Senhora do Monte, an excellent viewpoint with sweeping views of Lisbon and Castelo de Sao Jorge to the far left (south). 
We explored Lisbon on foot, walking to Praça Dom Pedro IV, a popular plaza with fountains and restaurants and shops surrounding it, and wandered the streets, popping in and out of shops like this art supply store and just enjoying being out in the world again.
That's really what this trip is about for us. It is our first international trip in two years, and we are so grateful we could come. We stop at the Fábrica Coffee Roasters for a light lunch and coffee.  I recommend you stop here if you're ever in Lisbon.  They have a good selection of coffee, and the staff is incredible!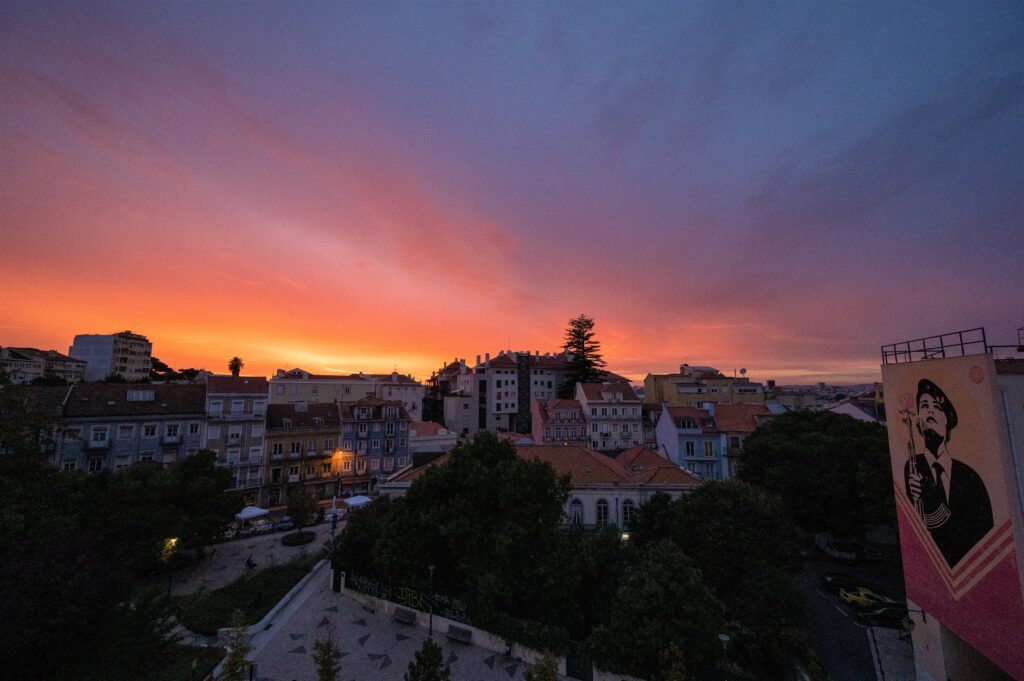 Closing Thoughts on a Road Trip in Portugal
With only two weeks, we didn't hit all the stops on my "day trips" list. I would love to have walked the ancient walls around Obidos and seen the church made out of bones in Evora, but I'll save that for another visit and instead focus on all I did get to see. 
You rarely get to "see it all." Chances are you'll want to return to Portugal after your first trip. Plus, did I mention they have a whole group of islands to explore? Yep, the Azores islands look like a tropical paradise; they are next on my list to see when I return to Portugal. As another trip ends, I savor the memories made and look forward to those yet to be created.
Boa Viagem!
Note: Travelffeine is reader-supported. This post contains affiliate links. When you make a purchase using one of these affiliate links, we get paid a small commission at no extra cost to you. And as always, all opinions are our own. Thank you!

More Articles That Might Interest You