Altruistic Joe isn't "just" another coffee company. They are a veteran-owned business that sells coffee with a cause.  You'll not only get a fantastic cup of coffee, but you can also feel good knowing your money went toward a worthy cause, other than the cause of delicious coffee, I mean.
Keep reading to learn more about the company and the coffee I tried, but let me skip to the point. Try Altruistic Joe coffee. It is fantastic coffee from a great company!
The Faces Behind Altruistic Joe Coffee
So just who is behind this coffee with a cause, you ask? Owners (and veterans) Libby & Jamie Jenks are the faces behind this veteran-owned coffee roasting company. They are passionate about their coffee and about giving back, and it shows in the quality of their coffee.
On the company's website, they define their goals as follows:
"Provide our customers the very best coffee available in the world, roasted fresh before it ships, sold at a competitive price."

"Maximize the positive global impact of each order by donating 20% of all net proceeds to a group of highly-rated charities, addressing a diverse set of needs."
Now, if that isn't coffee with a cause, I don't know what is! They explain that they choose the charities to support using strict guidelines to ensure the causes they support receive the maximum benefits. So they only partner with charities that receive a high rating of excellence.
They further define the causes they are most passionate about giving back to as:
Global Health & Human Services

Military Veteran & Family Services

Animal Welfare

Environmental Conservation
Where Do the Coffee Beans Come From
As you read in the company's goals above, you know that their priority is providing their customers with the best coffee available in the world.  That's a pretty tall order, but they do it by partnering with independent farmers from Ethiopia, Guatemala, Columbia, Sumatra, & El Salvador. That's some pretty great sources for excellent coffee beans!
Coffee With a Cause Delivered To Your Door
So how does it all work for you? Well, they take their premium sourced coffee beans and custom roast each order right before shipping it to you. That's right. You are getting the freshest possible coffee beans delivered to your door! Your mailbox never smelled so good! Now, you can sit back and drink your amazing cup of coffee and feel good knowing your purchase gives back to a veteran-owned small business and other charitable organizations.  That's a lot of bang for your cup! 
The Big Question: How Does it Taste
The company reached out to me to see if I'd try their coffee and potentially write a review if I liked it.  Well, as my readers know, I only give my honest opinion, and I won't write a review for a product that I don't like or wouldn't use myself.  So, I was excited to try a new coffee roaster, but at the same time, I wasn't sure what to expect.
The Sniff Test
First things first, I like to smell my coffee beans, and freshly roasted coffee is the best! So when I got my Altruistic Joe coffee in the mail and could smell it through the packing, I felt optimistic that this was going to be some great coffee. And it was.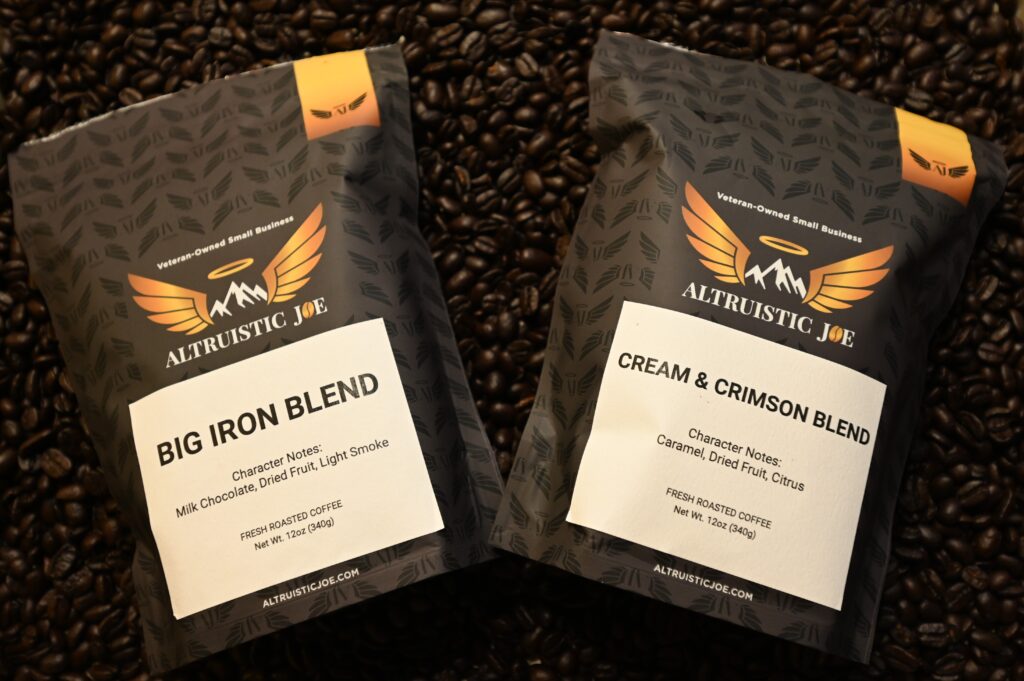 Altruistic Joe sent me two of their year-round favorites to try. The Big Iron Blend and the Cream and Crimson Blend.
Big Iron Blend
A medium-dark roast blend sourced from Guatemala and Sumatra. Its flavor profile includes "caramel and milk chocolate notes, citrus-like acidity, and a touch of smoke from our Smokehouse Dark Roast."
Cream & Crimson Blend
A light-medium roast sourced from Guatemala and Ethiopia. Part of what makes the Cream & Crimson Blend unique is it is a little different each time you try it. They describe it as their "floating blend." Saying although it comes from "the same geographical regions, each iteration is slightly different from the last." Its flavor profile has notes of caramel, dried fruit, and citrus.
The Taste Test
When I opened the 12 oz bag of Big Iron Blend, I knew if it tasted as good as it smelled, I would like this one. I brewed a pot for my husband and me in our drip coffee maker.  I like to try different brewing methods when tasting coffee, and the one tried-and-true method that almost everyone I know uses is the drip coffee maker. So it needs to taste good in that first to pass the test.
The Big Iron Blend did not disappoint! It is bold without being too bitter and has the caramel notes that I like in my coffee. I may not be able to describe each of the complexities with a particular coffee blend, but I do know good coffee when I taste it, and this is good coffee! If you like a bold coffee that hovers above a medium but not quite a dark roast, you will love the Big Iron Blend. It's full of flavor and is a great way to start your day!
Next, I tried the Cream & Crimson Blend, a light-medium roast, and I noticed more of its fruity and citrus notes. I liked the Cream and Crimson Blend because although it is a light-medium roast, it leans more toward the medium end, so it had a deeper richness that is often missing with a standard light roast. It also tastes great in my Aeropress!
If you've never tried a light roast and always stick with the medium or dark roasts, I highly recommend giving the Cream and Crimson Blend a try. I think it's a great starting point for the diehard dark roast fan looking to try a lighter roast.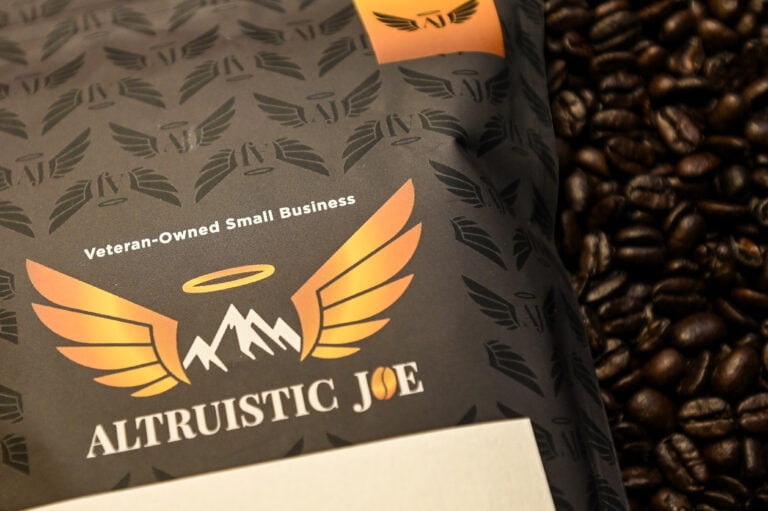 Freshly Roasted Right Before Shipping
I looked at the "roasted on" dates on both of the bags of coffee I received, and it was indeed roasted right before shipping! This is a key reason why this will be some of the best coffee you've ever tried.  For the coffee connoisseur, you know that freshly roasted coffee beans, as well as a fresh grind right before brewing, are two crucial components to brewing the most flavorful cup of coffee.
Other Coffee Options from Altruistic Joe
In addition to the two coffees I tried, they offer a selection of single-origin coffees. I love sampling single-origin coffee as they always have something unique to offer, the only downside is you only get to try them once, but that's part of the fun!
The other thing I appreciate about Altruistic Joe is the size options when ordering coffee.  You can choose either their 12-ounce bags, which I tried, or if you drink a lot of coffee in your household, they also offer 5lb bags! I love that they have that additional option, as you can go through a 12 oz bag pretty quick! They also offer bags of ground coffee for those that prefer it pre-ground.
Why Buy Altruistic Joe Coffee?
One, it tastes amazing! Two, you're supporting a veteran-owned small business, and if that weren't enough, your purchase is also giving back to other charities in need. It's coffee with a cause and coffee with great flavor. Win. Win.
Try it today, and you get 10% off your first order by subscribing to their newsletter or receive 10% all future orders when you sign up for their coffee subscription service.
Other Articles You Might Enjoy