If you're planning a trip to Florida,  consider adding St. Augustine to your travel itinerary. I found myself in Orlando with some extra time and decided to take a day trip to St. Augustine. I am so glad that I did!  There are so many things to do in St. Augustine that you could easily spend a few days here. However, with a day and some careful planning you can get a good feel for this historic city.
You will be delighted by its rich history and beautiful architecture and of course it doesn't hurt that it is located on one of Florida's beautiful coastlines!  In this post, I'll cover some of the top sights that you can see on a day trip to St. Augustine, and perhaps you'll find yourself returning for a night or two in this amazing city.

A Little Background on St. Augustine, Florida
St. Augustine is the oldest city in America.  How cool is that! The Spanish first settled St. Augustine in 1565, and you will notice the Spanish influence in the architecture of many of the buildings here.  St. Augustine has a unique story and history buffs will love learning about the chronology of events that led to Florida becoming an American territory. Pirates, wars, and oil tycoons all played a part in the story of St. Augustine. 
Even if you are not a big fan of history, you will undoubtedly be able to appreciate the beautiful buildings and unique setting. Plus, who doesn't want to visit the site of the Fountain of Youth? I mean, maybe, just maybe, your sip from the fountain will be "the sip." Don't you at least want to try?
Making the Most of your Day trip to St. Augustine
Start early. I recommend you arrive no later than 9:00 a.m. If you're like me and making the day trip to St. Augustine from Orlando, the drive takes a little over 2 hours one-way, if you're staying on the coast, say in Daytona, then your trip will be around 1 hour. I recommend grabbing a quick bite and a coffee for your drive and then planning another coffee break once you're in St Augustine. 
Getting Around St. Augustine, Florida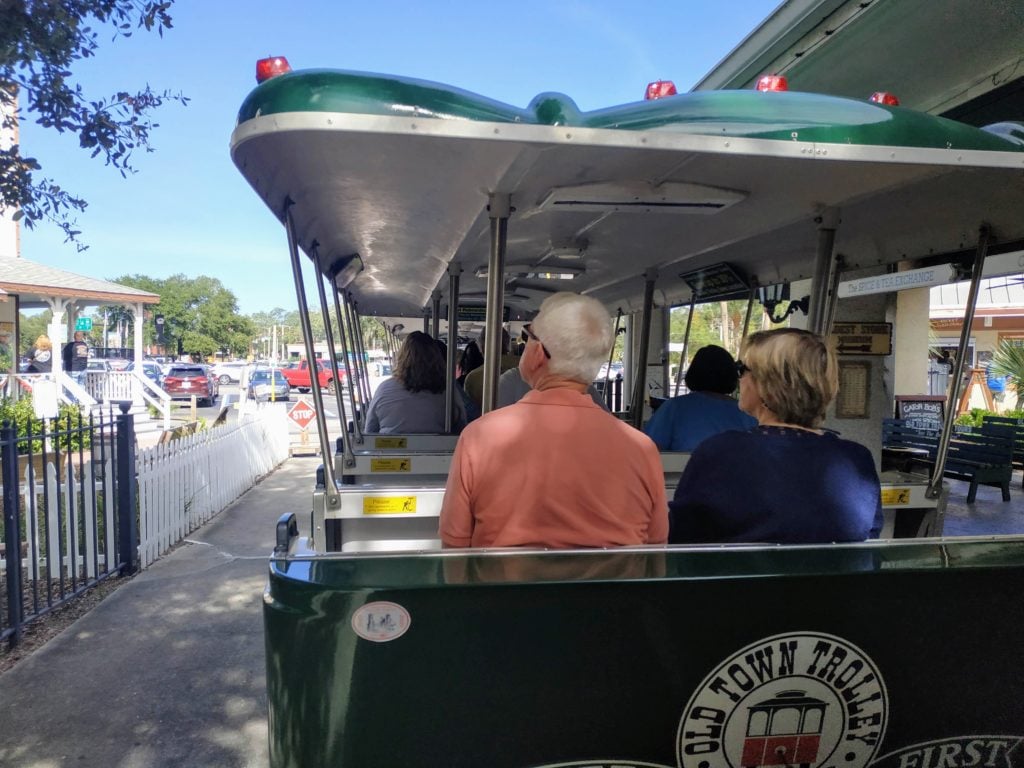 You have a couple of options for getting to the sights in St Augustine.  
Walk & Drive to the Sights: Park at the Visitor Center Parking Garage and walk to the various attractions. It is $15/vehicle for the day. The main attractions are about a 10-15 minute walk from the parking garage.  Please note that most places close at 5:00 p.m., so plan your sightseeing accordingly and make sure to pick up a free map at the Visitor's Center.
There are a few sights you will want to drive to, however they have their own free parking, so you won't need to pay for parking twice. In the post below, I will explain which ones those are, and how I recommend ordering your day trip to St. Augustine.

Take a Trolley Tour: Old Town Trolley Tours stops at 23 different stops along their route. Your ticket is good for the whole day.  Your legs get a rest, and you get some shade over your head on those hot sunny days. Plus, you get to hear about the history of the area as you ride from stop to stop. And of course, if you have any mobility issues that hinder your ability to walk for extended periods, this is the way to go.
Your budget will help determine which choice you take. If you purchase your ticket online (no printer required), the one day trolley ticket cost around $25. This is what I did. However, if I were in a group, I would choose the more budget-friendly parking option and walk.  As it was, I did a fair amount of walking anyway, as things were close, and I didn't always want to wait for the next trolley.
How to Organize Your Sightseeing​
With only one day, you will want to look at some of the options ahead of time and then structure your day in order of what is most important to you. Try to see the sights in order of what's most important to you to least important. That way, if you run out of time, you'll have at least seen your top picks.
Below I will highlight my choices for my day trip to St. Augustine. However, I will also list a few additional options should you have more time. You can click on the links below to jump to a section to learn more about that site.
What to Do on a Day Trip to St. Augustine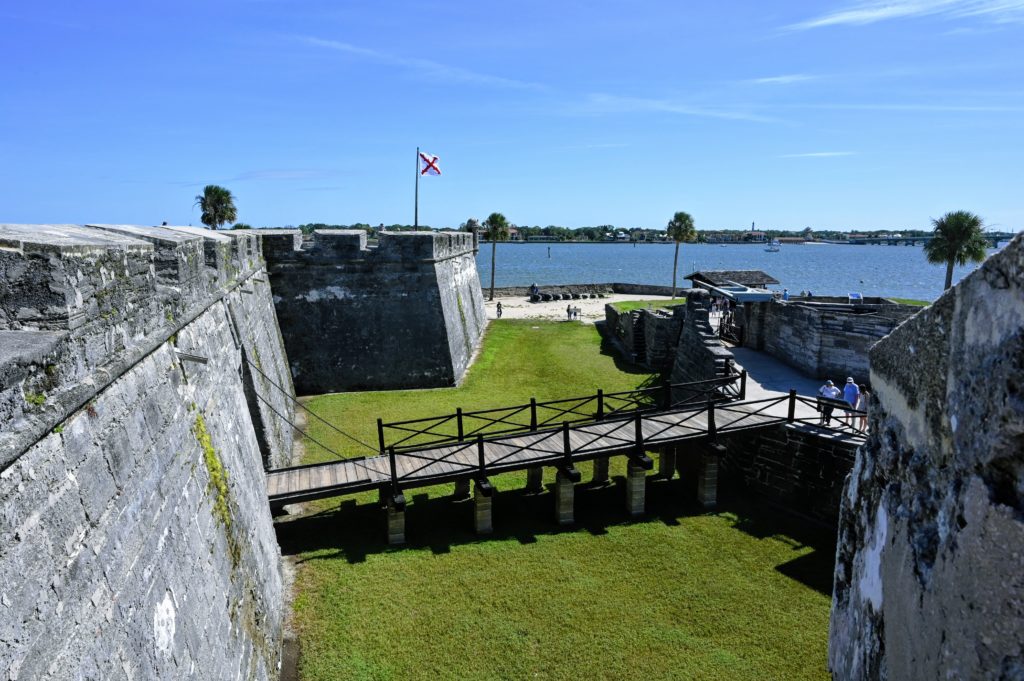 My first stop was Castillo de San Marcos.  It is just up the street from the Visitor Center and close to the Colonial district and St. George Street. I stopped at the Colonial Quarter across the street from the Castillo de San Marco for a coffee and a snack before walking over to Castillo de San Marcos. 
Construction on the Castillo de San Marcos began in 1672. Talk about history! History buffs will love learning about the fort's history through the centuries. It was a refuge, storehouse, military defense, and now a historic landmark. They also shoot real cannons on Fridays, Saturdays, and Sundays. 
Even if you are only mildly interested in history, it's worth a quick tour inside to learn more about this fort that has been here for over three centuries! However, if your budget is tight, or you have other sights you don't want to miss, you can always save this for later in the day and then decide if you have time. You can also take a walk around the outside and enjoy views of the water.
Time Spent Here: I spent less than an hour here, however for history buffs who want to watch the videos and participate in discussions with the park rangers, you might want to allow yourself two hours.
Colonial Quarter & St. George Street Pedestrian Area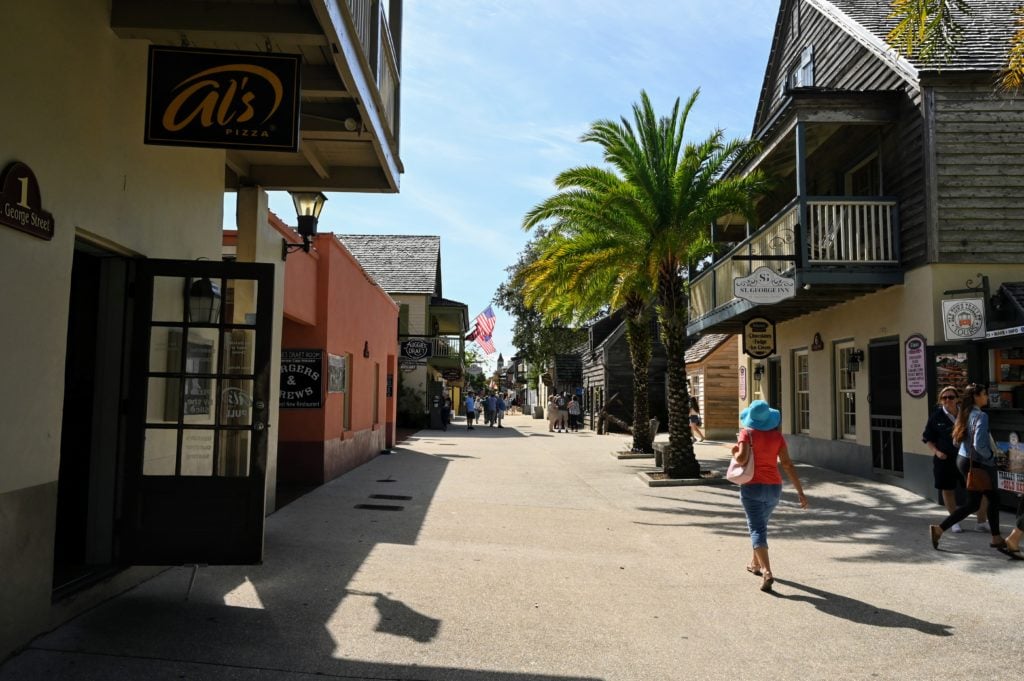 As I mentioned above, the Colonial Quarter is across the street from the Castillo de San Marcos. If you need a cold drink or an ice cream before you get started with more sightseeing, then pop in here. The Colonial Quarter is also the home to America's oldest schoolhouse. The pedestrian-only St. George Street walking area also begins here.  This stretch of road is a great area to shop for souvenirs or grab a bite to eat.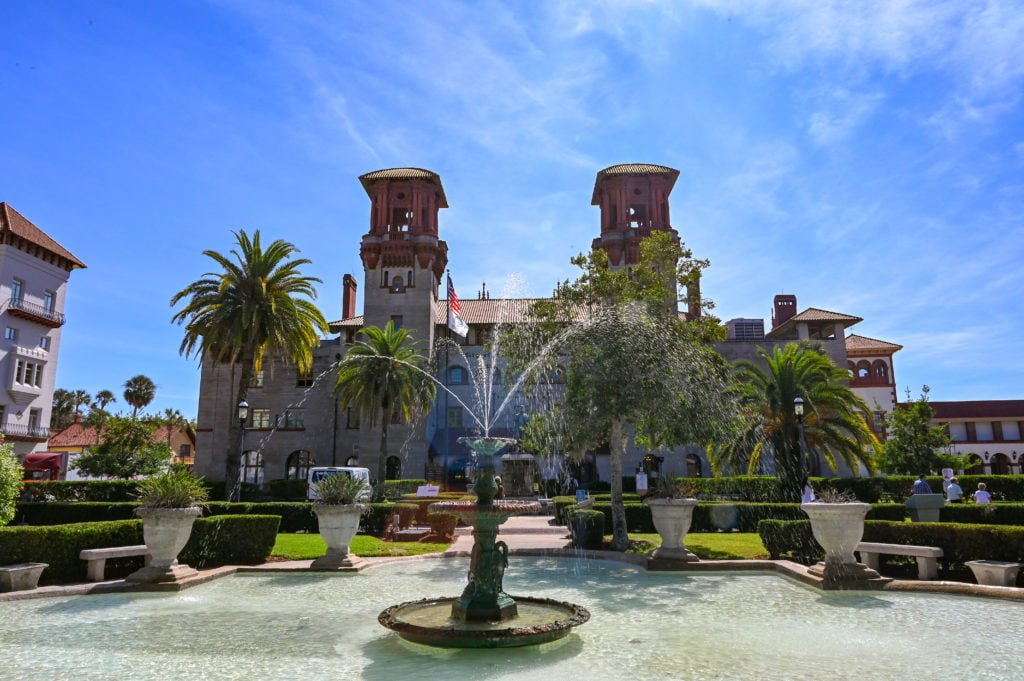 Spend any amount of time in St. Augustine, and you will see the influence of Henry Flagler on the city. Flagler was the co-founder of Standard Oil. He was extremely influential in the development of Florida's coast and also founded a railroad company. He was a man who saw what he wanted and had the means and the vision to make it a reality. Flagler visited St. Augustine, fell in love with the area, but determined it needed a hotel, and it needed a transportation system to get people there.  So, he built both.
The Alcazar Hotel, was one of Flagler's extravagant hotels that catered to the uber-rich. It is now home to the Lightner Museum. The Lightner Museum is a gorgeous building, and although it is a small museum, it is absolutely worth your time.  They have an eclectic collection of antiquities that makes for an interesting and unique visit. 
The Lightner Museum has a beautiful courtyard and three levels to the museum. My favorite floor was the first floor with its extensive collection of seashells and antique musical instruments. They offer daily antique mechanical music demonstrations at 11 a.m. and 2 p.m. The musical instruments date back to the late 1800s. 
In addition to the beautiful artifacts, Lightner Museum also houses one of the best spots for lunch in St. Augustine. Cafe Alcazar is a restaurant in what was once the swimming pool of the original Hotel Alcazar. Now how often can you tell someone that you dined in a swimming pool? They are only open for lunch between 11 a.m. and 3 p.m., so you'll want to plan accordingly.
Time Spent: Less than 1 hour.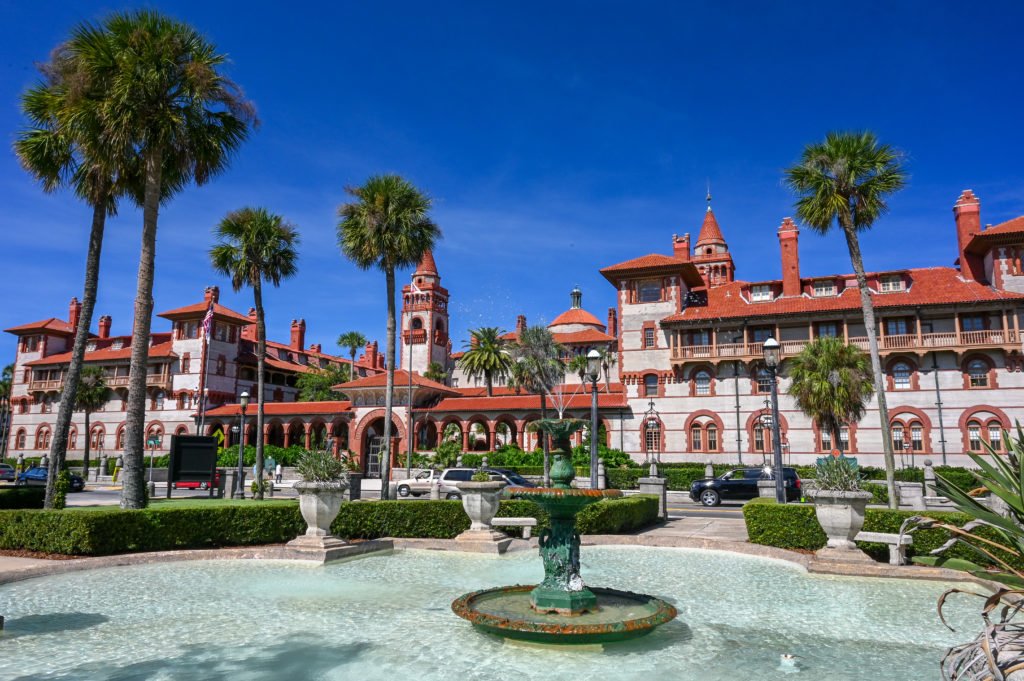 Flagler College, once the home of the Ponce de Leon Hotel, is across the street from the Lightner Museum. Completed in 1888, it was the first hotel that oil tycoon Henry Flagler built in St. Augustine, and it is a stunning piece of Spanish architecture.  Henry Flagler was a detailed man, and you can see the excellent care he took with every detail of this hotel. 
It is home to one of the largest collections of Tiffany glass still housed in their original location. Flagler had 79 stained glass windows installed in what is now the college dining hall, and those original 79 Tiffany glass windows are still there today. 
Flagler College Tour
You can take a 1-hour tour of the college. They provide a lot of fascinating history as to Henry Flagler and the Ponce de Leon Hotel. The tour takes you to the dining hall to view the collection of Tiffany stained glass windows, and you'll also explore the courtyard with its frog fountain that also doubles as a sundial. 
You will finish out the tour by viewing what was once the women's grand parlor. It is here you will see beautiful Austrian crystal chandeliers and a clock made from the largest piece of solid white onyx in the western hemisphere. 
Our guide was a college student who was very proud and knowledgeable about the history of her school. She offered fun historical information regarding the period in which the hotel operated. I found it quite comical to learn that women weren't allowed to stay in the same room while the men paid for their room, as seeing so much cash, might cause them to faint or become ill. So they were taken to a women's sitting room for their protection. How thoughtful.
Time Spent: 1 hour 30 minutes. The tour is 1 hour. However, I took a little extra time taking photographs and admiring its beauty. If you don't have the time or aren't that interested, you can skip the tour and pop inside the main hall entrance to take a look at the beautiful woodwork and stunning ceiling.
The Ponce de Leon's Fountain of Youth Archaeological Park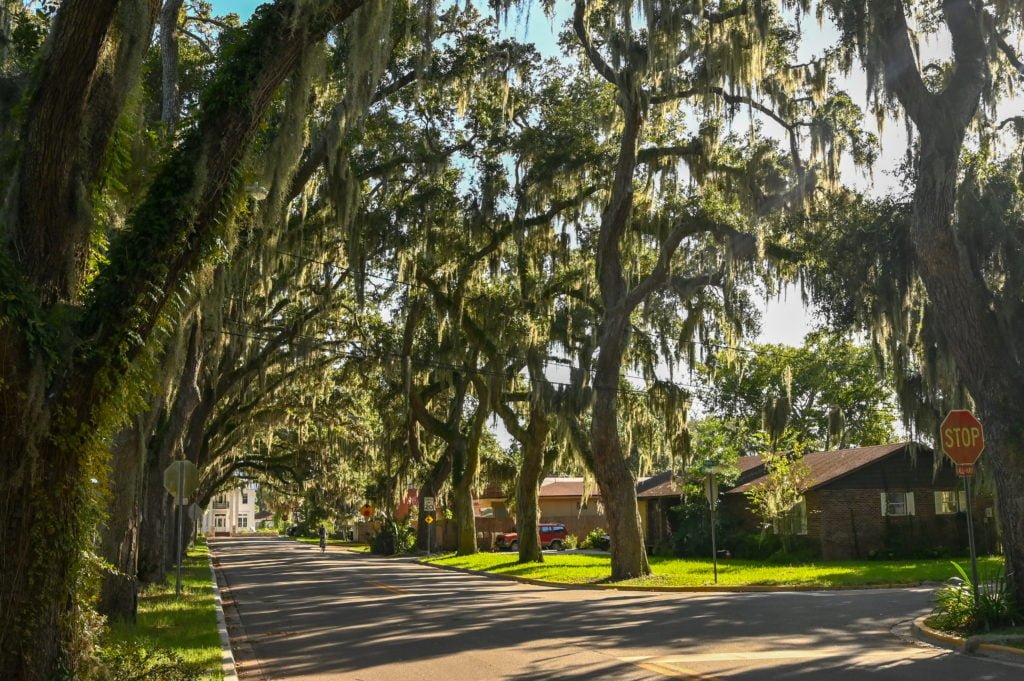 I did not get to tour this park or drink from the Fountain of Youth. Unfortunately, during my visit, their credit card machines were down, and since I rarely carry cash, I was out of luck! So I guess I will have to live out my mortal life like the rest of the human race. However, it wasn't all for nothing, as I was able to walk down Magnolia Avenue. Covering Magnolia Avenue is a live oak canopy draped in Spanish moss. Even if you don't plan to visit the Archaeological Park, take the 5-minute detour to drive down this beautiful stretch of road.
Time Spent: Less than 30 minutes. However, if you can tour the park, I'd estimate you'll need an hour or more, depending on your interest level. 
If you're walking to the various sites, make sure as you make your path towards Lightner Museum and Flagler College that you pass by the following two churches on your way. Henry Flagler constructed Grace United Methodist Church, and you will notice the similarities in its design and that of Flagler College. Visitors can typically stop in to tour it during the week from 1 p.m. to 3 p.m.  
Flagler Memorial Presbyterian Church is another church built by Henry Flagler. This one has a much different design than the Grace Methodist Church and was constructed as a memorial to his only daughter Jenny. They offer self-guided tours Monday through Saturday from 11 a.m. to 3:45 p.m. 
Even if you don't want to tour the interiors of the churches, they are worth a glance as you walk or ride by on the trolley. If I were to choose one to take the time to walk thru, I would select Flagler Memorial Presbyterian Church for its unique design and background.
St. Augustine Lighthouse & Maritime Museum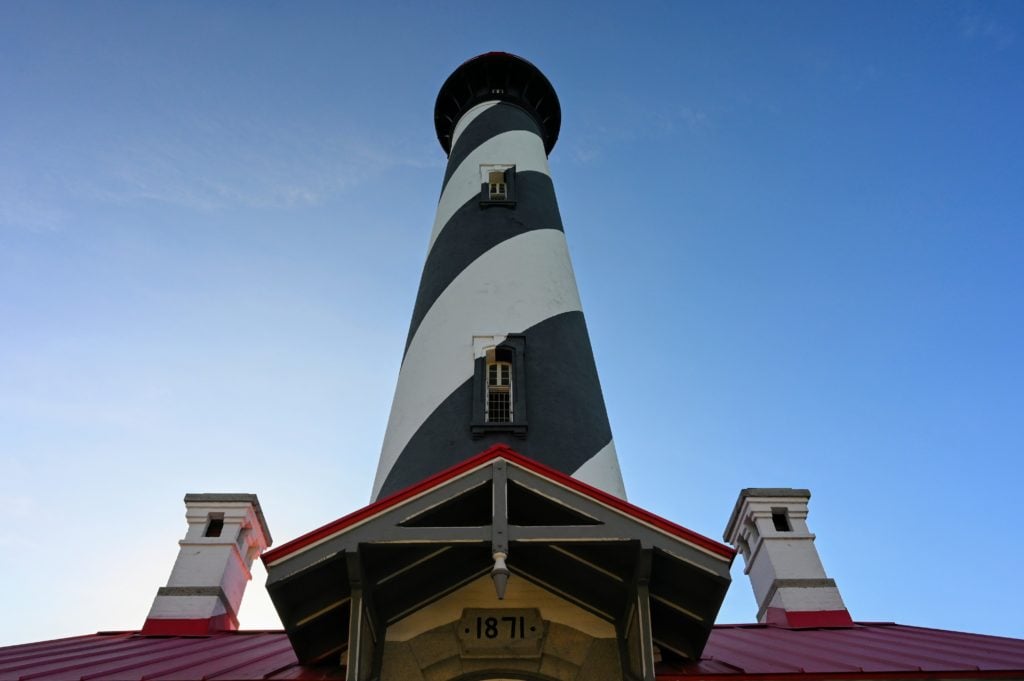 Here's another excellent museum option that families will enjoy. It is full of historical significance and beauty. I was fascinated to learn how close the German U-boats came up this coastline. In addition to highlighting the lighthouse's participation in WWII, they also have a wonderful exhibit on the US Coast Guard with beautiful paintings portraying the heroics of this vital branch of our military. 
I would have been happy to visit here for the ability to tour the lighthouse all on its own. However, this stop offers a lot more than just the lighthouse. It gives a glance into the lives of lighthouse keepers, history on the lens used to reflect the light, its use during WWII, exhibits on building wooden boats, and there is even a walking trail and garden area. I feel that it is worth your time, even with only a day trip to St. Augustine.
The volunteers at St. Augustine's Lighthouse and Maritime Museum are so helpful and full of knowledge regarding this lighthouse and the history surrounding it. Make sure to ask them any questions you might have. And to pass along a tip given to me by one of the workers here, if you want a beautiful sunset photo of the lighthouse, then drive across the street to the Marina and walk out along the long dock for views of the lighthouse.
Getting Here: This is one of the sites you will need to drive to. I saved it for last since it was outside the town area. It is about a 10-minute drive from town, and there is plenty of free parking at the museum.
Time Spent: Approximately 1 hour, including a stop at the marina across the street. 
Additional Sites if Time Allows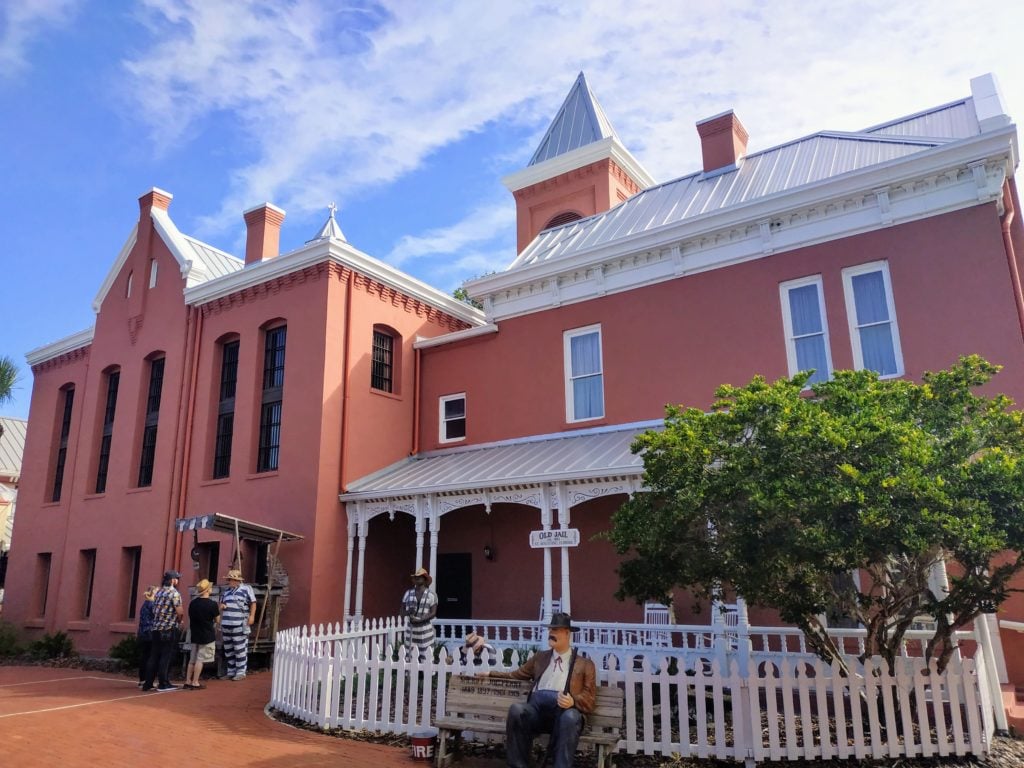 Old Jail: If you have extra time and want to visit the Old Jail, it is located just a few blocks from the Ponce de Leon's Fountain of Youth Archaeological Park. It is also the main headquarters for Old Town Trolley Tours. So if you use the trolley, you can always tour this if you have time at the end of your trolley ride through town. Some might consider it "cheesy"; however, if you have kids, they will enjoy this fun stop. 
Ximenez-Fatio House: This museum house is on the National Register of Historic Places. They have taken great care to preserve and display the home in a way that is true to its original period.  The tour takes around 30 minutes. If you can make the time, I highly recommend it!
Fort Matanzas National Monument: Okay, this one isn't actually in St. Augustine. Depending on where you're coming from on your day trip to St. Augustine, you might pass right by it. This option is excellent for a couple of reasons. One, if your budget is tight, you could visit this historic fort, which is free to enter and skip Castillo de San Marcos. Second. Second, they have boat tours to the fort as well as a beautiful boardwalk along the waterfront. 
As I write this, the boat ramp and boardwalk are closed due to recent storms. So check their website ahead of time and make your own decision on whether you want to stop or not. If it is already along your route, and you have the time to spare, then you may want to pop in since it's free.
Where to Eat in St. Augustine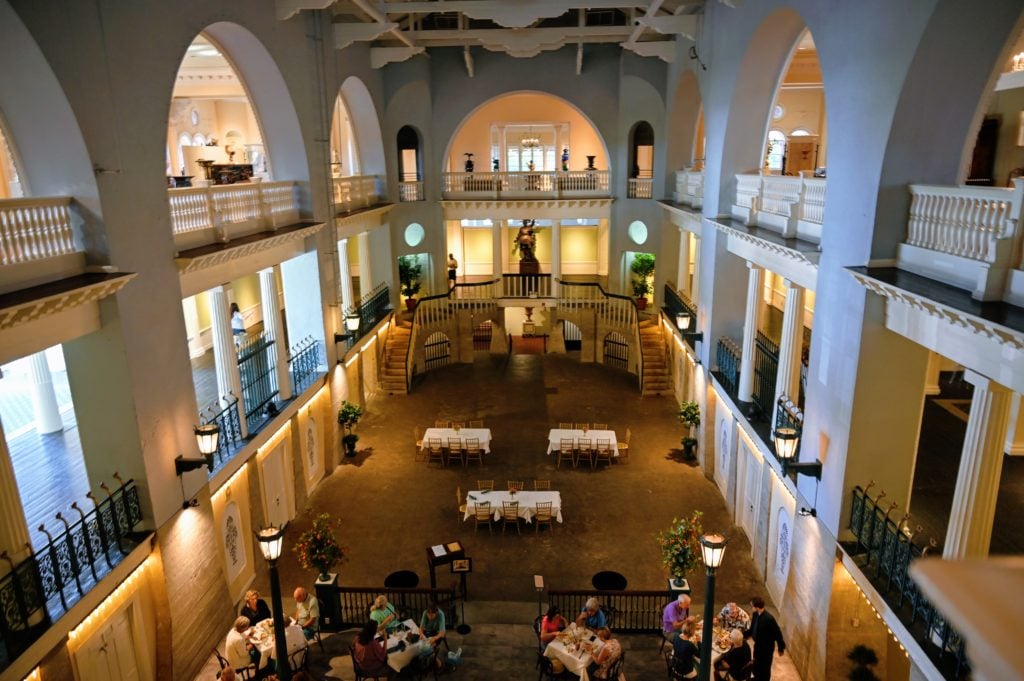 Coffee Breaks:
St. Augustine Coffeehouse
6 St George St #107, St. Augustine, FL 32084
City Perks Coffee Co.
15 St George St, St. Augustine, FL 32084
The Kookaburra
24 Cathedral Pl, St. Augustine, FL 32084
Ice Cream Breaks:
Mayday Ice Cream Historic St. Augustine
100 St George St Suite J, St. Augustine, FL 32084
Cousteau's Waffle and Milkshake Bar
15 Hypolita St, St. Augustine, FL 32084
Kilwin's Chocolates
140 St George St, St. Augustine, FL 32084
Lunch:
Cafe Alcazar
25 Granada St, St. Augustine, FL 32084
Pizza Time (quick budget option)
124 St George St, St. Augustine, FL 32084
Dinner:
The Floridian Restaurant
72 Spanish St #3638, St. Augustine, FL 32084
MOJO Old City BBQ
5 Cordova St, St. Augustine, FL 32084
Arrive and park at the Historic Visitor Parking Garage by 8:30 a.m. Stop in at the Visitor Information Center located at the front of the parking garage near San Marco Avenue and get your free visitor's map.
Walk to the Colonial Quarter and get a coffee and a snack to go. St. Augustine Coffeehouse or City Perks Coffee make excellent choices close by.
Go across the street to Castillo de San Marcos, which opens at 8:45 a.m. Spend 45 minutes walking around the fort.
Head to Flagler College and take the 10 a.m. tour. Walk by the Grace United Methodist Church and the Memorial Presbyterian Church on your way.
After the tour, walk across the street to the Lightner Museum and try to catch the 11 a.m. antique musical demonstrations. Then tour the rest of the museum before getting lunch at Cafe Alcazar on the basement level of the Lightner Museum.
After lunch, make your way to the Ximenez-Fatio House Museum to catch the next 30-minute tour, they begin every half hour.
After the tour, head to St. George Street and walk down it on your way to the parking garage. Take time to shop for souvenirs and certainly make time for ice cream!
It should be somewhere around 3:00 p.m., depending on how long you've taken at each stop. So get your car and head over to the Ponce de Leon's Fountain of Youth Archaeological Park to learn about the early beginnings of St. Augustine.
Leave the park with plenty of time to make the 15-minute drive to the Maritime Museum and arrive no later than 5:00 as the park closes at 6:00 p.m.
Head back to town and have dinner before leaving town.
Final Thoughts Regarding a Day Trip to St. Augustine
As you can see there is a lot to cover in this remarkable city. You cannot see it all with only one day. There are just too many things to do in St. Augustine to fit them all in. So pick your top choices and enjoy the day. Whatever you miss, is just one more reason to come back.
Happy Travels!