One day in Miami is certainly not enough time to explore this lush and vibrant city. There are so many things to do in Miami, pick a few interests, and plan your day around those. Then make time for relaxing at the beach or people watching off the boardwalk. If you try to pack in too much sightseeing and then completely miss time at the beach, did you even visit Miami at all?  I'll do my best to give you tips on things to do as well as make room for beach time in this one-day itinerary for Miami. So let's get started!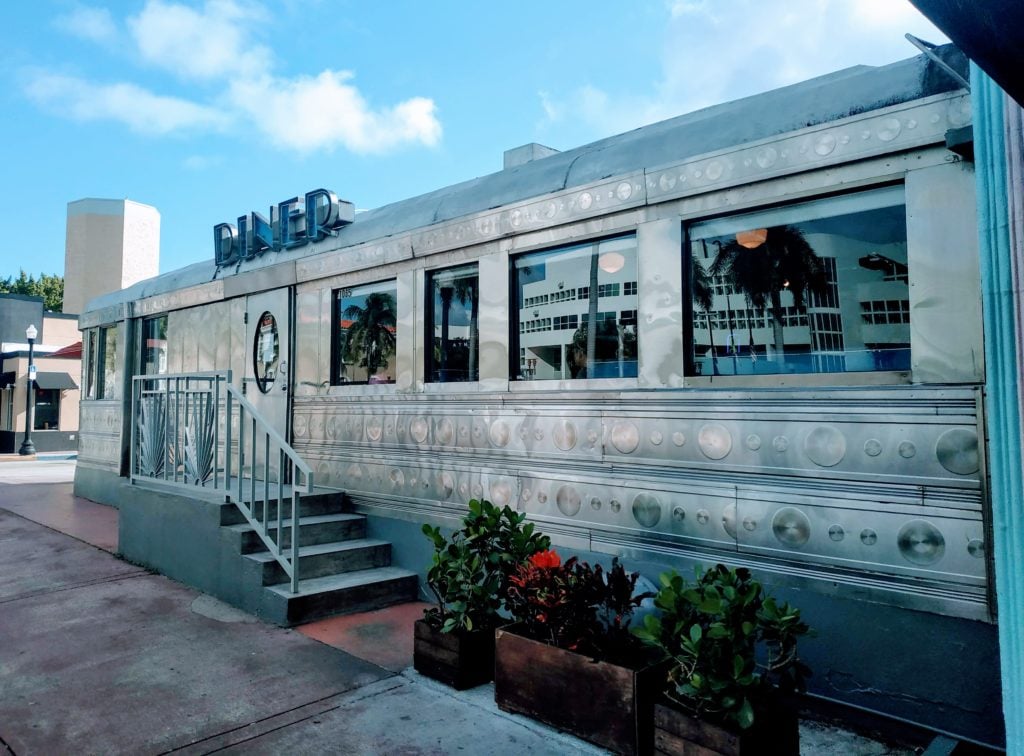 Don't skip breakfast this morning as you want to be fueled up for a full day of fun! Make sure to pack your swim clothes, beach towels, flip flops, sunglasses, and sunscreen before heading out. Then grab some breakfast. I recommend breakfast at the 11th Street Diner in Miami Beach.  This retro-styled railroad car diner is a fun way to kick off your day of sightseeing in Miami.  
My second choice would be to grab breakfast at the 24 hour News Cafe, a diner that sits across the street from Lummus Park. Enjoy views of the boardwalk and the swaying of palm trees while you enjoy your breakfast.  There is indoor and outdoor seating available.
Breakfast:
Now that you've had some coffee and breakfast, you are ready to start this full day of sightseeing and soaking in the hot Miami sun!
Things to Do with One Day in Miami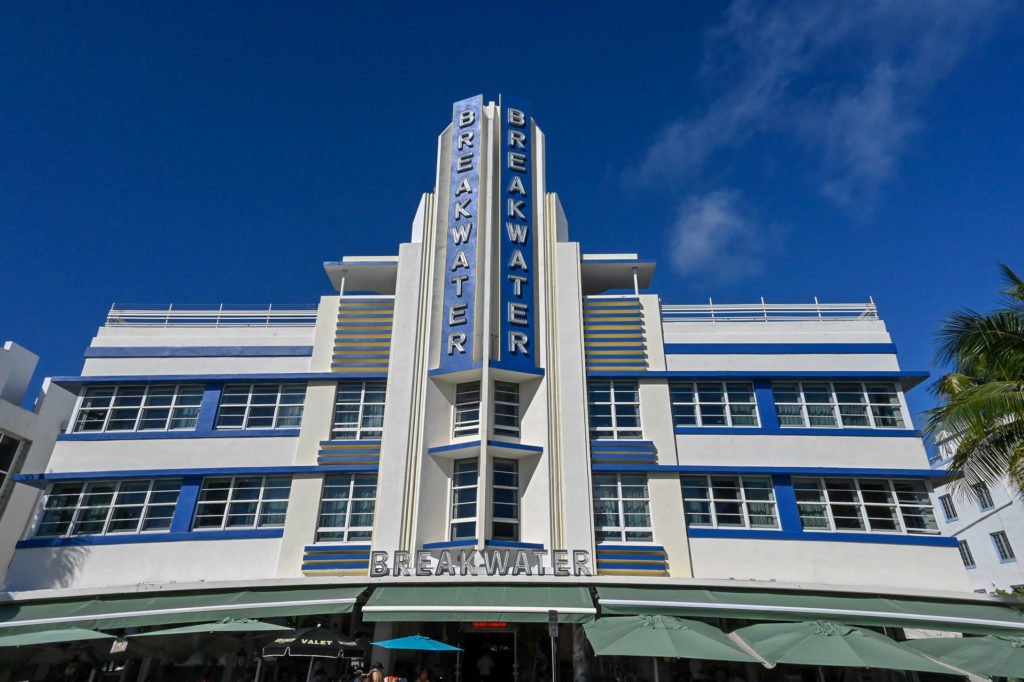 Let's walk off breakfast and explore the Art Deco architecture that Miami Beach is so famous for. If you're interested in learning more about the area's history and more about Art Deco Architecture, then catch a walking tour at 10:30 a.m. in front of the South Beach Museum on Ocean Drive at Lummus Park. If you're looking for something a little more casual, walk along Ocean Drive at your own pace, admiring the Art Deco pastels and sunny vibes before cooling off at the beach.
Art Deco Tour Options:
Art Deco Welcome Center Walking Tours: These 90-minute tours cost $30/adult ($25 for seniors and students). The tour allows you to step inside some of the buildings and learn more about Art Deco architecture and how it started in Miami as well as other cultural points of interest. 
They also offer this tour as a self-guided audio tour, and you can walk at your own pace while listening to the audio guide.  It is $25 for adults ($20 seniors and students).
Location: 1001 Ocean Drive and 10th Street, Miami Beach, FL 33139
DIY Walking "Tour" Along Ocean Drive:
If you would rather casually walk around and admire the buildings on your own, then the two main areas you'll want to walk down are Ocean Drive and Collins Ave.  Although you won't see every example of Art Deco here, you will get a good feel for the style.  
Try to find parking at the Miami Beach Municipal Parking Garage at 1301 Collins Ave, Miami Beach, FL 33139. It is a short walk to Lummus Park, the Art Deco Welcome Center, and the beach! After you park, make your way to Ocean Drive and begin your DIY Art Deco Walking Tour, starting with the Cavalier South Beach Hotel. Then continue south along Ocean Drive, admiring all the Art Deco along the way.
Cavalier South Beach Hotel: 
The Carlyle: 1250 Ocean Dr, Miami Beach, FL 33139. (You may recognize this from movies such as Bad Boys 2, The Birdcage, and Scarface).
Enjoy the cheerfully painted Leslie: 1244 Ocean Dr, Miami Beach, FL 33139
Art Deco Welcome Center: 1001 Ocean Dr, Miami Beach, FL 33139. Even if you're not taking a tour with them, it's still an excellent place to stop in to learn a little more about the Art Deco architecture style.
Edison Hotel (across the street from the Art Deco Welcome Center): 960 Ocean Dr, Miami Beach, FL 33139

Hotel Breakwater South Beach (another block down from the Edison): 940 Ocean Dr, Miami Beach, FL 33139

Starlite Hotel (enjoy it's pastel yellow and purple vibes): 750 Ocean Dr, Miami Beach, FL 33139

The Avalon Hotel (see photo at the top of the page with the classic car): 700 Ocean Dr, Miami Beach, FL 33139
For more Art Deco architecture styles, you can cut over two blocks west to Collins Avenue (A1A) and admire more Art Deco architecture as you circle back to your car to get your beach gear.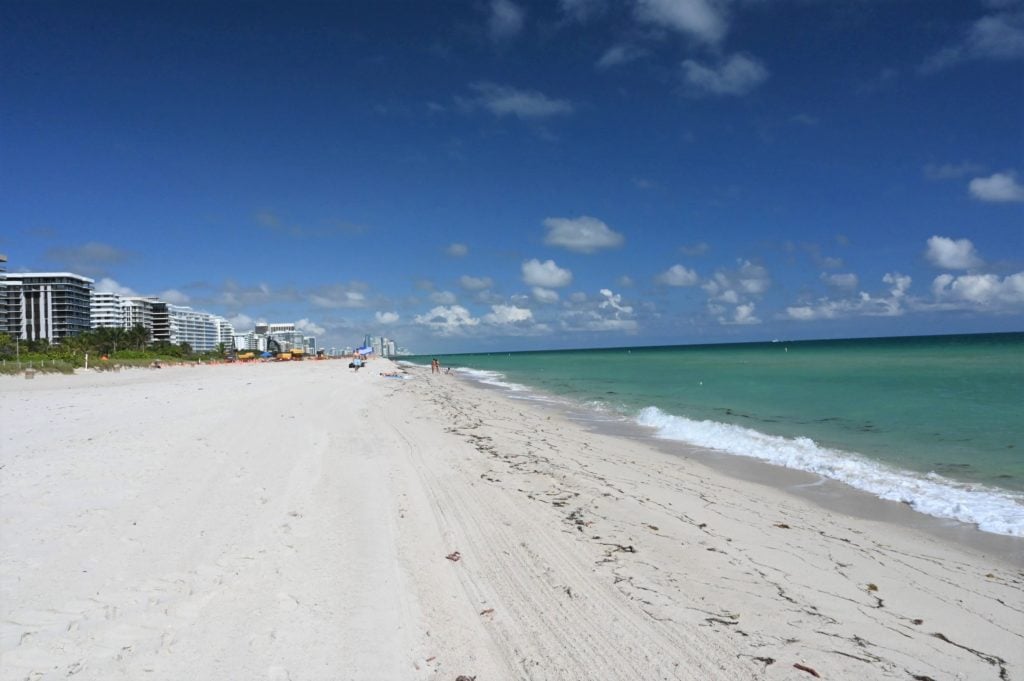 You can't spend a day in Miami and not go to the beach. So now that you've worked up a sweat walking around and seeing Art Deco Architecture, why not take a swim and cool off at one of Miami's beautiful beaches! The following beaches are some great options off the A1A.
Miami Beach: Come here if you want a massive beach with options to rent chairs and umbrellas, purchase drinks and food close by and have a long stretch of beach with lifeguard huts scattered up and down the beach. Miami Beach is a massive stretch of sandy beach. However, be prepared as parking can be challenging to find. 
Location & Parking: There are several parking garages all along Ocean Drive that you can choose from.  Due to their proximity to this popular area, they are often quite expensive.  If you're willing to walk a few blocks, you might be able to find some street parking a little further out.  For parking garages, try Miami Beach Municipal Parking Garage, Miami Beach Parking Garage, or 953 Florida A1A Parking Garage.
Allison Park, 6500 Collins Ave, Miami Beach, FL 33141: Come here if you want something a little quieter and a little cleaner than Miami Beach. This park has a playground area, workout equipment, clean bathrooms, and a beautiful beach. The only downside is limited parking. There is a small shaded parking lot for Allison Park, and if you're lucky, you'll snag a spot there.  However, if you are unable to find a parking spot, don't worry, you can always try one of the other beaches listed here.
36th Street Park, 3501 Collins Ave, Miami Beach, FL 33140: Come here and enjoy walking along the Miami Beach boardwalk.  This beachfront park has a clean beach and is away from the crowds of Miami Beach. There are bathrooms and showers here.  Park at the Miami Beach Parking lot or find street/metered parking nearby.
North Shore Open Space Park, 8328 Collins Ave, Miami Beach, FL 33141: Come here for a large park full of picnic tables and BBQ grills, multiple restrooms, outdoor showers, and just a short walk to the beach.  The beach here is not as extensive as Miami Beach; however, there are lifeguard huts here, and you will find it to be a lot less crowded than South Miami Beach. There is lots of street parking for North Shore Open Space Park. There are also several parking garages nearby.
Lunch Break to Regroup and Recharge
Now that you've had your fill of Vitamin D, it's time to take a break from the beach. Grab lunch at any of the many options along Ocean Drive or drive down to South Pointe Park Pier and enjoy more of the boardwalk and beach area.  You may prefer to instead grab a quick bite and squeeze in a shower at your hotel before heading to our next stop. Do what works best for you.  Here are some lunch options just in case you want to sit down to eat before moving on.
Lunch Options:
The Local House: 400 Ocean Dr, Miami Beach, FL 33139
The Lobster Shack: 40 South Pointe Dr #104, Miami Beach, FL 33139
Bocas Grill Brickell (option close to the Vizcaya Museum): 2525 SW 3rd Ave, Miami, FL 33129

Zuuk Mediterranean Kitchen (cheaper option near Vizcaya): 1250 S Miami Ave #105, Miami, FL 33130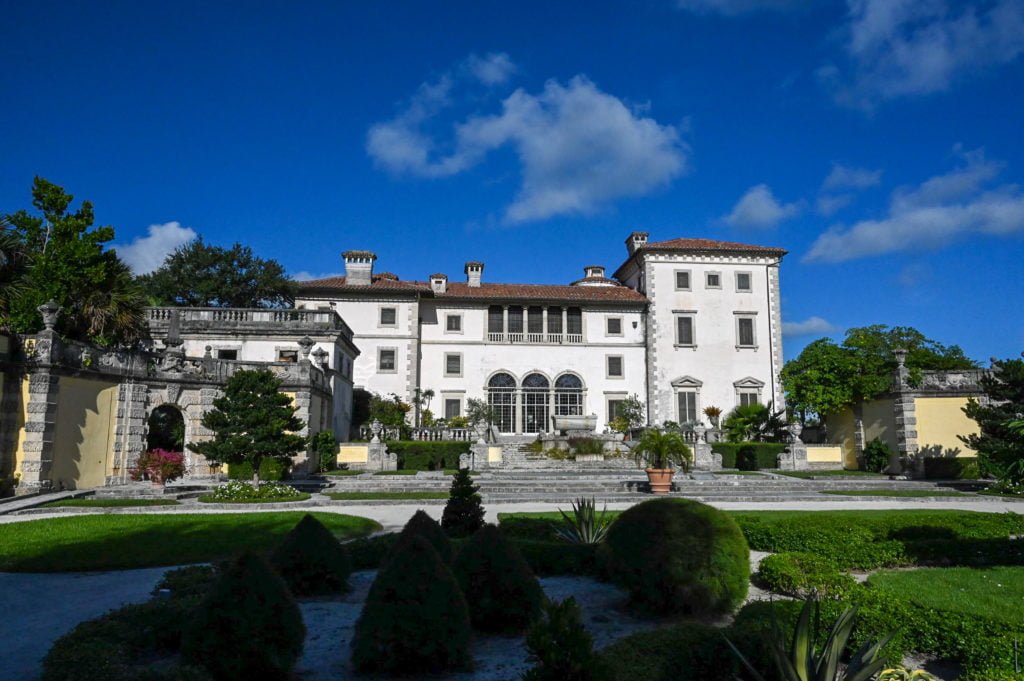 You may only have one day in Miami, but that will be enough for you to recognize that there are a lot of wealthy people who call Miami home.  So why not explore how they live with a trip to Vizcaya Museum and Gardens–a Miami mansion turned museum. 
If you've ever wondered what it's like to live in one of Miami's mansions, here's your chance to peer into the lives of the wealthy. Villa Vizcaya was once home to James Deering, who spent almost ten years building this beautiful home.  
Gaze upon the Italian inspired architecture and beautifully decorated rooms, and you may feel as though you've traveled to Italy, rather than a mansion in Miami.  The Venetian inspired barge and boat docks stole the show for me, not to mention the gorgeously manicured gardens.
The house is stunning. However, I wonder, did James Deering enjoy it? He only lived a few years after its completion before bequeathing to his nieces. Did they feel inspired as they wandered over their beautifully manicured gardens or looked out over the water? I hope so. I know I was. 
One of the unique things about the Vizcaya Museum and Gardens is that they house the original antiquities purchased by the Deering family.  See the house as the original owner decorated it and learn what inspired its builder.
I think the Vizcaya Museum and Gardens are worth a stop during your one day in Miami. It is set on 50 acres of land and allows you to peer into the lives of the Deerings as well as give you a sense of the eclectic nature that is Miami. Don't miss it!
Bill Baggs Cape Florida State Park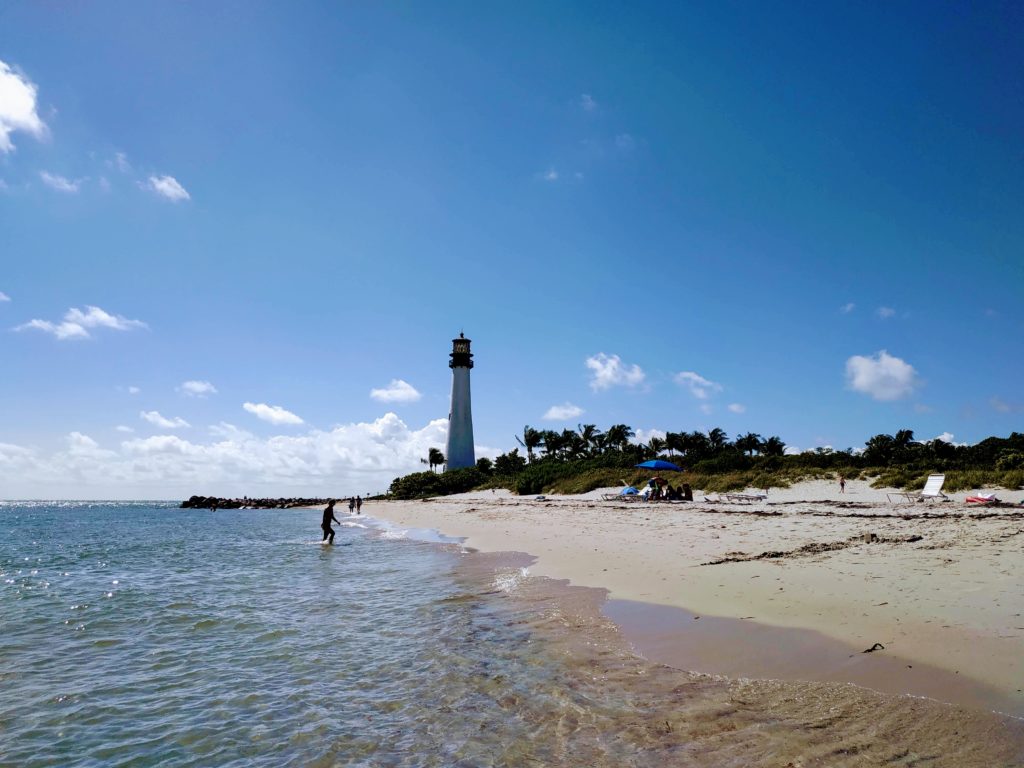 After visiting the museum, if you have time, consider making a trip out to Key Biscayne and the Cape Florida State Park. Its beach is one of the top 10 in the US! So if you didn't get a chance to swim earlier, why not tour the lighthouse and then go for a swim while enjoying views of the lighthouse. 
Cape Florida State Park is full of history. It was once used for the underground railroad. Runaway slaves would hide on its dark beaches until they could make the passage for the Bahamas.  This continued until the lighthouse was built–illuminating the once dark beaches of Cape Florida.
The lighthouse was built in 1825, and according to the park, it is the oldest structure in Miami-Dade.  You can climb the 112 stairs to the top and admire the gorgeous views over the bay.  The Lighthouse tower and its surrounding complex are open Thursday through Monday from 9:00 a.m. until 5:00 p.m. Guided tours take place at 10:00 a.m. and 1:00 p.m. and include a visit to the Light Keeper's House. Tours are free and begin at the entrance gate in front of the lighthouse.
There are lots of picnic areas at the park, restrooms for changing, and a cafe where you can grab a bite to eat or rent bicycles and ride around the park. Make sure you don't leave any food lying around unattended as there are a lot of raccoons here as well as iguanas and birds. Visit the park's website to learn more about all the amenities offered at Bill Baggs Cape Florida State Park.
Address: 1200 Crandon Blvd, Key Biscayne, FL 33149
Park Hours: The park opens at 8:00 a.m. and closes at sunset.
Fees: It costs $8 per vehicle to enter the State Park.
Dinner in Little Havana and An Evening in Miami
Head to Versailles Restaurant in Little Havana and dine with locals and tourists at a traditional Cuban restaurant. Make sure to leave room for dessert or at least stop in at their adjoining bakery after dinner to grab some yummy key lime pie or pastries to go. Stroll through the neighborhood, and if you saved room and want some ice cream, stop in at Azcura ice cream for a treat.
Versailles Restaurant Address: 3555 SW 8th St, Miami, FL 33135
Azcura Ice Cream Company Address: 1503 SW 8th St, Miami, FL 33135
An Evening in Miami:
The evening is yours to spend how you want. Relax by the pool or see what nightlife Miami has to offer, it all depends on what you like to do! 
If you're up to it head back to Miami Beach to see the Art Deco buildings on Ocean Drive lit up in neon lights. It really has that feeling of Miami you've seen in the movies with the palm trees & neon lights.
You can also stroll through the Lincoln Road pedestrian shopping and dining area or visit one of the hottest neighborhood's in Miami and shop at The Shops at Mary Brickell Village. If shopping isn't your thing, consider visiting Wynwood Walls and enjoying some art murals before it gets too dark.
Lincoln Road Shopping District (pedestrian street in Miami Beach): Lincoln Rd, Miami Beach, FL 33139
The Shops at Mary Brickell Village: 901 S Miami Ave, Miami, FL 33130
Wynwood Walls: 2520 NW 2nd Ave, Miami, FL 33127
Closing Thoughts and Tips
As I mentioned in the beginning, there are so many things to do in Miami that you can't possibly seem them all in one day. I recommend a mixture of sightseeing and relaxing as the best way to get a feel for this luxurious city.
Choose where you stay, based on whether you want to participate in the Miami nightlife or prefer a more quiet area to sleep. If you like to be right in the midst of the noise and the hustle and bustle, then you might choose to stay in South Beach.  However, if you prefer to sleep at night, select one of the quieter neighborhoods, Coral Gables, Brickell, or Coconut Grove make good choices. 
We stayed in the Coconut Grove neighborhood and loved it.  There are a lot of great coffee shops nearby, plenty of restaurants and parks and it felt safe. 
Make sure to familiarize yourself with the beach flags on Miami's beaches. Talk to a lifeguard if you are unsure about the conditions. 
If you're looking for more great destinations in Florida, consider visiting St. Augustine, the oldest city in America. Read about my day trip to St. Augustine from Orlando to learn more about this historic city. Whatever you decide to do, soak in the sun, and have fun!
Have a beachy day!