When visiting Orlando, everyone immediately thinks of the fantastic amusement parks the area has to offer. However, as fun as these amusement parks are, they can be exhausting! So if you need a break from amusement parks during your visit to Orlando, look no further than the beautiful Henry P. Leu Gardens. The Leu Gardens are an oasis in Orlando. 
Explore the history and culture of Orlando and enjoy a break from the hustle and bustle of the city. The Leu Gardens span 50 acres so although you could spend an entire day trying to cover it all, I will share some highlights from my visit to give you an idea of things you can see in 1-2 hours.
The Henry P. Leu Gardens were donated to the city of Orlando by the former owners Mr. Harry P. Leu and his wife, Mary Jane, in 1961.  However, the history of the garden goes back to the mid-1800s when the first owners settled the land. The final owners, Mr. and Mrs. Leu, purchased the property in 1936. They loved traveling, and they loved plants. They combined these two passions by buying plants during their travels and then bringing them back to plant in their garden. 
The Leu House Museum is one of the historic buildings still on the property and is a historic landmark with the National Registry of Historic Places. However, the museum remains closed due to hurricane damage until further notice.  The home is still a beautiful place to view from the outside, and I'm sure you could ask the front desk for additional details regarding the families who lived here. The woman I spoke with when purchasing my ticket was so friendly and helpful.
I happen to be in Orlando with my husband. He is here at a business conference, and I tagged along. After his conference ends, we will take a week's vacation to explore the Florida coast on a road trip to the Keys.  However for now, I am on my own. I hoped to see a different side of Orlando than just the amusement parks. Someplace the locals go to when they want a quiet spot. The Henry P. Leu Gardens was highly recommended and was just what I was looking for! 
The following are some of the areas I saw during my visit to the Leu Gardens. I spend almost 1.5 hours here, and I feel like I covered quite a lot during my short visit.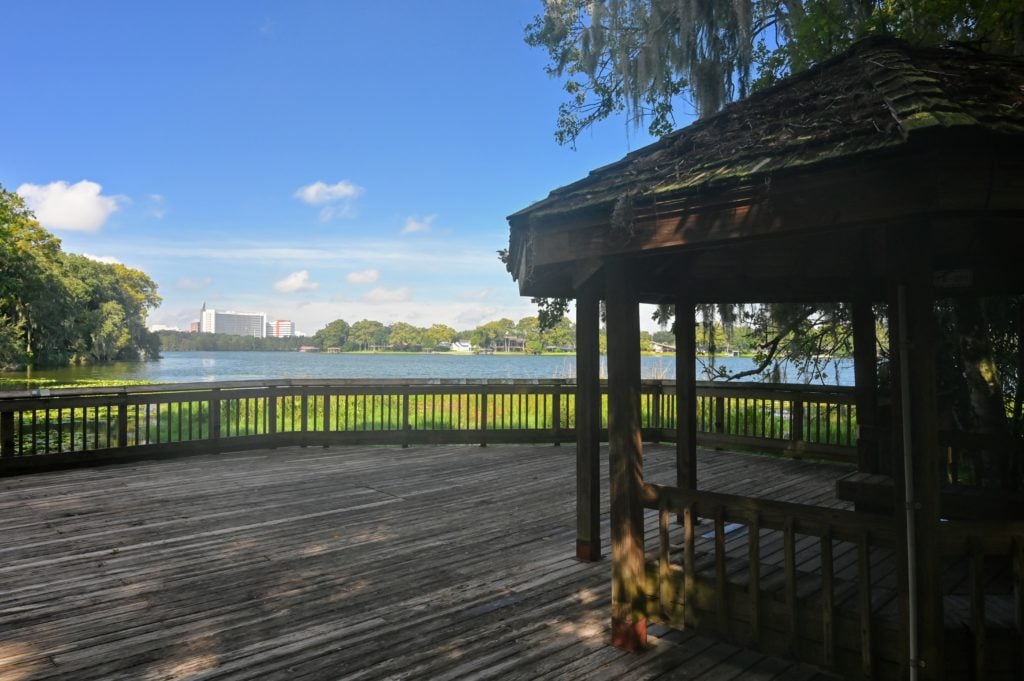 You enter the gardens by leaving the Garden House (Welcome Center) through the side door. After a short stroll down the path, you come to the Tropical Stream Garden. You feel as though you've entered an exotic tropical destination. Vines creep down from trees, the faint trickle of water running over rocks greets your ears, and beautiful tropical flowers and palm trees surround you.
The Tropical Stream Garden is the perfect way to begin your journey through the Leu Gardens. I immediately felt relaxed as I could stroll at my own pace, no crowds, just a winding shaded path, full of unique plants.
The path through the Tropical Stream Garden eventually leads you to the Lake Rowena Overlook.  Enjoy a rest under the gazebo, or learn about the various creatures that call Central Florida home. I looked into the lake and watched some turtles swimming below. There are also some beautiful bald cypress trees growing in the water next to the overlook.  We do not have this type of tree in my home state of Washington, and I enjoy seeing new varieties of trees and plants.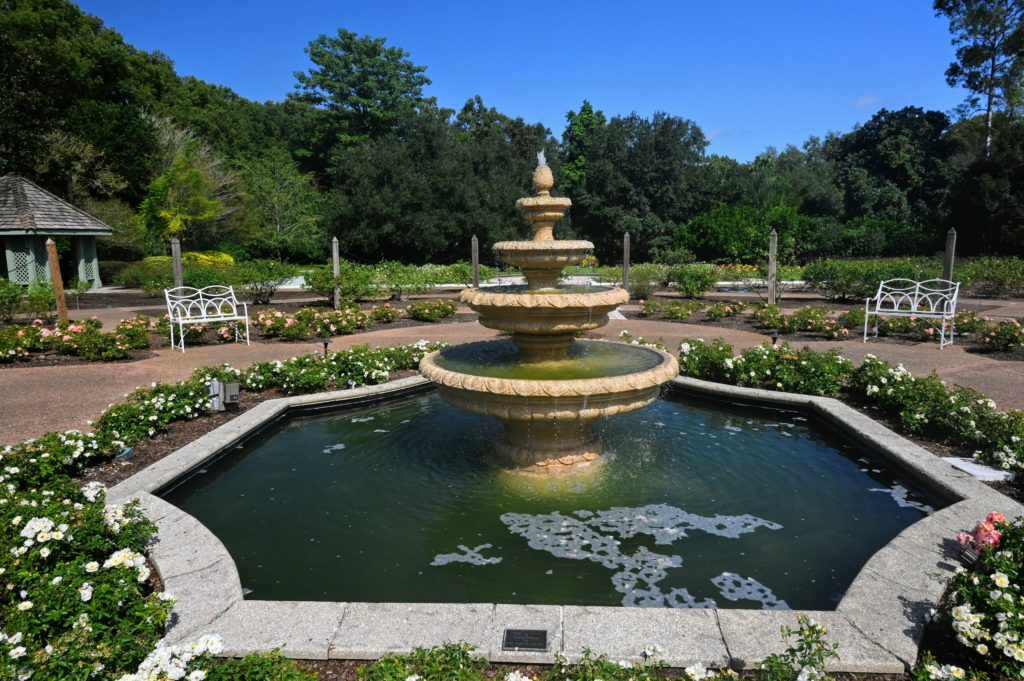 After exiting the overlook area, I continued through the Color Garden and into the Rose Garden. The sweet perfume of the roses wafted up to greet me, and I smiled.  I love the smell of roses. It was a subtle aroma, not overpowering, just a light sweetness, perfect for strolling through and spending some time by the fountain.
I made my way to the Camellia Garden with hopes that perhaps they would be blooming. Their pamphlet states that the Leu Gardens is home to the most extensive documented camellia collection in Eastern North America. It also said that they bloom from mid-October through March.  Well, it is mid-October, however, unfortunately, they were not blooming. I would love to revisit this garden when they are in bloom as I can imagine what a beautiful spectacle they are. There are over 200 varieties!
I exited the camellias area via the white garden, which, as you can imagine, is filled with plants whose blooms are only white.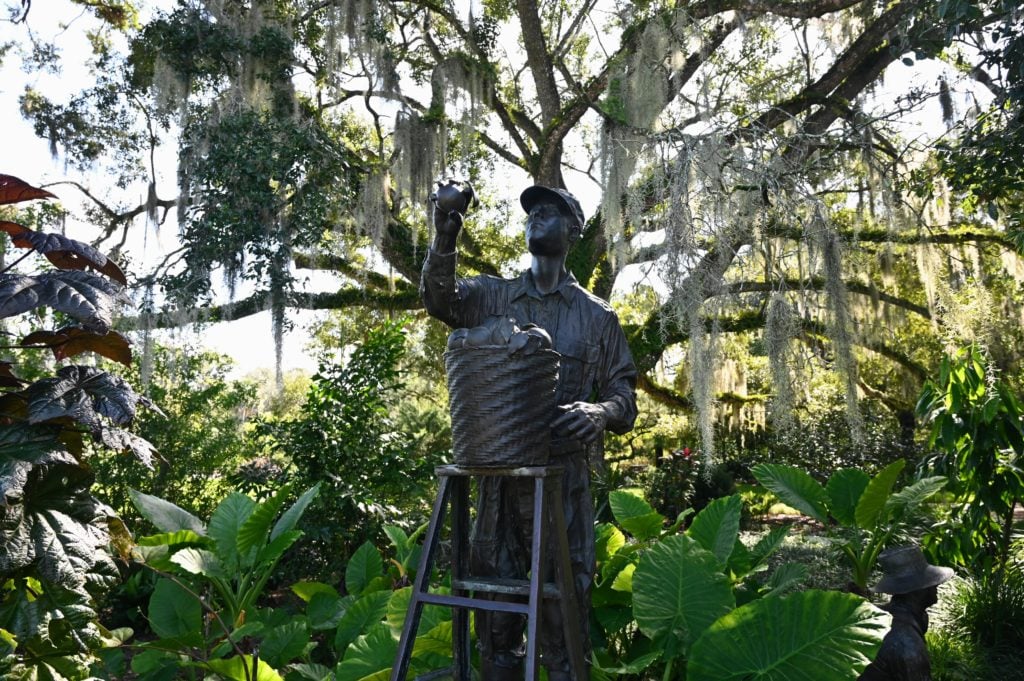 I stopped in briefly at the Vegetable Garden, in addition to growing a variety of fruit and vegetables here, they also have these delightful statues. Apparently they donate the food harvested from this garden to local food banks.  I think that is such a great idea! I'm a little jealous of Florida's warm climate and its ability to grow fruit and vegetables year-round. 
However, as I stand here admiring their plants, sweat is dripping down my face, and it reminds me why I live on the more mild West Coast and only visit warm destinations as an escape from the rain or in rare cases, the snow!
The butterfly garden is just a few short steps away from the vegetable garden.  I was thrilled to watch the various butterflies flit about, sometimes in pairs, and often by themselves.  They dash about in random patterns, and at times, I have to duck to avoid them hitting me. I worked hard to try and capture this photo of one who landed long enough for me to photograph it.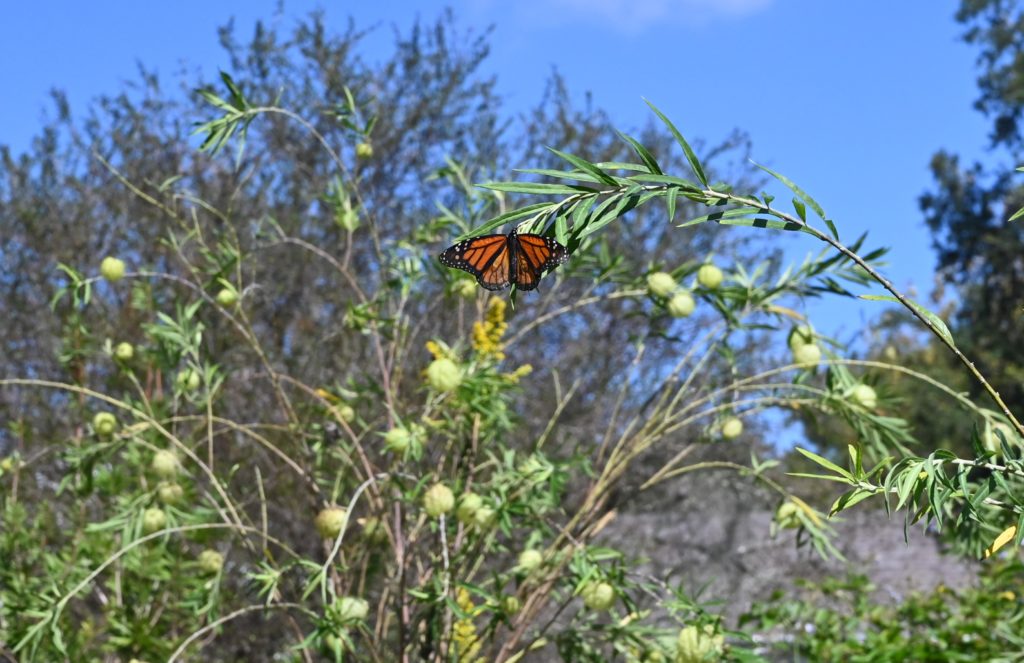 There are plaques placed in this area of the garden that teach you interesting facts about these beautiful creatures.  And they have butterfly cocoons inside a small glass enclosure so you can see the various colors of cocoons each butterfly has. This was so cocool! Sorry, I just had to go there.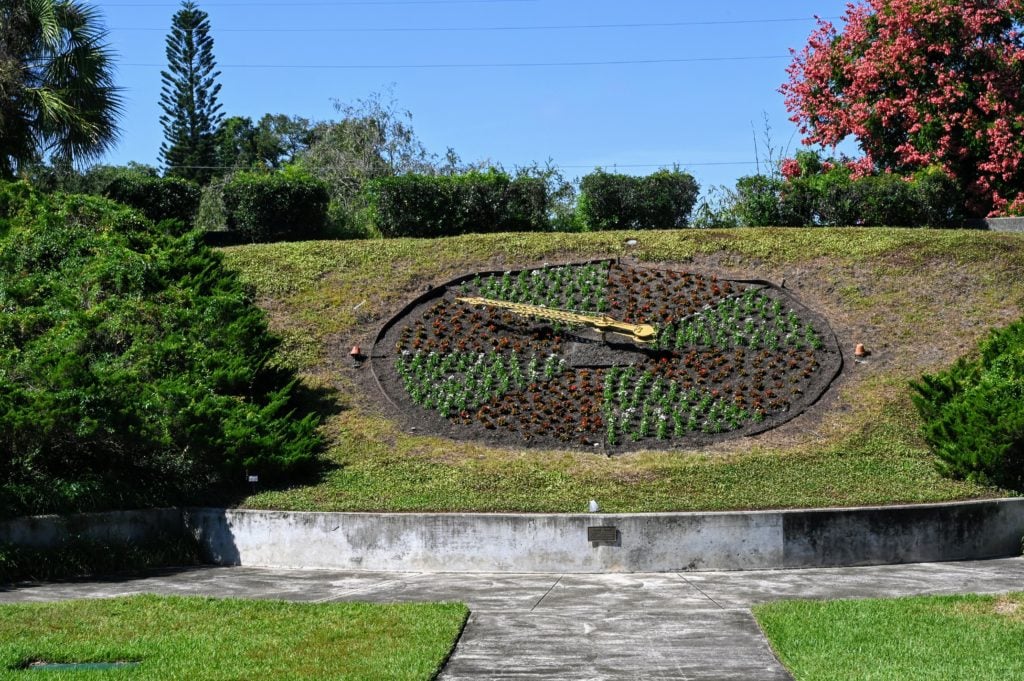 I left the Butterfly Garden and passed once more through the Rose Garden on my way to see the Floral Clock.  This working clock was donated to the Leu Gardens by the Kiwanis Club of Orlando in 1975. It was inspired by the first-ever floral clock in Edinburgh, Scotland, commissioned in 1903. The Leu Gardens floral clock varies in appearance, depending on the season.
I was ready for another break from the sun, so I wandered into the Palms, Cycads & Bamboo Garden. The plants in this section date back to the prehistoric era. I'm sure everyone is familiar with palm trees. However, I often confused cycads for a type of palm tree plant.  They are, in fact, different. 
Cycads are cone-bearing plants not related at all to palm trees. I would describe them as fern-looking palm trees. Meaning their leaves remind me more of ferns than palm tree leaves. Bamboo is so unique and regal looking, and this section makes a great way to enjoy time in the shade and marvel at these unusual plants.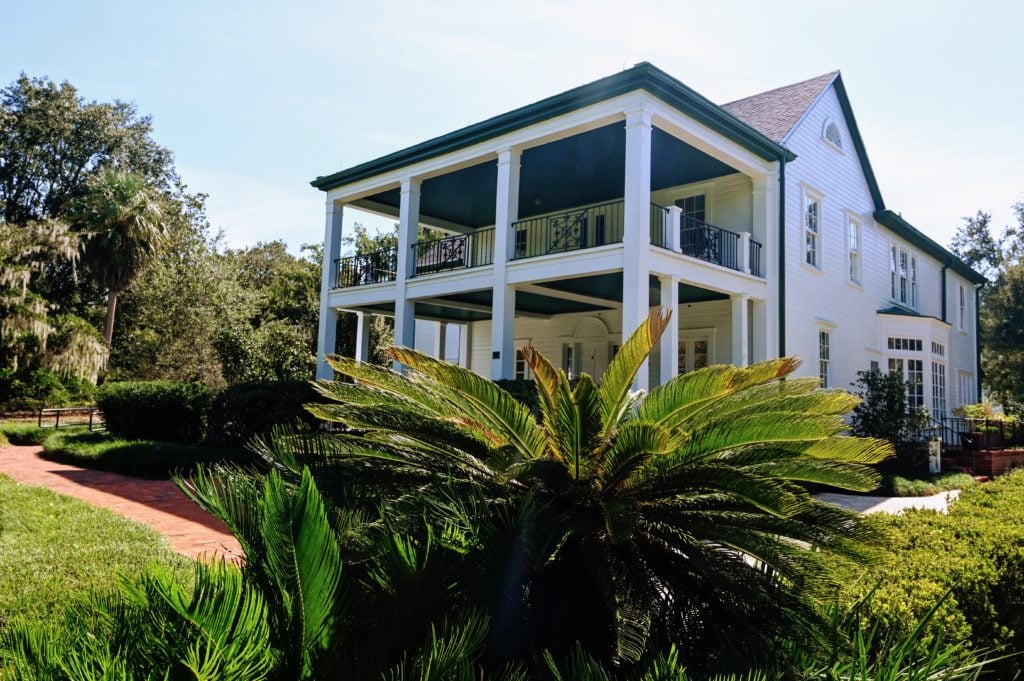 As I mentioned above, the Leu House Museum is closed currently for renovations due to hurricane damage. However, you are welcome to walk around the house and admire the lush setting of the surrounding gardens.  I am not sure how different the gardens look now when compared to when Mr. and Mrs. Leu lived here. However, I like to imagine it must have been a marvelous place to live.
Don't miss the path lined with old oak trees, it is not far from the house, and you should pass by it on your way from the Palms Garden to the Leu House Museum. These beautiful oak trees are scattered throughout the Leu Gardens, and many of them are over 200 years old!
Additional Areas in the Leu Gardens
Although my path through the Leu Gardens might resemble that of a butterfly, I covered a lot of ground.  I passed by many beautiful gazebos and fun sculptures. There is an Idea Garden that demonstrates a variety of designs that will perhaps inspire your garden.  And there is also an Arid Garden which displays plants from deserts. No irrigation is used in this garden. So it offers a good demonstration for gardening in areas of drought — or perhaps for people like myself, who forget to water.
Art Exhibits at Leu Gardens
In addition to the gardens, the welcome center has a rotating art exhibit.  While I was there, they had a colorful display of watercolor paintings by local artists.  My morning spent admiring local art, and strolling through the gardens was just what I needed. I felt I had a morning of culture and beauty that left me ready to rejoin the city and my subsequent ride in traffic. 
Other Activities at Leu Gardens
As if the gorgeous gardens and art exhibits weren't enough, the Leu Gardens also offer concerts in the park and movies in the park.  So make sure to check their calendar when you visit as you might find some new ways to create memories during your visit to Orlando.
If you happen to visit with kids, there is a geocache hidden within the gardens.  Kids and adults alike will enjoy geocaching, which is essentially like a digital scavenger hunt, sometimes they have clues, but usually, you track the coordinates on your phone using a compass.  Geocaching.com provides the details on which app to download. It also shows the many geocaches hidden throughout the area. It is something fun your family can do together, whether at home or when traveling.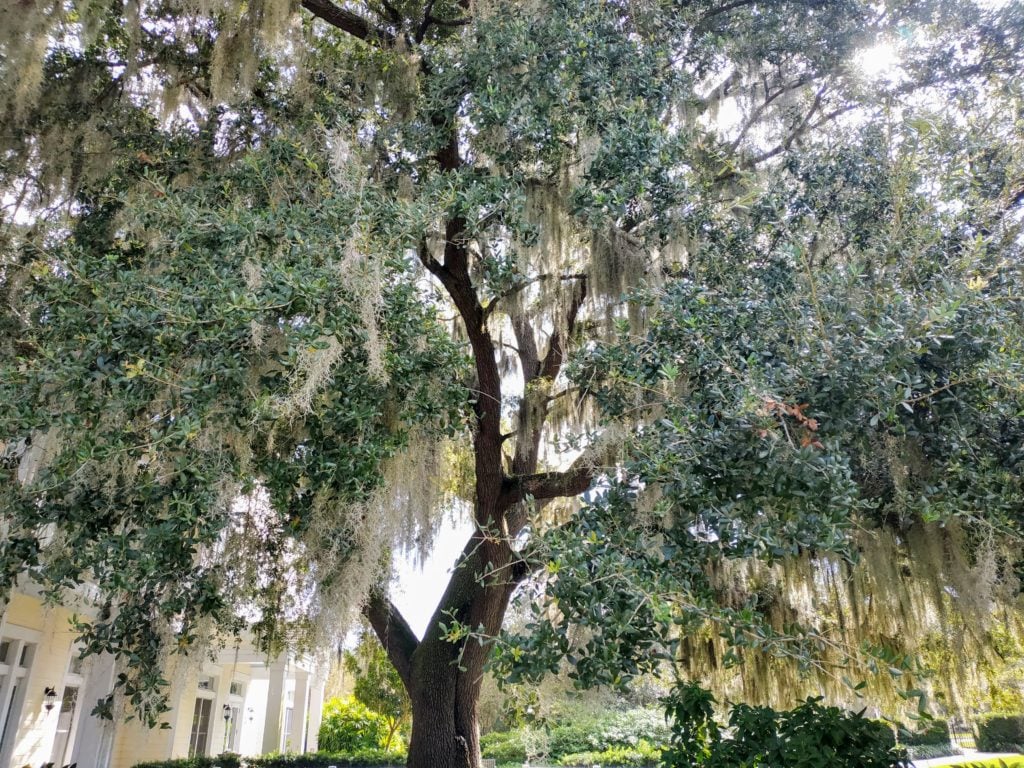 Admission Fees: It costs $10 for adults 18 and older. Children 4-17 are $5, and children three and under are free.  Additionally, you receive a wrist band so you can come and go throughout the day.
Food: There is no food sold on-site. However, you can bring your lunch and eat it on the patio overlooking Lake Rowena.  Or, as I mentioned, you can always leave, grab something to eat or take a break from the heat and then return later in the day.
Henry P. Leu Garden Hours: The Leu Gardens are open every day from 9 a.m. to 5 p.m.
Other Amenities: There is a small gift shop located in the welcome center as well as a library filled with books on botany and gardening.  You are welcome to sit inside the air-conditioned space and read during your visit. It is also good to note that there are multiple water fountains and restrooms throughout the gardens.
It was so lovely to take a break and see some of the culture and beauty of Florida.  Amusement parks can be fun, but it is always good to take a break from the tourist attractions and visit a place the locals enjoy going to. I hope you will take the time to visit the Henry P. Leu Gardens on your next trip to Orlando.  It is worth the visit!