Driving from Porto to Pinhão in the Douro Valley was one of my favorite day trips during our two-week road trip in Portugal.  The Douro River Valley is a gorgeous region in Portugal with terraced landscapes reminiscent of the rice fields in certain parts of Asia. With only a few days in Porto, we knew we only had time for a day trip to the Douro Valley. I read that Pinhão was one of the prettiest towns along the Douro River, so we made that our destination and turn-around point.
I booked a tour ahead of time with Quinta da Bomfim in Pinhão.  Many vineyards in the Douro Valley allow drop-ins. However, since the changes brought on by COVID, most were not accepting walk-ups during my visit there. So, to be on the safe side, I recommend reserving a tour in advance.  Then, you can always stop at various vineyards if they allow drop-ins, but at least you'll have one "for sure" visit planned.
If you only have one day to visit the Douro Valley, this self-driving tour from Porto to Pinhão will give you a complete picture of this beautiful part of Portugal. You'll take in stunning views, learn about the region's history, take a tour, and eat an incredible meal. If you're looking for a great day trip from Porto, put this one at the top of the list!
Tip: Before heading to the Douro Valley make sure to make any necessary reservations for winery tours and dining in advance.
The Douro Valley is one of the oldest wine-producing regions in the world. It is also a UNESCO World Heritage Site famous for its vineyards and production of port and wine. Originally, flat-bottom boats called rabelos took the wine down the Douro River to the Gaia district across from Porto. 
Now the wine is transported via trucks, but you can see these traditional rabelos in Porto and Gaia. You can even take a rabelos boat tour to experience this traditional mode of transport.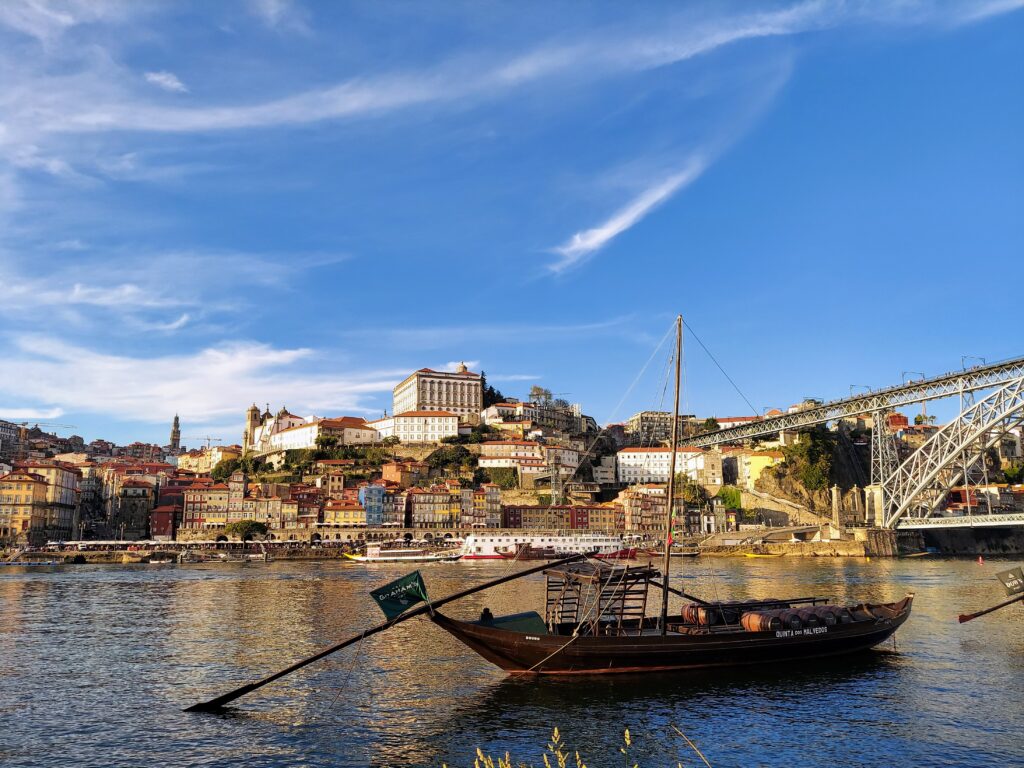 Options for Visiting the Douro Valley
There are three main options for visiting the Douro Valley from Porto, Portugal. You can rent a car and drive there, book a tour from Porto, or take the train. 
Driving from Porto to the Douro Valley: This is my choice for the ideal way to visit the Douro Valley. Depending on traffic, Porto to Pinhão is about a 1.5 hour to 2-hour drive. You can plan to stay a couple of nights and explore the region, or for those with limited time, you can easily take a one-day self-driving tour from Porto to the Douro Valley.  
Take the Scenic Train from Porto: You can also take a train from Porto to Pinhão. The train ride takes about 2 hours and 17 minutes. You won't, of course, be able to take any side roads or stop for photos, but you can enjoy the beautiful scenery from your seat on the train. Additionally, the train goes as far as Pocinho with multiple stops along the way, making it possible to plan a multi-night stay in the Douro Valley along the train's route.
Book a Tour: There are many tour options available for those wanting to take a guided trip to the Douro Valley.  You can take boat trips up the Douro River, take an all-day or multi-day driving tour, and there are even combo tours that include visits to wineries as well as a short cruise on the Douro River.  I cannot list all the options for tours here, but if that's up your alley, you'll have no lack of options from which to choose.
What to Expect on this One Day Self-Driving Tour
You'll see the beautiful Douro Valley River and Landscape.

Visit a Douro Valley winery and take a wine tasting or vineyard walking tour.

Eat at an incredible restaurant with views of the Douro River.

Go home happy and full of unforgettable memories.
Don't feel like you won't get to enjoy the beauty of the region with only one day. Even the fast route, which we took, provided many stunning viewpoints and vistas to stop at and enjoy. Even though we only visited one Douro Valley winery, it still gave us a perfect taste for the region's beauty and history. It had everything we wanted all wrapped up in one day full of beautiful memories. 
Our day trip from Porto to the Douro Valley became one of our favorites from our entire two-week road trip in Portugal. I highly recommend making time for at least one day in this beautiful and unique region.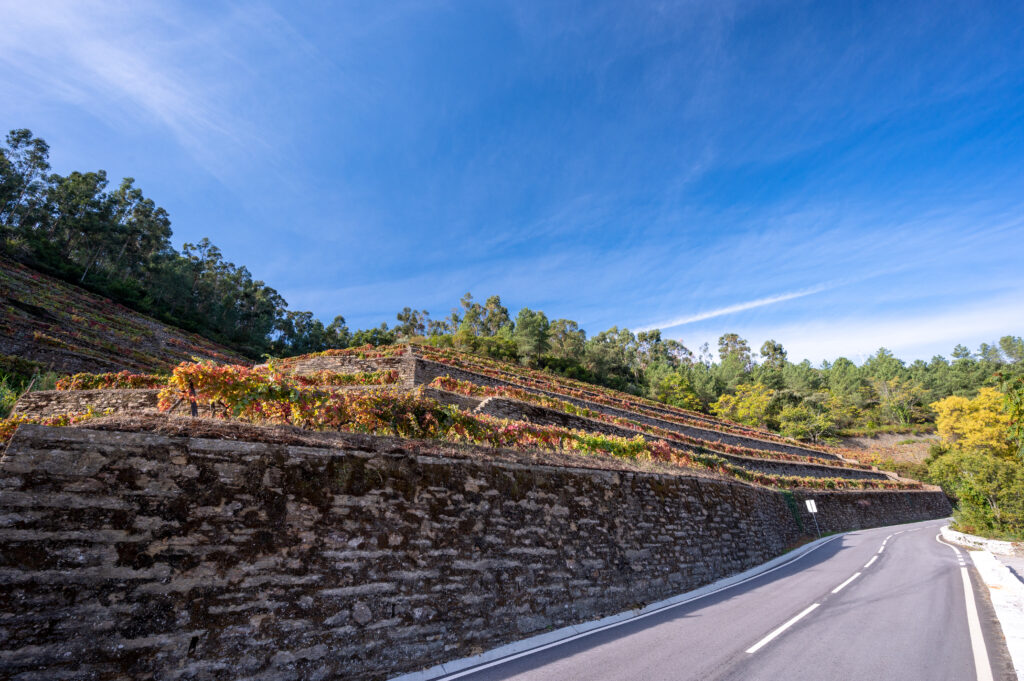 Who This Douro Valley Road Trip is Designed For
This Douro Valley self-driving tour is best for people who want to experience the region's beauty and history but aren't necessarily into sampling a bunch of wine. Meaning if you want a tour that hops from one Douro Valley winery to the next to sample ports and wines, then one of the guided tours might be a better option.
My husband and I are not wine drinkers, and I had never tried port until I visited Portugal. So our day trip to Pinhão was more about exploring the region and learning about its history.  We drove through the scenic vineyards and along the Douro River, toured a family winery, walked through its vineyards, and ate an incredible meal that was locally sourced. It was a perfect day spent in the Douro Valley.
Non-Alcoholic Drinkers
If you do not drink wine at all, a trip to the Douro Valley is still worth your time. In addition to winery tours and tastings, Quinta do Bomfim offers self-guided vineyard walks. They provide you with a map, hat, and bottle of water. There is signage throughout the vineyard to guide your walk and inform you of the history. I highly recommend this, as it was beautiful to walk around the vineyard and learn about the history of the rugged landscape that is now so famous for its wines and ports.
Our Driving Route from Porto to the Douro Valley
During our two-week road trip in Portugal, my husband and I took one day to drive from Porto to the Douro Valley. I made reservations in advance to tour the Quinta da Bomfim vineyard. Our reservation was for 11:30 a.m. We left early and took the quickest route to Pinhão, which included a scenic drive with viewpoints for photos along the way.
Click the map to see the stops I marked for miradouros (viewpoints), the winery, our choice for where to dine, and the loop we took from Porto to Pinhão and back.  This drive is an excellent option for a day trip from Porto. 
The entire route takes around 3.5-4 hours of straight driving (round trip), and with stops, a visit to a vineyard, and lunch/dinner, you won't make it back to Porto until the evening.  We left the Douro Valley shortly before 5:00 p.m., and my hubby was hoping to miss rush hour traffic, but we still hit some and made it back around 7:00 p.m.
Highlights Along This Douro Valley Route
I loved the route we took! After jumping off the A4 by Vila Real, we hopped on the N322. After passing through the town of Sabrosa, the natural beauty of the Douro Valley and the scenic drive began. The fall colors were out during our visit in October, and it was so beautiful!
Small Picnic and Parking Area
There is a little picnic area with parking about 10-minutes outside the town of Sabrosa, where we stopped to take the above photo. It was the first of many stops along this scenic driving route.  N322 becomes N323 along this stretch, and the road sort of goes back and forth between the two, but it's all the same route.
Miradouros (viewpoints)
Make sure to pay attention to the brown signs along the road, as these are sightseeing stops. Most of the signs along this road are for the miradouros (viewpoints).  We stopped at quite a few of them, and each one had an informational sign telling us about the area's history and the family-owned vineyards in the Douro Valley.
I recommend at least stopping at the following four viewpoints on the way to Pinhão.
Aldeia Vinhateira de Provesende
São Cristovão
Vale do Pinhão
Terra de Fernão de Magalhães

Pinhão
If possible, give yourself extra time to spend in the town of 
Pinhão.  There is a walking/biking path that goes along the Douro River that is perfect for a scenic stroll. There are also some hiking trails through the vineyards as well as shopping, and great dining options with views of the Douro River.
Quinta Do Bomfim & Casa dos Ecos by Pedro Lemos
I highly recommend you reserve a tour at the Quinta do Bomfim winery or at a minimum take the self-guided walking tour through their vineyard.  I also can't recommend enough reserving lunch or dinner at Casa dos Ecos by Pedro Lemos. The food is superb and the view over the vineyards and the Douro River is incredible!  Read more about my visit to the Quinta do Bomfim winery and my dining experience at Casa dos Ecos.
N222
This is the scenic drive on the opposite side of the Douro River from 
Pinhão. Make sure to stop at the few viewpoints along this river route to soak it all in. 
Régua Dam Lock
The Régua Dam is a gravity dam and makes for a quick stop along this route. You can watch the tour boats as they enter and exit through this lock on their way up the Douro River.
Régua Bridges
The three bridges outside the town of Peso da Régua are beautifully designed. One of them is a pedestrian bridge, and if you have time, I recommend taking a walk across it for stunning views of the river and bridges. It was especially beautiful when we visited in the fall.
Douro Museum
If you want to learn more about the Douro Valley and its wine-making history then give yourself about an hour to tour this small museum. The cost of admission also includes a small port tasting.
I would spend at least one night in the Douro Valley.  Although we thoroughly enjoyed our day trip to the Douro Valley, spending a night there would give us more time to relax and enjoy a stroll along the river and perhaps do a little shopping. Plus, for anyone who loves photography, experiencing the Douro Valley at sunrise and sunset will make for some stunning photographs. 
I would also like to explore more towns along the Douro River and perhaps make a trip further north to the town of Tua. I found this incredibly informative site that gives many options for an in-depth driving route through the Douro Valley for visitors with more time.
The Douro Valley is such a picturesque area with a slower pace that is a nice change from the city. After staying in Porto, and learning about the cities namesake drink, it felt like a full-circle trip into the region's history. I highly recommend a visit to the Douro Valley during a trip to Portugal.  If you've been, I'd love to hear what stops you made while in the Douro Valley.
Boa Viagem!
Additional Articles You Might Enjoy
Note: Travelffeine is reader-supported. This post contains affiliate links. When you make a purchase using one of these affiliate links, we get paid a small commission at no extra cost to you. And as always, all opinions are our own. Thank you!