Driving to Key West is a sun-filled, top-down, only-in-Florida kind of road trip. Just remember when you're road tripping through the Florida Keys, that it is about the journey rather than the destination.  Yes, there is plenty to see in Key West, the end of the line for a Florida Keys road trip, but half the fun is getting there.  
Driving to Key West should be a series of stops in whichever Key grabs your fancy, eating huge amounts of key lime pie, photo ops, and listening to your favorite road trip music.
Where to Start Your Road Trip to Key West
My hubby and I just finished a road trip from Orlando to Key West.  We stayed two nights in Islamorada and spent one full day driving to Key West.  We also stopped in Miami and spent a fun-filled day there before heading back to Orlando to catch our flight home.
I recommend spending at least one night in the Florida Keys and giving yourself one full day to drive to Key West. Here are some examples of non-stop drive times to Key West:
Orlando to Key West ~  6 ½ hours

Miami to Key West ~ 3 ½ hours

Key Largo to Key West ~ 2 hours

Marathon to Key West ~ 1 hour
It's About the Journey, Not the Destination
This should be a relaxed road trip, with lots of time for stopping whenever it strikes your fancy, and extra time to spend sightseeing in Key West. I mean, you've taken the time to drive all the way there, might as well spend a couple of hours before returning to the car and starting the adventure in reverse.
Driving to Key West is not a trip of speed. US Hwy 1 is a mostly two-lane highway with lots of traffic.  So you shouldn't take this trip thinking you'll speed all the way to Key West. It's not going to happen.  Enjoy the journey.
I'll cover things to do in the Florida Keys, places to eat, and where to find the best key lime pie.  Now put the top down or crank up the a.c. and let's hit the road!
Top Things to Do On Your Drive to Key West
Americana Photo Ops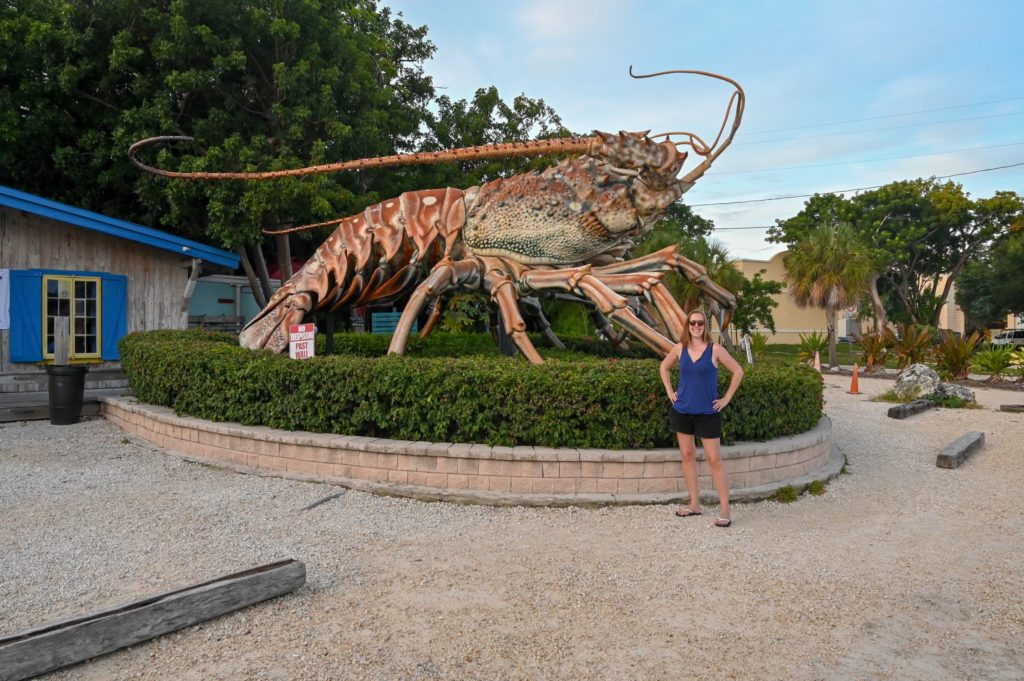 This is one thing I love to do when taking a road trip in the U.S.! Stop and see the world's largest ball of yarn, or a giant talking cow, these are a part of the quintessential American road trip.  The Florida Keys have lots of fun ones like this giant crab at the Rain Barrel Artisans Village in Islamorada. Keep a lookout, and you'll see a billboard-sized mermaid, a large conch shell, and other fun stops to take photos of when driving to Key West.
Stop at a Park and Enjoy Some Beach Time
Although the Florida Keys aren't known for their traditional beaches, you can still find a sandy shore or two to walk along the water, rent kayaks, snorkel the reefs or even go for a swim if you can find a spot deep enough.
Due to the reef system that protects the Florida Keys, it prevents the large waves from coming in and creating the large sandy beaches most people are accustomed to finding.  Sand is often brought in to develop man-made beaches in the Keys. This barrier of protection also creates a shallow bottom, but there are some areas you can still go for a swim or wade out for deeper waters.
Don't forget your sunscreen and also bring water shoes if you have them as the shoreline can be rocky due to the reef system that makes up the Florida Keys.
John Pennekamp Coral Reef State Park and Bahia State Park are two great choices when looking for a park to spend some time by the water in the Florida Keys.  
Another beach that makes a great place to go for a swim is Sombrero Beach in Marathon. The park has been completely renovated and is a beautiful park to spend the day snorkeling and swimming. It has bathrooms, showers, playgrounds, picnic areas, and a lovely beach area for sunbathing and relaxing.
If you prefer, you can always save the beach time for your ride back through the Keys after visiting Key West.
Feed the Tarpon at Robbie's in Islamorada
Stop at Robbie's on your drive to Key West and create some fun memories feeding the giant silver tarpon. It costs $2.25 to gain access to the feeding dock. You can buy a bucket of fish for $4.00 to feed the tarpon, or you can watch others feed the fish from the pier.  Visit Robbie's to watch a video of what it's like to feed a tarpon.
Robbie's address: 77522 Overseas Hwy, Islamorada, FL 33036
Walk along the old 7  Mile Bridge.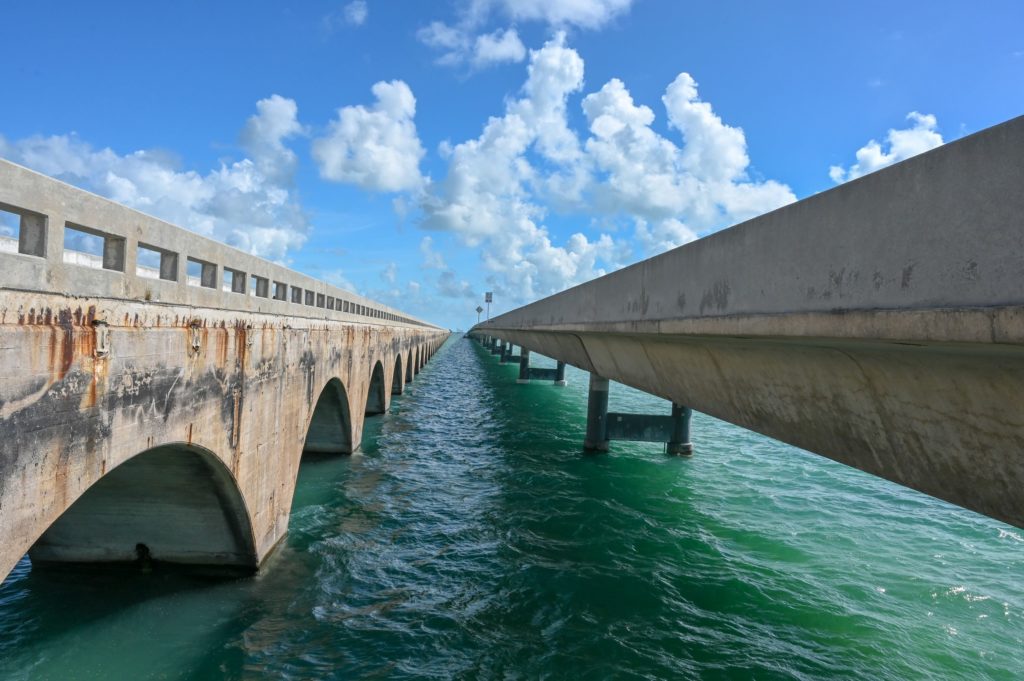 Stop on Little Duck Key (yeah that made me smile too) at the parking lot for the boat launch and old 7 Mile Bridge near mile marker 40. The old 7 Mile Bridge is now a pedestrian walkway, and it runs parallel to the new 7 Mile Bridge. Walk along it and enjoy some beautiful views of Little Money Key.  Take time to watch people fishing, look for starfish, sea turtles, and to spot fish swimming below. Enjoy a stroll in the sun in a unique setting you probably won't find anywhere else.  
Visit the Dolphin Research Center on Grassy Key
If you love dolphins, then consider stopping at the Dolphin Research Center and learn about the dolphins they have rescued and the rehabilitation efforts of the facility.  You can also book a dolphin encounter and get in the water with the dolphin.  Depending on your interest level or program you want to do, you'll need to book in advance and plan for a few hours here.  So keep that in mind if you only have one day to drive through the Florida Keys.
General Admission Fees: $28 for adults and $23 for kids. Program fees vary with each program you choose.  Visit the Dolphin Research Center to learn more about all the plans they have to offer and to book your experience.
Dolphin Research Center address: 58901 Overseas Hwy, Grassy Key, FL 33050
Eat Key Lime Pie at Kermit's Key West Key Lime Shoppe
You've finally made it to Key West! Your drive to Key West has been a full one so far,  why not congratulate yourself with some key lime pie for a trip well done, or whatever reason you can create to tell yourself its okay to eat another piece of key lime pie.
I tried key lime pie from breakfast to dinner during my day in the Florida Keys, and Kermit's was one of the best pieces of pie I ate!  You can read all abut the amazing key lime pie I ate, plus an unexpected, but delicious key lime creation that was a favorite of mine on Where to Find the Best Key Lime Pie in the Florida Keys.
Visit Ernest Hemingway's house in Key West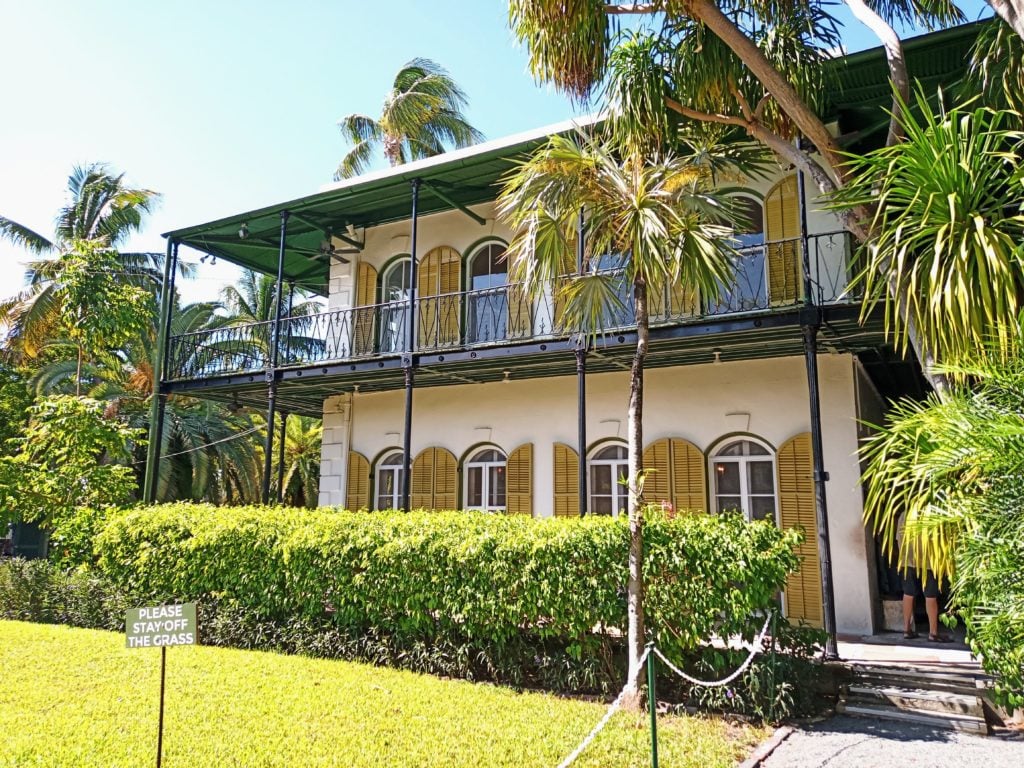 Take a glance into the life of this famous American writer. Enjoy a break from the sun inside the air-conditioned house of what was Ernest Hemingway's former residence. Hemingway lived here from 1931 to 1939. 
The house is full of memorabilia from the many movies inspired by Hemingway's books as well as his original possessions. One of his typewriters, books he owned and you can peer into his writer's studio, his own space to create his masterpieces. 
You can wander around the grounds as well. Look at the refreshing swimming pool, but don't give in to its call to jump in. The grounds around the house offer lots of shaded spots for sitting and thinking. There is also a bookstore on the backside of the house where you can purchase souvenirs.
General Admission is $14 for adults and $6 for children. It's important to note that they don't accept credit cards for tickets. They do, however, have an ATM by the bookstore in case you need to get some cash for payment. There is also an optional 30-minute guided tour included in the price of general admission.
Address: 907 Whitehead St, Key West, FL 33040
Hike to the top of the Key West Lighthouse
Across the street from Ernest Hemingway's house is the Key West Lighthouse. You can climb the 88 stairs to the top to get a bird's eye view of Key West.  This historic lighthouse was built in 1848 and was one of the first to have a woman as its Keeper.  You will have a chance to tour the lighthouse as well as the Keeper's Quarters and learn a little more about the history of the Key West Lighthouse.
General Admission is $12 for adults and $5 for kids.
Address: 938 Whitehead St, Key West, FL 33040
Walk Around Old Town Key West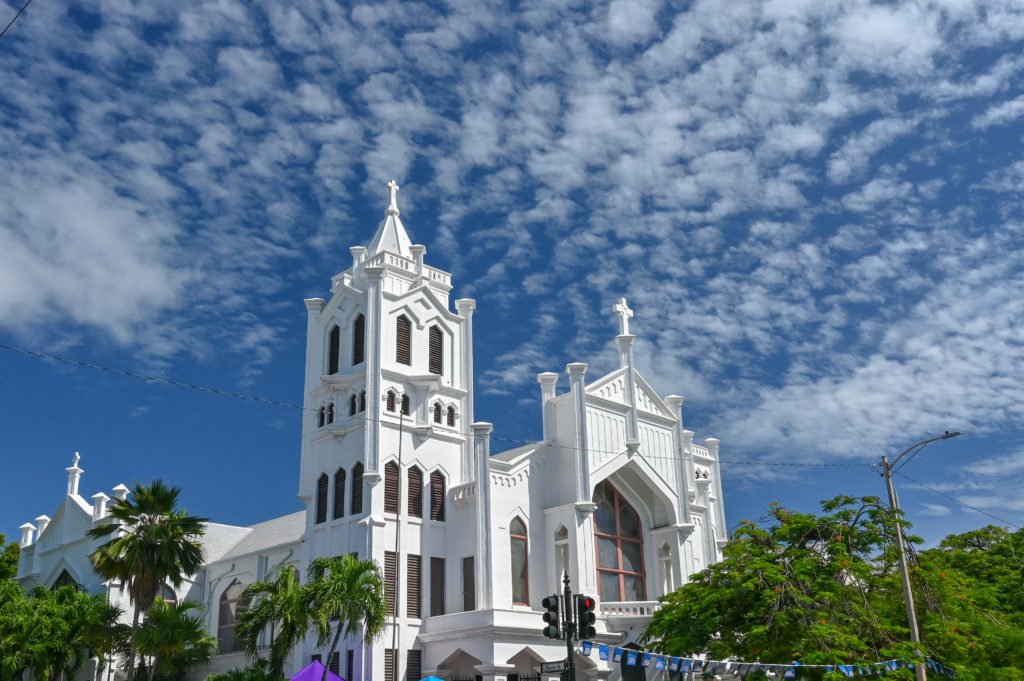 Enjoy walking around town, shopping at the small boutique shops, and admiring the beautiful buildings in Old Town Key West. You can start at Mallory Square and walk down Duval Street to the Southernmost Point. Stop by the historic cemetery or visit Mile Marker Zero.  Old Town is a fun area to park the car and spend your time on foot.
Tour the Truman Little White House
Get a chance to see where President Harry S. Truman spent his winters. It seems like a pretty excellent alternative to winter in Washington D.C.! Learn more about this historic house and its use since constructed by the U.S. Navy in 1890.
General Admission is $21.45 for adults and $10.75 for kids. If you purchase your ticket online, you can save a couple of dollars.
Address: 111 Front St, Key West, FL 33040
Stop at the Southernmost Point in the Continental U.S.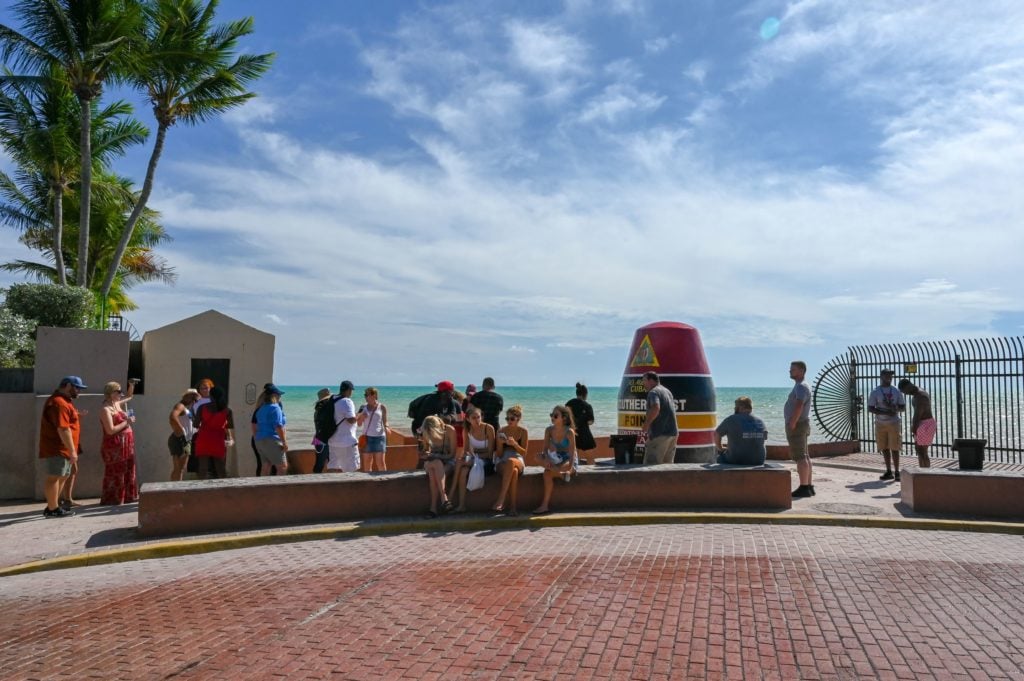 Enjoy another photo op, however just know that you may have to get in line to take your photo with the marker stating it is the Southernmost Point in the Continental U.S. There isn't any shade either.  So you can decide just how important this photo op is to you.
The Drive Back Thru the Florida Keys
If you didn't get a chance to spend some time on the water, now would be an excellent time to visit one of those parks I mentioned earlier.  It's also a good time to grab some more key lime pie and decide where to watch the sunset.
Watch the Sunset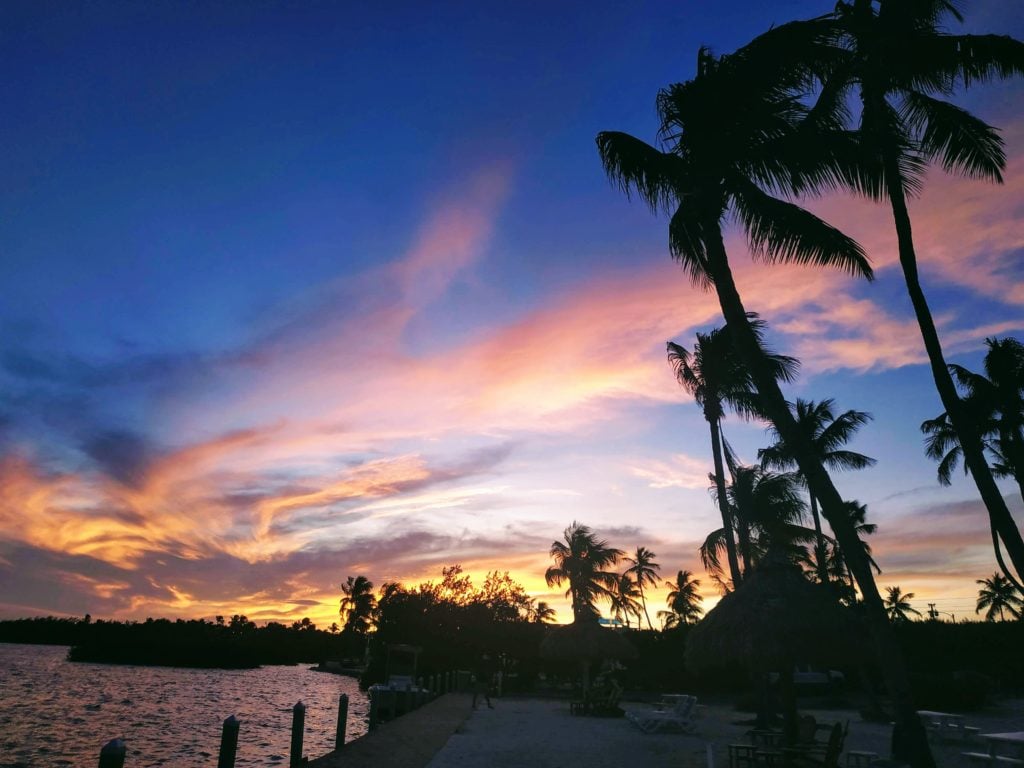 Wherever you happen to be in the Florida Keys, make sure to enjoy a beautiful Florida sunset. Here are a few options for places to watch the sunset either in Key West or on your drive back.
Sunset Tiki Bar and Grille (at the Galleon Resort): 617 Front St, Key West, FL 33040
Lorelei Restaurant and Cabana Bar: 96 Madeira Rd, Islamorada, FL 33036
Sundowners: 103900 Overseas Hwy, Key Largo, FL 33037
Places to Eat When Driving to Key West
Coffee & Breakfast:
Midway Cafe & Coffee Bar
Address: 80499 Overseas Hwy, Islamorada, FL 33036
Harriette's Restaurant
Address: 95710 Overseas Hwy, Key Largo, FL 33037
Lunch Spots:
Twisted Shrimp
Address: 87745 Overseas Hwy, Islamorada, FL 33036
Caroline's Cafe
Address: 310 Duval St, Key West, FL 33040

Dinner Options:

Lorelei Restaurant & Cabana Bar
Address: 96 Madeira Rd, Islamorada, FL 33036
Hobo's Cafe
Address: 

101691 Overseas Hwy, Key Largo, FL 33037

Santiago's Bodega
Address: 7305, 207 Petronia St #101, Key West, FL 33040
Things to Do if You Have More Than One Day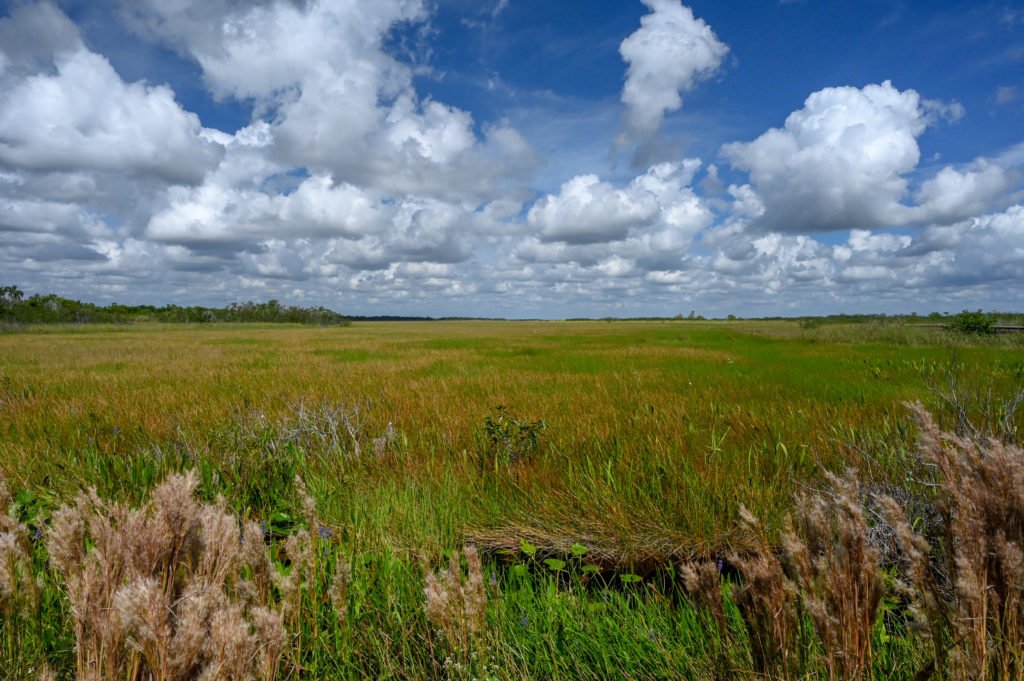 Where to Stay in the Florida Keys
You have so many choices for where to stay.  I'd pick one based on where you're traveling to next.  Marathon is an excellent choice for a Key close to Key West, but outside the busy Key West party scene.  Islamorada was a great stop for us as we were heading to Miami the next day, so it was a good midway point. If you want choices galore and don't mind driving the full length of the Florida Keys in one day, then you might research options in Key Largo.
For a unique option, you might consider one of these Air BnB options:
Final Thoughts on Driving to Key West
As I stated at the beginning of this post, driving through the Florida Keys, is not a race to the finish, but more like a leisurely Sunday drive.  It should be full of sunshine and fun stops and road trip memories to last a lifetime. 
Pack sunscreen, beach towels, extra water, flip flops, maybe a change of clothes, depending on your dinner plans and your favorite road trip music.  I suggest some fun hits like "Ice Ice Baby" to get everyone laughing and then throw in some upbeat Cuban music that'll have you dancing in your seats.  Smiles for everyone!
Happy Road Tripping!