I love mixing in outdoor activities when I travel.  National Parks and mountains surround Chiang Mai so hiking in Chiang Mai was top on my list of things to do during my visit. I knew that we didn't have enough time to do any longer hikes. So I looked to see if there were any hikes we could reach by either walking from our hotel or via a quick taxi ride. That's when I read about this Chiang Mai hike to Wat Pha Lat.
Wat Pha Lat is a Buddhist temple and monastery.  The hike is called the Monk's trail, and you will see trees wrapped by monk's ribbon all along your walk to Wat Pha Lat.  It only takes about 40 minutes to reach the temple. The path has ample shade, and you will pass some small waterfalls and resting spots on your way.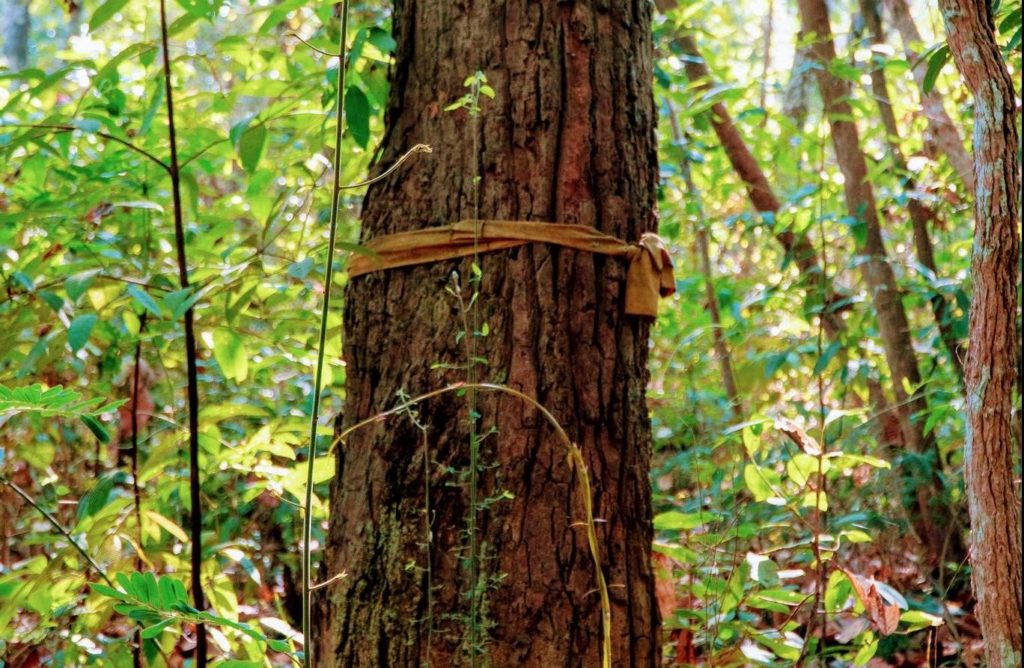 Getting Here: 
You will want to make sure your driver understands that you want to go to the trailhead.  We booked a Grab from our hotel. We gave the driver the address to the trailhead, but we still needed to explain that we didn't want to drive to the Temple.
There is a road you can take to drive up there, but that defeats the purpose of hiking. It was only a 10-minute ride to the trailhead from our hotel at BED Nimman in Chiang Mai.
Trailhead Address: Unnamed Rd Tambon Su Thep, Amphoe Mueang Chiang Mai, Chang Wat Chiang Mai 50200, Thailand
The Hike
You will find a sign at the trailhead showing the route to Wat Pha Lat.  I didn't find the map to be that useful for me.  Just follow the main trail.  I found it to be reasonably intuitive.  Plus there are usually other hikers on the path to help guide you, should you have any questions. There are also a few viewpoints along the way, and if you happen to be there when the smog isn't too bad, you will be rewarded with views of Chiang Mai below.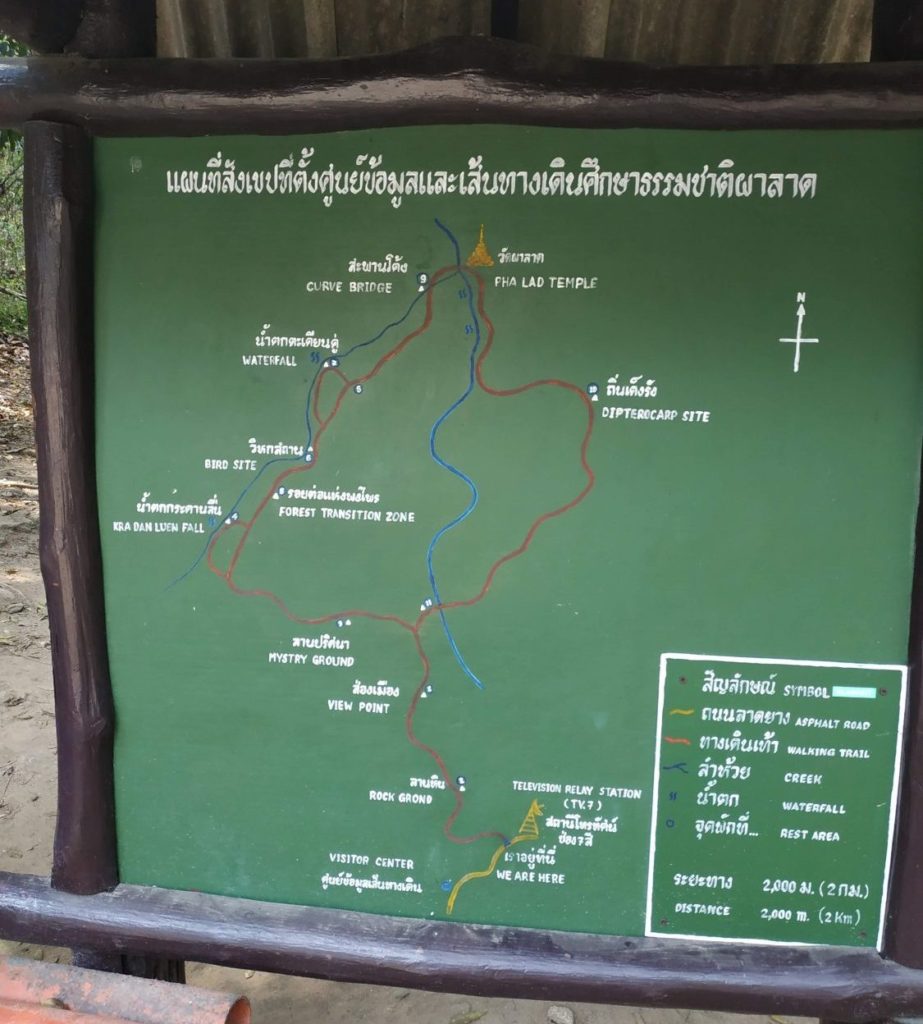 Since the hike to Wat Pha Lat is such an easy one, it makes a good one for families too.  So don't be too concerned if you have kids, as you can quickly stop to take breaks on the way up if needed.  I saw quite a few families making their way up and down the trail.  It will make for beautiful memories and stories to tell about their hike thru the Chiang Mai jungle.
When you arrive at Wat  Pha Lat you will come to a small bridge, and there will be signs about a coffee stand, you will see a small waterfall as well as a bunch of rocks that make for great resting spots for enjoying the views.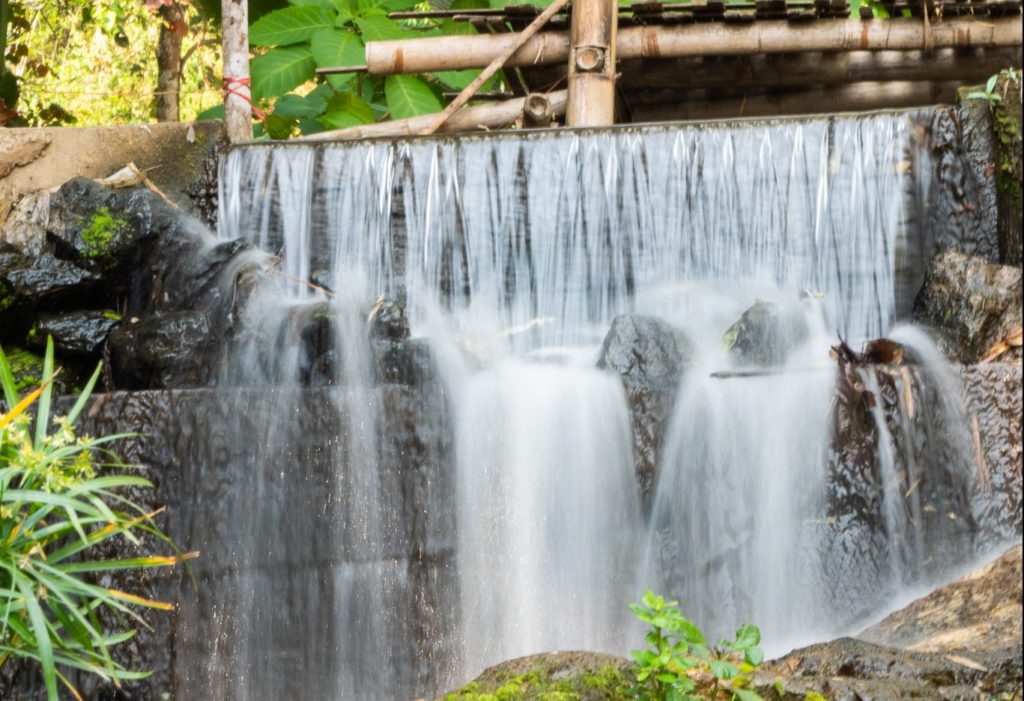 Remember that you have now entered a Buddhist monastery so you will notice signs everywhere asking you to be quiet and respect the temple areas. You are, however, free to wander around and explore the temple grounds.
We finished walking around the temple and decided to go back to the trail and follow it up to a small creek we saw.  We watched some little fish swimming in the stream and looked at tadpoles (at least that's what we think they were). Then we went back to the trail.
My Spider Fears Confronted:
That is when we noticed this enormous spider suspended in its web above us!  This picture does not do it justice as it was HUGE!  I had done my best up to this point, to not think about there being spiders here in Thailand.  In fact, before the trip, I purposely chose not to research spiders in Thailand because I didn't want to know!
So needless to say, my arachnophobia kicked in, and I let my husband know he was free to stay there and take pictures, but I was going to move down the trail a bit.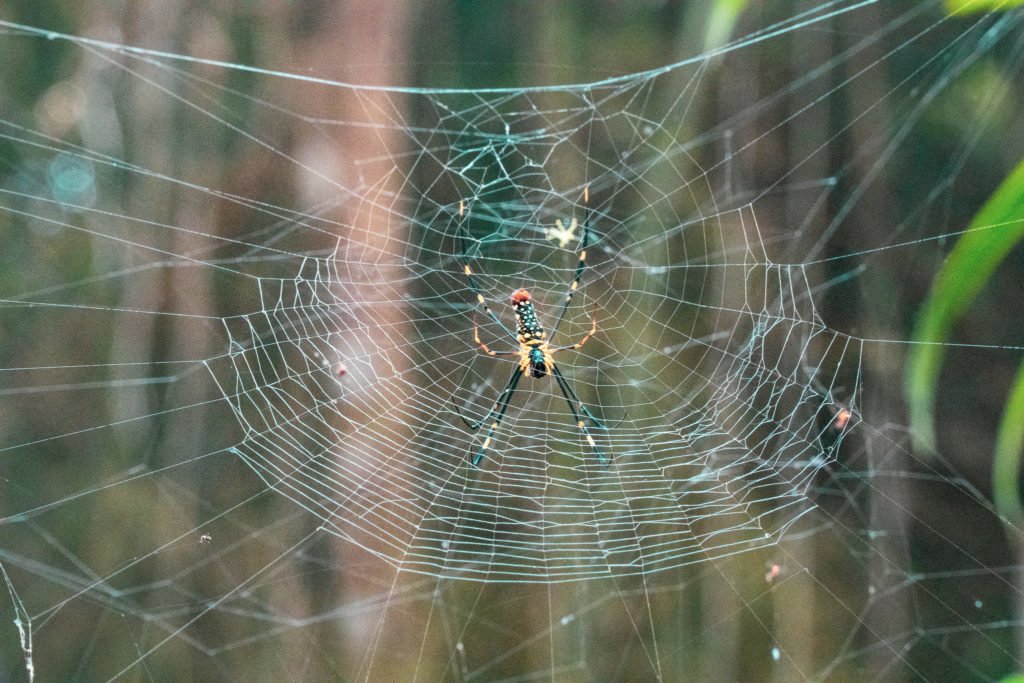 After he finished, he came over to show me the photos (which I had no interest in seeing), and that's when he looked above my head and said "oh my goodness!"  I of course panicked, and sure enough, suspended over my head was another one of these giant spiders!
So I took off and decided to wait on this little bridge we had passed, it seemed safe enough. I checked over my head, and couldn't see any more spiders, so I stood there waiting and doing my best not to bolt down the mountain at full speed!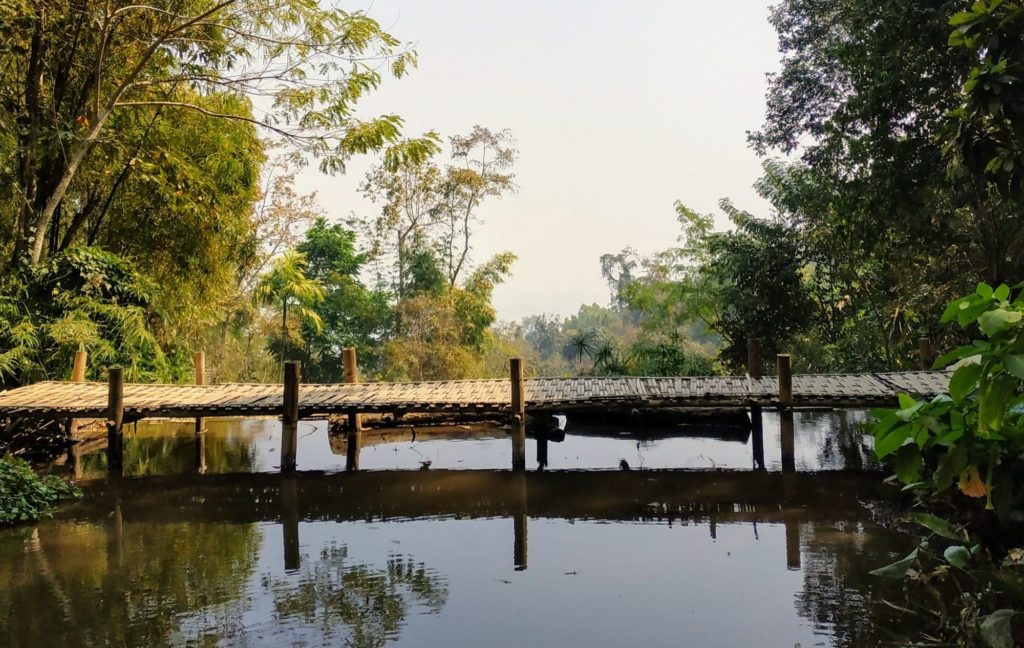 I told myself, it was probably like our garden spiders back home. They are big and scary looking, but for the most part harmless.  Now, of course, our garden spiders aren't the size of my palm!
Before seeing the spiders, I had enjoyed my visit very much, but ignorance is bliss, and since I was now fully aware of what lurked in the trees, I was not too eager to stay any longer than I had to.  We quickly made our way down the mountain.
Getting Back to Chiang Mai:
You may not have cell service at the trailhead. But don't panic! You can walk down the road until you do and then call a Grab taxi to pick you up.  Or if you wait at the trailhead, a red songthaew (red truck taxi) will usually arrive dropping off hikers.
We waited about 2 minutes before one pulled up at the trailhead. We told the driver where we were staying and then she told us the price.  I believe it was 100 THB total for my husband and me.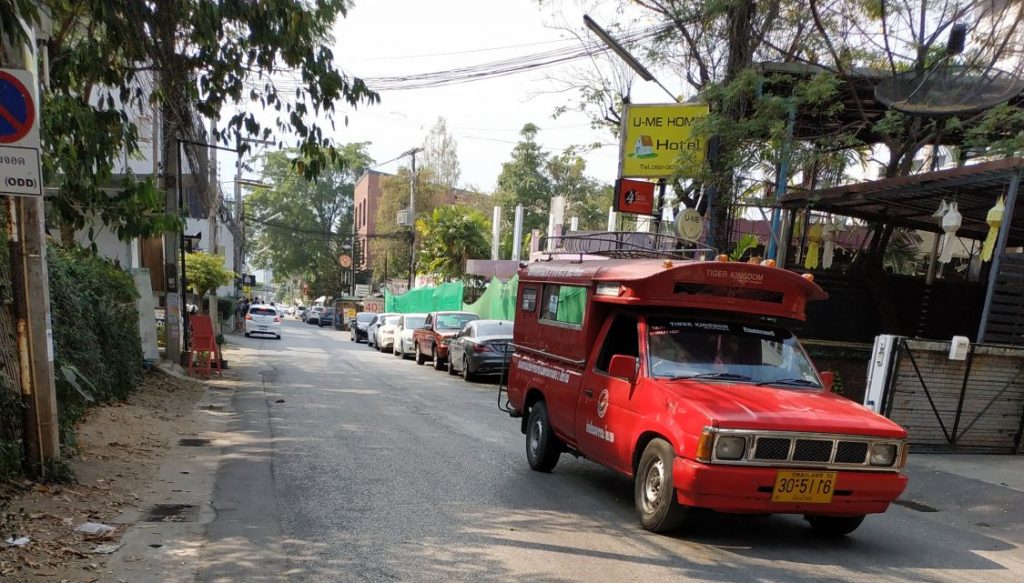 You sit in the back of the truck on benches. It is a very inexpensive and easy way to get around Chiang Mai.  You may want to use them for traveling around the city or to other sites, such as to see Wat Phra That Doi Suthep.
The songthaew taxis try to collect passengers that want to go to the same general area. So if you stop and ask a songthaew driver for a ride and they won't take you, it is most likely because you don't fall along their route.  So don't be discouraged, ask the next red truck taxi you see and you will find one that is willing to take you.
Where to Grab Lunch:
After your hike, I am sure you will be hungry.  I highly recommend trying out one of these dining options:
KOBQ: A fabulous Korean BBQ restaurant. Make sure to try their Korean fried chicken, it was amazing!
Address: 202 เอ็น พาร์ค Tambon Su Thep, Amphoe Mueang Chiang Mai, Chang Wat Chiang Mai 50200, Thailand
Beast Burger: If you are looking for a fabulous burger, look no further!  Their balsamic cheesesteak burger was one of the best I have ever eaten! Make sure to check the time as they close between lunch and dinner for a short 2 1/2 hour break.
Address: Nimmanhemin Soi 17 Suthep, Tambon Su Thep, Amphoe Mueang Chiang Mai, Chang Wat Chiang Mai 50200, Thailand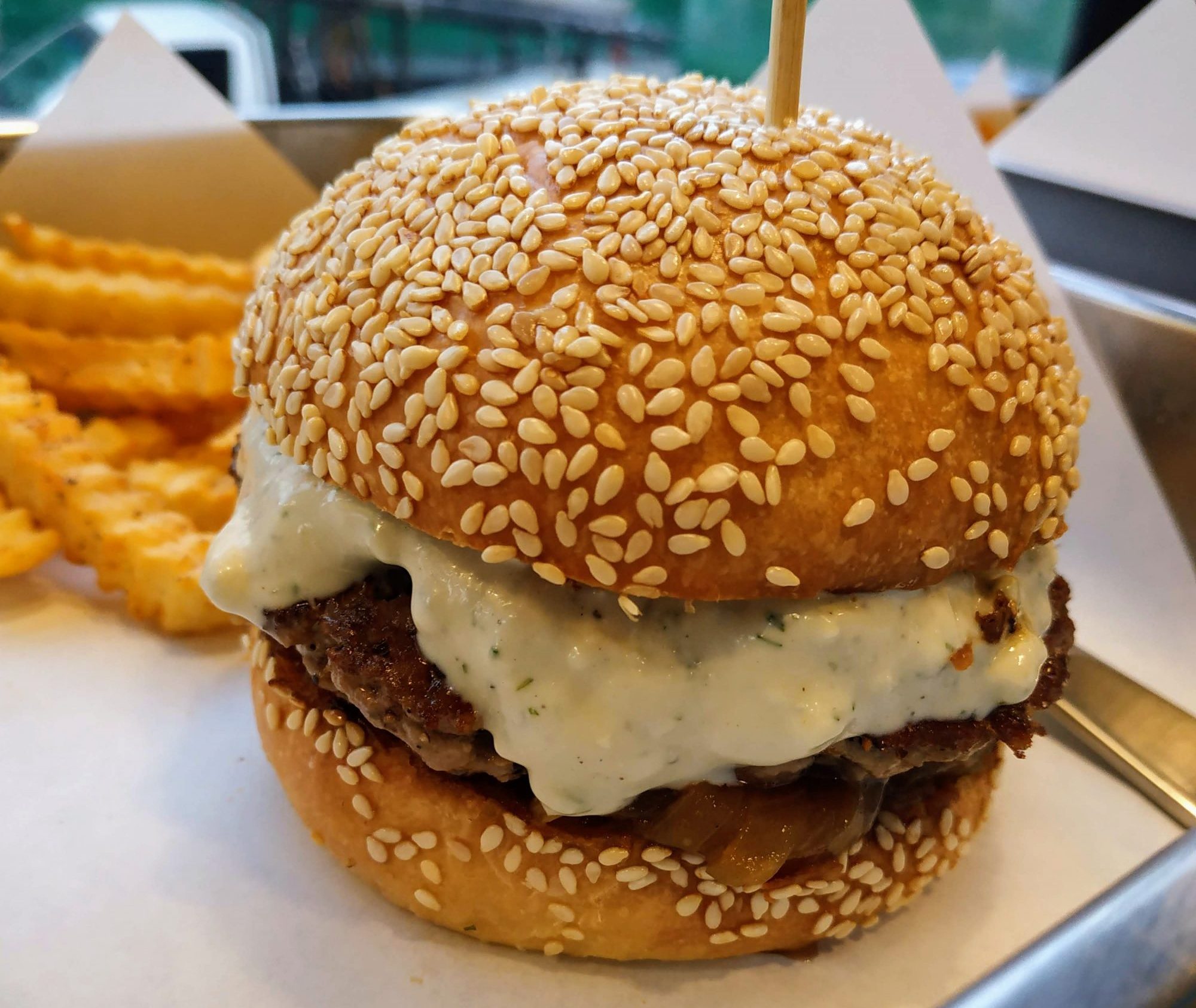 Final Thoughts on hiking to Chiang Mai's Wat Pha Lat (Monk's Trail):
There are many options for hiking in Chiang Mai, but if you are short on time, this is an easy hike you can do first thing in the morning before it gets too hot and still have ample time for sightseeing afterward.  Wat Pho Lat was a refreshing change of pace. It is a peaceful and beautiful area. A perfect setting to relax after your hike up the hill.
You can continue up the trail and hike to Doi Suthep (this is a much longer and more challenging hike). However, I recommend enjoying the tranquil setting of this jungle temple. It is a respite from the busy city below. If someone told me that I would see giant spiders while hiking in Chiang Mai, I am not sure I would have gone. But I am so glad that I did! I enjoyed my visit to this temple more than all the other temples in Chiang Mai. And that's even with the spider!
Check out my full 3-week itinerary to Thailand for more inspiration. And in case you prefer something longer or to hire a guide, Trip Advisor offers some additional options for hiking in Chiang Mai.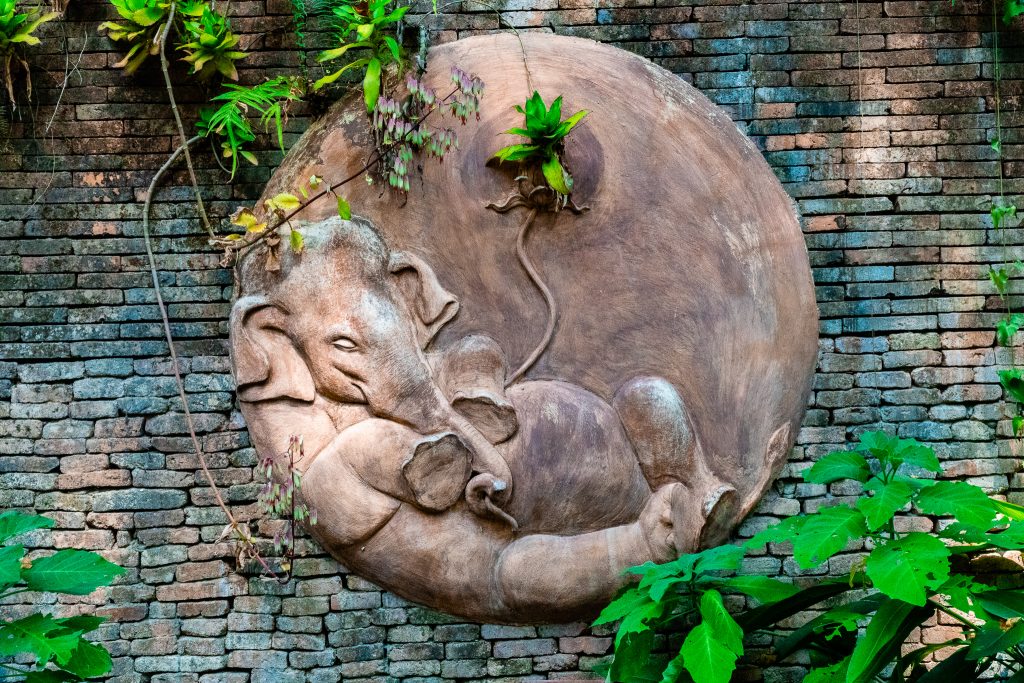 Here's to seeing new places & facing your fears!