Valley of Fire State Park is magnificent with its red and pink striped rock formations.  It is home to the Fire Wave, pastel-colored slot canyon, Elephant Rock, mountain sheep, and other plants and animals. It's full of historical and cultural history too! It has many hiking options to choose from as well as a gorgeous scenic drive.
Valley of Fire State Park makes for a perfect day trip from Las Vegas! Although one could easily spend a couple of days here, in this article, I share my tips for what to see and how to prepare when you only have one day at Valley of Fire.
About Valley of Fire State Park
Valley of Fire State Park spans almost 42,000 acres. It features beautiful red Aztec sandstone, multiple types of limestone, and shale. It is also home to a variety of wildlife and desert plants. It is home to roadrunners, lizards, coyotes, foxes, and desert tortoises, to name just a few of the creatures that live here .  Valley of Fire State Park is also home to mountain sheep. I saw both rams and female mountain sheep during my visit.  They are so majestic as they climb with ease on what appears to me to be sheer rock faces.
Valley of Fire History
According to information in the park, the area was once inhabited by the Basket Maker people and later the Anasazi Pueblo farmers.  They have found examples of rock art and other evidence suggesting they lived here from 300 BC to 1150 AD.  Additionally, the park has well-preserved petroglyphs dating back almost 4,000 years!
Park Fees
Valley of Fire is a part of Nevada's State Parks system.  If you have a National Parks Pass that will not work here at Valley of Fire.  The entrance fee for vehicles with non-Nevada plates is $15 per vehicle. For vehicles with Nevada plates, it is $10.
Hours of Operation
Open daily from sunrise to sunset. 24-hour access is given to those camping at one of the campgrounds inside the park.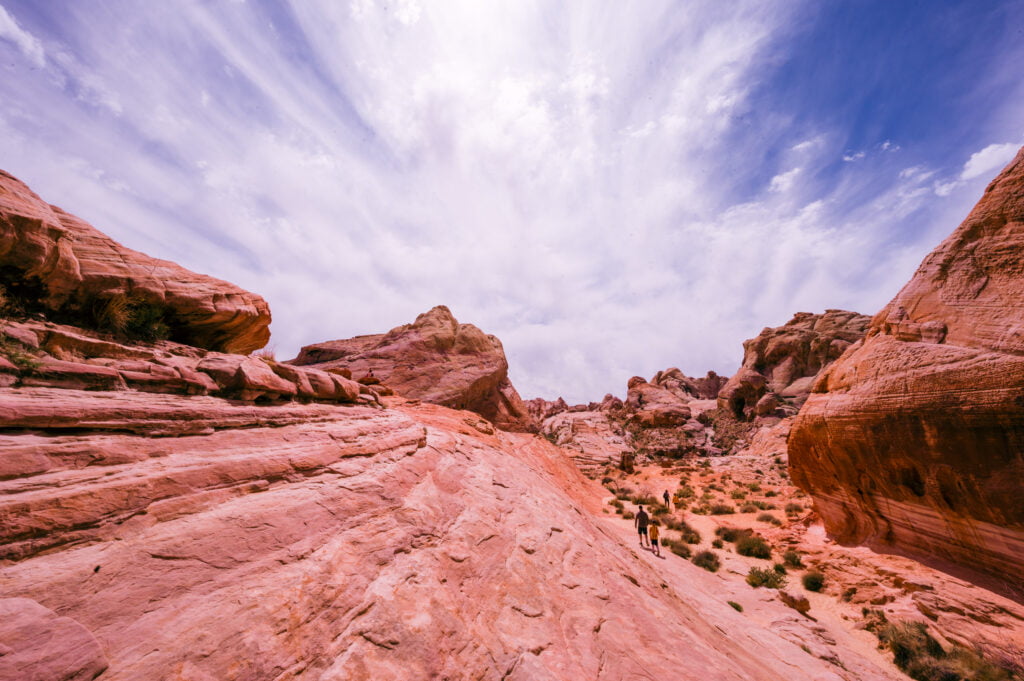 Camping
There are two campgrounds at Valley of Fire State Park. With only a total of 72 campsites, these campgrounds fill up fast during the peak seasons.
In addition to the entrance fee, there is a per night camping fee.  It is $25/night for non-NV vehicles and $20/night for Nevada vehicles. RV camping with utility hookups costs an additional $10/night.
If you can get a campsite, I highly recommend it! You'll have more time to explore the park, plus you get to experience sunrise and sunset and see how the sun's light illuminates the fiery red rocks the park is named for.
All campsites are first-come-first-served, so you need to plan to get there early to get a spot! I arrived around 10 a.m., thinking I was early enough. Boy, was I wrong!  There was already a line to enter the park, and the ranger at the entrance station told me the camping spots were full.  
Tip: You can also camp for free on Bureau of Land Management (BLM) land located outside the park boundaries, you will see RVs parked on the BLM land as you drive toward the park along the Valley of Fire Hwy after exiting off I-15 N.
When I visited Valley of Fire, I was on a road trip to see some Southwest National Parks. While doing this, I tried SUV camping for the first time.  I considered camping on the BLM land outside of Valley of Fire, however, due to the fauna in the desert, there is next to no privacy, and since BLM land has no amenities like a bathroom, I opted for staying in Las Vegas instead.
Wi-Fi
Valley of Fire is one of the few parks I've found with Wi-Fi for purchase. I did not use it during my visit, so I can't say how well it works. Cell data is very spotty inside the park, so if you plan to stay here longer than one day, you may find it useful to pay for one of their Wi-Fi plans.
Picnic Areas
There are no restaurants or food amenities within the park, so make sure to bring picnic supplies for your day trip to Valley of Fire State Park. There are small briquette BBQ grills at the picnic areas, so you can BBQ  while enjoying the view. Peanut butter and jelly sandwiches are always a good go-to option for hiking that doesn't require a cooler.  
Bring lots of water, Gatorade, and drinks for your day trip here. I tend to go with what's easy.  So I stick with PB & J sandwiches or bring meat and cheese snackables.  Snack bars are also nice to have during your hikes, and make sure to hydrate! This is especially important if you visit during the summer as it gets hot here!  You are in the desert, so the heat brings its own element of challenge to hikes that would be easier if not for the heat.
Tip: One of the best picnic areas I found in the park is the Seven Sisters picnic area. It has good shade, BBQ grills, and great views!
Best Time of the Year to Visit Valley of Fire
Spring: I visited in late spring, and it was beautiful! The morning air was still cool, but by the afternoon, the temps were in the upper 80's. When you're hiking in the open with no shade, even springtime heat can begin to take its toll.
Summer: This is probably the busiest time to visit Valley of Fire State Park. It is also the hottest time of the year, with highs between 100 degrees and even sometimes reaching as hot as 120 degrees F! If you visit in summer, plan to get an earlier start than normal and bring lots of water and sunscreen!
Fall: Temperatures in the fall can range anywhere from the mid-60s to the low 90's.  It's closer to summer temperatures in the Pacific Northwest.  
Winter: Temperatures can get as low as freezing during the winter, but typically the daytime temps are mild and are often in the mid-70s.
Make sure to pack lots of water and sunscreen!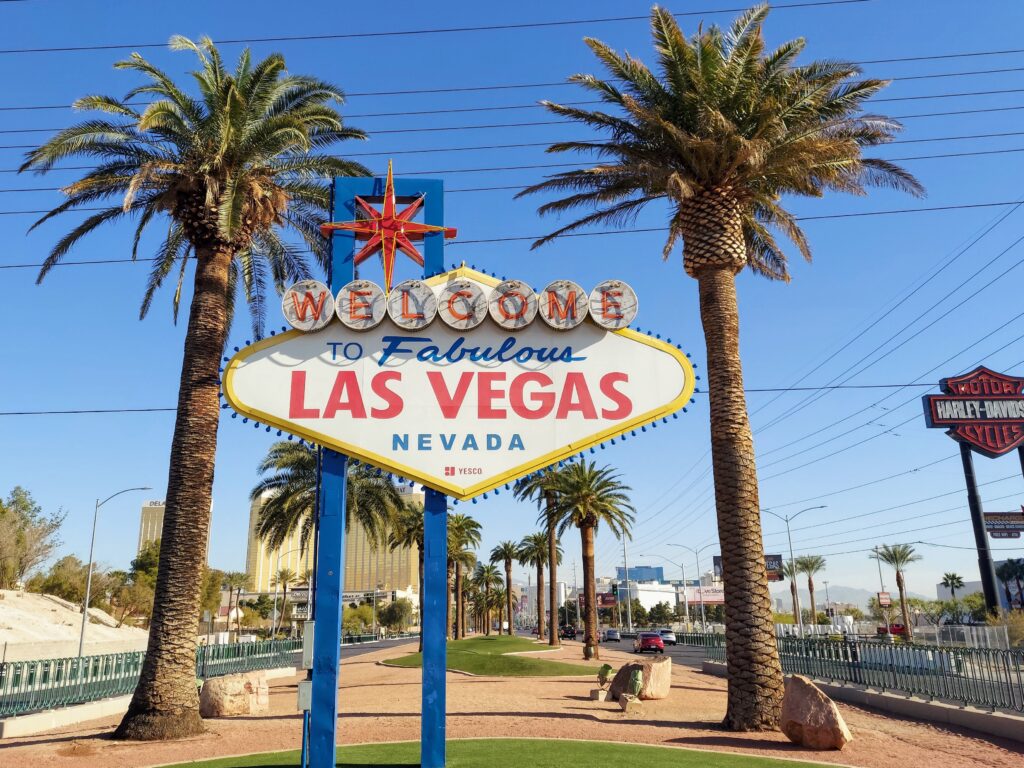 Getting to Valley of Fire State Park
Valley of Fire State Park is only a 1-hour drive from Las Vegas.  It is about 55 miles outside of Las Vegas off Interstate 15. Take I-15 N to Exit 75. After exiting, follow signs for Valley of Fire. It is about another 12 miles along the Valley of Fire Highway before you reach the entrance station for the park.  
If you're staying closer to Henderson, NV, you can also access Valley of Fire via Northshore Road (highway 167) through the Lake Mead National Recreation Area. However, be aware that there is an additional National Park Recreation Fee of $25 per vehicle.  The fee gives you access to the Lake Mead National Recreation Area for 7 consecutive days.  It is a separate fee from the entrance fee at Valley of Fire State Park.
Two Entrance Stations:
If you drive up I-15, you will arrive via the West Entrance Station.  There are maps and restrooms here.  If you come before the pay station opens, there are self-pay envelopes you can complete in the little parking area to the right.  Make sure to have exact cash if paying using the envelopes.
If you come via Lake Mead, then you'll enter the East Entrance Station.  This station is closest to Elephant Rock.  It also has maps and restrooms in the parking area by the entrance.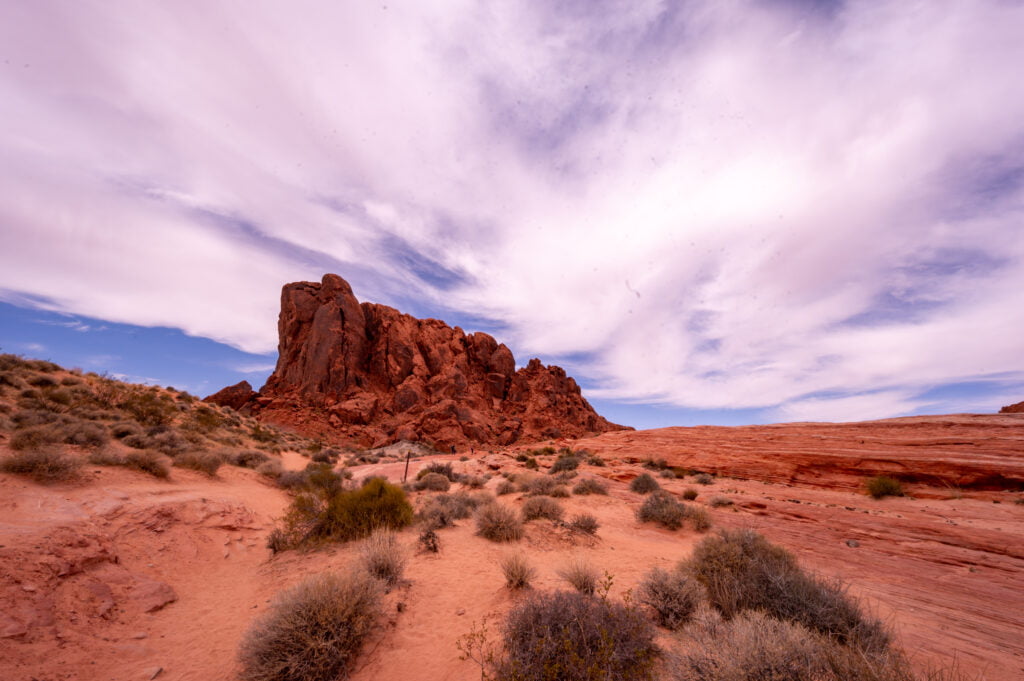 Things to See During Your Visit
There are more stops and hikes to do at Valley of Fire than you will want to do with only one day to spend here.  Below is a list of the main stops within the park. I also provide a suggested one-day itinerary below, as well as a Google Maps itinerary you can download for your trip.  Make sure to download an offline map of the area before your drive to Valley of Fire.
Beehives (Quick photo stop from the parking area. ~5 min)

Atlatl Rock (Short walk and some stairs to climb to see these well-preserved petroglyphs. ~ 15 minutes)

Visitor Center/Ranger Station (look up times) (good for info and additional hikes for longer stays)

Mouse's Tank Trail (0.75-mile roundtrip, sandy trail with petroglyphs ~ 1 hour)

Rainbow Vista (This 1-mile hike is along a sandy trail, best suited for the coolest part of the day as there is also no shade.)

Fire Wave (1.5 miles round trip to photogenic rock wave)

Pastel Canyon (0.25-mile unmarked trail through the short canyon to see pastel striped rocks. ~10 minutes)

White Domes (1.25-mile loop. Scenic loop trail where movies like Star Trek Generations and The Professionals were filmed. There's also a picnic area here.)

Seven Sisters (Great picnic area)

Elephant Rock (quick stop by East Entrance)
Scenic Drive: Even if you're unable to do the hikes listed above, you make sure to drive Mouse's Tank road (later becomes White Domes Road) for an incredibly scenic drive. It is gorgeous driving both up and back down, and there's a high chance you'll also see mountain sheep during your drive.
In the one-day itinerary below, I share what I think are the best stops for your first trip here.  Remember, depending on when you visit, the weather may be very hot.   You might be surprised by how the heat affects your stamina, especially if you come from a milder non-desert area.  I realized this after visiting Joshua Tree and Death Valley the week before I came to Valley of Fire. I found I could not pack as much into my day as I might in a cooler environment.
Suggested One-Day Itinerary to Valley of Fire State Park
Try leaving Las Vegas by 8:00 a.m. or before.  The earlier you get there, the better your daytime heat and also the more time you'll have before the crowds come.  Make sure to bring your picnic lunch, snacks, water, and other drinks to stay hydrated and fueled for your hiking and sightseeing.  Also bring extra sunscreen and a sunhat of some sort is also a good idea.  This itinerary assumes you're starting at the West Entrance Station.
Arriving at Valley of Fire State Park
Arrive at Valley of Fire State Park by 9:00 a.m., pay the entrance fee, and make the quick stop for a photo of the beehive rocks.
Beehives
This is a quick photo opportunity of some rocks that look like, you guessed it, beehives! It's a quick stop on the right side of the road. Unless you're really running behind, you might as well stop. Probably only 5-minutes to hop out and snap a few photos and hop back in the car!
Valley of Fire Visitor Center
After leaving the Beehives, continue straight until you see the (left) turn for the Visitor Center and Mouse's Tank Road.  The Visitor Center is a good place to stop and use the restroom and learn more about the desert environment at Valley of Fire State Park. 
After your pit stop at the Visitor Center, continue up Mouse's Tank Road. This is the most scenic drive in the park, well worth the drive alone! 
You'll pass several stops as you make your way up to Parking Lot 3 (P3). The parking for the Fire Wave is on the right side of the road. The trail also starts on the right side. The Fire Wave is the longest hike on this itinerary, and it is also the most popular. I recommend getting it out of the way while it is cooler and before the crowds come. This hike will not disappoint! Plan 1-2 hours for this stop.
Sometimes during the summer, they close this trail due to a high number of heat-related emergency calls. The desert is no joke, so make sure always to have plenty of water with you and do your best to stay out of the sun during the hottest part of the day.
White Domes – 1.25-mile loop
After your hike to the Fire Wave, continue up Mouse's Tank Road, and soon it turns into White Domes Road. You'll follow the road all the way to the end, where you'll find parking and a picnic area for the White Domes trail area. You may want to take a snack break or have a picnic here either before or after completing the White Domes loop trail.
The return loop makes a gradual ascent back and around to the parking area. The steepest part of the hike is that initial descent. This hike is a beautiful one, don't let the steep sandy descent stop you as the trail levels out at the bottom, and you get a nice cool slot canyon to hike through before popping back out onto the trail. This stop takes 2-3 hours.
Picnic Stop
You can either have your picnic lunch at the White Domes picnic area or hop back in the car for what I think is the best picnic spot in Valley of Fire. You'll drive back down to the main road (near the Visitor Center). At the "T" intersection for the main road, make a left, then drive about a mile where you'll come to the Seven Sisters picnic area.  This picnic area has good shade, large spaces, and BBQ grills too! Make sure to look for mountain sheep along your drive. 
Elephant Rock
After you've had lunch, continue along the main road toward the park's east entrance. You'll see a parking area by the entrance station. Park here for the short walk back to Elephant Rock. It's a 0.3-mile hike there and back from the parking area to Elephant Rock.  You'll follow the trail that goes alongside the highway. There is also a longer 1.2-mile loop that takes you up and around Elephant Rock. Please do not climb on the rock itself.  It is fragile, and they want to preserve this as long as possible for future visitors to see.
Atlatl Rock
After visiting Elephant Rock, return the way you came, heading back toward the West Entrance. It's about 5.5 miles from Elephant Rock to the Atlatl Rock Parking lot. From the road, you can see Atlatl Rock with its staircase rising above the desert.
 The petroglyphs at Atlatl Rock date back to almost 4,000 years and are so well preserved they are worth this short stop. If it's busy, you may need to wait in line to go up the stairs to see the petroglyphs. 
By this time, you will most likely be ready to head back to Las Vegas to get some dinner and enjoy a relaxing evening in the city and possibly an In-N-Out burger on the way back.
If you have time or want to add to your one-day itinerary, then you might consider adding one of the following short hikes to your itinerary.
Mouse's Tank Trail, 0.75 miles. This is a sandy trail with no shade. It features more ancient petroglyphs.
Rainbow Vista – 1-mile hike, also sandy and hot, leads to a viewpoint of the rocky terrain. I do not recommend doing this during the hottest part of the day. It's not worth it.
An optional 10-min stop on the way to the Fire Wave: The Pastel Canyon
This is an optional quick stop you can add to your one-day itinerary on the way to the Fire Wave. It only takes about 10-minutes to walk to this short but beautiful pastel-colored canyon and back again.  There is no designated parking lot and only a small pullout on the right side of the road that fits 2-3 cars.  You begin hiking on the right, following the rocky wash to a very short canyon with beautiful striped rocks of varying hues of reds and pinks. 
Please read my article on hiking to the Fire Wave for tips on visiting it from this trail. (5-10 minute stop at Pastel Canyon unless using this as an alternate route to the Fire Wave)

Now to get that In-N-Out Burger…