If you want a fun and easy slot canyon that doesn't require any big scrambles over rocks or narrow squeezes that require months of dieting to perform, then look no further than the Willis Creek Slot Canyon! The Willis Creek Slot Canyon is located in Utah's Grand Staircase-Escalante National Monument. 
This hike is perfect for families and anyone looking for a mostly flat slot canyon hike. I saw multiple families with young children, probably around the age of 5 or possibly younger doing this as well as older kids and teens.  It's a beautiful and enjoyable slot canyon hike good for all ages.  
We chose to do this hike on a day where we spent the morning at Bryce Canyon, but we still wanted a short hike to do that afternoon.  The Willis Creek Slot Canyon Hike is about 1-hour from Bryce Canyon National Park and only 30-minutes from Kodachrome Basin State Park. If you're in the area, you'll want to consider this fun hike!
Getting to the Willis Creek Slot Canyon Trailhead
The turn-off for the road to Willis Creek Slot Canyon is just outside the small town of Cannonville.  Stop at the visitor center in Cannonville to double-check road conditions.  If it has rained or will rain, then skip this hike.
Directions:
From Cannonville, head south on Kodachrome Road/Main Street for about 2.5 miles before it turns into Cottonwood Canyon Road. Take a right on BLM 500/Skutumpah Road.  Stay on BLM 500 for about 6.1 miles before arriving at the parking area for the Willis Creek Slot Canyon trailhead.  You will come to multiple forks in the road, but as long as you stay on BLM 500, you will arrive at the parking area after about 30-minutes of driving time.
*I used Google Maps to navigate to the Willis Creek Slot Canyon trailhead and had no issues. However, I read reports online of others who had issues with Google Maps telling them to turn down private roads.  Perhaps Google fixed that issue?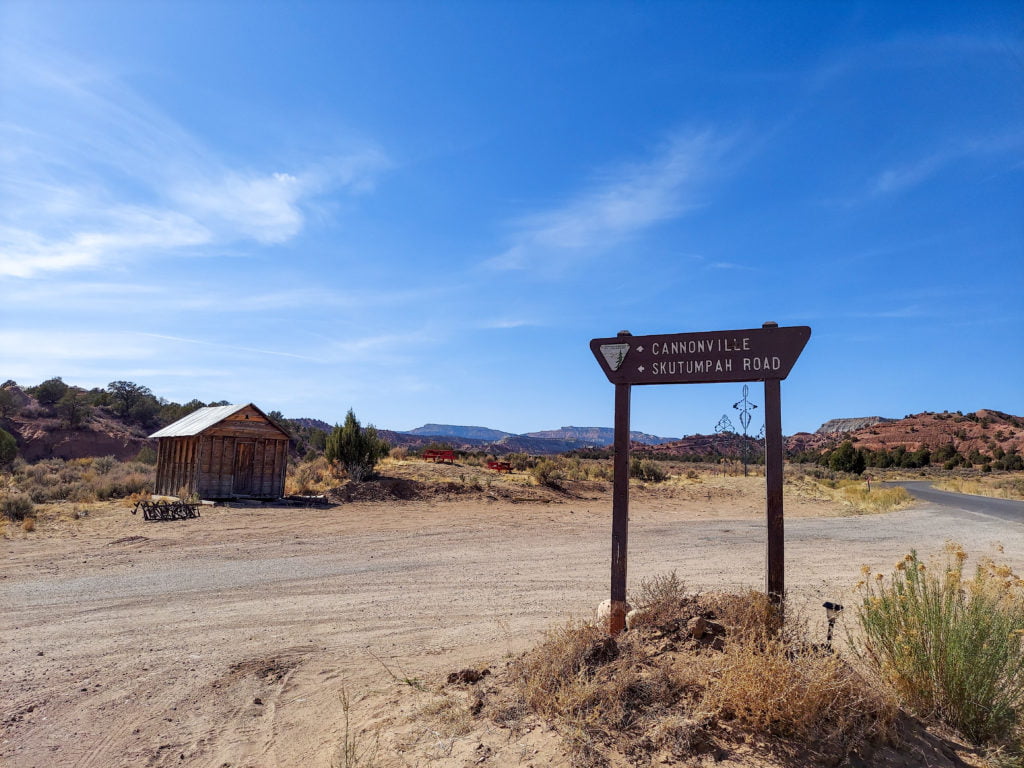 About the Willis Creek Slot Canyon Hike
Distance:
~2.8 round trip
It's approximately 1.4 miles one-way to the end of the slot canyon portion of this trail. We hiked to this point and then turned around.
Difficulty:
Easy
It is a mostly flat, uneven, and rocky trail. Most people can navigate it without any issues.
Duration of the Hike:
2 to 2.5 hours
This will depend on how far you hike down the trail. We took around 2 hours to hike the 2.8 miles to the end of the slot canyon portion and back.
Road Conditions:

 
The dirt road to the trail is rough but typically doable with a 2WD vehicle.  I saw everything from small cars, RVs, camper vans, and trucks on this road. It is a lot of washboard gravel road with some large potholes here and there.
Make sure to check road conditions at the Visitor Center in Cannonville. If it has rained the day before your visit or will rain, save this for another day. When the sand on this road gets wet, it turns into a muddy mess you do not want to deal with. It's also not safe to hike in slot canyons if there is the potential for a flash flood. You can also call the Visitor Center at 435-826-5640 for more information.
The Trail:
The Willis Creek Slot Canyon trail starts across the road from the parking lot.  Follow the dirt path through some brush and down to the creek bed.  This is a mostly flat trail with very little elevation change.  You'll hike through a small section of slot canyon before it opens up into a wide wash area which you'll follow for approximately 10-minutes before you'll wind around another bend and find both a small waterfall and entrance to the main Willis Creek Slot Canyon area.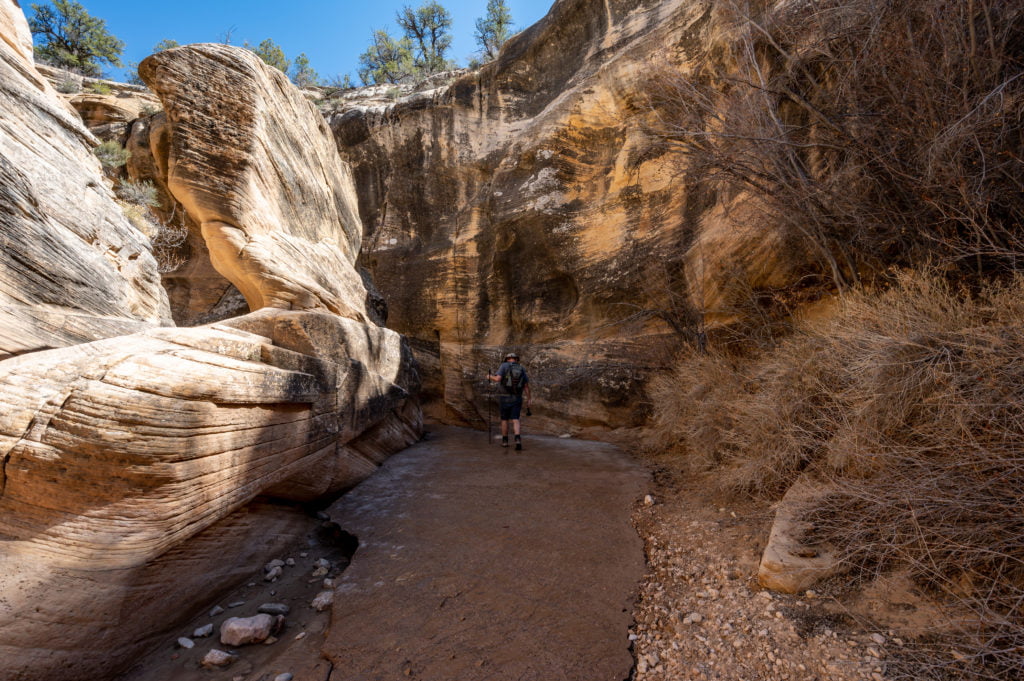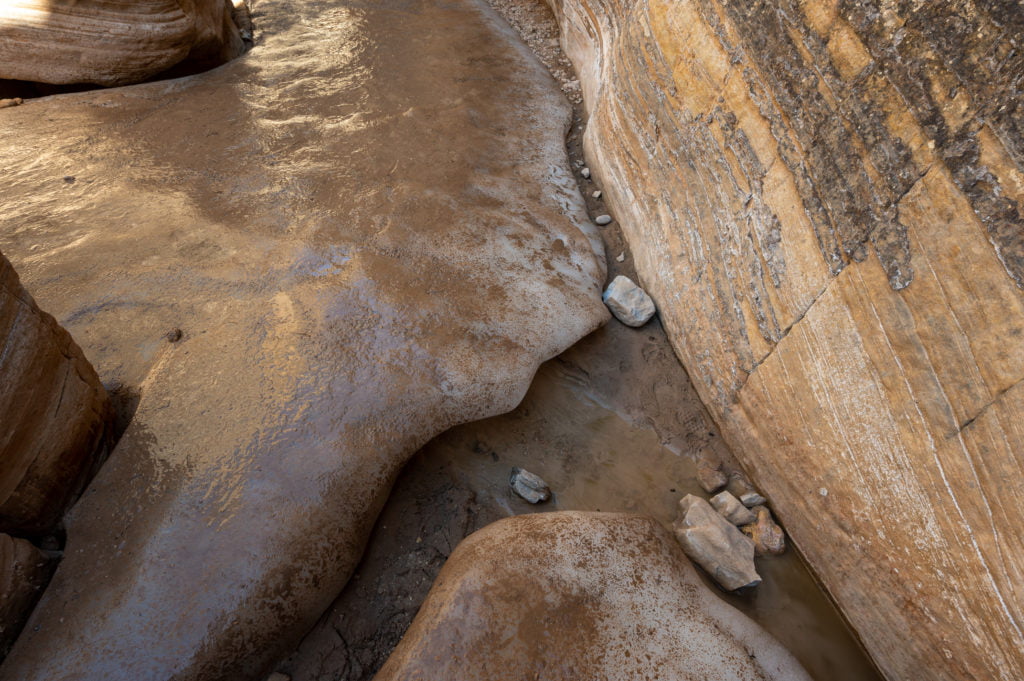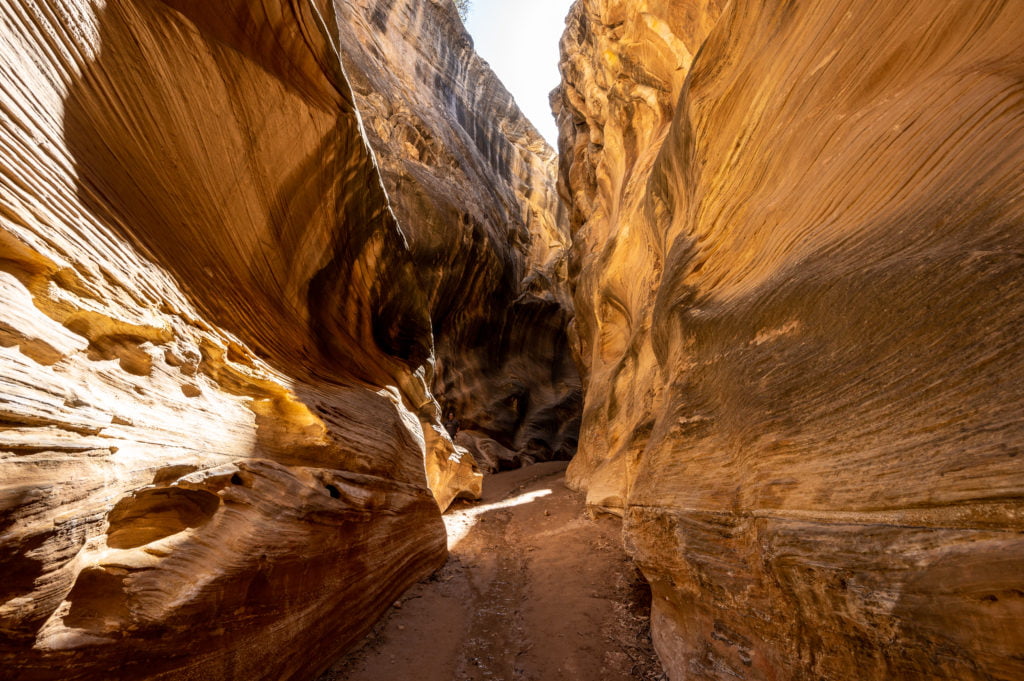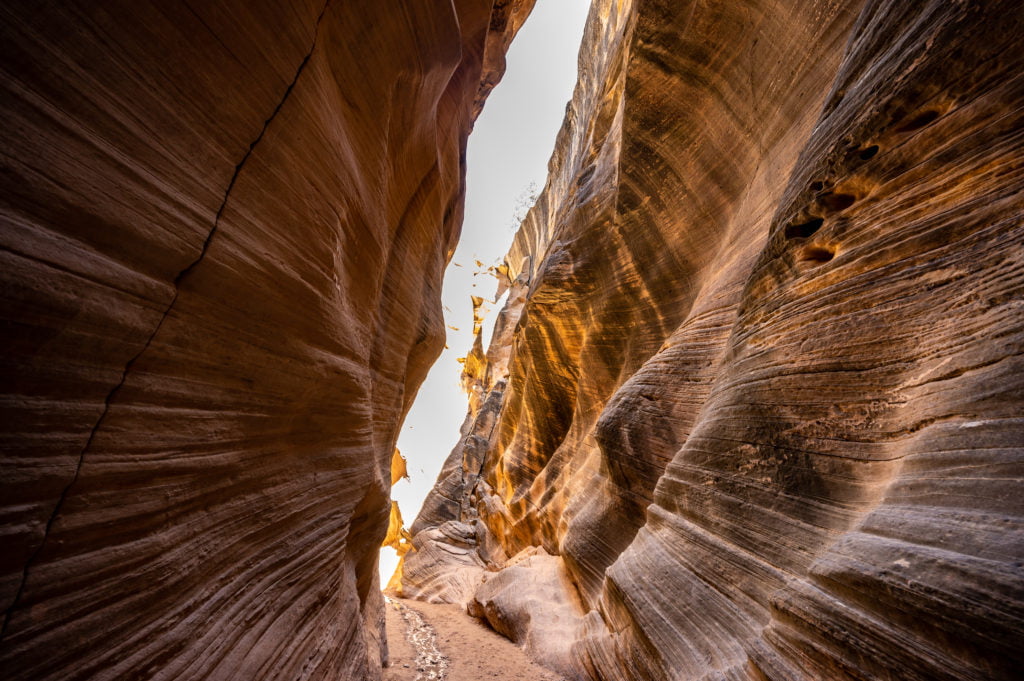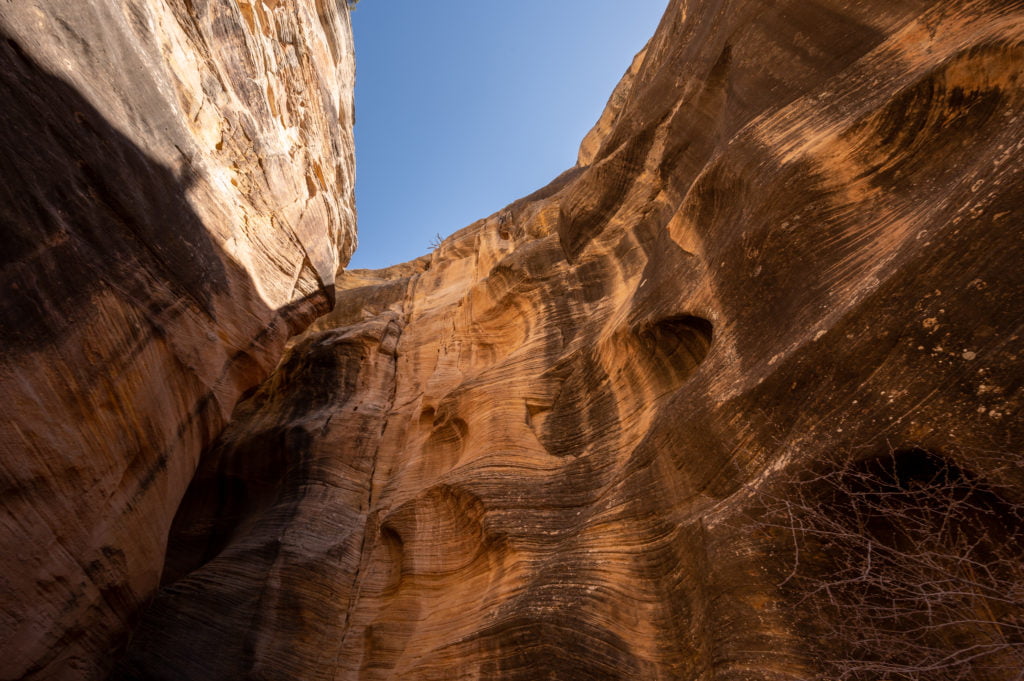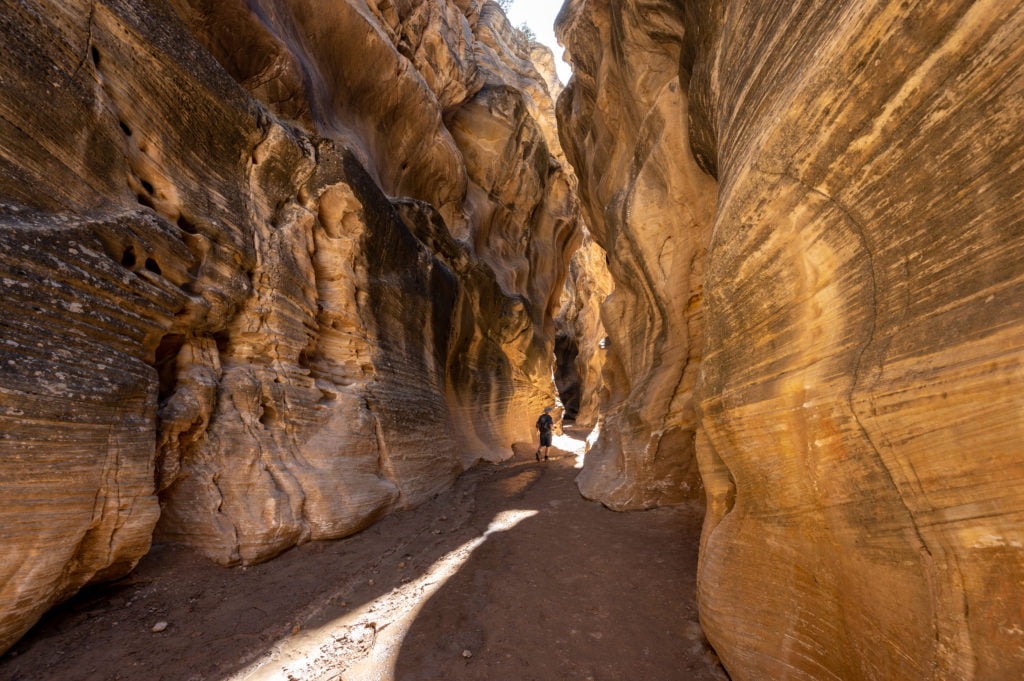 Bring hiking poles, plenty of water, and a snack bar or two. Make sure to apply sunscreen before starting the hike. Although you'll be inside a slot canyon or the majority of the hike, there are a couple of stretches out in the open sun where it gets really hot.
Depending on when you visit, you will either encounter ice (we did in April), muddy conditions, or you'll be walking through the creek water as you make your way through the slot canyon.  Because of this, you will want to consider wearing shoes that you're comfortable getting wet.
Closing Thoughts & Places to Eat Nearby
Willis Creek Slot Canyon is an easy hike, good for kids and families or for someone who wants an easy but beautiful hike to add to their day.  This is another one of those hikes where it's about enjoying the journey, not necessarily getting anywhere in particular.  Enjoy the shapes of the canyon as far as you want to go and then turn around and head back when you're ready.
We enjoyed this hike after a morning spent at Bryce Canyon and after a long day of hiking at Bryce the day before.  Sometimes you just want something fun and easy, or maybe you're like us and need to work off that pie you ate for lunch. If you decide you want to do what we did and eat some really yummy cherry pie before your hike, check out Bryce Canyon Pines. Or maybe you need a pick-me-up before your hike, then stop at Bryce Canyon Coffee Co on your way. They have great coffee and friendly service too!
If you want some dinner after your hike, then grab some BBQ at i.d.k. Barbecue in the town of Tropic, Utah. A warning though, lines can be ridiculously long here. We had to wait over an hour to place our order! The good news is your food is ready within 10-minutes of ordering.
Other Articles You Might Be Interested In for Your Trip to Utah: