I knew nothing about visiting Kanazawa prior to my first trip to Japan. However, I am so happy I included it in our 14-day itinerary there as it was a favorite stop on our journey! 
Kanazawa dates back to the 1500s and is fortunate enough to have been spared a lot of the destruction caused by WWII. So the city remains well preserved. Walk back in time when samurais ruled, and temples had secret trap doors, geisha wandered the streets and ancient castles governed from their high defensive positions. You will find all of this and more in Kanazawa, Japan.
In this article, I share the things we did during our day of sightseeing in Kanazawa, as well as additional options you can choose if you have extra time.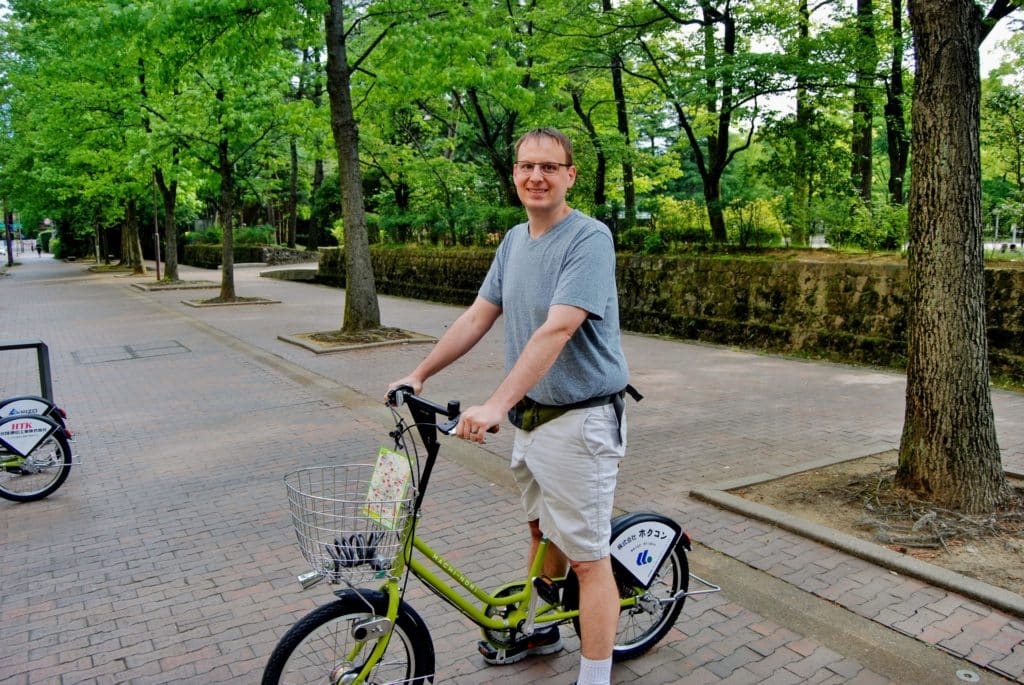 Kanazawa is relatively flat, and because of this, it makes a perfect place to explore on foot or a bicycle. There are bike rentals for use throughout the city. Machi-Nori is the company that provides these bicycles, and you will see their name on the bike rental stations. You can also search for their stations on Google Maps to find the various locations. I provide a map at the bottom of the page that marks the closest options to the sights listed in this article.
You pay 200 yen (about 2 USD), and you receive a code that unlocks the bikes from a locking bike rack. Check the bike back in at another bike station in less than 30 minutes, and you don't pay anything extra!  It is a very affordable way to get around the city. Because Kanazawa is reasonably flat and the attractions densely located, it is easy to bike from destination to destination. 
There are enough bicycle checkpoints that we never had to pay more than the initial 200 yen. It's not too crowded, and the traffic isn't bad if you stick to the side roads.  I wouldn't try bicycling in Tokyo, but it was so much fun to do in Kanazawa. Read Misadventures in Kanazawa Japan, to learn more about our bicycling experience. It's all fun and games until someone doesn't get a bike!
One Day Itinerary in Kanazawa, Japan
This one-day itinerary is full of interesting sights, but it isn't so packed that you feel rushed. Bicycling to all of the stops adds in a care-free element that makes the journey between stops an adventure! And the gardens you visit on this one-day itinerary provide a peaceful place for a relaxing stroll.
First Stop: Kenroku-en Garden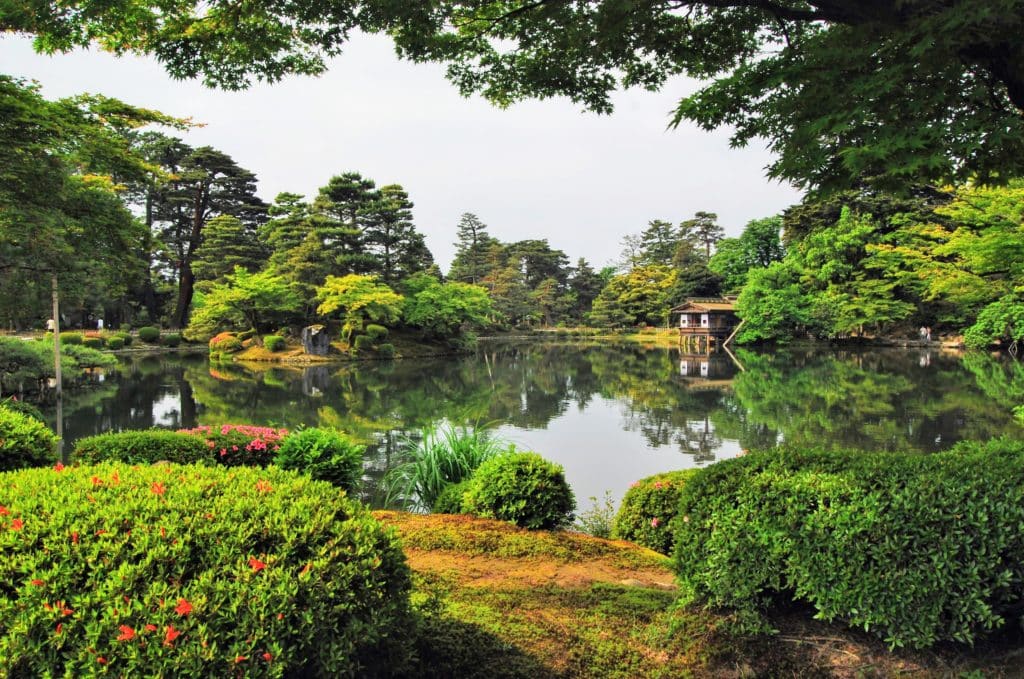 Find a bicycle rental and then you're ready for the first stop of the day. Kenroku-en Garden connects to Kanazawa Castle and Park. There are multiple bicycle rental stations close by, making it easy to check one in and out before and after your visit. 
Kenroku-en is one of the "Three Great Gardens of Japan." It is a vast garden, immaculately cared for, with unique trees and beautiful views. There is also a tea-house dating back to the 1700s in the garden. This garden is worth the stop! Kenroku-en can get very busy, but by starting here in the morning, you will beat most of the crowds.  Plan to spend at least 1 hour strolling through the grounds, visiting the different buildings, ponds and more.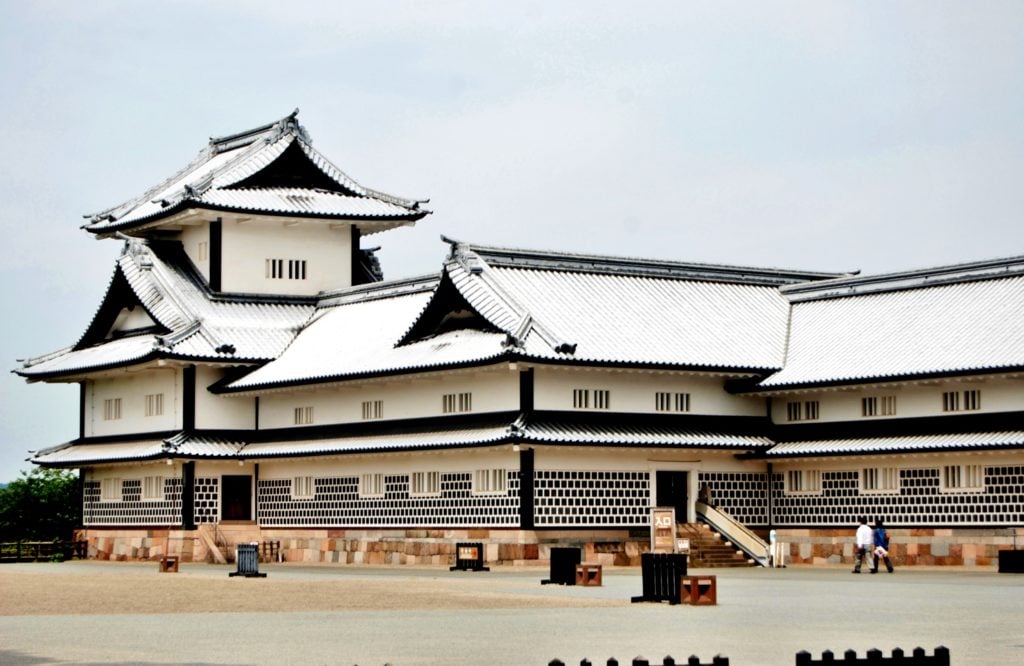 Next stop is Kanazawa Castle & Park. They offer free guided tours by the ticket desk, and I highly recommend getting a guide.  They are extremely knowledgeable and make the whole tour far more interesting. Without knowing the history, you miss out on so much. It's just a quick walk around an empty castle, but with a tour guide, you take a trip through history.  Learn about how they got the rocks that they built the foundation out of and the advanced engineering that went into this historic castle. You will leave feeling amazed at the human ingenuity and technology from so many centuries ago.  
After you complete your tour of the castle and wander around the park for a while, it's an excellent time to take a lunch break.  There are a lot of wonderful udon noodle restaurants close by, so walk to one in the direction of your next stop and enjoy a much-deserved break! A hearty meal of homemade udon noodles and perhaps a side order of tonkatsu will fill you up and keep you going the rest of the day!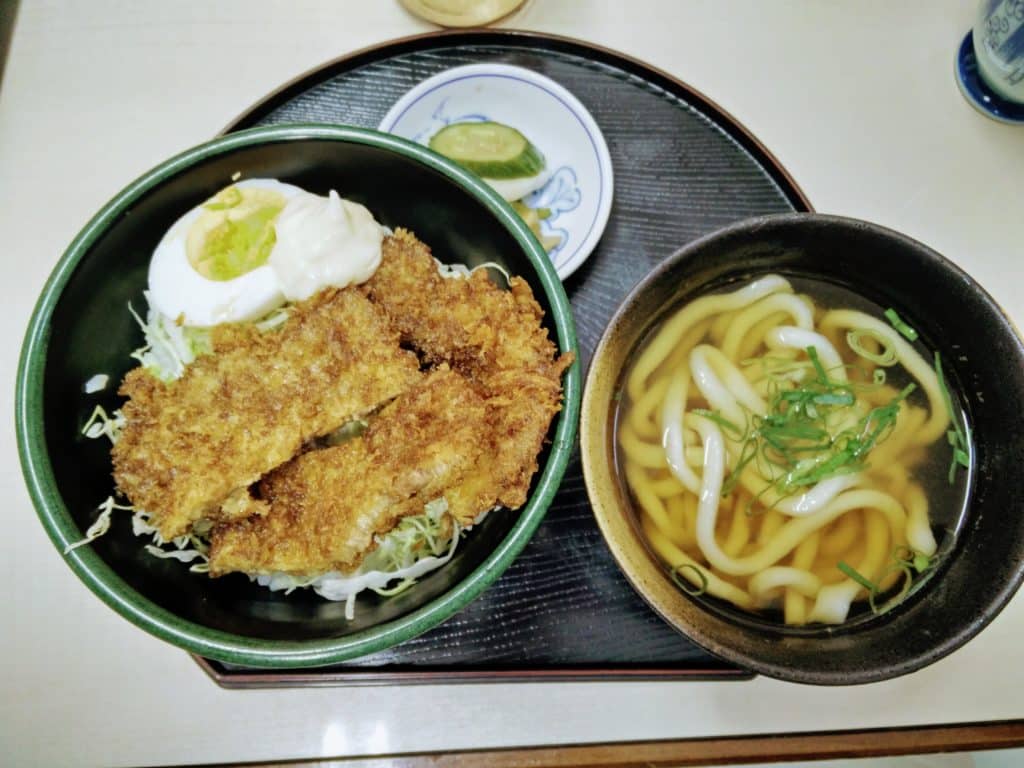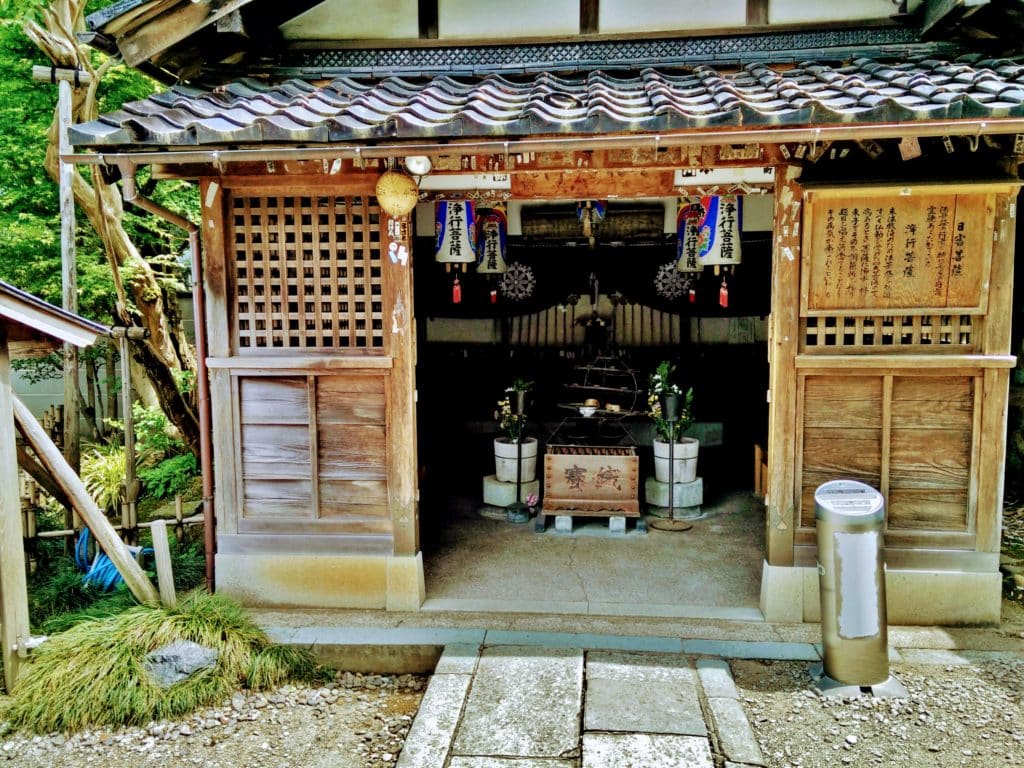 Myōryū-ji (Ninja Temple) (Ninjadera) is your next stop. There aren't any bicycle rentals for a few blocks, so you may need to return your bike to the nearest rental facility and walk the rest of the way. Also,  I recommend that you make reservations in advance, before your arrival in Kanazawa.  
However, if you were unable to do this, sometimes they will have same-day reservations, so it is still worth calling or stopping by. If they have spots available, they will fit you into one of their groups.  They offer tours in English. No photography is allowed; however, it is a fascinating temple tour with hidden doors and traps. You'll feel like you're on the set of a martial arts movie.  
Before finding the next bike rental station, you may want to stroll through the Nishi Chaya District before continuing to the next stop. It is only about a 5-minute walk from Myōryū-ji . You can admire the beautiful architecture from the Edo-period as you make your way to the home of one of the samurais who lived during this period.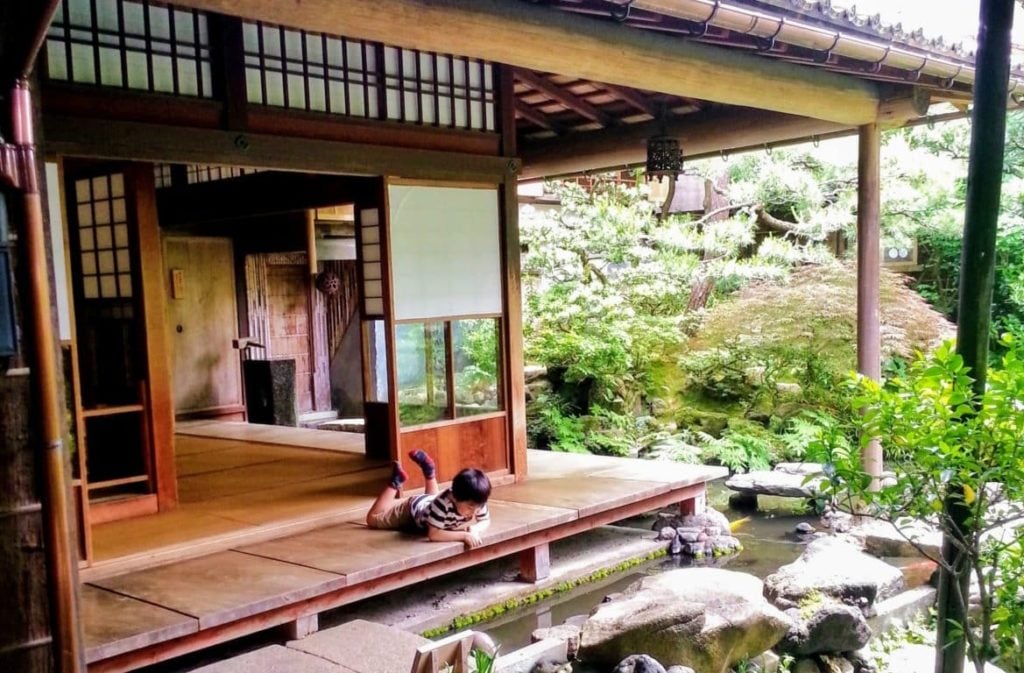 Find the nearest bike rental station and continue riding to the Nomura Clan Samurai Home. This home is an example of a samurai home during the Edo-period that spanned from the 1600s to 1800s. Walk thru the house and use your imagination to picture how this wealthy samurai family must have lived.  The size of the home and proximity to the castle were relative to the samurais rank. It is a fascinating period in Japanese history, and Kanazawa is a great place to explore this.
Optional Sightseeing Stops if You Have Time:
Higashiyama Higashi Chaya District: If you aren't too tired after your day of sightseeing, take some time in the evening to visit this old part of town. There are many traditional tea houses you can visit, watch geisha performances or shop for beautifully crafted souvenirs. You could plan to have dinner here and combine it with some evening sightseeing. Higashi Chaya is another well-preserved section of the old city. It is worth seeing if you feel up to it!
Omicho Market: If you like markets, this one is not too far from Kanazawa Castle. It closes around 5:00 p.m. though so you'd have to make an effort to squeeze it into your day of sightseeing. However, I don't feel like it is something you will regret if you miss it.  Japan is full of wonderful markets, such as the one in Kyoto and the many choices in Tokyo. So I would not miss out on the other sights listed in this article to make time for this market.
If you want to try something other than traditional Japanese food, Spice Box Indian Restaurant is delicious! It is a small restaurant though, so reservations are recommended. If you've never tried Indian dosas, they are yummy! Kind of like a burrito with a thin, crispy wrapping and filled with potatoes and vegetables in a curry sauce. My husband became a new fan favorite after eating his first one here.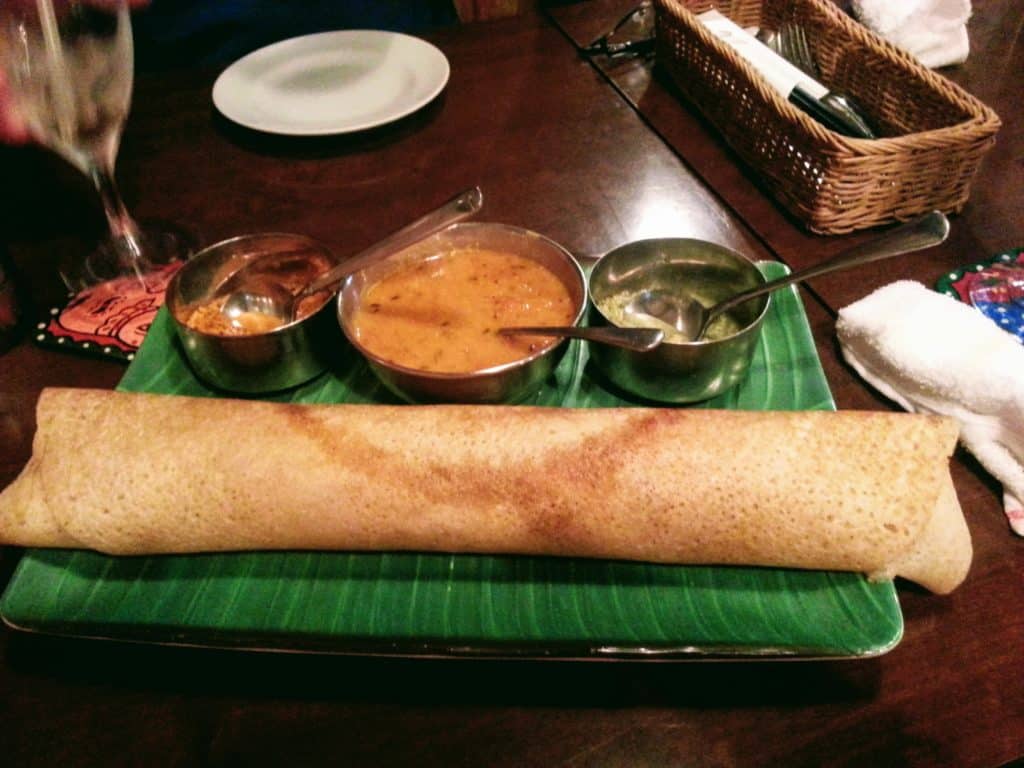 Getting Around Kanazawa, Japan
We used bikes and walked around Kanazawa. It is a compact city that is easy to navigate without the use of other transportation methods.  However, they do have a bus system you could also use if that better suits your needs.
If you are biking or walking, I recommend downloading Google Maps before your trip.  If you have Google Maps for navigation and a SIM card with a data plan, you are set!  You can also stop at the top-notch Kanazawa Station and get a tourist map at their tourist information center.
Take pictures of the maps at the bicycle rental stations so that you have an easy way to see where all the various checkpoints are across the city.
There are bicycle stations near all the major attractions.  I think the furthest we walked was a few blocks. Click on the map below to open up Google Maps to all the stops listed here for one day in Kanazawa, as well as the closest bicycle rentals.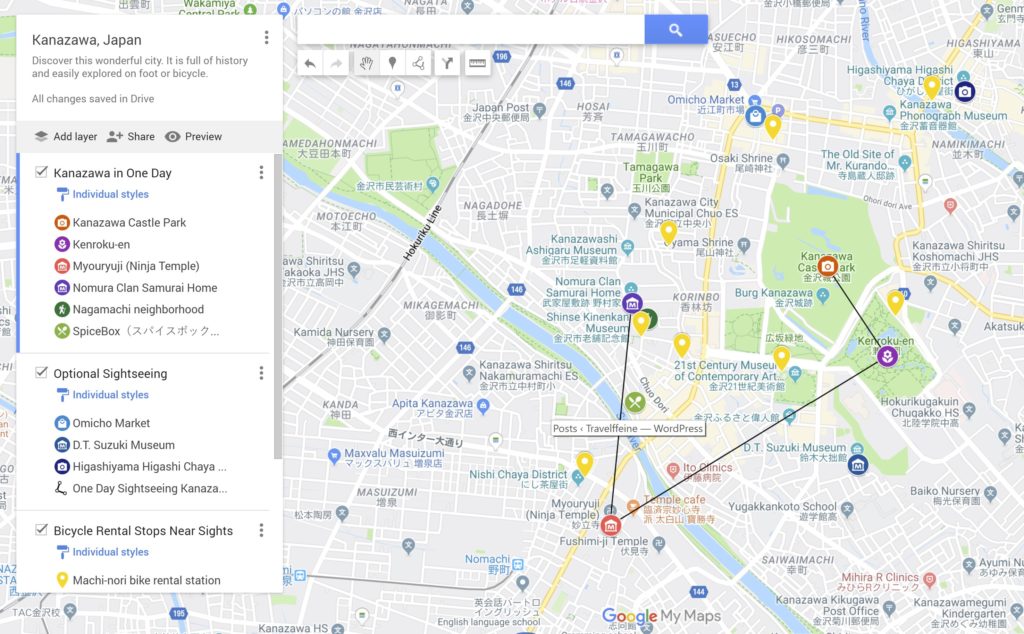 Getting to Kanazawa Japan
Depending on where you are coming from, there are many train options when traveling to Kanazawa, Japan. If you're coming from Kyoto or Tokyo, you will have high-speed train options allowing you to reach Kanazawa within 2-3 hours.
We came from the town of Takayama, stopping in Shirakawa-go on the way. To go this route, you will need to take the bus, and it takes around 3-4 hours from Takayama to Kanazawa and about 2-3 hours if you're coming from Shirakawa-go.  There are approximately 10 round trip buses that leave daily from Kanazawa to Shirakawa-go. If you have an extra day, you could even make a day trip there from Kanazawa.
And I would always recommend to anyone visiting Japan to purchase the JR Rail Pass.  Purchasing the JR Rail Pass was one of the best decisions we made for our two week trip to Japan. It will save you a lot of money and time in booking individual train tickets. There are a few rules you need to know, such as which trains require advance seat reservations, but instructions are included with your rail passes. You can also use the Japan Official Travel App or Japan Travel App to navigate their public transportation system.
Final Tips for Visiting Kanazawa, Japan
Kanazawa is worth the stop during your trip to Japan. Especially for anyone who loves history, architecture and beautiful gardens.  And of course, anyone who enjoys a good bike ride too! You will have fun exploring this beautiful city. To me, Kanazawa had a lovely laid back feel of a local town back home.  It was a great way to spend a day, and I am so glad we didn't skip this unique city!
Plan to spend at least one night in Kanazawa and as mentioned earlier, it makes a great base to take a day trip to the historic town of Shirakawa-go.
Give yourself around 1-2 hours at each attraction I have listed, and you will have plenty of time not to feel rushed when going from site to site.
Please enjoy reading Misadventures in Kanazawa and if you're looking for ways to stretch your travel budget just a bit further, why not check out 6 Ways to Save Money While Traveling.
またね! (until next time!)