If you're like me, one of the best parts of camping is at night when everyone sits around the campfire and roasts marshmallows, make s'mores and tell stories. And of course, I love it when the kids try s'mores for the first time.  It's love at first bite.  I think that's how you'll feel after you try S'mores Brownies too!
According to Wikipedia one of the earliest published recipes for s'mores was in the 1920s and it was called "Graham Cracker Sandwich."  Can anyone say "boring?" In 1927, the Girl Scouts published a recipe called "Some More" and in the late 1930s, the conjunction s'mores was used in a summer camp cookbook. By the 1950s it was a regular term used by cookbooks, including the famous Betty Crocker cookbook.
I know when my family goes camping, there is always someone who loves to say "can I have s'more please!"  The thing is, the only time I really eat s'mores is when I'm camping. They're messy and even when I've tried them in the microwave, besides being messy, they just don't have the same toasted flavor you get from the campfire ones.
So when I found this recipe for S'mores Brownies, I knew I just had to try it! And guess what? It was A-mazing! It was s' mores without the mess and without needing a campfire.  I am not sure if this is a good thing or not, considering my husband and I ate a whole pan between the two of us!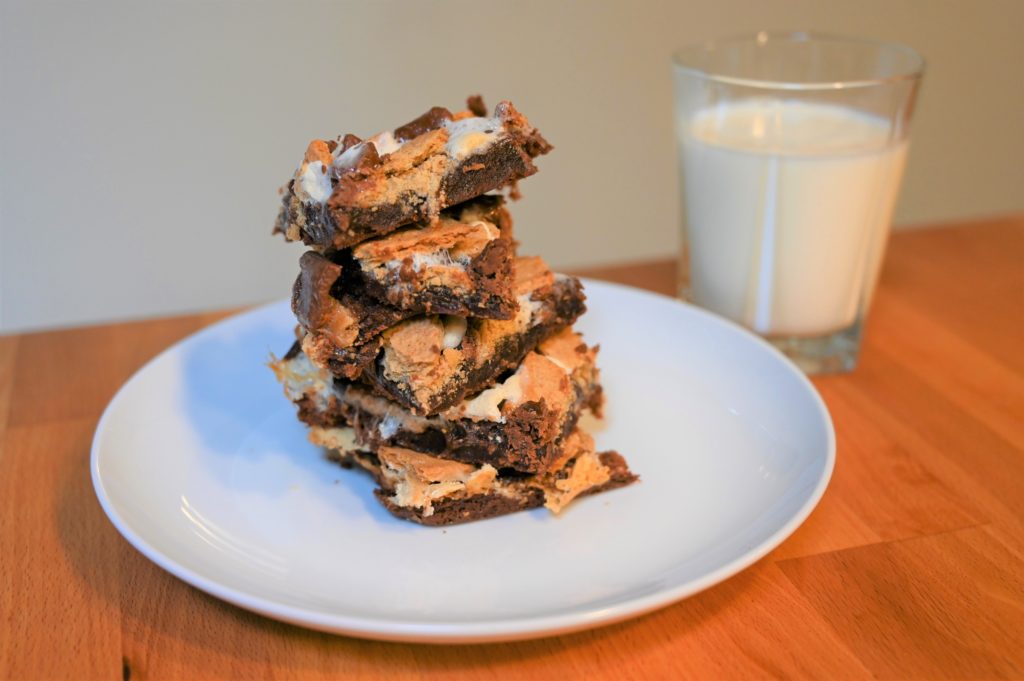 I changed the original recipe just a little and I think it really works!  I made notes below on where I tweaked it and my tips for making these gooey and delicious treats!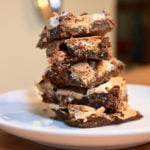 Print Recipe
S'mores Brownies
These gooey treats are sure to make you say YUM! No campfire needed.
Ingredients
1

box

brownie mix

Betty Crocker or Duncan Hines brands work well.

3-4

tbsp

water

(amount will depend on the boxed recipe)

2

large

eggs

½

cup

vegetable or canola oil

2¼

cups

mini-marshmallows

1

pkg

graham crackers (8 individual crackers) crumbled

2

bars

Hershey's chocolate broken into small pieces
Instructions
Make the brownie mix according to the box instructions. Spread in a 13x9 cake pan.

Bake in 13x9 cake pan for 11-14 minutes (10 minutes less than the lowest recommended time on the box).

Take the pan out of the oven. Layer remaining ingredients in the following order: sprinkle mini marshmallows over the top of the brownies, then crumble graham crackers on top of marshmallows and finally sprinkle the broken chocolate bars all over the top.

Return to the oven and bake for another 10-12 minutes.

Let cool completely and then cut into squares for eating.

Try not to devour the whole pan by yourself!
Here's a quick overview of my changes to the original recipe:
I baked these in a 13 x 9 pan rather than the 9-inch square pan listed in the recipe.  This made them chewier. And by making the brownies a little thinner, I think it helps the flavors meld together better.
Instead of baking fully and then broiling, I baked the brownies for 10 minutes less than the brownie box called for.
Added extra marshmallows.
Sprinkled on the marshmallows, graham crackers and chocolate in layers, then baked for an additional 12 minutes.
I let the brownies cool completely before cutting and eating. I loved these cold, but you could also reheat individual squares in the microwave for about 10 seconds if you prefer warm.
So there you have it.  S'mores without the mess that can be cooked any time of the year!  Please let me know in the comments below if you try the recipe and what you thought.  I'd love to hear from you!
Happy Baking!