I had a lot of questions before my first trip to Thailand. Would it be challenging to get around? How much of the Thai language would I need to know? Would I get tired of the food? Is it cheap to travel to Thailand?  So here is a quick rundown of all the things I learned after my first trip to Thailand. I hope it will help you prepare and perhaps help relieve some of your concerns.
Airline Luggage Requirements
Our international flight to Thailand was on EVA Air. We also used both Air Asia & Bangkok Airways for domestic flights within Thailand.  We had a 15lb weight limit for our combined personal item & carry-on luggage for two of the flights. Our plane to Sukhothai was the most limiting with a weight limit of 11lbs. However, everyone checked their bags as the aircraft wasn't large enough to store luggage on board.
So, as you can see, you are very limited to how large your luggage can be as well as the weight limits.  We found that even with our backpacks, we had to check our luggage due to their severe weight restrictions.
And since you need to check your luggage, why not plan by packing full-size sunscreen, and bug spray.  You will be so glad you did! Sunscreen is quite expensive in Thailand and this way you will make sure you have the brand you prefer. Just make sure to put your liquids inside a sealed bag, to avoid any possible leaks from ruining your clothes. I also carry extra ziplock bags just in case!
Recommended Luggage
Packing lighter is freeing, you aren't burdened down with a bunch of stuff that you won't need or extra weight that you will inevitably regret carrying.  When I first started traveling, I made the mistake of overpacking. Thankfully I have learned along the way that I don't need a pair of jeans for every day or 4 pairs of shoes.  Try packing light, and I think you will discover just how freeing it can be!
I use the Osprey Porter 46 backpack. During a 2 1/2 month trip to Europe, I traveled on Ryanair, Easyjet, AirFrance Hop! & Norwegian Air and never had any issues bringing it on board as a carry-on. And in Thailand, I highly recommend you have a backpack.  Having a backpack will come in very handy when disembarking long tail boats and boarding the ferries that will take you from island to island.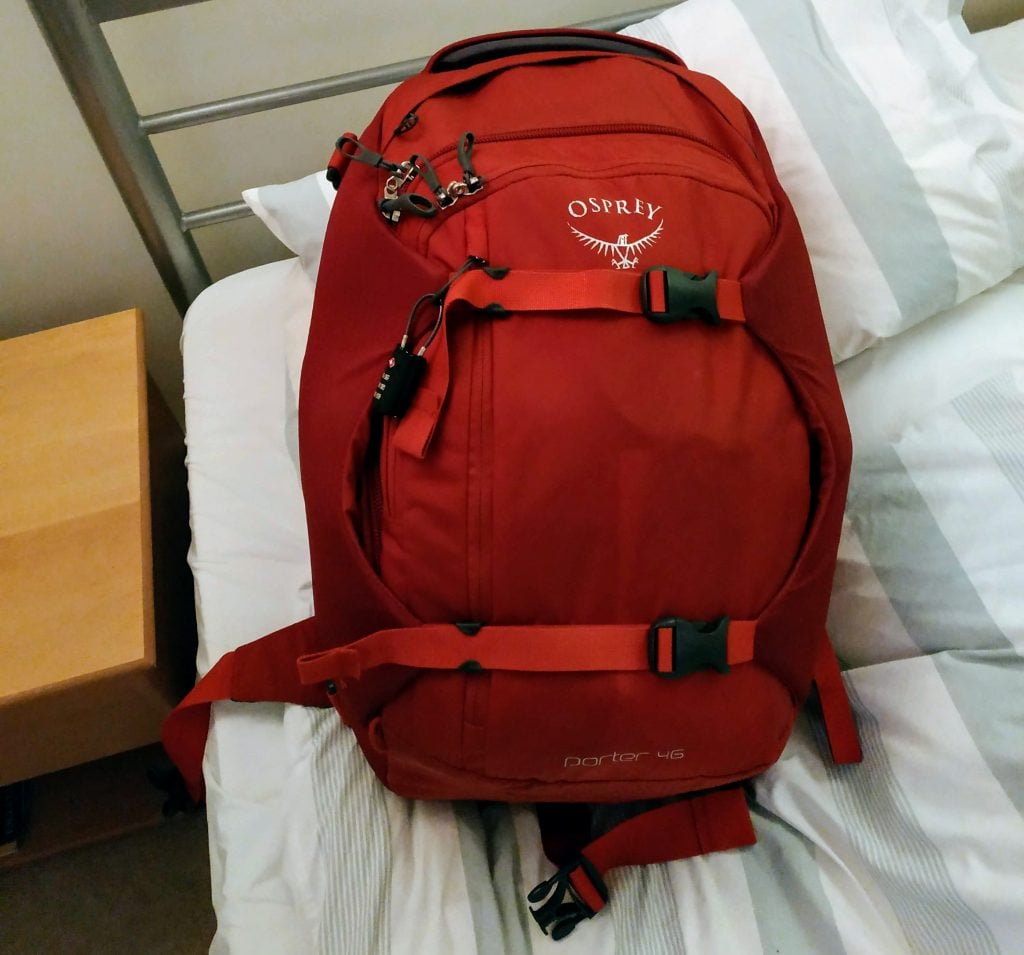 The Language
You can get by just knowing your basic greetings and thank you words in Thai.  They speak English everywhere we traveled, and they even spoke other languages, thanks in part to the large tourist population from around the world.  Spanish, French, Russian, and Chinese were all languages in addition to English that I heard Thai people speak. I was so concerned about not knowing the language, but after my visit to Thailand, I discovered I was worried for no reason.
Thai Words to memorize:
If you are a man, you will end each phrase by saying, "khrap." And if you are a woman, you will complete each sentence by adding "kha" to the end.
Hello: Sawasdee (sounds like sah wah dee) So for example, if you are a man, you will say: Sawasdee khrap, and if you are a woman, you will say Sawasdee kha. Sometimes the "r" in khrap isn't pronounced.
How are you?: sabai dee mai? (sounds like suhbye dee my) You can respond with Sabai dee (good) if asked this.
Thank you: khap khun (sounds like cop coon), then add khrap or kha (male/female ending)
I don't understand: mai khao jai (sounds like my cow jai)
One final custom you will observe is the wai.  Thai's use the wai to show respect and as a way of saying thank you.  You press your palms together in front of you with your fingers pointing up to the chin and then dip your head in a bow, lowering your eyes.  Then return looking forward and smile.
There are different levels of wai's depending on whether someone is considered of "lower status" than you or "higher" or for monks, but I wouldn't worry too much about it. Always try to return a wai. Your smile and attempt to respect their local customs will be appreciated, even if you don't get it exactly right.
Getting Around
Grab Taxi is Thailand's form of Uber, and it is a convenient way to get around.  Download the app before your trip to Thailand, and you can use it to get from the airport to your hotel. We used it in Bangkok, Chiang Mai, and Phuket.  A lot of the smaller areas do not use it though.  In Chiang Mai, the red taxi trucks (songthaew) are also very cheap and an easy way to get around.
The drivers ask you where you want to go and as long as your stop is along their current route, they will take you.  If not just ask another one until you find a driver going your way. We used Grab most of the time as it allows you to pay with your credit card via the app, thus eliminating the need to use cash.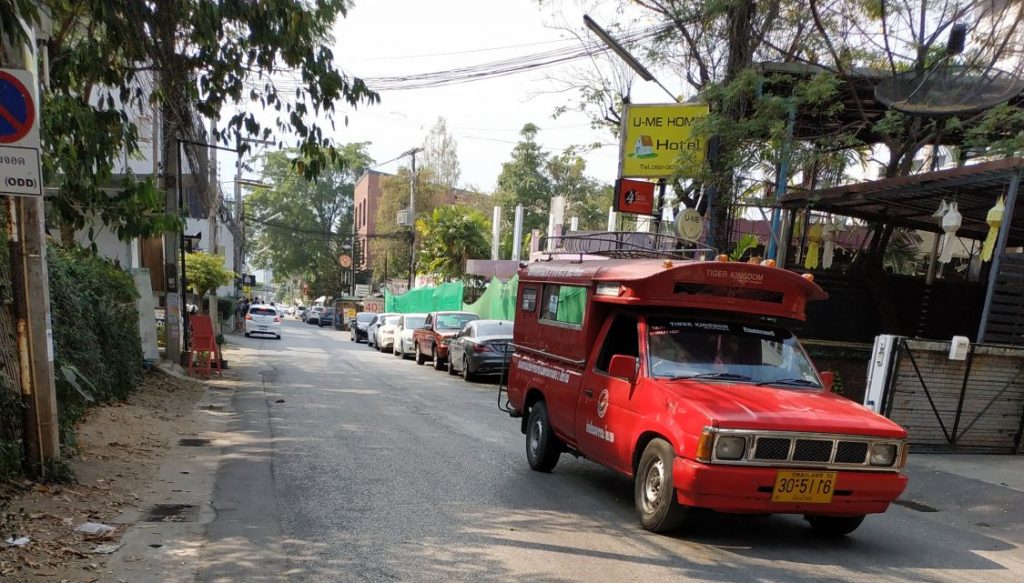 Thai Culture
Thais appreciate cleanliness.  One custom is to take your shoes off before entering a home (or hotel room for that matter).  Why track the dirt and grime from the streets into your house?
Thai royalty is revered, and you must always be respectful around any monuments to their royalty or any discussion of their royalty.  I think most people would do this intuitively, but I read about travelers getting fined for rude remarks regarding the King. So obviously for some, it needs to be spelled out.
Smile. Thailand is called the land of smiles. They smile because they are friendly, and they also smile to help put others at ease and "save face."  You should do the same.  Smile when bartering a deal with the local tuk-tuk driver or roadside vendor.  Smile when you can't understand the language, or you forget how to say thank you in Thai.  It is incredible how trans-formative a smile can be.
Food
The food is great! Let's face it, that's a big reason why people travel to Thailand, it's one of the reason's we did for sure!  So the fact that Thai food is fantastic is not what I learned when visiting Thailand.  What I learned, is that if you need a break from Thai food (I know hard to believe) that they have lots of other options!  Options will, of course, depend on where you are staying.
The cities will have the most variety.  We had Mexican in Bangkok, Korean, and delicious burgers in Chiang Mai, and we had American style bacon at almost every hotel breakfast!  Plus for those of you who prefer fast food, there are lots of options for that too.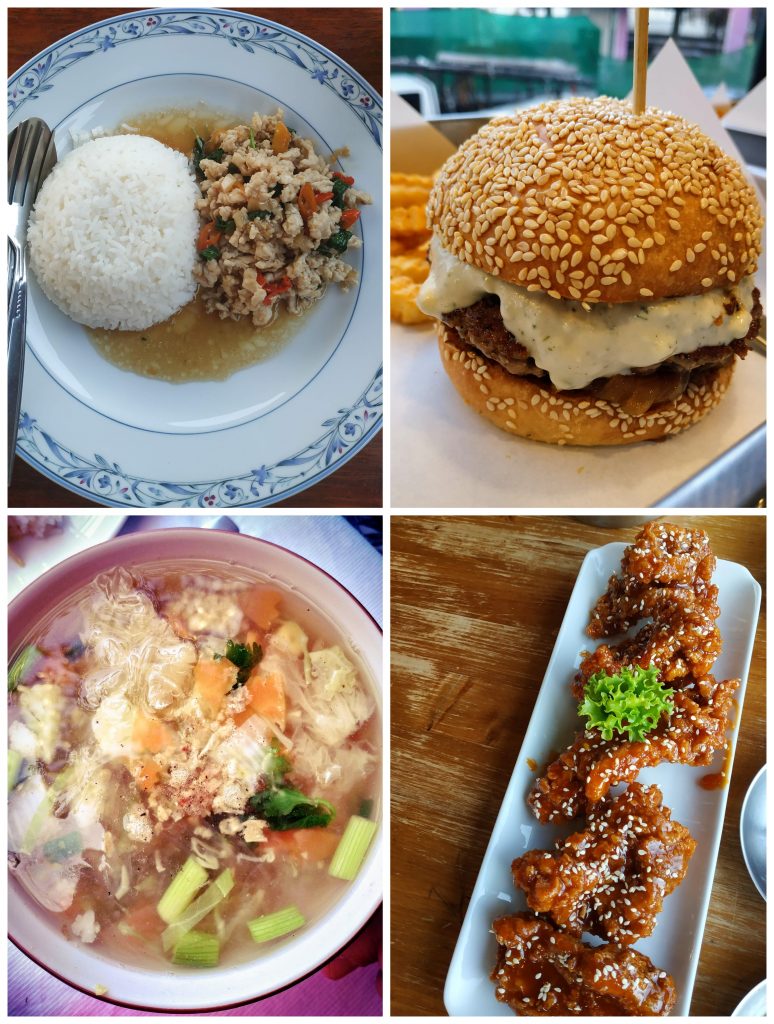 Cash or Credit Card
One quick note regarding payments.  You will want to withdraw enough money from an ATM to cover expenses for a week or so and reduce the ATM fees you might need to pay.  ATM's in Thailand, typically charge around $7 per transaction.  So unless your credit card refunds you the withdrawal fees, this can add up.  And cash is the most widely used form of payment throughout Thailand.  Most places do not accept credit cards, so be prepared to pay in cash.
Costs
Food: There were just two of us, and we would each have one dish, plus dessert and drinks, and it still would only cost around $10 – and we were stuffed full! One person could quickly get a meal for around $3.
Transportation: Grab rides usually cost $2-$10 each way. Taxis are similar in price.
Accommodations: You have many choices ranging from hostels to luxury hotels.  Prices range $8 and up depending on where you stay.  At our hostel in Bangkok, we had a private room with a private bathroom and a balcony, and it was about $20.
Attractions: The price of each attraction will vary.  In Bangkok, for example, you might spend $17 for a ticket to the Golden Palace or around $5 for visiting Wat Arun.  Then you have more expensive attractions, like watching a Muay Thai match that will cost about $150.  In Chiang Mai, you might take a tour to an elephant nature park which can cost $200-$300.
There are many options, no matter what your budget.  And you can't beat free–like lounging in a hammock by the beach or taking a hike like this
Chiang Mai hike
.  Even on a tight budget, you will have a fantastic time in Thailand.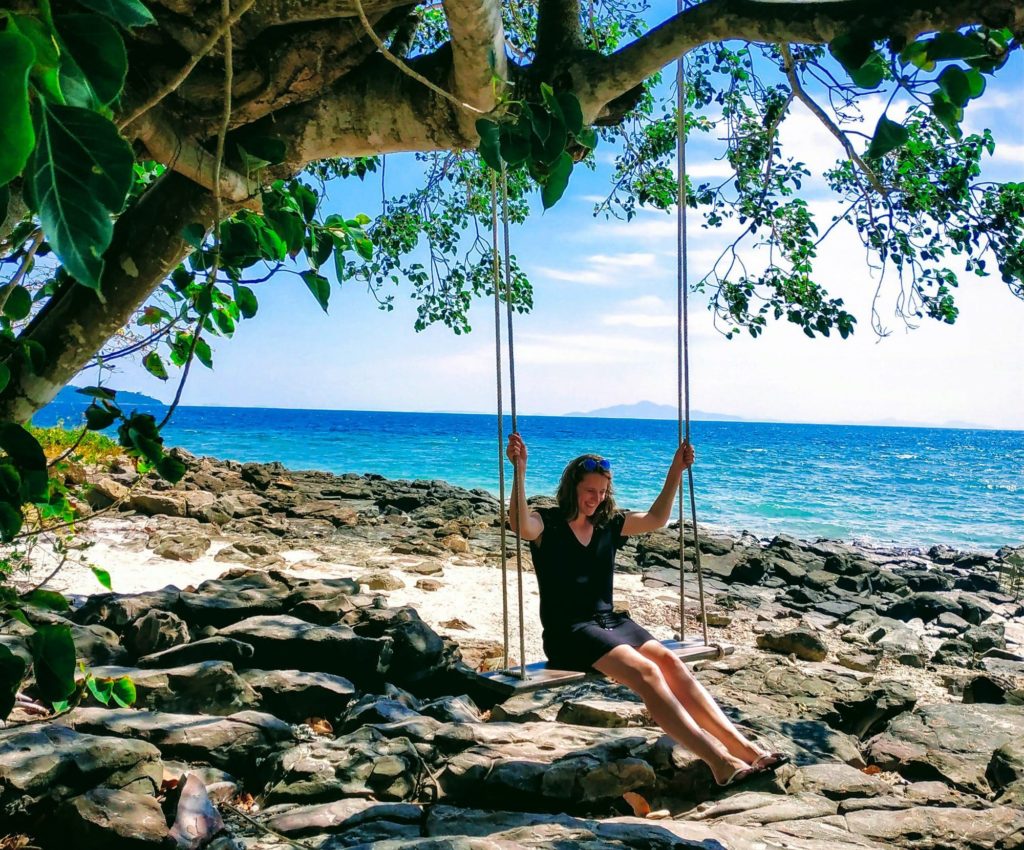 Conclusion
If you're considering a trip to Thailand, but worried about not speaking the language, or about how you'll get around or even about what to eat, don't worry!  Thailand has you covered!
The only thing stopping you now is booking your flight!  If you need help with that too, please feel free to contact me or check out this article on how to book your flight. And to help you plan out your itinerary, check out this three week Thailand itinerary.
See for yourself why everyone who visits Thailand falls in love with it!