A visit to Maui wouldn't be complete without exploring Haleakala National Park and Upcountry Maui.  The drive through Maui's Upcountry is a gorgeous ride up winding roads with incredible ocean views below.  As you rise higher and higher, you soon find yourself looking down on the clouds.  It is an incredible experience!  You feel as though you're looking down on the entire world below, a view often only seen from an airplane, and yet, here you are, feet on the ground as you stare in amazement at the unique, almost Mars-like landscape around you.  Once again, you're reminded of what a magical place Maui is.
Getting to Haleakala National Park
It takes an average of 1.5- 2 hours for most visitors to drive to Haleakala's Summit. This,  however, doesn't take into account additional stops along the way in Upcountry Maui, stops for shopping and food.  I recommend leaving no later than 10 a.m. to have plenty of time to stop at a few places in the Upcountry as well as take in a couple of day hikes in Haleakala National Park. You want time to take it slow and enjoy the views along the way.
Average Travel Times to Haleakala's Summit Building:
Makawao's Rodeo General Store: ~ 1 hour
Kula Market Place: ~ 45 minutes
Lahaina: ~ 2 hours
Kihei: ~ 1.5 hours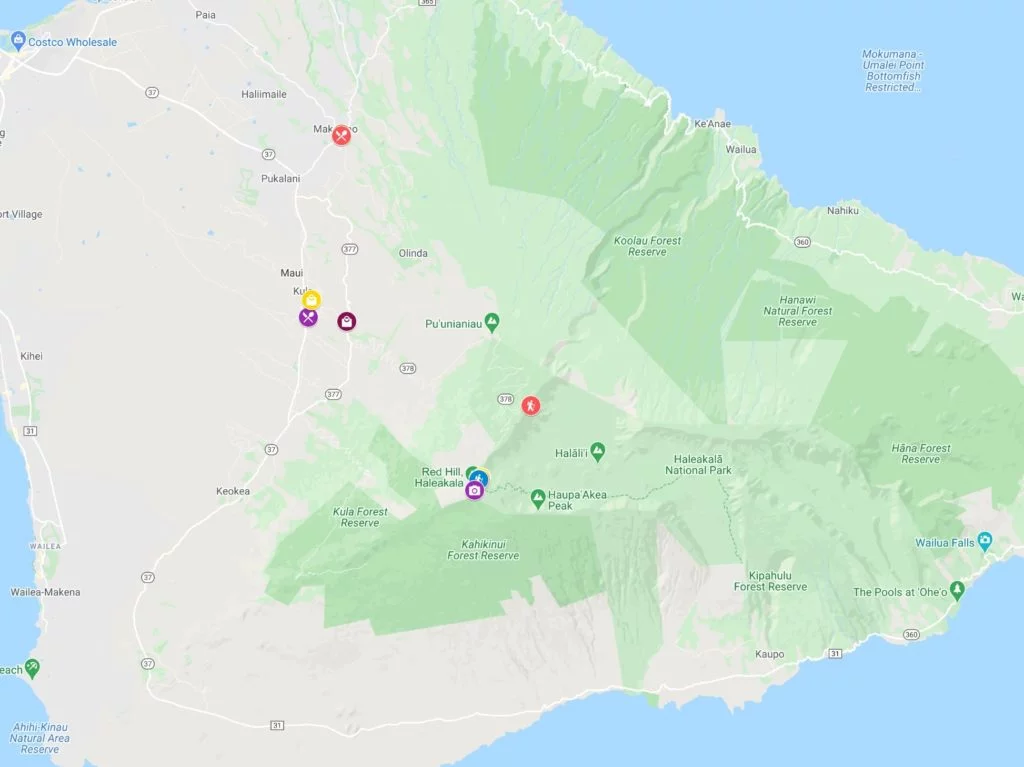 The Drive to Haleakala: Stops Along the Way
One of the best parts about the drive to Haleakala is driving through Maui's Upcountry.  If you've never been, you will most likely leave, considering a stay there during your next visit to Maui.  I love being by the ocean when I stay in Maui, but the beauty and views in the Upcountry are too incredible to miss! On a clear day, you look down on the island of Maui, across lush fields dotted with eucalyptus trees, avocado trees, palm trees, and other gorgeous flowering plants.  I feel like I'm driving through paradise as I climb up to Haleakala.
First Stop in Maui's Upcountry: Makawao
Anytime I visit Maui's Upcountry, I always come to Makawao.  I love stopping at the Rodeo General Store.  I wander the aisles looking for unique finds and locally sourced products.  It's here I've found some of my favorite coffee, locally grown fruit, and fun finds like Grandpa Joe's lilikoi cotton candy.  The staff is always helpful and friendly, and it is frequented by the locals, which gives it that homey feel rather than a place designed for tourists.
On my last visit, I was on a hunt for lilikoi (passionfruit), which I had discovered when one fell from a tree during our hike at Waihee Ridge Trail. After trying it, I knew I had to find more!  We drove to Makawao since we knew Maui's Upcountry is where much of the produce on the island is grown.  Sure enough, we found lilikoi at Makawao's Rodeo General store.  
We spoke with one of the employees who had a daughter attending the University of Washington.  I told him about my hunt for lilikoi, and he suggested some other fruit to try too.  He helped me pick out strawberry papaya and some ice cream bananas.  I love sampling new fruits wherever I go; it's how I discovered mangosteen during our
visit to Thailand
.
Another great place to visit when in Makawao is the Komoda Store & Bakery. Go in and purchase some malasadas for your road trip to Haleakala.  You may want to grab some milk at the general store too.  
Makawao has many fantastic local shops, so spend 30 minutes to an hour browsing the shops on Baldwin Avenue before continuing to Haleakala. Better yet, plan to come back another day and spend the afternoon exploring the Upcountry even more.
Rodeo General Store
3661 Baldwin Ave
Makawao, HI 96768
Komoda Store & Bakery
3674 Baldwin Ave
Makawao, HI 96768
Kula is another beautiful town in Upcountry Maui. I love the gorgeously manicured lawns, the sweeping island views, and best of all, locally sourced goodies!  I recommend visiting the following three local businesses in Kula, Hawaii, during your day trip to Haleakala. If you have extra time to spare, I highly recommend exploring more as there are many great choices in Upcountry Maui.
It was during my hunt for all things lilikoi that I stumbled upon Maui Upcountry Jams and Jellies.  We were in Kula when I came across Maui Upcountry Jams and Jellies' website, which listed "lilikoi curd and lilikoi jelly."  I knew I had to go!  
I thought Google must have led us astray when visiting their storefront, but after a quick phone call with Jan, the owner of Maui Upcountry Jams and Jellies, I found Google was correct. The storefront is in a residential neighborhood tucked behind a row of houses. 
Jan helped us choose a variety of jams and jellies, and syrups. Oh, did I mention, she also has lilikoi syrup, and it is amazing! Afterward, she helped box and package our purchases to mail them home without any of them breaking.  Our package arrived home in perfect condition, ready to eat.
I recommend you buy all the jams, jellies, syrups, and sauces while you're in Kula and then ship them home from the post office in Kahului, Hawaii.  We spent around $14 to ship ours home to Washington State, and it is a much cheaper option than purchasing on the Maui Upcountry Jams and Jellies website, which has a fixed shipping cost to the mainland of $48!  So, stop in her shop when you're in Kula and purchase a bunch to stock up on for home. You're going to thank me later!
Another great place to buy locally sourced foods is at Maui Bees in Kula, Hawaii.  Depending on what day you visit, you might even be able to get lunch on the farm.  In addition to honey, they sell other foods from the farm as well as gluten-free goodies. I love their honey!  The first kind I tried was their Macadamia Nut honey. It has such a wonderful, different flavor than the clover honey I'm used to back home.  It was love at first bite!  I highly recommend it, and if you're like me, you'll come home and order more from their online store.  They offer free shipping for all orders $99 and over.  
The Kula Market Place is a great source for more locally sourced crafts, food, and gifts. There is a small grassy area in front of the market with a picnic table.  The Kula Market Place is next door to the Kula Lodge, so if you consider staying in Kula during your visit to Maui, you might want to check them out!  Also, notice the faded sign along the fence that borders the Kula Market Place and the Kula Lodge. Unless you want to do dishes for the rest of your life, you might want to think twice about taking any of their avocados.
With Additional Time in Upcountry Maui
I listed just a few stops in Maui's Upcountry on your way to Haleakala. However, you could easily spend an entire day in Upcountry alone.  You will find more ideas of things to do in Upcountry Maui in my post Sunrise at Haleakala National Park: Don't Miss It!
Some tours I recommend with more time in Upcountry:
Make sure to look up hours of operation for any businesses and tours in Upcountry Maui you plan to visit. Many of them have odd hours and days when they are open, so you want to check ahead of time to make sure they're open before driving up.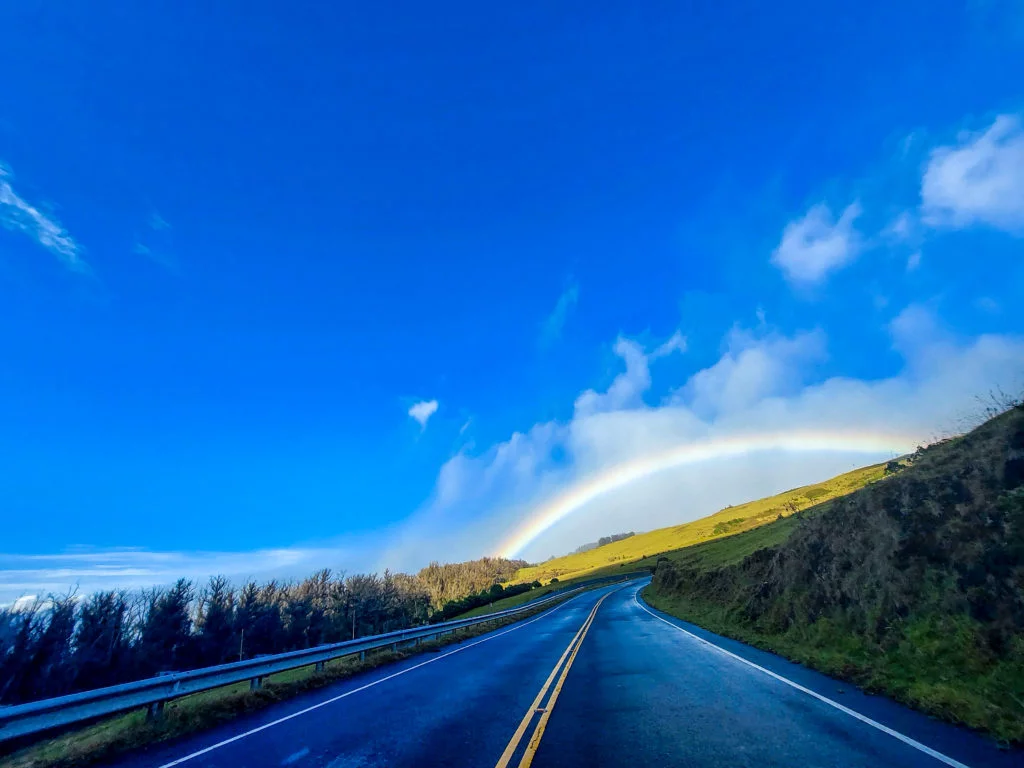 The Winding Road to Haleakala
Your climb continues after leaving Kula, and this is where the road really starts to get those twists and turns Maui seems famous for.  It may not have as many curves as the Road to Hana, but it definitely does a good job competing. 
You'll soon enter a free-range area for cattle. Please drive carefully as cows are frequently found standing in the middle of the road!  You do not want to hit a cow, trust me. Besides the damage, it will do to your car and the cow, you could also be responsible for paying for the cow out of pocket if your insurance does not cover these types of accidents.  So take it slow and enjoy the ride!
There are several pull-offs during the drive up to Haleakala, and I recommend you pull off at one or two of them and enjoy the views.  The rolling green hills dotted with cattle and heather bushes are beautiful.  You might even be lucky enough to catch a rainbow during your drive.  Remember, the joy is in the journey, so stop when it suits you and make the most of it.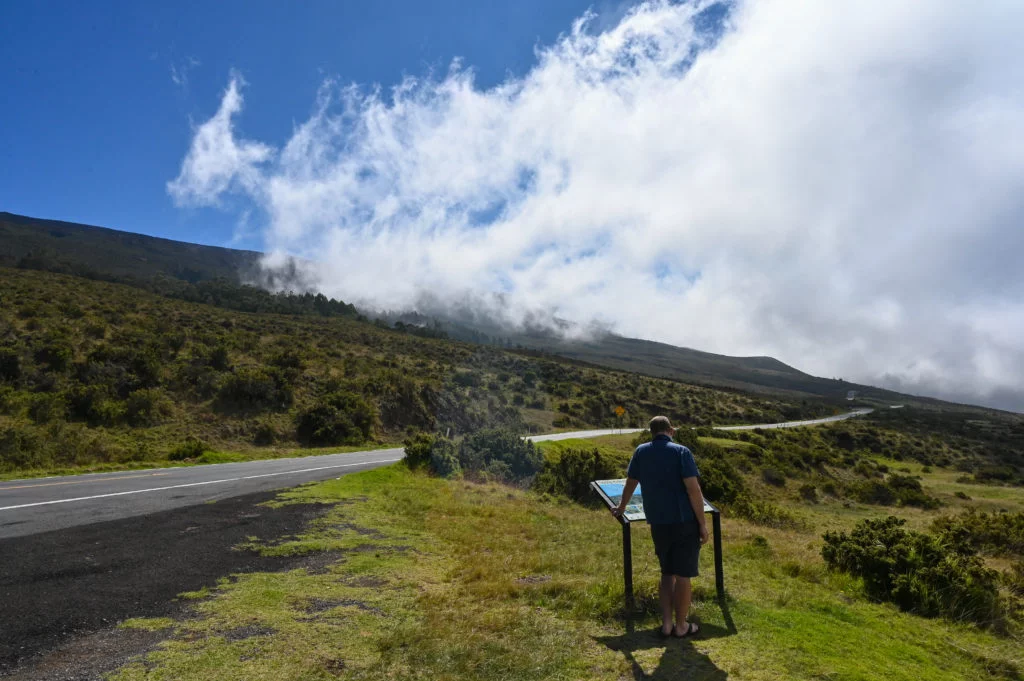 Arriving at Haleakala National Park
When you enter Haleakala National Park, you'll pass by a small ticket booth, and if you're in the park during normal business hours, a ranger will be in the booth to answer any questions, take your money, and provide you with a map of the park.
It costs $30 for a 3-day park pass at Haleakala National Park.  You can also purchase (or use) an Annual Parks Pass for $80 that is good for all U.S. National Parks.
After passing through the park entrance, you'll drive about another 5 minutes before coming to the Haleakala Park Headquarters and Visitor Center.  You can stop here to talk to a ranger and also use the restroom.  There aren't any other restrooms until you get to Visitor Center near the summit.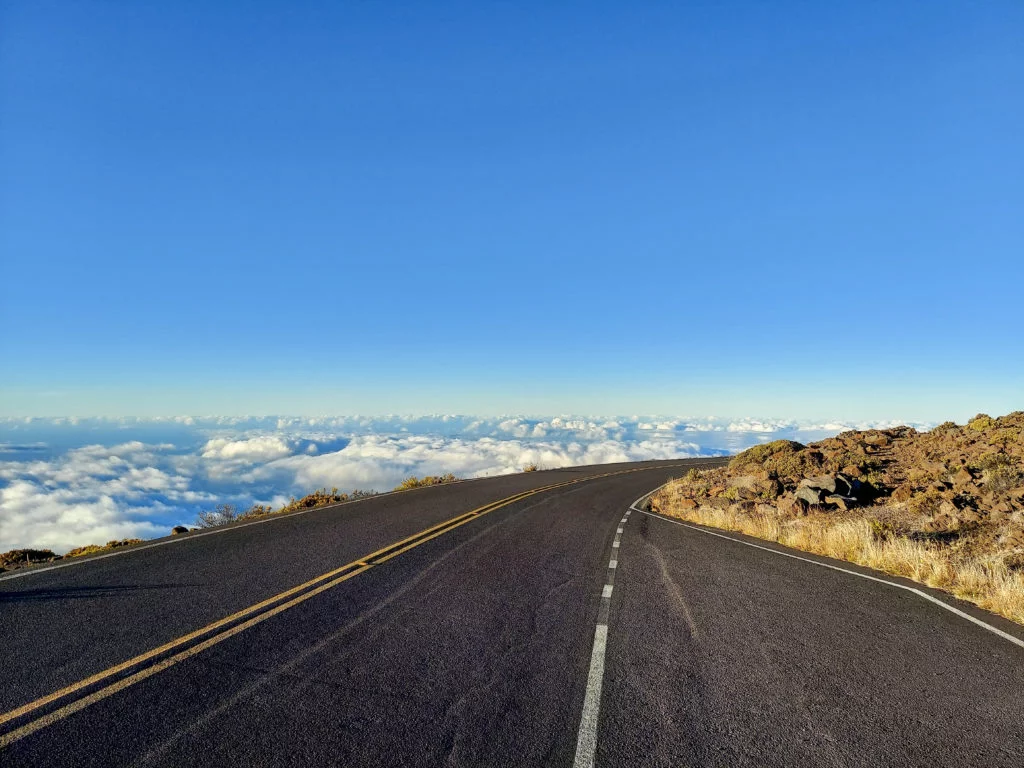 Recommended Hiking Trails for a Day Trip to Haleakala
There are three hiking trails I recommend for your day trip to Haleakala.  With limited time I think these three trails give you great views and provide you with a good overview of the Haleakala shield volcano. Continue reading for more information on each of these.
Leleiwi Overlook Trail
Pa Ka'oao Trailhead
Keonehe'ehe'e Trailhead
Leleiwi Overlook: Don't Miss this Short Hike!
A day trip to Haleakala doesn't give you much time for long hikes or in-depth exploring.  However, this doesn't mean you have to miss out on incredible views or hikes in this unique terrain.  The Leleiwi Overlook trail is only 0.15 miles but gives you incredible views inside the volcano.  It's your first opportunity to look down on this Mars-like terrain and imagine what it must have been like as an active volcano.   Really, don't miss this stop. It's well worth the short hike!
Haleakala Visitor Center & Hiking Trails
The Haleakala Visitor Center near the summit is another great place to stop and enjoy more spectacular views with a couple of great hiking options.  There's a large parking lot at the Visitor Center as well as restrooms. Even if the visitor's center is not open, it's worth stopping here to take in the view and do a little hiking.
Pā Ka'oao Trailhead
The Pa Ka'oao trailhead is to the right of the Haleakala Visitor Center. Follow the sidewalk path, and you'll see a sign for it near the overlook area.  It is a very short but rocky uphill climb, and soon you're rewarded with sweeping views of the crater floor.  You can also see the sliding sands trail to the far right as it winds its way down into this shield volcano. 
If you want to come up for the sunrise but want to skip the crowds at the observatory, consider hiking to the viewpoint for Pa Ka'oao to watch the sun come up.  Sunrise at Haleakala is an unforgettable experience.
Keonehe'ehe'e Trailhead
Walk to the opposite side of the parking lot from where you found the Pa Ka'oao trailhead, and you'll find the Keonehe'ehe'e Trailhead near the road.  This is also known as the Sliding Sands trail.  With only a day trip to Haleakala, you won't have time for a long hike into the crater, but depending on the time of day, you can plan for a short hike down this sandy trail. It gives you a new perspective on Haleakala, and there's something special about walking into a volcano.  
Make sure to pack plenty of water and some snacks for the hike.  Although the trail might not look steep, the sand makes it a lot harder to hike than a normal hardpacked dirt trail. So plan for it to take longer than you think for the hike in and especially the hike back out.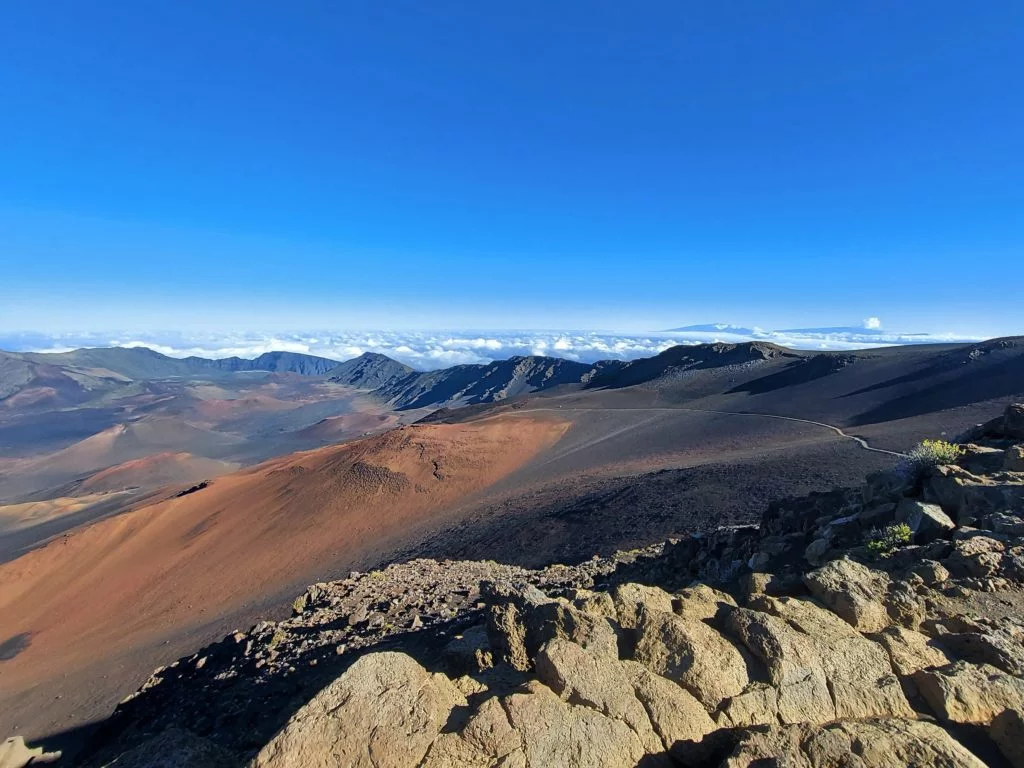 After spending time hiking and enjoying the views at the Haleakala Visitor Center, continue up the road all the way to the summit.  There you'll find an observatory (not open to the public) and the Haleakala Summit Building, which you can walk up to from the parking lot.  There you'll find the official elevation sign of 10,023 feet!  
I later told my Dad about driving to over 10,000 feet on Maui, and he was surprised. He didn't realize Maui had a mountain that tall.  I think this is common with a lot of people who've never visited Maui.  They think beaches and swimming, not cold, windy, over 10,000 feet elevation climbs!  
There is a small trail above the parking lot, which you can hike from the Summit Building all the way around to the opposite side.  I recommend you take the time to do this as it provides you with the highest views in the entire park and some great photo opportunities.  If you're staying for the sunset, consider scoping out a spot before it gets too crowded.  Most people line up in front of the Summit Building or along the railing to the right.
My first visit to Haleakala was to watch the sunrise.  This required getting up in the middle of the night and driving over an hour from our condo in Kahana to arrive at the summit before the sun came up.  It was freezing at the top, and I remember sitting there bundled in blankets sitting on the rock wall with other tourists as we anxiously awaited the sunrise. It was a spectacular scene and a memory I'll never forget.
That being said, watching the sunset at Haleakala was also amazing, and guess what? I didn't have to get up in the middle of the night to do it!  A day trip to Haleakala is the perfect opportunity for you to watch the sunrise at Haleakala.  You have a lot of options for where you watch the sunrise from. You can watch it on the summit at 10,023 feet. This is where most people view it, or you can drive down below the summit until you find a place to park and watch. 
That's what we did.  This was partly due to my hubby needing to get back to our condo to finish some work before midnight. However, as the sun started to dip down and the brilliant colors started casting over the mountain, we knew we had to stop. We pulled off and set up our camera gear and enjoyed watching the gorgeous reds and oranges as the sun dipped below the clouds. It was just the two of us, and it was perfect.
Final Tips for Visiting Haleakala National Park
Avoiding Elevation Sickness
There is a good chance you will feel the effects of the change in altitude during your drive to the summit.  It's important to stay hydrated during your drive up and during any hiking. Also, bring snacks as this will help with the effects of the altitude.  I personally felt lightheaded and a little nauseous, and I found that drinking water and eating the fresh coconut we'd packed really helped!  
This article explains other ways to deal with altitude sickness, and it recommends eating foods rich in potassium, such as bananas or avocados.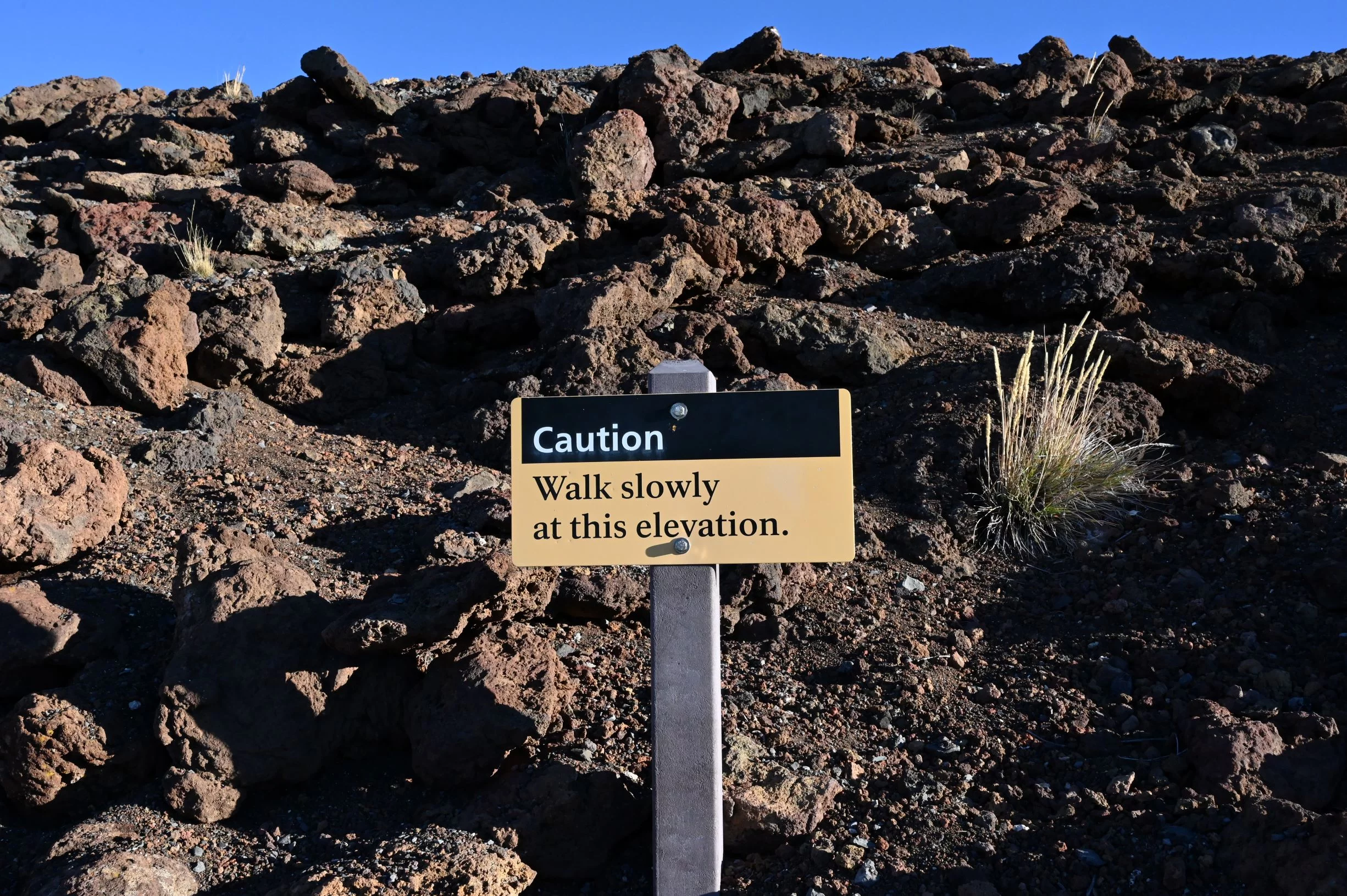 Dress for Colder Weather
Most people don't think of cold weather when they think of going to Maui.  However, when you're standing at over 10,000 feet, and the wind is biting your face and hands, you are going to be thankful for extra layers!  It gets cold on Haleakala.  They occasionally even get snow!  When I visited for the sunrise, I wore base layers for skiing, jeans, coat, and hat. Additionally, I wrapped myself in a blanket, and still, I felt cold!
Even visiting in the evening, it was only around 40 degrees when I was there, and with the wind chill, it felt a lot colder. Make sure to pack a jacket (and sweatshirt) for hiking at Haleakala, and absolutely if you plan to visit for the sunrise or sunset, bring plenty of layers.  You'll be happy to have gloves too, so I'd toss those in when packing for your trip.
What to Pack
Plenty of water, snacks, sandwiches (if you'll be there during meal times), layers of clothing, a jacket, hat, gloves, hiking shoes, tripod, and camera gear. There are no food services within Haleakala National Park. So you need to bring any drinks and food with you.  If you stopped at the Rodeo General Store in Makawao on your way up, then you should be set!  Make sure to wear comfortable shoes for hiking. The trails at Haleakala are very rocky. Flip flops are not appropriate footwear for hiking here.
Finally, remember to drive slowly, both going up and going back down.  The cows are in the road both day and night, so this is especially important when you're driving back down Haleakala in the dark.  Also, watch out for Hawaii's state bird, the nēnē. The nēnē is a medium-sized goose that sometimes crosses the road inside Haleakala National Park. They are an endangered species, so do your best to protect them and their habitat.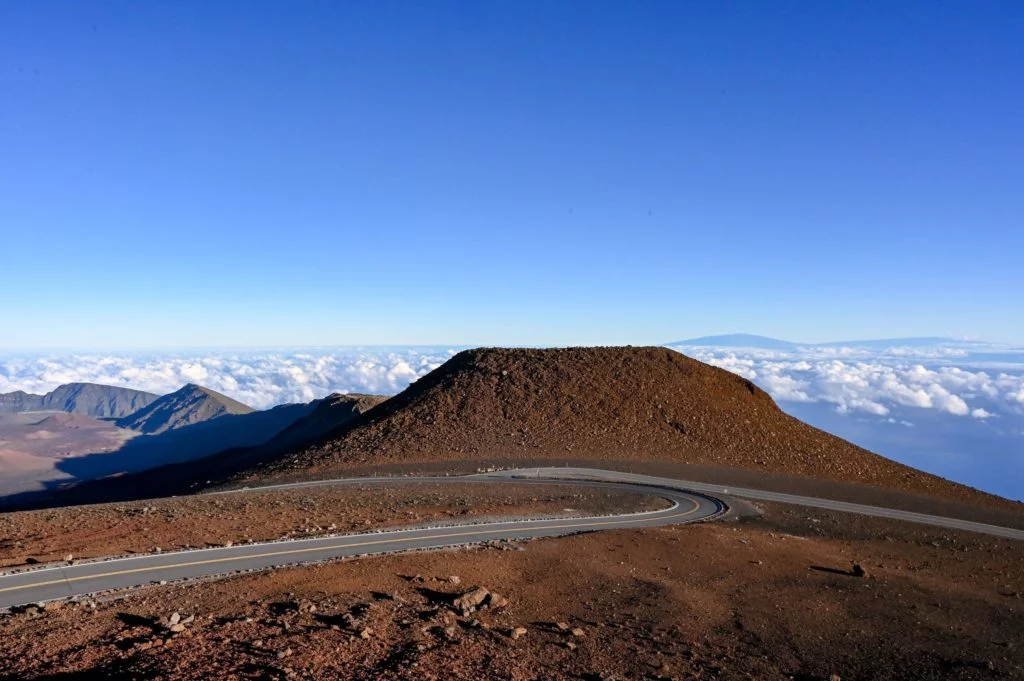 More Articles for Planning a Trip to Maui