Let's face it, a lot more people are working from home than there used to be, so swinging through your local coffee drive-thru isn't always an option. Not to mention the high cost of buying a daily espresso at, say, your local Starbucks.  Enter Nespresso's Essenza Mini original line coffee maker.  The Nespresso Essenza Mini makes a delicious espresso in only about 30 seconds! Making espresso at home has never been easier! So if you want a way to make a luscious, crema-topped espresso in less than a minute, then keep reading to find out how.  
If you recently purchased an Essenza Mini and want tips on using it, feel free to jump ahead using the below links.  
First Things First: What is Nespresso?
Nestle, a Swiss company you probably think of in connection with chocolate, owns and operates Nestle-Nespresso or just Nespresso as it is known here in the States. Actually, the word "Nespresso" comes from combining "Nestle" and "espresso." Nespresso has been around for over 30 years, but it's only been in the last 10 years that it has made a name for itself in the U.S. market. In a nutshell, Nespresso is to espresso what Keurig K-cup is to coffee. They are the original single-use coffee maker, and as the forerunner in single-cup coffee makers, theirs are one of the best!
Two Types of Nespresso Coffee Makers
Nespresso has two different lines of coffee makers.  The original line of Nespresso machines and the Vertuoline. The Vertuoline was created for the North American market, which prefers a larger American-style cup of coffee. In comparison, the original Nespresso makers were designed for espresso drinkers.
3 Key Differences Between the Original & Vertuoline
1) Coffee Sizes
The Original Nespresso machines have two options: Espresso & Lungo.  The Espresso option brews a 1.35oz espresso shot. The Lungo option brews a 3.7oz "long" espresso shot.
The Vertuoline coffee machines have 5 different size options: Alto (14oz), Mug (7.77oz), Gran Lungo (5oz), Double Espresso (2.7oz), and Espresso (1.35oz).
2) Brewing Technology
The Nespresso Original machines use the standard pump espresso machine technology that utilizes pressure to create an espresso shot.  The Nespresso Original machines use 19-bars of pressure to extract the espresso (a bar is a metric unit of pressure). 
The Nespresso Vertuoline machines use proprietary centrifugal technology to brew coffee.   Essentially, it spins your coffee capsule really fast while ejecting water into it. It also spins it after brewing to "dry" the capsule out.  
3) Coffee Capsules 
The Original Nespresso machines and Vertuoline coffee makers also use different coffee capsules based on the technology used to extract the coffee.  This is important to note for ordering your Nespresso capsules and because it affects both price and variety when it comes to purchasing your Nespresso coffee pods.
Vertuoline Capsules
The Vertuoline capsules are still under patent, so you are restricted to the Nespresso brand of coffee pods/capsules.  The Vertuoline capsules range in price from $0.85 to $1.25 per capsule.  
The Vertuoline capsules also use a barcode technology which the machine reads and then based on which type of pod it scanned, it then heats the appropriate amount of water designed for that specific pod.  This takes all the guesswork out of it for the customer. No more deciding on whether to choose a 6 oz or 8oz cup size. Instead, you pick your capsule, and the machine scans it and determines the optimal amount of water (and temperature) to brew that specific capsule.
Original Capsules
The Original line uses a small capsule that sort of looks like the little creamer capsules you get at breakfast diners. The main difference with the Original line is that in addition to Nespresso's line of coffee pods, you can also purchase original capsules from coffee roasters such as Starbucks, LavAzza, Pete's, Cafe Bustelo, and more.  Original coffee capsule prices typically range from $0.44 to $0.80.  
Spoiler alert: The price per pod coupled with a choice in coffee roasters was a big factor in my choice to go with the Essenza Mini Original Nespresso maker. 
Which One Should You Buy?
 If you mainly drink large cups of coffee but also want the option for the occasional espresso, then go for one of the Vertuo line coffee machines. This is also a good choice for someone looking to replace the Keurig with a single-cup coffee machine that brews a stronger cup of coffee. If that sounds like you, I recommend buying the VertuoPlus. 
If you primarily want to make espressos and espresso-based drinks such as lattes, cappuccinos, etc., I highly recommend the Essenza Mini. It's the perfect espresso machine for beginners and those looking for a quick espresso option that doesn't require learning to pull their own shots or get the perfect espresso grind. Easy peasy, no muss, no fuss, delicious espresso!
Nespresso Machines Brands
One final note on branding before I tell you all about the Nespresso Essenza Mini. You will notice the machines comes in a variety of brand names. The two most commonly seen are De'Longhi and Breville. 
The most important thing to note is the machine functions and features are essentially the same, even if the brands are not. 
There is no advantage (that I found) to one brand over the other. It comes down to aesthetics.  So choose whichever Nespresso coffee maker you like the looks of best, or whichever has the best price.
Please continue reading to learn about using the Nespresso Essenza Mini and some tricks I've learned to customize the espresso sizes.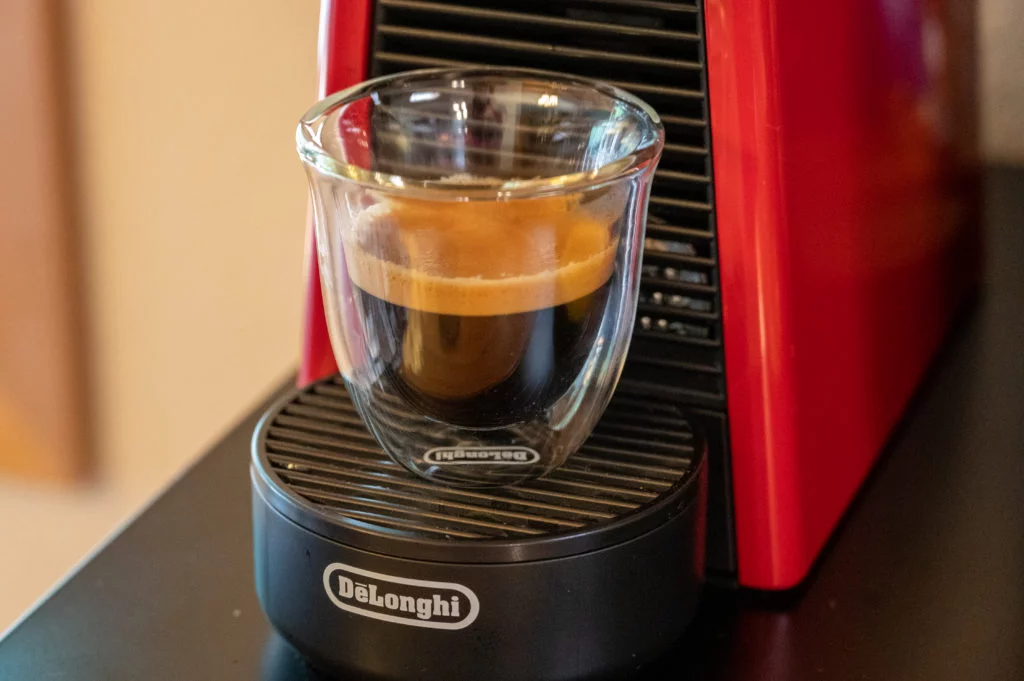 My Top Pick: The Nespresso Essenza Mini
Why I Chose the Essenza Mini
The short answer is, I wanted this for espresso, not for coffee.  I already have a Keurig, Aeropress, and Chemex that I use to brew coffee, but what I didn't have was an easy way to make espresso.  I also wasn't ready to spend the money to buy a semi-automatic espresso machine which often cost $500 to $1,000 for a good one. I'm not ready for the learning curve that comes with grinding my espresso beans just right and pulling my shots and the maintenance involved with owning an espresso machine.  
The Nespresso Essenza Mini was exactly what I was looking for!  Plus, this makes it easy for my hubby and family and friends to make themselves an espresso quickly or at least make it easy for me to create them a latte or mocha on demand.  
What is a Nespresso Essenza Mini?
The Essenza Mini is an automatic espresso machine–a tiny one too! Its small size makes it easy to find space on just about any countertop.  In fact, it's so compact that my hubby once had an executive visiting from Europe who packed his Nespresso machine with him!  Now that's true dedication!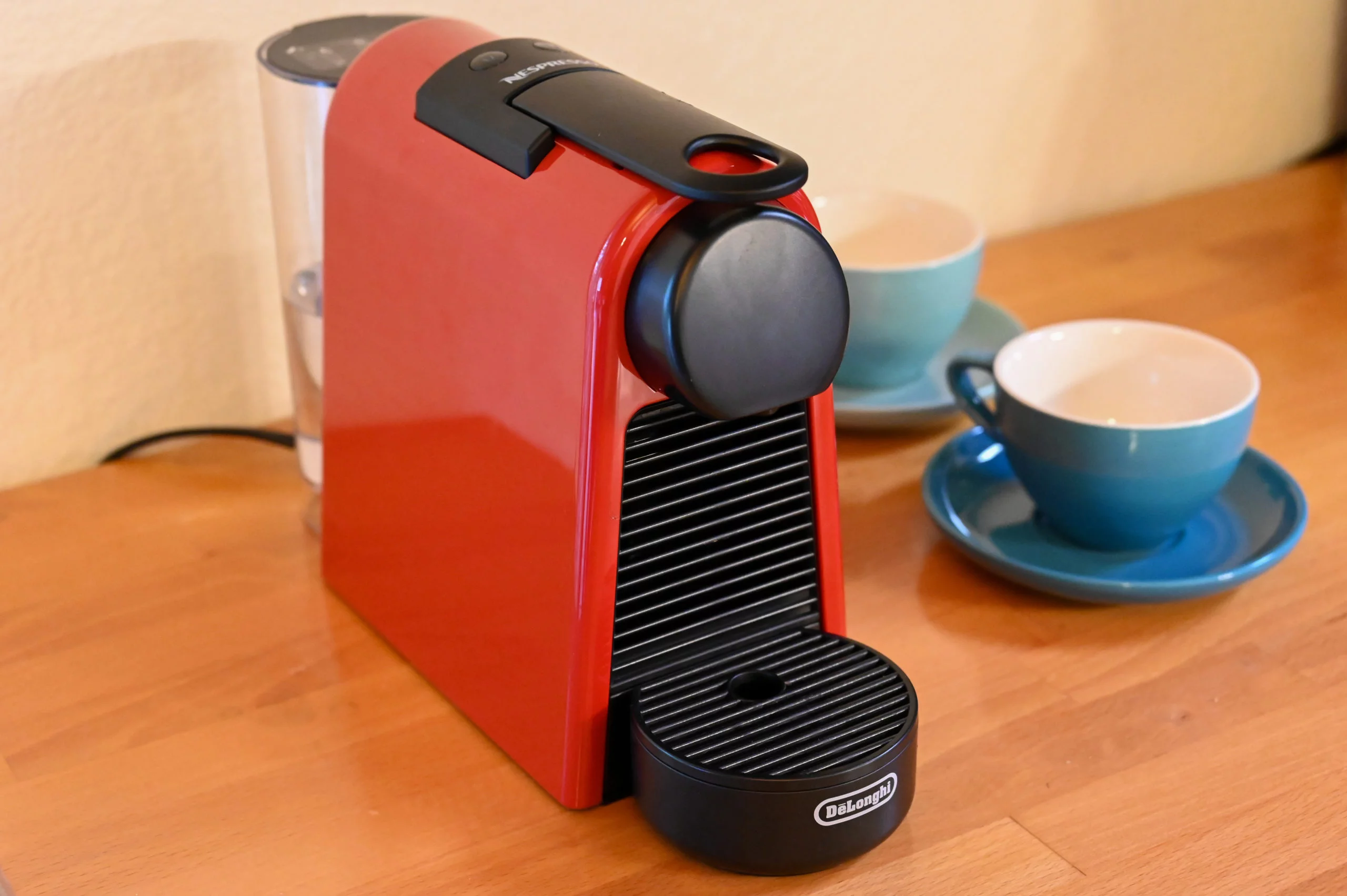 Essenza Mini Brewing Sizes
The Nespresso Essenza Mini brews two sizes of coffee.  Espresso (1.35oz) & Lungo (3.7oz).
Espresso
An espresso is a type of coffee and also the method of brewing coffee. This is, of course, a very summarized answer. There is a ton of information on all the intricacies of what makes an espresso an espresso, but this is my short answer.  Specific types of coffee beans are used for brewing espresso, and the method for brewing espresso uses intense pressure to extract the flavor from the beans. This gives you the lushes crema and dark rich flavor of espresso.
Nespresso created a line of coffee capsules specifically tailored to create a delicious espresso.  They come in a range of intensity levels that correspond to your espresso's bitterness and flavor profile.  The intensity ranges from 4-13. An intensity of 4 will result in a milder, more sweet flavor of espresso. The 13 will result in the highest level of intensity and create a stronger and more bitter flavor.
Lungo
What is a lungo? Lungo in Italian means "long."  A lungo is a long shot of espresso that uses extra water to pull the espresso shot through.  It also takes longer to "pull" the shot and creates an espresso with a somewhat milder flavor profile.  Lungos typically use a slightly different coffee grind too.  
Nespresso sells lungo-specific coffee capsules in addition to their espresso capsules. They also range in intensity from 4-10. You can also try their regular espresso capsules with the lungo brewing option. The flavor profile will be different, but you only live once, so feel free to give it a shot! (Do you see what I did there?) 
Ristretto (not given a brewing button, but it is a capsule option offered by Nespresso)
Now, to complicate it a little more, Nespresso also offers a ristretto Nespresso pod. A ristretto ("restricted" in Italian) pulls less water through a shot of espresso resulting in less bitterness. It also contains a little less caffeine than a standard shot of espresso.  You might wonder how you can make a ristretto with the Nespresso Essenza Mini, which only has two cup sizes? Keep reading below to find out how.
TIP: You can customize the amount of water released when you press either the espresso or lungo buttons!
How to Use the Nespresso Essenza Mini
It's SO EASY! Perhaps, too easy to brew an espresso shot with the Essenza Mini.  In about 30-seconds, you have a delicious shot of espresso (or maybe two shots–thus the "too easy" part). 
Brewing Your First Espresso
When you first receive your Essenza Mini, the instructions have you fill the water reservoir with filtered water. Then you'll run 3 cups of water through the machine using the Lungo button to rinse it for initial use.  After you complete this step, you're ready to brew your first cup of espresso.

Fill the water reservoir and click it in place. 

Press the espresso or lungo button to turn the machine on (it takes about 30 seconds to heat up initially).  The Essenza Mini has an auto-off feature and shuts itself off after 9-minutes of inactivity.

Lift the lever on top of the Essenza Mini and insert an espresso capsule. (The Essenza Mini comes with a Nespresso sampler box of capsules.)  
Close the lever and place a cup below.  You can remove the drip tray if you want to use a larger coffee mug for brewing.
Press either the espresso button or the lungo button, depending on your preferred drink. You can stop the flow of coffee by pressing the button again during brewing.  After it finishes brewing, you can press the button again to create a weaker coffee by running water through the pod twice.
Lift the lever on top to eject the capsule into the used capsule bin.  This bin holds up to 6 pods before you need to empty it.  You can empty the used capsule container by pulling on the drip tray. *Be careful, though, as there is also a drip attachment under the capsule container, which catches any liquid that comes off the used pods.  Sometimes this has liquid that spills out when you pull out the capsule tray.
You are ready to sit back and enjoy your delicious cup of espresso!  
Additional Equipment for Creating Espresso Drinks
If you want to use your Nespresso Essenza Mini to create lattes or cappuccinos, then consider purchasing a milk frother in addition to your espresso machine.  Some versions of the Essenza Mini come with an aeroccino milk frother like this one.  However, I purchased just the Essenza Mini machine as I already owned this milk frother, and I love it! It also froths thick cold foam for those who enjoy iced coffee drinks like an iced caramel macchiato or iced lattes.
The other accessory I purchased was this original capsule storage drawer.  My Essenza Mini sits on top of it along with my syrups and sugar, thus taking up no extra countertop space to store my Nespresso coffee pods.
How to Customize Your Brew Size
This video from Nespresso explains how to customize your pre-programmed brew sizes to fit your coffee preferences. So, for example, if you prefer espresso and ristretto shots, you could program the "espresso" button to pull a smaller amount of water for ristretto shots and subsequently program the "lungo" button to pull an espresso shot.  It's really up to you how you customize it based on your espresso drinking preferences.
How to Reset Water Amounts to Factory Settings
If you changed the factory-set water levels and now wish to change them back to the original factory settings (Espresso: 1.35oz, Lungo: 3.7oz), here is how to do it (you can also find these instructions in the Nespresso instruction booklet).
With the Essenza Mini turned off, press and hold down the Lungo button for 5 seconds.

LEDs will blink fast 3 times to confirm the machine has been reset to factory settings.

LEDs will then continue to blink normally as it heats up until it is ready. – Steady Lights mean your Essenza Mini Nespresso machine is ready.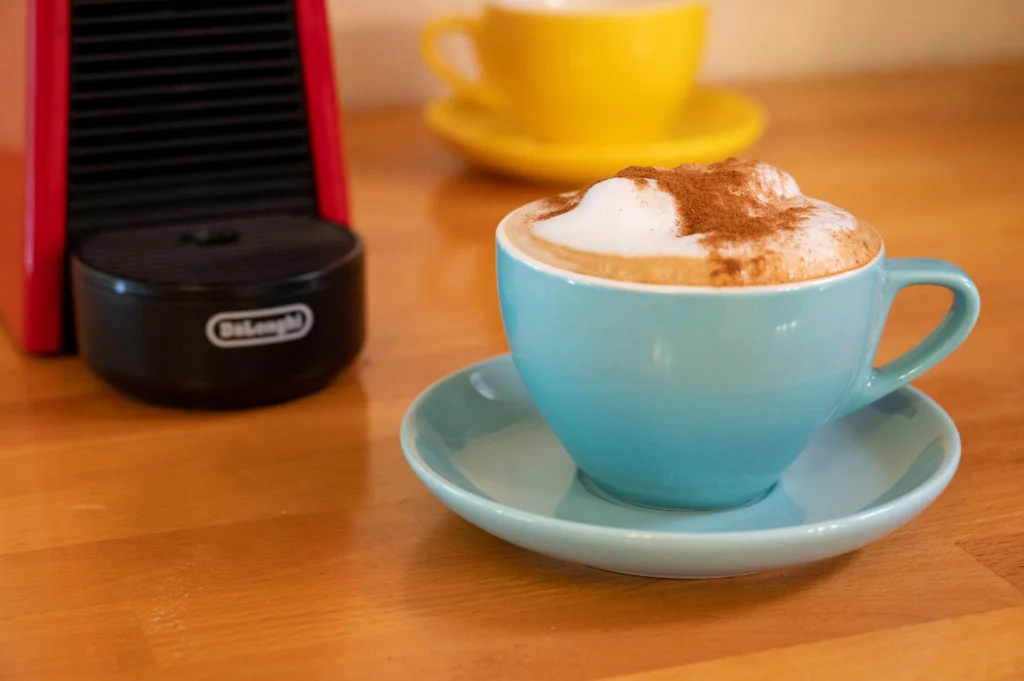 If you're in the market for a Nespresso coffee maker, in addition to the links I've given you above, you may also want to check on Bed Bath & Beyond to see if you can use their 20% off coupon for a better deal.  Also, if you're a Costco member, check to see what specials they have on a Nespresso machine.  Last I checked, they had both an Original machine and a Vertuoline machine for sale online, but their inventory is always changing. 
Someday I may decide to spend the money on a semi-automatic espresso machine, but for now, I love how easy it is to create a fantastic espresso at the press of a button!  I especially love how easy it is to make an affogato on a hot summer day–so good!
At the end of the day, it came down to what I wanted this new coffee maker purchase for.  For me, that was espresso.  I wanted a quick way to make an espresso with as little fuss as possible.  I couldn't be happier with my decision!
Let me know if you already have a Nespresso coffee maker, and if so, did you go with the Original line or the Vertuoline?  
Note: This post contains affiliate links. When you make a purchase using one of these affiliate links, we get paid a small commission at no extra cost to you.
Here are some other great coffee articles to check out:

Ciao Everyone! (Yes, now that I'm drinking more espresso, I feel the need to add Italian into my daily conversations.)