Whenever I travel, I frequent the local cafes and experience the local coffee culture of each destination I visit.  I get excited when I discover a cafe that roasts its coffee in-house.  Why? Well, for one, it means I get to sample coffee that I couldn't anywhere else in the world, and two, it means I will have the freshest cup of coffee possible. 
Here in Seattle, we are fortunate enough to have many options for local coffee roasters roasting small-batch coffee creations. However, I realize that not everyone has the coffee options available to those of us living in Seattle, and not everyone can afford to travel the world sampling coffee. Now, you don't have to! 
Enter Bean Box. A company I recently came across while researching my Travel Gift Ideas post. Bean Box works with local coffee roasters to bring you fresh, delicious coffee from all over the world to enjoy from the comfort of your home.
*Travelffeine is reader-supported. When you buy via links on this site, we may earn an affiliate commission at no additional cost to you.
Seattle is known for its coffee scene, and this is in large part due to Starbucks. If you live in Seattle, then you're probably familiar with local coffee roasters such as Slate Coffee, Elm Coffee Roasters, Caffe Ladro, and Stumptown (to name just a few). However, for those of you who live outside of Seattle, you may not be aware of the massive growth of local coffee roasters or what that means for you. That's where Bean Box Comes in.
Bean Box is a driving force behind this new way of making freshly roasted coffee accessible to you in the comfort of your home. It is no longer only for those of us fortunate enough to live in Seattle, who can benefit from these local artisan roasters. Now, thanks to Bean Box, you can live anywhere in the U.S. and indulge in the Pacific Northwest coffee scene without traveling to Seattle to do it!
What is Bean Box & What Is Artisan Coffee?
Bean Box is a Seattle company started by two software engineers who loved coffee and recognized how fortunate Seattle was to be surrounded by so many local artisan coffee roasters. They saw this growing number of local coffee roasters and wanted to figure out a way to share the Seattle coffee experience with others, and now they do.
Bean Box partners with 35 Pacific Northwest coffee roasters to make sure you get world-class coffee. The local coffee roasters work directly with coffee farmers to make sure they get the best product for their roasting needs.  Then they roast the beans in small batches, which Bean Box then samples and chooses based on quality and flavor to deliver straight to your door.  How awesome is that! You can think of Bean Box as your personal coffee connoisseur selecting only the best coffee to send your way.
What does artisan coffee mean?
For me, it means that each step in the process, from bean to cup, has been meticulously followed. The farmer works in direct relationship to the roaster, and the roaster works directly with the local supplier to bring you your delicious cup of coffee. 
Bean Box explains this relationship as a "direct trade" relationship, citing Sebastian Simsch, founder of Seattle Coffee Works, defining direct trade as follows: "farmer and roaster work together to improve the quality of the coffee that gets to your cup."  
It means that these individuals (farmer, roaster, supplier) are working together in collaboration for the common good of each other, and you, the consumer. Every step in the process ensures you get a quality cup of coffee. Now, that's something I can get excited about!
There will always be a place for Starbucks, but I tend to look at it more like the fast-food of coffee, the corporate office coffeehouse.  Artisan coffee and local coffee roasters, they're the fine dining of coffee, the creative-centered coffeehouse. I see a place for each, and I think everyone can enjoy both the Starbucks venue and the small-batch coffee roasters.  I mean, it's coffee!
However, just like you don't always want to eat McDonald's seven days a week, the same can be said for your coffee experience.  You want that unique, sip-it-slow experience while sitting on your deck watching the sunrise or chatting with a friend who stopped by for a visit.  That's when you want the fresh-roasted artisan coffee Bean Box delivers to your door.
The Global Coffee Experience
So, now that you understand a little better what type of company Bean Box is, and what artisan coffee is, let's talk travel.  Bean Box lets you travel the world inside a cup of coffee. I mentioned that they partner with 35 (and counting) local coffee roasters, however, let's talk more about the coffee farmers these roasters get their coffee beans from.
Coffee Farmers
This is where your world travels begin.  Let's explore Ethiopia and try the fruity flavors of Slate Coffee's Ethiopian light roast coffee or visit vibrant Guatemala and sample a spicy dark roast blend from Middlefork Roasters. Say aloha to my favorite tropical destination and sip the nutty flavor of Keala's Hawaiian medium roast coffee while imagining you're in Maui listening to the sound of the ocean.  These are just a few of the many options you can try through Bean Box.
Sampling world-class coffee from the comfort of your home is just one of the many benefits you get when subscribing to Bean Box and purchasing coffee gifts for the favorite coffee lover in your life. So let's take a look at some of the coffee choices Bean Box offers.
Monthly Artisan Coffee Subscriptions
You've got two great options when it comes to a monthly coffee subscription.  You can choose the Bean Box monthly subscription sampler, which includes four different coffees for you to try, or you can choose the Coffee of the Month subscription, which is a 12 oz bag of that month's featured Coffee. 
You can customize your subscription based on your coffee preferences. Choose from light and fruity blends to nutty mediums to rich, dark espresso blends, and you can even choose decaf coffee if you want.  They have a coffee option to fit every tasting preference.
Bean Box Coffee Gift Ideas
People who love coffee. Those who enjoy variety in their coffee experience. If you like supporting local and small businesses, then Bean Box makes a great choice! 
If you want the freshest coffee possible, short of roasting it yourself or perhaps, driving to downtown Seattle. People who want a convenient and affordable way to get a quality cup of coffee at home. 
Those that love Seattle's coffee but live elsewhere in the U.S. and those who want to sample coffee from around the world without ever leaving home. Pretty much, if you like coffee, you should give them a try.
Coffee Options for Every Budget
Bean Box has artisan coffee options for every budget and right now they're offering $5 off your first coffee subscription order! Coffee subscriptions start at $16.50/month, so you sample four coffees for only $11.50 with free shipping!  That's about 16-24 cups of coffee (depending on your coffee cup size) for only $11.50!
You can easily spend $5 on a single cup of coffee from Starbucks.  Why not support a local business and an independent coffee farmer instead? Not to mention the delicious smell that greets you when you check your mailbox, or how much better fresh roasted coffee is when compared with coffee that's been sitting on the shelf for months.  Bean Box provides quality coffee, freshly roasted and quickly delivered to your door. Really, once you try it, you'll wonder what took you so long!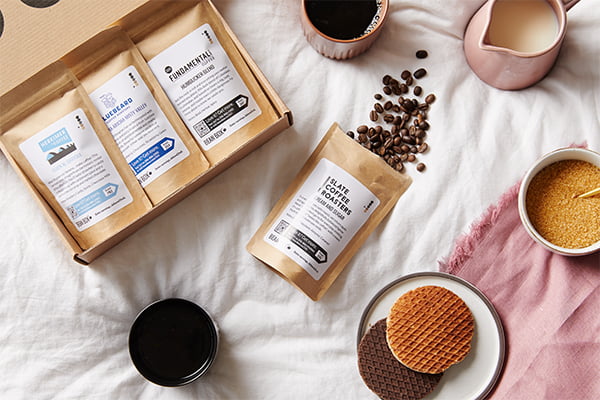 The Benefits of Small-Batch Artisan Coffee
Small-batch artisan coffee guarantees you'll always get fresh coffee, and you get to sample unique and rare coffee blends. With small-batch roasting, local coffee roasters can experiment with different coffee beans and coffee roasting styles to produce new flavors. You will never get bored with artisan roasted coffee.  Bean Box delivers variety to your door.  If you subscribe to Bean Box's coffee delivery service, you get to try a new coffee blend every month. Say goodbye to hum-drum coffee days!
The Downside to Small-Batch Coffee
Of course, if you try something you like, you'll want to buy more as fast as you can.  That is one downside of small-batch artisan coffee.  You can't buy it in bulk, and they may sell out of your favorite blend.  That's okay, though, as your new favorite will be in the mail to you shortly.
So why not give it a try? You can cancel your subscription at anytime if you decide it's not right for you.  Also, if you're not sure you're ready for a subscription, then try a single bag of this month's latest fresh roasted coffee and see what you think.  A world of coffee deliciousness is waiting to be delivered to your doorstep!
Other Articles You Might Enjoy
Stay Caffeinated!