Nolte State Park is a hidden gem in the Pacific Northwest.  This Washington State day-use park makes a perfect place to get away for a few hours or even the whole day! When you feel like you need to escape the hustle and bustle of the city it provides the perfect natural setting to get away and think. And when you want a park to take the whole family to for some fun in the sun, Nolte State Park makes the perfect choice!
Below I list all the activities you can enjoy at Nolte State Park, and I hope you will take the time to visit it soon. You will feel like you have stumbled upon a retreat in the woods. It might even become your new favorite park, and perhaps you'll want to keep it a secret too!
Activities at Nolte State Park
Feel free to click on links below and jump ahead to the various activities and information found in this article.
I had heard of Deep Lake and Nolte State Park for years. However, I had never taken the time to visit it.  Then this year, my hubby and I purchased some inflatable stand up paddleboards (SUPs). So I started researching some places we could try them out around the Seattle region, and that's when Nolte State Park popped up on my radar again. I am so glad we decided to check it out! It is such a beautiful lake for both stand up paddleboarding and kayaking. Please note that only non-motorized boating is allowed on Deep Lake.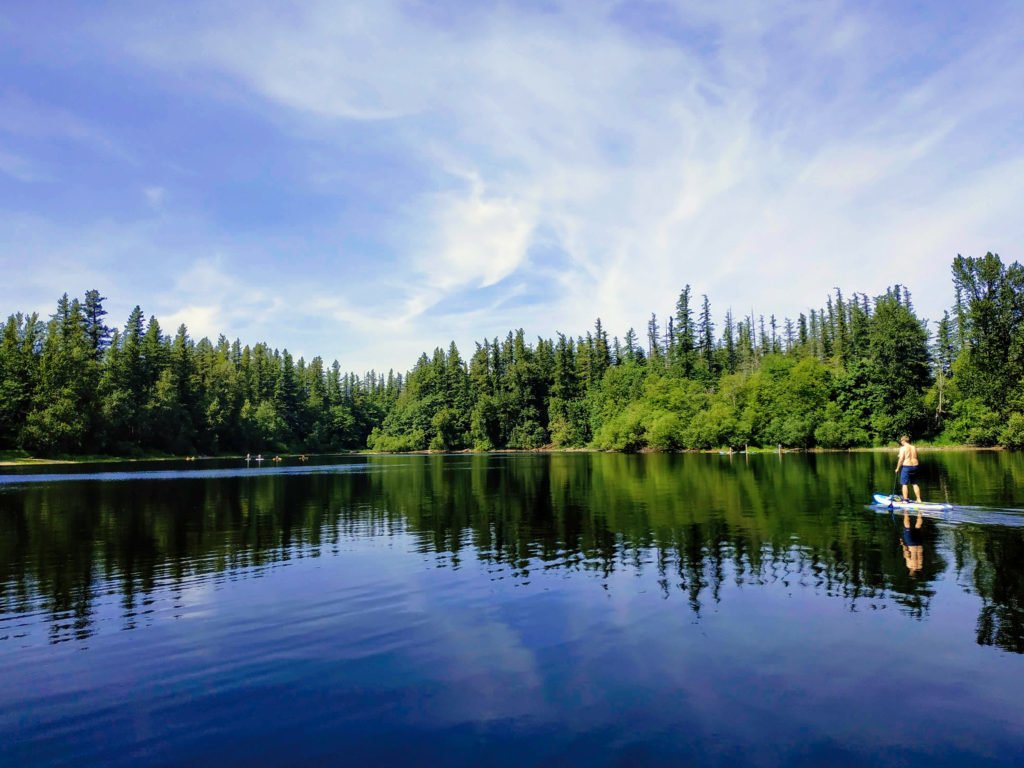 Besides boating around the lake, if you enjoy fishing, Deep Lake is a stocked lake that is open to fishing year-round. You can catch rainbow trout, cutthroat trout, kokanee, yellow perch and more.
The first day we paddled out on our stand up paddleboards here, fish were jumping everywhere!  Honestly, I was a little concerned one might jump up and knock me off my SUP! Now that would have made for a good story!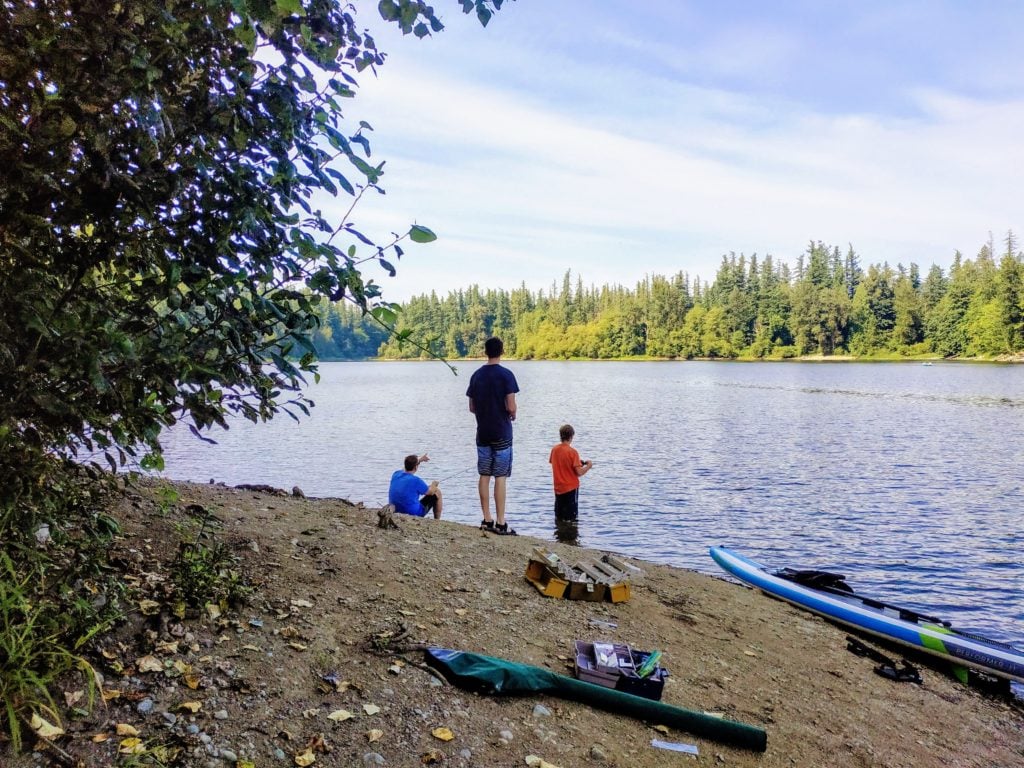 In addition to bank fishing, Nolte State Park also has a fishing dock, and of course, you can always bring your non-motorized boat for fishing too. The dock can sometimes get busy with other anglers and in the summer it is often commandeered by a large crowd of kids who test out their cannonball skills. So finding a spot along the bank is often the best choice.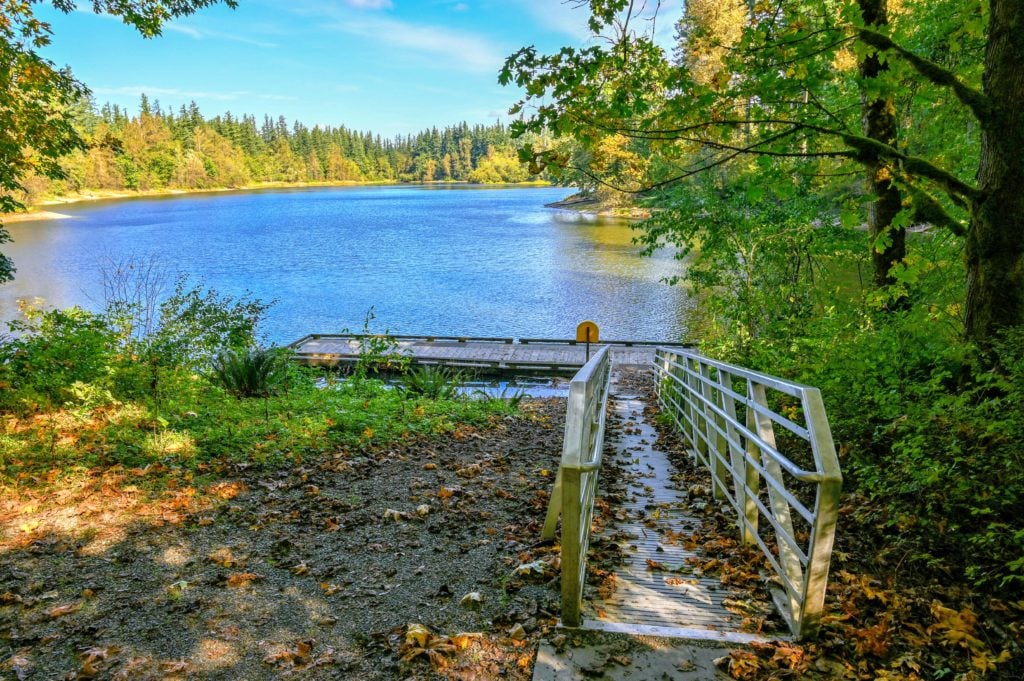 If you prefer an activity that doesn't require getting wet, take a peaceful stroll around Deep Lake. You will find the start of the 1.4-mile loop trail by following the path that goes alongside the playground area. I really this trail. It feels as though I'm miles away from the city as I listen to the wind gently blowing in the trees. I admire all the beautiful trees and meander down so many of the side paths that lead to the lake, that a man once lapped me 3 times!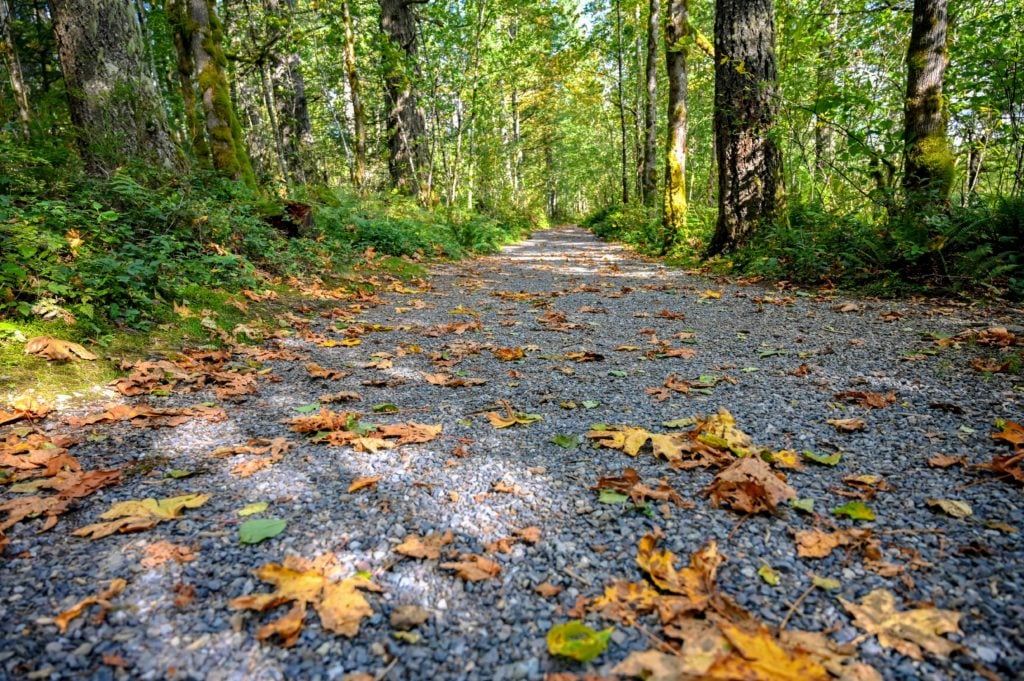 One thing I love, is that this trail makes for a beautiful walk no matter the time of year.  Even on a rainy day, you can just put on your raincoat and enjoy a quiet walk in the rain. Make sure to have fun exploring all the different side paths that take you down the lake.  Pick one and find your favorite thinking spot or perhaps your favorite fishing spot. Pull up a rock and enjoy the sound of wind rustling through the trees.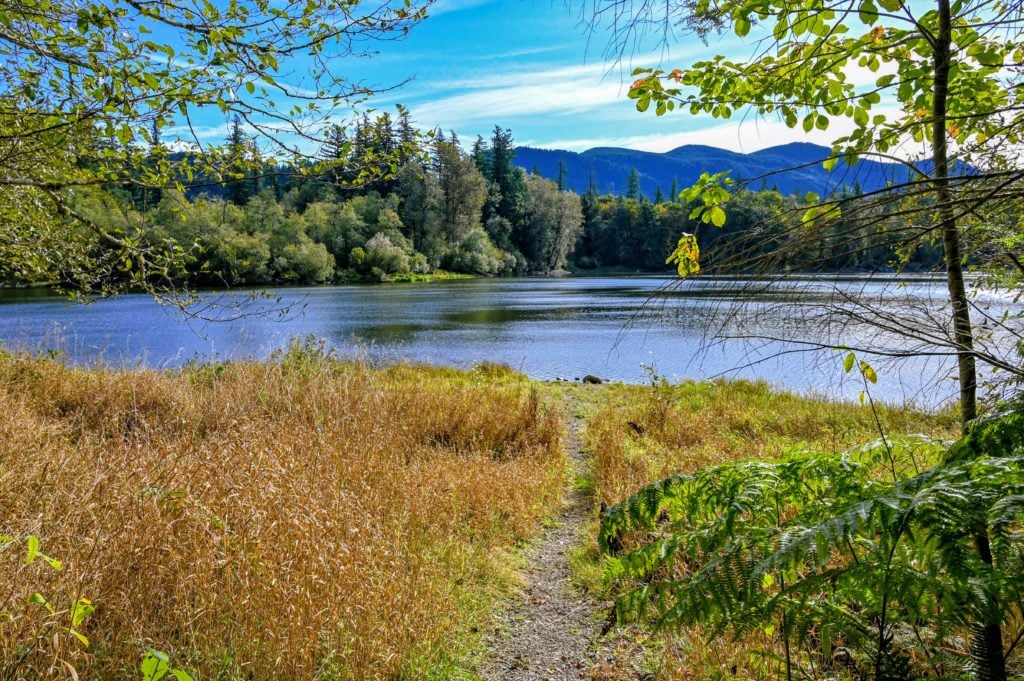 If you have kiddos who need to run off some energy, why not do a few laps around Deep Lake. Allow them to expend some energy while getting a little fresh air. There are multiple benches along the way for resting or for enjoying the serene surroundings. Also, the gravel path is stroller friendly!
However, if you have mobility issues that make the path too rough for you, there is a short paved path alongside the large picnic area that has views of the lake and a grassy area with lots of picnic tables and grills that overlook Deep Lake.
In addition to boating, fishing, and hiking, there is also a horseshoe pit and a kids' play area. And there is a small field next to the kids' play area where you can toss a frisbee or football. There is really everything you could want to create a day full of memories.  We created fun memories with our nephews and niece. They loved swimming, boating and fishing — all in one day!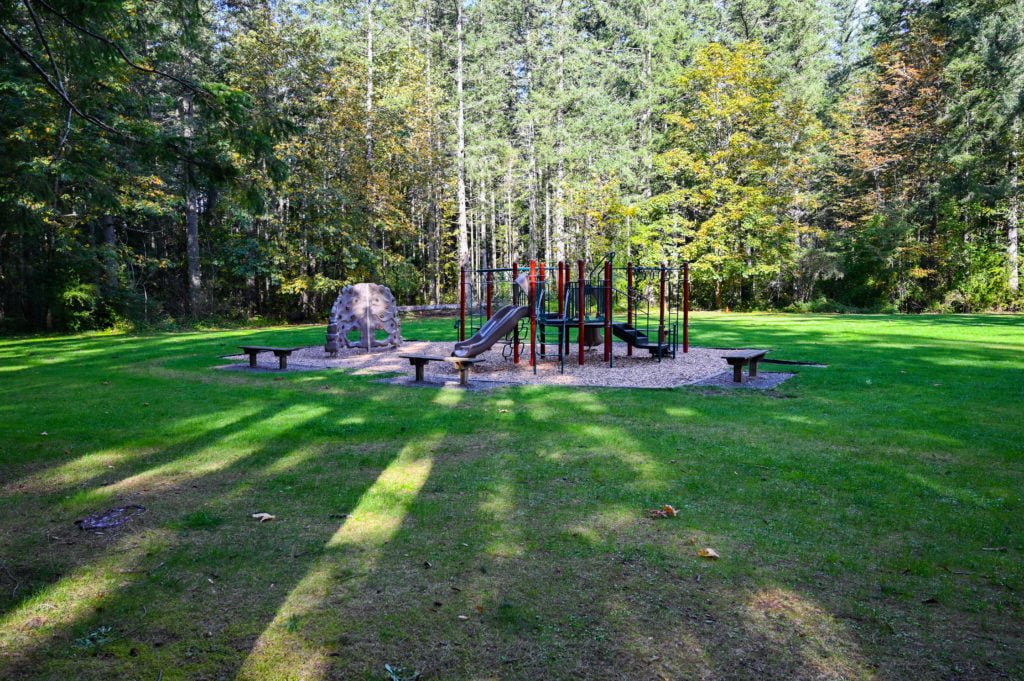 Reservable Group Shelters
Nolte State Park also has large kitchen shelters that can be reserved for groups ahead of time, and there are BBQ grills at almost every picnic area. Most BBQ grills are located in the central area overlooking the lake, but there are also a few on both sides of the lake, so make sure to look around and find the perfect spot for you and your group.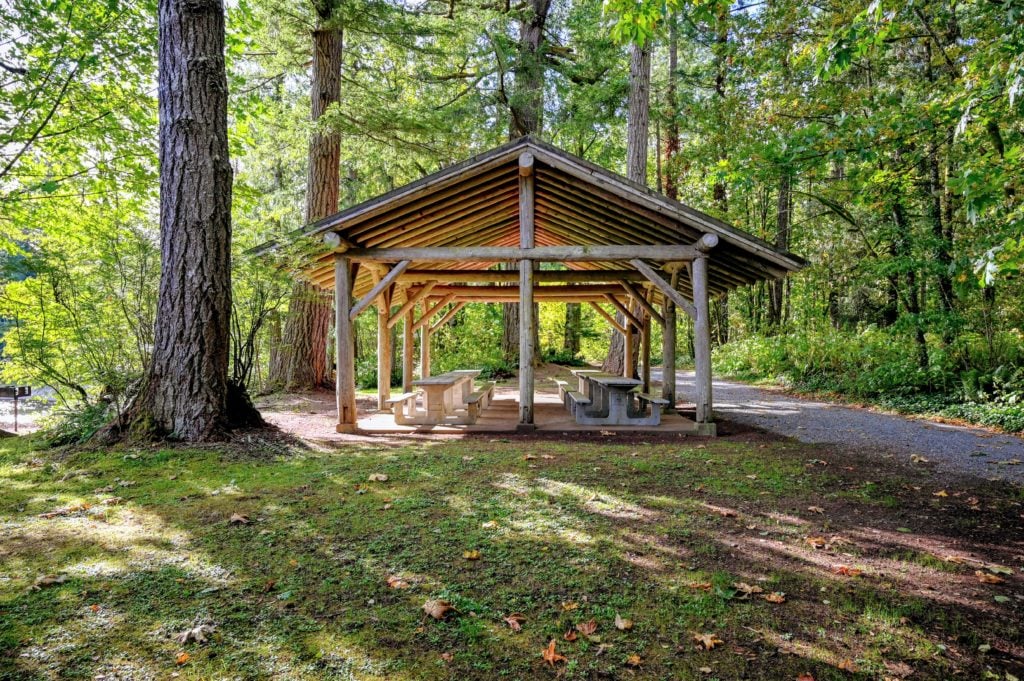 Fees: You need a Discover Pass to park at Nolte State Park as it is a part of the Washington State Park system. You can purchase a day pass at the park for $10 or buy an annual pass for only $30.  I think the ability to go to all of Washington's State Parks as much as I want for a year is worth the price. Skip a few trips to the coffee store, or purchasing your favorite snack for a month, or whatever.  
And if the budget is still too tight, make sure to check out the WA State Park website for their free park days. They have multiple days throughout the year, where no Discover Pass is needed.
Swimming in Deep Lake: There is no lifeguard on duty. There is a rapid drop off after you enter the lake when it becomes deep. Make sure all kids (and anyone who isn't a strong swimmer) have life vests on at all times.  It would be far too easy for a child to drown here as there isn't much of a shallow entry before it becomes too deep to touch bottom. So please take the necessary safety precautions to ensure everyone has a fun and safe visit!
Nolte State Park Hours: 8 a.m. to dusk
Fishing at Deep Lake: A Washington State fishing license is required to fish here for anyone 15 years or older. Visit the Washington State Department of Fish and Wildlife for further information.
Restrooms: There are multiple restrooms with sinks and soap. Additionally there are drinking water spouts in a few different spots around the park.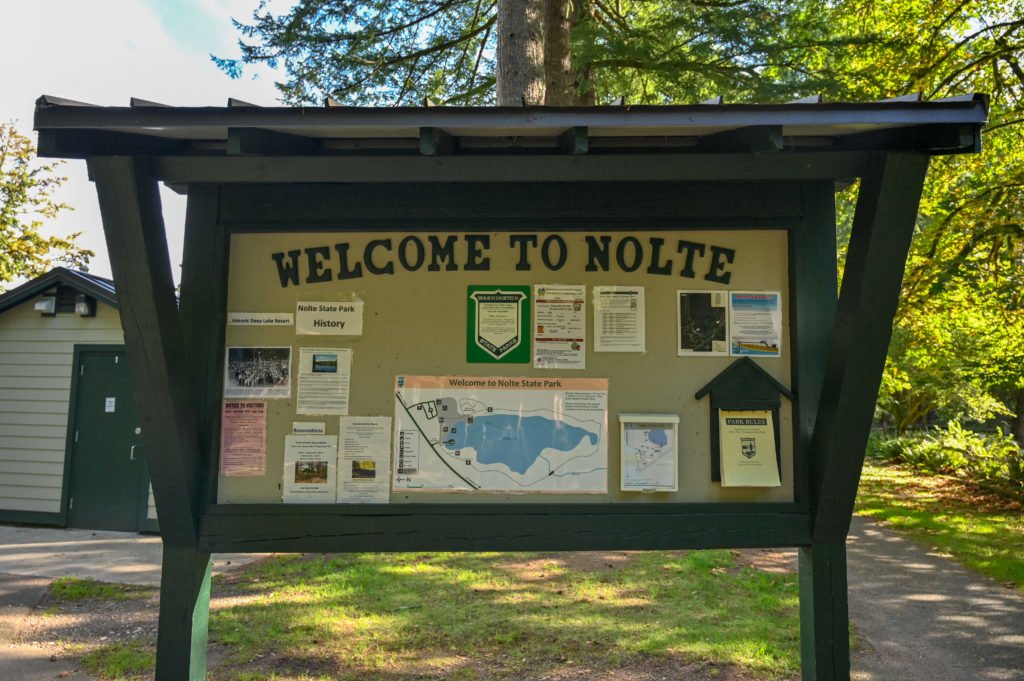 Nolte State Park Address: 36921 Veazie Cumberland Road, Enumclaw, WA 98022
From Seattle: 
Take I-90 E to Exit 17 for Front Street/Issaquah-Hobart Road Southeast, turn right onto Front Street and follow this road for almost 9 miles, (Front Street becomes Issaquah Hobart Road), continue following the road for another 5.5 miles as it becomes  276th Ave SE, and then also Landsburg Rd SE. Then turn left at the 2-way onto SE Kent Kangley Rd and follow for about 1 mile before making a slight right onto Retreat-Kanaskat Rd/Retreat Kanasket Rd SE. 
Stay on this for about 3 miles before turning right onto Cumberland Kanaskat Rd/Cumberland Kanasket Rd SE. After about 4 miles this becomes Veazie-Cumberland Road SE, continue anther 1.5 miles before making a right into the main entrance (pass the boat launch entrance) for Nolte State Park.
From Tacoma:
Take I-5 N to WA-18 E towards Auburn. Then take the WA-164 E exit toward Enumclaw and turn left onto WA-164 E/Auburn Way S. Stay on this for about 7 miles. Then turn left onto SE 400th St/Krain-Wabash Rd and follow for another 7 miles before making a slight right to merge onto SE 392nd Street. Continue for about a mile before making a left onto Veazie Cumberland Rd Se. After about 1.5 miles make a left into the Nolte State Park entrance.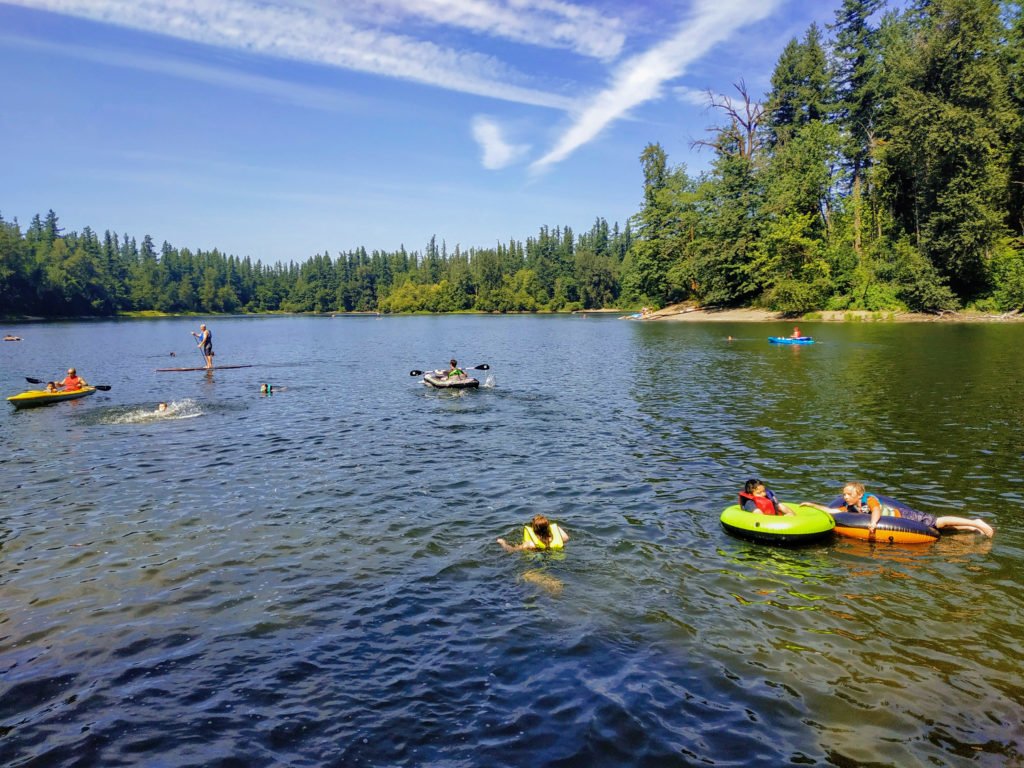 During the summer, Nolte State Park can be very busy. So plan to come early in the day to get a parking spot as well as pick out your area on the beach and picnic area if you want to barbecue. And if you have a large group, make sure to reserve a group shelter ahead of time. There are a few parking spaces on the shoulder of Veazie Cumberland Rd SE if the parking lot is full.
Take a little walk down the paths along the sides of the lake to see if you can find a picnic table nestled in the trees or closer to the lake. I think as you come here and explore the path around Deep Lake, you will soon discover "your" spot.
Don't forget to pack sunscreen and possibly bug spray. I haven't had an issue with bugs here, but you never know! If you do forget something, Enumclaw is only about 7 miles away. 
Pack it in and pack it out. Please make sure to pick up all your garbage when you finish enjoying your time here. I appreciate the efforts that the park's custodians go to, to keep this park so clean, so let's all do our part too!
Nolte State Park makes the perfect getaway for the day. Bring your family and friends and spend the day creating fun memories by the lake.  Oh, and if you're lucky, you won't have any cell service here either. So you really can get away from it all! 
Enjoy making memories!