On a road trip to Central Oregon, hubby and I spontaneously decided to stop at Smith Rock State Park near Bend, Oregon.  I am so glad we did!  This 600+ acre park is beautiful!  The river winds its way through the park, with volcanic rock formations towering alongside it.  It's no wonder it's considered Oregon's top rock climbing destination.  For those looking for exceptional views and a gorgeous natural setting, you've come to the right place!
We arrived mid-afternoon as we'd visited Oregon's Painted Hills that morning. Since we didn't have much time to spend at Smith Rock, we wanted a hike that would give us the best feel for this massive park.  So we chose the Misery Ridge Loop Trail.  It was the best decision we made, and I highly recommend you hike it when you visit Smith Rock State Park!
About Misery Ridge Loop Trail
Trail Length: ~ 4.0 miles (loop from Welcome Center)
Elevation Gain: ~ 1000 feet
Trail Difficulty Rating: Moderate
Features: Towering volcanic rock formations, sweeping landscapes, river walk, scenic views, wildlife
Entrance Fee: There is a $5 day-use parking fee. 
Restrooms: There are restrooms near the Welcome Center as well as portable toilets at the bottom of the Chute Trail near the Crooked River Bridge.
Open Hours: Dawn to Dusk
Getting to Smith Rock State Park
Smith Rock Welcome Center: 10087 NE Crooked River Drive, Terrebonne, OR 97760
Smith Rock State Park is located just outside the small town of Terrebonne in Central Oregon.

Approximate Drive Times:
6 hours from Seattle, Washington

3 hours from Portland, Oregon

40 minutes from Bend, Oregon
Smith Rock's Misery Ridge Loop Trail
Overview of Hiking the Misery Ridge Loop
I love a hike with variety, and I absolutely love loop trails.  I get to see something new for the whole hike without needing to retrace my steps!  The Misery Ridge Loop Trail knocked it out of the park!   I had multiple viewpoints of Crooked River on my way up the steep switchbacks along Misery Ridge and incredible views of the entire valley at the summit. 
A little further down the trail, still at the top, I got new views of the valley in addition to the infamous "Monkey Face."  I enjoyed coming down the backside of Misery Ridge with up-close views of Monkey Face and Crooked River.  I saw rock climbers up close and enjoyed seeing geese, ducks, and cranes along the river.  It was the perfect way to spend an afternoon!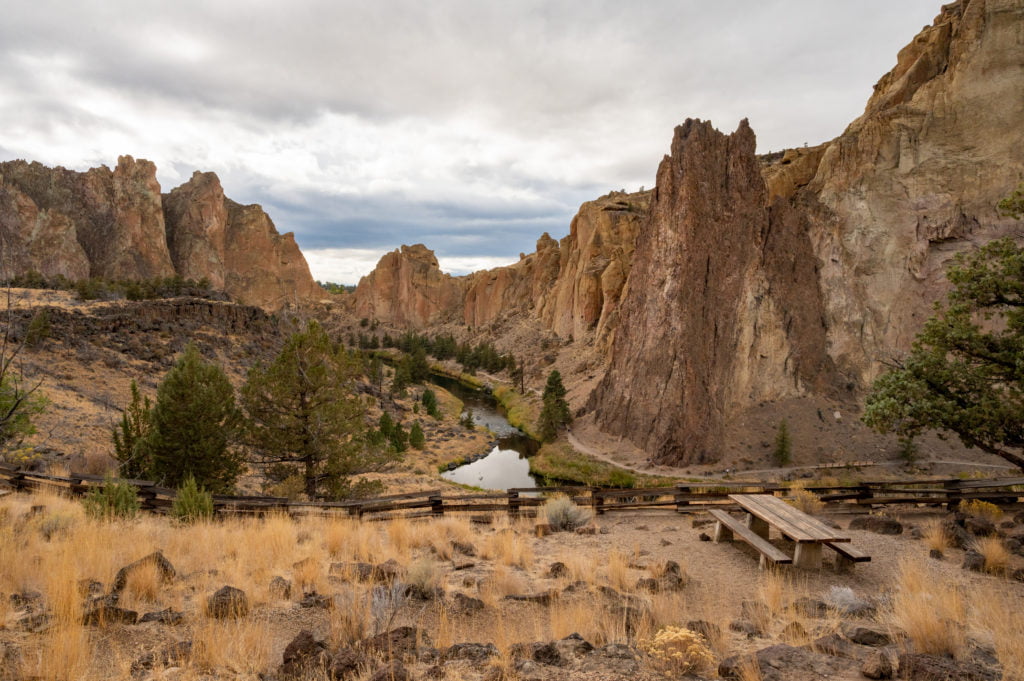 Parking was full near the Welcome Center, so we parked in the overflow parking lot just inside the park gates. We paid the $5 day-use fee, grabbed our gear, and headed out!  We found a trail that made its way along the ridgeline in the direction of the Welcome Center.  There are excellent viewpoints here as well as picnic areas and a kid's play area. So, if you find yourself short on time or unable to do a hike, consider stopping here and walking along the ridge for some great photo opportunities and spaces to soak it all in.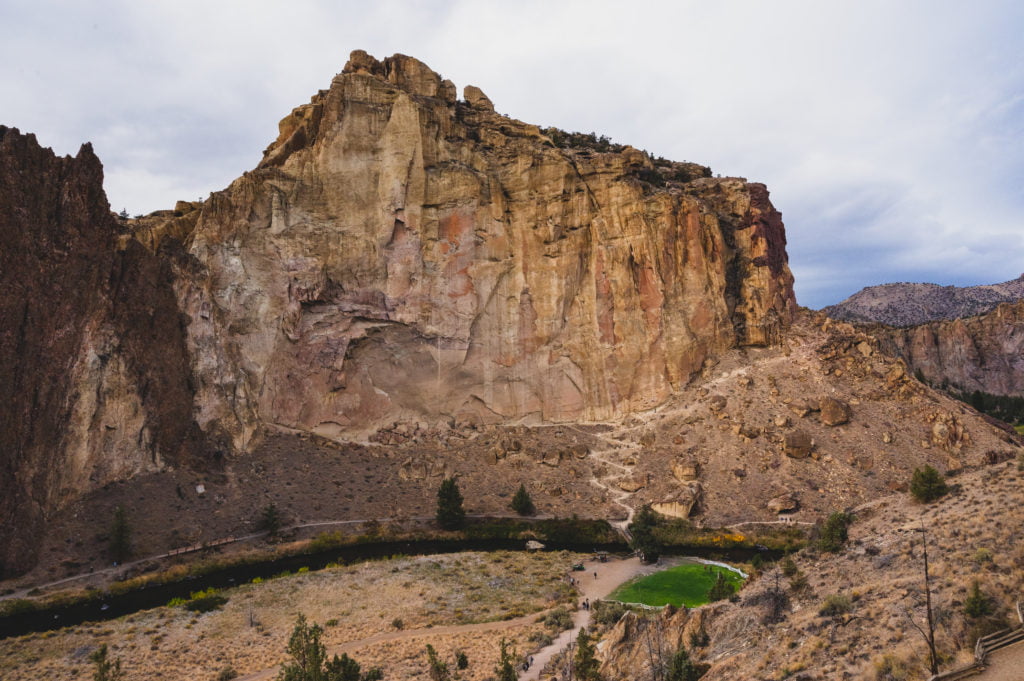 Beginning Our Hike: The Chute Trail
The path along the upper ridge takes you past the Welcome Center to an Overlook area where you make a left onto a wide path to begin your descent into the canyon. Stay right to take the steeper but shorter Chute Trail. This dirt trail brings you to the bottom, where you'll cross the Crooked River Bridge. There are porta-potties near the bridge which are your last chance to use a restroom for this hike.
After crossing the Crooked River Bridge, you'll head to the right, where you'll see a trail sign for the Misery Ridge Trail.  I know, with a name like that, you're beginning to wonder what you've got yourself into!
This is where you begin a series of switchbacks as you make your ascent to the summit. It's less than a mile to the top, and there's no rush, so hike at your own pace and take as many breaks as needed.
You'll see a few climbers at Red Wall about midway to the summit. Make sure to stop, turn around once in a while, and enjoy the sweeping views of the river as it winds its way through the canyon. These views are going to make you smile, and soon you'll be done with your steep ascent and can rest and take it all in!
We made it! That steady climb the entire way up Misery Ridge was worth it!  After getting to the top, head a little to the left for a wide rocky area with outstanding views of the valley below! Look down victoriously at the switchbacks you climbed and enjoy a little break as you soak it all in. When I arrived at the summit, I couldn't help smile as I saw the reward for my efforts. It felt like I could see all of Smith Rock State Park and all of Central Oregon!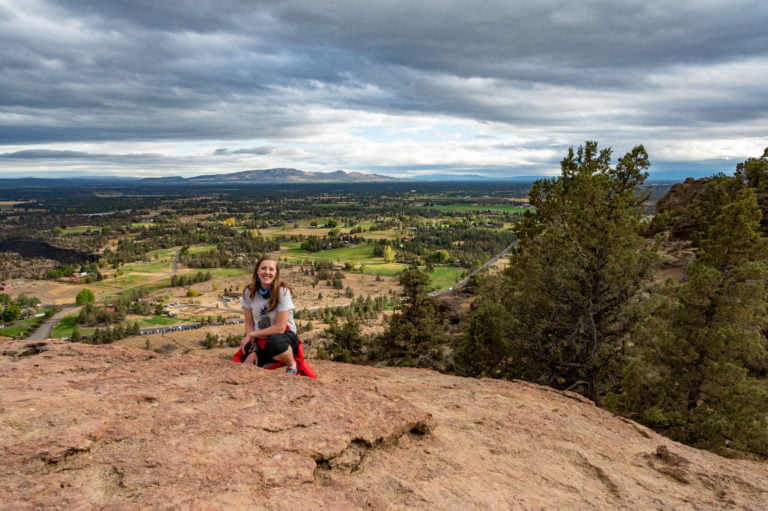 After enjoying the views, make your way to the trail at the summit, and you'll soon see a sign for Misery Ridge Trail. Follow this trail west for about 5 minutes and soon you'll see glimpses of Monkey Face. You'll also be rewarded with more sweeping views of Crooked River snaking its way through the valley. Feel free to walk closer to Monkey Face for some great photos and also to catch a glimpse of climbers on their way to the top of this iconic rock formation. They've sure earned that view!
*Even if you decide not to make the Misery Ridge Loop and instead go back the way you came, don't miss the extra little bit of hiking to see Monkey Face before you do.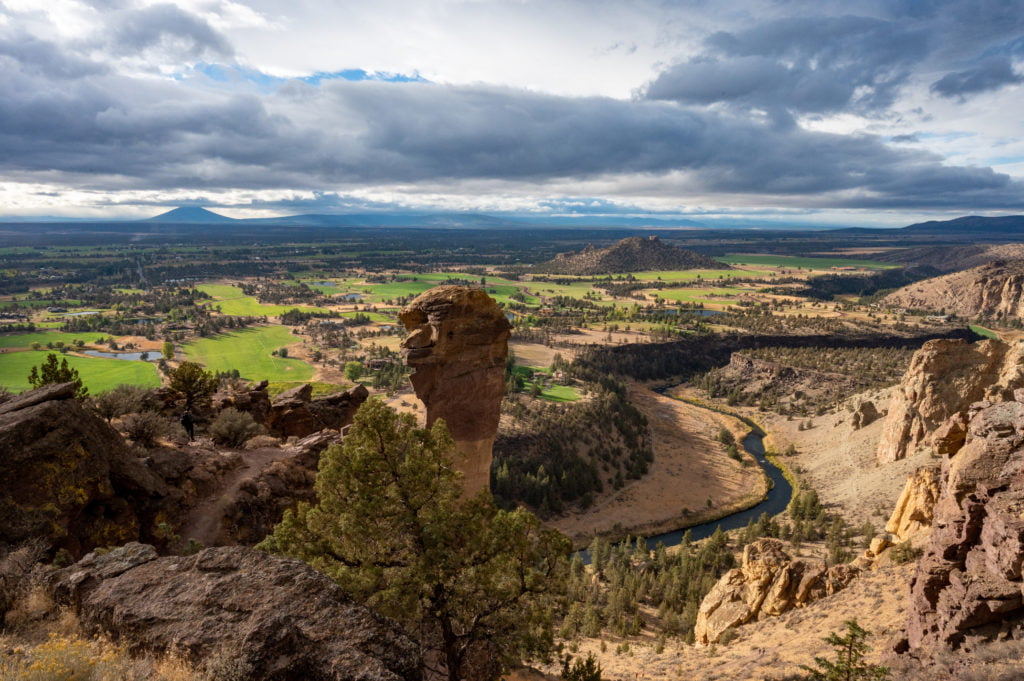 Misery Ridge Trail to Mesa Verde Trail
After your break near Monkey Face, you'll find your way back to the main Misery Ridge Trail and see where it begins to descend back down toward the river on the west side. Hike down a series of switchbacks and you'll pass a small rock cave, which I, of course, couldn't help crawling into. As you get close to the base of Monkey Face, you'll connect with the Mesa Verde Trail, where you'll head left. Make sure to glance toward the rocks along the left and look for climbers. You'll see them scattered everywhere! Also, keep an eye out for trail runners. We were passed twice on the loop by the same runner!
After about a half-mile along the Mesa Verde Trail, you'll come to the River Trail. You'll continue straight (to the left) to stay on the River Trail.  The trail stays close to the river as you follow its winding path back around the towering rock formations. You'll continue on this trail admiring the scenery from the ground level that you once gazed on from above. In about a mile, you'll find yourself back at the Crooked River bridge. From here, you'll retrace your steps back up the Chute Trail and to the top. 
Weather
Smith Rock State Park is open year-round.  We visited in October, and the weather was perfect! Light jackets were great to have where it was windy at the top, but overall, I didn't find I really needed mine. However, if you come in the summer, expect it to be hot, so start early if possible as temperatures can get as high as 100°F. In the winter, temperatures will often reach below freezing, and you'll might see snow. So wear the appropriate clothing.
Water
Make sure to pack plenty of water. You work up quite a thirst hiking that first mile. This is even more important if you hike during the hotter months. I always say you'll never regret bringing too much water, but you'll certainly regret not having enough!
Snacks
It's always a good idea to bring snacks to help fuel your body through a hike. Plus, there are some great resting areas within Smith Rock. You might even want to plan a picnic for after your hike.
Snakes
Yep, you read that right. There are snakes in Smith Rock State Park. Thankfully, we did not see any during our hike! There are rattlesnakes as well as bull snakes, garter snakes, and other non-venomous varieties.  Obviously, it's the rattlers you really want to watch out for.  They are often found in tall grass, rocky caves, under rocks, and so on. If you encounter one, do your best to slowly walk away from it, giving it plenty of space. They aren't typically aggressive and want to get away from you as much as you do them (well, pretty close to as much).
Miscellaneous
Bring trekking poles if you have them, as these are useful when you begin your steep descent down the backside of Misery Ridge. The dirt and loose rocks can make this a slippery trail to descend, and poles are nice to have.  The River Trail also allows for mountain bikers, so make sure to watch out and give them the right of way.
Maps
If the Welcome Center is open, you can pop in and ask for a trail map for the entire Smith Rock State Park.  However, if they're not open, or you'd rather use your mobile device, you can use this online brochure and map of Smith Rock State Park.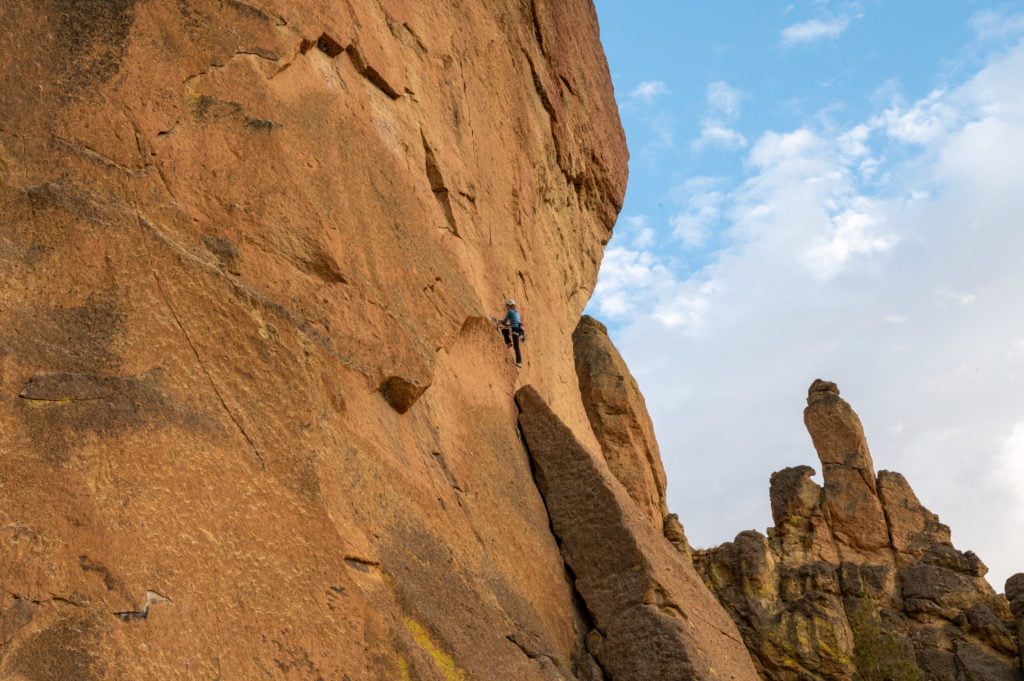 Final Thoughts About Smith Rock
My hubby and I are moderately healthy. Truth be told, we've got some extra pounds from all our recent 2020 sedentary living, but we had no issues hiking this trail. We both took breaks as needed and made sure to hydrate often. We did not rush at all, and I stopped and took a TON of photos! 
That being said, it took us 3 hours to hike from the trail near the Welcome Center and back.  If we had hiked this straight through without any breaks and zillions of photo stops, it most likely would have only taken 2 hours.  The ascent up the Chute Trail is the most strenuous (IMHO), and it's only about 3/4 of a mile. If you are in reasonable physical shape, you should be able to do this hike, and I think you'll be glad you did!
In closing, if you ever find yourself in Central Oregon near Bend, then you need to visit Smith Rock State Park!  With over 600 acres, there is a lot to see and do.  There is rock climbing, mountain biking, horseback riding, and hiking all within this one park!  If I were a local, I can tell you this would be one of my go-to parks.  I loved my visit here!


Happy Hiking!