Waihee Ridge Trail in Maui is a gorgeous hike with lush jungles, eucalyptus forests, waterfalls, and stunning ocean views. It should definitely be on your list of things to do when visiting Maui, Hawaii. Hiking gives you a unique perspective on the place you're visiting. You meet locals along the way, and it is a great way to connect and meet people in a non-tourist setting.  I notice this when I am hiking back home as well. I meet visitors to our state and chat with them about their visit and where they are from. Connecting with others through nature and travel, it's a beautiful thing!  
During my latest visit to Maui, I hiked Waihee Ridge Trail with my hubby, and we loved it! It was a beautiful hike and offered a pretty decent workout too!  I  absolutely recommend you try it on your next visit to Maui.  Below you'll find all the info you need to get to the trailhead and prepare for hiking Waihee Ridge Trail.
About the Waihee Ridge Trail
Trail Length: 5.0 miles (roundtrip)
Elevation Gain: ~ 1500 feet
Trail Difficulty Rating: Moderate
Features: Lush foliage, waterfalls (from a distance), ocean views, eucalyptus trees, and flowers
Getting to Waihee Ridge Trail
The Waihee-Waiehu area is to the northwest of Kahului, and the trailhead is about 10 miles from the Kahului city center. If you're coming from Lahaina, plan to take about 1 hour to drive to the trailhead. If you come from Kihei, it will most likely take around 35 minutes.
Take HI-30 E and Kahekili Hwy (Hwy 340) to Maluhia Rd. You'll drive through the town of Wailuku to connect with the Kahekili Hwy. After about 6 miles on the Kahekili Hwy, you'll make a left on to Maluhia Rd. Look for the Mendes Ranch on the right side of the road, and this is where you'll make a sharp left onto Maluhia Rd.  Maluhia Rd is a narrow road, so drive slowly and watch out for oncoming traffic. It's about a mile on this road to the main trailhead parking lot. 
Note: there is a parking area when you first turn off onto Maluhia Rd, continue past this to the main trailhead. You may find some people parking here on busy days, but I'd check first at the main trailhead parking. 
I recommend using Google Maps for turn-by-turn directions from where you're staying in Maui. You can click on the map below to get driving directions from your starting point.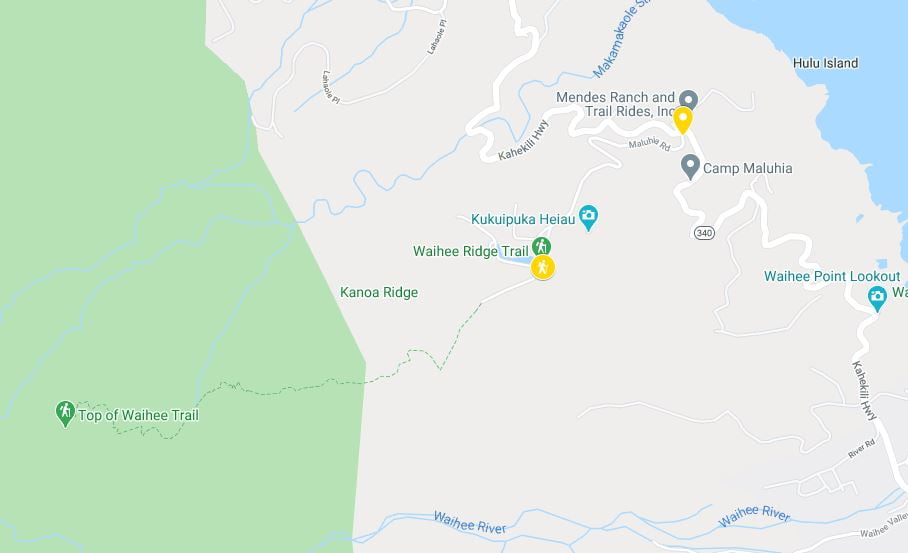 My Experience Hiking Waihee Ridge Trail
My hubby and I left early from our condo in Kahana, grabbing coffee and breakfast at our favorite local coffee shop, Hawaiian Village Coffee.  It is about an hour's drive from our condo to the Waihee Ridge Trailhead. Although we could drive north and around the top of Maui, due to the narrow roads and nail-biting drop-offs in that section, we chose to drive south to Ma'alaea and then up through Wailuku.   
Waihe'e (pronounced [why-HEH-eh]) Ridge Trail popped up on my radar when searching for new activities and areas to explore during our latest visit to Maui.  It is highly rated, and I love a hike with a view, so I added it to our list of to-do's, and I am so glad I did!
At the Trailhead Parking Lot
We arrived at the main trailhead parking lot around 8:00 a.m., and the parking lot was a quarter full. There are two porta-potties on one side of the parking lot closest to the trailhead. I used one of them before our hike and found it to be clean (for a pit toilet) with a hand sanitizer dispenser inside as well. 
There is a small gate you walk through to begin the hike, and after that, begins a very steep hike up a paved trail. It appears it was a road at one time, perhaps to access the water holding tanks we passed.  This initial steep climb was probably the steepest part of the whole hike!  At least it felt that way. It definitely gets the heart going right out of the gate (pun intended). 
If you find yourself short of breath going up this initial steep ascent, then turn around as I did and enjoy the view behind you as you climb up to the main trail.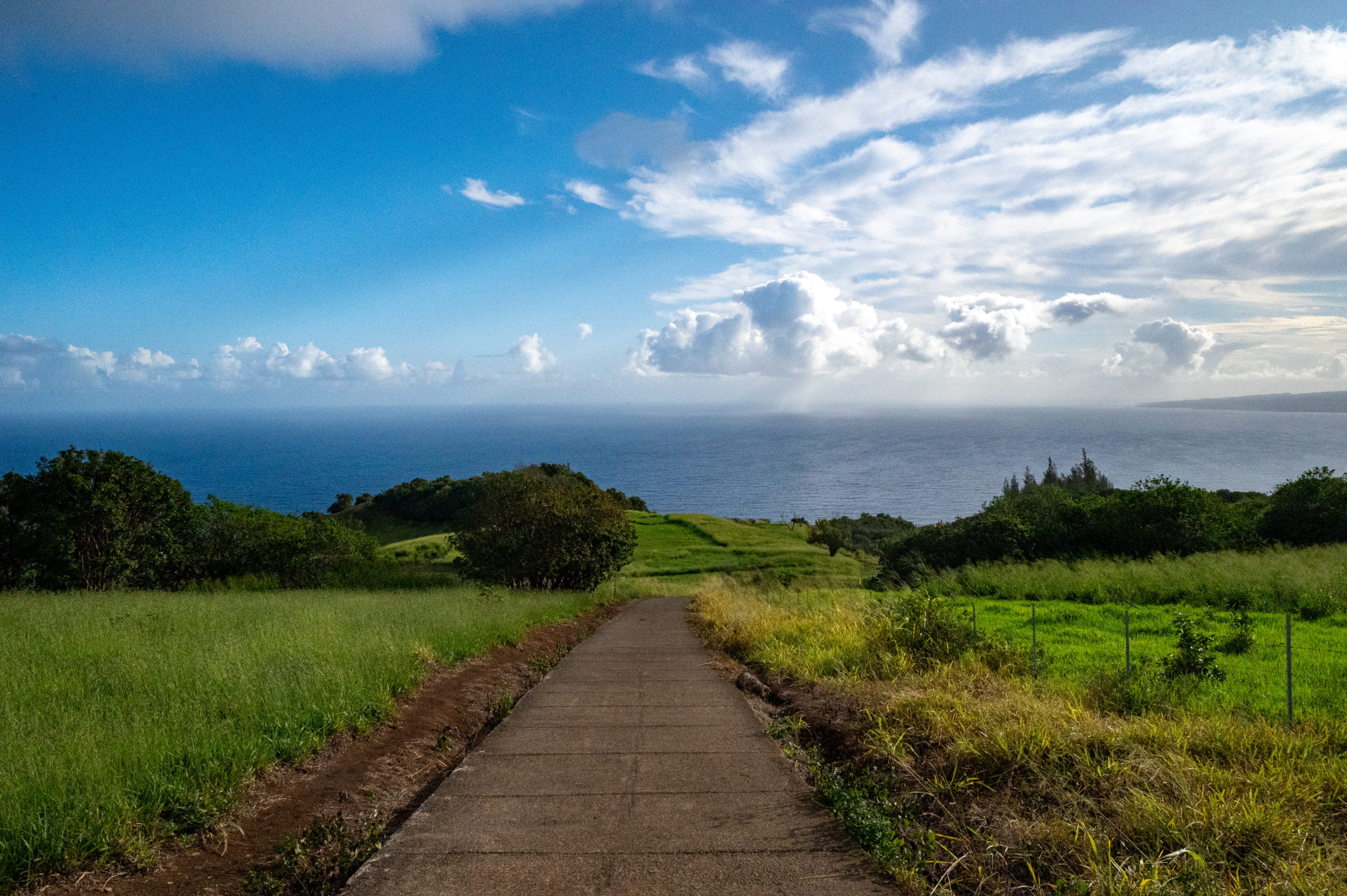 Hitting Dirt
The steep paved portion of the trail ends and forks to the left, and soon you're under a canopy of pine, guava, and eucalyptus trees. We passed through another hiker's gate with a warning sign letting hikers know of cross-contamination dangers between islands. We only visited Maui, so we felt assured that our shoes would not carry the Rapid Ohai'a Death fungus.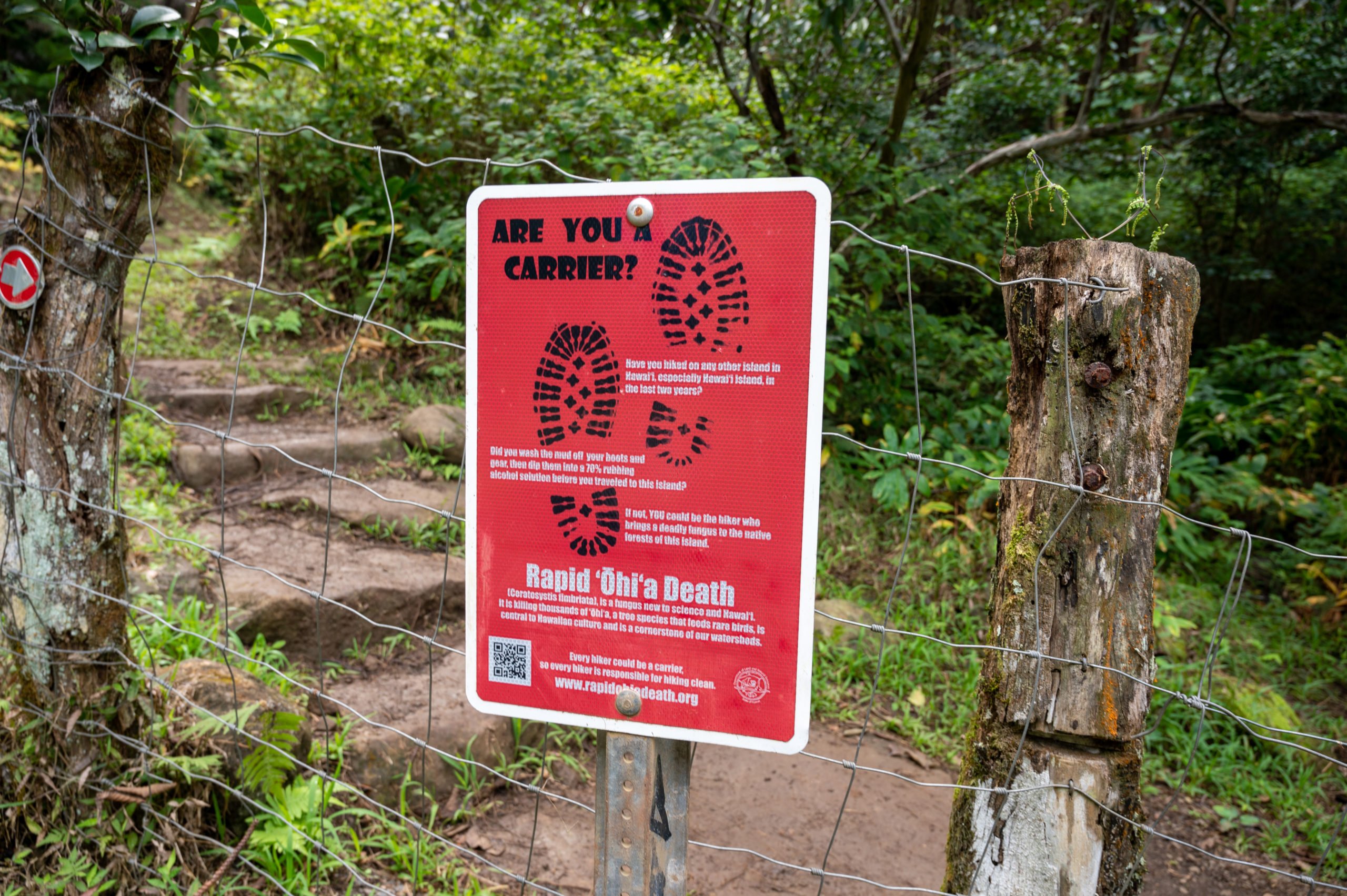 As we weaved through the forests, we came to a bench that made a great resting point and viewpoint as we looked across at the Makamaka'ole Falls. After that initial steep ascent up the paved portion, the trail incline levels out a bit, and there is a nice mix of steady incline and flat trail for catching one's breathe.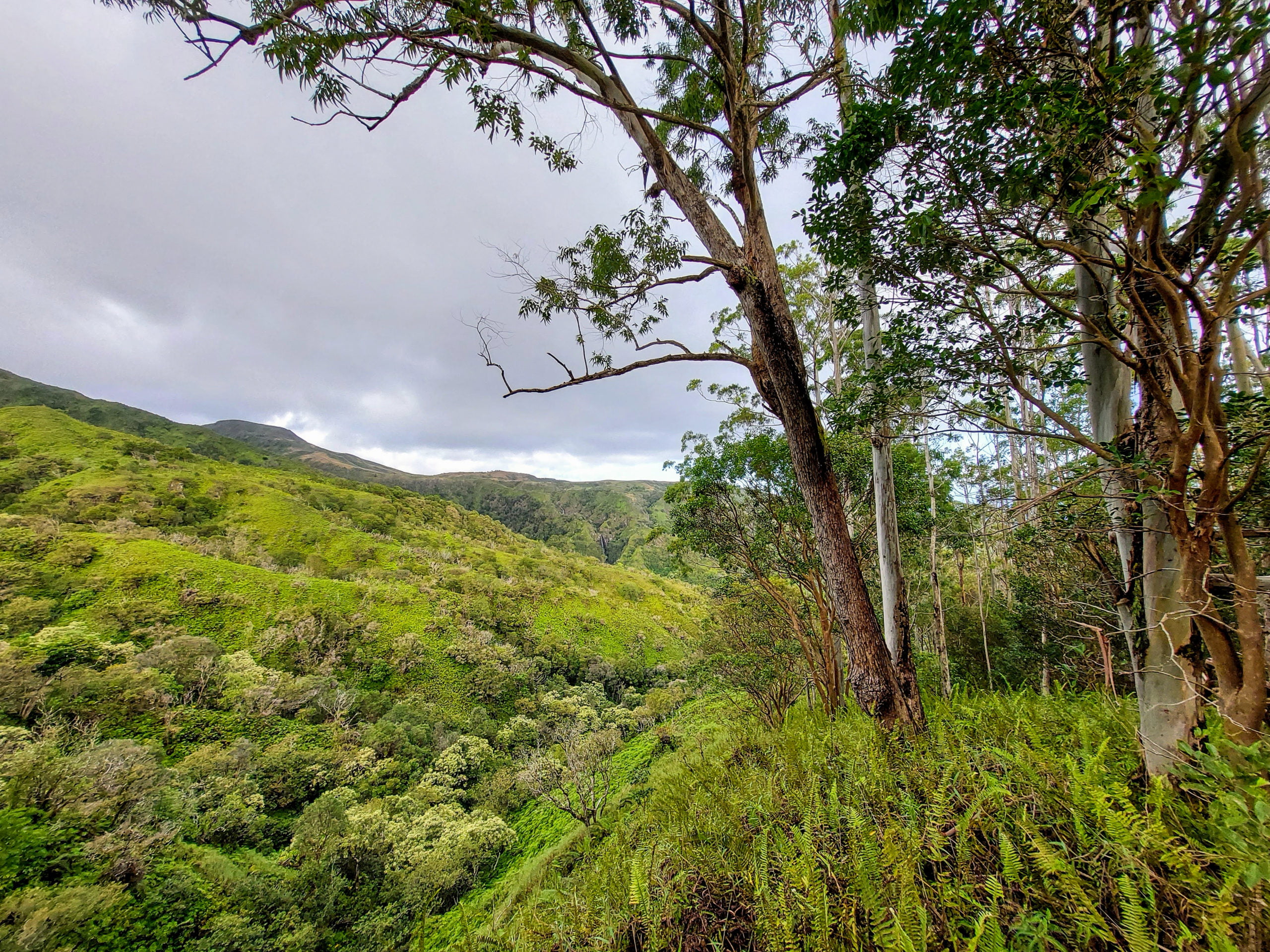 I enjoyed all the beautiful plants around me. We saw mushrooms, ferns, multiple species of trees, and flowers. It was so fun getting to see plants that are different than mine back home.
Viewing Platform 3/4-mile Mark
About a mile up the trail, we came to another viewpoint with a wooden platform. There was a beautiful Norfolk pine next to it and a gorgeous view of the emerald valley below.  We could see many clouds near the top where we were hiking, but we remained hopeful that things would clear by the time we got to the top.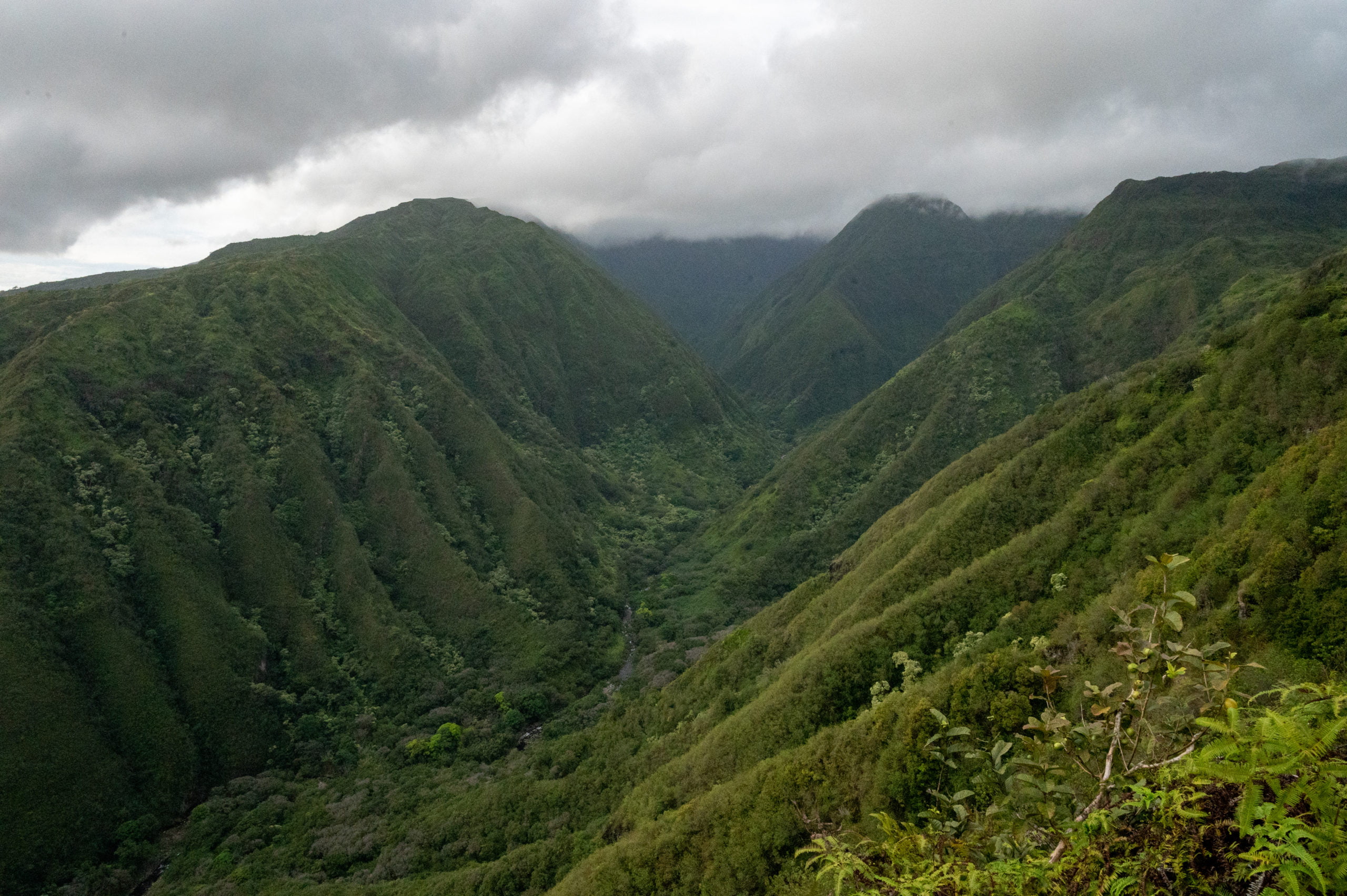 1.5-mile Marker
We passed beautiful koa trees and noticed small areas where they are replanting native plants and encouraging the local fauna's growth.  At around the 1.5-mile marker, we come along a small eucalyptus forest. I think these trees are so pretty with their twisted red and gold bark. 
It is during the first 1.5 miles of trail that you'll enjoy nice interludes of shade from the sun.  However, after you pass the eucalyptus trees at the 1.5-mile marker, you'll cross a field and begin your final ascent. This portion of the trail had very little shade covering, and it is also the portion of the trail we found to be the muddiest and most difficult to maneuver.  There were deep ruts and slick mud where the trail was steep.  
We saw a few people who chose to hike this trail with their bare feet. I don't know whether that gave them an advantage over my tennis shoes or not, but I do know you wouldn't want to try hiking the Waihee Ridge Trail in flip flops!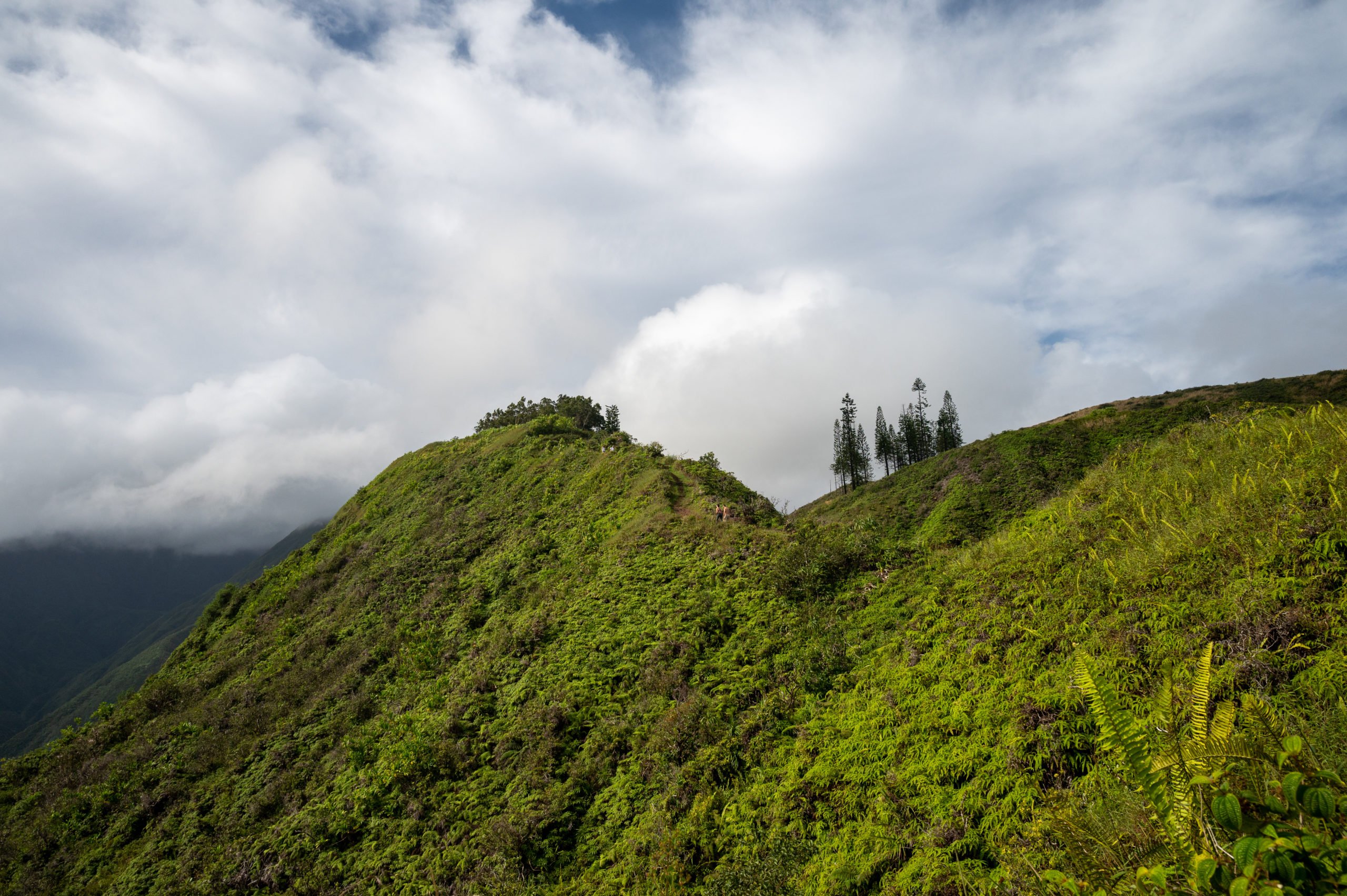 2.0-Mile Marker
At the 2.0-mile mark, I'll be honest, but I thought to myself, "I've probably already seen the best of the views." As the trail took us further inland, I realized we probably wouldn't have much better viewpoints, but that didn't matter. We were almost there! Plus, it allowed us to continue to stop and look below at where we'd come. We chatted with other hikers as we passed and even met a woman celebrating her 40th birthday by running the trail!
The End of the Waihee Ridge Trail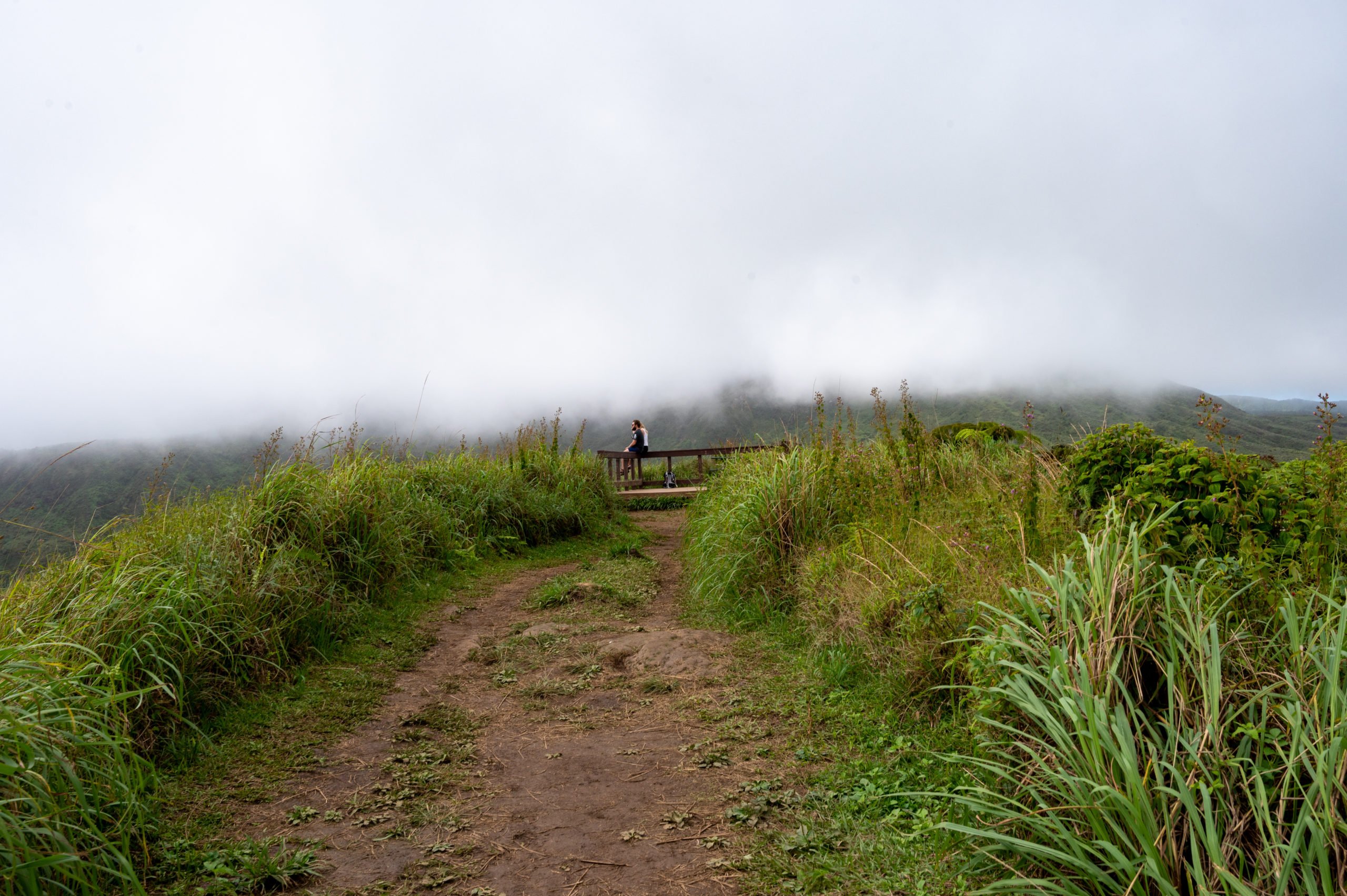 We arrive at the "top" and find a wooden platform with a picnic table. The clouds had not fully lifted. However, we could still enjoy the lush foliage around us and chat with various hikers and listen to the congratulatory greetings for those who succeeded in making it all the way.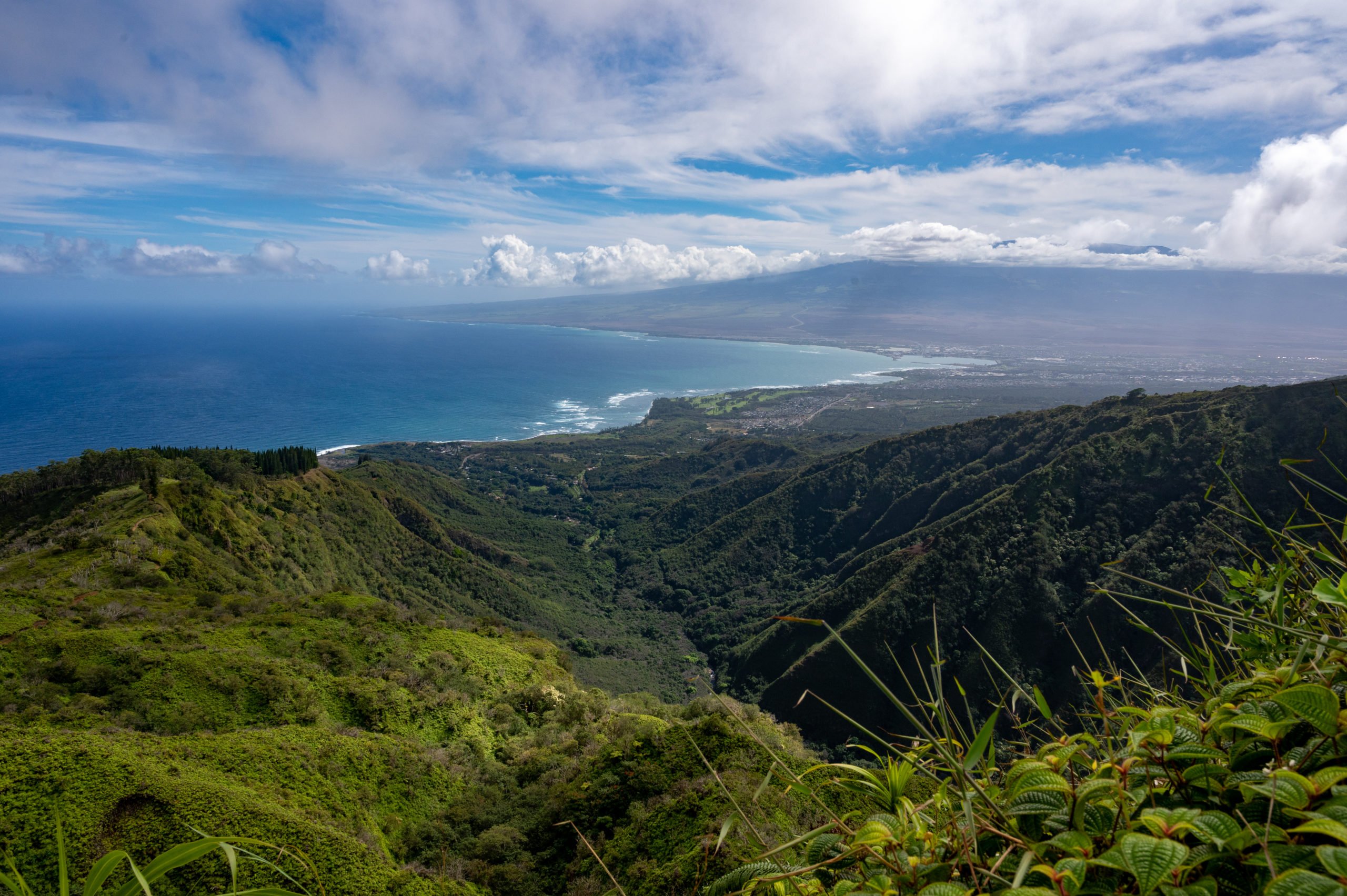 Really, the hike down was even better as I didn't have to stop to turn around to enjoy the views below.  Plus, I feel it's always easier on the way back as you know what to expect and how far you really have to go.  Although we were sweating profusely, we both had such a wonderful time hiking the Waihee Ridge Trail.  It was a great way to start our day!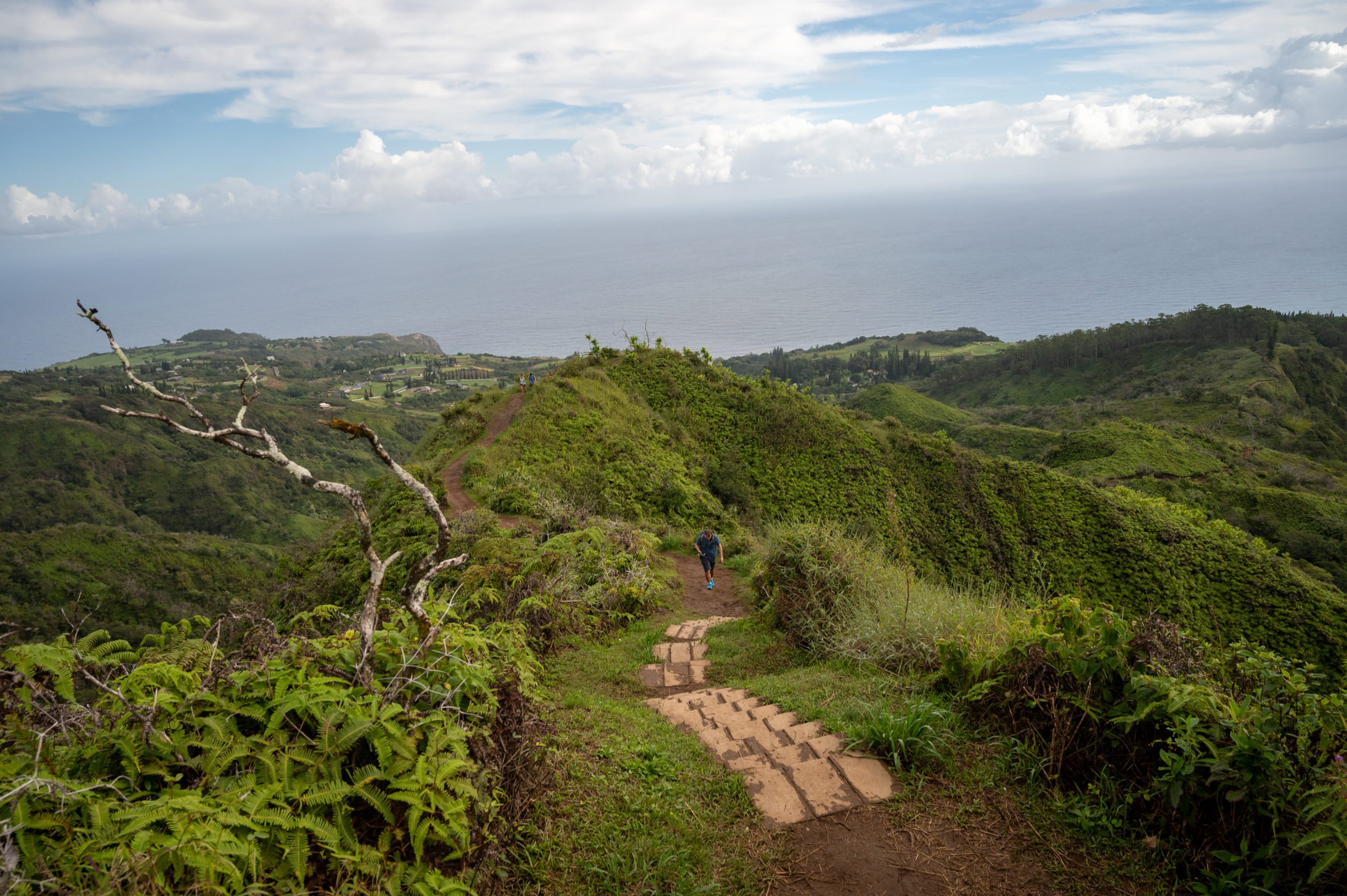 We smiled and told people "just a little further" as we passed. I was happy we chose to come earlier in the day as it was already feeling hot as we hiked down, and it wasn't even noon yet!  
Make sure to use the provided shoe cleaners outside the hiker's gate near the trailhead parking lot. I love that they provided these!  I wish we had these at our trails near Seattle, as it is so useful!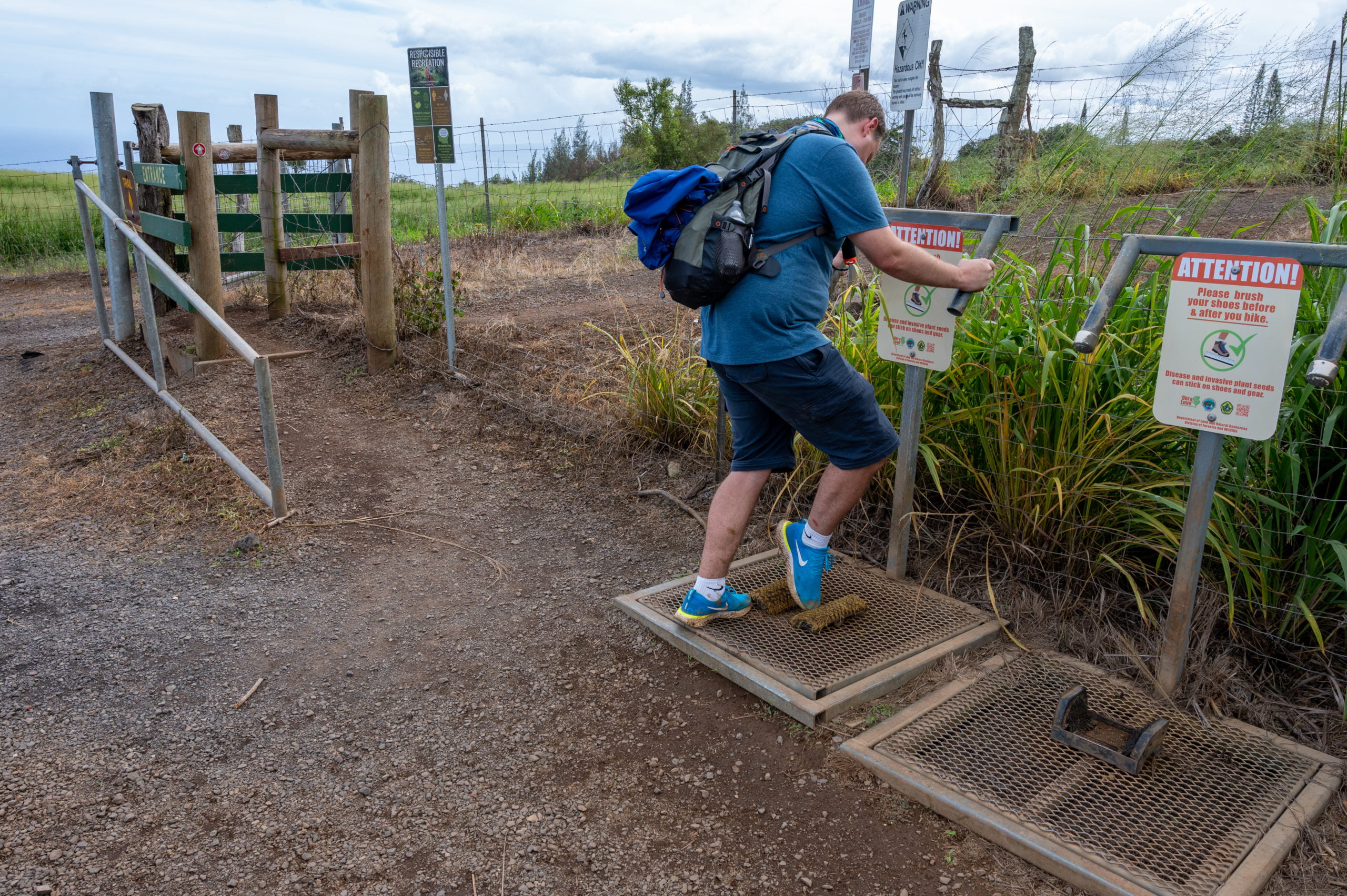 Tips for Hiking Waihee Ridge Trail
Wear comfortable hiking shoes or at least tennis shoes. The trail gets steep and muddy in places, and you'll want something with a little grip.

Bring plenty of water! The Waihee Ridge Trail is a steady climb up for 2.5 miles in humid conditions. You will not regret having too much water, but you will certainly regret not having enough.

Bring a snack.  There's a nice picnic area at the top, as well as a few spots along the way that make for a nice snack break. You'll be happy to have the extra energy.

Check the Weather. This area of Maui gets a lot of rain, so check ahead and plan to come when it's sunny. I would not recommend hiking this in the rain or after any heavy rain due to the upper trail's slick and muddy nature.

Plan to come earlier in the day. The earlier you come, the more enjoyable your experience. I prefer to hike when it's cooler. You could come later in the day before sunset, and I would also imagine that it would also be a nice time to hike this trail.
If you want more ideas for things to do near Waihee Ridge Trail, read my post on 7 Fun Things to Do in Kahului Before Your Flight. You'll see the Waiehu golf course on the list. You would have seen this golf course from your view on the Waihee Ridge Trail. It's a beautiful public golf course located along the ocean. They have reasonable prices, and it's a fun way to spend a few hours with friends, even if you aren't "golfers."
If you want some delicious Thai food, I recommend Thai Mee Up at the food truck lot across from Costco. If you're not feeling like Thai food, they have lots of choices from the many food trucks located there.
Perhaps you need to cool down? Then why not grab some shave ice at the best place on the island! Ululani's Hawaiian Shave Ice on Dairy Road is my favorite shave ice spot when visiting Maui.
Happy Hiking!