Do you have a traveler in your life that is hard to shop for? Or perhaps you're the traveler, and you're doing a little shopping for yourself.  Whichever the case, I will share a few of my favorite travel items as well as other excellent travel gift ideas that are sure to make the perfect gift for the traveler and adventurer in your life.  I include travel gift ideas for every budget, including some great DIY gift ideas and smaller items that would make great stocking stuffers! So start making that wish list!
Favorite Travel Gear Ideas
Portable Charger/Power Pack/Power Bank
Portable chargers, also known as power banks, are invaluable when you're traveling, which is why they make a perfect travel gift! I used mine for a two-month backpacking trip through Europe, and it kept my phone charged for all-day navigating using Google Maps.  Plus, I could also use it to charge my Sony Alpha a6500 mirrorless camera. 
You'll need to know the charging requirements of the traveler who will use the gift.  Meaning, will they only want to charge their cell phone with it?  Will they want to charge a camera or tablet with it?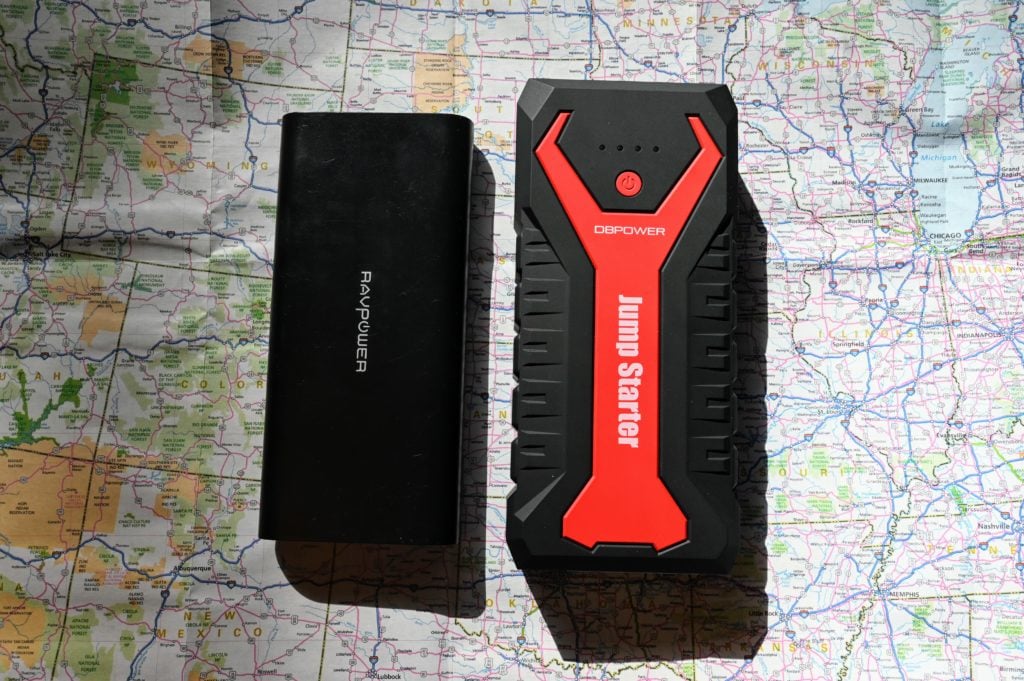 If your traveler is only charging their cell phone, then something like this 10000mAh portable charger with Type-C input and output would be a good option.
However, if your traveling needs include charging a camera or tablet, then I'd choose something with 24000mAh or higher, such as this portable power bank.  Make sure you know whether their devices use USB Type-C adapters or not and purchase accordingly.
Here is a solar-powered option for the hiker, camper, or motorcyclist in your life.
Also, note that power packs typically require you to charge them overnight, so plan ahead.  I charge mine while sleeping and simultaneously charging my smartphone.  This system worked great for me.
Universal Power Adapter
This would make a great travel gift idea for that traveler who is planning their first trip abroad.  A universal power adapter like this one should take care of your traveler's power needs during their around the world travels.
Travel Shoe Bags
As a traveler, I love having a shoe bag! I use it to put my dirty shoes in when I switch shoes during my travels.  The shoe bag keeps the rest of my luggage from getting the dirt and grime off my shoes.  Let's face it streets are dirty, and I have stepped in all sorts of liquids, and otherwise— trust me, your traveler will thank you!
Packing Cubes
If you've never used a packing cube, you may wonder how you got by without them.  I especially love using these when traveling with a backpack.  I don't want to rummage through my bag digging for all the loose items, these packing cubes solve that problem.  
In addition to the regular packing cubes, you can also purchase compression cubes to fit even more!  However, be aware that although you may have shrunk the size of your items, they still weigh the same.  Perhaps someday they'll create a weight-reducing sack, and if so, will they come in women's dress sizes?
Re-usable Travel Liquids Bottles
Say goodbye to buying new travel-sized shampoo, conditioner, and body wash bottles every time you take a new trip.  These reusable travel bottles are so easy to fill and re-use over and over again!
Headphones
I have two different headphones that I use for traveling. I don't always take both, as the noise-canceling ones are bulkier, so when limited on space and weight, I leave them at home. However, the Sony Bluetooth noise-canceling headphones do fold down and come with a protective carrying pouch. They are great when you want to block out the noise on the airplane or enjoy some relaxing music during your long flight.
The second pair I take and used throughout my 2 1/2 month backpacking trip in Europe are these lightweight sleeping earbuds. I am a side sleeper, and I needed some soft and small earbuds that would allow me to turn over in the night and not cause ear pain the next morning.  The ATECh Sleeping earbuds fit that bill! 
Refillable Water Bottle
During our trip to Thailand this year, we purchased some collapsible water bottles, much like these bottles on Amazon. It was an eco-friendly cafe in Bangkok that had great coffee, but that's beside the point.  We found them to be so useful during the remainder of our travel in Thailand, and since then, we continue to use them when traveling.  
They are great because you can collapse them and save space when you don't have any liquids in them.  So they'd be perfect for carrying through security and then filling up with water before boarding your flight – thus saving a bunch of money on airport bottled water.  REI also has a lot of great choices for collapsible water bottles.
I love my Yeti mug, it's not compact like the above collapsible water bottles, but it is great for keeping your morning cup of coffee hot and is perfect for camping or road tripping in the U.S.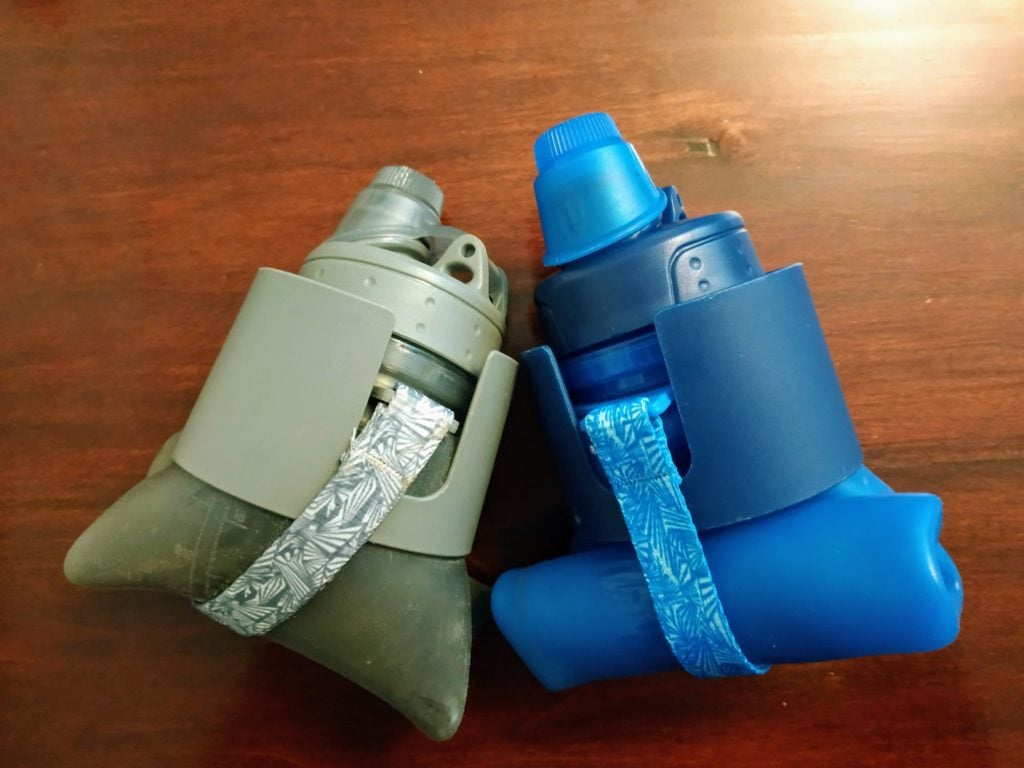 Laundry Washing Bag
This one is on my travel gift wish list. It would have come in so handy during my travels over the years. The Scrubba Wash Bag is a new version of the old-fashioned washboard but in a bag.  Just put your soap in (shampoo will do the trick), add water, then your dirty clothes, now seal the bag up, and begin rubbing and scrubbing! When you're finished, you empty the dirty water, rinse your clothes with clean water, and hang to dry.  Voila!
The Scrubba Wash Bag can also double as a dry bag, perhaps for those overnight kayak camping trips or to keep your electronics dry when traveling.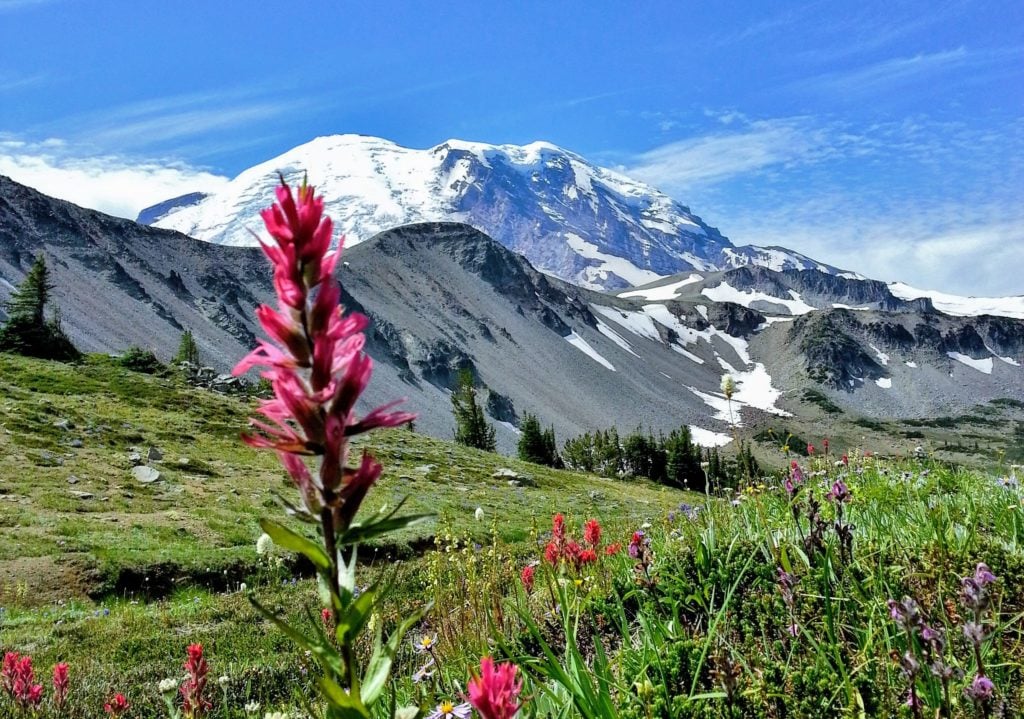 Why not encourage your traveler to be a tourist at home or perhaps create some memories together by visiting the local museums in your area.  Most museums offer gift cards and annual passes for purchase.
Another great gift idea is to give them a gift card for an annual pass to your State Parks or buy them a National Parks pass.  These are perfect for your outdoor adventurer! I have three passes that I use for hiking, camping, and when I stand-up paddleboard or kayak here in Washington state.
For those of us living in Washington State, we have a few options for recreational passes:
Travel Gifts for the Coffee Lover
If the traveler in your life is anything like me, they want to make sure their coffee needs are covered, whether they're at home, camping in the woods, or traveling around the world. I wrote this post previously that goes over how I make French Press coffee while traveling. However, there are a few other options that would also make great gifts for your traveling coffee lover.
Single-Serve Coffee Makers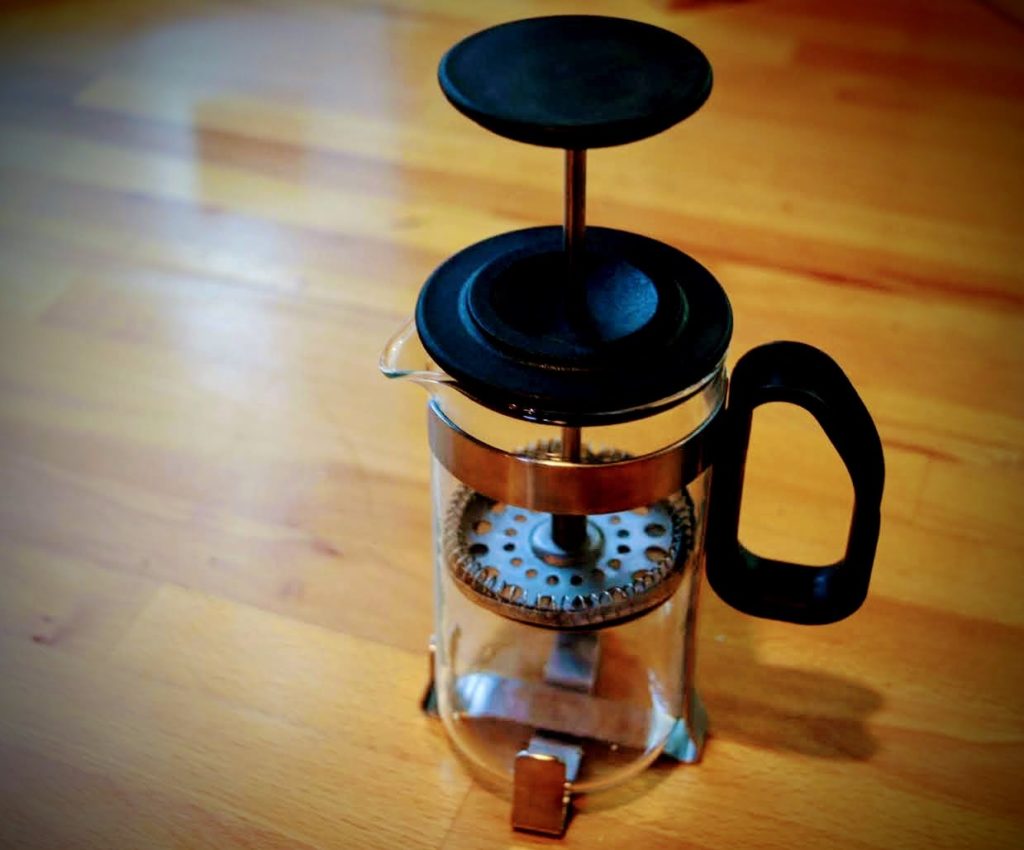 The travel-sized French Press, as well as the Java Press mug, are two I recommended in the article I mentioned above.
This AeroPress coffee maker comes with a tote bag, and you can make a cup of espresso or add water for an Americano.
The Brew Buddy is a simple and lightweight option that is great when you are backpacking or motorcycle camping. Just put over a mug, add your coffee, then fill your cup with hot water and wait until it reaches your desired strength, remove brew buddy and enjoy!
Travel Coffee Mugs
These collapsible coffee mugs can also be used to eat oatmeal or soup or any other liquid items you might travel with or eat while on the go. I love them for backpacking and motorcycle traveling.  They are a real space saver!
These insulated coffee mugs will keep your liquids hot for up to 6 hours or keep your cold beverages cold for up to 12 hours.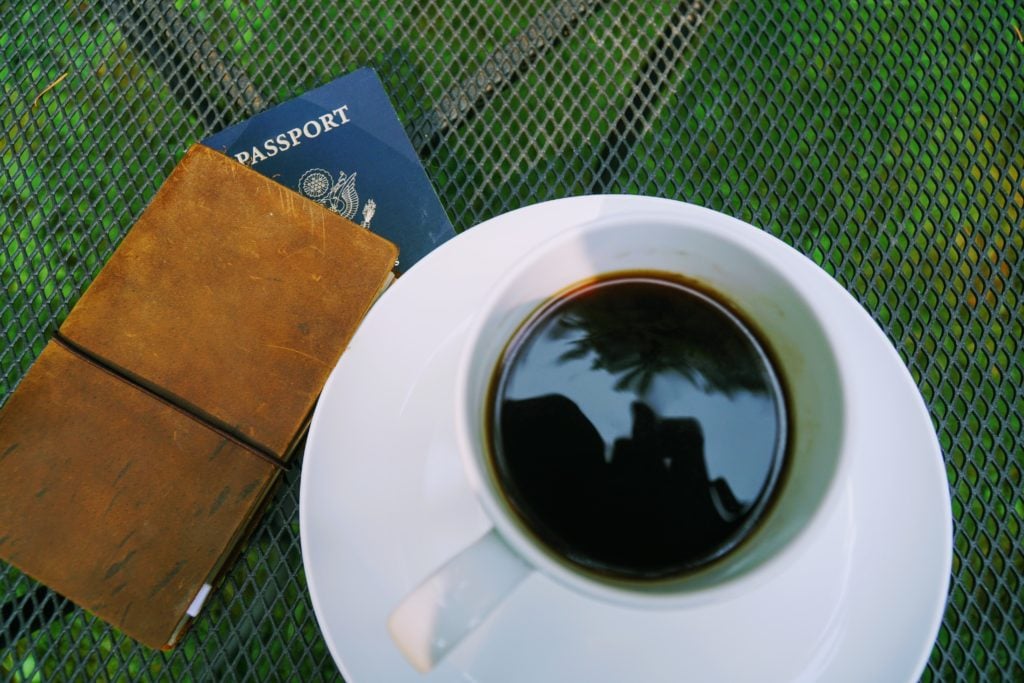 Coffee From Around the World
What better gift to give your coffee-loving traveler than coffee? Here are a few ways your traveler can sample coffee from around the world.
For the traveler who loves both coffee and chocolate, check out the ultimate Seattle coffee and chocolate tasting experience. You can also try their World Coffee Tour Tasting Box for a coffee trip around the world. Bean Box is a local, Seattle based company that works with small-batch coffee roasters here in Seattle to create and hand-pick these unique coffees for coffee enthusiasts everywhere!  Consider gifting a coffee subscription to the coffee lover in your life.  They will love you for it!
For even more great gift ideas for coffee lovers check out this post for more gift ideas for the coffee lover in your life.
Travel Gifts that Give Back
Trades of Hope
I love purchasing handmade gifts from local artisans or artisans around the world.  It is something I enjoy doing while traveling, and also at home.
By purchasing a gift through Trades of Hope, you can buy beautiful gifts made by women in countries such as Thailand, India, Haiti, and Peru, to name a few. You'll give your traveler a unique gift and also make a difference in the lives of women from other countries!  Trades of Hope helps women out of human trafficking, poverty, reuniting women with their children, and giving them a life of hope.
Trades of Hope caters to the female shopper, so you may or may or not find a travel gift for your traveler if they are a man; however, it never hurts to look! And with each purchase, you'll receive a card with the name of one of the women you are helping and a little about her story.
Travel Clothing
Scarves make great gifts for travelers.  I love packing a scarf when I travel as they are lightweight and so versatile!  Use them as a cover for your head, or wrap them around your shoulders and wear them like a shawl. For someone like myself, who loves to pack light, they are a go-to item for me.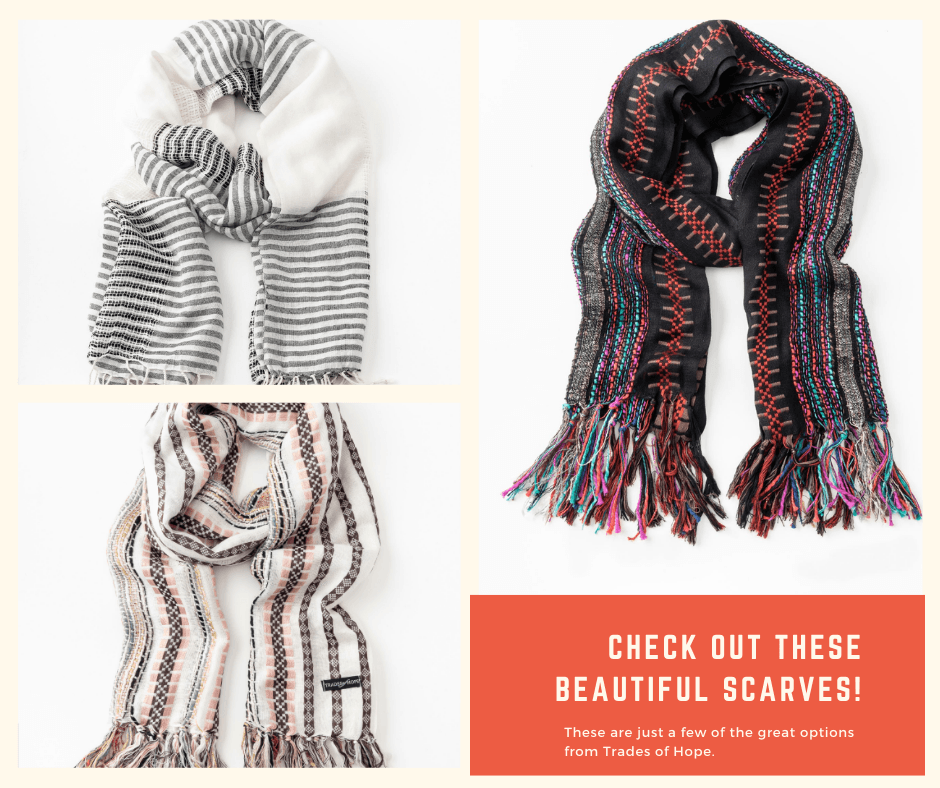 Travel Bags
Trades of Hope also has some great bag and purse options for your traveler.  They have everything from wallets, day bags, to overnight bags.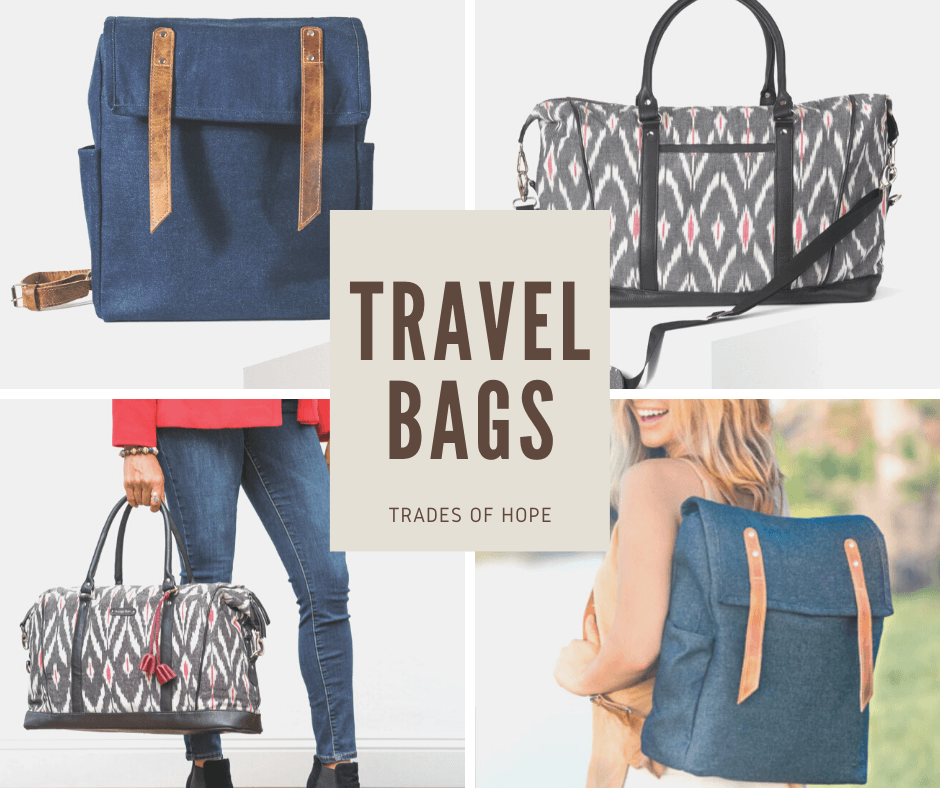 Sseko Designs
Sseko Designs is another company where your gift gives back by providing women in Uganda an income and an education. Sseko's products are ethically sourced using only local materials.  The women are paid a fair wage with benefits, and Sseko also offers a matching tuition fund.  
With every product you receive from Sseko, you also receive the name of the woman who made your product.  You can look that woman up on the Sseko website and learn more about her goals and what she is studying for.  Pretty great, right?
Travel Shoes
One of the items I love from Sseko is their ribbon sandals.  These sandals are very durable, and there is even one woman who has run over 200 miles in hers!  Now, I'm not running in mine, but I do use them for walking around and sightseeing. You can customize them by changing the look of your ribbon. The ribbons come in different colors and designs, plus you can change the look of your sandal by moving the ribbons in different positions (great videos on Youtube of how to do this).



Travel Bags
Sseko also has some excellent travel bag options for both men and women to choose from.  They have high-quality genuine leather bags as well as beautiful canvas bags that will make great options while traveling. 
The convertible tote would make a great travel gift! It can be worn as a cross-body bag or as a backpack!  Using this as a day bag allows you to wear it on your back when you're out sightseeing, but then, when you visit a museum, change the strap configuration, and now it looks like your everyday purse.  A lot of museums don't want people to wear backpacks inside the museum, so they force you to check your bag.  Well, now you don't have to!
Do you have a talent for making crafts?  If you enjoy making sentimental, one-of-a-kind gifts, then these DIY travel gift ideas are perfect for you!
I made this DIY project using Ashlea's instructions from Heart Hook Home.  Ashlea's DIY World Map instructions are so easy to follow. Even a non-crafter like myself was able to create my own push-pin map to record where I travel. 
No matter what you create, your gift is treasured for the love and time you put into creating it.
If you're shopping for Christmas gifts, here are some items that make perfect stocking stuffers for your favorite traveler.
Eye mask: An eye mask is invaluable when flying and sleeping while traveling.  As a light-sleeper, it really helps when I can block out the surrounding light.
Washi Tape: I love having washi tape to attach souvenir tickets and receipts or photos and maps to my travel journal for safekeeping.  The great thing about washi tape is that you can safely remove the items later without any damage.
Chocolate Covered Coffee Beans: I love carrying these in my day bag during my travels.  They give me that little bit of pick me up when I'm on the go. Of course, I also like the taste!
Buff Headwear: I love my travel buff, I've used it for multi-day backpacking trips as well as international travels. Use it as a scarf, headband, hat, and even an eye mask should you forget yours.
Moleskin Blister Kit: Unfortunately, blisters, can often be a part of traveling. Whether you've spent too many hours sightseeing or hours hiking in the mountains, blisters can quickly ruin a trip fast!  Moleskin blister dressings have you covered!
Additional Travel Gift Ideas
Here are a few more miscellaneous travel gift ideas to ensure you've got plenty of options!
Feel free to forward this to that special someone who has a hard time finding your gifts.  There's no shame in giving a little help to the gift-buying challenged.  I think we all fall into this category from time to time.
Note: Travelffeine is reader-supported. This post contains affiliate links. When you make a purchase using one of these affiliate links, we get paid a small commission at no extra cost to you. And as always, all opinions are our own. Thank you!
Have Fun Shopping!