Do you want stunning views of Mount Rainier and the surrounding mountain ranges but without a long hike? Then look no further than Suntop Lookout.  Suntop Lookout was built in 1933 as a fire lookout and also served as a U.S. Army Aircraft lookout site during WWII. It is one of the only fire lookouts in the area that I know of that you can drive all the way up to see.  That is, if the gate is open, I'll explain more about that below.  However, suffice it to say, even if the gate is closed, it's a short hike to incredible panoramic views!  
Getting to Suntop Lookout
From the town of Enumclaw, head east on SR 410 for about 24 miles. About 6 miles after you pass through the town of Greenwater, you'll make a right onto Forest Service road 73 (FS 73). It is the first right after passing the winter chain-up area.
Follow FS 73 for a little over a mile before you make a left on to FS 7315.  Continue up forest road 7315 for about 6 miles before reaching Suntop Lookout. 
*Please note that the gate to Suntop Lookout may be closed about a mile below the lookout. If this is the case, you'll need to park below the gate and hike up the road or the trail just below the gate.
Recreational Pass Required
A Northwest Forest Pass is required to visit the Suntop Lookout and picnic area.  I did not see a pay station along the road either, so you'll want to purchase your recreational pass before driving up. You have the option to buy a $5 day pass or a $30 annual pass.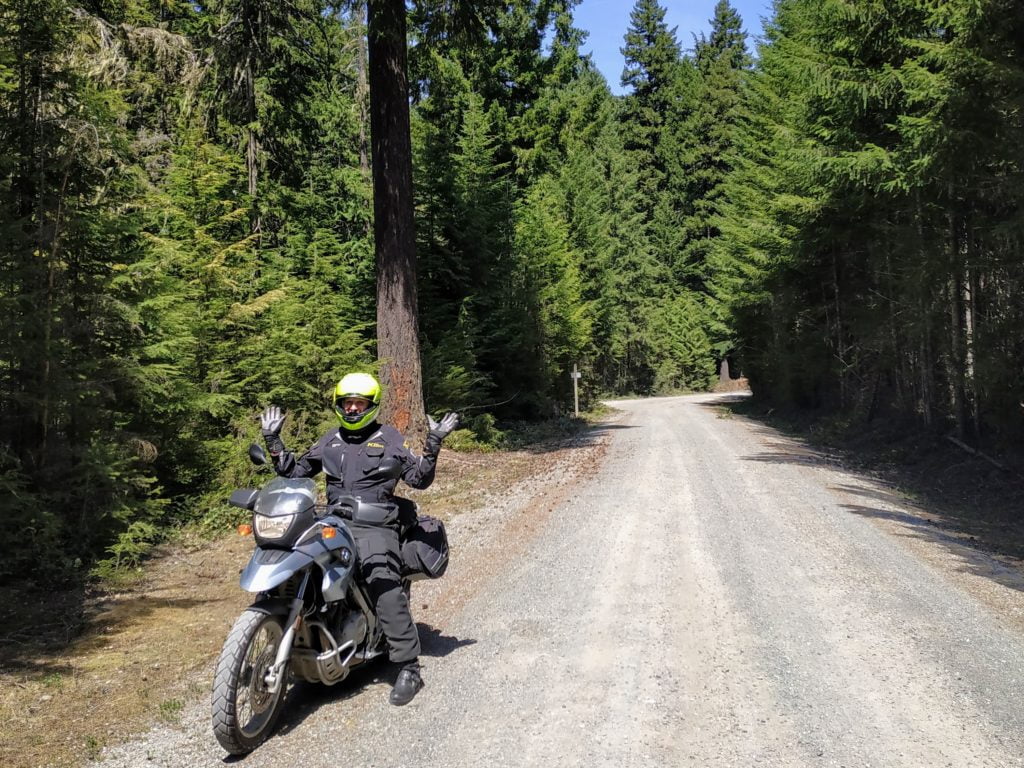 What Kind of Vehicle Do You Need?
Road Conditions:
The road to the Suntop Lookout is a mostly flat gravel road.  However, there are some very deep potholes and in one section of the road, some pretty deep grooves created by water rushing down the mountain.   
Cars
I recommend you have an AWD vehicle or one with some ground clearance.  That said, I did see people up there with minivans and small sedans.
Motorcycles
This is the option my hubby and I chose.  It is easy to swerve around potholes and makes for a fun ride unless, of course, you're stuck behind a car choking on dust.  Okay, even then, we have fun! If you have a road-licensed dual-sport or motorcycle set up for off-road riding, this is a great option.  I even saw a couple of Harley riders up here.  However, I wouldn't recommend a street bike.
One thing to consider when riding up on your motorcycle is that if the gate is closed, you will need to hike up the rest of the way in your gear.  Plan ahead and make sure you have boots and clothing you'll feel comfortable hiking in.  We did it with our gear, but it was hot and less than ideal, but do-able.
Mountain Bikes
This area is very popular with mountain bikers. We saw some people who had their bikes transported to the gate, and then cycled to the top from there and then back down.  However, others made the entire ride up, which I thought was pretty impressive!  From what I have learned, there are a bunch of excellent mountain biking trails in the area near Suntop Lookout.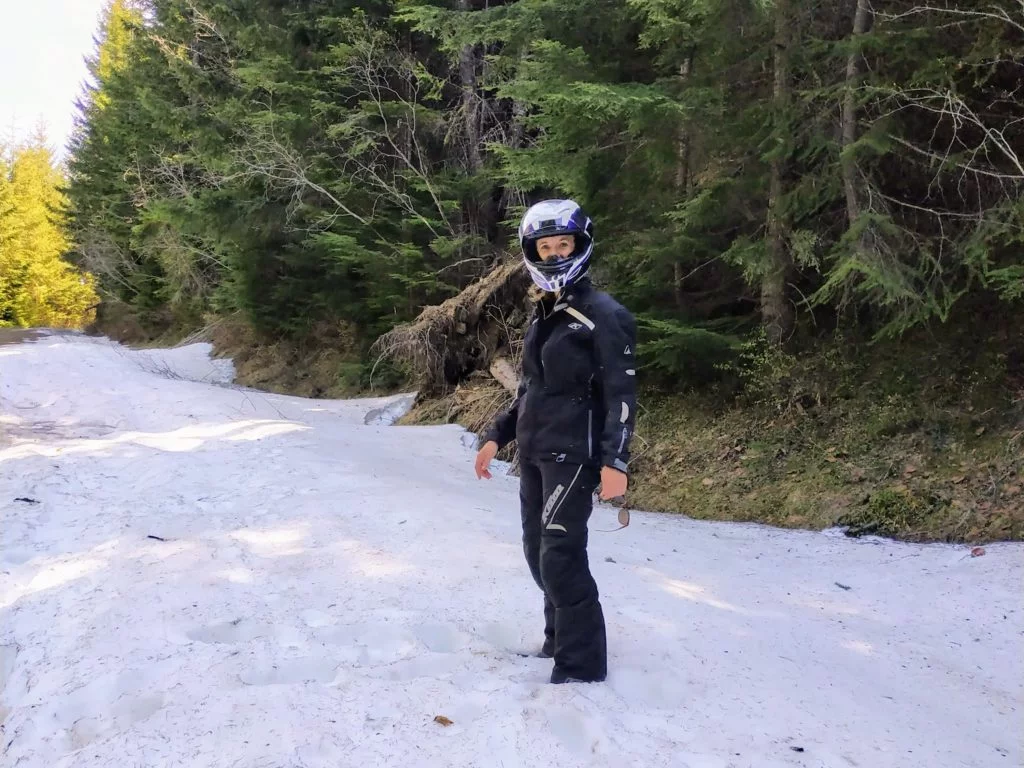 Best Time to Visit Suntop Lookout
Summer & Fall:
Summer and early fall are when most people will want to visit Suntop Lookout. The road is typically free from snow during this portion of the year and, therefore, the most accessible. It is also a drier and more pleasant time of the year to visit Suntop. 
Spring:
Depending on the snowpack from winter, the road will most likely still have snow.  My hubby and I tried riding our motorcycles up one year over Memorial Day Weekend and hit snow about 2 miles below the summit. It depends on the year, but if you want to be able to drive all the way up, or at least to the gate, then summer would be my recommendation for when to come.
Winter:
I have not attempted visiting Suntop Lookout during the winter, but I read that it is a popular snowshoe and cross-country ski destination. Many people snowshoe or ski up the road in the winter.  You will need chains and an AWD vehicle to access the sno-park during winter.
Hiking to Suntop Lookout When the Gate is Closed
If you find the gate across the road on your way up to Suntop, don't worry, it's only a short hike to the top from here. From the gate, you have two options for hiking to Suntop: walking up the road or taking the trail. Either option will take around 30-40 minutes at a slow, steady pace before reaching the top.
Walking Up the Road
If you hike up the road, you'll have an easy but steady incline to the top. Hiking the road is my recommendation if you have any mobility issues that might make it hard when walking on a narrow trail with lots of loose rocks.  The road has less shade on hot days, so make sure to bring a bottle of water before making the walk up. It is about 0.8 miles to walk from the gate to the Suntop Lookout via the gravel road.
Hiking the Trail to Suntop Lookout
There is a trailhead just below the gate on the left side of the road (when facing the gate).  It is only a 0.5-mile hike to the lookout via the trail. The trail to Suntop is narrow, and there are a lot of loose rocks along the path.  I would still classify the hike up the trail as easy. However, due to the narrow trail, loose rocks, and sometimes steep incline, I think it is best for individuals without mobility issues and are in reasonable shape. I also recommend bringing hiking poles. That said, I passed small children and families along this trail that appeared to be traversing it without issue.  
When hiking up the trail, you'll pass a small, rocky trail shortly before reaching the top. This trail is a shortcut to one of the best views of Mount Rainier along this hike. The little trail leads you up to the road where you can get unobstructed views of Mount Rainier before continuing to the lookout.  You can also choose to stay on the main trail, which will curve around and lead you to the lookout first. Then, before heading back to your vehicle, you can walk down the road from the lookout to see gorgeous, unobstructed views of Mt Rainier.
Advantages of Each Option
The advantage of the trail is that it is a slightly shorter hike up, and you have a little more shade on sunny days. The advantage of the road is that it is wide, mostly flat, and provides plenty of room for groups to pass and take breaks as needed.
The road to the Suntop Lookout is also a popular mountain biking route, so you may encounter mountain bikers coming down either the road or the single track trail.  There isn't much room to get out of the way when they come down the path, but do your best to pull over where it is safe to let them pass.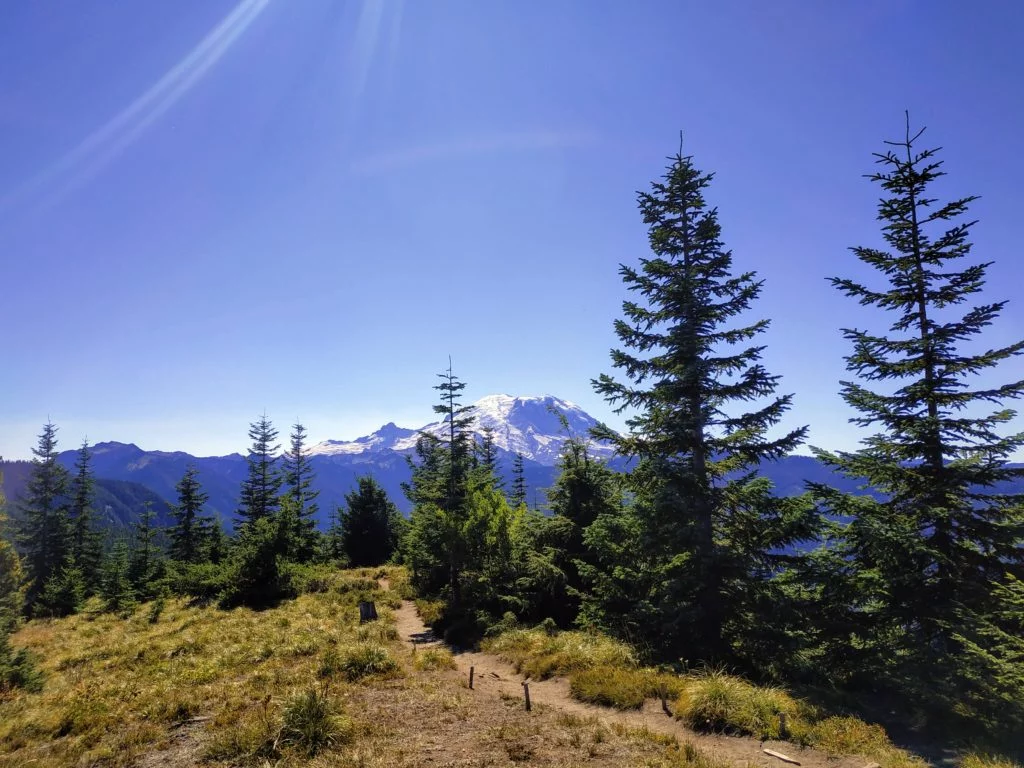 Restrooms:
You'll be happy to know that there is a vault toilet just below the lookout and adjacent to the picnic area.
Picnic Tables:
There are picnic tables just past the vault toilets.  There is also another picnic table near the lookout. It is a beautiful place to sit and enjoy a picnic lunch with a view. 
Views at Suntop Lookout
Hike up to the lookout for 360-degree views of Mount Rainier and the surrounding mountain ranges. Mount Rainier is only 10 miles to the south, and on a clear day, you'll enjoy views of the central Cascades, Olympic Mountains, and just maybe (and with the aid of binoculars) get to see Mount Baker! If you're lucky enough to visit when there's a forest ranger present, you may get a chance to see inside the lookout.  However, even if it is closed up when you visit, the views from the lookout are worth the trip!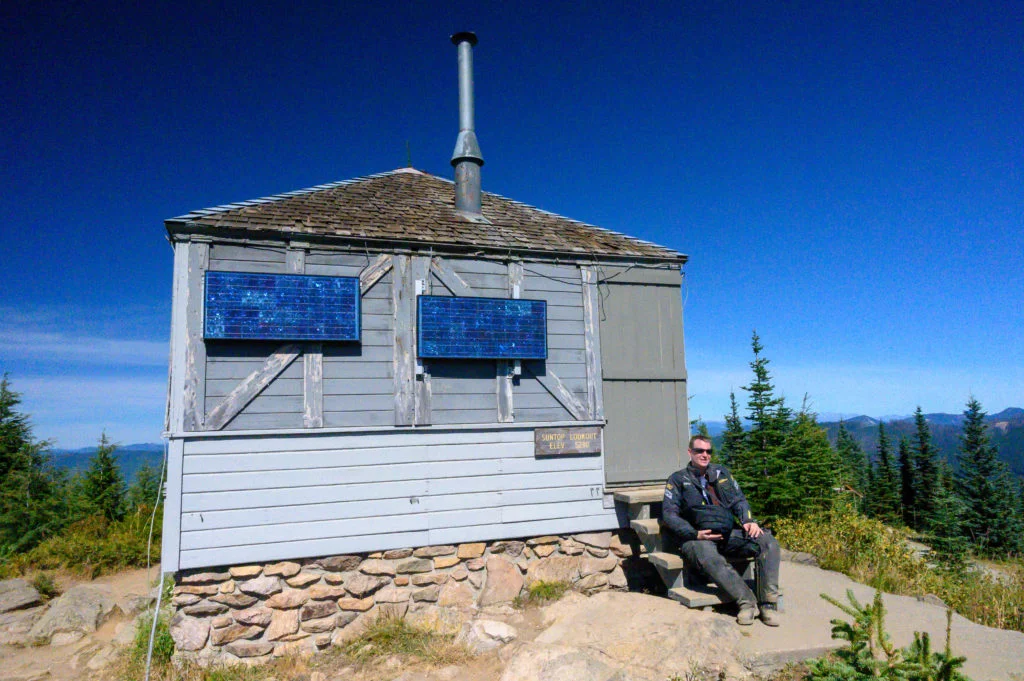 Suntop Lookout Photography
Suntop lookout is an excellent spot for sunrise and sunset photos.  Look at the forecast the week you want to visit and then see if you can plan for a day with clear skies.  Both sunrise and sunset will provide stunning photo opportunities with the gorgeous colors of the sun reflecting off snow-capped Mount Rainier.  After dark, you can practice your astrophotography and enjoy stargazing at the summit. 
What to Bring for the Hike
Picnic Lunch & Snacks: Although it's a short hike, you might as well make the most of it by enjoying a picnic at the top.
Water: Water is always a good idea.  It gets hot at the summit during the summer, so having some extra water with you will help!
Bug Spray: The mosquitoes weren't bad when we visited. However, they can be depending on the time of year, so I'd bring bug spray just in case.
Hiking Poles: These are especially useful if you hike up the narrow trail.
Layers: Depending on what time of year you visit, you may want to bring extra layers. If you chose to come up for the sunset, you'd need layers for when the sun goes down as it can get quite cold.
Downloaded Offline Map: I always like to have an offline map when I'm going off-road just in case I lose my way.
Recreational Parking Pass: A Northwest Forest Pass is required at Suntop Lookout.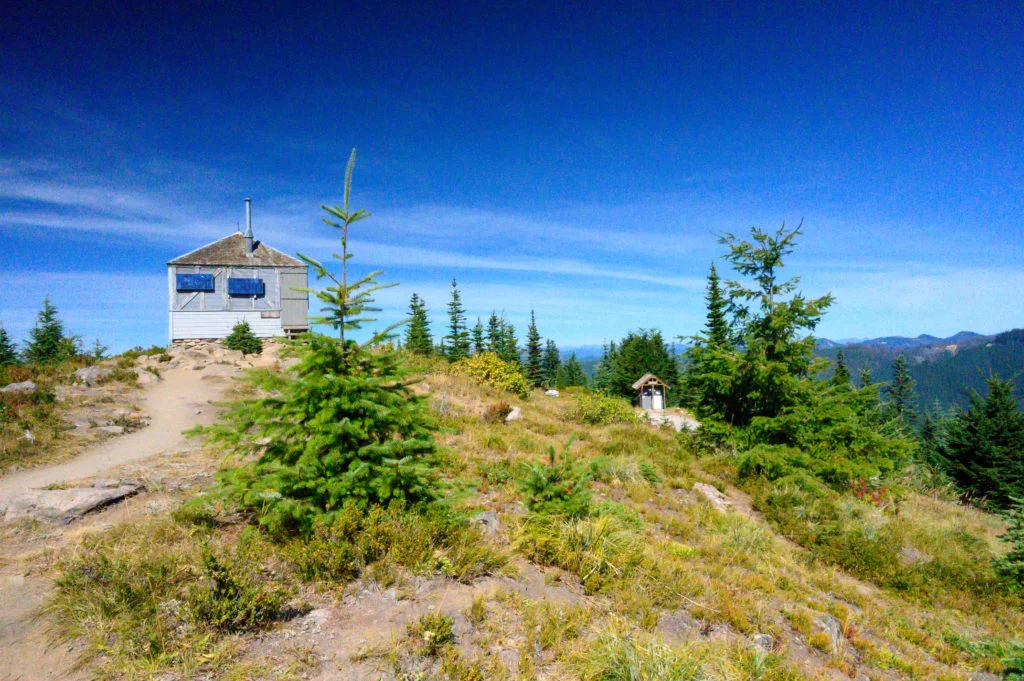 Places to Eat
Greenwater Outfitters:  58410 WA-410 east, Enumclaw, WA 98022
Enjoy lunch at Greenwater Outfitters or pop in for some delicious ice cream.
Wapiti Outdoors: 58414 WA-410 E, Enumclaw, WA 98022
Stop in at Wapiti Outdoors for some fantastic coffee and ice cream. If you're lucky to visit during huckleberry season, make sure to try a huckleberry milkshake. They also have a great selection of t-shirts and outdoor gear.
Naches Tavern: 58411 WA-410, Enumclaw, WA 98022
If you're looking for a bite to eat and something cold to drink after a day of hiking, stop in at the Naches Tavern. 
Camping
Dispersed Camping:
Dispersed (free) camping is allowed in the Mt Baker-Snoqualmie National Forest around the Suntop Lookout area. There are no toilets provided. Follow "leave no trace" principles and clean up your site before leaving. In addition to dispersed camping off of FS-73, if you travel 5 miles past FS-73 on SR-410, you'll come to NF-7160. Make a right here, and you'll find more dispersed camping by the Ranger Creek Airstrip.
Established Campgrounds near Suntop:
There are also so many other great trails in the area, such as Snoquera Falls, Skookum Flats Trail, and many more.  Plus, you are a short drive to the White River entrance at Mount Rainier National Park.  Why not make it a weekend adventure! I love visiting the Sunset visitor center at Mount Rainier and camping at the White River campground.  
Here are a couple of articles to get you started planning.
Happy Trails!