If you're like me, you're probably getting a little stir crazy at home while we wait out these unprecedented times and hope for a tomorrow that once again involves world travel. To quench my thirst for travel, I'm exploring areas close to home, and I'm also streaming travel shows to keep my travel dreams alive until they can once again become a reality. 
This list of travel shows is some of the travel television I've been streaming lately.  Some of the shows on this list remind me of past trips I've taken, and others inspire ideas for future travels.  Watching travel shows is not as good as actually being able to travel, but it definitely helps!
Warning: Do not watch these shows on an empty stomach.  I love watching food and travel shows, but they tend to make me really hungry! Lately, due to closures and other restrictions, these shows also remind me of how quickly things have changed. I hope for a day when I can once again immerse myself in the food culture both locally and abroad.  All right, let the salivating begin!
Diners, Drive-Ins, and Dives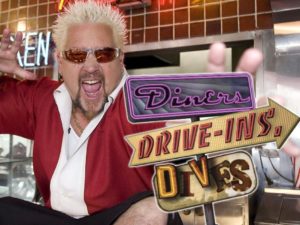 This food and travel show with host Guy Fieri is probably not new to most of you, but maybe it's been a while since you've watched it. In case you didn't know, Guy started filming for season 32 at the end of last year.  Season 32! That's a lot of episodes to inspire your future travels and food stops along the way.  
I've met people during my travels that plan their trips around the nearest Diners, Drive-Ins, and Dives restaurants for their intended destination.  Once you watch the show, you'll understand why.  So if you're planning a road trip this summer, watch the show and see if any of the restaurants featured are along your route and get ready to feast on some incredible food! 
I recommend you see if there are any Diners, Drive-Ins, and Dives restaurants located near you and plan a trip to visit one soon!  You might call ahead first to make sure they're open, then make a day of it and create some great memories, while eating some fantastic food.
Streaming on: Hulu, Amazon Prime Video, Pluto, iTunes, YouTube, and most major streaming services
Taste the Nation with Padma Lakshmi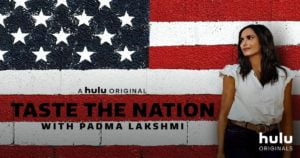 This Hulu Original travel show starring Padma Lakshmi (Top Chef) explores the connection of the food we eat in America to its origins and influences within our communities. 
This is perhaps one of the things I love most about trying new foods when I'm traveling. It is such an excellent way to connect to the local culture and experience the region you are in. There is a story behind each dish, and food transforms life in ways we often overlook. 
Food is a common tie that brings us all together. I love learning about the history behind the foods we eat in America, and it reminds me of what a beautiful melting pot our country is.
Streaming on: Hulu
Eat the World with Emeril Lagasse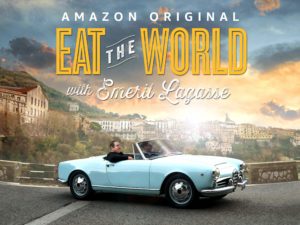 This Amazon Original travel show takes us on a food adventure with host Emeril Lagasse. Top chefs join Emeril as he goes on a culinary trip around the world to discover what goes into making some of our favorite global dishes. 
Eat the World will have you making plans for where to eat on your next trip and possibly inspire you to try making some of these dishes at home. Bam! Okay, sorry, just felt like I needed to throw Emeril's famous catchphrase in there, perhaps you'll do it too when cooking up one of these incredible dishes.
Streaming on: Amazon Prime Video
Street Food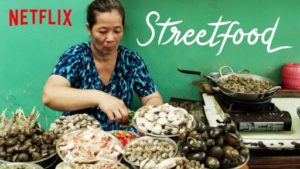 Street Food is a Netflix Original travel show that explores the street food commonly seen on different continents.  There are two different Street Food series to choose from on Netflix. One is Street Food Asia, and the other is Street Food Latin America.  I recommend watching both.  It teaches you more about the various street food options and also about the sub-culture behind street food vendors. 
I love sampling food at a street food market. It's an easy (and cheap) way to sample a variety of local foods.  These markets often open up at night, and I love the energy and atmosphere that surrounds them.  It's a travel and food experience all in one place.
Streaming on: Netflix
Bizarre Foods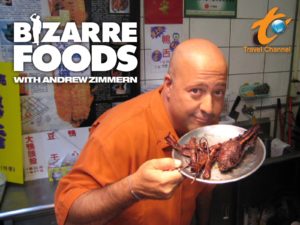 Okay, speaking of street foods makes me think of this food and travel show hosted by Andrew Zimmern. There are 22 seasons of the show and a whole lot of different foods to consider trying and a few definite no's. 
I'm pretty adventurous, I've eaten scorpion, silkworms, grasshoppers, and other types of non-traditional foods, however, Anthony Zimmern takes this curiosity for food to a whole new level.  Cringe, binge, and be thankful you don't have to eat everything he does!
Other shows with Andrew Zimmern you might enjoy are Driven by Food and The Zimmern List.
Streaming on: Hulu, Amazon Prime Video, Pluto TV, iTunes, YouTube, and most major streaming services
Non-Traditional Comedic Travel Shows
Here are a couple of less traditional travel shows.  I'm not sure they'll always inspire you to travel to the specific places their hosts do, but they'll make you laugh and help you see tourist destinations from a different perspective. 
If you enjoy these then you may also want to consider The Layover with Anthony Bourdain, I mention this and other favorite travel shows in this other article about travel movies and TV shows.
Travel Man: 48 Hours In…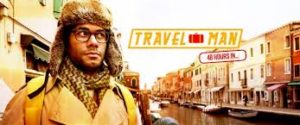 This travel show hosted by Richard Ayoade (The IT Crowd) is almost an anti-travel show. That's not the right word, really, but Richard certainly seems to be a bit of a reluctant traveler at times and often finds the most peculiar places to visit or odd means of visiting popular areas.  
Richard's quest is to see each popular tourist destination in only 48 hours.  His dry British humor will have you laughing along in his adventures, and perhaps his unique travel choices will inspire a few of your own.
Streaming on: Amazon Prime Video, Hulu and iTunes
James May: Our Man in Japan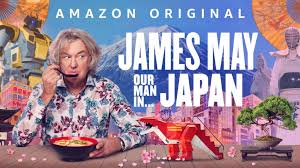 Another off-beat travel show this time with James May, who you might recognize from shows like Top Gear and The Grand Tour.  He, too, tries unique and off-the-wall adventures during his tour through Japan. He learns more about the Japanese culture and meets locals who introduce him to experiences unique to their country. 
I've only been to Japan once, but May's adventures remind me of my trip and inspire me to try some unique experiences of my own on my next visit there. 
Streaming on: Amazon Prime Video
Travel Shows to Inspire a U.S. Road Trip
These travel shows will inspire your next road trip or even a camping trip to stay at one of America's gorgeous National Parks.  I love our National Parks system. We may not have ancient buildings or old castles, but what we lack in historical buildings we more than makeup for with the beauty of our parks.  If it's been a while since you've explored the U.S., start planning a trip with these travel shows.
Secrets of the National Parks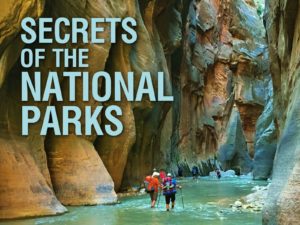 Explore the secrets of our National Parks with this beautiful television series. Learn about the unique natural wonders in these parks, as well as some of the wildlife that lives there.  You will get ideas of things to do and what to see when you visit some of America's National Parks.  The videos are beautiful to watch, and it inspires me to go and explore more of the parks that I haven't yet visited.
Streaming on: Amazon Prime Video and Tubi
America's National Parks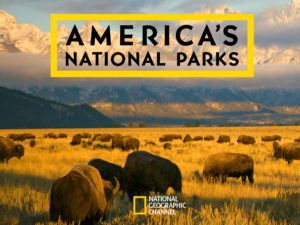 This series by National Geographic about America's National Parks focuses more on the wildlife that lives in each of the parks.  This is a nature and travel show in one.  I watch it and am grateful that we have these National Parks as a refuge for our wildlife and unique plants to preserve them for future generations to see.  It is such an amazing world we live in!
Streaming on: Amazon Prime Video and Disney+
Seeing the USA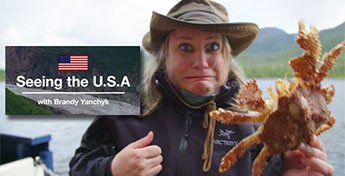 Seeing the USA is a reality-style travel show.  Follow Brandy Yanchek as she explores the U.S., meeting locals, and learning about the culture of each state she visits.  You will get ideas for places in each country that perhaps you might not have considered before and also learn about some of the local businesses that are unique to each city she visits.  If you're considering a trip somewhere in the U.S., check out this series found on Amazon Prime Video.
Streaming on: Amazon Prime Video
Expedition Overland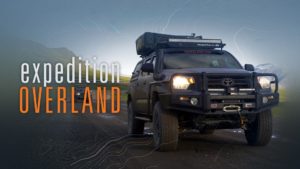 Expedition Overland is a reality-style travel show that follows a team of people in their vehicles as they travel across remote areas in an overlanding expedition.  Overlanding is sort of like backpacking, but with an off-road vehicle.  You carry what you'll need to sleep and eat and any emergency supplies you might need should you get stuck somewhere.  You are typically driving off-road through remote areas and over rugged terrain.  The adventure is in the journey. 
Expedition Overland shows the planning, equipment needed, and the fun that goes into one of these adventures.  You may just find yourself heading to the nearest car dealer to begin an overlanding adventure of your own.
Streaming on: Amazon Prime Video and YouTube
Around the Next Bend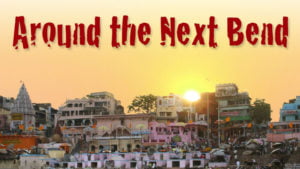 This reality travel show is about an epic adventure two young (and extremely underprepared) guys take on their journey rafting down the Ganges River in India. Their trip appears to have been a spontaneous idea. 
Although some have commented on their lack of things like a waterproof bag for electronics, I love hearing stories of people pursuing their dreams and seeking out new experiences.  Perhaps it will inspire your spontaneous adventure. At a minimum, it should make you smile.
Streaming on: Amazon Prime Video and iTunes
By Any Means with Charley Boorman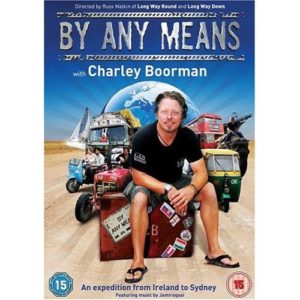 If any of you have watched the Long Way Round or Long Way Down shows, then Charley Boorman will be a name you recognize.  Follow Charley in this travel show as he avoids commercial travel and instead tries to travel by any (transportation) means necessary. 
He'll use animals, small aircraft, rides with strangers, motorcycles, and more as he journeys from Ireland to Sidney (season one) and Sidney to Tokyo (season 2). Charley has a playful and expressive side, and you can't help but smile along with him as he relishes in the joy of the journey and the discovery of new places and people.
On a side note, season 2 is called Right to the Edge: Sydney to Tokyo By Any Means. It's helpful to know that when searching for streaming options.
Streaming on: YouTube and Dailymotion (originally aired on BBC)
Rogue Trip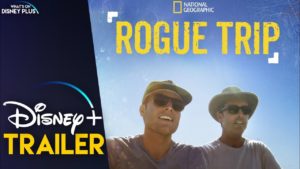 Rogue Trip is the latest travel show released by Disney Plus.  In this father-son travel show, you'll travel to countries most people will never get a chance to visit. 
Former war journalist Bob Woodruff takes his son Mack on a journey to explore some of the countries he visited during his work with ABC.  They visit places like Columbia, Papua New Guinea, Ethiopia, Pakistan, and more. See beautiful places, unique wildlife, and learn about the people and culture that make up these countries.
Streaming on: Disney+
Lost Cities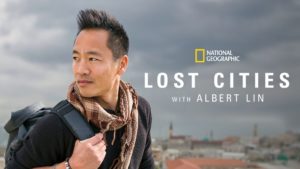 Lost Cities is another Disney Plus travel show that reminds me of a real-world Indian Jones adventure.  You'll follow Albert Lin as he seeks out Lost Cities scattered around the world.  Albert uses the latest technology combined with the knowledge of locals to seek out lost civilizations.  
You'll learn more about the history and the mysteries behind places like Petra, Stonehenge, El Dorado City of Gold, and more.  So grab your bullwhip (I don't know, Indiana Jones seemed to think they were useful) and join the adventure!
Streaming on: Disney+
More Travel Shows To Inspire You
There are so many great travel shows to inspire you when you can't travel and help you plan for when you can.  Read more of my favorite travel shows and travel movies in the post 32 Travel Shows & Movies to Inspire You at Home. I understand that it can be a challenge right now to stay positive and to plan for future trips. I recommend you explore areas where you live and stay inspired by the many fantastic travel shows, movies, and books that are available to you.
To Future Travels!