I've made these coffee toffee espresso cookies for about six years now, and they are always a hit!  I send them with my hubby for his work's holiday cookie exchange, and they are typically the first to disappear.  It's no surprise considering how many coffee lovers there are in the world. 
I am not a big chocolate fan, or really a huge sweets fan, but if you tell me a recipe has "coffee" in it.  Well, all I can say is, "you had me at coffee!"  Really, it doesn't matter what it is. My ears perk up if I hear of a recipe with coffee in it; the same goes for anything with goat cheese in it, but I digress.  This coffee toffee espresso cookie recipe is sure to please the coffee lover in your life, even if that turns out to be you!
Speaking of coffee lovers, if you need any gift ideas for yourself or a fellow coffee lover, check out these awesome gift ideas for coffee lovers.
Another reason to love this recipe is that it is so easy to make!  I love that I can make it a day ahead of time. In my opinion, these cookies taste better the next day.  Any recipe that helps me get a jump start on all the cooking I do during the holidays is a winner in my book. 
Not that you need to wait until a holiday rolls around to bake these coffee toffee espresso cookies.  I usually make them for Christmas get-togethers, but they work great for Valentine's Day, dessert and coffee with a friend, or when you need a pick-me-up to get you through the week.  Hey, have one with your morning coffee. I won't judge!
Ingredients Needed for Coffee Toffee Espresso Cookies
Butter

Granulated White Sugar
Vanilla Extract
All-purpose Flour
Egg
Baking Powder
Heath Toffee Bits
Espresso Instant Coffee Powder (I use Medaglia D'oro espresso instant powder, but I have also used Folgers instant coffee to make this recipe too. Either one works.)

Baking Spray or Parchment Paper (you could also use butter to grease your cookie sheet)
Tips for Making Coffee Toffee Espresso Cookies
If you're like me and forget to take your butter out of the fridge to soften, you can microwave a stick of butter (or two) for 5-second increments.  Turn the butter sticks every 5 seconds checking them until they are softened.  Now you're ready to start baking!
Slicing these toffee coffee espresso cookies a ½" thick is key to creating a cookie that is both soft and chewy.  I tried these about ¼" thick, and it was too thin, in my opinion, as the cookie hardens and then it's more like a cookie crisp.  If you prefer that, go ahead and slice them thinner, that's the fun thing about recipes. You can customize it to your liking.
Make sure to cool the cookie dough in the fridge for at least 4 hours, as this hardens the dough for slicing into cookie rounds.  Then, bake according to the recipe, and let cool completely before serving. I prefer these the day after baking. Of course, you can eat them the same day, but I think the flavor is stronger the next day.  Try and see for yourself.
This recipe makes around 40 cookies (give or take depending on how thick you slice them).
Coffee Toffee Espresso Cookies Recipe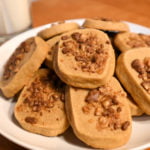 Print Recipe
Coffee Toffee Espresso Cookies
Delicious coffee-flavored cookies sprinkled with toffee.
Ingredients
1

tsp

vanilla extract

1

TBSP

Instant Espresso Powder

Can also use instant coffee crystals.

2

sticks

butter

(1 cup)

1¼

cup

granulated sugar

½

tsp

baking powder

1

egg

2½

cups

all-purpose flour

(plus a little extra to flour surface)

¾

cup

Heath toffee bits
Instructions
Stir the espresso instant coffee and vanilla together in a small container until the instant coffee dissolves into the vanilla.

Beat butter, sugar, and baking powder together in a large mixing bowl with an electric mixer until fluffy.

Stir in the egg and coffee mixture into the mix.

Slowly beat in the flour until incorporated.

Divide the dough in half and roll each half on a lightly floured surface into a 9-inch log.

Wrap each log in plastic wrap and refrigerate for 4 hours until firm.

Cut in 1/2-inch slices and place on a greased baking sheet (or line with parchment paper) about 2 inches apart.

Top each cookie with a 1/2 teaspoon toffee bits and press lightly.

Bake at 350° degrees for 10-12 minutes. Edges will be slightly browned.

Cool for 3 minutes before moving to a rack to cool completely.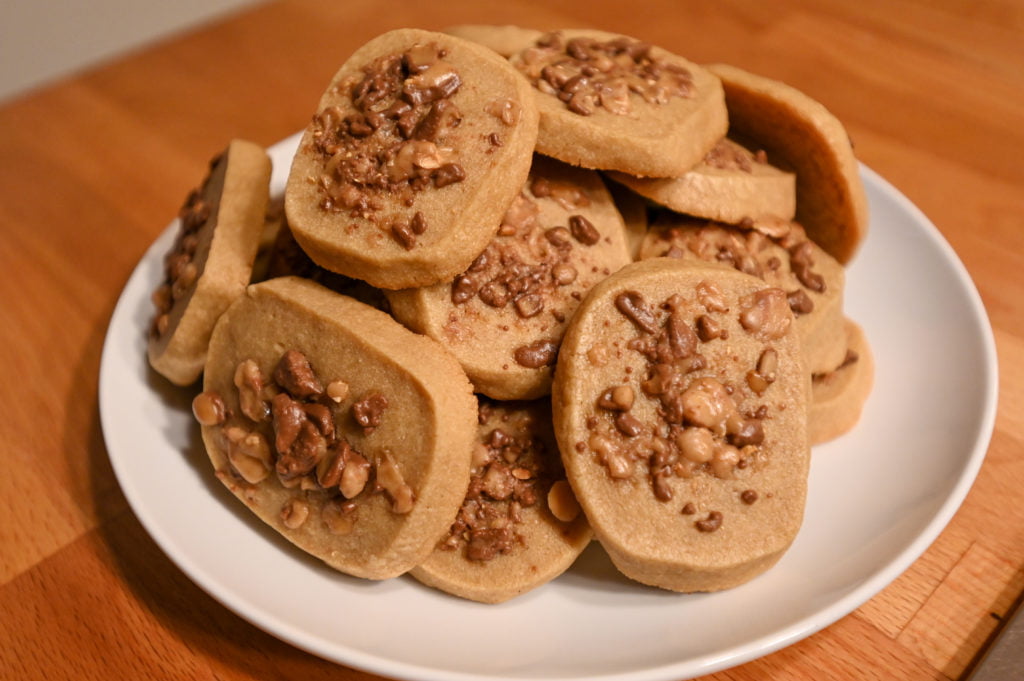 For more ideas check out these recipes posts:
Happy Baking!