It's incredible to me how many times I visited Spokane or drove past the city without ever stopping at Riverfront Park. It is one of the main attractions in this Eastern Washington city, and yet I hadn't visited it!  Well, recently, during a visit to see some family, I discovered what I'd been missing. 
The Spokane Riverfront Park is a 100-acre urban park with trails for walking and biking, plus plenty of green spaces for just relaxing too.  There are sculptures, bridges, a historic clock tower, and the Numerica Skyride and Skate Ribbon.  
The Numerica Skyride at Riverfront Park is a short 15-minute ride over part of Riverfront Park and then across the river where you get to see the lower falls from a bird's eye view.  You feel the spray coming off the falls as your gondola glides past.  It is a fun and unique way to view the river, and I highly recommend you try it!
COVID-19 Update and Changes
Currently, in Washington state, we are in "Phase 2" of the COVID re-start timeline. Phase 2 means more businesses are allowed to re-open.  One of the businesses to recently re-open is the Numerica Skyride at Spokane's Riverfront Park.  
An attendant sanitizes each gondola before permitting you to board. It takes a little more time as you have to wait for them to wipe each gondola down before boarding, but they do their best to keep things moving.  They also have multiple hand sanitizer stations in the waiting area for you to use before boarding and when you disembark.
They only board by individual family groups.  This is sort of a perk from the new restrictions as my hubby, and I had the entire gondola to ourselves, which allowed me to easily enjoy views from both sides without fighting for a good view.  Okay, no fighting would have occurred, but it was nice to have it all to ourselves.
The Numerica Skyride also has the Skate Ribbon, which was still closed at the time of our visit. Typically though, you can rent skates or bring your own and then skate around their track. The skate ribbon looks like a miniature race track for cars, but instead, it's for skating.  In the winter, they turn it into an ice skating rink.  Hopefully, soon it will also re-open, and people can enjoy this fun activity in Riverfront Park.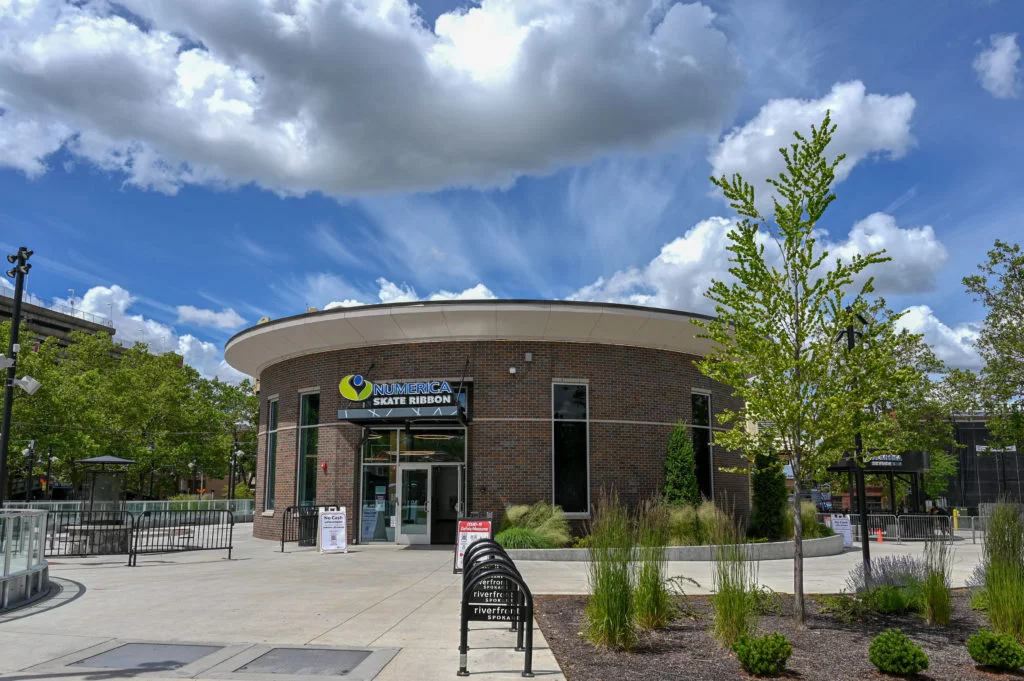 The Numerica Skyride Experience
Tickets and Hours:
You'll purchase your tickets inside the Numerica Skate Ribbon building. Visit their website for current ticket prices and hours of operation. You can also book your ticket online if you prefer.  The Numerica Skyride is wheelchair accessible. They offer a variety of discounts for those in the Military, Seniors (55+), AAA, and college students.
The Ride:
After they sanitize your gondola, you'll enter with your group and take a seat.  There are two benches on each side of the gondola. There are also open window slats behind each bench as well as in the door.  So you not only have good air circulation, but you can also take photos through the slats and avoid the glare/reflections off the glass.
If You're Unable to Ride the Skyride
I realize there may be many reasons why you might be unable to ride the Skyride at Riverfront Park.  Perhaps you're afraid of heights, or you don't like enclosed spaces, or maybe you don't have the funds for it right now.  Whatever the reason, you still have the option to view the lower falls up close without taking the gondola ride. 
Walk west past the Skyride and follow the overhead line of the gondola.  This path will lead you down a series of staircases that will take you to a viewing platform at the base of the lower falls.  You can look up and see the gondolas above you.  You'll enjoy beautiful views of the falls from the ground level.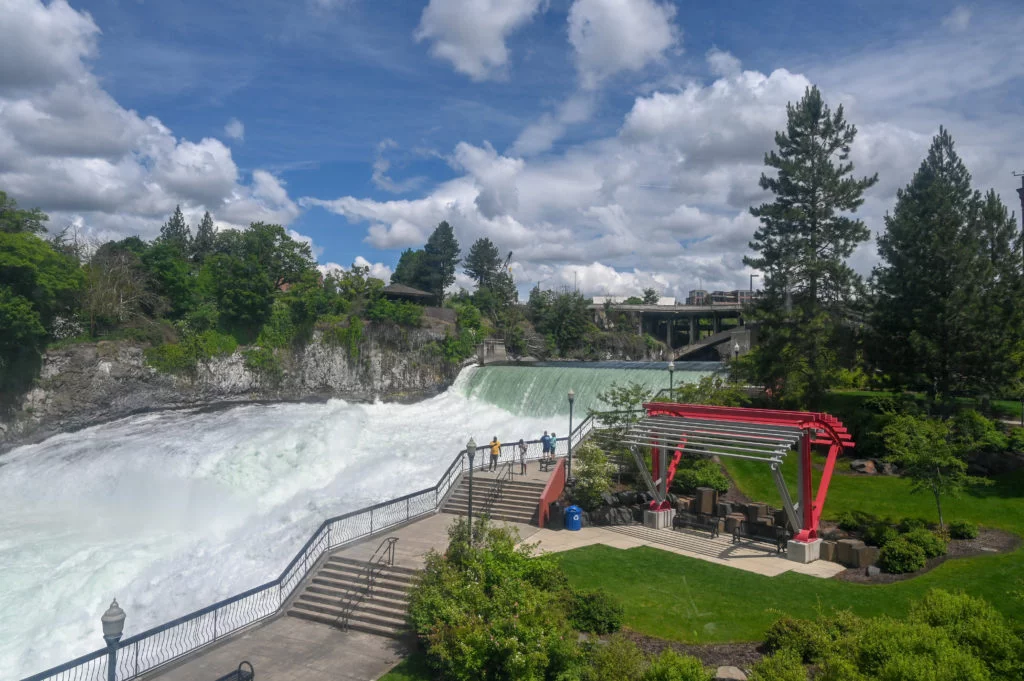 More Fun Things to do at Spokane's Riverfront Park
In addition to the Skyride, I highly recommend you take time to explore other areas of this 100-acre urban park. Strolling around scenic Riverfront Park is a great way to spend an hour or two.  There are signs throughout the park, pointing you in the direction of the main attractions, so it is easy to find your way. 
Spokane Visitor Center, Rotary Fountain, & Looff Carrousel
You can also stop at the Spokane Visitor Center and pick up some maps and get ideas for other sites to see during your visit to Spokane. Next to the Visitor Center, you'll find the Rotary Fountain. Follow the path a little further east, and you'll see the historic Looff Carrousel.  The Looff Carrousel is currently closed due to the COVID-19 restrictions. However, you can check here periodically to learn about its future re-opening date.
Sculptures in the Park
Admire the sculptures scattered around the park like the ones shown above commemorating the runners in Spokane's Bloomsday Run. You can get a map at the Visitor Center that shows the locations to the various sculptures.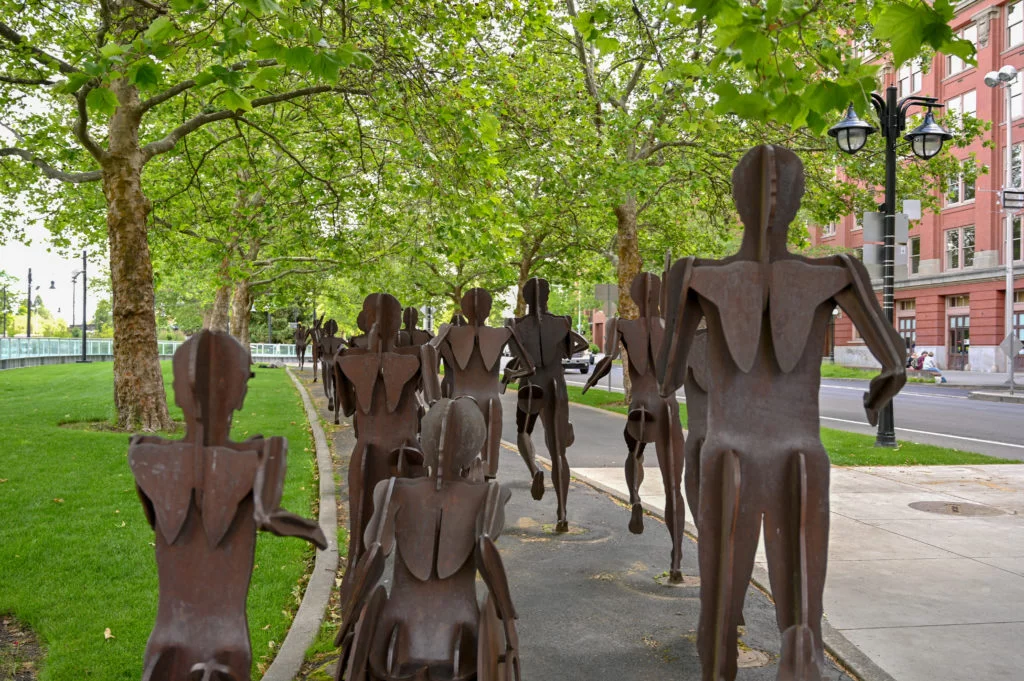 Garbage-Eating Goat
Don't miss seeing the Garbage-Eating Goat. It is an interactive sculpture designed by Sister Paula Mary Turnbull, also known as the "welding nun" Make sure to bring a piece of garbage to feed it. Press the white button on the right side and then place your garbage in the goat's mouth and watch it disappear! Try only to feed it paper trash as it's an old goat, and larger trash items will choke (I mean clog) it. The garbage eating goat is on the east side of the Looff Carrousel.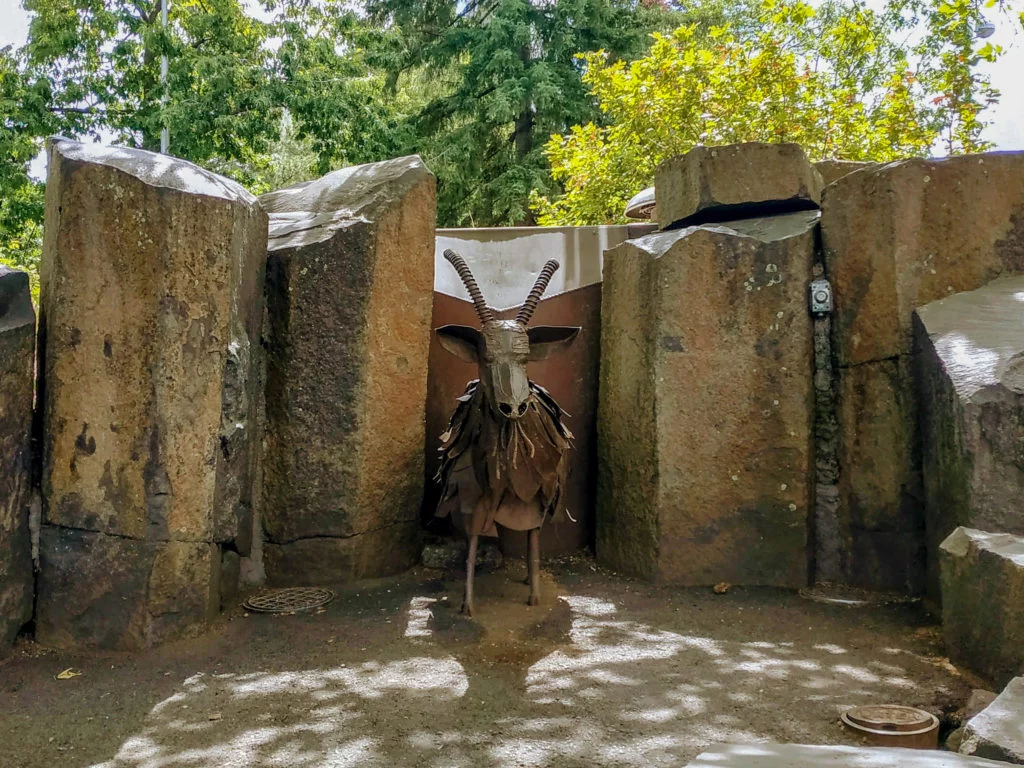 The famous garbage eating goat.
Pavilion at Riverfront
The Pavilion is another unique attraction at Riverfront Park.  Built for the 1974 World Expo, it used to be covered by a large canvas material.  Later, it was redesigned and now looks like a work of modern architectural art. The cables are illuminated with colorful lights to create the free light shows displayed every Friday, Saturday, and Sunday.  
The Great Northern Clock Tower
Make sure to visit Havermale Island and see the historic clock tower. Completed in 1902, the Clock Tower was a part of the Great Railroad Depot.   You can easily spot it as it towers above the park. This giant clock is still wound by hand every week. A person must climb five stories and then crank the clock 98 times to keep the giant clock operating. That's a lot of work! 
It's strange as I didn't even realize I was on an island when I crossed the bridge to admire the clock tower more closely. The clock tower is on Havermale Island. The island was a refuge to the people in Spokane while fleeing from the Great Fire of 1889.  Make sure to read the plaques scattered around Riverfront Park to learn more about its interesting history.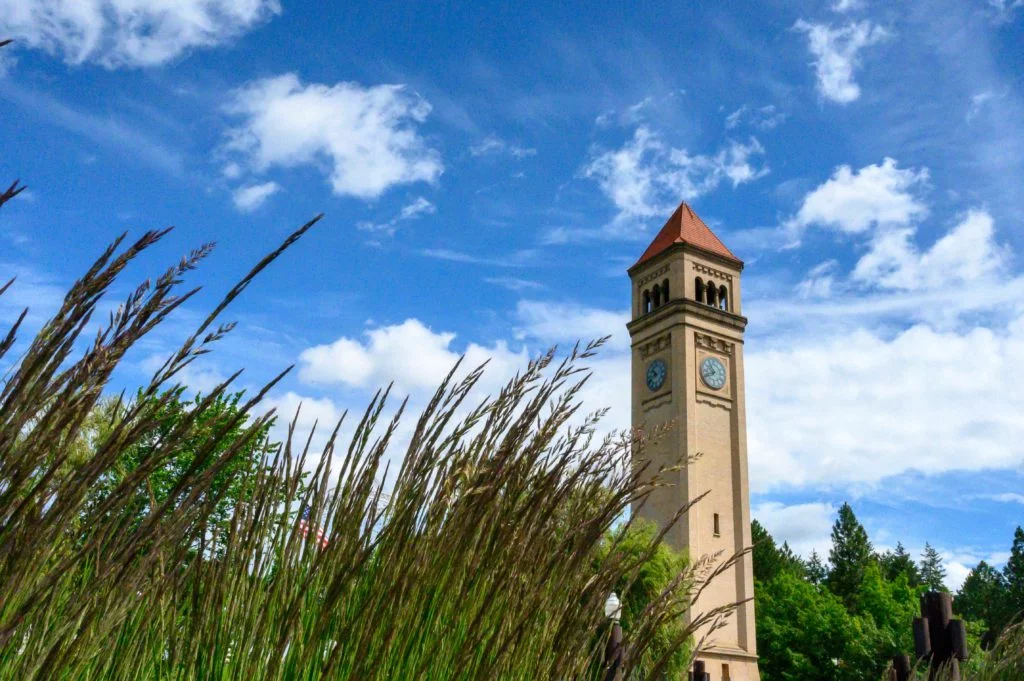 The Childhood Express (also known as "the Big Red Wagon")
Kids and adults alike will enjoy this giant red wagon.  It's not only fun to look at, but it's also a slide that kids (and kids-at-heart) can enjoy climbing up and sliding down via the front handle. Underneath the wagon are monkey bars for swinging on as the kids make their way back to the ladder.  The Childhood Express, created by artist Ken Spiering, is 12 feet tall by 12 feet wide and 27 feet long.  I love its playful design.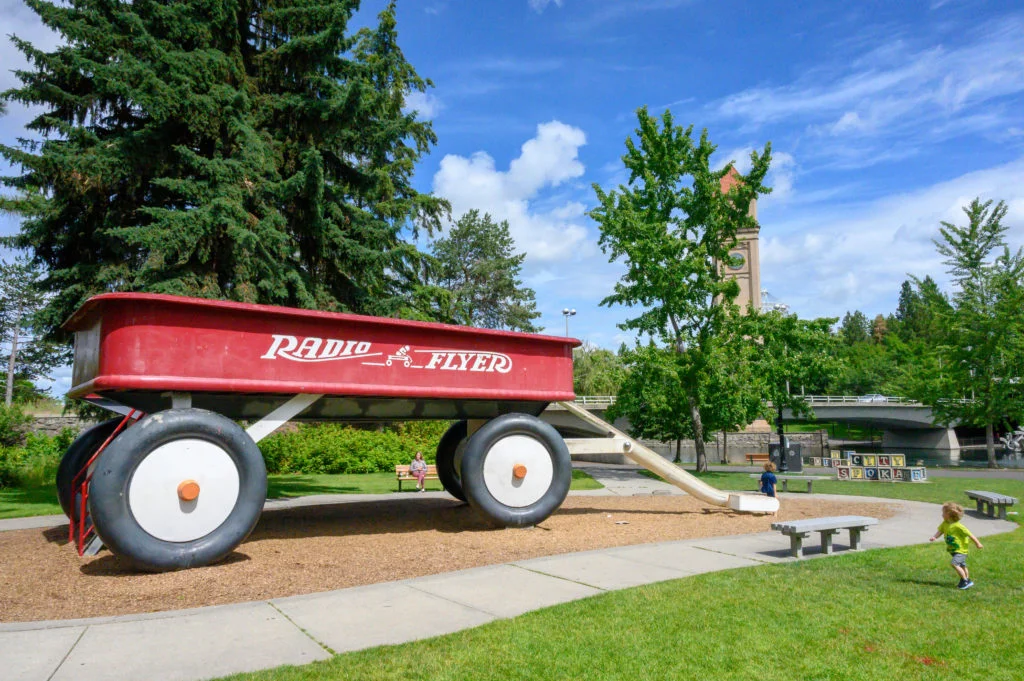 Upper & Lower Falls
Another area I enjoyed walking to was the Howard Street Bridge and trail to see the upper waterfalls.  Make sure to look for the mountain goat sculpture just below the bridge. You can cross the bridge to access Snxw Meneɂ Island (sin-HOO-men-huh), formerly known as Canada Island (the plaques in the park were not yet updated to reflect this).  
Another option that I chose to do is to follow the trail that goes below the Howard Street Bridge to get more views of the lower falls. If you continue down the stairs and along the path, you'll come to a pedestrian suspension bridge, which you can also cross to access Snxw Meneɂ Island (formerly Canada Island).
Central Promenade
Stroll along the newly completed central promenade, which you can access from the Rotary Fountain. Watch the ducks swim by, bring a blanket or picnic fixings, and enjoy making memories in the park.  There is so much to see and do at Spokane's Riverfront Park.  You can spend an hour or half a day here–it's really up to you!
Riverfront Park is in the process of being renovated.  They are continually working to improve the park, and the newly completed central promenade is just one of these beautiful improvements.  Because of this, there are many areas closed due to construction, including many of the park's parking lots.
You can park in Parking Lot 7, located at 527N N Lincoln St, which is on the north side of the Spokane River close to the Post Street Bridge. You can also look for street parking in the areas surrounding Riverfront Park. Visit the city's website to learn more about parking lot closures due to construction.  
Another option, which I used, was to park in the River Park Square parking garage located at 777 W Spokane Falls Blvd.  It is across from the Numerica Skyride and main entrance to Riverfront Park.  It costs more than Parking Lot 7, but it felt a little safer to me, and I also liked the added convenience of being across from the main entrance as well as places to eat in the mall and surrounding area.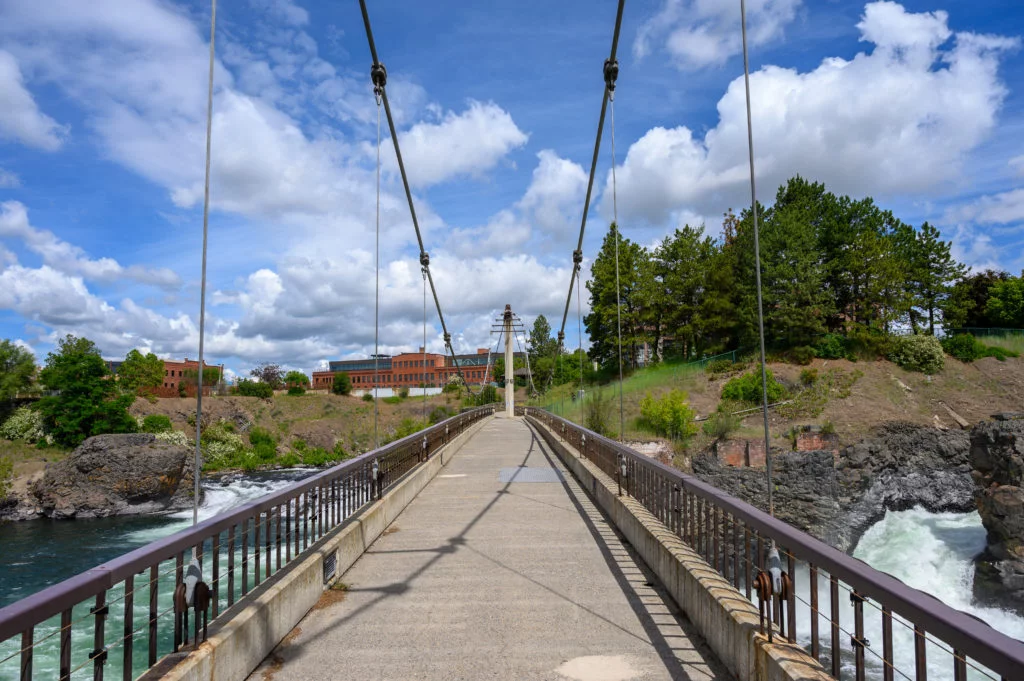 Places to Eat Near Riverfront Park
There are so many food choices located close to the main entrance of the park and around the River Park Square shopping center.  You will find food to curb any craving from sushi, ramen, Mexican, or burgers. There are options for everyone!  More restaurants are opening for dine-in service as we continue to progress in the state's phased plan for the post-COVID response. 
Cafes
There are also some great cafes around the area of Riverfront Park across from the Skyride and main entrance.  I recommend you try Atticus Coffee and Gifts, named after the character in To Kill a Mockingbird.
Atticus Coffee: 222 N Howard St.
Another excellent cafe option around the corner from Atticus Coffee is Indaba Coffee. You will be welcomed into the cafe like an old friend to enjoy some delicious coffee and food too if you'd like.
Indaba Coffee: 210 N Howard St.  
Last but certainly not least, if you've never tried Dutch Bros. Coffee, then you should experience it at least once while you're on the east side of the state. They are scattered all around the city, so Google one to see which is closest to you.
Getting to Spokane's Riverfront Park
Riverfront Park: 507 N Howard St, Spokane, WA 99201
From Seattle:
If you're coming from Seattle it takes about 4 hours to get to Spokane, you could do it as a day trip if you got up early, but it will be a more relaxing visit if you stay overnight.  The drive from Seattle is a straight shot on I-90 East.  Enjoy the varied terrain as you make the road trip there.  
You'll cross Snoqualmie Pass and see the beautiful mountains and lush green forests and not too long after that you'll be in a desert area with volcanic rock-lined canyons on either side. Soon you'll pass by farms with signs along the way telling you what crop is grown there.  Bring your tunes, bring a friend, and have fun!
Final Thoughts
Whether you've never visited Spokane's Riverfront Park before or whether it's been a long time, I recommend you take the time to explore all the unique features of this beautiful park.  I also recommend you ride the Numerica Skyride and take in the beauty of the Spokane River falls.  
The setting of this urban park is an incredible one with the Spokane River, the falls, small islands, multiple bridges and trails, and all smack in the middle of the city! 
As more local businesses open up, I encourage those who are healthy to get outside and start making memories!  We may not be able to travel far, but everyone can explore their hometowns and their local states.
Here are some ideas for those of you who live in Washington state to get out and start exploring.
Have Fun Making Memories!